December, 8, 2011
12/08/11
8:15
PM ET
By
Christina Kahrl
| ESPN.com
Heartbreak in Dallas didn't entirely belong to the
St. Louis Cardinals
and their fans. The
Milwaukee Brewers
, their direct rivals in the National League and for the 2011 pennant, had to endure their own series of setbacks. Between the disappointments of finding out that
Francisco Rodriguez
had accepted their offer of arbitration -- guaranteeing that they'll be paying eight figures for
John Axford
's setup man -- and the associated likelihood that
Prince Fielder
is now well out of their price range, it wasn't general manager Doug Melvin's best week.
The Brewers weren't entirely inert, though. Perhaps as a matter of expense, they chose to be one of the losers in this winter's shortstop shuffle by reportedly coming to terms with shortstop
Alex Gonzalez
on a
one-year deal with a vesting option for 2013
.
[+] Enlarge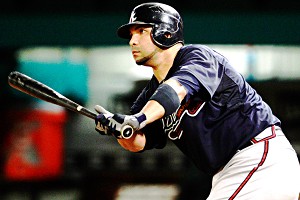 AP Photo/J Pat CarterAlex Gonzalez certainly won't cure a Brewers offense ailing from the loss of Prince Fielder.
The most generous way to look at the Brewers adding Gonzalez is that this is an upgrade. However, "upgrade" is a relative term, and you basically have to chalk that up to the anticipated difference between Gonzalez and
Yuniesky Betancourt
on defense. While Betancourt had his best season with the glove in years via interpretive metrics like Defensive Runs Saved and Ultimate Zone Rating and Plus/Minus, he was still in the negative. As far as you can accept the conclusions of any or all of them, the picture on Gonzalez is reliably better, but from year to year, there isn't a lot of consensus: Gonzalez's DRS and Plus/Minus marks have been excellent in the past two seasons, but his usually solid UZR marks veered into the negative in 2011.
Make of that what you will. Besides serving as a reminder that no one of these metrics should be taken as the final answer on a guy's glove, what this means for the Brewers is that while you can be relatively sure Gonzalez is an improvement as far as their defense, it isn't like they've just brought in Ozzie Smith.
The even more joyless side of the exercise is on offense, which is effectively a push. In 2011, Betancourt had a .652 OPS to Gonzalez's .642, marks consistent with career clips that are sub-.700 for both. Both pop up prodigiously (Gonzalez finished in the top 10 among batting-title qualifiers with popups in 12.6 percent of his at-bats), while Gonzalez strikes out nearly twice as often. So joyless at-bats and relatively easy outs are routine for both. Both have a little bit of sock, and Gonzalez cranked out 68 extra-base hits in 2010. He's also five years older than Betancourt, so you can reasonably expect him to lose ground to Father Time, while Betancourt might simply remain at this level of execrable production for a while yet.
And that's really the problem. The Brewers have been slumming when it comes to shortstops for a while now since giving up on
J.J. Hardy
after 2009. Dealing the last two years Hardy was under contractual control might have seemed affordable because they were making room for top prospect
Alcides Escobar
and getting the talented
Carlos Gomez
from the Twins. But Gomez was as disappointing as a regular for the Brewers as he had been with the Twins, and Escobar gave them a .614 OPS and inconsistent defense. So Melvin dealt Escobar in the package that landed
Zack Greinke
(no shame in that) while having to accept Betancourt. Betancourt's improvement in the field aside, he remained what he was as a Mariner and Royal -- one of the most disappointing, overhyped Cuban imports ever, no mean feat given the amount of money burned on that group.
From Hardy to Escobar to Betancourt to Gonzalez, Melvin's worked his way from prospects past and present down to the real temps. Switching to Gonzalez is effectively more of the same. If this was a team that needed just a placeholder at the position to do no harm on a contender, maybe this works -- not that it did for the Braves with Gonzalez this season, or the Brewers with Betancourt. Absent Fielder, an offensive zero like Gonzalez becomes that much less affordable for an offense.
In essence, this all goes back to Melvin's major miscalculation in offering K-Rod arbitration. As a result, the Brewers are stuck with affordability as the key criterion in selecting a shortstop, instead of making a play for
Rafael Furcal
, let alone
Jimmy Rollins
or
Jose Reyes
. Punting a lineup slot -- again -- while they're losing Fielder certainly isn't going to help them score runs, let alone defend their division title. If you thought the winter couldn't get any colder in Milwaukee, guess again.
Christina Kahrl covers baseball for ESPN.com. You can follow her on Twitter.
April, 21, 2011
4/21/11
5:23
PM ET
By
Christina Kahrl
| ESPN.com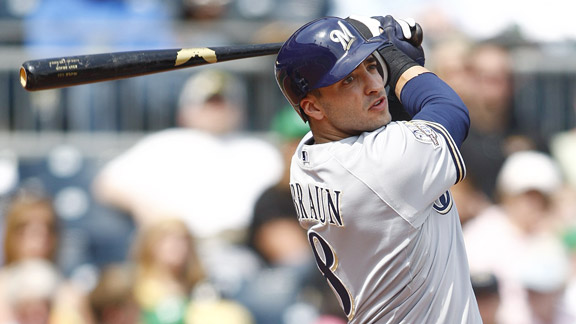 John Grieshop/MLB Photos/Getty ImagesRyan Braun has started the past three All-Star Games for the National League.
Signing left fielder
Ryan Braun
to a
five-year, $105 million extension
through the 2020 season does more than effectively lock the slugger in for the vast majority of his career. Sure, he belongs to Milwaukee through his age-36 season at slightly less per annum than the Red Sox will be paying
Adrian Gonzalez
to slug for them into his mid-30s. This looks like letting the market set a starting point for what people who slug .500 or better are worth, and then working from there.
More significant, though, is the question of what this investment represents for general manager Doug Melvin's near-term decision-making: Is it a bet that
Prince Fielder
will opt to stick around as a free agent-to-be, or does it define how long and who will be a Brewer in the future?
Keep in mind that Melvin has already shelled out all sorts of money to keep what he's defining as the core of this club together in the short term. Consider the Brewers' other major financial commitments in the last 12 months or so:
Add all of that up, and the payroll of the Brewers -- a team that still hasn't won anything since 1982 beyond a lone wild-card slot in 2008 -- won't come down below the $80 million to $90 million range in the immediate future.
Because of those no-trade clauses, there would be some modest difficulties as far as breaking up the team if the Brewers once again come up short in the NL Central's free-for-all this year or next. That isn't really bad news on its own -- even with the injury history of Weeks and Gallardo, counting on those two and Braun to be the foundation of your ballclub over the next five years is a risk worth taking, and there's plenty of recent history suggesting no-trade clauses are just one more biddable item for negotiation.
The problems this commitment involves are twofold: First, was Braun worth extending beyond their previous commitment through 2015? Since they already had Braun under contract through age 31, there was no need to get him inked through the bulk of his 30s -- when his value
will
drop, and when he may be headed toward first base. You can hope that last year's power slip to an ISO (isolated power) number below .200 was just a hiccup, and that he'll continue to deliver .550 or better slugging percentages, and the next several seasons should be productive -- but
the Brewers already had him under contract for those seasons
.
Then there's the fact that, as Buster Olney reports, an up-front signing bonus of $10 million represents a massive outlay of cash, money that might have afforded Melvin the opportunity to add something major at the deadline. That might sound shortsighted, but after trading for Greinke and Marcum, the Brewers are already in win-now mode, so spending this sort of money now dips into coffers that probably aren't bottomless.
That signing bonus brings up the second problem, which is the Fielder follow-on issue. Laying down that kind of money means it isn't there to help pay Fielder the princely sum it'll take to keep him. Maybe owner Mark Attanasio's outfit has deeper pockets than we might guess, but probably not. Braun's commitment looks more like a tacit choice that they're going to be watching Fielder head into free agency as the alternative to
Albert Pujols
on the open market next winter. Signing Braun loudly, splashily, expensively and now might help protect fans from the pain of that, but they'll be happier still if the Brewers win something first.
Christina Kahrl helped found Baseball Prospectus in 1996, is a member of the BBWAA and covers baseball for ESPN.com. You can follow her on Twitter.