March, 25, 2013
3/25/13
11:45
AM ET
ESPN headline: "Rockies bolster rotation with Garland signing" ... well, I'm not sure I would have used "bolster" there.
OK, let's assume
Jon Garland
is healthy after making just nine starts in 2011 and missing all of last season with shoulder issues. He was in camp with the Mariners and it appeared like he was going to make the rotation until he didn't. So he exercised an out clause in his contract and
signed with the Rockies
.
By the way, Garland's spring statistics that apparently made the Rockies decided they needed him in their rotation: 12 innings, 10 hits, five walks, four strikeouts.
Which is who Garland is: Not a strikeout pitcher. In other words, he's the
worst
kind of a pitcher for Coors Field (not that there's really a good kind). What makes Coors such a good hitter's park isn't so much the home runs, but all the gaps in the outfield: It's a
batting average
park as much as it is a home run park. Last year, the Rockies hit .306 at home, .241 on the road; their opponents hit .306 at Coors, .273 at home.
Instead of focusing on groundball pitchers, I've always thought the Rockies should focus on strikeout pitchers -- even if that means strikeout pitchers who walk guys. What you don't want at Coors is balls in play, because at Coors, balls in play tend to fall for hits. Garland allows a lot of balls in play, which means he gives up a lot of hits. And while he has a reputation as a groundball guy, he still serves up his share of home runs. In his last full season in the majors, 2010 with the Padres, he allowed 20 home runs in 200 innings. Not a bad total, but that was in San Diego. And it was three years ago. He posted a fine 3.47 ERA that year, but it was 4.01 on the road. So even if things work out perfectly here there is little upside.
It's a low-risk signing by the Rockies; if Garland doesn't pan out, they'll just get rid of him, similar to what they did last year with
Jamie Moyer
after 10 starts. The larger issue is that the Rockies still feel the need to take these stabs in the dark at veterans like Moyer and Garland, both of whom were coming off seasons missed with injuries. You don't win pennants by hoping you get lucky.
The rotation will now include
Jhoulys Chacin
,
Jeff Francis
,
Jorge De La Rosa
,
Juan Nicasio
and Garland, with young lefty
Drew Pomeranz
likely headed to Triple-A (even though he was probably the team's best starter a year ago, not that that's an award to put in your trophy room).
Some people believe the Rockies have sleeper potential in 2013 with the likes of
Troy Tulowitzki
,
Carlos Gonzalez
,
Dexter Fowler
and
Wilin Rosario
leading the offense. With that rotation, I have serious doubts.
February, 19, 2013
2/19/13
6:45
PM ET
2012 in review
Record: 68-94 (69-93 Pythagorean)
758 runs scored (3rd in NL)
890 runs allowed (16th in NL)
Big Offseason Moves
Acquired
Wilton Lopez
from Astros for
Alex White
and Alex Gillingham. Acquired
Ryan Wheeler
from Diamondbacks for
Matt Reynolds
. Re-signed free agent
Jeff Francis
. Lost free agent
Jason Giambi
. Accepted Jim Tracy's "resignation." Hired Walt Weiss as manager.
Here's the problem with the Rockies: What, exactly, is the plan here? Where do they perceive themselves in the cycle of competitiveness? A year ago, they signed
Michael Cuddyer
and
Ramon Hernandez,
traded for
Marco Scutaro
and
Jeremy Guthrie,
gave
Todd Helton
a two-year extension and brought in
Jamie Moyer
.
Certainly, they perceived themselves as contenders, although signing a bunch of mostly mediocre old guys to a team that had lost 89 games shockingly didn't work. This year, the front office decided to do nothing, so they'll go with the young guys -- although they're still stuck with some of the old guys and doing silly things like signing Francis and giving away a good arm in Alex White for a relief pitcher. It's no surprise this franchise is a complete mess right now, considering they essentially have
two
general managers. Longtime GM Dan O'Dowd oversees the minor leagues and player development and Bill Geivett reports to O'Dowd but oversees the daily operations of the major league club.
To make matters worse, a franchise that has long looked to acquire guys with "character" and "integrity" saw longtime star Helton recently arrested for a DUI.
I'm not giving this an "F," if only because they at least hired a new manager.
Position Players
For the years, the Rockies have complained that playing at altitude makes it difficult to build a pitching staff. The Rockies have become so obsessive about it that when things turned sour last year, they tried the radical approach of a four-man rotation, but limiting pitch counts to 75 pitches.
"Number one, I don't want to make us appear that we are making excuses," O'Dowd
told the Denver Post
. "Number 2, I don't want to make it sound like an insurmountable problem. I don't want to convey a sense of hopelessness. That's not how I feel."
Well, of course it's not insurmountable. The Rockies reached the World Series in 2007 and made the playoffs again in 2009. But for all the worrying about building pitching staffs, I wonder if building an offense is just as problematic. Playing at Coors Field makes it difficult to properly evaluate your hitters. After all, the Rockies were third in the NL in runs scored last year, so they must have a decent offense, right? But they were tied for last in runs scored on the road. Is
Carlos Gonzalez
(.303/.371/.510) a star or a product of Coors? (He hit .368 at home but .234 on the road.) The Rockies actually have historically played
better
at home (indeed, last year they won six more games at home than on the road), so the problems aren't so much winning at Coors Field, but transitioning back to sea level, which ultimately might be an impossible problem to solve.
Anyway, as for the offense, instead of focusing on runs, batting average and home runs, let's look at the two things less affected by altitude: walk and strikeout rates. The Rockies were last in the NL in walk percentage and 12th in strikeout percentage. So even though the Rockies led the NL in batting average, I don't believe this is a good offense. Obviously, keeping
Troy Tulowitzki
healthy will add several wins to the ledger.
Dexter Fowler
had his best year at the plate and Gonzalez can certainly mash at home, but it's still a free-swinging club with defensive issues at third base (
Chris Nelson
and
Jordan Pacheco
combined for minus-31 Defensive Runs Saved), right field (
Michael Cuddyer
), catcher (from what I can gather,
Wilin Rosario
had the most passed balls by a catcher who didn't have to catch a knuckleballer since
Benito Santiago
in 1987) and maybe left field (Gonzalez won a Gold Glove but his defensive metrics were poor).
Pitching Staff
Again, how to factor in Coors Field? Here's a fun fact for you: The Giants had a 4.29 road ERA in 2012, the Rockies 4.41.
Now, I'm not saying Colorado's staff was nearly as good as San Francisco's (and the Rockies' road ERA still ranked just 12th in the NL), but it again proves the difficulty of evaluation. Maybe
Drew Pomeranz
is as good as
Madison Bumgarner
. Maybe
Jhoulys Chacin
, back healthy again, can get back to his 2010-2011 level, when he had a 3.48 ERA. Maybe
Christian Friedrich
won't get spooked by Coors and turn into a good major league starter.
There are a lot of ifs there, and it's hard to give a staff a good grade when the top returning guy is Francis and his 113 innings. The bullpen has three pretty good weapons in
Rafael Betancourt
, underrated
Matt Belisle
and hard-throwing lefty
Rex Brothers
, so the Rockies should be strong at the end of games.
I'm giving the staff a low grade, with the caveat that there is some upside here IF the young guys can stay healthy AND not let Coors destroy their confidence.
Heat Map to Watch
Gonzalez can hit at home. He's struggled on the road. Last year, he
really
struggled on the road against left-handers, hitting just .159/.202/.284. Over the past three years, he's hit .229/.271/.378 against left-handers on the road in 280 PAs. Maybe the Rockies need to be more creative with their batting lineups instead of their pitching rotation.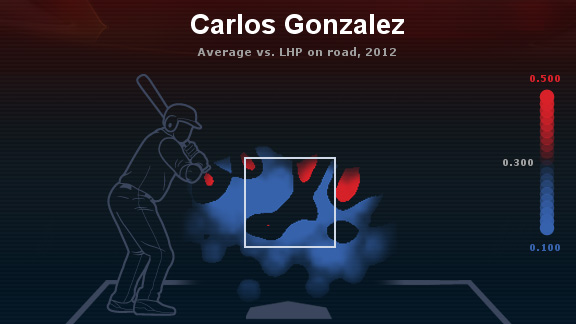 ESPN Stats & InformationCarlos Gonzalez struggled against left-handers in 2012, especially on the road.
Overall Grade

I'm not a big fan of where the Rockies are right now. Tulowitzki is an MVP-caliber player if he can stay healthy, but he's missed 40, 19 and 115 games the past three seasons. Gonzalez has missed 35 and 27 the past two seasons. The Rockies are still counting on Helton, but after hitting .238 last year and playing just 69 games, the finish line may finally be here for him.
The rotation needs to sort itself out, three-quarters of the infield is unsettled and they don't draw walks. At least Jim Tracy is no longer here.
I see a last-place club. Thoughts?
June, 19, 2012
6/19/12
8:40
PM ET
By
Jorge Arangure Jr., ESPN The Magazine
| ESPN.com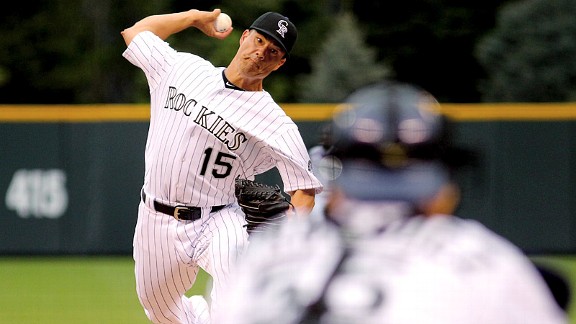 Doug Pensinger/Getty ImagesJeremy Guthrie's struggles contributed to a surprising decision by Jim Tracy.
PHILADELPHIA -- Those in search of baseball innovation and groundbreaking roster management rarely go to a Jim Tracy manager media session to find it.
If anything, Tracy is often criticized for being bland and predictable. Yet in an unexpected, bizarre and puzzling session with reporters prior to Tuesday's Rockies game in Philadelphia, Tracy delivered what might be the most unorthodox baseball decision made in years.
In what amounts to an overhaul of his pitching staff, Tracy first said Colorado would send the struggling
Jeremy Guthrie
to the bullpen (OK, so far pretty normal), and that instead of replacing him in the rotation, the Rockies would go with a four-man rotation, with each starter limited to 75 pitches per start -- what!?!
Smart? Umm, who knows? Bold? For sure. It's a decision that might have been made only by a manager with
an "indefinite" contract
.
[+] Enlarge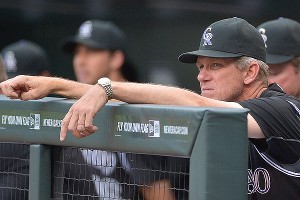 Doug Pensinger/Getty ImagesRockies' skipper Jim Tracy is frustrated enough to change things up.
"We had to do something that was unconventional," Tracy said.
This is as unconventional as it gets.
First, the why: This season, major league starters have averaged a 4.14 ERA and 1.316 WHIP, have pitched 5.96 innings per start, and have allowed a .735 OPS. In contrast, Rockies starters have combined to average a 6.29 ERA and 1.728 WHIP, have pitched only 5.2 innings per start, and have allowed a whopping .915 OPS, which would be like facing
Andrew McCutchen
(.923 OPS) during every at-bat.
Two Rockies relievers are in the top five of most innings pitched by a reliever this season, including
Josh Roenicke
, who leads the majors with 41 bullpen innings pitched. Collectively, Rockies relievers have pitched a National League-high 234 innings.
Guthrie is in the running for worst starter in the majors. "It's not benefiting him or the club [to be in the rotation]," Tracy said of why Guthrie was moved to the bullpen. "We're throwing too many bullpen innings."
So if this is the new era of the pitcher, well, somebody forgot to tell the Rockies' staff.
Secondly, how exactly is a four-man staff going to limit the number of bullpen innings pitched? That's the tricky part. The answer is that it likely won't. In fact, Rockies relievers are likely to throw even more innings with this alternative.
But Colorado's plan is to limit the innings pitched by its more important and effective relievers. So instead of Roenicke and
Matt Belisle
having to soak up multiple innings or having to pitch in lopsided games, now Guthrie and
Guillermo Moscoso
will become long relievers who will pitch regularly.
It's quite stunning for a manager to, in essence, make the admission that his rotation stinks and probably will continue to stink, enough so that the team might as well have two mop-up guys assigned regular work. The kink in the plan, of course, is that Colorado will have to monitor the innings pitched by rookies
Drew Pomeranz
and
Christian Friedrich
, hence the 75-pitch limit.
"We have two rookies in the rotation, so you have to be very careful," Tracy said. "You can't just throw them loose on three days' rest."
Tracy said the Colorado coaching staff had been thinking about this plan for the past few weeks after watching Guthrie struggle. Certainly the last straw had to have been Guthrie's last start, a three-inning, eight-hit, three-run performance against Detroit that bumped his ERA to 7.02, the worst of any pitcher with more than 10 starts.
Tracy seemed almost stunned when talking to reporters about the plan. Obviously, this is not what he expected prior to the season when the Rockies were a trendy pick to win the NL West. Instead, just minutes before taking the field for batting practice Tuesday, Tracy gathered his pitching staff and told the players the surprising news.
The asterisk in the plan is that nothing is definite. Tracy conceded that anything could be modified should one of his starters excel during a particular start. The 75-pitch limit could be ignored. Heck, if Guthrie pitches well in relief, it's not inconceivable to think that he would be placed back in the rotation.
For the past several weeks, Colorado reportedly has been looking to trade Guthrie -- who is making $8.2 million this season, the highest salary on the pitching staff, excluding the injured
Jorge De La Rosa
. A demotion to the bullpen won't help his trade market. But the only way for Guthrie to reclaim any trade value is to pitch well, and maybe pitching out of the bullpen is the solution.
"We don't know what's going to come out of this," Tracy said.
Hey, credit Tracy -- at least it wasn't bland and boring.
March, 28, 2012
3/28/12
5:29
PM ET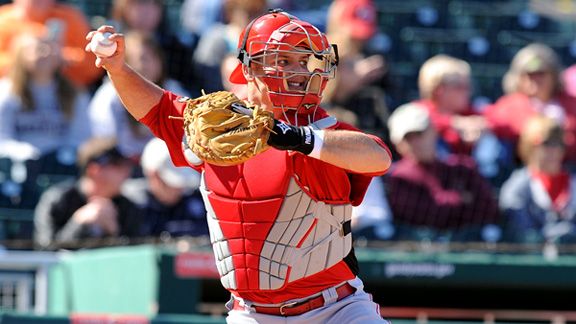 Norm Hall/Getty ImagesThe Reds' Devin Mesoraco hopes to become the third catcher in five years to win NL rookie honors.
More staff predictions from the SweetSpot network bloggers: Nine different players received first-place votes for NL rookie of the year, suggesting a wide-open race.
Cincinnati Reds
catcher
Devin Mesoraco
tops the balloting, just edging out former teammate
Yonder Alonso
, now with the Padres. Bryce Harper and Trevor Bauer, two players starting the year in the minors, both fared well in the voting.
Voting on a 5-3-1 basis.