August, 28, 2014
8/28/14
1:15
AM ET
1. A big night in the AL Central.
The Royals scored six runs in the bottom of the eighth to beat the Twins 6-1 ... which came a couple hours after David Price allowed -- not a typo --
nine
consecutive hits in the third inning as the Yankees scored eight runs. Most of the hits were not cheapies, either. The inning went:
Single, double, single, double, single, single, single, infield single, single. Four of the hits were ground balls but only two of those were soft. Price became the first pitcher since Bob Forsch in 1989 to allow nine hits in a row. As our friend Jonah Keri tweeted, the Yankees scored more runs that inning than Drew Smyly has allowed in his five starts with Tampa Bay since being traded for Price.
As for the Royals, here's a stat: Before Tuesday, the Twins had lost just two games all season they led heading into the eighth inning. The Royals rallied two nights in a row in the ninth and eighth innings.
2. Speaking of Smyly ... he's good.
You don't want to overreact to five starts, but in those five starts Smyly has allowed just six runs. In beating the Orioles on Wednesday and allowing just two hits in seven innings, he became the second Rays pitcher to pitch at least seven innings and allow two hits or fewer in consecutive starts. Bottom line: For those who think the Rays didn't get enough in return for Price, think again; Smyly is more than just a back-end starter.
We all loved this trade for the Tigers because we overfocused for the Tigers, but it's fair to ask: How much is Dave Dombrowski sweating right now?
3. The Cubs are worth watching down the stretch.
I mentioned Javier Baez in non-pennant race news on Tuesday, and now we discuss Jorge Soler, the dynamic Cuban right fielder who debuted for the Cubs on Wednesday ... and promptly slammed a Mat Latos fastball for a home run in his first at-bat. Soler is the same physical presence as Baez but his minor numbers suggest a swing with a little more control: He struck out 48 times in 200 at-bats between Double-A and Triple-A (hitting .340/.432/.700) compared to Baez's 130 K's in 388 at-bats. That's still a high strikeout rate, so he may face the same initial struggles as Baez. Soler's biggest issue has been staying healthy: He had a fractured tibia last year and had injuries to both hamstrings that forced him to miss most of April and May this year. But with 15 home runs in 62 minor-league games, the power potential resembles Baez's.
Now ... let's hope the Cubs call up Kris Bryant. I don't want to hear about service time and all that. He's ready for the big leagues.
4. Eric O'Flaherty, A's closer, for now.
Oakland's first save opportunity since Sean Doolittle went to the former Braves lefty, who has pitched well in limited action for the A's so far. He gave up a run to the Astros but preserved the 5-4 win. (The A's scored three off Chad Qualls in the top of the ninth, with Sam Fuld hitting a tiebreaking two-run homer.)
Also note: Drew Pomeranz, good outing. Pomeranz didn't replace Jason Hammel in the rotation, but was taking a start to give Sonny Gray an extra day of rest. But he pitched well enough if that Bob Melvin may give him another one.
5. Give these guys Gold Gloves.
1.
Alex Gordon
.
2.
Juan Lagares
.
3.
Andrelton Simmons
.
Maybe the three best defensive players in the game.
November, 14, 2013
11/14/13
8:00
AM ET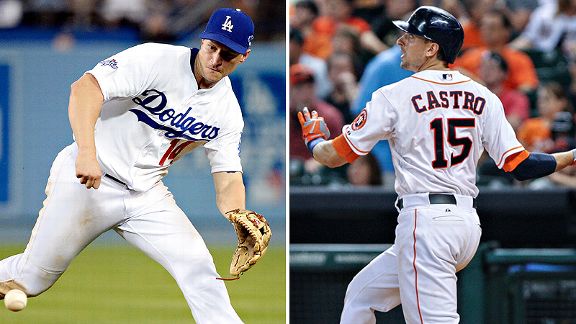 USA TODAY SportsMark Ellis and Jason Castro were two of 2013's unsung players.
While most people are drawn to the top of the names at the MVP ballot, I always find myself checking the bottom of the list.
I've always found the one-vote wonders intriguing -- someone who one person out of 30 voters found worthy of recognition.
In the past, I've voted in small-college football and basketball polls and have tried to find instances in which I could be that voter, one who had a good (often unnoticed) reason to deem someone legitimate. I found it to be a fun and challenging exercise and it's one I've decided to repeat here.
I can fully understand wanting to reward the 10 players whose value was greatest, but I think it would be cool if any of these five got a single 10th-place vote.
Mark Ellis, 2B, Dodgers
Ellis hit .270 with six home runs and 48 RBIs, so it's not his offense for which we're rewarding him. Ellis was credited with 12 Defensive Runs Saved, the most by an NL second basemen and that helped him finish with 3.0 WAR, which ranked just outside the top 40 among NL position players.
But Ellis was probably worth more than that when you consider the Dodgers' alternatives at second base. Five other players combined to play about 500 innings there and they were worth a combined -14 Defensive Runs Saved. The Dodgers went 69-37 when Ellis started in 2013. They were 23-33 when he didn't.
Drew Smyly, RP, Tigers
There are a couple of directions I could have gone in for picking a non-closing relief pitcher (whether one is
really
worthy of a vote is a subject of legit debate).
I went with Smyly over a couple of other options (Alex Torres and Luke Hochevar among them) because I liked his versatility. He could get one out when needed and more when necessary. He gave the Tigers a relief-pitching option who was just as good as their starting pitchers.
If you wonder how good he was, just ask the teams in the AL East.
Smyly pitched 13 games against the Yankees, Orioles, Blue Jays, Red Sox and Rays. In them, he pitched 20 innings and allowed no runs and 10 hits, with 22 strikeouts and one walk (and for those asking, I excluded the postseason appearances, since the MVP is based on regular-season production).
Martin Prado, 3B/LF/2B, Diamondbacks
This one seems counter-intuitive, given that Prado's WAR dropped from 5.5 in 2012 to 2.3 in 2013.
But I call your attention to him because he was the NL leader in a cool stat.
Prado had a dozen plate appearances in the seventh inning or later in which he either tied the game or gave the Diamondbacks the lead. That was two more than the Diamondback who will rightfully get lots of MVP votes (Paul Goldschmidt) and matched the major-league best totals of Chris Davis and Jose Bautista.
Lest you say that Prado racked these up when the Diamondbacks were wilting, that's not true. His 11th of those 12 came on Aug. 27, a date on which they were still within five games of the wild-card spot.
Eric Young Jr., OF, Mets
Full disclosure here: Eric's father worked with me on Baseball Tonight for three seasons and I enjoyed his time at ESPN. So if you accuse me of not thinking clearly on this one, that's fine.
But the Mets were not just a better team when Young started (46-44 when he did, and an ugly 28-44 when he didn't), they were much more watchable. Young's presence made the Mets more reliant on their baserunning and that was a good thing. He led the NL in FanGraphs' baserunning metric (UBR) and the Mets led the majors in that stat.
The Mets also defended much better in the outfield because it cleared out Lucas Duda in favor of a player who wound up rating second among left fielders in the SABR Defensive Index used to aid in the Gold Glove voting.
Yes, the Mets also added Zack Wheeler around the time they added Young, but Wheeler only pitched every fifth day. Young played every day and played well.
Jason Castro, Astros
You know how bad the Astros were.
But imagine how much worse they would have been without Castro, who finished with 4.5 WAR, nearly two wins better than anyone else on the team.
It was the fourth-highest WAR for anyone who played at least 50 percent of their games at the position last season. The three guys ahead of him were Yadier Molina, Joe Mauer and Buster Posey.
And since I can't get away with calling any of those three underrecognized, I'll go with Castro, who played a significant role in preventing the Astros from being mentioned in the same sentence as the 1962 Mets.
August, 29, 2013
8/29/13
5:40
PM ET
Here's the thing: There are a lot of good relief duos out there. Eric Karabell and myself discuss five of the best ones in the video, but there are others we left out:
--The Pirates. Closer Jason Grilli is out right now, but he and Mark Melancon have been terrific all season. Melancon (0.91 ERA) has stepped into the closer's role with Justin Wilson (2.05 ERA) handling most of the eighth-inning duties. That's still a great pair, with Melancon arguably the most valuable reliever in the majors this season.

--The Rangers. They have the fourth-best bullpen ERA in the majors and are 65-3 when leading after seven innings. Great depth behind Joe Nathan with Neal Cotts, Tanner Scheppers, Robbie Ross and Jason Frasor, all with ERAs under 2.70 in 40-plus innings.
--The Royals. The second-best bullpen ERA behind the Braves, and closer Greg Holland has a 1.41 ERA and 29 consecutive saves converted, but the setup guys have been inconsistent and they have five losses when leading entering the eighth.
--The A's. Grant Balfour has just two saves all season, but the second one was a big one on Thursday afternoon, allowing four runs as the
Tigers beat the A's 7-6
in dramatic fashion.
One team not listed: The Reds. Aroldis Chapman been shaky at times -- he's 3-5 with a 2.87 ERA and five blown saves -- and the Reds have lost eight games they led entering the eighth and three entering the ninth, making their bullpen one of the league's
least
effective in terms of holding leads late in games.
By the way, another reminder of the volatility of relief pitchers and bullpens in general: Three of the five closers included in the poll did not begin the season as their team's closer.
June, 24, 2013
6/24/13
10:05
PM ET
By
Tommy Rancel
| ESPN.com
Each year Major League Baseball attempts to market the All-Star Game as one that counts; so much so that home-field advantage in the World Series rests on the outcome of the mid-summer exhibition. However, we know that every season there will be a handful of players on the roster who do not deserve the honor and another handful left off for various reasons.
Perhaps the group that most often goes overlooked is middle relievers. When it comes time to pick an All-Star bullpen, closers with gaudy save totals are usually selected -- worthy or not. It would not be a surprise if Jim Leyland selected
Jim Johnson
and his 26 saves despite better options that lack the artificial statistic.
Jose Veras
(15 saves) of the Astros could be selected to satisfy roster requirements. If the game really counts, the bullpen should be comprised of the best relief pitchers regardless of role or team. With that in mind, here are some middlemen who deserve consideration, although their actual inclusion may be unlikely.
[+] Enlarge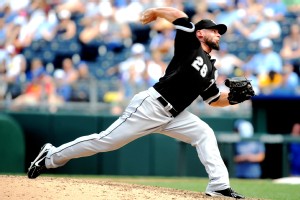 John Rieger/USA TODAY SportsJesse Crain of the White Sox has a 0.52 ERA with 46 strikeouts in 34.2 innings pitched.
Jesse Crain, White Sox
The 31-year old right-hander might be the best relief pitcher in baseball who has not registered a save. He has the lowest ERA (0.52) among AL relievers (minimum 25 innings pitched) and has allowed just six extra-base hits, none of them home runs. He has been particularly stingy against right-handed batters who have hit just .162/.219/.206 against him. An influx of breaking balls have made him more of a fly ball pitcher in recent seasons, which would only play up in spacious Citi Field.
Drew Smyly (Tigers)/Brett Cecil (Blue Jays)/Robbie Ross (Rangers)
Admittedly a cop-out, but I could not chose one of these left-handed relievers over the others. Cecil and Smyly are flourishing in their new relief roles while Ross converted to the bullpen upon promotion last season. Cecil has been excellent against batters on both sides of the plate. Smyly (traditional) and Ross (reverse) have shown hints of platoon splits. Cecil has the highest strikeout percentage of the trio while Smyly has the lowest walk rate. Ross has yet to allow a home run and has surrendered just three in 100 2/3 career innings. Each southpaw is worth considering with no wrong answer among the group.
Mark Melancon, Pirates
After a failed season in Boston, Melancon returned to the National League where he now serves as set-up man for the league's leader in saves. A former closer himself, he -- along with
Jason Grilli
-- has stabilized the contending Pirates' bullpen. He has allowed just four runs to cross the plate in 37 1/3 innings with 40 strikeouts and four walks. Opposing batters have failed to square up his cutter with consistency while his curveball has been a two-strike weapon. His groundball rate is among the highest in the league and could home in handy when a double play is needed.
Trevor Rosenthal, Cardinals
Rosenthal captured the attention of baseball fans late last season with a high-octane fastball that nears triple digits. The Cardinals decided to keep the former starter in the bullpen and he has been dominant. The 23-year old's strikeout percentage is fifth best among NL relievers and the highest of those without a save. Opposing hitters have swung and missed on nearly 30 percent of his fastballs.
Edward Mujica
has had the glory of racking up saves, but Rosenthal has arguably been St. Louis' top fireman.
The All-Star Game is should be more about pomp and less about high-leverage situations. But if we are going to treat it like a real game, managers should treat the mid-to-late innings accordingly.
Tommy Rancel covers the Tampa Bay Rays for The Process Report. You can follow him on twitter @TRancel.
June, 20, 2013
6/20/13
11:15
PM ET
For all the consternation over
Jose Valverde
, part of the
Detroit Tigers
' late-inning woes has been the failure of the offense to deliver big hits late in close games.
So when
Victor Martinez
walked leading off the bottom of the ninth Thursday and
Jhonny Peralta
hit a 1-2 pitch from Boston's
Andrew Bailey
over the fence in left field for the dramatic two-run,
game-winning home run
, part of it was that the Tigers were simply due.
Entering the contest, the Tigers had lost four games they led going into the ninth inning. But they had rallied to win just one game they had been trailing. They were also 2-7 in extra-inning games. The bullpen has been getting the blame, but check out some of the offensive numbers before Thursday's 4-3 victory:
In so-called "late and close" situations -- plate appearances in the seventh or later when the batting team is tied, ahead by one run, or the tying run is at least on deck -- the Tigers had been hitting .199 with two home runs in 372 at-bats (by Omar Infante and Alex Avila).

Miguel Cabrera was hitting .128 without an extra-base hit in 39 at-bats in late-and-close.

Prince Fielder was hitting .214 in 42 at-bats.

In extra innings, the Tigers are hitting .198 with no home runs in 86 at-bats.
In other words, when the going gets toughest the Tigers have wilted. Valverde has simply been the easy target, but it's not like Cabrera and Fielder have been doing anything in the late innings of close games.
So Peralta's home run arrives at a time when the offense needed to come through. It was a great piece of hitting. After Peralta took a slider for a strike, fouled off another slider and then took a fastball up for a ball, Red Sox catcher
Ryan Lavarnway
put his target low and away, and Bailey delivered a slider low and away -- maybe up an inch or two higher than he wanted, but not a terrible pitch -- and Peralta guessed right and pulled it into the bullpen.
Give credit also to
Drew Smyly
for escaping a two-on, none-out jam in the eighth to keep the game close and to Tigers manager Jim Leyland for keeping his best reliever in the game for two innings.
Joaquin Benoit
might get the next save opportunity, but Smyly is going to get a lot of big innings late in games.
The Red Sox are now facing a little ninth-inning combustion of their own. It was Bailey's fourth blown save, and he's allowed home runs in four of his past five appearances. Maybe the Tigers won't be the only team looking for late-inning help.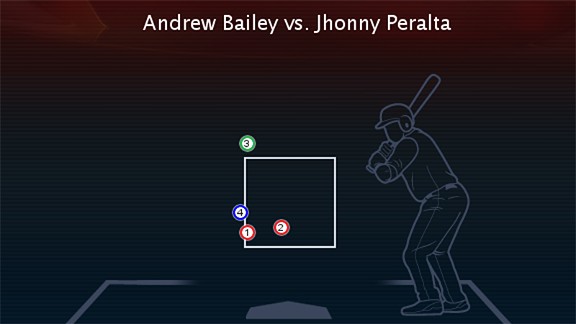 ESPNAndrew Bailey's fourth pitch to Jhonny Peralta caught the outside corner -- and Peralta didn't miss it.
June, 13, 2013
6/13/13
12:42
AM ET
If the old saying is true that in baseball you shouldn't rush to judgment until June, then we can now rush to judgment since we're well into the month. Actually, I don't know if that's an old saying or not, but you hear it said, and it's probably mostly true. Remember when
Vernon Wells
was good?
So, let's make a judgment about the
San Francisco Giants
and their starting rotation.
Matt Cain
has scuffled.
Tim Lincecum
isn't much better than last year.
Ryan Vogelsong
was pounded and is now injured, replaced by veteran reliever
Chad Gaudin
, who hasn't even been a very good reliever.
Barry Zito
hasn't been the same Zito who beat
Justin Verlander
in Game 1 of the World Series.
Madison Bumgarner
, their best pitcher, ranks 45th in ERA among major league starters. This is a rotation in trouble, and if the defending champs are to stay in contention, they'll need those guys to improve or find a way to upgrade.
Zito pitched Wednesday and the Pirates knocked him around for 11 hits and eight runs in 4.2 innings on their way to a
12-8 victory
. There were a few seeing-eye singles mixed in there, but Zito has been getting hit all season, with 90 hits in 73.1 innings, a .306 opponents' batting average allowed that ranks 100th out of 105 qualified starters. His fastest pitch against the Pirates was clocked at 84.3 mph. Yes, season-long BABIP of .348 might suggest some bad luck, but his home run percentage -- he's allowed just four -- suggests some good luck. He's also trending downward, with 30 runs allowed over his past 34 innings.
[+] Enlarge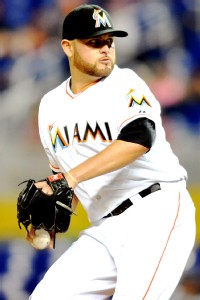 Steve Mitchell/USA TODAY SportsWould Ricky Nolasco be the sort of pitcher the Giants could acquire?
Cain is the best bet to turn things around, with solid peripherals, but a .333 average with runners on base that should regress. Still, that leaves question mark with Zito, Lincecum and the fifth spot, even considering Gaudin has made two good starts.
Right now, the likely pool of noncontenders includes the Mets, Marlins, Cubs and Brewers in the National League, and the Blue Jays, Twins, White Sox, Mariners and Astros in the American League. From that group, I see four likely trade targets:
Ricky Nolasco
of the Marlins,
Matt Garza
and
Scott Feldman
of the Cubs and
Josh Johnson
of the Blue Jays. All are impending free agents. Nolasco is the most consistent of the group and the guy I'd go after; Garza has made five starts since returning from the DL and Johnson two after missing all of May. Their upside is high if they round into shape, but they come with more risk -- Johnson in particular.
Of course, Nolasco (3-7, 3.80 ERA, 72 SO, 22 BB in 87.2 innings) will be sought after by several teams, so it will take a decent prospect to acquire him -- and the Giants' farm system isn't highly rated right now, so just because the Giants might want Nolasco doesn't mean they'll get him. General manager Brian Sabean loves those veteran pickups, so you have to expect him to make a deal; and remember that the guy he picked up last year,
Hunter Pence
, still had another year left on his deal, so the pool of candidates might not just be impending free agents, but guys under longer-term contracts (still don't see the Phillies trading
Cliff Lee
, however).
The team the Giants beat in the World Series has its own issue to fix, as we saw Wednesday afternoon.
Detroit Tigers
closer
Jose Valverde
was one strike away from closing out a 2-0 victory against the Royals when
Lorenzo Cain
swatted an 0-2 hanging splitter for a two-run homer. Valverde has held batters to a .197 average, but five of the 13 hits he's allowed have left the park. With three blown saves in 12 chances, he doesn't exactly inspire confidence, especially after his collapse last October.
The Tigers have now lost four games they led entering the ninth inning, and the bullpen is a collective 4-12. Some of the bullpen issues have been overblown -- its 3.87 ERA ranks 15th in the majors, and it ranks fourth in strikeout percentage. It's a middle-of-the-pack bullpen with a shaky closer.

But that doesn't mean the Tigers won't look to upgrade. Possible trade targets:
Steve Cishek
, Marlins;
Tom Wilhelmsen
, Mariners;
Glen Perkins
, Twins;
Jonathan Papelbon
, Phillies;
Huston Street
, Padres.
Perkins is signed to a team-friendly deal through 2015 and plays for a division rival, so I don't see that one happening. The Tigers could try to go back to the well where they stole
Doug Fister
and get Wilhelmsen from the Mariners, but with Seattle GM Jack Zduriencik fighting to keep his job, he might not want to punt his closer for a prospect. Plus, Wilhelmsen is still cheap, so he'd be expensive to acquire -- though he hasn't exactly been lights-out, blowing his fourth save on Wednesday. Papelbon has a big contract and might not be available anyway, and Cishek might not be an upgrade. Street is currently on the DL, and his home run problems this year have been more acute than Valverde's (seven in 20.1 innings).
I think the Tigers already have their closer: I'd promote
Drew Smyly
, who can crank it up to 94-95 mph in relief and has been excellent so far, with a 2.11 ERA and 39 strikeouts in 38 innings. He's crushed left-handers (.127 average, no extra-base hits) but, as a guy groomed in the minors as a starter, isn't a LOOGY. And while you often hear about the desire to acquire a Proven Closer, the past two World Series winners entered the playoffs with relievers who had become their team's closer during the season --
Jason Motte
with the Cardinals in 2011 and
Sergio Romo
last year.
And if the Tigers want more bullpen depth to go with Smyly and
Joaquin Benoit
, how about going after White Sox setup man
Jesse Crain
, who has allowed two runs in 30 innings? He's a free agent, and with the Sox dropping into the cellar, he should be available, though it's unlikely the division rivals would make a deal.
But a back three of Crain, Benoit and Smyly would be a championship-caliber trio to go with the Tigers' championship-caliber rotation.
April, 26, 2013
4/26/13
10:52
PM ET
You have to feel for
Jordan Zimmermann
, he of the Friday evening one-hitter, and
Kyle Kendrick
(three-hit shutout) a little bit. On any other night, either of those two would have been the story. But they were both upstaged by
Anibal Sanchez
, who set a
Detroit Tigers
franchise record by striking out 17 batters in a
10-0 victory
against the
Atlanta Braves
.
That's right, a current member of the Tigers holds the franchise record for strikeouts in a game,
and it's not
Justin Verlander
or
Max Scherzer
.
Sanchez isn't in the class of Verlander or Scherzer as a strikeout pitcher (few are), but he did whiff 202 batters while pitching for the Marlins in 2011. So that got me thinking: Could the Tigers' pitching staff set the record for most strikeouts in a season?
The record is just 10 years old, and it was set by the 2003
Chicago Cubs
; the Mark Prior/Kerry Wood-led staff fanned 1,404. Through 21 games, the Tigers have 211 strikeouts, which is a hair more than 10 per game and puts them on pace to shatter the record with 1,628.
That figure is a bit misleading due to the fact that the season is in its infancy, and Sanchez's performance is being given too much weight as a result.
Rick Porcello
and his 2.1 strikeouts per nine innings are set to take the bump for the Tigers on Saturday, and if Detroit's pitchers only rack up five strikeouts, for example, that strikeout "projection" would drop to 1,583.
Nonetheless, this staff has what it takes to threaten the record. Verlander and Scherzer are in the upper echelon of strikeout pitchers, and it wouldn't be unheard of for each of them to surpass 230 Ks apiece, as they did last season. For context, Wood and Prior had 266 and 245 for the Cubs, respectively, in 2003. The Cubs club didn't have another pitcher crack the 200-K plateau, which is where Sanchez can give the Tigers an edge.
Assuming Sanchez can surpass 200 punchouts, the Tigers would be halfway to the record before any of their other starters or relievers entered the equation. Thus far, the Tigers' relievers are doing their part, as
Al Alburquerque
(15.2 strikeouts per nine),
Darin Downs
(13.0),
Joaquin Benoit
(10.5) and
Phil Coke
(10.4) are all fanning more than a man per inning. And the recently promoted
Bruce Rondon
throws 100 mph and should pull his weight in the strikeout department. As you might recall, the 2003 Cubs featured two relievers who racked up a ton of strikeouts, with
Kyle Farnsworth
fanning 92 and Mike Remlinger whiffing 83.
When it comes down to it, the Tigers' chances of breaking the record will be dictated by two factors: health (duh) and Porcello. While his current strikeout rate is lower than his career rate of 4.9 per nine, he's never been a guy who misses a lot of bats. If he remains in the rotation all season, he will make it difficult for Detroit to pass the Cubs.
Of course, Porcello might pitch himself out of the rotation if he can't get his ERA into single digits posthaste, and the Tigers' chance of breaking the record would almost certainly get a boost from whomever his replacement might be. (It would likely be
Drew Smyly
, who is fanning 10.2 per nine as a reliever this season and has a career mark of 8.7.)
With the way strikeout rates have been rising over the lpast decade, it's only a matter of time before the team strikeout record falls. With Anibal Sanchez in top form, the Tigers are equipped to make it happen.
February, 1, 2013
2/01/13
7:00
AM ET
2012 in review
Record: 88-74 (88-74 Pythagorean)
726 runs scored (6th in American League)
670 runs allowed (5th in AL)
Big Offseason Moves
Re-signed
Anibal Sanchez
. Signed
Torii Hunter
. Lost
Jose Valverde
and
Delmon Young
.
It has been a relatively quiet offseason for general manager Dave Dombrowski, but his two major signings made perfect sense. Bringing back Sanchez gives the team another reliable innings-eater in the middle of the rotation, even if he's not quite as good as his three terrific starts in the postseason, when he posted a 1.77 ERA.
Snapping up Hunter for two years and $26 million was one of the sleeper free-agent signings of the winter. While the Tigers ranked 25th in the majors with minus-32 defensive runs saved, the biggest defensive liability wasn't
Miguel Cabrera
at third base or
Prince Fielder
at first base, but the collection of right fielders (primarily
Brennan Boesch
). Hunter will be a clear defensive upgrade there, and while he won't hit .313 again (he'd never hit .300 before 2012), he'll provide more offense than the .235/.285/.357 line the Tigers got from right field in 2012 (the lowest OPS in the AL).
Position Players
The return of
Victor Martinez
is addition by subtraction, because it means the departure of Young and his .296 on-base percentage. Martinez is a career .303 hitter, but he is 34 and returning from missing an entire season following knee surgery.
Certainly, any lineup with Cabrera and Fielder is going to score runs; it's knowing you can build around two of the most durable players in the league (they missed only one game between them last year). Despite their presence, the Tigers ranked just 10th in the AL in home runs and they'll remain one of the slowest teams in the league. But if Martinez hits and
Alex Avila
hits like he did in 2011, there is potential for more runs here.
Pitching Staff
They have the best pitcher in baseball in
Justin Verlander
and follow that up with the underrated
Doug Fister
(how did the Mariners trade this guy?),
Max Scherzer
(fourth-best ERA in the AL in the second half) and Sanchez.
Drew Smyly
is one of breakout candidates for 2013, and clearly the Tigers believe so as well if the trade rumors involving
Rick Porcello
are true.
The question mark: Who closes? Following Valverde's meltdown in the playoffs,
Phil Coke
handled the position just fine, but his 4.05 career ERA and ugly .854 OPS allowed in 2012 have led to speculation that hard-throwing rookie
Bruce Rondon
-- with no major league experience -- will be given the chance to close. I have my doubts about that, considering Rondon has fewer than 30 innings above Class A and enough command issues (4.4 walks per nine in the minors) that Jim Leyland might want to see the kid throw some strikes before handing him the ninth. The closer issue moves the overall grade of the staff down a notch.
Heat Map to Watch
Miguel Cabrera's 44 home runs was one element of the Triple Crown. Impressively, he hit 40 of those off right-handed pitchers -- and you can see from the heat map Cabrera's ability to turn on inside pitches.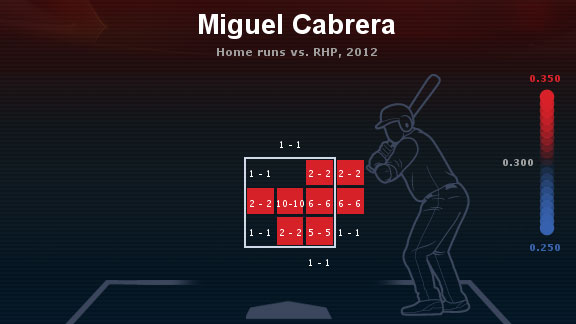 ESPN Stats & InformationMiguel Cabrera hit 44 of Detroit's 163 home runs in 2012 -- 40 off right-handers.
Overall grade

Despite their World Series appearance a year ago, the Tigers were hardly a super team, top-heavy around the big three of Verlander, Cabrera and Fielder. Winning 88 games in the weak AL Central doesn't necessarily inspire a lot of confidence, but I have a feeling the rotation will be stronger after Fister and Scherzer had strong second halves, a full season of Sanchez and the full-time addition of Smyly. Hunter is big upgrade in right field as well. The Tigers will be heavy favorites once again to win the division.
October, 25, 2012
10/25/12
11:33
PM ET
SAN FRANCISCO -- This was the
Madison Bumgarner
Giants fans saw most of the season: the pitcher with impeccable control, the ability to get inside on right-handed batters, generate ground balls and change speeds. This was the pitcher who had become one of the best young left-handers in the game, not the guy who had struggled in recent weeks.
Bumgarner justified manager Bruce Bochy's faith in choosing him to start Game 2 over
Tim Lincecum
or
Ryan Vogelsong
, leading the Giants to a
2-0 victory
and sweep of the first two games. He threw seven shutout innings, an efficient 86 pitches with eight strikeouts and just two hits allowed, one of those being an infield single. It was a dominant effort.
Amazingly, the day before, Bumgarner himself didn't seem to know what to expect. Through his first 25 starts he had a 2.83 ERA and had allowed a .218 opponents' average. But he had struggled since an August start against the Dodgers when he threw 123 pitches. Since then he'd posted a 6.85 ERA. His fastball velocity had dipped and he appeared fatigued in his previous playoff start, against the Cardinals. Batters had feasted off his fastball, hitting .400 against it his past nine starts.
Before Game 1, he hesitantly suggested he and pitching coach Dave Righetti had resolved his issues. "I think we were going through some mechanical issues that -- just some small things that might have affected my arm and made it more difficult to throw, and I think that's really all it was," he said. "I think we've got it fixed. Like I said before, there's no way to tell 100 percent until you get out there and get going game speed."
I think we're 100 percent sure now.
* * * *
Doug Fister
-- despite taking a line drive off his head in the second inning -- matched Bumgarner zero for zero through six innings, albeit with one caveat: not with the same efficiency.
That set up the key decision of the game. With
Hunter Pence
leading off the bottom of the seventh, Fister had thrown 108 pitches. Pence hits right-handed, followed by three lefties. Jim Leyland had right-hander
Octavio Dotel
and rookie lefty
Drew Smyly
warming up. If Leyland brings in Dotel -- probably his best option against right-handed hitters -- it's probably for just one hitter with the string of lefties due up.
Leyland decided to leave in Fister for one more batter; he'd thrown more than 108 pitches seven times, so it wasn't uncharted territory. Pence had flied out twice against him and has looked feeble most of the postseason. There were certainly cries on Twitter suggesting Leyland should have pulled Fister. I see it both ways. I can certainly see Leyland's desire to hold back Dotel to possibly face
Marco Scutaro
and
Buster Posey
later in the game. It's easy to criticize Leyland since the decision didn't work out and in this day and age few managers want to lose game when a starter is over 100 pitches.
[+] Enlarge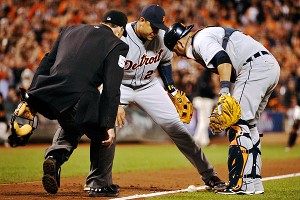 Robert Hanashiro/USA TODAYThis little thing -- Gregor Blanco's bunt staying fair -- led to the only run the Giants needed in Game 2.
On his 114th pitch, Fister left a 2-2 slider over the middle of the plate and Pence grounded a base hit past
Miguel Cabrera
.
That brought in Smyly, who walked
Brandon Belt
on a 3-2 slider up out of the zone.
Gregor Blanco
then placed a bunt down the third-base line, the ball rolling to a stop on the dirt between the grass and the baseline. Catcher
Gerald Laird
had no option but to let the ball go; it was just a perfect bunt by Blanco.
Brandon Crawford
grounded into a double play but that scored the game's first run.
Leyland did have another option there. Use
Phil Coke
instead of Smyly. Coke, of course, had defaulted into the closer's role after
Jose Valverde
's postseason implosion and pitched well in the American League Championship Series against the Yankees. Normally, the seventh inning -- especially against the left-handers -- would have been Coke's inning, followed by
Joaquin Benoit
and Valverde. Instead, Leyland trusted a rookie with little experience pitching in relief. Coke did finally get into the game -- in the eighth, with the Tigers now trailing 2-0.
"Probably if Valverde was ready, probably would have had Coke in that situation, but Smyly did fine," Leyland said. "He got a little bit wild there, but he got a couple big outs. He got the double-play ball and gave us our shot at it."
A 114th pitch. A slider meant to be a few inches outside left over the plate. A perfect bunt. The little things.
* * * *
One more little thing that can matter: sliding. In the top of the second with none out,
Prince Fielder
was hit by a pitch and
Delmon Young
doubled just inside the third-base bag. As the ball bounced away from left fielder Blanco, third-base coach Gene Lamont waved home Fielder. First, the wave. With nobody out, you had better be pretty sure Fielder is going to score. In fact, you had better be just about absolutely sure Fielder is going to score.
According to sabermetrician Tom Tango's run-scoring matrix, an average team would be expected to score about 2.05 runs with runners at second and third and no outs; with a runner on second and one out, the average run production is about 0.7 runs. That data is from 1993 through 2010, so the run-scoring environment is a little lower now, and of course you would have to adjust based on upcoming hitters and so forth. Still, Lamont's decision was about a 1.3-run decision. Fair or not, he made the wrong one.
Blanco's relay throw actually airmailed shortstop Crawford, but Scutaro -- him again! -- was backing up and threw home to catcher Posey, and replays showed he tagged Fielder on his shoe and/or rump just before he slid across the plate. If Fielder had slid to the back part of the plate, he probably would've been safe, as Posey would have had to stretch to make the tag. That's asking a lot from Fielder, however; he's not paid to slide expertly into home plate. Yes, the next two Tigers hitters popped out and struck out, so maybe Fielder wouldn't have scored, but it's kind of like time travel: That play changes everything that potentially comes after.
Then, in the top of the fourth,
Omar Infante
was picked off first and caught at second. With a better slide -- he dragged his foot behind him -- he might have been called safe.
Those two plays exemplified the first two games of the series: The Giants made plays and the Tigers didn't.
Pablo Sandoval
snagged a Cabrera line drive; Cabrera didn't have the range on Pence's base hit. Scutaro made the relay, Fielder didn't make the slide. Smyly couldn't execute the 3-2 slider that he walked Belt on, Fielder grounded into a 1-6-3 double play after Cabrera had led off the seventh with a walk.
Right now, like Bumgarner's pitches on a perfect San Francisco October evening, everything is working for the Giants.
May, 23, 2012
5/23/12
12:30
AM ET
OK, I'll give you
Justin Verlander
.
I'll even give you
Miguel Cabrera
,
Prince Fielder
and
Austin Jackson
.
But five through 25? I think I'll take the
Cleveland Indians
over the
Detroit Tigers
.
The
Indians beat the Tigers 5-3
on Tuesday, even though
Ubaldo Jimenez
struggled once again with his control. Relief ace
Chris Perez
, who criticized Indians fans on Saturday for their lack of support (Cleveland is last in the majors in attendance), was greeted with a thunderous ovation as he came in out of the bullpen in the ninth inning. With two runners on, he struck out Cabrera and got Fielder to ground out.
Just another save. "That's the loudest I've ever been cheered here," Perez said. "I was pumped, the adrenaline was going. It could have gone the other way. I came through. I didn't know which way it was going to go. I was thankful it went the good way."
The good way pushed the Indians to 24-18. The Tigers are 20-22, and for the life of me I can't understand why everyone still thinks Detroit is the better team. Mind you, I'm not saying the Indians are better. I just don't see why the Tigers are better. Just because everyone picked them before the season?
Once you get past those big shiny names on the Tigers' roster, if you want to pinpoint one big difference between the two clubs, it's a little statistic that us sabermetric types love: the old base on balls. The Indians lead the American League with 188 walks, 25 more than any other team; the Tigers have 127 walks, ninth in the league. That patience will go a long ways toward giving Cleveland an offense capable of scoring as many runs as Detroit's (the Indians have outscored the Tigers by one run so far, 184 to 183).
In fact, when you go position by position, you'll see what I mean.
Catcher: Carlos Santana versus Alex Avila.
So far, Avila has been unable to match 2011's .366 average on balls in play, the sixth-best average in the majors. Which means he's hitting like he did in 2010. Santana, meanwhile, is a walks machine who hit 27 home runs in 2011.
First base: Casey Kotchman versus Prince Fielder.
Obvious edge to Fielder, of course. The most interesting thing about his start (.292/.354/.472) is his walk rate is down from 15.5 percent to 8.5 percent. Part of that is he was intentionally walked 32 times a year ago, just three this year.
Second base: Jason Kipnis versus Ramon Santiago/Ryan Raburn.
Please. Big edge to Kipnis with Santiago and Raburn both hitting under .200. Will Detroit make a move here?
Third base: Jack Hannahan/Jose Lopez versus Miguel Cabrera.
This may be the first and only time you'll see Jose Lopez mentioned in the same breath as Miguel Cabrera. So far, however, this edge has been minimal. Cabrera is hitting .304/.362/.488, Hannahan .287/.365/.436 but with better defense. According to Defensive Runs Saved, Cabrera has cost the Tigers four runs -- worst among third basemen (tied with
Hanley Ramirez
).
Shortstop: Asdrubal Cabrera versus Jhonny Peralta.
With the Indians preaching plate discipline, check out Cabrera: Last year, 44 walks and 119 strikeouts; this year, 18 walks and just 12 strikeouts. He's hitting .309 with an OBP over .400 but hasn't lost any power. In 2011, he swung at 31 percent of the pitches out of the strike but he has cut that down to 24 percent. Small differences can go a long way. Peralta was a big surprise for Detroit last season but hasn't matched the numbers in the plate or in the field.
Left field: Johnny Damon/Shelley Duncan versus Andy Dirks/Delmon Young.
Damon has looked terrible. Dirks has looked great, but too early to evaluate this one.
Center field: Michael Brantley versus Austin Jackson.
With his defense and hot start at the plate, Jackson has been as valuable as any player in the American League not named
Josh Hamilton
.
Right field: Shin-Soo Choo versus Brennan Boesch.
This one isn't close and that's with Choo off to a middling start in the power department. Choo has a .391 OBP, Boesch a .271 OBP. Choo is a solid defender while Boesch is slow and lumbering. With his poor start at the plate and poor defense, Boesch has been one of the worst regular in baseball so far. Choo is an underrated asset and I love Manny Acta's decision to move him into the leadoff spot.
Designated hitter: Travis Hafner versus field.
Cleveland's designated hitters have six homers and .370 OBP (fourth in the league). Detroit's DHs have one home run and a .238 OBP (13th in the league). Big, big edge to Pronk.
Rotation.
With the best pitcher on the planet, Detroit's rotation has posted a 3.87 ERA; without the best pitcher on the planet, Cleveland's rotation has posted a 3.94 ERA. Both teams have played 42 games and Cleveland's starters have thrown 12 more innings. Moving forward, maybe you think Detroit's group will perform better. After all,
Doug Fister
missed some,
Max Scherzer
just struck out 15 in game (never mind that the Pirates have been an historic strikeout binge of late) and
Rick Porcello
will put it together one of these years, because everyone says so. Meanwhile, Ubaldo Jimenez can't throw strikes,
Justin Masterson
hasn't pitched as well as last year and
Derek Lowe
is doing it with smoke, mirrors and a deal with the devil. The one thing the Cleveland starters do is keep the ball in the park; they've allowed 20 home runs, second-fewest in the league. Look, maybe you think Scherzer will start pitching better; I'd say so will Masterson. Maybe you're a Porcello believer; I'm not, especially with that infield defense behind him. Lowe is a fluke? Well, let's see how
Drew Smyly
does as the scouting reports get around on him.
Bullpen.
Neither pen has been stellar, as Cleveland's 4.16 ERA ranks 13th in the AL and Detroit's 4.76 ranks 14th. Cleveland's top guys, however, have been pretty solid -- Chris Perez is 14 of 15 in save opportunities while
Vinnie Pestano
,
Joe Smith
and
Nick Hagadone
have pitched well. Detroit's top two of
Jose Valverde
and
Joaquin Benoit
, so dominant a year ago, have both struggled to throw strikes.
I said before the season that I believed the Tigers were drastically overrated. On the Baseball Today podcast late in spring training, I predicted Cleveland would win the division. Unfortunately, when ESPN.com published predictions a few days later, I changed my pick to Detroit. I bought into the hype.
I'm not buying any longer. This division is wide, wide open. (And I haven't even mentioned the White Sox!)
PHOTO OF THE DAY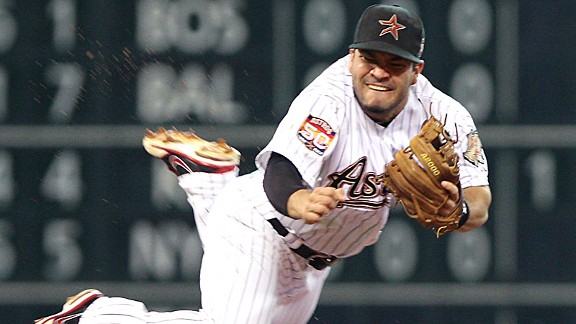 Troy Taormina/US PresswireDiminutive Astros infielder Jose Altuve isn't always so low to the ground.
May, 14, 2012
5/14/12
4:39
PM ET
SweetSpot blogger Dave Schoenfield and I gathered for
Monday's Baseball Today podcast
with our big top-10 lists of best teams and much more!
1. Seattle Mariners announcer Dave Sims talked about the Mariners, whether Ichiro will be in a Mariners uniform next season, Jesus Montero, cheering for the home team, the many young players on the horizon and ... hats.
2. Power Rankings day! Dave, Mark Simon and I each submitted our lists, with some similarities but alas, not all division leaders made it. And which NL team is best?
3. How do you pitch to Texas Rangers superstar Josh Hamilton? And how good are the Rangers? We discuss.
4. What has Detroit Tigers lefty Drew Smyly done that hadn't been done ... ever?
5. We take a closer look at Monday's schedule, from ESPN's Cubs-Cardinals tilt to an important series for last season's NL West champs!
So download and listen to Monday's Baseball Today podcast and come right back with us Tuesday for me and Keith Law!
April, 30, 2012
4/30/12
2:00
AM ET
It's easy to discount the
Baltimore Orioles
and their 14-8 start. Even Orioles fans will agree with that, I suppose -- 14 consecutive losing seasons, six consecutive seasons of 90-plus losses, a decade of bad pitching, bad fielding, bad free agents and bad ownership. It's the Orioles. It's been a long time since they mattered.
But we have to pay attention after this start. At least for a few weeks, right? They are 14-8, they are tied for first with the
Tampa Bay Rays
in baseball's brawniest division, they've won six of seven and they've won games in a peculiar, un-Orioles-like fashion -- great pitching and dramatic comebacks. The Orioles allowed just 13 runs over this seven-game stretch. Sunday's win was the kind you put on a season highlight DVD as they scored five runs in the bottom of the ninth -- capped by
Wilson Betemit
's walk-off three-run homer against Oakland's
Grant Balfour
.
"We got a team where everybody pulls together," Betemit said after the game. "Everybody knows how to play, knows how to win, and that's what we do."
Now, maybe Betemit just got caught up in the happy celebration. He probably doesn't realize how that quote sounds so odd to Orioles fans. Then again, he's new to Baltimore and isn't trapped by that cloud of losing seasons. But it's also true that Baltimore is winning these kinds of games -- according to Nick Faleris of the Camden Depot blog, that's five comeback wins in the seventh inning or later for the Orioles, matching their 2011 total.
Nolan Reimold
(.333),
Adam Jones
(.330),
Robert Andino
(.324) and
Chris Davis
(.319) are all hitting above .300.
Matt Wieters
has six homer runs and a team-leading 15 RBIs. The Orioles are sixth in the AL in runs even though
J.J. Hardy
is hitting .181 and
Mark Reynolds
is hitting .150 without a home run.
Now, this is where I rain on the Orioles' parade a little bit. Those four guys hitting over .300? They've combined for just 13 walks but 60 strikeouts. Can they keep up that production? The low walk rate means the Orioles are just 10th in the AL in on-base percentage, so they have been relying on the home run (29 in 22 games).
But it's been the rotation that has provided the biggest lift. After ranking last in the AL in 2011 with a 5.39 ERA, the rotation has posted a 3.65 ERA so far, led by newcomer
Jason Hammel
's 1.73 mark. But
Wei-Yin Chen
has been a nice surprise as well, with a 2.22 ERA. The 26-year-old Taiwanese left-hander came over from Japan and has a four-pitch repertoire that isn't overpowering but he's fanned 19 batters in 24.2 innings, a good enough rate to survive.
Now ... this is where I again in some rain. While
Jake Arrieta
has looked good, left-hander
Brian Matusz
has again struggled, although his last start was his best. The Orioles are still looking for the promising lefty of 2010, but he's at least throwing 90 mph again.
Tommy Hunter
is a finesse right-hander who has survived despite allowing eight home runs so far. But what happens when he starts going through those AL East lineups start after start?
Speaking of which. The Orioles play the Yankees and Red Sox this week. They already went 0-3 earlier in the season against New York and this time have to play the Yankees on the road. This will be a good test to see what kind of team the Orioles really have. Not to disagree with Mr. Betemit, but I have doubts whether this is a team that knows how to win. Last year, the O's went 13-23 against New York and Boston; in 2010, they went 14-22; in 2009, 7-29. The last time they won a season series against either team was 2004, when they went 10-9 against Boston.
Series of the week: Orioles at Yankees, Monday through Wednesday
Jason Hammel (3-0, 1.73) vs.
Hiroki Kuroda
(1-3, 4.38), 7:05 ET
Brian Matusz (0-3, 5.66) vs.
Phil Hughes
(1-3, 7.88), 7:05 ET
Jake Arrieta (1-2, 4.45) vs.
Ivan Nova
(3-0, 5.18), 7:05 ET (ESPN)
Hammel has thrived by throwing lots of grounders -- he's fourth among all starting pitchers in groundball rate so far, at 61.8 percent. The O's hope to take advantage of a struggling Hughes on Tuesday. He's lasted just 16 innings over four starts, giving up five home runs and a .329 average. Nova is 3-0 -- he hasn't lost a start since last June 3. But he's allowed a .343 average, though his walk rate is down and strikeout rate way up from 2011.
Three pitching matchups to watch
1.
Cole Hamels
(3-1, 2.73) vs.
Brandon Beachy
, Phillies at Braves (Tuesday, 7:10 ET)
The Braves have quietly gone 14-8 with a +27 run differential, third-highest in baseball behind the Rangers and Cardinals. Filthy Hamels (30 strikeouts, three walks) will be a fun test for the NL's leading offense (tied with the Cardinals at 5.1 runs per game). Beachy has a 1.05 ERA, although that figure has been helped by four unearned runs. Still, Beachy has allowed a .191 average through four starts and has improved his groundball rate from 33.8 percent in 2011 to 47.3, leading to just one home run allowed.
2.
Jake Peavy
(3-1, 1.67) vs.
Drew Smyly
(1-0, 1.23)
Peavy looks rejuvenated, the Peavy of a Cy Young past. He's thrown two straight complete games, has held hitters to a .162 average, has allowed one home run and has a 33/5 strikeout/walk ratio. Impressively, four of his starts have come against the Red Sox, Tigers, Orioles and Rangers, four of the AL's best offenses so far. In short, he's been dominant, maybe the best pitcher in baseball in April if you factor in the competition. Detroit's rookie left-hander has been impressive in his four starts -- allowing one run each time out (three of those on home runs). Smyly throws in the 90-93 range with his four-seamer, mixing in a slider and cut fastball and occasional changeup. He allowed two hits in six innings against the Yankees in his previous start.
3.
Zack Greinke
(3-1, 3.94) vs.
Madison Bumgarner
(4-1, 2.53), Brewers at Giants (Saturday, 4:05 ET)
Greinke had one blow-up start in which he allowed eight runs, but has otherwise allowed a total of five runs in his four other starts, two of which were wins over the Cardinals. I'd like to see Greinke get a little more economical with his pitches and prove he can pitch more than seven innings. Greinke pitched at least eight innings 10 times with the Royals in 2010, but has to do it with the Brewers. Bumgarner has reeled off four straight wins and has yet to walk more than two batters in a game.
Heat map of the week
Courtesy of Mark Simon we have a little comparison between
Albert Pujols
and red-hot
Matt Kemp
. One big difference has been their success with two strikes. Pujols has faced 50 two-strike plate appearances and has totaled 11 hits plus walks (and no home runs, of course). Kemp has faced 45 two-strike plate appearances but has 18 hits plus walks, including four home runs. Another big difference, as you can see on the heat map below on their overall production in different zones: Kemp is 8-for-12 (with five home runs) on pitches down the middle while Pujols is hitless in that area. Maybe that's reason for Angels fans to be optimistic: He's due to start pounding those mistakes.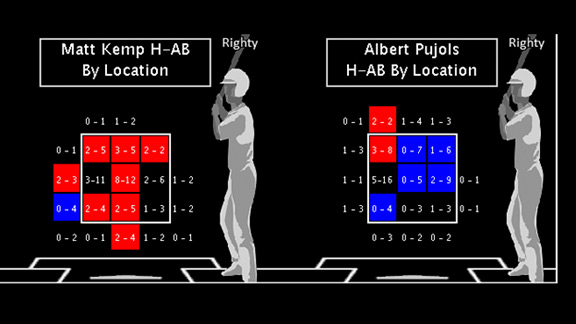 ESPN Stats & InformationMatt Kemp is pounding nearly everything in the strike zone; Albert Pujols is not.
Player on the hot seat: Mat Latos, Reds
The Reds gave up a lot to get Latos from the Padres in the offseason, a guy acquired to fit behind
Johnny Cueto
in the rotation, but in reality expected to be Cincy's best pitcher. He's been a huge disappointment, with one win in five starts. He had one seven-inning scoreless stint against the Giants, but has otherwise failed to fool many batters. Opponents are hitting .304 off him and he's fanned just 18 batters in 28.2 innings, after averaging 8.9 K's per nine the past two seasons. His velocity has been fine; hitters are just putting more balls in play. After hitters to swing and miss his slider 23 percent of the time last year, they're doing so 17 percent this season. He's also allowed a much higher line-drive percentage and his slider and sinker.
(Oh, yes, this doesn't mean Pujols isn't still on the hot seat.)
Player to watch: Bryce Harper
No introduction needed. He's up, he went 2-for-6 with a double, walk and sac fly in his two games and I'll be watching as many of his at-bats as possible this week. You can check him out on "Sunday Night Baseball" against the Phillies.
PHOTO OF THE DAY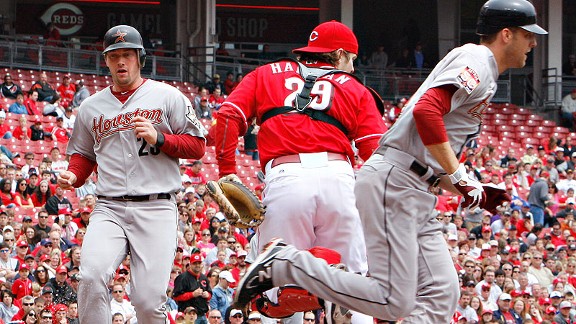 AP Photo/David KohlWith Jordan Lyles bunting (R) while Chris Johnson scores (L), Ryan Hanigan got caught in between.
April, 16, 2012
4/16/12
11:00
AM ET
By
Christina Kahrl
| ESPN.com
Please think these things through:
The Twins might be bad on offense, but Ron Gardenhire's being a worrywart over having
Joe Mauer
and
Ryan Doumit
in the same lineup is a way to make a bad lineup worse. The issue is that Mauer and Doumit are his two backstops, and there's that old-school concern that if your starting catcher has to come out you want to have a guy on the bench to back him up. If Doumit is the DH, that swap might hurt the Twins' offense because they'd lose the designated hitter.
But you'll hurt your offense when you play
Clete Thomas
over Doumit because he
might
have to come in and catch a couple of innings if Mauer needs to come out.
That might seem silly to bring up when Thomas is the hero of the hour in the Twin Cities. The recently discovered bit of waiver bait did just hit a home run, after all. But nice first impression aside, don't forget that this is the same Thomas who was projected to deliver a .660 OPS or so via Dan Szymborski's ZiPS before the year. Maybe that looks good in Minnesota, but it's no reasonable solution, even for this lineup.
Speaking of which:
Thomas just got Pittaro'd, a legacy that Tigers fans might remember well from the days of the immortal Sparky Anderson back in the '80s:
Sparky on Chris Pittaro: "He's going to be a great ballplayer, and that's etched in cement." Pittaro wound up with 102 PAs in the major leagues, hitting .249/.299/.323.
Leyland on Thomas in February 2011: "Clete, he's one of our favorites, really. He's a four-tools guy, he's got a lot of tools." Favorite or not, Thomas spent 2011 in Toledo, and I'm sure the Tigers will be glad to get the occasional postcard from Minnesota.
Putting the word 'rotate' in your rotation:
Speaking of Sparky, Leyland and the Tigers, remember those "Tigers romp" predictions of 10-12 days ago? Well, take another page out of history, because right now the Kitties' rotation looks a lot like those mid-'80s Motor City squads. That was a rotation that had Jack Morris, a good sidekick or two (Dan Petry and Frank Tanana), and … a cast of dozens that could not hold the lead for a heavy-hitting lineup.
Fast forward and you've got
Justin Verlander
flanked by frustrating/promising
Max Scherzer
and
Rick Porcello
, and ... well, we'll see won't we? It depends on how long
Doug Fister
is out, but the Tigers are being sensible and cautious with the strike-throwing beanpole.
The camp battle for the fifth starter was supposed to be an amusing sidelight to the Tigers' season-long stomp to first place.
Adam Wilk
and
Drew Smyly
are getting first crack at replacing Fister. In reality they're still essentially battling over who gets to stay once Fister is ready to return.
Andrew Oliver
's shot at re-entering the race probably hasn't been helped by his nine walks in 9 2/3 innings pitched for the Mudhens.
Rotate times two:
You might also pity the Padres, if you please.
Dustin Moseley
's shoulder looks bad, so he may not get to reap the benefit from pitching in Petco, while
Tim Stauffer
recovers from an injured triceps. In their spots, Bud Black gets to use righties
Anthony Bass
(15 minor-league starts above A-ball) and
Joe Wieland
(14).
That might seem like the Padres are pushing things, but they don't want to call up top prospect Casey Kelly and add him to the 40-man roster any sooner than they have to -- not when they can push off his arbitration eligibility for another year. Bass is an interesting enough utility pitcher who could figure out a changeup and stick as a starter, while Wieland's upside is that he eventually turns into a nice strike-throwing fourth-starter type -- a lot like Moseley.
Pleading the fifths, and at third:
As the schedule starts to hit its regular rhythm, fifth starters
Jerome Williams
(Angels),
Ryan Vogelsong
(Giants),
Drew Pomeranz
(Rockies),
Charlie Morton
(Pirates) and
Ted Lilly
(Dodgers) all showed up and pitched over the weekend. So if you were hoping for anything really unconventional, guess again.
One of the things lost from that bit of scheduled shuffling? The Rockies' commitment to multi-corner substitute
Jordan Pacheco
didn't last. In broad strokes, Pacheco might seem like a perfect bench weapon. He switch-hits, plays catcher, third and first, and he has a career .803 OPS in the minors. But three starts in eight games, and see ya -- the Rockies' hot corner belongs to
Chris Nelson
. The 2011 season was the first year in the last four that Nelson didn't lose significant time to injury. Given that Nelson is also projected to deliver just a .714 OPS (again, thanks to Dan Szymborski's ZiPS), he isn't a great option for Colorado at third base even if he stays healthy. I suspect Dan O'Dowd's not going to let this ride any longer than he has to.
Christina Kahrl covers baseball for ESPN.com. You can follow her on Twitter.