January, 8, 2013
1/08/13
11:53
AM ET
Let's play a little Hall of Fame game. I'm going to present two players with similar statistics. One is in the Hall of Fame and the other is on this year's ballot. Presented two lines of numbers, can you guess which player is the Hall of Famer? Check the numbers, vote in our poll and then check below to see who the players are. (No cheating!)
Comparison No. 1
I should note that these two are contemporaries and the Hall of Famer made it in the first year he was on the ballot.
While the Hall of Famer was never considered the best player in the game, there is an argument to be made that the non-Hall of Famer was the best player in the game at his peak.
Both were good defensive players and had speed, at least early in their careers.
Comparison No. 2
Both had some monster seasons, however. The Hall of Famer led his league in several offensive categories at various times, including runs scored, home runs, RBIs, on-base percentage and slugging percentage. The non-Hall of Famer also led his league in home runs, on-base percentage and slugging percentage. Both were considered good all-around players.
The Hall of Famer took a few years to get elected, but nobody ever calls him out as a poor selection.
Comparison No. 3
I can say these two were pretty similar in many ways, both among the biggest names in the sport while active, with some legendary tales about their performances.
Both pitched for multiple World Series champions but neither came close to 300 wins. Their adjusted ERAs are pretty similar.
When elected, the Hall of Famer was viewed as a controversial selection, in large part because of his win total. The non-Hall of Famer will have to face that same bias.
Comparison No. 4
The Hall of Famer made it on his first year on the ballot and made seven All-Star teams. The non-Hall of Famer made five All-Star teams. Both led their league twice in home runs.
The Hall of Famer hit 30-plus home runs six times while the non-Hall of Famer hit 30-plus home runs 10 times, including six seasons in a row at one point.
According to Baseball-Reference, both players had five seasons with 4-plus WAR.
Comparison No. 5
They didn't play the same position, but both did play key up-the-middle positions and were awarded multiple Gold Gloves in their careers.
One guy was part of more than one World Series champion while the other never played in a World Series. The Hall of Famer made it in on his third year on the ballot while the non-Hall of Famer has work to do.
As far as fame, both would rate very high in that category while active. Had they played longer, both would have a better chance to meet some of the automatic Hall of Fame standards.
Comparison No. 6
Both were arguably the best player on a World Series championship team.
While the Hall of Famer made it after a short stay on the ballot, the non-Hall of Famer has struggled to get enough support. Both players won multiple Gold Gloves. The Hall of Famer hit .300 nine times and the non-Hall of Famer hit .300 seven times.
According to Baseball-Reference, the Hall of Famer had eight four-win seasons while the non-Hall of Famer had nine. This one is close.
Answers
Comparison No. 1: Player A is Tony Gwynn and Player B is Tim Raines.
Of course, I left out Gwynn's 3,000 hits and .338 career average. But as you can see from above, the two were quite similar players: Raines drew more walks, hit a few more home runs and stole more bases at an excellent percentage, making up the advantage Gwynn had in base hits. But Gwynn won batting titles and Raines' dominant years in the '80s came in the obscurity of Montreal.
Comparison No. 2: Player A is
Larry Walker
and Player B is Duke Snider.
Snider's Hall of Fame case was originally hurt by the fact that he wasn't Willie Mays or Mickey Mantle. Of course, who is? But he was a key member of one of the great teams of all time, the 1950s Brooklyn Dodgers. Snider never won an MVP Award but finished as high as second; Walker won MVP in 1997. Of course, Walker is questioned because of the Coors Field numbers, but as you can see, each player's adjusted OPS is about the same. (Ebbets Field was a great hitters' park as well, and Snider's career OPS is 79 points higher at home.)
Comparison No. 3: Player A is
Curt Schilling
and Player B is Don Drysdale.
Two hard-throwing right-handers who racked up strikeouts. Schilling, of course, has the great postseason record (11-2, 2.23 ERA); Drysdale was 3-3, 2.95 in the postseason (all World Series games). Both pitched for three World Series champs. Drysdale has the lower career ERA -- 2.95 to 3.46 -- but once you adjust for eras and ballpark (Dodger Stadium in the '60s was a great pitchers' park), Schilling's ERA is a little better.
Comparison No. 4: Player A is Willie Stargell and Player B is
Fred McGriff
.
And both had cool nicknames as well -- Pops and Crime Dog. Stargell did win an MVP (shared with Keith Hernandez) but that was an award earned for leadership more than production; he did finish second twice in the voting. McGriff finished as high as fourth in the voting.
Comparison No. 5: Player A is
Bernie Williams
and Player B is Ryne Sandberg.
This was my favorite comparison on the list. Sandberg made it on the third ballot while Williams, despite playing center field for four World Series champs, got just under 10 percent of the vote his first year on the ballot. Shouldn't center fielders be given a similar defensive consideration as second basemen?
Comparison No. 6: Player A is
Barry Larkin
and Player B is Alan Trammell.
There is very little to separate these two. Larkin did win an MVP Award, but Trammell should have won in 1987, when he finished second. Larkin played until he was 40, but their career games totals are similar. I think his edge over Trammell is that once Ozzie Smith faded, Larkin was viewed as the best shortstop in the National League. Trammell was always behind somebody -- Robin Yount or
Cal Ripken
, and then after he retired, the AL had all the shortstops putting up the big numbers -- A-Rod,
Derek Jeter
,
Nomar Garciaparra
and
Miguel Tejada
. But there's no shame in being ranked behind Yount or Ripken. Trammell deserves to join Larkin in Cooperstown.
April, 13, 2011
4/13/11
12:48
PM ET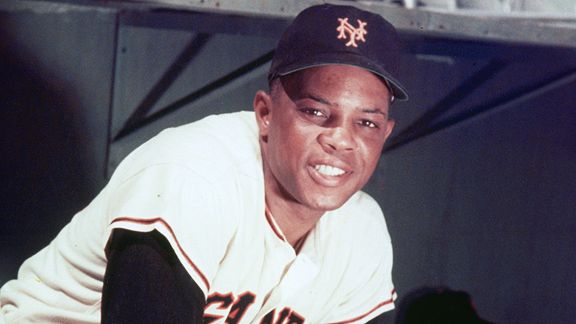 MLB Photos/Getty ImagesDid Willie Mays headline the golden era of center fielders when he played for the New York Giants?
This is somewhat shocking to me: A center fielder hasn't won an MVP Award since Ken Griffey Jr. in 1997. (
Josh Hamilton
played some there last season, but the majority of his games came in left field.)
Before that, it was Robin Yount in 1989.
Since Yount won his MVP Award, a first baseman has won 11 times – sure, three of those trophies belong to
Albert Pujols
, but
Frank Thomas
(twice),
Jeff Bagwell
,
Mo Vaughn
,
Jason Giambi
,
Ryan Howard
,
Justin Morneau
and
Joey Votto
have also won.
This hasn't always been the case. Willie McGee won the NL MVP Award in 1985 with a terrific all-around season. Dale Murphy won back-to-back trophies in 1982 and 1983. Fred Lynn won in '75 and if you go back further, you get all-timers like Willie Mays, Mickey Mantle and Joe DiMaggio.
Anyway, I always thought of center field as baseball's glamour position -- the guys who get to making leaping grabs at the fence, steal bases and belt home runs. More than any other position, center fielders are expected to do everything. As Nick Loucks discovered, however, 2010 was the first season of the live-ball era
that no center fielder hit .300
. Searching through Baseball-Reference's wondrous
Play Index
, I also discovered that 2010 was the first season since 1944 that no center fielder recorded a WAR of 5.0 or better.
Are we in a lull of great center fielders? Maybe so. We have a nice group of power/speed guys like
Chris Young
,
Drew Stubbs
and
Andrew McCutchen
, but none of them are MVP-caliber hitters right now. A decade ago we had guys like Griffey,
Jim Edmonds
,
Carlos Beltran
,
Andruw Jones
and
Bernie Williams
out there. Everybody knows about Willie, Mickey and the Duke patrolling center field in New York in the mid-'50s. It made me curious: What
was
baseball's golden age of center fielders?
Using B-R's search functions, I checked every individual season back to 1901, looking for center fielders who posted a WAR of 5.0 or better. I also broke each decade into five-year increments (2006-2010, 2001-2005 and so on) and checked cumulative WAR for center fielders over those five-year periods.
I think we're only talking about
good
center fielders here -- nobody cares who the 23rd best center fielder is right now. So I focused on the top one-third – the top 10 center fielders in this era (30 teams), but adjusted downward to the top six when there were only 16 teams.
Best single years:
[+] Enlarge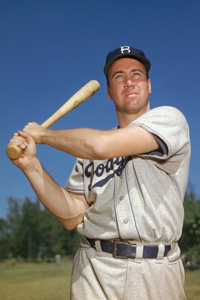 Hulton Archive/Getty ImagesDodgers center fielder Duke Snider had a .341 average with 40 home runs and 130 RBIs in 1954.
1954:
Willie Mays (10.2 WAR), Mickey Mantle (7.8), Duke Snider (7.7), Richie Ashburn (6.2), Larry Doby (5.6). These guys all made the Hall of Fame, Mays won the NL MVP Award, Snider finished fourth in the voting. Doby finished second in the AL vote, and Mantle somehow finished 15th despite leading the AL with 129 runs and generally scorching the baseball. After those guys, you had the original Frank Thomas (23 home runs), Wally Moon (106 runs), Jackie Jensen (92 runs, 117 RBIs) and Gus Bell (104 runs, 101 RBIs). Not bad for a 16-team league.
1992:
This was the final season before offense began jumping up. There were fewer runs per game in '92 than any season between 1982 and 2010. The depth was extraordinary: Andy Van Slyke (6.9), Kirby Puckett (6.7),
Kenny Lofton
(5.7),
Marquis Grissom
(5.6), Ken Griffey Jr. (5.4),
Devon White
(5.3),
Steve Finley
(5.3),
Ray Lankford
(4.3), Brett Butler (4.3). And you had solid players like Lance Johnson, Mike Devereaux (107 RBIs), a young
Juan Gonzalez
(led the AL with 43 home runs) and an aging Yount.
1999:
Andruw Jones (7.0),
Brian Giles
(6.7), Kenny Lofton (5.9),
Carl Everett
(5.9),
Brady Anderson
(5.4), Steve Finley (5.1), Bernie Williams (5.0), Ken Griffey Jr. (4.8),
Chris Singleton
(4.6), Carlos Beltran (4.4),
Doug Glanville
(3.9),
Garret Anderson
(2.7). Griffey led the AL with 48 home runs, knocked in 134 runs and scored 123 – and he rates as only the ninth-best center fielder that season (B-R gives him a very poor defensive rating). The list doesn't even include Edmonds, who was injured that season.
OK, those are nice lists, but I think we're looking more for an era, not a single season. One way to look at this was to simply average the five-year chunks of WAR for our groups of center fielders.
Under this method, it does show 2006-10 as the weakest era for center fielders since Joe DiMaggio headlined a nondescript group from 1936-40 (we didn't count the 1941-45 war period). Carlos Beltran (26.3) had the best WAR over this period, followed by
Grady Sizemore
(20.5),
Curtis Granderson
(20.3),
Torii Hunter
(15.6) and
Mike Cameron
(14.6). A nice group of all-around players, but no future Hall of Famers.
OK, using WAR as the baseline, looking at things like MVP votes and making a few personal judgments as I desired, here are my top golden eras for center fielders:
5. 1986-1990
Top five: Kirby Puckett,
Eric Davis
, Andy Van Slyke, Lenny Dykstra, Brett Butler.
Next five: Robin Yount, Dave Henderson,
Ellis Burks
, Devon White, Gary Pettis/Willie McGee.
Great depth as the top six all accumulated 20-plus WAR. Lacks a signature superstar, but what gloves you had out there: Van Slyke, White and Pettis were all supreme flychasers.
4. 1916-1920
Top five: Ty Cobb, Tris Speaker, Edd Roush, Happy Felsch, Benny Kauff
Next five: Max Carey, Cy Williams, Hi Myers, Clyde Milan, Amos Strunk
You have two of the greatest center fielders of all time each compiling over 7.0 WAR per season, two other Hall of Famers (Roush and Carey) and a slew of other good players.
3. 1966-1970
Top five: Jimmy Wynn, Willie Mays, Paul Blair, Tommie Agee, Reggie Smith
Next five: Willie Davis, Matty Alou, Rick Monday, Curt Flood, Adolfo Phillips
Mays was starting to age but still racked up 28.0 WAR, just behind Wynn's 28.3. There are those who will argue that Blair is the greatest gloveman ever in center. Smith later moved to right field, but he came up with the Red Sox as a power-hitting center fielder. Alou hit .327 over the five years.
2. 1996-2000
Top five:
Ken Griffey Jr.
, Bernie Williams, Andruw Jones, Kenny Lofton, Ray Lankford
Next five: Jim Edmonds, Brady Anderson, Steve Finley, Mike Cameron, Lance Johnson
The top six all accumulated over 20 WAR. Griffey hit 249 home runs, Williams hit .324, Jones covered ungodly amounts of ground, Lofton brought speed and on-base skills and Lankford was one of the most underrated players of his era.
1. 1956-1960
Top five: Mickey Mantle, Willie Mays, Richie Ashburn, Duke Snider, Jim Landis.
Next five: Jim Piersall, Bill Bruton, Bill Virdon, Vada Pinson, Larry Doby.
I guess the song has it right. This era rates a little better than the 1951-55 period due to more overall depth. Doby and Snider had their best five-year stretch in 1951-55, but Mantle and Mays were dominating their leagues. Ashburn was a leadoff guy who rivaled Mays for defensive excellence and guys like Landis, Piersall and Bruton, while forgotten today by all but the most dedicated seamheads, were excellent players. And remember -- this came in a 16-team league.
Follow David Schoenfield on Twitter at @dschoenfield. Follow the SweetSpot blog at @espn_sweet_spot.
March, 3, 2011
3/03/11
11:17
AM ET
By
The Common Man
| ESPN.com
The last time we were here, Bill made a strong case for
Jim Edmonds
as
a Hall of Famer
. It's fair to say that there was a lot of disagreement in the comments. The recent passing of Duke Snider, however, gives us an important reason to revisit the debate.
Snider spent 18 years in the majors, almost all of them with the Dodgers. In that time, he posted a .295/.380/.540 batting line, and a 140 OPS+. He hit 407 homers, which was 10th all time by the time he retired. Between 1940-1975, he produced the
13th-highest Wins Above Replacement of any player in baseball
. As you can see from this list, every single player in front of him is an inner-circle Hall of Famer. But during his career, Snider was pretty clearly the third-best center fielder in the game, behind Willie Mays and Mickey Mantle. Heck, between Mays and Mantle, he was the third-best center fielder in his own city.
[+] Enlarge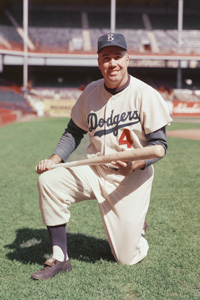 Getty ImagesDuke Snider finished his career with a 295/.380/.540 batting line and 407 homers, similar to Jim Edmonds' career numbers.
But does anyone really want to argue that Duke Snider doesn't belong in the Hall of Fame? Of course not -- his statistical record is overwhelming. And so was his impact on the game in the 1950s, when he played in five World Series.
But here's the crazy part, you know who was almost exactly as good as Duke Snider was? Jim Edmonds. Roughly the same number of homers, the same batting average, OBP, and slugging percentage. Edmonds played in a better offensive era, so his OPS+ is roughly 8 percent worse than Snider's, but his excellent defense makes up the difference. In fact, according to Baseball Reference, Edmonds barely edges Snider in Wins Above Replacement, 68.3 to 67.5, despite playing a full year less. And both Snider and Edmonds tallied six seasons in which they finished in the top 10 in their league in WAR.
What's the problem with Edmonds' candidacy? Aside from the "milestones" problem, there's the prevailing notion that Edmonds was never the best player in the National League. But just as you can't hold it against Snider that he wasn't better than Willie Mays and Mickey Mantle, two of the 20 best baseball players of all time, you similarly can't hold it against Edmonds that he wasn't as good as
Barry Bonds
or Ken Griffey Jr. Because those players are so good, so transcendent, that they rise above even "ordinary" Hall of Famers like Snider and Edmonds. Plus, that analysis doesn't even take into account how much more difficult it is to be one of the best players in today's game, given that Hall of Fame candidates are competing against roughly twice as many players, due to baseball's expansion.
Duke Snider debuted on the BBWAA Hall of Fame ballot in 1970 and got 17 percent of the vote. It took Duke Snider 11 years before the voters fully recognized his greatness. And today, that greatness is universally celebrated and recognized as we celebrate his full life and career (which included these
fun appearances
on the old "
What's My Line?
", by the way). Hopefully, Jim Edmonds will get that same chance to prove his worth and gain your recognition for everything he did on the diamond too.
The Common Man writes obsessively on The Platoon Advantage and you can follow him on Twitter.