SweetSpot:

Dustin McGowan
June, 21, 2014
Jun 21
10:00
AM ET
Major League Baseball's 2000 draft will not go down as a memorable one, but it did include a few first-round keepers:
Adrian Gonzalez
, selected No. 1 overall by the then-Florida Marlins, is a four-time All-Star with 247 career home runs. Phillies second baseman
Chase Utley
might be a Hall of Fame lock if not for all his injuries, and
Adam Wainwright
showed lots of early promise in Atlanta that he has since fulfilled as a staff ace in St. Louis.
Tampa Bay outfielder
Rocco Baldelli
will be remembered as a classic "what if" story. He generated an early Joe DiMaggio comparison or two and was on his way to an impactful career when a series of medical setbacks prompted him to retire at 29 and move into the Rays' front office.
Toronto reliever
Dustin McGowan
, the 33rd overall pick in the 2000 draft, qualifies as the anti-Baldelli. By all rights, he should have retired three or four years ago and be playing with his kids or drinking an ice-cold lemonade on the porch right now. His presence on Toronto's 25-man roster says a lot about his perseverance, his pain threshold and the wonders of modern sports medicine.
[+] Enlarge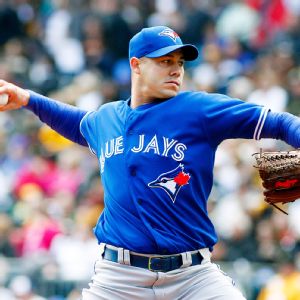 Justin K. Aller/Getty ImagesDustin McGowan, now pitching out of the Blue Jays' bullpen, keeps plugging away despite having had to deal with so many injuries throughout his career.
Fourteen years after Toronto selected him out of Long County High School in Ludowici, Georgia, (population: 1,440), McGowan keeps plugging away at 32. His career 23-26 record and 4.57 ERA are considerably more impressive in light of the obstacles he has had to overcome to stay on the field. With three major shoulder surgeries, a knee surgery, plantar fasciitis, an oblique injury and Type 1 diabetes in his medical dossier, McGowan is the lead character in the baseball reality show, "Survivor: Rogers Centre."
"It shows he's got a lot of fight and no quit in him, and it shows his passion for the game," said Toronto closer
Casey Janssen
. "It would have been pretty easy at any one of those stretches to say, 'It's not in the cards,' and move on."
If McGowan serves as an inspiration to his teammates and other professional pitchers, it's strictly by accident. He's just a down-home Georgia kid who wasn't ready to leave baseball on anybody's terms other than his own.
"I've never quit at anything," McGowan said. "There were times I thought I might not be able get back, but it wasn't going to be for lack of trying. My whole thing was, as long as I could look myself in the mirror at the end of the day and know that I did everything I could, I would be fine. And it worked out for me."
No matter what he achieves moving forward, McGowan will never reach the heights predicted for him as a budding ace in the Toronto chain. After he struck out 99 hitters in 92 innings in his first two minor-league stops, Baseball America ranked him as Toronto's No. 4 prospect -- right between a young catcher named
Jayson Werth
and a fleet middle infielder by the name of
Orlando Hudson
. McGowan ascended to No. 1 on Toronto's prospect list in 2003 and appeared poised for a breakthrough the following season.
"McGowan has better stuff than
Roy Halladay
, the Cy Young Award winner whom he could join in Toronto's rotation soon," wrote BA, which projected him as a future front-of-the-rotation mainstay.
McGowan went 12-10 with a 4.08 ERA in 27 starts in 2007, but that's the closest he ever came to a full season in the majors. He tore his right rotator cuff in a start against Baltimore in July 2008, and the world suddenly came crashing down on his head. He missed the 2009 and 2010 seasons and returned in 2011 only to require a third surgery, which kept him out for all of 2012.
"I was like, 'Holy crap, what else bad can happen?' " McGowan said. "I almost wanted to go home and sit in a chair where nothing bad could happen to me. I got [the surgeries] out of the way and hopefully I won't have any more. I can't have too many more body parts left."
McGowan came closest to quitting after his second shoulder surgery, but persisted with the encouragement of his wife, Jilly. Improbable as it might be that he's still pitching, it's even more surprising that he's still with the team that drafted, signed and developed him.
"The organization stuck by him and gave him the opportunity, and that's helped him," said Toronto manager John Gibbons. "He's one of those guys you pull a little extra for because of the kind of individual he is. He's just a good old country boy."
Three years removed from his last shoulder operation, McGowan still has to tread cautiously. He uses an insulin pump to control his diabetes, and Gibbons is careful not to use him more than two days in a row. But the luxury of pitching in concentrated doses out of the bullpen has been a boon to McGowan's fastball, which still registers in the mid-90s. According to FanGraphs, his average heater topped out at 94.8 mph in 2008 and currently sits at 93.1.
Although the early sense of optimism in Toronto this season has been tempered by the team's recent stretch of losing, McGowan hopes to be a contributor to the Blue Jays' first playoff appearance since 1993. Opposing hitters are batting .130 (7-for-54) against him since he moved from the rotation to the bullpen in mid-May, and he has stranded 16 of the 17 runners he has inherited. Those numbers help explain why Gibbons is becoming more comfortable each day to call upon him in high-leverage situations.
If this is what lies in store for McGowan -- a relatively anonymous role as a middle reliever or setup man -- he's fine with it. Although it's tempting to reflect on his career and wonder what he might have achieved with even moderate health, McGowan looks back on his time in Toronto with a sense of pride in having endured.
"I don't like to think about 'what ifs,' " McGowan said. "I know things happen in this game and it's rare that a pitcher is never going to get hurt. I'm more proud of the fact that I've been able to make it back for a third time. That's pretty cool."
It has been a long, lonely road from prospect to injury magnet to relevant again. If Dustin McGowan weren't so grounded and humble, he might even be an inspiration to himself.
June, 16, 2012
6/16/12
1:50
AM ET
By
Christina Kahrl
| ESPN.com
A little more than a week ago, things looked so very different for the
Toronto Blue Jays
.
Brandon Morrow
had just delivered
a complete-game shutout
of the White Sox in the Cell, and the Jays were 30-26. In the early going, they were a reasonable candidate within baseball's newly expanded wild-card picture.
And a big part of the reason why they deserved that consideration was a "no-name" rotation that had delivered more quality starts than all but two American League rivals, the
Los Angeles Angels
and the
Chicago White Sox
.
What a difference a week makes, because first they lost Morrow to an oblique injury on Monday, his next turn. On Wednesday,
Kyle Drabek
tore up his elbow and might need Tommy John surgery. And on Friday night, rookie
Drew Hutchison
had to leave his start early with his own dose of elbow trouble. Within the space of four ballgames, the Jays might have three of five starting pitchers on the disabled list.
Perhaps no team could withstand that sort of rotation wipeout, but at least the Jays still have
Ricky Romero
in working order -- for now. How good were these three starters?
Morrow: He'd delivered a league-leading three complete-game shutouts as well as eight quality starts in his first 12, striking out 22 percent of opposing batters while cutting his walks to a career low, below 8 percent. All of the expectations that Morrow's selection as the fifth overall pick of the 2006 draft looked like they were on the verge of being fulfilled as he began to earn ace status.

Drabek: As highly touted as Morrow back in the day, and another canny trade pickup by the Jays, Drabek has had to work his way past wildness on and off the field. He came into 2012 having to pitch for his job, no matter how rosy his former promise had been, but he looked like he'd come around after five quality starts in his first nine, posting a 3.27 ERA. Allowing 34 walks in those 52.1 IP reflected that location was still an issue, but you could hope he was getting back on track.

Hutchison: Ranked before the year as the organization's sixth-best prospect by Kevin Goldstein of Baseball Prospectus and ninth-best by Baseball America, Hutchison was pressed into action with just six starts above A-ball. The 21-year-old didn't lack the stuff or touch to make it, however, showing excellent touch on a fastball-slider-change mix. He'd cranked out quality starts against the Yankees, Orioles and Red Sox in recent weeks.
These three already have company to keep on the rehab trail, unfortunately enough: The perennially promising and reliably broken
Dustin McGowan
's on the DL as well, dealing with shoulder woes. Counting on McGowan hasn't been a good idea since 2007.
Pickings are slim as far as what else the Jays can do after losing three of their front five in such short order. If Hutchison joins Drabek on the "wait 'til next year" list, that's two slots to fill for the remainder of the year, as well as the month-plus of turns that will have to go to Morrow's replacement while he's out.
Brett Cecil
is slipping into Morrow's slot Sunday, and you can hope the young finesse lefty can recapture some of his former promise. Long reliever
Carlos Villanueva
might help, but his track record as a starter isn't great.
They don't really have a promising kid like Hutchison to turn to; Deck McGuire's getting drubbed in Double-A, leaving the cupboard relatively bare. You get into wondering what well-traveled
Jesse Chavez
or former rotation stalwart
Scott Richmond
have left. The borderline bid of convention just got rolled back into borderline bad ballclub possibilities. The sabermetric construction of "replacement level" is a handy fiction -- there's certainly no guarantee that the Jays will get replacement-level work from their available replacements.
The Jays probably don't get their fair share of sympathy or schadenfreude, which is a pity considering the remarkable job general manager Alex Anthopoulos has done. Whoever gets the call beyond Cecil, in the meantime the Jays still have Romero and farmhand
Henderson Alvarez
to rely upon. But that isn't what the Jays' slender hopes for contention were based on. If they're excused early, it's a shame, but in divisional races as tight as either East boasts, you can't afford this kind of misfortune.
PHOTO OF THE DAY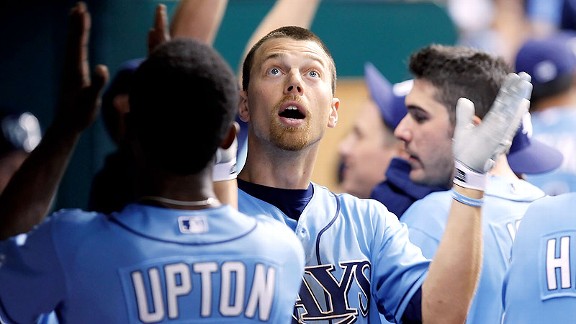 J. Meric/Getty ImagesBen Zobrist must still be looking for his home run to come down.
Christina Kahrl covers baseball for ESPN.com. You can follow her on Twitter.
August, 18, 2011
8/18/11
2:02
PM ET
Baseball issues positive and negative were certainly on display for Keith Law and me as we enjoyed Thursday's
Baseball Today podcast
. Here are some of the topics:
1. It was a Giant win in Atlanta, but can the defending champs overcome the bullpen injuries? Speaking of the Braves, their rotation depth is discussed.
2. Look, not
every
outing for the great
Stephen Strasburg
will be dominating, but KLaw tries to put expectations in check.
3. The
Kansas City Royals
have decided on their right fielder for the next few seasons, but is
Jeff Francoeur
the right choice?
4. The Cardinals may or may not be contenders still, but their catcher and former center fielder are topics for the emailers.
5. It's a somewhat limited Thursday schedule, but it's full of aces. So naturally we turned our attention to a young pitcher with ace upside and his innings limit.
Plus: Excellent emails, rooting for
Dustin McGowan
, the strange case of
Mike Jacobs
, more RBIs and runs talk -- we can't get enough! -- and a ton more on a packed Thursday Baseball Today. Download now!
February, 12, 2011
2/12/11
1:00
PM ET
By
Drew Fairservice
| ESPN.com
To call general manager Alex Anthopoulos a folk hero in Toronto does him a disservice. Sources tell me plans for a statue in his honor are already under way, a tribute to the Great Unloading (also known as the
Vernon Wells
trade). Despite not sniffing the playoffs in 18 years, an incredible amount of good will and buzz surrounds this
Toronto Blue Jays
team. The minor league system underwent a complete overhaul and the team hired a fleet of scouts. It is hard to argue the future isn't bright in Toronto.
[+] Enlarge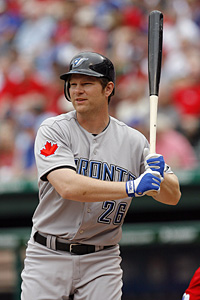 Tom Pennington/Getty ImagesThe Blue Jays are counting on a productive season from slugger Adam Lind.
Until we consider 2011, that is. The 2010 Blue Jays won a surprising 85 games, never competing seriously for a playoff spot but making a good show of themselves in the process. The young pitching staff excelled in the absence of
Roy Halladay
with
Ricky Romero
and
Brandon Morrow
jostling for the Opening Day starter role for years to come. Free-agent acquisitions
John Buck
and
Alex Gonzalez
provided best-case scenario contributions: huge power numbers for cheap before giving way to draft pick compensation (in Buck's case) and sell high/buy low trade opportunities (i.e. Gonzalez traded for
Yunel Escobar
.)
While the Jays brass keep their eyes firmly on the prize -- with 2012 pegged as the earliest possible season to make a playoff run -- the expectations of many fans jumped ahead of the intricate plan laid out by the brain trust. Fans clamber for big-name signings, hoping the elusive final piece falls into their collective lap.
For Blue Jays fans, the immediate future might be a little rockier than they expect. None of the losses suffered by the Blue Jays figure to torpedo the season. For the team to win 85 games again, far too many things must go right.
The rotation must stay healthy. While the No. 5 starter spot saw more than its share of pretenders; the top four Blue Jays hurlers toed the rubber at least 25 times apiece. A figure that would be higher had the team not shut down Morrow early in September. While replacing
Shaun Marcum
's 200 innings is tough, it won't be the first time this team filled a gaping rotation hole. Young
Kyle Drabek
has the makeup and stuff to slot into the rotation directly, but he, too, comes with innings limits.
Staying healthy is vital for every team, rebuilding or otherwise. The Jays racked up the third-most days spent on the disabled list in all of baseball,
according to Fangraphs research
. A closer look at those numbers reveals the true impact of these maladies wasn't quite so severe.
Dirk Hayhurst
,
Jesse Litsch
,
Scott Richmond
and
Dustin McGowan
spent much of or all of 2010 on the shelf. Only McGowan at his peak had an honest shot of making the rotation or any discernable impact.
The bullpen underwent a complete rebuild as well. A virtual parade of competent right-handed pitchers now lurk in the 'pen, hoping to scoop up whatever stray saves come their way. Losing versatile "setup" man
Scott Downs
is a huge blow for any team. Downs was long the team's best reliever and the man generally tasked with the highest-leveraged work.
Adam Lind
and
Aaron Hill
need to decide which season was a fluke: Was it 2009, when they powered the middle of the lineup, or their ugly 2010 seasons?
Jose Bautista
is not going to hit 54 home runs again, so the Jays need these two key players to produce runs in bunches. Maybe throw a walk in there for good measure.
The future is bright for the Blue Jays. Financial agility coupled with a renewed pipeline churning out major league-ready talent positions the Jays perfectly to make multiple runs at the playoffs. Be prepared for some growing pains in 2011.
Drew Fairservice writes the Blue Jays blog Ghostrunner on First. Follow him on Twitter.
May, 19, 2009
5/19/09
2:24
PM ET
From the ol' mailbag:
Rob, the Jays are leading the AL in run differential by a fairly healthy margin. I took a look back to 2002 (as far back as the EPSN standings page will take me) and looked at all the teams leading the AL or NL on May 18. Of those 14 teams, 12 made the playoffs. The only two that didn't were the A's last season and the Mets in 2007.

IOakland really wasn't all that good (+31) and there were four teams within five runs. The 2007 Mets lost six of their last seven to lose the division by one game.

Interestingly, the Jays and Dodgers have the biggest differential leads at this point in the season since 2002.

The Jays were +100 last year (second in the AL). I think there is a strong likelihood that they are simply one of the best teams in the AL, if not the best.
You know, that's a fair point, and one that I've not been smart enough to fully consider before now.
The Blue Jays did finish last season with an outstanding run differential. They scored 714 and allowed 610, which would typically lead to a 93-69 record rather than their actual 86-76 mark (which left them in fourth place). If I've said it once I've written it a dozen times: run differential is a better predictor than wins and losses. So why wasn't I more optimistic about the Jays this spring? Because aside from Roy Halladay, their outstanding pitching last season was anchored by A.J. Burnett, Jesse Litsch, Shaun Marcum and Dustin McGowan -- all of whom have combined to win exactly zero games for the Jays this season.
Should we have guessed that the Jays would pitch nearly as well this season and lead the American League in scoring? I'm not sure how we could have. But we're far enough into this season, and the Blue Jays are playing well enough, that we should not dismiss their chances of playing well through the summer and being a big part of the race in September. I'm not ready to anoint them as champions. I'm nowhere near that. Here's a bold prediction, though: the Jays won't finish fourth again.
April, 8, 2009
4/08/09
10:41
AM ET
Tom Verducci on who should be worried this year about
this year's Year After Effect
:
Mike Pelfrey was ready for me in the Mets spring training clubhouse, as if he knew I was coming.

"Look at me," the Mets right-hander said one day last month. "I'm a pretty big guy." Yes, sir. Pelfrey is 6-foot-7. Thankfully, he is a rather pleasant, mild-mannered guy.

I didn't feel threatened, but my theory about young pitchers getting overworked was precisely in Pelfrey's crosshairs. Pelfrey was familiar with my rule of thumb that pitchers 25 and under are at risk of injury or significant regression in the year after their clubs boost their workload by 30 or more innings.

--snip--

So I agreed with some of what Pelfrey presented. He turned 25 in January and is a big guy, so maybe he withstands his 48-inning jump better than someone younger and smaller. That said, I'm still not taking him off my list of the most at-risk young pitchers of 2009 based on the Year After Effect. There is a reason why the Mets had an innings threshold in mind for Pelfrey, a reason why the Yankees have treated Joba Chamberlain with kid gloves and a reason, going further back, why Oakland was very careful to manage the innings growth of its young starters almost a decade ago when I first learned about this growing trend: Too much too soon is risky stuff.

This year I red-flagged 10 pitchers -- and the list includes some of the greatest young arms in the game. Here are those pitchers and the innings jumps that put them on the list ...
The list:
Jon Lester
,
Cole Hamels
,
Chad Billingsley
,
Tim Lincecum
,
Clayton Kershaw
,
Dana Eveland
, Mike Pelfrey,
John Danks
,
Jair Jurrjens
, Jon Niese.
Verducci:
How much should those guys be worried? Over the previous three years I red-flagged a total of 24 young pitchers at the start of those seasons. Of those 24 at-risk pitchers, 16 were hurt in that same season. Only one of the 24 pitchers managed to stay healthy and lower his ERA: Ubaldo Jimenez of Colorado, a guy I said would be less at risk because of his powerful body type.

In the early years of my tracking the Year After Effect, the Royals notoriously pushed young pitchers to awful results (Jose Rosado, Chris George, Runelvys Hernandez, Mac Suzuki, etc.). The Pirates have supplanted the Royals as the worst offenders (Zach Duke, Paul Maholm, Tom Gorzelanny). It's one thing for the Mets to push Pelfrey with a playoff spot at stake, but it's hard to explain why a rebuilding franchise would put young starters at risk in meaningless games in September.

Last year I red-flagged seven pitchers: Jimenez, Gorzelanny, Ian Kennedy (Yankees), Dustin McGowan (Blue Jays), Chad Gaudin (Cubs), Yovani Gallardo (Brewers) and Fausto Carmona (Indians). Except for Jimenez all of them broke down with injuries -- some of them serious, not all arm-related -- and combined to go 29-32. None won 10 games. Previous blowouts that were red-flagged included Francisco Liriano, Gustavo Chacin, Anibal Sanchez, Adam Loewen and Scott Mathieson.
I'm sure you see the gap in this analysis ... Where's the control group? We know -- we've known for a long, long time -- that young pitchers who pile up innings are susceptible to injuries. The Holy Grail of baseball is something that will keep young pitchers from ruining those oh-so-valuable gears and levers and pulleys that allow them to somehow perform their superhuman feats. But are young pitchers who boost their workload by 30 innings more injury-prone than pitchers who boost their workload by 20 innings? Is a 24-year-old pitcher who goes from 120 innings to 150 innings more likely to get hurt than a 22-year-old pitcher who goes from 175 innings to 190 innings? Do pitch counts matter, at all?
Verducci's method strikes me as terribly arbitrary. That doesn't mean it doesn't work. But without a control group -- without some basis for comparison -- we can't really know if pasting the photos of a bunch of young pitchers on the wall and throwing darts wouldn't work just about as well. And one thing I'm sure about: the Red Sox and Rays and Cardinals and Indians and Padres and another half-dozen (at least) teams aren't throwing darts.
Not exactly.