October, 16, 2013
10/16/13
10:42
AM ET
Yesterday, I mentioned there have been just three come-from-behind walk-off home runs in postseason history: Kirk Gibson and Joe Carter in the World Series and Lenny Dykstra in the 1986 National League Championship Series.
Visiting players can't hit walk-off home runs, of course, but there have been four ninth-inning, come-from-behind home runs hit by visiting players. In order:
Jack Clark, Cardinals, 1985 NLCS, Game 6
The Dodgers led 5-4, trying to remain alive in the series, but the Cardinals had runners on second and third with two outs and Clark, one of the best hitters in the league, up at the plate. Tom Niedenfuer was pitching. Andy Van Slyke was on deck. Tommy Lasorda could have intentionally walked Clark but elected to stick with a righty-righty matchup instead of Niedenfuer versus the lefty Van Slyke. Lasorda was criticized immediately for pitching to Clark, but was it the wrong move? Not necessarily.
One way to look at this: You're comparing Clark's batting average (the Cardinals need a hit) versus Van Slyke's on-base percentage (a walk ties the game). Niedenfuer's splits that year were pretty even -- .222 versus righties, .224 versus lefties, although he allowed just one home run to righties all season, five to lefties. Clark hit .261 versus right-handers that year, Van Slyke had a .360 OBP versus righties. Based on the numbers, Lasorda made the right call. Based on what happened ... the wrong one.
Dave Henderson, Red Sox, 1986 ALCS, Game 5
The Angels led 5-2 heading into the top of the ninth, just three outs from reaching the first World Series in franchise history. The Red Sox, of course, were trying to slay their own demons. Starter Mike Witt was still pitching for the Angels. Bill Buckner singled and with one out Don Baylor homered. Witt then retired Dwight Evans. Manager Gene Mauch brought in lefty Gary Lucas to face Rich Gedman. It's hard to argue with the move: Gedman had hit .186 against lefties that year. But Lucas hit him, Donnie Moore came on and with two strikes, Henderson hit his famous home run.
People forget that Hendu's home run didn't end up winning the game as the Angels actually tied it in the bottom of the ninth, with Steve Crawford escaping a one-out bases-loaded jam. The Red Sox would win in 11 innings, with Henderson's sacrifice fly scoring the go-ahead run.
Ed Sprague, Blue Jays, 1992 World Series, Game 2
The Braves had won Game 1 behind Tom Glavine's four-hit complete game and veteran closer Jeff Reardon, who had come over late in the season from Boston, was in to finish off Atlanta's 4-3 lead. With one out, pinch hitter Derek Bell walked. Sprague, who had just 50 plate appearances and one home run in the regular season, hit for pitcher Duane Ward. Sprague swung at the first pitch and launched a two-run homer to left field. The Braves got two on in the bottom of the ninth against Tom Henke but Terry Pendleton popped out.
The Blue Jays would win Games 3, 4 and 6 ... all by one run. In Game 3, they scored runs in the eighth and ninth (Reardon gave up the winning hit). In the clinching Game 6, they won in 11 innings.
Albert Pujols, Cardinals, 2005 NLCS, Game 5
Astros up 4-2, trying to wrap up the series, Brad Lidge on for the save. He strikes out John Rodriguez and John Mabry, but David Eckstein singles to left and Jim Edmonds walks.
And then this happened
. Lidge could have pitched around Pujols to pitch to Reggie Sanders, but he elected to go after the big guy.
The Astros did win Game 6 behind Roy Oswalt to reach the World Series -- where Lidge would lose two more games.
October, 28, 2011
10/28/11
12:18
PM ET
Win Probability Added is a statistic that doesn't necessarily tell us who had the
greatest
game, but tells us who had the most timely game. It uses historical play-by-play data to determine the value of each play based on the score, inning and situation, and calculates how the odds of winning or losing the game changed based on that play. So a game-tying home run in the bottom of the ninth is worth more than a home run in a 10-2 blowout.
[+] Enlarge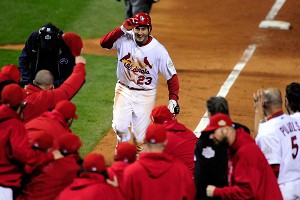 Jeff Curry/US PresswireSt. Louis' David Freese is greeted by teammates after his walk-off home run in the 11th inning of Game 6.
Well ...
David Freese
had the single highest WPA in World Series history in Game 6. But to tell you what kind of game it was, teammate
Lance Berkman
had the third-highest. Here are the top 10, from Baseball-Reference.com:
1. David Freese, Cardinals, Game 6, 2011 (.969 WPA):
Two-out, two-run triple in the bottom of the ninth, game-winning home run in the 11th. Not a bad day at the balllpark.
2. Kirk Gibson, Dodgers, Game 1, 1988 (.870):
Two outs, bottom of the ninth, down by one, runner on base, Dennis Eckersley throws a backdoor slider ...
3. Lance Berkman, Cardinals, Game 6, 2011 (.832):
Because the Cardinals staged two dramatic, two-out comebacks, Berkman's heroics also score high. He had a key walk in the ninth, tied it in the 10th with his two-out single and also hit a two-run homer in the first.
4. Charlie Keller, Yankees, Game 4, 1941 (.826):
This is the famous game in which Mickey Owen dropped the third strike, leading to the Yankees scoring four runs in the ninth to win 7-4. Keller hit a two-out, two-run go-ahead double in the ninth, and also had an RBI single in the first during a 4-for-5 game.
5. Cookie Lavagetto, Dodgers, Game 4, 1947 (.822):
Lavagetto's pinch-hit two-out, two-run double in the bottom of the ninth broke up Bill Bevens' no-hit bid and gave Brooklyn a 3-2 victory.
6. Stan Hack, Cubs, Game 6, 1945 (.806):
The Cubs' leadoff hitter, Hack went 4-for-5 with two walks and three RBIs in a 12-inning 8-7 victory, including the winning double with two outs.
7. Devon White, Blue Jays, Game 4, 1993:
Toronto scored six runs in the eighth to win a wild 15-14 game. White's two-out, two-run triple off Mitch Williams knocked in the go-ahead runs. He finished 3-for-5 with a walk, two runs and four RBIs.
8. Ed Sprague, Blue Jays, Game 2, 1992:
His two-run pinch-hit home run off Jeff Reardon in the top of the ninth gave Toronto a 5-4 victory.
9. Terry Pendleton, Cardinals, Game 2, 1985:
Trailing 2-0 entering the ninth, the Cards scored one run and loaded the bases with two outs against Charlie Leibrandt. Pendleton cleared the bases with a double down the left-field line.
10. Hal Smith, Pirates, Game 7, 1960:
Smith's three-run home run in the bottom of the eighth with two outs gave the Pirates a 9-7 lead. The Yankees tied it in the top of the ninth, setting the stage for Bill Mazeroski's game-winner.