SweetSpot:

Edinson Volquez
March, 7, 2013
3/07/13
11:31
PM ET
No, the World Baseball Classic isn't the World Series or the World Cup, and it doesn't really prove which country has the best baseball talent. But it's a fun event, the players participating want to win, and there are fans across the globe -- mostly outside of the United States -- who care passionately about the results.
Is the event perfect? Of course not. Thursday's much-anticipated Pool C game between Venezuela and the Dominican Republic in Puerto Rico should have featured
Felix Hernandez
starting against
Johnny Cueto
instead of
Anibal Sanchez
against
Edinson Volquez
, but I didn't have a problem getting pumped up to watch a Dominican lineup that featured
Jose Reyes
,
Robinson Cano
,
Edwin Encarnacion
,
Hanley Ramirez
,
Nelson Cruz
and
Carlos Santana
, and a Venezuelan lineup that went nine deep with the likes of
Elvis Andrus
,
Asdrubal Cabrera
,
Miguel Cabrera
,
Carlos Gonzalez
,
Pablo Sandoval
,
Miguel Montero
and
Martin Prado
.
[+] Enlarge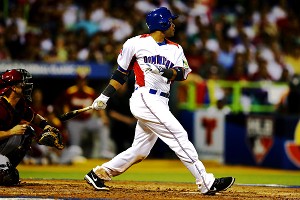 Al Bello/Getty ImagesRobinson Cano drove in three of the Dominican's nine runs in the opener against Venezuela.
Managers Tony Pena of the Dominican and Luis Sojo of Venezuela were forced to scramble when a first-inning rain delay led to the early exits of Volquez and Sanchez. But the Dominican had already jumped on Sanchez for three first-inning runs -- Cano doubled in two -- and a contingent of Dominican relievers, some minor league no-names and some major leaguers with big fastballs held the explosive Venezuelans to just six hits in a
9-3 victory
. The game slogged along, reminiscent of a Red Sox-Yankees affair from the mid-2000s, but that just showed what the game means to the players: They weren't going through the motions like you might see in a spring-training game in Arizona in early March.
The win puts the Dominicans in the driver's seat to win Pool C and help escape the embarrassment of 2009, when they lost twice to the Netherlands in pool play and failed to advance (scoring just three runs in those two games despite a lineup that included Cano, Reyes, Ramirez,
David Ortiz
and
Miguel Tejada
). Venezuela entered the tournament as a favorite alongside the U.S. Even minus Hernandez, it seemed to have more pitching depth than the Dominican, especially among the starters.
But in pool play, it's all about bullpen depth. Pitchers are limited to 65 pitches per outing and if they throw at least 30, they can't pitch the following day. If you pitch two days in a row, you can't pitch a third day in a row. But the Dominican bullpen rolled out Royals reliever
Kelvin Herrera
, he of the average fastball velocity of 97 mph last year, veteran
Octavio Dotel
,
Pedro Strop
of the Orioles and Rays closer
Fernando Rodney
. Strop had the key appearance on Thursday, pitching 1.2 hitless innings in the middle of the game when the score was 5-3. Command has always been the issue for Strop, but he threw an efficient 20 pitches, 14 for strikes. With a day off on Friday, Pena had no reservations about running all his relievers out there.
The Dominicans can attack you in different ways. They have the speed of Reyes,
Erick Aybar
and
Alejandro De Aza
; the power of Cano and Encarnacion; the patience of Santana, who drew four walks on Thursday. The team is also hoping to add
Adrian Beltre
in the second round. With that lineup and that crew of hard-throwing relievers, the Dominicans certainly have the ability to win it all.
The U.S. is still the favorite on paper (it plays its opener on Friday against Mexico). Even without starters
Justin Verlander
and
Clayton Kershaw
, it has the most pitching depth. After Volquez, the Dominicans have to rely on guys such as
Wandy Rodriguez
and probably
Samuel Deduno
to start.
And don't sleep on Venezuela. Its Saturday game against Puerto Rico likely becomes the key game now in Pool C. I wouldn't bet against a lineup where
Marco Scutaro
is batting ninth.
February, 13, 2013
2/13/13
7:59
PM ET
2012 in review
Record: 76-86 (75-87 Pythagorean)
651 runs scored (tied for 10th in National League)
710 runs allowed (11th in NL)
Big Offseason Moves
Acquired
Tyson Ross
from the
A's
for
Andrew Werner
and
Andy Parrino
. Re-signed free agent
Jason Marquis
. Signed free agent
Freddy Garcia
.
OK, it's the Padres. They're not sitting on a pile of money like their rivals to the north. Still, when retread veterans Jason Marquis and Freddy Garcia qualify as your big moves, that's an uninspiring offseason even if your projected payroll will be higher only than the
Astros
',
Marlins
' and
Pirates
'.
The Padres gave starts last season to
Kip Wells
,
Jeff Suppan
and
Ross Ohlendorf
after a slew of injuries wiped out much of their rotation, so adding starting pitching options was the offseason priority -- the only requirements being the pitchers be cheap and have a pulse.
Ross has long been an interesting arm, but he was never able to put it together with the A's (they won 94 games even though Ross went 2-11 with a 6.50 ERA). It's a gamble but didn't cost the Padres much.
Position Players
Here's an interesting fact: The Brewers led the NL in runs scored, but the Padres scored more runs on the road than the Brewers. With the Padres, you have to factor in the difficult hitting environment at Petco Park, especially in the power department. The Padres hit 74 home run on the road, but just 47 at home.
The offense starts with NL RBI leader
Chase Headley
, who drove in 115 runs -- even more impressive considering the Padres only had mediocre OBP numbers from their 1 and 2 hitters. Headley had that monster second half, of course, hitting .308/.386/.592 with 23 of his 31 home runs. He had a higher road OPS than
Miguel Cabrera
.
The rest of the lineup shapes up as a middle-of-the-pack offense.
Carlos Quentin
can hit when he actually plays (86 games last year) and
Will Venable
and
Chris Denorfia
make for an excellent platoon in right.
Cameron Maybin
turns 26 in April but it's probably time give up hope for a breakout season; at this point, it's safe to assume he's .250 with an OBP in the low .300s, but makes up for his mediocre offense with above-average defense in center field.
For the Padres to improve, they'll need more power from first baseman
Yonder Alonso
, who homered just nine times as a rookie. Petco or not, he'll have to slug higher than .393 or the Padres will be looking for a replacement. Catcher
Yasmani Grandal
impressed in a 60-game rookie season, but he's been suspended for 50 games for a positive test for performance-enhancing drugs.
The Padres ranked 23rd in Defensive Runs Saved (minus-24), with the biggest liabilities being the statuesque Quentin in left field and
Logan Forsythe
at second. Rookie Jedd Gyorko has a career .319 average in the minors and hit 30 homers in 2012 (24 in Triple-A). A third baseman, the Padres tried him at second and he may have a chance to win the job there at some point.
Overall, the offense is probably a little better than the raw numbers indicate, although I'm dropping the grade a bit since Maybin is really the only plus defender.
Pitching Staff
Where to start? Staff ace
Clayton Richard
led the NL in hits and home runs allowed and struck out just 107 batters in 218.2 innings. No. 2
Edinson Volquez
walked 105 batters. No. 3
Anthony Bass
had a 6.35 ERA on the road. Marquis had been let go by the
Twins
after allowing 33 runs in 34 innings. Anyway ...
OK, so it's a bad rotation, its inadequacies masked somewhat by the Padres' forgiving home park. This isn't the rotation the Padres were hoping for a year ago.
Cory Luebke
and
Joe Wieland
both underwent Tommy John surgery. Top prospect
Casey Kelly
missed three months with a strained elbow ligament, although did return to make six late-season starts for the team.
Andrew Cashner
, acquired from the
Cubs
in the
Anthony Rizzo
trade, started in the bullpen before moving to the rotation to help conserve his innings, and made a couple starts before straining a lat. He then cut his thumb in an offseason hunting accident and will begin the season on the disabled list.
No, the future of the Padres doesn't rest on Bass and Marquis, but on those four guys and younger prospects like Max Fried, Matt Wisler and Joe Ross. It's not a good rotation now, but it should be better in 2014.
Heat Map to Watch
What explains Headley's second half in 2012? For one thing, he started destroying fastballs. As you can see from the heat map, there is a lot of red. After hitting .303 with four homers against fastballs in the first half, he hit .392 with 11 homers against fastballs in the second half. From the numbers, it's hard to see exactly what happened. His swing percentage and chase percentage (on pitches outside the zone) were basically the same, so he didn't become more or less aggressive. He did improve his contact rate -- swinging and missing about 4 percent less often -- but that doesn't explain everything. Maybe he just hit the ball harder. Maybe he just got a little lucky. We'll find out in 2013.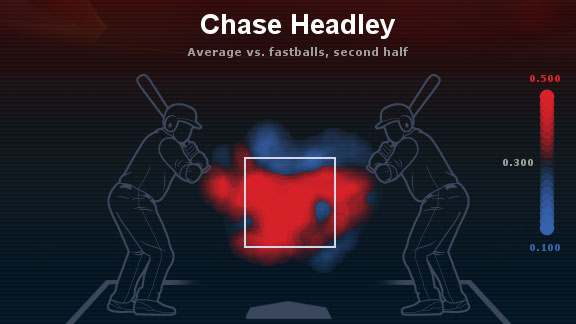 ESPNThe switch-hitting Headley feasted on fastballs in the second half of 2012.
Overall Grade

Some people view the Padres as a sleeper playoff candidate, but I have a hard time seeing it with the current makeup of the rotation. Even if some of the young guys return or suddenly mature, they need a lot of things to go right. The offense could be interesting if Alonso adds some power, Headley does his thing again, Maybin improves and Grandal returns and hits, but, again, that's a lot of ifs.
Factor in that the
Diamondbacks
have improved, the
Dodgers
have added
Zack Greinke
and get full seasons from last year's trade acquisitions, and I'm not sure I see the Padres cracking .500.
Thoughts?
July, 20, 2012
7/20/12
2:31
PM ET
OK, so Mark Simon and I got just a bit ridiculous at times on
Friday's Baseball Today podcast

, but there was much information and entertainment and hey, isn't that a good thing? Here are some of the topics discussed:
1.
Edinson Volquez
nearly tossed the first Padres no-hitter ever, and the only blemish was a play that many pitchers could have made. Also, how bad are the Astros?
2. We discussed the breaking news as the Astros and Jays
exchanged many players
in a trade that probably won't make much noise. Or will it?
3.
Chipper Jones
is aging nicely, and as Mark points out, his defense has become a strength. Also,
Brett Lawrie
gets evaluated a bit differently now.
4. Our emailers sent us down a ridiculous path, but we like that! Among the issues today were the haul
Mark Teixeira
brought back, home runs to runs and RBI ratios and of course, the All-Sitcom team. We kid you not.
5. It's a big weekend not only for the Rangers and Angels, but the top American League Central teams and top National League East teams meet. The pitching matchups are rather interesting.
So download and listen to Friday's Baseball Today podcast and have a little fun, because as Crash Davis said in Bull Durham, "This game's fun, OK?" Oh, and hold the ball like an egg.
January, 15, 2012
1/15/12
3:30
PM ET
By
Javier Maymí, ESPNdeportes.com
| ESPN.com
Led by home runs from
Fernando Tatis
, Mauro Gomez and Dennis Phipps and triple by
Andy Dirks
, the Escogido Lions pounded
Edinson Volquez
and the Cibao Gigantes to clinch a spot in the Dominican League finals.
The Leones got off to a 5-0 start in the 18-game, four-team semifinal round-robin tournament. They have enjoyed plenty of offense from Tatis, Gomez and Dirks, who have combined for 33 RBIs in 16 games while the pitching, anchored by
Fernando Rodney
,
Nelson Figueroa
and
Boston Red Sox
pitching prospect Kris Johnson, have recorded 118 strikeouts in a 16-game span.
The second spot in the finals is up for grabs between the Gigantes, Licey Tigres and Aguilas Cibaenas who are all within one game of each other with only two to play.
The Aguilas have added some firepower to their roster with the activation of Cuban slugger Yoenis Cespedes while
Hector Luna
,
Miguel Tejada
and
Oakland Athletics
outfielder
Brandon Moss
continue to contribute on offense. For its part, Licey added Angels shortstop
Erick Aybar
for the final stages of the round robin while the Gigantes continue to count on
Erick Almonte
,
Alexi Casilla
and
Wilson Betemit
to carry them into the finals.
Aragua making a charge in the semis
The Aragua Tigres, led by former major leaguer
Edgardo Alfonzo
, have won five straight games -- including a two-game sweep of the defending champion Anzoategui Caribes -- to move to within a half-game of the lead in the five-team Venezuelan League semifinal round robin.
The 38-year-old Alfonzo is batting .417 with an on-base percentage of .512 through 10 games in the semifinals and has paired well with
Hector Gimenez
(who signed a minor-league deal with the
Chicago White Sox
last week) and
New York Mets
utilityman
Luis Hernandez
to power the Tigres' offense.
Meanwhile, the Magallanes Navegantes have kept themselves in contention despite losing the services of
Chicago Cubs
first baseman Brian LaHair, who was recalled by the Cubs. The Navegantes have won of their last four games and are caught in a fight for survival with the La Guaira Tiburones, who have enjoyed a surprisingly strong performance from imports
Brian Sweeney
(2-0, 0.71 ERA) and
Les Walrond
(2-0, 2.60 ERA) as they seek their first Venezuelan League title in 26 years.
However, the Caribes still look strong atop the round-robin standings, as
Alexi Amarista
,
Gustavo Molina
and
Jose Castillo
continue to pound opposing pitchers as they have combined to bat .377 with eight homers and 33 RBIs in their last 11 games.
The Zulia Aguilas have already been eliminated as they began the round robin with a nine-game losing streak.
Obregon, Guasave lead in semifinal series
The defending champion Ciudad Obregon Yaquis took a 2-1 lead in their best-of-seven Mexican Pacific League semifinal series against the Mexicali Aguilas with an eighth-inning home run from minor-league veteran Iker Franco, who has carried the Yaquis in the series.
A one-time touted prospect in the
Atlanta Braves
organization, Franco has combined with import
Doug Clark
and newly-acquired veteran
Karim Garcia
to lead the offense to the series lead. The Yaquis have also relied on solid performances from starter Marlon Arias and relievers Mario Mendoza and
Luis Ayala
to gain an edge over underdog Aguilas.
In the other semifinal, the Guasave Algodoneros hold a 2-1 series lead over the Culiacan Tomateros, but Culiacan, after being down 0-2 in the series, exploded for a 17-4 victory behind three homers by import
Cory Aldridge
, who became the seventh player to hit three homers in a playoff game in MPL history and the first import to do it since Willie Aikens in 1987. Javier Robles and
Humberto Cota
equaled the feat in 2005 and 2010, respectively.
Aldridge, a free agent since 2010 when he played in five games for the
Los Angeles Angels
, led the attack which also included a rare home run from shortstop
Ramiro Pena
and another from outfielder Refugio Cervantes, who has played the last 12 seasons in the Mexican League.
Starter
Rodrigo Lopez
got the win as the series resumes in Guasave as regular-season ERA champ Francisco Campos takes the mound for Culiacan against
Cincinnati Reds
prospect James Avery for Guasave.
Mayaguez pounds Caguas in final series opener
The Mayaguez Indios' bench came alive in the Puerto Rico Baseball League final series opener as last-minute replacements Danny Ortiz and Danny Gonzalez -- starting for the injured
Randy Ruiz
and Mickey Negron -- combined to go 5-for-8 with four RBIs to give the Indios a 10-1 victory over the Caguas Criollos.
Fresh off a semifinal series win over the Ponce Leones, the Indios took advantage of the rusty Criollos, who by winning the four-team regular season title had a 10-day layoff to await their opponent in the finals. Mayaguez pounded Criollos starter
Matt DeSalvo
, who lasted only three innings as
Jesus Feliciano
, Jeffrey Dominguez and
Ruben Gotay
all contributed to the attack.
Indios starter
Bobby Livingston
, a Mexican Summer League standout who most recently pitched in the minors in 2010 for the
Tampa Bay Rays
organization, pitched five scoreless innings yielding only a double to Criollos second baseman
Alex Cora
.
November, 18, 2011
11/18/11
1:00
PM ET
By
Christina Kahrl
| ESPN.com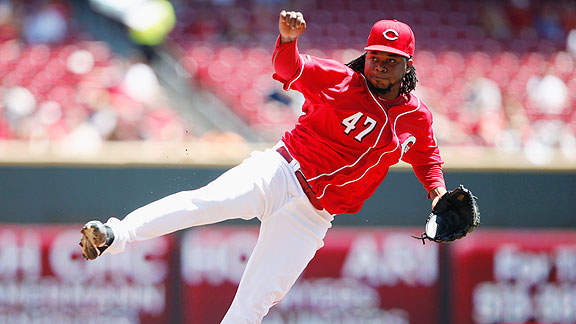 Joe Robbins/Getty ImagesJohnny Cueto heads a promising Reds rotation ... assuming he can stay healthy.
One of the reliable tropes about both general managers and managers is that everybody's good at something. Some managers might be exceptionally good with getting the most out of a veteran roster, and some GMs might be especially effective in adding that talent. Certainly, in Cincinnati a win-now hook was part of the rationale behind enabling Walt Jocketty's palace coup when he took over the Reds from Wayne Krivsky at the start of the 2008 season. That was certainly part of the reason why they'd already put Dusty Baker in the dugout as well.
And to some extent, you can call the last four seasons in Cincinnati a modest success. Through 2011, payroll had only grown 17 percent (before inflation). The Reds have significantly raised their performance margins within the old Bill James "Plexiglass Principle": Instead of ping-ponging between 70 and 80 wins as they had during the Aughties, they've won 78, 91 and 79 games the past three years, a much happier range to be bouncing around.
And for all that, they're about as exasperating a team as you could imagine, because Jocketty and Baker are supposed to deliver. Last season's climb back down below 80 wins from their 2010 Central Division title was all the more disappointing because so many questions remain unanswered. Perhaps first and foremost among those questions is their rotation -- deep, talented and immensely frustrating.
Before the 2010 season, you could be understandably excited about the Reds' rotation depth. In the abstract, a list with
Johnny Cueto
,
Mike Leake
,
Homer Bailey
,
Edinson Volquez
,
Travis Wood
and
Aroldis Chapman
on it is supposed to make you excited about a team's near-term future.
Unfortunately, that was before so many things went wrong. For all that talent, the Reds rotation averaged a
Game Score
of 50 on the season, better than just four teams in the league. Cueto's shot at winning the National League ERA title was squelched by shoulder woes early and neck problems late in the year. Chapman was sent to the pen, struggled with his command, and shipped to the minors, remaining in relief role after his return. Bailey landed on the disabled list twice, and it was his right shoulder both times, making it three times in two years that's happened. Wood gave them 10 quality starts in his first 16, but the Reds were frustrated and shipped him to Triple-A for two months anyway. A couple of weeks later, Volquez followed him to Louisville, sporting an unintentional walk rate of 5.6 BB/9 while allowing 15 homers in 85 innings pitches.
That is not to say the picture's entirely bleak. Bailey managed to notch quality starts in more than half his turns (13 out of 22), a career first for him. When healthy, Cueto is the ace they need to contend again. Leake turned in a fine sophomore season.
However, the FIPs for Bailey (4.02) and Leake (4.19) don't suggest they'll join Cueto at the front of the rotation. That's also not any better than Wood (4.03 FIP), if the Reds are willing to give him a second chance. Volquez might not get even that; his name shows up in trade rumors, and despite the poor performance arbitration is only going to make him more expensive to employ the next two seasons.
Sorting out the Reds' rotation to pick their best five guys is going to require judgment. But you could have said that about them last year too, only to see them wind up resurrecting
Dontrelle Willis
. Whatever the basis on which those choices are made -- scouting, stats or both -- the challenge for Jocketty this winter will be picking his ponies and then having Dusty watch them run. That sounds easy enough, but the problem is whether or not you can reasonably hope for the Reds to pick the right guys.
Take the Reds' recent big-picture decisions, and the most recent developments. Last winter, Jocketty gave
Bronson Arroyo
a three-year, $35 million extension to be the rotation's veteran workhorse. They were rewarded with a 46-homer season, the second-highest single-season tally in National League history. Sure, it's clever to defer payments to lower the contract's annual average value below $10 million per year, but it's still a massive multi-year commitment to
Bronson Arroyo
, a nice mid-rotation innings-eater at the best of times. Unfortunately, the deal was to keep him around for his age-34 through age-36 seasons, which weren't likely to be the best of times, and haven't been.
Any hopes that the Reds might move Chapman back to the rotation any time soon are on hold after he came up with a sore shoulder in the Arizona Fall League. As a result, they scrapped plans to let him start in winter ball.
Cueto, Bailey and Chapman, all top young pitchers, all coming up sore-armed on Dusty Baker's watch? Even if Baker is being more careful with young pitchers than he was with another talented trio in Chicago, we've certainly been here before.
And then there's the Reds' rumored interest in
Jair Jurrjens
of the
Atlanta Braves
. Jurrjens is also someone most statheads expect to see take a tumble in 2012, by as much as a full run given a 3.95 FIP to his 2.96 ERA. That's assuming that the right knee that has shelved him three times in two years holds up, and that's without getting to an additional pair of DL stints in the last two years for injuries to an oblique and a thigh.
On paper, adding another body to their rotation depth would seem like the last thing the Reds should be worrying about -- they already have seven guys for five slots, and they're struggling to identify which ones are their real keepers. It certainly doesn't reflect well on their current crew, although teams willing to trade for any of the non-Arroyos wouldn't be hard to find. If Jurrjens is the solution, maybe it's the decision-making process that tells the Reds to go after him that is the problem.
Christina Kahrl covers baseball for ESPN.com. You can follow her on Twitter.
July, 8, 2011
7/08/11
1:30
AM ET
By
Bill Parker
| ESPN.com
Considering that the
Cincinnati Reds
play in a division they won by five games in 2010 and in which the other contenders have been hit with injuries to key players in 2011, you might have expected them to be sitting in a very comfortable position by now. Instead, after a 5-4 loss in Milwaukee on Thursday, they're on the wrong side of .500 at 44-45 and trail the Brewers, Cardinals and even the Pirates in the NL Central. They're 7-12 since a three-game sweep of the Dodgers in mid-June. For all that, they're still just three games out of first place. Can the ship be righted, and how?
The team took a stab at dealing with its two most obvious problems on Thursday. They demoted
Edinson Volquez
, who had been walking nearly six men per game on the way to a 5.93 ERA and may be replaced by an apparently resurgent
Dontrelle Willis
. And they gave a long-overdue promotion to shortstop prospect Zack Cozart, who had been hitting .310/.357/.467 and will be given an opportunity to replace the shockingly poor production they had been receiving from
Paul Janish
and
Edgar Renteria
, who have combined to produce -0.1 wins above replacement (WAR), according to FanGraphs.com. Both moves represent huge steps in the right direction.
Those weren't the
only
problems this team has, however.
Bronson Arroyo
has arguably struggled even more than Volquez, and his veteran status and hefty price tag running through 2013 make him a harder burden to shake off than Volquez.
Travis Wood
has been similarly ineffective if you go by his 5.11 ERA, though his 4.11 FIP suggests he's been mostly unlucky. All told, for all the preseason talk about the great starting rotation depth, and despite a great first 11 starts from
Johnny Cueto
, Reds starters entered Thursday with a 4.60 ERA, second-to-last in the National League, and tied for last with just 3.5 FanGraphs WAR.
Outside of that little rotation issue, though -- and that's a big one -- it's hard to pinpoint areas in which this team has gone wrong. They've gone with an unorthodox sort of three-headed-monster approach in left field, dividing the position among
Chris Heisey
,
Jonny Gomes
and
Fred Lewis
. Yet all three have been effective, with Gomes and Heisey providing good offense and Lewis good defense, combining for 3.1 WAR. It's starting to look like Scott Rolen's bat has fallen off the old-age table, but he appears to be making up for it with his still-excellent defense, and his oft-used substitute
Miguel Cairo
(against all odds) has been solid with both bat
and
glove. At catcher, first, second, center and right, the Reds have received well above-average play (at least), and the bullpen has been solid. One would think a team with this lineup would be better than 44-45, even with a shaky rotation.
And in at least one sense, they
have
been better than that. Coming into Thursday, the Reds' "Pythagorean record" -- the record suggested by their run differential -- was 47-41, which would have them tied for first place in the division. A negative disparity between a team's Pythagorean and actual record sometimes suggests a managerial failing of some kind, but I don't see a lot of evidence of that here. Dusty Baker certainly has his flaws (ones we in the sabermetric community are all too aware of), and sometimes makes some interesting decisions regarding the use of his bullpen and other personnel, and it's possible that his decision-making has lost some close games. There's no hard data to back that up, though, and anecdotally, most Reds fans I know seem to think that Dusty is doing a better job of in-game managing this year than he has in the past.
Rather, the discrepancy seems to be the result of a lack of "clutch hitting" by the Reds; the team's .259/.330/.403 overall line (through Wednesday) slips to .237/.313/.343 in "late and close" situations, suggesting that they're finding it easier to score runs when ahead or trailing by a bunch than they are late in a tight game, when each individual run matters a bit more. The team's overall hitting line is above the NL average, but its "late and close" line is slightly below average across the board. (The NL "late and close" average entering Thursday was .244/.322/.359.)
So the Reds' problems, after dealing with their shortstops and Volquez, seem to boil down to Arroyo, Wood and clutch hitting. The last bit can't be dealt with; study has shown that "clutch," to the extent it exists, is impossible to separate from simple dumb luck, good or bad. Wood should be fine for essentially the same reason: He has really struggled with runners in scoring position, and unless the team has some reason to believe he has problems pitching out of the stretch or gets more rattled than most do with men on second or third, those numbers should get better. Arroyo on the other hand has been legitimately struggling for two months, and is a real worry; if they're willing to recognize his huge contract as a sunk cost and move him to a long-relief role (or off the team entirely), and in favor of
Sam LeCure
(if healthy) a possible acquisition on the trade market, that could really improve the team going forward.
For the most part, though, the Reds have done almost everything they can by finally calling up Cozart and demoting Volquez. Most else is out of their control: The hits should get more timely, and the non-Arroyo pitching should get better. Even the hitters who are doing well in 2011 --
Joey Votto
,
Brandon Phillips
,
Drew Stubbs
and
Jay Bruce
, in particular -- have shown themselves capable of doing even better. It wouldn't be a surprise to see one or more of them get incredibly hot and carry the team over the second half.
Looking up at three other teams at the All-Star break is never a good place to be, but the Reds seem about as well-positioned to make a second-half run as a fourth-place team could get.
PHOTO OF THE DAY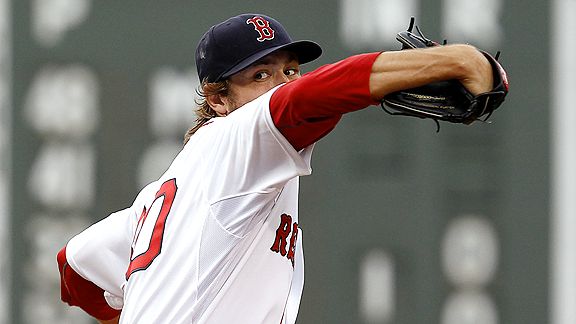 Mark L. Baer/US PresswireAndrew Miller only has eyes for his comeback with the Red Sox.
Bill Parker writes for The Platoon Advantage. Follow him on Twitter: @Bill_TPA.
July, 1, 2011
7/01/11
12:36
PM ET
I did the Baseball Today podcast with Eric Karabell on Wednesday and randomly mentioned that
Colby Lewis
is one of the most important pitchers in baseball. He returned from Japan last season and was a huge key to the Rangers' World Series run, winning 12 games with a 3.72 ERA, finishing fifth in the AL in strikeout rate and then beating the Yankees twice in the ALCS and winning his only World Series start. This season, however, he's been up and down, with four starts of six or more runs allowed, but three with zero.
[+] Enlarge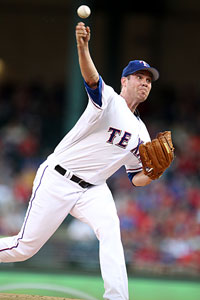 Matthew Emmons/US PresswireColby Lewis is 7-7 with a 4.32 ERA for the Rangers, but has allowed 20 home runs.
Anyway, after bringing up Lewis, Eric and I decided to each submit our list of the 10 most important pitchers in baseball. The best guys aren't on here; we know
Roy Halladay
and
CC Sabathia
and
Jon Lester
are good and that they just need to stay healthy. So our lists are more a sample of guys who need to keep pitching well or guys who need to step it up. Eric's list tended more to include guys currently pitching like aces; my list tended more towards guys who need to step it up, although we did end up with a few duplicates.
Eric's list
Edinson Volquez
, Reds: His ERA is through the roof (5.65), but Dusty Baker chose him for Game 1 of the playoffs last year for a reason, and needs him to anchor the current staff if the Reds are to get back there.
Josh Beckett
, Red Sox: Baseball's ERA leader until Tuesday, if he reverts to his 2010 self this team is in trouble, because depth/health is already an issue.
Jhoulys Chacin
, Rockies: He's taken over ace duties from
Ubaldo Jimenez
, and better keep pitching well because no other healthy Rockies starter boasts a sub-4.00 ERA.
Shaun Marcum
, Brewers: The real ace of the NL Central leaders so far, he's dealt with a hip problem lately, and the team has lost six of his past seven starts.
Jaime Garcia
, Cardinals: The young lefty has won once in eight starts, and one gets the feeling there's only so long
Kyle Lohse
can keep his ERA at 2.78.
Erik Bedard
, Mariners: He was placed on the disabled list Wednesday, but don't panic. How the Mariners play in the next month will decide which contender Bedard pitches for the final two months.
Ivan Nova
, Yankees: Since I can't trust
Bartolo Colon
to stay healthy or
Freddy Garcia
to stay competent, Nova needs to pitch like the No. 3 starter he occasionally looks like.
Colby Lewis, Rangers: Lefty
C.J. Wilson
seems safe, but with
Alexi Ogando
blowing up it's critical Lewis cuts down on the home runs and gives the Rangers' offense a chance.
Brandon Beachy
, Braves: He's a lot better than most people think, while touted arms
Mike Minor
and
Julio Teheran
just don't seem ready.
Rick Porcello
, Tigers: He's third on the staff in wins, but you won't win much when allowing 21 runs over your past 12 1/3 innings (three starts). The Tigers need Porcello to fix things.
Dave's list
Colby Lewis, Rangers: Home runs have been his problem as Eric wrote, as he's allowed an AL-leading 20, just one fewer than last season.
Clay Buchholz
, Red Sox: The Red Sox have allowed more runs than the Yankees, so they need Buchholz to return from the DL and give them that solid No. 3 behind Josh Beckett and Jon Lester.
Kyle Lohse, Cardinals: Lohse isn't going to keep his ERA under 3.00, but with the bullpen in tatters, Tony La Russa needs him to keep soaking up innings ... and keep that ERA
close
to 3.00.
Edinson Volquez, Reds:
Johnny Cueto
has been really good lately, but the Reds need somebody else in the rotation to become a strong No. 2.
Fausto Carmona
, Indians: He's 4-10 with a 5.89 ERA, including 1-7 with a 7.99 ERA over his past nine starts, and while that hard sinker is still there, the Indians can't afford to wait much longer.
Rick Porcello, Tigers: His ERA is 5.06, his strikeout rate is low, and with
Phil Coke
just demoted to the pen, the Tigers need second-half improvement from Porcello.
Bartolo Colon, Yankees: He's important precisely because he
has
been so good.
Ian Kennedy
, Diamondbacks: If Arizona wants to stay in the NL West race, it needs Kennedy to keep pitching like the staff ace he's been, as he's third in the NL in innings pitched and has a 3.01 ERA (excellent for that ballpark).
Zack Greinke
, Brewers: He's 7-3 but his ERA is 5.63; his strikeout-to-walk ratio is an excellent 80/12, so odds are that ERA will drop significantly in the second half.
Brandon Beachy, Braves: He's been so impressive in his 10 starts that suddenly the Braves
need
him to keep it up, considering their lackluster offense.
Follow Eric on Twitter @karabellespn and Dave on Twitter @dschoenfield.
May, 28, 2011
5/28/11
11:00
AM ET
By
Christina Kahrl
| ESPN.com
Like more than a few teams, the Reds are nearing the season's one-third mark mucking around .500, They're closer to fifth place than first in the NL Central, but in today's parity party, half the league is within single three-game series of the Reds.
[+] Enlarge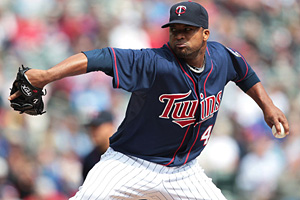 Jesse Johnson/US PresswireThe Twins' Francisco Liriano made one costly mistake during his 15-strikeout effort on Friday.
But the Reds can't afford to be sanguine about their lot, not when the roster has been an unsettled mess. What started off on paper as a nicely crowded selection of starting pitching options has been undermined by equal doses of injury and ineffectiveness.
Homer Bailey
is back on the DL with a shoulder injury, this just a few short days after
Edinson Volquez
was optioned to Triple-A Louisville. There's also the problem with what their rotation will actually amount to, even in better-case scenarios. Volquez, Bailey,
Mike Leake
,
Bronson Arroyo
and
Travis Wood
can all be useful starting pitchers in the major leagues, but if everything goes right, aren't they all just potentially threes and fours in a big-league rotation?
Then there's
Aroldis Chapman
, on so many short lists for best candidates for the National League Rookie of the Year in March. He's also in Louisville at the moment, and is also on the DL for shoulder trouble. Pitching coach Bryan Price is being credited with fixing a flaw in Chapman's delivery, but a third of the way through the season the most notable thing about Chapman's season is that he put more than a third of all batters faced on base via walks or hit batsmen.
The lineup has its own issues.
Scott Rolen
is off to a slow start, and neither of the shortstops is hitting. Starting left fielder
Jonny Gomes
has been riding pine for the past week and a half, purportedly getting the benefit of plenty of hands-on instruction from his manager. Maybe that's so, maybe it's window dressing, but the simple fact is their starting left fielder has been benched for some combination of
Fred Lewis
and
Chris Heisey
.
So Walt Jocketty and Dusty Baker haven't been sitting on their hands, but the Reds should be thinking in terms of what other moves they can make to exploit their depth on the big-league roster as well as within a farm system that provides them with good alternatives. The danger of doing nothing is that they might wind up watching as the Cardinals get out too far ahead, and waiting until July to seriously reconsider their roster could only add to the challenge.
Christina Kahrl covers baseball for ESPN.com. You can follow her on Twitter.
May, 25, 2011
5/25/11
3:11
PM ET
There are many reasons you should listen to Wednesday's three-headed
Baseball Today podcast

with myself, Keith Law and SweetSpot blogger David Schoenfield, but here are the top five:
1. Tuesday was a far different day for the De La Rosa pitchers, as one blew out of his elbow, and the other got the call to the big leagues. Are the
Colorado Rockies
in trouble replacing their De La Rosa? And what are the
Los Angeles Dodgers
doing promoting theirs?
2. Sticking with the NL West, do the
San Francisco Giants
want
to score runs? Of course they do, but then why aren't they playing their best hitters? Then again, this isn't the same offense it was a year ago.
3. Should MLB take a cue from Premier League soccer and bump out the bottom few teams each season? As always, Mr. Law brings a strong opinion.
4. We talk relief pitchers, from the hierarchy of the
Atlanta Braves
' top duo to the fellow that earned a three-year contract from the
Detroit Tigers
.
5. On Wednesday's docket is a rematch of one of the best pitched games of 2010. Not to give too much away, but you can find this game on ESPN2!
Plus: Excellent,
Glee
ful emails (send to
baseballtoday@espnradio.com
, incidentally), discussion about a few prospects in the upcoming draft,
Alfredo Simon
's presence in the big leagues,
Edinson Volquez
's presence in the minor leagues, why
Madison Bumgarner
isn't a bum and I wantonly ring the Kara-bell, all on Wednesday's Baseball Today podcast!
May, 24, 2011
5/24/11
4:51
PM ET
If you like your podcasts filled with opinion and the occasional rant, then Tuesday's
Baseball Today podcast

with myself and Keith Law is just for you ... and everyone else. Here are a few of the topics broached:
1. Yes, we discussed the messed up Mets on Monday's show, but now Keith gets his shot. Should the players be firing back? Listen and find out.
2. I feel like every day, between players and management, we can say "nice going" to someone for saying something silly.
Oakland Athletics
closer
Brian Fuentes
wins the award for late Monday night. See why.
3. Fans of National League teams rarely seem to want to hear it, but there are reasons why the American League is just flat-out better, and Mr. Law explains why.
4. Some major players returned to the lineup Monday, but can
Chase Utley
and
Josh Hamilton
adjust their style of play just to remain healthy? I don't think that's so easy.
5. So, the
Cleveland Indians
just keep on winning, five games better than any other AL team ... and one of us still doesn't believe. You know what? This won't be settled in the next few weeks, either.
Plus: Excellent emails, discussion about a top
St. Louis Cardinals
infield prospect, checking the potential debut schedule for baseball's top teen prospects, how MVP voting either should or should not correspond with a team's record, the top matchups for Tuesday and, really, so much more on Baseball Today! Enjoy and get those questions in for Wednesday!
May, 13, 2011
5/13/11
2:03
PM ET
The
Cincinnati Reds
have one of the deepest starting rotations in the National League -- seven-deep, in fact -- and of the seven, six of them are ages 23-27.
[+] Enlarge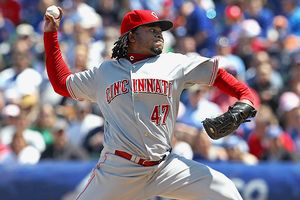 Jonathan Daniel/Getty ImagesJohnny Cueto, who'd been on the disabled list with muscle irritation in his arm, pitched six shutout innings in his season debut May 8.
Edinson Volquez
has shown flashes of being a potential No. 1 starter;
Johnny Cueto
already is a solid No. 2;
Bronson Arroyo
just wins 15 games and pitches 200 innings every year;
Travis Wood
has pinpoint control;
Homer Bailey
has the raw stuff to potentially become a No. 1; and
Mike Leake
and
Sam LeCure
are solid back-of-the-rotation arms. With one of baseball's best defensive teams behind this young, strong rotation, the Reds are built to be a World Series-contending team over the next several seasons.
Rotation depth should give them an advantage over the 162-game schedule. But the question remains: Can they compete in the playoffs? While the Phillies, Giants, Marlins, Rockies, Dodgers, Braves and Cardinals all have proven No. 1 starters, the Reds are hoping that either Volquez, Cueto or Bailey will develop into one. The hope is that they can compete with the likes of
Roy Halladay
,
Tim Lincecum
and
Josh Johnson
come October in Games 1 and 7 of important playoff matchups. The potential is there.
Here is a breakdown of their starting rotation:
Volquez, 27, has an overpowering fastball at times (90-96 mph) with an excellent changeup, an effective curveball and a hard slider. He has quick arm speed out front with whip-like action. When he's healthy, he's shown he can be a strike thrower who goes right at hitters and pounds the zone. In fact, if you want to take a snapshot of his best pitching, it was the first half of 2008, when he went 12-3 with a 2.29 ERA and a WHIP of just 1.24. Some even nicknamed him "Mini-Pedro" for that short period of success. Since then, he's had Tommy John surgery and a positive test for PEDs. The reality is he can't control the baseball like he used to. In his past start, he walked five of the first 12 batters he faced. His WHIP is 1.6, he's averaging seven walks per nine innings, and leads the league in walks with 33. Although he has the potential to be a No. 1, he looks more like a No. 3 starter, and the Reds are hoping the command and control come back sooner rather than later. The raw stuff is top-of-the-rotation talent.
Former Reds scout Johnny Almaraz recruited Cueto as an international signee . Cueto, 24, has a smaller frame with a powerful fastball in the 90-95 mph range. He's aggressive and commands the fastball well. This has allowed him to realize getting outs on the ground can be as effective as strikeouts. He has a hard, tight slider that is deceptive enough to get him punch-outs out of the zone against even some of the league's better hitters. He has a plus changeup at times, and the cutter is also effective, especially against left-handed hitters. The Reds signed Cueto to a four-year, $27 million deal before spring training. Imagine the alarm when his shoulder started barking. But thanks to one of the best medical teams in baseball, led by Dr. Timothy Kremchek, they quickly put him on a strengthening program that has him healthy again and back on track to being a solid No. 2 starter.
Arroyo, 34, is one of the best No. 3 starters in baseball. He has won at least 15 games three years in a row and has pitched at least 200 innings every season since 2005. He'll throw between 85-90 mph, with a big, slow curveball, an average slider with tilt, and an effective cutter. He varies speeds, plains, zones and really knows how to pitch. He'll try to get you to chase, and he'll try to fool you. He wins. He pitches innings. He has tremendous make-up and character and is the leader of this rotation. He is a straight shooter and a rock 'n' roller, with the hairdo, swagger and charm. Every fifth day the Reds can count on him keeping them in the game with a chance to win.
Wood, 24, is the lone lefty in the rotation. He is a competitor and a good athlete. His sinking fastball is mostly 88-91 mph with pinpoint control. He has an excellent changeup, a quality cutter, and his breaking balls -- a slider and a curveball -- have developed enough to be effective. His balls have late movement, and he keeps them out of the middle of the plate. He spent time in the offseason with
Cliff Lee
, working out and talking about pitching. Both Arroyo and catcher
Ryan Hanigan
rave about Wood and his ability to get outs with less stuff. Wood is a solid lefty who will always be referred to as a real estate pitcher, meaning location, location, location ... and late life.
Bailey, 25, has the highest ceiling of any of the Reds' starting pitchers. Like Cueto, Wood and Lecure, he was cross-checked and recommended by former Reds scout Jimmy Gonzales, who felt strongly Bailey would be a 15-18 game winner someday. Bailey had some minor injuries early in his career and used to be just a thrower. His stubbornness and inability to make adjustments due to immaturity frustrated the Reds' brass for years. However, last September, the maturity came, the light bulb went on, and Bailey is now ready to take off. His fastball is 90-96 mph with hard, arm-side sink. The pitch is so overpowering that at times he can throw it down the middle of the plate, tell the hitter it's coming, and they still can't catch up. When he was drafted, he had a big curveball that was his primary breaking pitch, but now his first breaking ball is a tight slider or cutter that is a lot more effective. His secondary offspeed pitch has improved dramatically; everything moves. He is a fierce competitor who is really coming into his own as he has learned how to pitch.
Leake, 23, the right-hander out of Arizona State, became the first player in a decade in the past season to make the major leagues without spending time in the minors. He rewarded the Reds in the first half by going 6-1 with a 3.53 ERA in 17 starts with a WHIP of 1.3 and was a ground-ball machine. Leake is not overpowering, but he used both sides of the plate and kept the ball down. The second half, however, was a different story once the innings racked up. Leake is now throwing out of the bullpen, but if there is an injury, he'll be ready to step back into the rotation. At the back end of the rotation, he is certainly capable of winning 10-12 games.
LeCure, 27, went to school at the University of Texas and was academically ineligible to pitch in 2005. That didn't stop the Reds from evaluating and drafting him after watching his bullpen sessions. His fastball can get up to 88-91 mph, and he commands his slider and changeup. LeCure is a tough kid with exceptional make-up, an over-achiever who can win at the back end of any rotation. He provides more valuable depth for the Reds.
The bottom line is that this is a really talented and deep rotation. If Volquez, Cueto and/or Bailey arrive at their fullest potential, the Reds may be celebrating at the White House and not just at Fountain Square in the Queen City or at one of Jeff Ruby's famous downtown restaurants.
Thanks for reading, and I appreciate your comments, recommendations and retweets. You can follow me on Twitter:
@JimBowdenESPNxm
.
October, 6, 2010
10/06/10
7:42
PM ET
One half of the Phillies' Game 1 victory -- or if you prefer, the Reds' Game 1 loss -- absolutely demands attention from card-carrying members of the American Second-Guessing Association of America (ASGAA).
Cincinnati rookie
Travis Wood
debuted in the majors on the 1st of July, and essentially was the Reds' best starting pitcher for the rest of the esason. He won just five times in 17 starts, but posted a 3.51 ERA and a brilliant 3.31 strikeout-to-walk ratio. That latter figure was easily the best among Cincinnati's starters.
Wood also gave up only nine home runs in 103 innings; that ratio, too, was the best on the staff.
One might have argued, 24 hours ago, that Travis Wood was the best starting pitcher available to Dusty Baker.
One might also have argued that Baker needed to deploy at least one left-handed starting pitcher against the Phillies, who rely so heavily on left-handed hitters in the heart of their lineup:
Chase Utley
,
Ryan Howard
, and
Raul Ibanez
.
Unfortunately, only two left-handed pitchers started even one game for the Reds all season: Wood and
Matt Maloney
(a junkballer who started twice in July).
More unfortunately, Baker opted to leave Wood out of his Division Series rotation. What makes things even easier for the ASGAA: after Baker's Game 1 starter,
right-hander
Edinson Volquez
, got knocked out in the second inning, Travis Wood trotted in from the bullpen and retired 10 of the 12 batters he faced.*
* Members of the American Rationalists of America (ARA) -- sworn enemies of the ASGAA -- will point out that Volquez did just fine against the left-handed hitters he faced, and it was mostly right-handed hitters and switch-hitters who did most of the damage. Don't listen to the ARA. They're just a bunch of curmudgeons.
The bottom line is that you're going to have a hard enough time beating the Phillies, but a harder time if you can't throw either a Cy Young candidate or a tough left-hander against them.
The Reds don't have anything like a Cy Young candidate. And Baker chose against his only tough left-hander. So it shouldn't be a surprise that the Phillies scored enough runs to win.
But of course that's just half the game, the half in which the Phillies batted.
There's nothing to second-guess about the other half, the half in which the Reds batted. Cincinnati won 91 games this season and led the National League in scoring, with essentially the same lineup that Dusty Baker deployed in Game 1.
Unfortunately, Charlie Manuel deployed the best pitcher in the National League.
More unfortunately, that pitcher threw one of the greatest games that any pitcher has ever thrown in the postseason.
In the end, this just wasn't a good day for the ASGAA.
Or for anyone who had to bat against
Roy Halladay
.