September, 25, 2013
9/25/13
12:36
AM ET
You know how the
St. Louis Cardinals
acquired
Michael Wacha
? Yes, with the 19th pick of the first round of the 2012 draft.
But you know how they acquired that pick? The got it from the Los Angeles Angels.
[+] Enlarge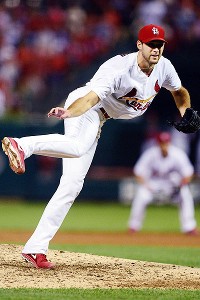 Jeff Curry/USA TODAY SportsMichael Wacha's delivering an easy answer for whether or not he should start in the postseason.
For losing
Albert Pujols
as a free agent.
So not only did the organization save $240 million in salary on a player in decline, they acquired a pitcher who is looking like a future star. After his
near no-hitter
on Tuesday against the Washington Nationals in his ninth career major league start --
Ryan Zimmerman
's infield hit with two outs in the ninth made everyone sad -- it seems pretty clear that Wacha has to be in the Cardinals' postseason rotation.
Wacha is 4-1 with a 2.78 ERA in 64 2/3 innings (he has made six relief appearances as well) and has allowed no runs in three of his five September starts. He did allow 12 hits and four runs in 4 2/3 innings in his last outing, but that came in Colorado, so it comes with an asterisk. When Wacha is commanding his mid-90s fastball like he did against the Nationals, it makes his changeup all that much more unhittable, a pitch opposing batters are hitting just .190 against without a home run.
The question for manager
Mike Matheny
: Assuming the Cardinals hold on and win the division, do you go with two rookie starters in your four-man playoff rotation? Here's how the other four starters have fared of late:
Adam Wainwright
: He gave up 15 runs in back-to-back starts against the Reds in late August/early September, but has looked good with a 2.12 ERA and strong peripherals over his past four outings.
Lance Lynn
: After a rough five-start stretch from Aug. 15 to Sept. 5 (43 hits, 25 runs in 27 1/3 innings), he has allowed just four runs in his past three starts (two of those came against the Brewers, the other against the Rockies in Colorado).
Joe Kelly
: In his second year, the righty has a 2.32 ERA since moving into the rotation in early July. His strikeout rate isn't impressive but he gets ground balls with that hard, sinking fastball and keeps the ball in the park (just three home runs allowed his past 75 innings).

Shelby Miller
: The other rookie, he's 14-9 with a 3.12 ERA, although he has a 4.23 ERA and a poor 15/13 SO/BB ratio in 27.2 innings over his past five starts.
Certainly, Wainwright draws the Game 1 start. But do you slot the veteran Lynn in the No. 2 hole? While he has been better of late, do two good starts against the Brewers have you convinced that he's back on track? Plus, Lynn has experience in the bullpen from 2011 and didn't pitch well in last year's postseason. Maybe he's best utilized like the Giants used
Tim Lincecum
last year, as a multi-inning long reliever. But Miller hasn't been as strong down the stretch and the Cards presumably want to watch his innings anyway (he's at 167).
I'd probably go Wainwright, Wacha, Kelly and Lynn, keeping Lynn on a short leash and hoping Miller can amp it up a bit in a relief role. The fact that Wacha has only nine starts could actually be to his advantage as opponents just haven't seen him.
The rotation isn't the only issue for Matheny to resolve.
Trevor Rosenthal
got the final out on Tuesday and now has saves in back-to-back games. Is he now the closer over
Edward Mujica
? If so, does that make Mujica the eighth-inning guy? But is one role really any more valuable than the other? Do you demote Mujica and put him in a role in which he may pitch with more runners on base?
While uncertainly can create some nervousness, it can also create flexibility, which can be a good thing since you're not stuck with pre-designated roles. A smart manager knows you don't -- and shouldn't -- manage October that same way you manage April through September.
And if that means two rookies in your rotation and a rookie closer, I'm OK with that. I see no reason why the Cards can't win it all doing that.
August, 29, 2013
8/29/13
5:40
PM ET
Here's the thing: There are a lot of good relief duos out there. Eric Karabell and myself discuss five of the best ones in the video, but there are others we left out:
--The Pirates. Closer Jason Grilli is out right now, but he and Mark Melancon have been terrific all season. Melancon (0.91 ERA) has stepped into the closer's role with Justin Wilson (2.05 ERA) handling most of the eighth-inning duties. That's still a great pair, with Melancon arguably the most valuable reliever in the majors this season.

--The Rangers. They have the fourth-best bullpen ERA in the majors and are 65-3 when leading after seven innings. Great depth behind Joe Nathan with Neal Cotts, Tanner Scheppers, Robbie Ross and Jason Frasor, all with ERAs under 2.70 in 40-plus innings.
--The Royals. The second-best bullpen ERA behind the Braves, and closer Greg Holland has a 1.41 ERA and 29 consecutive saves converted, but the setup guys have been inconsistent and they have five losses when leading entering the eighth.
--The A's. Grant Balfour has just two saves all season, but the second one was a big one on Thursday afternoon, allowing four runs as the
Tigers beat the A's 7-6
in dramatic fashion.
One team not listed: The Reds. Aroldis Chapman been shaky at times -- he's 3-5 with a 2.87 ERA and five blown saves -- and the Reds have lost eight games they led entering the eighth and three entering the ninth, making their bullpen one of the league's
least
effective in terms of holding leads late in games.
By the way, another reminder of the volatility of relief pitchers and bullpens in general: Three of the five closers included in the poll did not begin the season as their team's closer.
July, 7, 2013
7/07/13
11:45
PM ET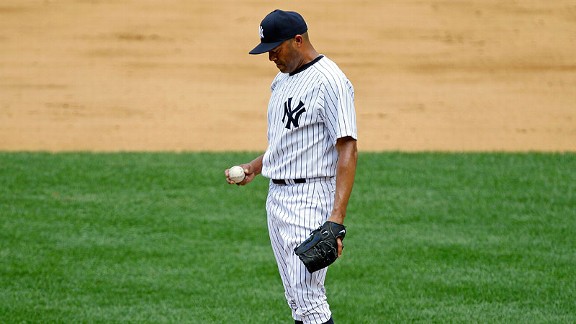 AP Photo/Kathy WillensAdam Jones hit a two-run homer against Mariano Rivera, and the Orioles beat the Yankees 2-1 on Sunday.
As
Mariano Rivera
showed
on Sunday
, even the best closers suffer a blown save from time to time. While the two-run home run
Adam Jones
hit off Rivera resulted in Rivera's second blown save, the Yankees' closer is also allowing more than a hit per inning for the first season since his rookie year in 1995. While Mariano isn't
quite
the Mariano of years past, he's still pretty good and the
New York Yankees
are still comfortable with their late-inning bullpen duo of
David Robertson
and Rivera.
Elsewhere, however, many bullpen issues exist. While most teams would love to add a starting pitcher or a better bat at the trade deadline, the easiest area to acquire help is in the pen. Don't be disappointed or surprised if that's the only move your favorite team makes. Buyer beware though: Relief pitchers are notoriously volatile and trades for relief help can have immediate impact ... or dire consequences for the future.
The 2011
St. Louis Cardinals
were a positive trade deadline bullpen story. They traded
Colby Rasmus
to the
Toronto Blue Jays
and acquired starter
Edwin Jackson
plus relievers
Octavio Dotel
and
Marc Rzepczynski
. A bullpen that had been a problem area suddenly had depth. When
Jason Motte
took over as closer in September, the pen got hot and helped carry the Cards to a World Series title.
The 2003 Marlins were another success story -- of sorts. They had a shaky closer in
Braden Looper
, so they traded for
Ugueth Urbina
, who posted a 1.41 ERA with six saves in 38.1 innings. They also signed
Chad Fox
in early August and he sported a 2.14 ERA in 25.1 innings down the stretch. The Marlins did go on to win the World Series, but Urbina cost them young first base prospect
Adrian Gonzalez
. Flags forever, though, right? Even in Miami.
But bullpen trades can also backfire. The
Texas Rangers
acquired
Koji Uehara
from the
Baltimore Orioles
to help their 2011 playoff run. After allowing five home runs in 18 innings, and then three more in the first two rounds of the playoffs, Uehara didn't even make the Rangers' World Series roster. Oh, and the price to get him:
Chris Davis
. (OK, maybe not Larry Andersen for
Jeff Bagwell
, but imagine the Rangers with Davis in their lineup right now.) Perhaps the most notorious relief deadline trade -- the Andersen/Bagwell deal actually happened in August -- occurred in 1997, when the
Seattle Mariners
acquired closer Heathcliff Slocumb (0-5 with a 5.79 ERA at the time of the trade) from the
Boston Red Sox
for
Jason Varitek
and
Derek Lowe
. The Mariners did win the division but lost in the first round of the playoffs. Do-over, please?
(And sometimes minor deals can take on larger ramifications the following season, such as the
St. Louis Cardinals
acquiring
Edward Mujica
last year or the Blue Jays getting
Steve Delabar
for
Eric Thames
.)
OK, all that said, here are 10 bullpen issues worth looking at between now and the July 31 trade deadline.
1. Do the Orioles stick with Jim Johnson as closer?
Two days after blowing his sixth save, Johnson followed Rivera's ninth inning with a 1-2-3 bottom of the ninth to record his MLB-leading 30th save. Of course, that "MLB-leading" part is misleading, as Johnson has those six blown saves and seven losses to go with a 3.92 ERA. Buck Showalter is obviously sticking with Johnson for now, but after losing just one game heading into the ninth inning last year, the Orioles already have lost seven. Some have called for
Tommy Hunter
to get a chance, but he has allowed seven home runs and a .511 slugging percentage to left-handed batters. Looks like the O's will live and die with Johnson.
2. Do the Tigers trade for Jonathan Papelbon?
Papelbon is the one top-tier closer who may be out there, but is he worth the prospect price tag and contract? I don't think so. He hasn't exactly been lights-out this year with four blown saves in 22 chances, despite good numbers otherwise. I understand the desire to believe Papelbon could be a difference-maker, but this could be the classic case of overstating the value of a closer. You know what Papelbon's save percentage is this year when entering with a one-run lead? Five for nine. Does that sound like a guy who is really any better of a bet than
Joaquin Benoit
or
Drew Smyly
?
3. Who makes the mistake of trading for Kevin Gregg?
Gregg blew his second save on Sunday but is 15-for-17 with a 1.78 ERA. The Cubs will trade him somewhere but Gregg looks like the classic example of the volatile reliever who probably won't help all that much. Is the veteran really a different pitcher from the guy who had a 4.12 ERA the past three seasons while averaging over five walks per nine innings? Maybe, but do you want to be the team to take the chance?
4. Should the Pirates trade for a reliever?
The Pittsburgh bullpen has been outstanding with a 2.91 ERA, second in the majors only to Atlanta's 2.72 mark. The Pirates, however, have also pitched the second-most relief innings. As good as
Jason Grilli
,
Mark Melancon
,
Justin Wilson
and company have been, the Pirates should look to add some depth here. They wouldn't have to give up a top prospect to acquire somebody like Seattle's
Oliver Perez
(1.39 ERA, 46 K's in 32.1 innings).
5. Who ends up as Arizona's closer?
The depth in their pen was supposed to be a strength for the
Arizona Diamondbacks
, but instead
J.J. Putz
and
Heath Bell
have both blown up closing games and
David Hernandez
, so dominant a year ago, has struggled as the eighth-inning guy (4.70 ERA, seven home runs).
Josh Collmenter
has been extremely valuable as a long man (4-1, 2.42 ERA). Fine, use him as a -- get this! -- multi-inning closer. Remember them?
6. Which contending team should be most worried about its bullpen?
Well, the
Los Angeles Dodgers
did just actually trade for
Carlos Marmol
(although they sent him to the minors). I'd be a little worried about the Indians. The pen is 16-8 so far but with a 4.22 ERA that ranks 26th in the majors and has especially struggled against left-handed hitters (.781 OPS allowed). Perez would be a good fit here or maybe
Matt Thornton
of the
Chicago White Sox
.
7. Who is the best reliever who may be available?
Glen Perkins
just made his first All-Star team and deservedly so with a 1.93 ERA and .159 average allowed. Perkins is signed to a very team-friendly deal through 2016 ($3.75 million in 2014 and 2015 with a $4.5 million team option in 2016), so he won't come cheap. I doubt the Twins trade him, but if they do, he's the guy I'd want if you're looking for a closer.
8. Which contending teams feel best about their bullpens?
I'd say the Cardinals and Rangers. The Rangers just got
Joakim Soria
back to an already deep pen and the Cardinals have the great 1-2 duo of
Trevor Rosenthal
and Mujica, who have combined for 94 strikeouts and 11 walks in 79.1 innings, and the third-best overall bullpen ERA in the majors.
9. What about the Red Sox?
If the Tigers have bullpen issues, then don't the Red Sox? They have a higher ERA, higher batting average and higher slugging percentage allowed than the Tigers. Buster Olney mentioned the possibility of Papelbon going back to Boston during the Sunday night game, although the price is extremely high right now. What do you think, Red Sox Nation?
10. Does Rivera pitch one more time in the postseason?
I'm going with no. But it won't be his fault the Yankees miss the playoffs for just the second time in his 19-year career.
October, 13, 2012
10/13/12
1:38
AM ET
We just witnessed one of the most amazing games in postseason history. Whether this game will eventually earn itself a place alongside other legendary games remains to be seen -- after all, Cardinals-Nationals doesn't quite have the same buzz to it as Red Sox-Yankees or Dodgers-Giants -- but I can assure you this: None of us has ever seen this before.
No team had ever rallied from more than four runs down to win a sudden-death postseason game, and only two teams had done that -- the
Pittsburgh Pirates
in Game 7 of the 1925 World Series against the, yes, Washington Senators, and the
New York Yankees
in Game 7 of the 2003 American League Championship Series.
The
St. Louis Cardinals
made history in remarkable fashion.
Of course, that means, with the
9-7 loss
, the
Washington Nationals
made history in the most heartbreaking fashion possible.
I had an entire post written, telling Nationals fans that winning in the postseason isn't easy, that even holding a six-run lead is never easy, that playoff baseball makes your stomach churn and all that.
I wrote that assuming they would hold on to the lead. Even after
Gio Gonzalez
once again lost the ability to throw a ball over home plate and the Cardinals scored three runs. Even after
Edwin Jackson
was for some reason summoned from the bullpen to pitch an inning and allowed a run. Even after
Daniel Descalso
homered in the eighth off
Tyler Clippard
to make the score 6-5. But when the Nationals added an insurance run in eighth, it felt like Nationals fans could finally breathe.
[+] Enlarge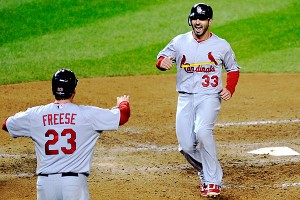 AP Photo/Nick WassDaniel Descalso, right, drove home the tying runs, then scored the final one of the Cards' comeback.
On the other hand, as Cardinals shortstop
Pete Kozma
-- a man apparently of few words -- said after delivering the go-ahead two-run single: "Never give up."
Damn.
* * * *
Friend of mine after the game, not a Cardinals fan or Nationals fan: "If the Mariners ever lost a game like this, I'd be in a hospital."
Postseason baseball is the most exhilarating ride in sports.
Postseason baseball is the cruelest of sports.
* * * *
Carlos Beltran
is awesome. He singled in the first, walked and scored in the fourth, walked in the fifth when the Cardinals scored twice off Gonzalez, doubled in the seventh to move
Jon Jay
to third (Jay would score), doubled to deep right-center off
Drew Storen
leading off the ninth. What a game. Five plate appearances, five times on base. One of the great sudden-death game performances a hitter has had.
* * * *
Calvin Schiraldi, Bill Buckner, Donnie Moore, Grady Little and company, Jose Mesa, the guy pitching in the Francisco Cabrera game (actually it was two, Doug Drabek and Stan Belinda), David Cone and Black Jack McDowell … and, yes, even
Mariano Rivera
. And now Drew Storen.
* * * *
Yadier Molina
had a terrific at-bat in the ninth inning with two outs and Beltran on second. He was 2-for-18 in the series when he stepped in and had left the bases loaded in the fifth, flying out to right field on a 2-0 fastball from Gonzalez. The pitch sequence:
Slider low.
Fastball fouled back. (Fans standing, cheering, mustering strength to wave their red towels, two strikes away!)
Fastball outside.
A 96-mph fastball fouled away. (One strike away!)
A slider that dipped low. I don't know how Molina held up. Tremendous pitch awareness and bat control.
Fastball high.
From the moment that
Allen Craig
struck out, Storen threw 12 pitches, any of which could have ended the game. Six pitches to Molina. Six more to
David Freese
, who also walked. The 13th pitch was a 94 mph fastball that Descalso ripped hard up the middle, off the glove of
Ian Desmond
, the ball bounding far enough into center field to easily score pinch runner
Adron Chambers
with the tying run.
* * * *
Kozma, a guy who hit .232 in Triple-A, playing only because of the September injury to starting shortstop
Rafael Furcal
, then lined a 2-2 fastball into right field to score two more runs. (Descalso had smartly stolen second base).
Washington manager Davey Johnson could have walked Kozma once Descalso stole second base. Cardinals closer
Jason Motte
, who had pitched the eighth inning, was due up next, although Cardinals manager Mike Matheny had sent backup catcher
Tony Cruz
, the last player left on the bench, to the on-deck circle as a decoy. He'd be entering the game anyway for Molina, who had been run for. Kozma has been pretty hot, hitting .333 for the Cardinals during his September call-up and homering earlier in this season.
Johnson could have put Kozma on and pitched to Cruz, which would have served two purposes: Force Matheny to bat Cruz, a guy who hit .254/.267/.365 in 126 at-bats, but also a guy without an at-bat in nine days. More importantly, it would have likely forced Matheny to pull Motte. Matheny already used
Joe Kelly
,
Trevor Rosenthal
,
Edward Mujica
and
Mitchell Boggs
, so that would have meant the Cardinals would be using, at best, their fifth-best reliever in the ninth.
Huge mistake by Johnson and I can only guess he was in such a state of shock he didn't have time to think the situation through properly.
* * * *
Yes, the Nationals could have used
Stephen Strasburg
. That's obvious. Whether that lost the series for them is debatable. But I'm pretty sure he would have helped somewhere along the line.
September, 16, 2012
9/16/12
1:26
AM ET
By
Christina Kahrl
| ESPN.com
If there's one takeaway where the defending world champs are concerned, it's this: Even wounded, these Cardinals could still fly. Most teams, you scratch a No. 1 starter, a leadoff man and a cleanup hitter, and you might expect them to be long since dead in the water. But even without
Chris Carpenter
, without
Rafael Furcal
, without
Lance Berkman
-- all of that in the post-Pujols era -- no matter how many blows the Cards take, they aren't dead, not by a long shot.
The big question, though, isn't why they're still going, but why they're not ahead just the same. With a record that is
games worse than expected
, they're supposed to be able to lose games like Saturday night's --
a 4-3 defeat
in Los Angeles -- and not break a sweat. But that's not where they are. Instead, they've fallen into a tie with the Dodgers for the National League's last slot.
It isn't supposed to have worked out this way.
Allen Craig
plated every run the Cardinals scored, a Pujolsian feat that also reflects a creeping problem for the Cards' offense: The league-leading attack that had been scoring 5 runs per game before the All-Star break has dropped off to score 4.4 runs per game since. They were allowing 4.2 runs before the break, and they're at 4.0 runs allowed per nine after, but because of the offense's drop-off, the margins they get to work with have narrowed.
The first-half question over why the Cardinals weren't doing as well as they should has become more persistent in the second half, and after a swing game like Saturday's, the uncomfortable questions are unavoidable.
Is it the manager? Rookie manager Mike Matheny's under fire, but he was tasked with the impossible task of following in Tony La Russa's footsteps as the old mast heads down the road to Cooperstown. It's easy to single out the Cardinals' record in one-run games -- now 18-25 -- and assert that some better manager to be named later would do better than that.
But that's looking for a fall guy, and Matheny may not really deserve that, save as a matter of expectations as the first-year skipper managing a defending world champ. Any suggestion that La Russa might be the Cardinals' missing man most missed might have needed one particular proof this night: Would the bullpen deliver? Love it or hate it, that's the gold standard by which most managers get judged by many commentators and fans, because 'pen management is the one task that's transparent to the public.
After getting a good game from
Jaime Garcia
, without getting too clever playing matchup games Matheny ran through his crew in straightforward style:
Edward Mujica
to
Mitchell Boggs
to
Jason Motte
... and Motte blew it, giving up a two-out double in the ninth to
Luis Cruz
for the tie, then gave up the game-losing single to
Juan Rivera
.
There was no special brand of genius involved, just a scripted set-up gone wrong: Closer tasked with closing, leaves the door open, then sees it blown off its hinges. If Matheny's to be judged, it's by exactly the same standard that Casey Stengel suggested back in the day, in happier circumstances after
winning the 1958 World Series
: "I couldna dunnit without the players."
To Matheny's credit, he managed other elective tasks just fine on Saturday night. Swapping around in the middle infield midgame is the Cardinals' lot. Early on they paid the penalty of making
Daniel Descalso
a shortstop as a matter of need: His first error in the first inning created the Dodgers' first score. With second baseman Descalso playing short and converted outfielder
Skip Schumaker
starting at second, the Cards have been sacrificing defense to put their best available players in the lineup. Is that on Matheny? No more than the subsequently regretted decision to dump key utilityman
Tyler Greene
on the Astros.
With a lead six frames into the game, out came Schumaker, in came good-glove
Pete Kozma
at shortstop, and Descalso slid back to his natural position. Lineup management isn't particle physics. Inveterate tinkerer La Russa may be history in every sense of the word, but this sort of lineup tinkering can still go on without him as Matheny tries to compensate for losing Furcal.
Given the Cardinals' increasingly narrow margins, watching every run, every opportunity, forces Matheny to make tough calls. You can't really blame him for the choices he made, given the options he had. No less than the bullpen blowing the game, you can't blame him too badly for having Descalso at short. The agony for the Cardinals right now is that it's adding up to just enough to lose.
PHOTO OF THE DAY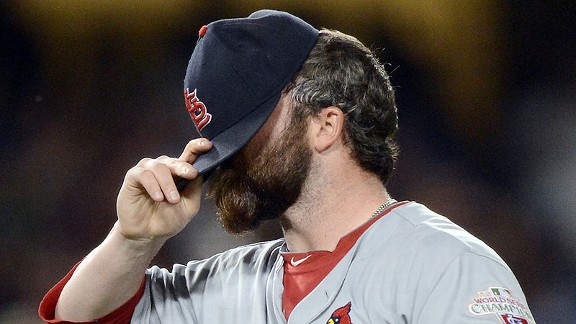 Harry How/Getty ImagesWell that Jason Motte might cover his face after blowing the save on Saturday night.
Christina Kahrl covers baseball for ESPN.com. You can follow her on Twitter.
March, 11, 2011
3/11/11
10:45
AM ET
By
Dan Hennessey
| ESPN.com
The
Philadelphia Phillies
and
Atlanta Braves
are heavy favorites in the NL East, while the
Washington Nationals
are still building and the
New York Mets
have some talent but are generally a mess. The
Florida Marlins
have won 84, 87 and 80 games during the last three seasons. Could they be the NL wild card, if not the division champions?
The Marlins traded
Dan Uggla
to Atlanta, a severe hit offensively given that they are replacing him with
Omar Infante
(who I presume is keeping second base warm until Osvaldo Martinez is called up). They signed
John Buck
to be their catcher, stabilizing a position that's been a concern for Florida for the last half-decade.
Mike Stanton
and
Logan Morrison
will each get a full season's worth of playing time, adding to a young core that includes
Gaby Sanchez
and
Hanley Ramirez
(hard to believe he's only 27).
Chris Coghlan
, recovering from knee surgery, will take a crack at center field. He's already moved from second base to left field (and handled it fairly well), but the move to center is even more difficult, especially coming off a leg injury. With these five, the core is young and talented, with room yet to improve.
In the rotation,
Josh Johnson
leads the way; over the last two seasons, he's posted a 2.80 ERA that matches a sparkling 2.76 FIP. A big-time groundball pitcher, his home ballpark also helps him keep the ball in the park.
The talented trio of
Ricky Nolasco
(28),
Chris Volstad
(24) and
Anibal Sanchez
(26) follows Johnson, and the Marlins added
Javier Vazquez
on a one-year deal. If he can find what made him great in 2009, when he was one of the top three or four pitchers in the National League (and I think it was just more than moving to the American League), the Marlins will run out an above-average starter every day. Additionally, two Florida trades this winter included bullpen arms coming back.
Ryan Webb
,
Edward Mujica
, and
Mike Dunn
all figure to strengthen the bullpen in front of
Leo Nunez
.
Even with their additions, the Marlins need their young talent to get better. It might seem like an obvious statement, but those young players are also their best players, and they'll need to become elite quickly if the Marlins are going to compete in September.
For the past few seasons (since the trade of
Miguel Cabrera
and
Dontrelle Willis
), it has seemed like the Marlins have been building for the future. That future could be here soon, just as soon as the stars-to-be become stars right now.
Dan Hennessey writes Baseballin' on a Budget, a blog about the Oakland Athletics. Follow him on Twitter @DanHennessey31.
October, 3, 2010
10/03/10
9:35
PM ET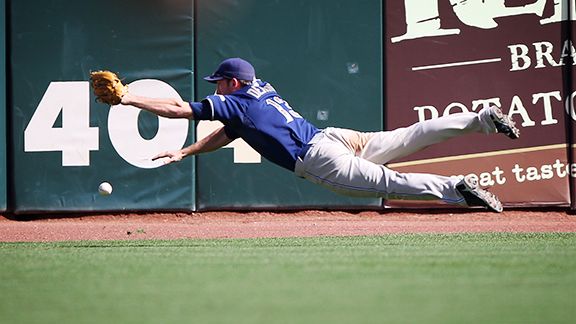 Jed Jacobsohn/MLB Photos/Getty ImagesOutfielder Chris Denorfia and the Padres fell just short on Sunday.
SAN FRANCISCO -- There are games you analyze, and there are games you watch.
The game that decided the National League West and
two
postseason berths was the sort of game you just watch.
After 161 games, what was Bud Black supposed to do? His team hasn't been scoring lately, but then his team really hasn't scored much all season (or last season, or the season before that). The front office worked hard all summer and did add
Ryan Ludwick
and
Miguel Tejada
to the lineup.
But Ludwick didn't hit much and Tejada won his MVP Award a long, long time ago. Black spent all season cobbling together lineups -- and especially outfields -- from a menagerie of spare parts and Triple-A guys and other teams' rejects. The Padres rarely scored, and when they did score without
Adrian Gonzalez
' help it was usually a minor miracle.
So they had to pitch. And when it came to the first through the sixth innings, they had to pitch mostly with guys you'd never heard of.
Jake Peavy
? Gone.
Chris Young
? Hurt. They pitched with guys named Latos and Richard and Stauffer and LeBlanc and Correia. Talented young men, to be sure. But nobody's idea, six months ago, of a pennant-winning rotation.
From the seventh through the ninth, it was quite a bit easier. Most games, Black literally had seven guys in the bullpen who were really, really, really good. It's actually sort of phenomenal, to have that many relief pitchers with strikeout-to-walk ratios so many pitchers would die for.
Edward Mujica
, who hit a little rough patch in September and didn't get to pitch against the Giants this weekend, struck out 72 hitters this season and walked
six
.
Ernesto Frieri
(who did pitch against the Giants, briefly) struck out 41 batters in 32 innings. And those were the relievers Bud Black did
not
particularly trust.
So they had to pitch, and they had to pray. When you're picked to finish in last place and you've got one of the lowest payrolls in the National League, you've got to pray a little.
For most of the season, that recipe -- Adrian Gonzalez, pitching, prayer -- worked really well.
Beginning on the 26th of August, it stopped working. The Padres lost 10 straight games, and their lead in the West went from six-and-a-half games to one game. They eventually lost their lead, but stayed exceptionally close to the Giants until losing three of four games to the Cubs last week, in San Diego. In the three losses, they scored two runs.
That left them needing a miracle this weekend.
They almost got it. They broke through with six runs Friday and four runs Saturday, a 10-run gusher that represented the most runs they'd scored in consecutive wins in nearly three weeks. The Braves lost two games against the Phillies, who weren't even really trying to win. Sunday, another Atlanta loss would guarantee the Padres at least one more game.
Granted, that wouldn't have been a miracle, exactly. What would have been a miracle, almost, was the Braves blowing a six-run lead against those non-trying Phillies ... and it very nearly happened.
Not quite, though.
They didn't need a
miracle
to beat the Giants, and play another day. But in the first inning, they did receive a minor miracle when third-base umpire Mike Everitt ruled that leadoff man
Andres Torres
' drive down the left-field line dropped foul when, as replays suggested, it probably hit the line. Everitt's call probably cost the Giants a run.
There wouldn't be any more minor miracles for the Padres, though. Let alone the full-blown, drop-to-your-knees-and-beg-for-salvation sort. They did get somewhat lucky, as starter
Mat Latos
gave up a bunch of rockets to the Giant hitters but most of them were caught.
If you want to do a little analyzing, you can analyze Bud Black's decision, on the 7th of September, to let Latos throw a season-high 113 pitches in a game against the Dodgers. Maybe if Latos had thrown 93 pitches, he wouldn't have 0-4 with a 10.13 ERA in his next four starts.
But that was a close game, and Latos had thrown
nearly
113 pitches a few times before, and maybe he would have been ineffective down the stretch regardless, considering that he'd never thrown even 125 innings before in one season. The Padres knew Latos might eventually tire, but given their situation they probably had to pitch him ... and pray.
And in Game No. 162, it really didn't matter how well Mat Latos pitched (and despite all those rockets, he gave up only two runs in six innings). Because the Padres didn't score.
Bud Black didn't use
Tony Gwynn
, Jr. He didn't use Jerry Hairston, Jr. He didn't use
Matt Stairs
, or
Oscar Salazar
, or
Aaron Cunningham
. He did (oddly) use
Luis Durango
. But I would challenge any of my brilliant friends to look at Bud Black's bench in Game 162 and come up with a combination of players that would have gotten him three or four runs against the Giants' bullpen.
You want to analyze the game? In the top of the seventh inning, Miguel Tejada batted against
Ramon Ramirez
, with two outs and two on base. Adrian Gonzalez lurked on deck. If Tejada could keep the rally alive, Gonzalez would have a chance to put a completely different spin on things.
Tejada struck out. Maybe Bud Black should have sent up a pinch-hitter for Tejada ... but you don't pinch-hit for your No. 3 hitter. Maybe you should, very occasionally. But you don't. Not in real baseball. Anyway, if Tejada had reached, Bruce Bochy would have gone to a left-hander to face Gonzalez. Which would have left the Padres hoping for another minor miracle.
The Padres just didn't play well enough to beat the Giants in this particular game, and it didn't have anything to do with the managers. The better team won the game, and the championship. In baseball, praying usually isn't enough.