SweetSpot:

Edwin Rodriguez
June, 15, 2011
6/15/11
11:56
PM ET
PHILADELPHIA -- Florida manager Edwin Rodriguez isn't losing any sleep over the team's 1-14 stretch, but that's only because he's REM-deprived no matter how the Marlins are playing. When it comes to shut-eye, Rodriguez makes Charlie Sheen look like Rip Van Winkle.
"I only sleep for three or four hours a night,'' Rodriguez said Wednesday. "I've been that way for many, many years, even back home. Sleeping is overrated.''
Sleep can be a handy refuge for a manager who wakes up every morning to speculation that his job security is hanging by a very thin thread. But it's tough to fade off into dreamland when you're counting one-run losses and runners left in scoring position.
For the first two months this season, Rodriguez and the Marlins were one of baseball's surprise feel-good stories. Three weeks ago they were 29-19 and one game behind Philadelphia in the National League East. Team president David Samson and general manager Larry Beinfest were so euphoric after a three-game sweep of the Giants in San Francisco, they ordered 200 In-N-Out burgers for the charter flight out of town.
But just about everything has gone wrong since
Scott Cousins
bowled over
Buster Posey
by the Bay. The Marlins are 3-17 since the wheels touched off the San Francisco Airport runway. The anguish continued with back-to-back losses in Philadelphia on Wednesday. The Marlins dropped the opener 8-1 and then coughed up a 4-2, two-out lead in the ninth to lose 5-4 in 10 innings in the nightcap.
It's no challenge finding reasons for the Marlins' unraveling.
Josh Johnson
, an early Cy Young candidate, is on the 60-day disabled list with an inflamed shoulder and won't return until after the All-Star break.
Chris Volstad
(6.07 ERA) and
Javier Vazquez
(7.09) have been far too hittable at the back end of the rotation. Shortstop
Hanley Ramirez
, who just returned from a back injury, is hitting .206 with four homers. And the Marlins are 24th in the majors with a .235 batting average with runners in scoring position.
They're also a very young group: Of the nine-man lineup that Rodriguez ran out in the opener of Wednesday's doubleheader against the Phillies, only third baseman
Greg Dobbs
and second baseman
Omar Infante
were older than 27.
On a positive note, two scouts at Citizens Bank Park said the Marlins continue to play the game as though they're fully engaged.
"You watch them and they go hard the down the line on every ground ball,'' one scout said. "They're still busting their asses.''
But it's only natural that Rodriguez's name is making the rounds in "hot seat'' speculation. Marlins CEO Jeffrey Loria, an owner who can be euphemistically referred to as "hands-on,'' earned a reputation for impetuousness by firing Joe Girardi and Fredi Gonzalez, who are now working for marquee franchises in New York and Atlanta. And Loria showed that he meant business this year by venting about the team's "uninspired'' play midway through spring training.
The Marlins recently generated a player backlash when they fired hitting coach John Mallee, a popular figure in the clubhouse. The Florida front office was reportedly chapped when
Logan Morrison
, the team's quotable, engaging, social media-savvy left fielder, spoke out forcefully in Mallee's behalf.
It's also the time of season when tensions begin to escalate and dugout seats keep getting warmer. The Oakland A's fired manager Bob Geren last week after reliever Brian Fuentes' public complaints hinted at internal clubhouse strife, and the
Houston Astros
fired pitching coach Brad Arnsberg on Tuesday over "philosophical differences.''
Rodriguez, a 50-year-old Puerto Rico native, is an easy guy to root for. He spent seven years as a scout with the
Minnesota Twins
and managed 887 games in the minors before finally getting his shot in Florida. He's an avid reader who meditates each morning and projects a Felipe Alou-like air of serenity and calm. He's widely regarded in baseball circles as the real thing.
"I can only speak for me, but I love him,'' Morrison said. "I had him in the minor leagues, and I never had a problem with him. If you play hard for him, he's going to have your back.''
As the losses mount and the Marlins' season heads in the wrong direction, Rodriguez is stoically keeping a lid on his emotions. He focuses on positive reinforcement, telling his players that one series, one game or one pitch might be all it takes for things to turn around. Teams are rarely as good as they look when they're winning or as hopeless as they appear when they've dropped 14 of 15.
"At the beginning of the year, everybody was saying what a great manager he was,'' Marlins catcher
John Buck
said of Rodriguez. "Now we're losing games and all you keep hearing is, 'He could be on the hot seat.' But the feeling I've gotten from him -- especially while we've struggled -- is that he cares about these young guys. He's trying to help them get better rather than focusing on his job.
"When you're going through what we're going through now, that's usually when players will feel panic [from the manager]. But Edwin keeps going around trying to make guys feel more comfortable. That's why people gravitate toward him. Through the peaks and valleys, he's consistent.''
The first instinct for any manager under scrutiny is to withdraw and tune out the media. Not Rodriguez. He paid close attention, for example, when the A's sent Geren packing last week. Rodriguez played Triple-A ball with Oakland GM Billy Beane in Portland, Ore., and he was on the same winter league team in Puerto Rico with Geren.
"When somebody gets fired, I like to read about the reaction from the organization, the players and the coaches,'' Rodriguez said. "I think you can learn from that. You put yourself in those situations and ask yourself, 'How would you react?'''
There's a fine line between acknowledging reality and radiating tension, and it's tougher to navigate with every loss. Rodriguez had to sweat out lots of Bobby Valentine and Ozzie Guillen rumors before the Marlins decided to bring him back this season. The conventional wisdom is that Loria will want a more high-profile manager as the team prepares to move into a new ballpark in 2012. The question is, are the Marlins prepared to fork out the big money required?
"I'm not feeling the pressure, to be honest,'' Rodriguez said. "If it's going to happen, it's going to happen. There's only so much you can do or say as a coach or manager, and then it's out of your control.
"People keep asking me or telling me that the front office here is always very involved in the clubhouse. That doesn't bother me. On the contrary. I want an owner that cares about what's going on. Good or bad.''
Until the good Marlins reappear, Rodriguez will rely on stoicism, consistency and encouraging words to resurrect hope in the clubhouse and save his job. It's up to the players to do the rest.
Jerry Crasnick is a senior writer for ESPN.com. Click here to purchase a copy of his book, "License to Deal," published by Rodale. Crasnick can be reached via email.
Follow Jerry Crasnick on Twitter: @jcrasnick
PHOTO OF THE DAY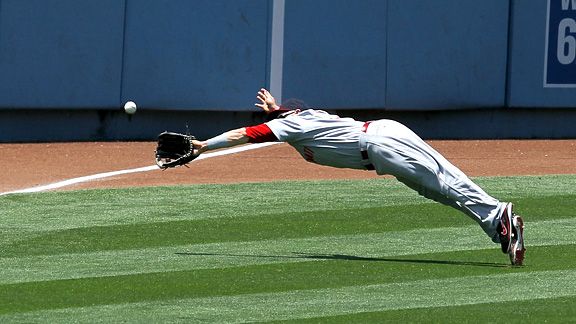 Stephen Dunn/Getty ImagesStretch! Johnny Gomes really, really extended. But did he make the catch? Why yes, yes he did.
June, 4, 2011
6/04/11
12:00
PM ET
By
Christina Kahrl
| ESPN.com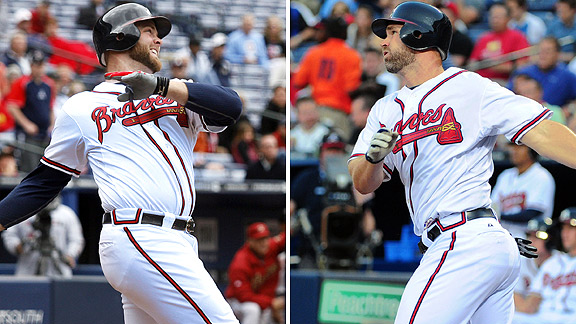 US Presswire/Getty ImagesThe lefty/righty catching platoon of Brian McCann and David Ross has been the NL's best this season.
If the American League has very few stable platoons but a few identifiable platoon players getting work, is the National League any better off? Even with today's bigger bullpens, the absence of a DH gives NL skippers and GMs a little more freedom to carry a player whose primary value is to platoon, since they have five reserves, so even if one is a catcher and another is someone who can play short, that still leaves space for the odd guy. Say, that journeyman who can knock a situational lefty right out of the box, or who can help put up a crooked number against that tiring right-handed starter in the fifth or sixth inning. And it doesn't hurt that these kinds of guys are handy for double-switches.
As in the American League, you find a few catching platoons of convenience, in which the backup backstop bats from the other side and conveniently gets his starts on the days the starter needs a rest. The Braves' setup with
Brian McCann
and
David Ross
is the best of the lot, but when Atlanta afforded itself Ross, it did so knowing it was getting more than a platoon player. The Mets' young/old and lefty/righty combo of
Josh Thole
and
Ronny Paulino
has its virtues. Charlie Manuel has the benefit of a slight inversion of the paradigm when
Brian Schneider
is healthy -- a lefty-batting backup is a lot easier to spot when
Carlos Ruiz
really does need a rest, since most pitching is right-handed -- but he's on the DL.
Stable platoons beyond those behind home plate are surprisingly limited in the Senior Circuit. I'd divide the current group of platoons in the league into three groups: committed, accidental and diffident, reflecting the level of planning and commitment that went into constructing them, and whether or not they're going to last more than a couple weeks.
Among the few we'd call committed, Clint Hurdle's stolidly running out his right-field combo of
Garrett Jones
and
Matt Diaz
. It isn't hitting all that well, but that was the plan, and so far, they're sticking with it. The Phillies anticipated a right-field platoon before the season, but
Domonic Brown
's injury kept that from becoming a reliable feature of Manuel's lineup cards until recently, pressing
Ben Francisco
back into an everyday role he handed back.
[+] Enlarge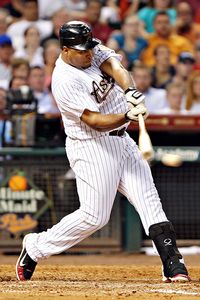 Troy Taormina/US PresswireThe Astros are 10-8 against lefties this season, which could be partly because that matchup allows them to move Carlos Lee out of left field.
In the infield, San Diego manager Bud Black has been reliably sticking with
Brad Hawpe
and
Jorge Cantu
as his first-base arrangement, but there's only so much Can'tu at the plate that even the Padres can endure. The rare multi-position platoon that's a matter of design, but also a certain diffidence is found in Houston, where Brad Mills is moving
Carlos Lee
between left and first base, but not every time out.
Brett Wallace
sits against a few lefties,
Jason Michaels
plays left and Lee moves to first and keeps getting to play every day. The 'Stros might have a 10-8 record vs. lefties, but getting Michaels into the lineup isn't the reason why. But re-potting the increasingly immobile Lee someplace other than left field might be a contributing factor.
Alone among their NL brethren, the Marlins have stuck with an infield platoon someplace other than first base, and they platoon at third without actually finding a set right-handed half of the platoon. Edwin Rodriguez has damned the defensive torpedoes to run
Greg Dobbs
out there every day against right-handers, while leaving his partner du jour as a matter of mystery -- sometimes it's
Wes Helms
, sometimes it was
Donnie Murphy
, and now sometimes it's the roving
Emilio Bonifacio
. Those happy few who root for the Teal Deal are no doubt on their seat's edge when their Fish face a lefty.
Among the accidental platoons, three NL West teams have setups they didn't necessarily expect. To the credit of both Bruce Bochy and Black, they've proven reliably willing to platoon, and they're assembling new ones on the fly after their initial designs broke down. Black got plenty of mileage out of his outfield platooning last year, but
Will Venable
flopped this spring, handing back his half of the right-field job. In his desperation, Black is pairing
Eric Patterson
with
Chris Denorfia
, which isn't helping matters.
While Bochy isn't trying anything quite as inspired as last year's mid-season lineup platoon between
Travis Ishikawa
and
Aaron Rowand
-- with
Aubrey Huff
moving to the outfield against righties and returning to first base against lefties -- he has been aggressive in getting
Nate Schierholtz
into the lineup against right-handers while playing
Cody Ross
daily. Rowand is getting platoon time with
Andres Torres
in center, but
Pat Burrell
hasn't been entirely reduced to Schierholtz's platoon partner.
Then their is the Dodgers' Don Mattingly. Some combination involving
Jay Gibbons
in left field was probably going to be part of the program at the outset, but Gibbons' spotty health, a passing interest in
Tony Gwynn
's speed, and
Marcus Thames
' breakdown opened up an opportunity for first baseman
Jerry Sands
to win the job. But like so many other thundersticks from Albuquerque in Dodgers history, his stick fell still in Chavez Ravine, and now Sands is in an accidental platoon with Gibbons until they decide there's a better alternative.
Injury created the Braves' temporary replacement platoon setup for
Jason Heyward
, as the
Eric Hinske
/
Joe Mather
platoon is working out nicely -- but it's also clear that pair will head back to pine time as soon as Heyward's healthy. In contrast, some managers look like they'd like to platoon more, but injuries have gotten in the way. The Brewers' Ron Roenicke appears committed to a
Nyjer Morgan
/
Carlos Gomez
platoon in center because of the speed 'n defense combo it provides, but Morgan's injury got in the way at the outset. If it sticks, that's the circuit's lone platoon arrangement up the middle someplace other than catcher.
The Pirates' loose platoon at the infield corners reflect what I mean by "diffident platooning." In contrast with his greater faith in his right field platoon, at the infield corners Clint Hurdle's sort of futzing around with
Steven Pearce
at both first and third vs. lefties to give him something to do, and sometimes
Brandon Wood
gets time at third. But it isn't an everyday sort of devotion, and has as much to do with
Pedro Alvarez
's career-stunting slow start and
Lyle Overbay
's offensive indifference than any abiding faith in Pearce or Wood.
I'd also chuck Kirk Gibson's first-base set-up into this category as well --
Xavier Nady
and
Juan Miranda
are platooning, sort of, but Gibson isn't exactly being a stickler about it. Since neither are hitting the people they're supposed to, and since neither plays first base all that well, it's more first base by coin toss at gunpoint than a straight platoon.
Platooning isn't automatically a good idea, after all, and if as Casey Stengel put it, "I could'na dunnit widdout the players," that's just as true today -- skippers can only use what they've got, no matter how clever they might be in how they employ it.
Christina Kahrl covers baseball for ESPN.com. You can follow her on Twitter.
May, 12, 2011
5/12/11
12:41
PM ET
Florida Marlins manager Edwin Rodriguez is the only one among those in their first or second year of managing who has a winning record. Rodriguez, 50, took over the Marlins on June 23 of last season after Marlins owner Jeff Loria, team president Larry Beinfest and GM Mike Hill relieved Fredi Gonzalez of his duties. Rodriguez went on to lead the Marlins to a 46-46 record the rest of the way and a third-place finish in the National League Eastern division.
Rodriguez, after a thorough managerial search, was given a one-year contract extension through the 2011 season, and the early returns are showing why the Marlins made a wise decision to give him a full season to prove himself.
[+] Enlarge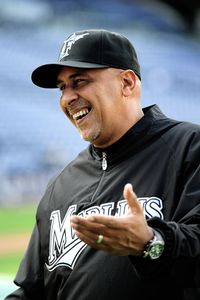 Scott Cunningham/Getty ImagesEdwin Rodriguez has led the young Marlins to the second-best record in the National League.
Rodriguez has been magnificent in the handling of his bullpen, tweaking his lineups, and mixing and matching injured and slumping players, and dealing with holes at third base and in left field (the latter due to an injury to Logan Morrison). As Rodriguez said, "The good thing about this club is the versatility of the players." My response is this: The good thing about this club is it has a manager who knows how to utilize the versatility of his players.
The Marlins are 21-15 and have the second-best record in the National League, trailing the best team in the league, the Philadelphia Phillies, by just three games. The top three in the rotation -- Josh Johnson, Ricky Nolasco, Anibal Sanchez -- are a combined 8-2, mainly because, unlike last year, the bullpen has been able to hold leads. Closer Leo Nunez is a perfect 12-for-12 in save opportunites, and he credits Gonzalez's belief in him as much as the improved location of his fastball and changeup.
The Marlins are third in the National League in runs scored and fifth in the league in OPS despite Hanley Ramirez's season-long slump, Morrison's stint on the disabled list, a rotation at third base involving Greg Dobbs, Wes Helms and Emilio Bonifacio, and Mike Stanton's slow April start due to injury.
The pitching staff is sixth in runs allowed and fifth in WHIP, and that's with the combined ERA of Javier Vazquez and Chris Volstad being north of 6.00. Rodriguez has done a masterful job of mixing and matching his relief pitchers. Mike Dunn, Randy Choate and Brian Sanches all have ERAs under 2.00, while Edward Mujica, Ryan Webb and Clay Hensley have all been effective when healthy in bridging the gap to Nunez. Rodriguez has the knack of knowing the proper matchups to allow his bullpen to maximize success.
When the Marlins lost a few games, Rodriguez tweaked the lineup. Chris Coghlan would move to the second spot in the order and Bonifacio to the leadoff spot. When that didn't work, Coghlan returned to the top Tuesday night, getting on base, scoring the first run and driving in the winning run against the division rival Phillies. Rodriguez, tweaks, adjusts, and wins.
Rodriguez is getting rave reviews from the players and the front office. Instant respect. Steady hand. He keeps the clubhouse calm. He instills confidence. He makes the Marlins play fundamentally sound baseball. Move the runners over, get them in, one at a time -- unless, of course, Stanton, Gaby Sanchez, Morrison or John Buck go yard.
Rodriguez is quickly becoming an early lead candidate for National League Manager of the Year, and the Marlins' front office has to be thinking about a contract extension for one of baseball's bright new managers.
There are six other active major league managers who are either in their first or second year of managing at the big league level. Here is the complete breakdown:
Mattingly is getting high marks in his managerial rookie season. His experience as a player and coach with the Yankees has helped him do a tremendous job in not allowing the ownership situation to affect his clubhouse, keeping the players away from the controversies. He has handled the pitching staff, allowing Clayton Kershaw and Chad Billingsley to pitch deep into games, and dealt with the ineffectiveness and elbow injury to Jonathan Broxton. His wisdom to delegate authority to his coaching staff and lean on Rick Honeycut for pitching advice has paid off. Allowing Jerry Sands to develop at the major league level and helping James Loney get through a season-long slump without him losing confidence has been remarkable. Adjusting his infield at second, shortstop and third due to injuries to Rafael Furcal, Casey Blake and Juan Uribe has been challenging, but he's found a way. Mattingly is a born leader, has a bright baseball mind, and -- when his team is good enough -- will be winning at Chavez Revine.
Gibson has brought an old-school mentality back to baseball. His managerial style mirrors his playing days -- play the game hard, play the game right, or get out of my way. His players told me Gibson's spring training camp was more of a "military camp" then a normal baseball spring training experience. His players were there early and worked on fundamentals as much as any team in baseball.
Kelly Johnson, the Diamondbacks' second baseman, told me this week that Gibson demands that the game is played right. Johnson said the club works hard on the small details of the game, such as first-and-third bunt plays, hitting the cutoff man, holding runners, and slide-stepping. The fundamentals are drilled into the players, and they are carried out. That's the way the Diamondbacks play baseball. For Gibson's team, it's not a suggestion, but a way of life.
The Diamondbacks are a much-improved team from a year ago. The strikeouts have been cut down, the bullpen is better, and most importantly, because of Kirk Gibson, they're becoming a fundamentally strong team. Gibson, like Rodriguez and Mattingly, has quickly embraced his new career as a major league manager.
Thanks for reading, I appreciate your comments -- well, most of the time! Feel free to follow me on Twitter: @JimBowdenESPNxm.
April, 15, 2011
4/15/11
12:59
AM ET
Hey, I love blaming the manager. You love blaming the manager. It's as much a part of baseball as peanuts, Cracker Jack and questioning every home run hit from 1993 to 2005, except those hit by
David Eckstein
.
So let's go around one night in baseball and play the newest SweetSpot game, coming soon to GSN, "I Could Do A Better Job, If Only I Weren't Sitting On My Couch Blogging Instead."
The move:
Marlins manager Edwin Rodriguez brings in
Leo Nunez
to close out a 6-5 lead against the Braves.
What happened:
Nunez got the job done, giving up a leadoff line-drive single to
Alex Gonzalez
, but escaping further damage.
My take:
Nunez is a mediocre reliever (4.37 career ERA) who lucked into the Marlins' closer role a couple seasons ago -- and held on to it despite allowing 13 home runs. I would have kept
Clay Hensley
in the game. Hensley, so dominant last season (2.16 ERA, 1.11 WHIP, only three home runs), threw five pitches in the eighth inning in recording the game's two biggest outs,
Dan Uggla
and
Jason Heyward
, leaving the bottom of the order for Nunez. Even then, Nunez was lucky to escape without a blown save. After Gonzalez's single,
Freddie Freeman
laced a liner into deep right-center that
Scott Cousins
made a nice running catch on. A couple more feet and it's a tie game.
The move:
Twins manager Ron Gardenhire takes out
Carl Pavano
after eight shutout innings, brings in
Joe Nathan
to protect a 2-0 lead against the Rays.
What happened:
Double, walk, two-run double, game tied. Twins lose in the bottom of the 10th when
Matt Capps
blows another lead.
My take:
Two years ago, before Nathan blew out his elbow, this move wouldn't have been questioned, of course, as Nathan was one of the most dominant closers around. But he's not Joe Nathan anymore. His fastball, 93-94 mph before the injury, has been averaging 91 this season. Pavano had thrown just 104 pitches and allowed four hits and two walks. He'd retired the side in order in the eighth, including a strikeout of
Johnny Damon
. He's a workhorse. Leave him in.
The move:
Buck Showalter has
Mike Gonzalez
pitch to
Nick Swisher
with runners at second and third and one out in the bottom of the 10th inning.
What happened:
Swisher hits a sac fly to give the Yankees a 6-5 win.
My take:
I wholeheartedly agree with this move. Not a big fan of the intentional walk to set up the double play, as it forces the pitcher to throw a strike -- and the hitter knows it. (Last season, batters hit for a higher average and more power with the bases loaded than with runners on second and third.) Plus, in this specific case you have a high strikeout batter (Swisher struck out 139 times in 2010) and a pretty good strikeout pitcher in Gonzalez. The argument for walking Swisher would be to set up a double play with
Jorge Posada
, but last season Posada grounded into a double play in only 7 percent of his possible opportunities (14 percent in 2009). And Gonzalez isn't a groundball pitcher, so a double play would have been unlikely. Sometimes the right move just doesn't work. (Now, if you want to argue whether
Kevin Gregg
should be Baltimore's closer. …)
The move:
Eric Wedge hits
Adam Kennedy
cleanup for the Mariners. Kennedy had started at cleanup once before in his career.
What happened:
Kennedy drives in Seattle's lone run in a 5-1 loss to Kansas City! Shockingly, a lineup with Adam Kennedy hitting cleanup struggled to score runs.
My take:
Look, I know why Eric Wedge did this: He doesn't want to bat
Justin Smoak
cleanup, presumably to take "pressure" off him. Hey, I don't know if Smoak is going to be any good. He's easily been Seattle's best hitter so far (cough) and whether he turns out to be a big-time hitter will have nothing to do with where he bats in the lineup. Either he can hit major league pitching or he can't. And I know this: the only way Seattle will ever be a good team again is if Justin Smoak develops into a cleanup hitter. At some point you have to take the training wheels off and let the kid ride or fall.
So there you go. One night in baseball. Sometimes the moves work, sometimes they don't, and sometimes they just confuse us. But in the end I tend to believe it's the ballplayers who win and lose the games.
It's just more fun to blame the manager.
PHOTO OF THE DAY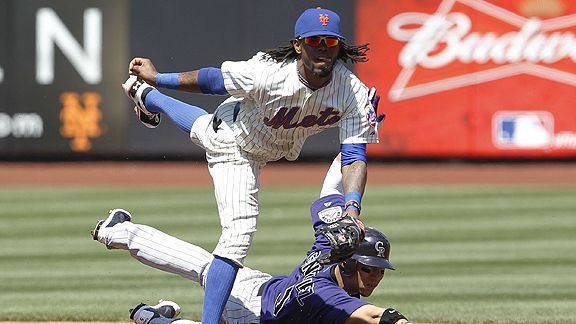 William Perlman/THE STAR-LEDGER/US PresswireJose Reyes was able to get out of the way of CarGo. The Mets couldn't avoid the Rockies, though.