SweetSpot:

Elliot Johnson
October, 4, 2013
10/04/13
1:17
AM ET
ATLANTA --
Evan Gattis
slipped on a pair of jeans and buttoned his plaid shirt, turned around and faced the questions.
Gattis is the Braves rookie with the inspiring backstory, the guy who quit baseball in college and was out of the sport for several years, working odd jobs across the country before getting back into the game. He's the kind of player who fans love, an everyman who hits without batting gloves, seemingly a testament to his unconventional path to the big leagues.
The Braves won 96 games and coasted to the National League East title, but in the biggest game of their season, there was Gattis, a catcher by trade with limited experience in the outfield, playing left field and batting cleanup against the best pitcher on the planet.
[+] Enlarge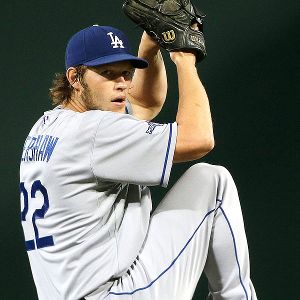 AP Photo/David GoldmanClayton Kershaw struck out 12 in seven innings in the Dodgers' Game 1 win.
As fun as is story is, and even with all the late-inning heroics he's provided this year, it's also a sign of the Braves' weaknesses that Gattis is now playing such a vital role on this team. He was involved in two crucial plays in the Braves' 6-1 opening game loss to the Dodgers.
In the second inning, he butchered a soft liner from
A.J. Ellis
into a run-scoring double, running hard but missing the catch as he dove after the ball. "Just a play I didn't make," he said. In the bottom of the inning, Gattis reached against
Clayton Kershaw
on a bloop single but then got caught off first when
Yasiel Puig
easily ran down a shallow fly in right-center. "I got deked," he said. "I didn't think he was going to get there. Took a hard step towards second base. Just a mistake."
Manager Fredi Gonzalez has Gattis in the lineup for power, but even the bat has cooled off after a hot start. Gattis hit just .242/.272/.406 in the second half, and that included his six-homer September; his .291 OBP is decidedly a non-cleanup kind of number. In fact,
Dan Uggla
-- left off the playoff roster -- had a higher OBP on the season than Gattis.
Gonzalez's other gamble of sorts is Uggla's replacement at second,
Elliot Johnson
, claimed on waivers from the Royals in late August after hitting .179 with Kansas City. Johnson hit a quiet .261 for the Braves in 32 games, enough to take the job away from the slumping Uggla. But he's in there for his glove not his bat and he booted
Carl Crawford
's grounder leading off the third -- generously ruled a hit -- setting the stage for a two-run Dodgers rally that made it 4-0.
That was the most discouraging part of this game for the Braves. There's no shame in losing to Kershaw, but the defense let starter
Kris Medlen
down.
Jason Heyward
had two good opportunities to throw out a runner at home plate but overthrew the cutoff man both times, allowing baserunners to advance. Medlen's final line looked ugly -- four innings, nine hits, five runs -- but with better defense he keeps his club in the game (although he did make one huge mistake, a changeup left out over the plate that
Adrian Gonzalez
crushed to center for a two-run homer following Johnson's hit/error.
As for Kershaw, the Braves hadn't faced him this year, and he's tough enough to figure out even if you have seen him before.
Justin Upton
, who was 3-for-29 in his career against Kershaw from his Diamondbacks days, said, "He's the best I've ever seen. He got into a rhythm. He got any fire we had going early on and that was it."
Kershaw appeared to struggle early on with his fastball command but even a not-his-best Kershaw can make any team look helpless, and he battled through seven innings and 124 pitches, striking out 12 of the whiff-prone Braves while walking three and allowing just three hits. As he struggled with his command, he started to throw more offspeed pitches in the middle innings, including one unfair curveball to pinch-hitter
B.J. Upton
that Upton simply looked and headed to the duguout.
Don't worry, B.J., you're not the only one: Batters his .097 off Kershaw's curveball this year with 80 strikeouts, no extra-base hits and no walks. That's as unhittable a weapon as pitcher can possess.
"We went out and worked him,"
Freddie Freeman
said "I think he had 130 pitches in seven innings. We just couldn't get the runs across and in the end that's all that matters."
[+] Enlarge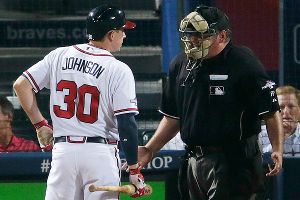 AP Photo/Dave MartinElliot Johnson and the rest of the Braves' hitters had no answer for what Kershaw had to offer.
The Braves, of course, have a fairly tortured playoff history, and not just those great teams of the '90s that won just one World Series (tell Cubs and Indians fans that one title wasn't enough). Including last year's wild-card game they've lost seven series in a row since beating the Astros in the 2001 Division Series. Including Thursday's loss, the Braves are 9-21 in the playoffs since beating Houston.
The Braves are still confident heading into tomorrow. You don't win 96 games without a lot of that. Facing right-hander
Zack Greinke
will give Freeman, Heyward and
Brian McCann
-- arguably their three best hitters -- the platoon advantage. Don't be surprised if lefty-swinging
Jordan Schafer
is out in left field.
"That's the beauty of it," Freeman said. "Come back and go at it tomorrow. Give these fans something to cheer about."
When asked if it's a must-win game, Justin Upton smiled. "That's why they give us five games."
Unfortunately, if it does go the distance, the large shadow of Mr. Kershaw looms in the distance.
August, 11, 2013
8/11/13
10:30
PM ET
The baseball season is a lot more interesting in Kansas City than it was two weeks ago, when general manager Dayton Moore assessed the limited options at his disposal and turned Kauffman Stadium into a news-free zone at the trade deadline.
Sure, the Royals made a minor deal on July 31 to acquire outfielder
Justin Maxwell
from Houston for minor league pitcher Kyle Smith. More notably, they decided not to trade away starter
Ervin Santana
, who will be eligible for free agency in November. Santana could have fetched a prospect or two in return, but moving him would have sent a signal that the Royals were ready to punt on the 2013 season. With no directive to shed salary from Royals owner David Glass, Moore simply wasn't ready to make that step.
And that's a good thing for Royals fans: Contending for a playoff berth is far more entertaining than the alternatives -- like obsessing over the 30th anniversary of the Pine Tar Game, keeping a daily vigil to monitor manager Ned Yost's job security or busting out in tears every time
Wil Myers
' name appears in a
Tampa Bay Rays
box score.
[+] Enlarge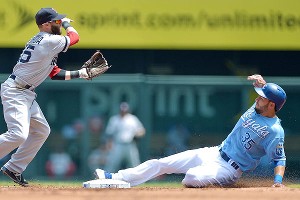 John Sleezer/Kansas City Star/MCT/Getty ImagesEric Hosmer is one of the homegrown hitters leading the charge for the Royals.
While the
Pittsburgh Pirates
are bound for the playoffs despite a rough weekend in Colorado, the Royals are suddenly crafting their own upbeat, small-market narrative in the American League Central. They've won 18 of 23 since the All-Star Game, and they made a major statement over the weekend by taking three of four from the
Boston Red Sox
.
Although one of the games at Kauffman Stadium was a sellout, the Royals averaged 25,180 for the other three -- a sign that the locals are not yet ready to go full-fledged bonkers over their team. At 61-54, the Royals are 4½ games out in the wild-card race and have a 22 percent chance of making the playoffs, according to coolstandings.com. The next few weeks will determine if they're a team coming of age at the optimal time or just a temporary diversion from the
Los Angeles Dodgers
,
Max Scherzer
and
Alex Rodriguez
's Biogenesis suspension appeal.
Regardless of the duration, Kansas City's recent run has to be gratifying to Moore, who bet big on this team when he sent Myers and
Jake Odorizzi
to Tampa Bay in that daring December trade for
James Shields
. And it has to be heartening for prospect watchers who root for young, homegrown players to overcome obstacles and become fantasy-league heroes.
You can cite a lot of reasons for the Royals' surge. Closer
Greg Holland
has converted 25 straight save opportunities and is averaging 14.5 strikeouts per nine innings, and Kansas City's other relievers come at opponents in hard-throwing waves. Shields, Santana,
Jeremy Guthrie
and Kansas City's starters go deep enough into games that the Royals bullpen has logged a mere 320 innings, the lightest workload in the majors.
But the Royals wouldn't be here if not for a welcome revival by their young, marquee position players. First baseman
Eric Hosmer
ranks second to
Yasiel Puig
among major league hitters with 84 hits since June 1 and resembles the confident prospect who finished third in the American League Rookie of the Year balloting at age 21. After George Brett resigned as Kansas City's interim hitting coach three weeks ago, he downplayed his acumen as a Mr. Fix-it type. But Brett and assistant hitting coach Pedro Grifol apparently did a nice job ingraining more confidence in Hosmer, who slugged .465 in 2011 before slipping to a
Yuniesky Betancourt
-like .359 in his second season.
"He's getting back to the swing he had two years ago," an AL scout said of Hosmer. "He was using that inside-out approach, and he had gotten so contact-conscious, and now, he's back to letting the bathead go and driving balls."
Third baseman
Mike Moustakas
is also back among the living. He's raised his average from .177 to .231 since June 9, although Royals people say he's still fighting a penchant to be overly hard on himself and take bad days to heart.
Yost takes his share of dings in Kansas City -- and occasionally invites criticism when he's in a mood to tangle with the media -- but he and the Royals deserve credit for running the kids out there day after day until they figured things out. Major league teams have to determine if their young players are mentally strong enough to handle failure on the biggest stage, and Hosmer and Moustakas are trying to pass the same test that
Alex Gordon
passed on his way to becoming an All-Star at age 29.
Lo and behold, the seemingly minor trade that Moore swung at the deadline has had a positive impact; Maxwell has three homers and a .900 slugging percentage in his first eight games with Kansas City. And when you look around the field, the Royals are doing it precisely the way major league teams should. In Sunday's game against Boston, seven of the nine players in Yost's batting order were drafted and developed by Kansas City. The only exceptions were shortstop
Alcides Escobar
and second baseman
Elliot Johnson
, both of whom came over in trades.
The Royals took another step forward in an eventful week for the division. When last week began, the
Cleveland Indians
stood three games behind the
Detroit Tigers
with a four-game series on the docket at Progressive Field.
Chris Perez
blew a ninth-inning lead Monday, and the Indians dropped six straight before rallying to salvage the finale of their homestand with a 6-5 win against the
Los Angeles Angels
on Sunday.
It's not going to be easy for either Cleveland or Kansas City to make a playoff push with Detroit so far ahead in the AL Central, the
Texas Rangers
and
Oakland A's
both playing well in the West and Boston, Tampa Bay and Baltimore all sporting better records in the East.
But, as the Indians begin a monster nine-game trip to Minnesota, Oakland and Anaheim on Monday and the Royals take on Miami in a three-game series Tuesday, Detroit's two pursuers are both still part of the conversation. Moore even made a trade Sunday, acquiring veteran infielder and strong character guy
Jamey Carroll
in a deal with the Twins.
The Royals have to feel good being a buyer in August, regardless of the magnitude of the transaction. After nine straight losing seasons, it's nice just to be relevant.
May, 14, 2012
5/14/12
9:05
PM ET
By
Christina Kahrl
| ESPN.com
The
Washington Nationals
aren't the only team struggling to put its best nine out there on any given day. The
Tampa Bay Rays
have suffered another injury, losing
Desmond Jennings
for at least the next two weeks after placing him retroactively on the disabled list. The move dates to Saturday because Jennings was used as a pinch-hitter Friday night against the Orioles. The knee injury that pushed him to the DL had already kept him out of the starting lineup for a week.
So that's an unhappy contretemps because there's a chance Jennings could be back sooner than the full two weeks he'll now be gone. Not that there isn't anything wrong with some caution, of course -- now that
B.J. Upton
is back in action, the Rays' outfield and DH situations might seem set: Upton in center,
Ben Zobrist
in right, and that tasty
Matt Joyce
--
Brandon Guyer
platoon in left field.
But that's the thing: It's an asymmetric substitution. The Rays aren't replacing Jennings' production with an outfielder, they're replacing it with the always flexible Zobrist. That means borrowing a bat from their infield, and giving playing time to Joe Maddon's squad of supersubs. Now a combination of
Elliot Johnson
,
Will Rhymes
,
Jeff Keppinger
and
Sean Rodriguez
have to cover second, third and shortstop because
Evan Longoria
is also out.
This isn't something the Rays can roll with all that easily, especially when we're talking about Rodriguez (.606 OPS) or Keppinger (.663) facing right-handers, or Rhymes facing anybody. Maddon will mix and match the best he can, but the limitations of what he has to work with will become more and more apparent as the talent gets exposed or over-exposed. Johnson might be the one guy in this group with the up-side to be an adequate bat in the middle infield (PECOTA projects a one in five shot at a .720 OPS or better). That's still lower than what they were getting from Jennings -- or could reasonably expect as he was projected to deliver .730 or so as a baseline, and sitting at .731.
April, 6, 2012
4/06/12
8:15
PM ET
If my math is correct, the
Tampa Bay Rays
and
New York Yankees
still have 17 games against each other. The Rays and
Boston Red Sox
have 18 games against each other. The Red Sox and Yankees have 18 games against each other. And all three teams have 18 against the
Toronto Blue Jays
.
That's 107 more games of American League East mini-wars, in which every game will be treated as the one that may win -- or lose -- a division championship.
Friday's game at the Trop was as interesting as a regular-season game can be, with a hundred little moves worth discussing and dissecting. Rays manager Joe Maddon was already in midseason form, calling for a squeeze bunt, pinch-hitters and lefty/righty matchups out of the bullpen. Yankees counterpart Joe Girardi went to his trusty binder in the bottom of the first inning and got burned. And the greatest closer of all time failed to do his job. Yes, I'll take more, thank you very much.
[+] Enlarge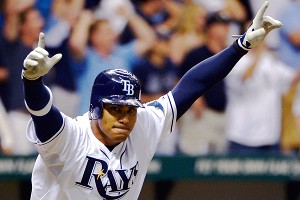 AP Photo/Phelan M. EbenhackCarlos Pena's game-winning hit was his first ever off Yankees closer Mariano Rivera.
A few quick highlights about a game you could write 3,000 words about:
With two out in the first and runners on second and third, Girardi had CC Sabathia walk Sean Rodriguez to pitch to Carlos Pena. Girardi has a bit of unusual obsession with the intentional walk. Sabathia, for example, issued 17 IBBs over the previous three seasons. Compare that to guys like Justin Verlander (0), Cliff Lee (3), Roy Halladay (5) or Jon Lester (0). Anyway, while it's true Pena struggles against left-handers (.133 in 2011, .179 in 2010), it's also true that he's a very patient hitter willing to take a walk. Juicing the bases forces Sabathia to throw a strike. Pena worked the count to 3-2 and drilled a fastball for a grand slam. An intentional walk on Opening Day with two out in the first inning? Just ... well, wow.

Down 6-5, the Rays had a great chance to tie the game in the bottom of the eighth when they put runners on the corners with no outs against David Robertson. Maddon sent Stephen Vogt in to hit for Elliot Johnson, Vogt's first major league at-bat. Robertson struck him out on four pitches -- two 92 mph cutters and a fastball up sandwiched around a curveball in the dirt. With Jose Molina up and a 1-1 count, Maddon sent the runners ... except Molina missed the squeeze sign and instead fouled off the pitch. Maddon, with the proverbial guts of a cat burglar, went right back to the squeeze, but Molina fouled it off for strike three. Robertson than fanned Matt Joyce to escape the jam.

Mariano Rivera entered to close out it out. Desmond Jennings singled to right-center and Ben Zobrist tripled to deeper right-center. Girardi -- remember, he loves the intentional walk -- gave free passes to Evan Longoria and Luke Scott to load the bases. Once again, Girardi left his pitcher with no margin for error. Rivera fell behind 3-1 to Rodriguez but came back to strike him out, bringing up Pena. He got the count to 1-2 and the strikeout-prone Pena looked like a dead duck. Instead, Rivera threw a meaty pitch over the middle of the plate and Pena lofted a deep fly off the base of the wall in left-center. Game over. His first hit ever off Rivera. "Oh, yeah. [I was] very aware of it," Pena said. "His ball moves so much that your eyes deceive you." But Pena's eyes mapped this Rivera cutter, giving him a three-hit, five-RBI day. And as Pena did a postgame on-field interview, B.J. Upton delivered a shaving cream pie in the face that tasted just right.
Follow David Schoenfield on Twitter @dschoenfield.