SweetSpot:

Emmanuel Burriss
May, 3, 2012
5/03/12
1:43
PM ET
A season ago,
San Francisco Giants
third baseman
Pablo Sandoval
fractured his right hamate bone in late April, an injury that cost him 41 games. Almost one year later, he's fractured his left hamate bone and will presumably miss a similar number of games.
Sandoval
It's a crushing injury to the Giants, a team without an obvious replacement at third base, let alone one who can come close to matching Kung Fu Panda's production.
We're talking about one of the 10 best hitters in the National League. Sandoval didn't quite have enough plate appearances in 2011 to qualify for the leaderboards, but among those with 450 PAs, he ranked sixth in the NL in OPS+, 14th in wOBA and 11th in wRC+. Considering some of those ahead of him left the league (
Prince Fielder
,
Albert Pujols
) or were expected to regress (
Lance Berkman
,
Michael Morse
,
Jose Reyes
), Sandoval is one of the most valuable players in the NL. He was off to a .316/.375/.537 (AVG/OBP/SLG) start, with five home runs and 15 RBIs. The Giants' offense, last in the NL in runs scored in 2011, is ninth this season.
But there's the problem: Once you get past Sandoval and
Buster Posey
and
Melky Cabrera
, it thins out in a hurry.
Brandon Belt
hasn't homered in 44 at-bats,
Angel Pagan
has a .279 on-base percentage,
Brandon Crawford
is hitting .215 with a .234 OBP, and
Ryan Theriot
and
Emmanuel Burriss
have combined for one extra-base hit in 88 at-bats.
As for third base, Wednesday night the Giants inserted Theriot at second and moved
Joaquin Arias
from second to third. Burriss also played there later in the game. Arias is a 27-year-old infielder who last played in the majors in 2010. He hit a robust .232/.272/.353 at Triple-A Omaha last season. The fact that he's even on the big league roster tells how thin the Giants are; in fact, why a team would want
four
light-hitting middle infielders on their roster in Crawford, Theriot, Burriss and Arias is a bit confounding. Yes, blame the injury to
Freddy Sanchez
if you want, but it's still poor roster management.
So if Arias is the guy who gets more playing time, you're talking about a player who is probably below replacement-level. Sandoval's WAR a year ago was 6.1 -- in 117 games. (That total was helped by some excellent defensive metrics, which he wasn't replicating so far this year.) Still, if we consider him a six-win player and he misses a quarter of the season, we're talking about two to three wins in lost value, considering the likely production from Arias & Co. Aside from that, the complicating factor is how Sandoval returns from the injury. Last season, he did fine, hitting .315 after coming back. But there is no guarantee he won't have some minor ill effects this year.
I see this as a bigger blow than
Evan Longoria
's injury; at least the Rays could turn to a won't-kill-you platoon of
Elliot Johnson
and
Jeff Keppinger
. The Giants have a guy who couldn't hit Triple-A pitching a year ago.
March, 21, 2012
3/21/12
5:09
PM ET
ESPN Insider Dan Szymborski asks: Is there another Jose Bautista lingering near the bottom of the ESPN 500 list? Dan throws out some interesting names, including Travis Snider and Pedro Alvarez, although both of them were former first-round picks and one-time top prospects. Of course, what makes any Bautista comparison difficult is that he hasn't just had a couple of nice seasons out of nowhere; he's had two seasons that made him one of the best players in baseball. There may be a more systematic way of doing this: Check players who were (A) never top prospects; (B) had some time in the majors before blossoming into an MVP candidate. I have to think Bautista is fairly unique in this regard. Worth looking at during some down time.
Tristan Cockcroft has a list of players he's not excited about. Tristan is writing for a fantasy baseball audience, but I like his support evidence. Names such as Adam Wainwright and Dee Gordon will provide some debate.
Eric Karabell has updated his fantasy top 100. He's sticking with Ryan Braun at No. 1.
One more link from our fantasy department: AJ Mass looks at the Rays and whether the hype surrounding Matt Moore is justified.
Mets Today has a roundup of all the fallout from the court decision regarding the Mets.
Dodger Thoughts author Jon Weisman has a piece on ESPNLosAngeles.com on the Clayton Kershaw-Tim Lincecum rivalry.
How do the Brewers replace Prince Fielder? In Part 1 of a 2012 preview, Disciples of Uecker examines whether Aramis Ramirez will come close to Fielder's 2011 production.
Harper Gordek is worried about a Nationals lineup that may open up with Rick Ankiel hitting fifth. Can the pitching staff prevent enough runs to make the Nationals contenders?
Michael Baumann on Chase Utley, Freddy Galvis and panic (or lack of it) in Philly.
Brenden Lowery breaks down Carlos Santana and his approach from both sides of the plate in 2011. With heat maps!
Craig Brown examines the Royals trade in which they acquired catcher Humberto Quintero to fill in for the injured Salvador Perez and outfielder Jason Bourgeois. If the word "train wreck" is used as descriptive medicine, it may not be a cure.
Here's what the Red Sox's 25-man roster may look like.
One thing the Twins have: Guys who can play center field. With Denard Span, Ben Revere, Joe Benson and prospect Aaron Hicks, should the Twins consider dealing from their surplus?
Chris Quick with an interesting study on Giants infielder Emmanuel Burriss: With his lack of power what are the odds he can be of some value at the plate?
Finally, a fun list of the top 10 final seasons, in honor of Will Clark's 2000.
January, 27, 2012
1/27/12
5:45
PM ET
By
Christina Kahrl
| ESPN.com
Ryan Theriot
signed with the Giants on Friday, and you could almost instantly hear the howling from the analysis community, and not a few Giants fans. You can understand some of the reasons why. The Giants don't really have a shortstop, and visions of seeing Theriot put into their middle-infield mix doesn't really sound like an answer.
There was a point at which a team could contend with Theriot at short, as the Cubs did in 2007 and 2008. But after consecutive .321 OBPs, his value as an offensive patch at the position seems dubious. He used to walk around 10 percent of the time, but that's down to six percent these days. He's lost speed on the bases, and what little power he had disappeared shortly after a five-homer May in 2009 that only seemed to encourage him to leap from his shoes, swinging for the fences forever after. As mighty mites go, Theriot was no Jimmy Wynn, so this wasn't going to end well, and hasn't.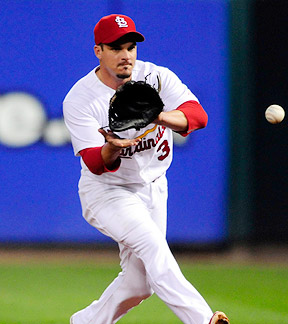 Jeff Curry/Getty ImagesDoes adding Ryan Theriot solve the Giants offensive problems at shortstop?
Giants fans of a certain vintage know that they've been here before. Resurrecting the careers of
Edgar Renteria
and
Juan Uribe
as they briefly patched things up, but even banking on age gets old. Those represent the salad days,
Omar Vizquel
put up a few lousy seasons, and they even submitted to the indignity of
Brian Bocock
as an Opening Day starter in 2008.
That's not even the worst of it as far as Giants history goes. Not that they're asking, but where have you gone … Johnnie LeMaster? For some or all of seven seasons, LeMaster was the Giants' shortstop, from 1978-1984. LeMaster hit .222/.277/.289 (or a .566 OPS), for his
career
. He holds the worst single-season WAR from a regular shortstop since before integration, before Pearl Harbor, since before FDR's second term as president. Advanced analysis has yet to invent a metric with a kind stat or word to offer in defense of his glove work. The all-time all-bad team has a shortstop, and his name is almost certainly Johnnie LeMaster.
Unfortunately,
Brandon Crawford
's .584 OPS last year looks downright LeMaster-ly, especially with the neat feat of not reaching a .300 OBP or SLG. Dan Szymborski of ESPN Insider projects Crawford to take a big step forward offensively -- all the way up to a .629 OPS, thanks to slugging .341 while putting up a .288 OBP.
Surely the Giants have some other alternative? They surely do, but you can't really grace with them with any reassuring adjectives like "adequate."
Emmanuel Burriss
has struggled to stick at short since getting out of A-ball almost five years ago, lacking the range, hands or arm, and drifting into a utilityman's aspirations.
Mike Fontenot
has wound up a shortstop by coming at it from the other direction -- he couldn't hold down a semi-regular job at second base for the Cubs, and has been shunted into a utility role to hang onto his career.
At least Crawford's defense gets reasonable marks, but it had better, because the alternatives on hand are almost universally execrable. Theriot's days as a passable shortstop appear to be history -- he's spent the past two seasons delivering un-glovely work afield according to Plus-Minus, UZR, Defensive Runs Saved on Baseball-Reference.com and Baseball Prospectus' Fielding Runs. Between Crawford's bat and Theriot's glove, you'd think Brian Sabean was trying to assemble FrankenLeMaster.
However, to be charitable to Sabean's design you could flip-flop that idea: Get Crawford's glove and Theriot's bat in an ad hoc offense-defense platoon. That might work thanks to baseball's best pitching staff when it comes to keeping balls out of play: Thanks in large part to
Tim Lincecum
,
Madison Bumgarner
and the since-dealt
Jonathan Sanchez
in particular, the Giants have led the majors in strikeout rate in both of the past two seasons. That was while posting two of the seven highest staff-wide strikeout rates ever in major league history. In
the current Age of Strikeouts
, more Ks equal fewer balls in play, making lead-gloves a little more affordable -- like using former DH
Aubrey Huff
in the outfield.
So maybe, just maybe, the Giants can get away with starting Theriot at short when fly-ball/strikeout like Lincecum and Bumgarner or
Matt Cain
are on the mound. Maybe the less dominating
Barry Zito
and
Ryan Vogelsong
need a little more help from their friends in the infield, and that's Crawford's role, starting on their days, and coming in for Theriot on defense on the others.
The problem is that Theriot's bat isn't really some great boon you really want to plug in. Rising to the standard of "hits better than Johnnie LeMaster" really isn't one you should gun for. Maybe if Theriot ever got his walk rate back up around 10 percent, you might see a reason why, but there's a reason why the Cubs moved him off short (and dealt him), and it's the same reason the Cardinals traded for
Rafael Furcal
last summer. Ryan Theriot simply isn't a shortstop. Adding him to the shortstop mix in San Francisco just makes plain that they still don't really have one.
Christina Kahrl covers baseball for ESPN.com. You can follow her on Twitter.
March, 26, 2010
3/26/10
7:14
PM ET
Of all the moves I expected today,
this wasn't one
:
The Boston Red Sox on Friday acquired infielder Kevin Frandsen from the San Francisco Giants in exchange for a player to be named later or cash.

The 27-year-old Frandsen, who has played second base, shortstop, third base and in the outfield, is expected to provide infield depth for the Red Sox.

"I think it gives us some depth that you don't know you'll need, but it would be a hard way to find out," said Red Sox manager Terry Francona, who described Frandsen as a "utility infielder type."
Now, you might reasonably be asking yourself (or Brian Sabean) why a talent-rich team like the Red Sox would be interested in a player who's apparently unwanted by a (relatively) talent-poor team like the Giants.
The answer, I think, is that the Red Sox look at whole players rather than half-players.
Kevin Frandsen isn't considered by anyone an every-day player in the major leagues. There was a moment when he looked like the Giants' Second Baseman of the Future, but Frandsen ruptured a tendon and that moment was gone. There was another moment last spring, but Frandsen went 0 for 16 and that moment was gone, too.
Now he's been labeled a utility guy, and with cause.
But he's a utility guy who can hit. Not a lot. He's not
Ben Zobrist
or (the Rays hope)
Sean Rodriguez
. But a little. Frandsen turns 28 soon and he's got a lousy line in the majors. But he's got .317/.380/.452 line in the minors, and his Triple-A stats match those numbers almost exactly. He can play some shortstop, some second base, even a little outfield.
Frandsen was run out of San Francisco because he's not much of a fielder. He's been brought to Boston because, as utility players go, he's a pretty good hitter.
Who's right about Frandsen? I've got my opinion, which is heavily influenced by the standings these last five years. As we saw this morning, though, the Giants are engaged in a search for
Emmanuel Burriss
's (temporary) replacement ... and yet they just traded a perfectly adequate replacement to the Red Sox for three sacks of baseline chalk and four pouches of Big League Chew.
I must be missing something.
March, 26, 2010
3/26/10
10:06
AM ET
Emmanuel Burriss
broke his foot. A surgeon fixed it. He -- the baseball player, not the surgeon -- will be out of action until the middle of June. This is bad news for Burriss. It's not clear that it's such terrible news for Burriss' employers, the
San Francisco Giants
. That's my gut reaction, anyway.
Here's another
:

Burriss' break earlier this month was painful for the Giants, too. He would've been the perfect utility guy because of his ability to play shortstop, second base and the outfield. Most of their utility candidates are second basemen or third basemen (Kevin Frandsen, Ryan Rohlinger, Matt Downs) that either can't play shortstop or are considered fringy there.

Having a healthy Freddy Sanchez changes things because Juan Uribe could be more of a true backup shortstop. But now that Sanchez will be out at least through April, the Giants might have to go out and get more of a true utility presence who can play dependably at both middle infield positions.

With all due respect to Messrs. Burriss and Baggarly, this is sorta nuts.
I might be wrong. Bill James once described
Brent Mayne
as
a special player
, meaning that Mayne was a winning ballplayer even if we didn't have the tools to identify him as such a beast. Maybe Burriss is a special player, too. Maybe he's so special that if you're faced with his absence for a few months, you simply have to find another special player to take his place.
I'm not seeing it, though.
Burriss isn't any sort of outfielder. He's played two innings in the outfield with the Giants, and I've not yet found any evidence that he's played even a single inning there in the minors. He was a shortstop in the minors, but was so awful at shortstop in '08 that the Giants didn't let him play one inning there in '09. He
might
be a good second baseman ... but again, that's not really the point. The point is that he's supposed to be good (or at least decent)
everywhere
.
Burriss isn't any sort of hitter; his subpar on-base percentage is higher than his slugging percentage (and no, that's not some esoteric compliment). That's no fluke. He did the same thing in the minors, and his major league numbers are highly reflective of his true talents.
Burriss is fast. No way around that. In 2007, he stole 68 bases in 125 minor-league games and was caught only 18 times. Do his wheels make him
special
, though? Sure. It's just not the sort of
special
that wins a great number of baseball games.
He's a handy fellow to have around. Or in Fresno. But you can shake a tree and a dozen handy fellows will fall out. No decent organization should ever have to
trade
for one.
June, 16, 2009
6/16/09
9:46
PM ET
Henry Schulman on
a Giant shakeup
:
The Giants have made a seismic shift in their personnel today. They optioned struggling second baseman Emmanuel Burriss to Triple-A Fresno and purchased the contract of 25-year-old infielder Matt Downs, who just took a terrific round of batting practice.

Burriss has been exceptional defensively but has not had a hit since June 4. Downs was hitting .288/.333/.453 with six homers and 38 RBIs with the Grizzlies. I presume he will be in the lineup tonight.

--snip--

UPDATE: Manager Bruce Bochy discussed the move, and the reasons hardly were surprising. Burriss has done a great job defensively, but he was hitless in his last 27 at-bats and the Giants' offense is not good enough to afford an automatic out in the eighth spot.

"We feel now's the time Manny needs to go down and work on some things," Bochy said. "It's fair to say he's had his struggles." Bochy called this a "little hiccup" in Burriss' career and said, "He'll be back."

Specifically, the Giants want Burriss to work on leadoff-type at-bats: bunting, using the whole field, etc.
Well, that's one way to look at it. Here's another ...
Just three years ago, Burriss was the 33rd pick in the amateur draft. He played well in rookie ball that summer, and he played well again in Class A the next spring and summer. But he struggled terribly that same summer after being promoted to the fast California League. Neverthless, last spring the Giants skipped him past Double-A to Triple-A, and after just 14 games there -- in which he struggled, again -- they promoted him to the big club ... for which he thrived.
Relatively speaking, anyway. For a guy who really hadn't done anything since leaving the South Atlantic League, Burriss's .283/.357/.329 line was pretty impressive. Burriss is fast, and his defense at second base was good (though his defense at shortstop was not). On the strength of last season -- which, it should be said, included only 274 plate appearances -- the Giants awarded Burriss the every-day job at second base this spring.
And now we're where we are, and nobody should be terribly surprised. The Giants want Burriss to learn to bunt, and use the whole field, etc? What he needs to learn is how to %@#&$ hit. You know? Because he's never done that, even as the Giants just kept moving him up the ladder.
At its best, baseball is a fairly efficient meritocracy. But sometimes the system breaks down, and that's how you wind up with an every-day player who simply has no business being in the major leagues. Not yet, anyway.