June, 5, 2013
6/05/13
11:17
PM ET
The game survives. It always survives.
A routine Wednesday afternoon game on a gorgeous June day in Seattle between two teams rapidly going nowhere can slog along for 13 uneventful innings -- so uneventful that it was 0-0 heading to the 14th, with nary a hit with runners in scoring position.
Then the White Sox score five runs in the top of the 14th. Mariners fans began filing out into the concourses of Safeco Field. The Mariners score a run and load the bases with two out. White Sox closer
Addison Reed
has
Kyle Seager
in a 1-2 hole when Seager dramatically turns the routine into the remarkable, hitting a game-tying grand slam out to right-center.
The game heads to the 15th inning and the camera pans to fans heading back to their seats.
This is what baseball does to us. For 24 hours, the talk had been about
Ryan Braun
and
Alex Rodriguez
and Biogenesis instead of
Yasiel Puig
and
Domonic Brown
. Instead of discussing scores, everyone was discussing suspensions. And then Kyle Seager hits a grand slam and the fans return.
Maybe Bud Selig cares more about penalizing players who used performance-enhancing drugs than publicizing up-and-coming stars. Maybe he cares more about increasing owner profits than creating a playoff system that makes sense. Maybe he cares more about limiting bonuses to amateur players instead of trying to attract the best athletes to his sport.
There are many problems with the business of baseball.
There are not problems with the game. We
do
go back.
* * * *
The
White Sox won 7-5
in 16 innings, snapping an eight-game losing streak. It's probably fair to say that they needed this one. Reed blew the five-run lead but, out of pitchers, manager Robin Ventura left Reed in to go three innings, which these days is like asking your closer to climb Mount Everest without oxygen and carrying
Pablo Sandoval
on his back.
[+] Enlarge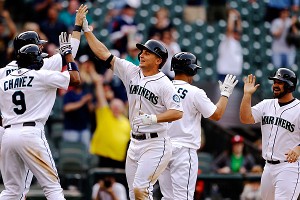 AP Photo/Elaine ThompsonKyle Seager, center, became the first player to hit a game-tying grand slam in extra innings.
Needless to say, the game contained a few "first-evers" and other oddities. Seager became the first player in major league history to hit a game-tying grand slam in extra innings. It was the first time both teams scored 5-plus runs in extra innings after the game had been 0-0 through nine. The 12 total runs in extra innings tied an American League record. (All nuggets courtesy of ESPN Stats & Information.) Mariners catcher
Kelly Shoppach
became the 13th player since 2010 to strike out five times in a game -- although the only one to also register two hits. Mariners manager Eric Wedge didn't use a single position player off his bench. The White Sox turned six double plays.
But the game also exposed the weaknesses of these two clubs. If they don't hit home runs, they don't score. The five runs the White Sox scored in the 14th were more than they had scored in any game during their eight-game losing streak, a stretch in which they hit .197 with one home run and a .486 OPS. With a 25-32 record, the White Sox appear to be a dysfunctional unit, hoping unproductive veterans
Adam Dunn
(.162 average, .261 OBP) and
Paul Konerko
(.233 average, .296 OBP) find a fountain of youth, with no youth to build a lineup around. The entire offense is a wreck outside of
Alex Rios
, last in the AL in runs, average, walks, OBP and 13th in home runs. The White Sox are likely going to be sellers at the deadline, but outside of Rios and
Chris Sale
(who isn't going anywhere) there aren't many assets here of much value.
The Mariners hit
Endy Chavez
and
Jason Bay
1-2 on Wednesday, which also tells you the state of a team that's in Year 5 of general manager Jack Zduriencik's attempt to clean up the mess left behind by the Bill Bavasi. The Mariners are 26-34, and that's with two of the best starters in the league.
Hisashi Iwakuma
was terrific once again, pitching eight scoreless innings to lower his ERA to 1.94. He's 6-1 in 13 starts but has allowed more than three runs just once; with a little run support he could easily have 10 wins.
I don't know if this was the game of the year, but I'm pretty sure it will end up on the short list. For 5 hours and 42 minutes, two bad baseball teams gave us baseball to talk about.
Thank goodness for that.
September, 14, 2012
9/14/12
12:00
AM ET
As the
Tampa Bay Rays
and
Baltimore Orioles
played on in the late-afternoon shadows, the managers turned to
Chris Archer
and
Tommy Hunter
, a rookie with just 18 innings of big league experience making his first relief appearance of the season and a veteran starter banished to the bullpen, respectively.
This is pennant-race baseball.
In Anaheim, Angels ace
Jered Weaver
took the mound, making his first start in 11 days because of biceps tendinitis, and all he had to do was prevent the A's from completing a four-game sweep and keep the Angels within shouting distance of the playoffs.
This is playoff-race baseball.
In Houston, the Phillies -- who punted back in July when they traded two-thirds of their starting outfield -- had suddenly found themselves smelling the sweat of the Cardinals, Dodgers and Pirates. They started a rookie named
Tyler Cloyd
, making his fourth major league start. Not only that, he was starting on three days' rest. I knew nothing about him, so I looked up a few facts. He was the International League pitcher of the year, but he's a finesse right-hander who rarely reaches 90 mph. He was an 18th-round draft pick in 2008 out of Nebraska-Omaha, but his lack of velocity meant he wasn't one of Baseball America's top 30 Phillies prospects entering the season despite good minor league numbers in 2011.
This is wild-card baseball.
I intended to watch the monumental
Chris Sale
-
Justin Verlander
showdown, two Cy Young contenders facing off in a crucial game in the American League Central, but that game was rained out, so I focused on the Yankees-Red Sox showdown at Fenway Park.
Phil Hughes
, a pitcher who had allowed the second-most home runs in the major leagues, was trying to pitch the Yankees back into a first-place tie with the Orioles. All he did was pitch one of the best games of his career, allowing no runs for just the second time this season.
This is baseball.
[+] Enlarge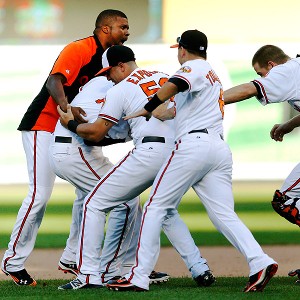 AP Photo/Patrick SemanskyThe Orioles should be celebrating. They're in playoff contention after not having a winning record in 15 seasons.
I'm riveted to my television set, flipping channels, checking box scores, watching a second game on my laptop. It's the best time of the year, when nearly every game matters, when important outs in important games start taking on an October-like intensity. It's why we watch the first 140 games, to build up to these moments: Archer versus 20-year-old rookie
Manny Machado
with the game on the line.
Archer had used a little magic in the 13th inning, when he escaped a bases-loaded, no-outs jam to extend the game another inning. During that high-wire act, he fell behind
Matt Wieters
3-0 but came back to strike him out on a 94 mph fastball, his seventh consecutive fastball of the at-bat. No tricks, just heat, and it worked. I tweeted something along the lines of: "If the Rays win this game and eventually make the playoffs, remember this inning."
But Buck Showalter has been around this game a few years. They say he's pretty wise. In the 14th inning, Archer got the first batters out, but
Adam Jones
fouled off a 3-2 slider and then drew ball four.
Endy Chavez
singled to left. That brought up the rookie Machado, 0-for-5 on the day, 2-for-his-past-20. Archer fell behind 3-and-0.
You don't give a rookie the green light.
Buck gave Machado the green light.
Machado swung and lofted a sinking line drive near the left-field line.
Matt Joyce
ran in, dove, stretched out, his glove reaching for the baseball, reaching for hope -- to keep the game going, to give the Rays hope of getting a win closer to the playoffs rather than a loss further away. Off the glove. Base hit.
Orioles win 3-2
-- their 13th in a row in extra innings; 27-7 in one-run games, the best percentage in history. How can you not believe in the Orioles?
Joyce came up a few inches short. If
Sam Fuld
, an outfielder with more range, had been in left field, he makes the play. But Fuld had been removed in the 13th inning when Joe Maddon had replaced him with
Reid Brignac
to give the Rays five infielders after the Orioles loaded the bases. And that strategy worked when the Rays got the first out of the inning on a force at home. Maddon used 26 players in the game, clawing for any little edge.
That's what you do this time of year.
* * * *
Cloyd pitched three scoreless innings against the Astros but then gave up a single -- single -- home run and got the hook. He was replaced by another rookie,
B.J. Rosenberg
, with an ERA of 9.00. Rosenberg pitched two scoreless innings. In the eighth, the Phillies clinging to a 4-3 lead, Charlie Manuel turned to yet another rookie,
Phillippe Aumont
, once the prize of the
Cliff Lee
trade with the Mariners. Big stuff, no command: He averaged 6.9 walks per nine innings in Triple-A. He walked a guy, but got a caught stealing. He walked another guy. He hit a batter.
Two outs, two on, the Phillies cannot afford to lose. They have a $50 million closer in the bullpen.
Manuel brought in yet another rookie,
Jake Diekman
. He gave up a two-run double and an RBI single, and the
Phillies lost 6-4
.
Jonathan Papelbon
sat in the bullpen, and suddenly that playoff run seems a little less likely.
The victories are extra sweet. The losses extra bitter. Welcome to the best time of the season.
August, 19, 2012
8/19/12
1:00
AM ET
By
Christina Kahrl
| ESPN.com
The Orioles are the team that won't go away. For months now, they've been predicted to, expected to, and they have no end of excuses for why they're
supposed
to be long since out of the expanded wild-card picture already. Injuries, run differential, relative anonymity plus generally underwhelming performances from most of the people you have heard of -- the Orioles are supposed to be goners.
They aren't gone, but they might be going places. On Saturday, it was
Zach Britton
's bend-don't-break stylings that were their latest "that's not really possible, is it?" feat.
Seven shutout innings
against the Tigers make for some sort of Saturday night special, not bad for the latest transient solution in Buck Showalter's constantly fixed-up rotation.
Go by appearances alone, and it seemed like Britton had no business matching zeroes with the Tigers'
Rick Porcello
, allowing nine baserunners to Porcello's four through the first six innings. But three 6-4-3 double plays were enough to keep his head above water. Porcello had retired 11 men in a row heading into the seventh, but so what? A pair of dink singles and
Chris Davis
' three-run shot later, it didn't matter what Porcello had done beforehand or how good he looked doing it, because the O's had a decisive lead thanks to Davis' just-enough bit of bopping, making Britton a winner.
That in itself might be a bit of a surprise, considering that Britton's shot at pitching this year was no sure thing in March, when shoulder surgery seemed likely. But opting for platelet-rich plasma (or PRP) treatments put him on the shorter road to rehab, and he's been the skippable, sometime-fifth starter for a team that barely goes a week without having to change something in its rotation.
The Orioles have managed to keep the identity of their rotation's third or fourth or fifth starter a matter of a near-weekly surprise to everyone, including themselves. Some of that has been a matter of effective roster management by general manager Dan Duquette: Early in the season, the Orioles could afford to flip the optionable
Tommy Hunter
back and forth between Baltimore and Triple-A Norfolk, rostering him only when they had to. Despite that time spent shuttling back and forth, it says something about Baltimore's lot that Hunter is now second on the team in total starts because almost everyone queued up ahead of him has broken down or pitched his way out of a job.
This yo-yo role Britton found himself in on Saturday, as he was called back up into the latest breach in the rotation after already blowing his initial call-up after the All-Star break, getting clobbered in five of six starts. In the Orioles' ad-hoc rotation, he was back up because he was on the 40-man roster and had four days' rest, and little else -- he was four days removed from getting chewed up by Charlotte, pitching through a split nail on his pitching hand.
Britton briefly dealt with the burden of being blown up too soon as a sign of better times to come in the spring of 2011, after he notched a quick eight quality starts in his first 10 turns as a rookie in the big-league rotation. But just like
Brian Matusz
and
Jake Arrieta
, his success didn't last -- Britton managed just five starts of six innings or more and three runs allowed or less in his last 18 turns in 2011, putting him well on his way toward a new entry on the Orioles' list of mound disappointments. But like every other expectation for an Orioles setback, it seemed to merely set the stage for this latest improbable bit of heroics.
Where the rotation woes of the Yankees or the Red Sox get featured prominently, the Orioles have been scrambling all season. Only Chinese import
Wei-Yin Chen
has lasted the season. Chen plus Britton, Hunter, former Mariners prospect
Chris Tillman
and journeyman
Miguel Gonzalez
represent the latest front-five confection in a rotation that has already had to use 10 starters. Every day, the four non-Chens are all pitching for their jobs, because
Jason Hammel
is on the mend and due back in another two weeks.
Contenders aren't supposed to start TBD in three or four rotation slots this late in the season, are they? But this comes on top of their playing TBNL in left field. Davis was briefly their answer there, but so was
Nolan Reimold
,
Endy Chavez
,
Xavier Avery
and
Steve Pearce
. They're down to a
Nate McLouth
-
Lew Ford
platoon that would be entirely plausible if we were talking about a contender -- in the International League.
All of which is part of what makes the Orioles so entertaining. As they scrape to keep pace with the Rays in the wild-card chase, it might be hard to call them the underdog, but that's only if you keep your eyes peeled on payrolls. It's easy to root for the Rays -- every statistically savvy smart kid goes fanboy on sabermetrics' poster team. And they're supposed to beat Baltimore -- they're supposedly smarter, and stocked up on the really good players you already know, like
Evan Longoria
and
David Price
. And yet the Orioles still will not go away. Fun, ain't it?
PHOTO OF THE DAY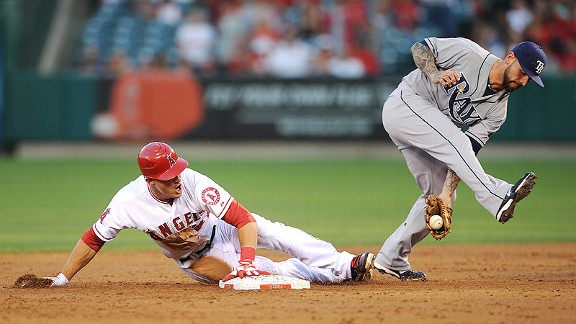 Kelvin Kuo/US PresswireRyan Roberts might do a little dance, but it's Mike Trout who has a steal to celebrate.
Christina Kahrl covers baseball for ESPN.com. You can follow her on Twitter.
June, 30, 2012
6/30/12
9:29
PM ET
By
Christina Kahrl
| ESPN.com
Jim Thome
's right back where he needs to be, and if you're an Orioles fan, you might think
the trade that moves him down I-95
has come not a moment too soon. The Orioles really needed to do something to shore up their offense, and perhaps more than anything, they've needed to find an outfield bat or two. Averaging just 4.2 runs per game, they're ninth in the American League in offense, and a major part of the problem is the lack of good wood they've gotten from their left fielders (.642 collective OPS) and right fielders (.703).
The funny thing is that the Orioles' designated hitters weren't a problem, not in the aggregate, with a .787 OPS. Their in-season problem was that the absence of a reliable performer had helped suck
Chris Davis
out of the infield and into their DH mix. With their gaping holes in the outfield corners, they really do need something that would stick at DH, freeing manager Buck Showalter to reemploy Davis in the field and spare the club from reverting to the DH-du-jour non-answers Baltimore's weakly stocked bench provides.
Which brings me to the other major implication of this move -- what this deal does
not
mean: Thome isn't replacing
Wilson Betemit
or Davis in the lineup in a bit of incremental improvement. Instead, he's the answer to a crying need in Showalter's offense, which was the absence of a regular DH who could deliver on the hitting half of being designated to hit. The Orioles' current scoring clip is not going to get it done in the AL East, even with the expanded postseason.
But the market didn't really have much to offer as far as outfield thumpers, so general manager Dan Duquette did the next-best thing: He traded for a cheaply available bat in Thome, figuring that adding a bat lets Showalter reemploy the day-to-day rovers he's used to plug lineup holes all season to man one fewer position, and perhaps more precisely help fix the club's problems in the non-
Nick Markakis
outfield corner. Markakis is due back soon, so the Orioles are already going to have one outfield answer. Trading for Thome is going to help them fix the other corner.
Adding Thome to the roster helps because it frees up the bats the Orioles were using at DH to help fix the other slots in the lineup. Showalter has utilized Davis in particular as one of those rovers, and he'll no doubt continue to use Betemit as his infield Mr. Fix-It. With Thome in the fold, Davis might very well be the Orioles' left fielder of the immediate future, a patch they desperately need.
With Markakis looking like a lock to return from the disabled list after the All-Star break, the Orioles' lineup should be in significantly better shape shortly, with Markakis in right field, Davis in left and Thome at DH.
Where roster management is concerned, it's understandably fashionable in the age of the seven-man bullpen to laud the virtues of doing without an everyday DH, and to instead use the slot as a chance to spread at-bats around to the three non-catchers most AL teams get by with on their benches. There's a certain kind of wisdom to it when you have bench bats worth playing, but that was not this Orioles team, not when it's been picking from among the likes of infrequently healthy
Nick Johnson
, minor league veteran
Steve Pearce
, Rule 5 pick
Ryan Flaherty
or career fifth outfielder
Endy Chavez
. Or what might be more simply referred to as "bad choices."
The Orioles' getting away from their initial team-DH solution and instead placing their faith in one of the last few true designated mashers left is what both Thome and they deserve. Just as he can be an instrument of their second-half success, so too can Thome show off that he's still got plenty left in the tank.
Over the past two seasons, as a 40- and 41-year-old, Thome has hit .254/.357/.484 for the Twins, Indians and Phillies. This year, DHs around Major League Baseball have put together a .257/.331/.435 line -- which might not sound great, but it's a better line than what MLB teams are getting from their first basemen or left fielders. But Thome's been better still, despite the rust that started forming in his infrequent DH role until interleague play helped get him back in action.
The 27 innings that Thome played in the field for the Phillies were more than some thought he could handle, and it was more playing time with a fielding glove than he's put in since 2005. They might also be the last, because after the misery of less-than-part-time play, Thome may elect to never return to the National League. If he keeps hitting this way, he shouldn't need to.
PHOTO OF THE DAY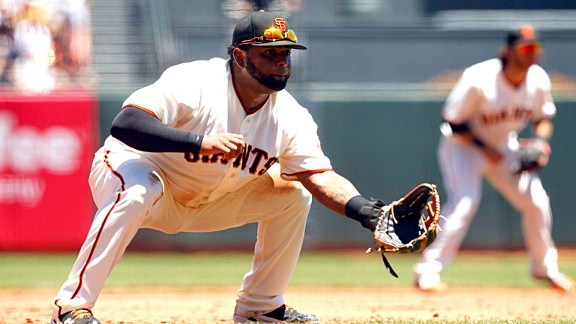 Cary Edmondson-US PresswireA Kung-Fu Panda has a natural advantage: A low center of gravity.
Christina Kahrl covers baseball for ESPN.com. You can follow her on Twitter.
June, 7, 2012
6/07/12
12:56
AM ET
"Show us some respect," yell Baltimore Orioles fans. Or maybe they're politely demanding. But I've seen the complaints in the Power Rankings comments, read the emails sent to "Baseball Today," been asked the question in my chats: Why doesn't anyone believe in the Orioles?
The Orioles traveled to Fenway Park this week in a precarious situation. They've lost two of three in Tampa. They've been swept in Toronto. They've lost two of three at home to Kansas City. They've lost two of three at home to Boston. They haven't won a series since the big weekend showdown in Washington from May 18-20.
So, yes, the concerns all of us "experts" had been raising -- it's a long season, let's see what happens to the rotation, let's find out if some of the hitters can keep up their hot starts, the bullpen can't keep its ERA under 2.00 all season -- were proving true. The O's were 27-14 after winning the second against the Nationals but had gone 3-10 since, with the staff posting a 4.95 ERA while the offense scored 3.5 runs per game.
These were the Orioles we all expected. And then they beat the Red Sox in extra innings on Tuesday. And then they
beat the Red Sox 2-1
on Wednesday behind a solid effort from
Wei-Yin Chen
and scoreless innings from
Pedro Strop
and
Jim Johnson
. They're 5-0 at Fenway in 2012 and Chen is now 5-2 with a 3.49 ERA. The key moments came in the seventh inning after the Red Sox threatened with a pair of singles to start the frame. But after a sacrifice bunt, Chen struck out
Marlon Byrd
and induced
Mike Aviles
to pop out to first base.
Normally, Buck Showalter might have turned to his stellar bullpen, but after Tuesday's victory, in which the bullpen threw five innings, he left Chen to escape the jam. He set up Byrd with three fastballs and then got him swinging on a beautiful changeup. He threw three more fastballs to Aviles that he couldn't get around on. Don't underestimate Chen. His stuff plays up big, with his four-seamer reaching 94 mph. His last pitch to Aviles was clocked at 93. In 11 starts, he allowed two or fewer runs seven times and I think this outing will give Showalter more confidence to stretch Chen a little deeper into games.
So the Orioles remain in first place for another day, half a game ahead of the Yankees. Is it time to show them a little respect, to give Orioles fans what they crave? Let's do some position-by-position rankings to help sort out this tightly packed division. Rankings are simply listed in order of who I would want the rest of the season.
(Season-to-date Wins Above Replacement from Baseball-Reference.com, before Wednesday's games, listed in parenthesis.)
Catcher
1.
Matt Wieters
, Orioles (1.6 WAR)
2.
Jarrod Saltalamacchia
/
Kelly Shoppach
, Red Sox (1.6)
3.
Russell Martin
, Yankees (0.7)
4.
J.P. Arencibia
, Blue Jays (0.2)
5.
Jose Molina
, Rays (0.1)
There is a case to be made that Boston's duo is more valuable since they've combined for 14 home runs and an OPS over .900. But Wieters brings elite defensive skills and I also don't believe Salty is going to slug .583 all season. For the second consecutive season, the Rays are essentially punting offense at catcher. Rays catchers have the worst OPS in the majors.
First base
1.
Adrian Gonzalez
, Red Sox (0.8)
2.
Mark Teixeira
, Yankees (0.6)
3.
Mark Reynolds
, Orioles (-0.6)
4.
Carlos Pena
, Rays (0.4)
5.
David Cooper
/others, Blue Jays (incomplete)
Gonzalez is still struggling to get his stroke going, but he's the best of a weak group. Yes, I just called Mark Teixeira weak, but at this point he's a low-average guy who pops a few long balls, doesn't draw as many walks as he once did and isn't as great on defense as Yankee fans believe. But in this group that's good enough to rank second. Reynolds has a low WAR but he's missed time and that includes his bad defense at third base, a position we've hopefully seen the last of him playing. The Jays, meanwhile, need to quit fooling around at first base and find a legitimate hitter, or move
Edwin Encarnacion
there and find a designated hitter. You hate to waste a potential playoff season because you can't find a first baseman who can hit. (No, David Cooper is not the answer, although he's hit well so far in 11 games.)
Second base
1.
Robinson Cano
, Yankees (2.1)
2.
Dustin Pedroia
, Red Sox (1.8)
3.
Kelly Johnson
, Blue Jays (2.1)
4.
Ben Zobrist
, Rays (0.7)
5.
Robert Andino
, Orioles (0.6)
I love Ben Zobrist almost as much as two scoops of Vanilla Heath Bar Crunch from Ben & Jerry's, but a .199 average isn't going to cut it in this group, even if you are on pace to draw 100-plus walks. Zobrist has actually play more right field so far, but should be back at second on a regular basis with
Desmond Jennings
back.
Third base
1.
Evan Longoria
, Rays (1.4)
2.
Brett Lawrie
, Blue Jays (3.1)
3.
Alex Rodriguez
, Yankees (1.2)
4.
Kevin Youkilis
/
Will Middlebrooks
, Red Sox (0.5)
5.
Wilson Betemit
/
Steve Tolleson
, Orioles (-0.1)
Lawrie's WAR is boosted by defensive metrics that treat him like he's the second coming of Brooks Robinson. He's a good player but don't I think he's been the second-best position player in the American League. Longoria hopes to
return at the end of the Rays' current road trip
. As for A-Rod, his health is always a question at this stage of his career, but Youkilis has health questions and I'm not a believer in Middlebrooks' ability to hit .321 with power all season. His 29/4 strikeout/walk ratio is something pitchers should learn to exploit. As for the Orioles ... third base is an obvious concern. But don't expect a rare intra-division trade to acquire Youkilis.
Shortstop
1.
J.J. Hardy
, Orioles (2.1)
2. Mike Aviles, Red Sox (2.2)
3.
Derek Jeter
, Yankees (0.9)
4.
Yunel Escobar
, Blue Jays (1.9)
5.
Sean Rodriguez
, Rays (1.9)
Wait ... Jeter has been the
least
valuable of this group so far? The other four all rate as excellent fielders -- in fact, Baseball-Reference rates them all in the top 13 fielders in the AL. Jeter, meanwhile, ranks 310th in the AL on defense -- out of 313 players.
Left field
1. Desmond Jennings, Rays (1.2)
2.
Daniel Nava
/
Carl Crawford
, Red Sox (1.7)
3.
Brett Gardner
/
Raul Ibanez
, Yankees (0.3)
4.
Eric Thames
/
Rajai Davis
, Blue Jays (-0.1)
5.
Endy Chavez
/
Xavier Avery
/
Nolan Reimold
, Orioles (-0.3)
Not to keep picking on the Orioles, but this is another problem position, especially if Reimold's disc problems lingers all season. Nava has quietly been a huge savior for the Red Sox, batting .305 with a .438 OBP. He's drawing walks at a crazy rate. He should slide some but he's provided the kind of depth the Orioles don't have.
Center field
1.
Adam Jones
, Orioles (2.5)
2.
Curtis Granderson
, Yankees (1.3)
3.
B.J. Upton
Rays (0.9)
4.
Jacoby Ellsbury
/
Scott Podsednik
/Marlon Byrd, Red Sox (0.5)
5.
Colby Rasmus
, Blue Jays (1.3)
Ellsbury might be the biggest wild card in this race, because the Red Sox can't survive much longer with the Podsednik/Byrd platoon. When will he return? How will he hit? He just started throwing and could
return by the end of the month
. I've conservatively put him fourth, which seems fair considering the unknown. And please note, Orioles fans, that I believe in Mr. Jones.
Right field
1.
Jose Bautista
, Blue Jays (0.9)
2.
Matt Joyce
, Rays (2.2)
3.
Nick Swisher
, Yankees (-0.1)
4.
Cody Ross
/
Ryan Sweeney
, Red Sox (1.6)
5.
Nick Markakis
/others, Orioles (0.3)
Markakis is out three to four weeks with a broken bone in his wrist, an injury that once again reflects Baltimore's lack of depth. But all five teams are solid in right field. Ross is about to return from his broken foot; we'll see if he pounds the ball like he was before the injury (.534 slugging).
Designated hitter
1.
David Ortiz
, Red Sox (1.4)
2. Edwin Encarnacion, Blue Jays (1.6)
3. Revolving Door, Yankees
4.
Chris Davis
, Orioles (0.3)
5.
Luke Scott
, Rays (0.0)
No respect for Davis? OK, he's hitting .295/.333/.494. And he has 53 strikeouts and eight walks. Sorry, call me skeptical, O's fans. Yankee designated hitters have actually fared well, hitting a combined .279/.354/.467 with 10 home runs.
No. 1 starter
1.
David Price
, Rays (2.2)
2.
CC Sabathia
, Yankees (1.9)
3.
Ricky Romero
, Blue Jays (0.3)
4.
Josh Beckett
, Red Sox (0.5)
5.
Jason Hammel
, Orioles (1.9)
Look, Hammel has been terrific so far thanks to a career-high strikeout rate
and
a career-high ground-ball rate. But this is tough group and the question is who is going to be best moving forward? My biggest concern is that Hammel has never pitched 180 innings in a season. Can he pitched the 210 to 220 that you need from a No. 1?
No. 2 starter
1.
Brandon Morrow
, Blue Jays (1.1)
2.
James Shields
, Rays (-0.4)
3.
Andy Pettitte
, Yankees (1.5)
4. Wei-Yin Chen, Orioles (0.7)
5.
Jon Lester
, Red Sox (-0.4)
I like Chen. Heck, right now I like him better than Jon Lester, which tells you how much I like him. But he averaged just 172 innings in Japan over the past three seasons. Can he hold up over 32 starts?
No. 3 starter
1.
Jeremy Hellickson
, Rays (1.0)
2.
Hiroki Kuroda
, Yankees (1.4)
3.
Felix Doubront
, Red Sox (0.4)
4.
Brian Matusz
, Orioles (0.2)
5.
Henderson Alvarez
, Blue Jays (0.4)
Matusz is holding his own at 5-5, 4.41, but he's still walking a few too many, allowing a few too many hits, a few too many home runs. The velocity is solid, averaging 91 on his fastball. We're talking minor upgrades needed in his command, getting the ball down in the zone more often to get more groundballs. If the Orioles are to have any chance, Matusz's improvement may be the single most important aspect.
No. 4 starter
1.
Matt Moore
, Rays (-0.6)
2.
Ivan Nova
, Yankees (0.3)
3.
Jake Arrieta
, Orioles (-0.4)
4.
Clay Buchholz
, Red Sox (-1.2)
5.
Kyle Drabek
, Blue Jays (-0.1)
Five pitchers who have struggled, but Arrieta's peripheral numbers are actually pretty solid. Like Matusz, there is hope for improvement. On the other hand, he's been awful since pitching eight scoreless innings against the Yankees on May 2, giving up 29 runs in 31.2 innings. His BABIP was .243 through May 2; it's .361 since. The truth is probably right in the middle, leaving Arrieta third on our list of fourth starters.
No. 5 starter
1.
Alex Cobb
/
Jeff Niemann
, Rays (0.3)
2.
Drew Hutchison
, Blue Jays (0.1)
3.
Phil Hughes
, Yankees (0.2)
4.
Daisuke Matsuzaka
/
Aaron Cook
/
Daniel Bard
, Red Sox (-0.3)
5.
Tommy Hunter
, Orioles (-0.5)
Hunter isn't really a major league starter, but I'm not sure
Jamie Moyer
-- just signed to a minor league contract -- is exactly a solution. The Orioles need to upgrade here.
Bullpen
1. Yankees (2.76 ERA)
2. Orioles (2.48 ERA)
3. Red Sox (3.66 ERA)
4. Rays (3.43 ERA)
5. Blue Jays (4.39 ERA)
If you watched Pedro Strop and Jim Johnson close out Wednesday's win, you'll realize the back of the Orioles' end has two guys with filthy stuff.
Darren O'Day
and
Luis Ayala
are strike-throwing machines and
Troy Patton
is a lefty who isn't a LOOGY. It's a good pen and it's deep. But the reliability of the pen ties into the rotation's inability to pitch deep into games -- Orioles relievers have already thrown 39 more innings than Yankees relievers, for example.
OK, let's add it up … one point for ranking first, five points for ranking fifth. Hey, this isn't meant to be scientific, so don't overanalyze this too much. The totals:
Yankees: 36 points
Rays: 40 points
Red Sox: 45 points
Blue Jays: 51 points
Orioles: 53 points
Not the respect Orioles fans are seeking. Sorry about that; it's nothing personal. Look, I don't think the Orioles are going to fade away anytime soon. I worry about the rotation's ability to hold up all summer and the bullpen's workload. They lack depth on offense and have a couple of obvious holes. Hey, you never know, and the Orioles are certainly due for a winning season. I would love to see it happen.
PHOTO OF THE DAY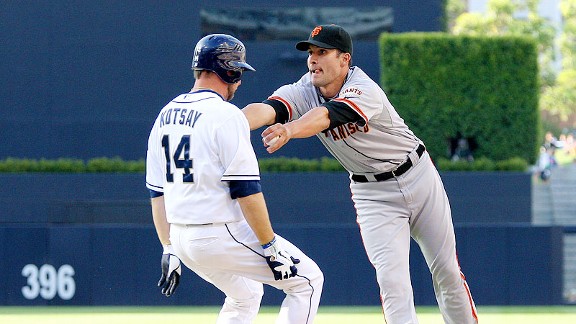 Jake Roth/US PresswireJavier Lopez is sending a message to Mark Kotsay: Tag, you're out!