SweetSpot:

Enzo Hernandez
February, 12, 2014
Feb 12
9:52
AM ET
A fun day for birthdays. A quick rundown of some of the interesting names ...
Chick Hafey: Born 1903
Hafey was a big league regular for only six seasons -- in spite of which the Veterans Committee elected him to the Hall of Fame in a weak moment in 1971. Hafey wore big, thick glasses and probably played most of his career with something less than 20-20 vision. His
SABR bio
reports that he had sinus surgery after the 1926 season and his eyesight may have been affected as a result of that. Others have suggested an infected tooth caused his vision problems. Hafey himself said, "Sinus surgery helped, and so did glasses, but often I'd have double vision. Bright days bothered me. The cold climate, after coming up from Florida every spring, made the first month particularly tough and painful." He still hit .318 in his career (which isn't as impressive as it sounds for the era he played in) and won the batting title with the Cardinals in 1931. Here's a factoid that will win you a bar bet: Who hit cleanup for the National League in the first All-Star Game? Chick Hafey.
Dom DiMaggio: Born 1917
About two years younger than his Hall of Fame brother, Dom was a heck of a ballplayer as well even though he looked more like your high school math teacher than a Red Sox center fielder (his nickname was "The Little Professor"). He was a seven-time All-Star, a plus defender in center (many regarded him a better center fielder than Joe), hit .298 in his career and drew as many as 101 walks in a season, pushing his career on-base percentage to .383.
Pat Dobson: Born 1942
One of four members of the 1971 Orioles to win 20 games, along with Dave McNally, Jim Palmer and Mike Cuellar. The next year, Dobson lowered his ERA by 0.25 and led the league in losses. After winning 122 games in the majors, Dobson served as the pitching coach for the Brewers, Padres, Royals and Orioles and scouted for other teams. He passed away from leukemia in 2006.
Don Wilson: Born 1945
A hard-throwing right-hander for the Astros from 1966 to 1974, Wilson pitched two no-hitters and went 104-92 in his career, which came to a tragic end in January 1975 when he was found dead in his car with the engine running in the garage. His 5-year-old son also died. (You often hear Wilson's death reported as a suicide, but the official cause of death was ruled accidental.)
Here's the obit
of Wilson's death. The article points out that Wilson was born in Monroe, La., on the same as day as basketball great Bill Russell (although both graduated from high school in California, Wilson in Los Angeles, Russell in Oakland).
Enzo Hernandez: Born 1949
Part of the trade that brought Dobson to the Orioles from the Padres, Hernandez is famous for one of the most futile seasons at the plate in major league history: In 1971, he batted 618 times for the Padres and drove in 12 runs.
Lenny Randle: Born 1949
One of the great moments
in Mariners history.
Don Stanhouse: Born 1951
Stanhouse hung around the big leagues for 10 seasons, gaining his most fame as the closer for the Orioles in 1978 and 1979. He was a fastball/slider guy, known for being maybe the slowest-working pitcher of his era, and also known for his two nicknames: "Stan the Man Unusual" and "Full Pack," a name given to him by Earl Weaver as Weaver joked he nervously smoked a complete pack of cigarettes when Stanhouse would close out a game. In looking at his statistics, you can see why Weaver was never exactly comfortable handing the ball to Stanhouse: Over those two seasons, he saved 45 games with a 2.87 ERA but walked 103 batters in 147.1 innings while striking out just 76. He made the All-Star team in '79 even though he had 34 walks and 20 strikeouts at the break. Yes, times have changed. Stanhouse signed a big five-year, $2.1 million contract (no sabermetric analysis back then!) as a free agent with the Dodgers, but hurt his shoulder.
Here's a good bio
of Stanhouse.
Chet Lemon: Born 1955
The center fielder on the 1984 World Series champion Tigers, Lemon was a very underrated player, a guy who hit as high as .318, hit as many as 24 home runs, drew as many as 71 walks and played a good center field. He never did all those in the same season; otherwise, he'd be in the Hall of Fame. But he was a valuable player for a lot of years. He recorded 509 putouts in center field in 1977 with the White Sox, a total Baseball-Reference lists as the third highest for a center fielder.
Ruben Amaro Jr.: Born 1965
Still the general manager of the Phillies.
August, 2, 2011
8/02/11
4:23
PM ET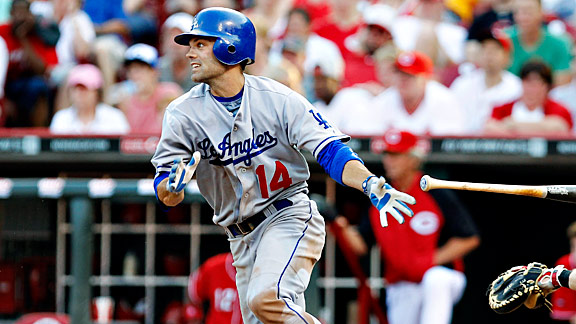 Joe Robbins/Getty ImagesJamey Carroll is hitting .297 but has just 10 RBIs in more than 300 at-bats.
Jamey Carroll
, the Dodgers' infielder, is a nice little player. He has no power -- he's actually one of the few major leaguers who still chokes up on the bat -- but he hits for enough average and draws enough walks to make him a useful utility guy. He's also a nice story -- he didn't reach the majors until he was 28 years old and now at 37 is arguably having the best season of his career, hitting .297 with a .370 on-base percentage. He gets on base more often than
Hunter Pence
or or
Troy Tulowitzki
or
Albert Pujols
or
Ryan Howard
or any number of guys that announcers say pitchers "fear."
He also has just 10 RBIs in 358 plate appearances. While he's hitting .275 with men on base, he's hitting just .170 with runners in scoring position (9-for-53). Some of it is just bad luck, some of it is bad timing, some of it is lack of opportunity. Whatever the reason, he just hasn't knocked in the runs -- in fact, I tweeted last night that Arizona pitcher
Daniel Hudson
has more RBIs.
As close to a full-time player, Carroll has a chance to become just the fifth player since 1920 to receive 500 plate appearances and drive in fewer than 20 runs.
Ron Hunt, 1972 Expos: 531 PAs, 18 RBIs.
Hunt is known for his single-season record of getting hit by 50 pitches. In fact, that was really the only skill he brought to the table, and it made him of the most despised players in the game. In '72, he hit .253 with 20 doubles and no triples or home runs. As the Expos leadoff batter, he didn't have a lot of RBI opportunites, but hit just .195 with runners in scoring position. To prove this season was no fluke, he had 18 RBIs in 1973 in 486 PAs.
Gary Pettis, 1989 Tigers: 536 PAs, 18 RBIs.
Pettis hit .257 and drew 84 walks, but managed just 15 extra-base hits in 444 at-bats. Pettis hit .190 with runners in scoring position (16-for-84), with no extra-base hits.
Luis Castillo, 2000 Marlins: 626 PAs, 17 RBIs.
Castillo actually had a terrific season in 2000, hitting .334, posting a .418 on-base percentage and scoring 101 runs. But while he hit .380 with the bases empty, he hit just .217 with men on base and .211 with runners in scoring position (19-for-90).
Enzo Hernandez, 1971 Padres: 618 PAs, 12 RBIs.
That's right, the great Enzo played 143 games and equaled the RBI total that Jim Bottomley and Mark Whiten produced in one game. Enzo only struck out 34 times, but needless to say he didn't do much when he put the ball in play, hitting .222 with just nine doubles and three triples. The Padres were a woeful offensive club, scoring just 486 runs, and he hit .182 with runners in scoring position (19-for-99). It will be near impossible to replace Hernandez as the RBI-less King: He had 2,327 career at-bats and just 113 RBIs.
There are actually two players since 1920 with more plate appearances than Carroll's 358 and fewer RBIs -- the late Dick Howser had six RBIs in 377 PAs for the 1965 Indians and Wayne Tolleson of the 1984 Rangers had nine RBIs in 378 PAs.
Follow David Schoenfield on Twitter @dschoenfield.
March, 8, 2011
3/08/11
1:31
PM ET
By
Geoff Young
| ESPN.com
Our pals at The Platoon Advantage have decided to "determine what each team's weakest position is" from a historical standpoint and list the best of the worst, so to speak. The
results from their first installment
are more palatable for some teams (Dodgers, A's) than for others (Rockies, Padres).
San Diego's representative is
Khalil Greene
, the best player at the weakest position (shortstop) in franchise history. Go ahead, get it out of your system.
[+] Enlarge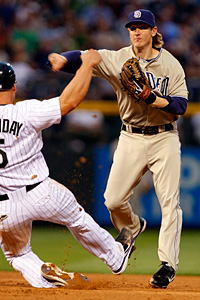 AP Photo/David ZalubowskiKhalil Greene played shortstop for the Padres for six seasons.
Done?
Greene was a good player for a few years. He finished second to
Jason Bay
in the 2004 National League Rookie of the Year race and hit double digits in homers for five straight seasons (including 27 in 2007) before heading to St. Louis and then disappearing altogether. Greene never became the new
Jose Valentin
some of us had envisioned -- more like the new Kevin Elster -- but provided value on offense and defense before his 2008 collapse.
Fans of teams with a rich tradition at shortstop are wondering what the heck I'm trying to sell, but consider who the Padres have run out there over the years.
Sure, Ozzie Smith ended up in the Hall of Fame, but do you know what he hit during his four seasons in San Diego? Try .231/.295/.278.
(This reminds me of one of my favorite bar bets: Who hit more home runs in a Padres uniform, Smith or Calvin Schiraldi? Feel free to use it; just give me a cut of the action.)
For an extra dose of perspective, here are the Padres' top 10 shortstops according to the WAR Grid mentioned in Bill's article (you can
go deeper
if you're feeling kinda happy about life and need a little bring-me-down to dampen your day):
Khalil Greene, 2003-2008

Garry Templeton, 1982-1991

Ozzie Smith, 1978-1981

Damian Jackson, 1999-2005

Tony Fernandez, 1991-1992

Ramon Vazquez, 2002-2004

Enzo Hernandez, 1971-1977

Geoff Blum, 2005-2007

Jerry Hairston Jr., 2010

Steve Huntz, 1970-1975
This doesn't include
Chris Gomez
, who played 510 games at the position, fifth most in club history. He's way down near the bottom, right there with such luminaries as
Donaldo Mendez
and
Ricky Gutierrez
. You may recognize Gomez and Gutierrez as two of the
weakest hitting defensive liabilities
ever to play the game, so there's that.
Don't get me started on third base, where Luis Salazar remains the leader in games played. Or the fact that Eric Show is the only pitcher to reach 100 wins for the Padres (he had exactly 100).
The good news? Hey, when I find some, you'll be the first to know.
Geoff Young writes Ducksnorts, a blog about the San Diego Padres. Follow him on Twitter.