SweetSpot:

Erasmo Ramirez
April, 2, 2014
4/02/14
9:36
AM ET
Some quick thoughts on Tuesday's games and news ...
Here's something you probably didn't know: Marlins right-hander Nathan Eovaldi had the highest fastball velocity last season of any pitcher who threw 100 innings. His 96.2 mph average fastball topped the 96.0 mph of the Pirates' Gerrit Cole. Now, we all know velocity isn't everything if you don't have movement and location, but it does speak to Eovaldi's good arm and his potential. What he needs is to refine his command and develop an offspeed speed as a better strikeout weapon (his slider is OK, the curveball needs work). He had a strong 2014 debut, allowing two runs in six innings against the Rockies with one walk and six strikeouts. He still relied a lot on his fastball -- 65 of his 95 pitches were heaters (average: 95.8 mph) -- but he's a guy to keep an eye on.

For some reason, Braves manager Fredi Gonzalez decided to bat B.J. Upton second after he hit .184 last year. Two games in and Upton is 0-for-8 with four strikeouts. How long will Gonzalez's show of confidence in Upton last? Will moving him back down after three or four games create even more damage? Are Braves fans already in an uproar?

Yasiel Puig did this, taking a 93-mph fastball from Ian Kennedy that was high and inside and out of the strike zone and crushing it to left. Bat speed, my friends, bat speed. The Dodgers won but it wasn't all good news as the team announced Clayton Kershaw will be out two to three more weeks.

Erasmo Ramirez looked very good for the Mariners, throwing 93 pitches in an efficient seven innings as the Mariners beat the Angels. His one mistake was a first-pitch two-seamer that Raul Ibanez smacked for a two-run homer. The location actually wasn't bad -- low and outside corner -- but the pitch didn't run away as much as Ramirez would have liked. He's not overpowering so relies on location and movement and an excellent changeup. Ramirez was the guy who pitched well in eight starts at the end of 2012 but battled a strained triceps last season and struggled in 13 major league starts (4.98). He's a much different pitcher than Eovaldi but he's another guy with a little experience who could break out. Here's a heat map of Ramirez's night and you can see he tries to run that two-seamer away from lefties and into righties: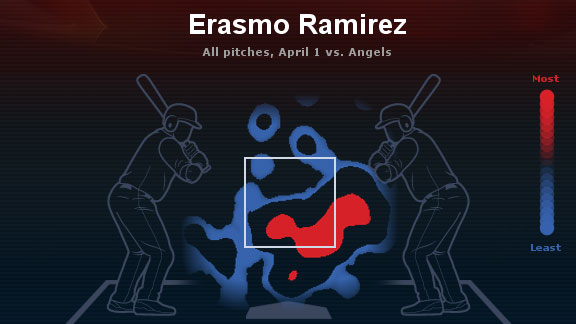 ESPNRamirez struck out six and had no walks in his 2014 debut.
The Phillies lost 3-2 to the Rangers as Ryne Sandberg brought in reliever Mario Hollands for his major league debut with the game tied in the bottom of the ninth. It didn't go well. Bill Baer writes that the new boss looks a lot like the old boss.

CC Sabathia is skinnier but struggled (average fastball velocity: 89.0 mph) and the Astros beat the Yankees 6-2. Stacey Gotsulias wraps up the good and bad for the Bronx Bombers and says the defense already looks bad.

The Giants jumped on D-backs starter Wade Miley with a four-run first inning, including a three-run homer from 2014 NL batting champ Brandon Belt, but Miley settled down and ended up going seven innings and getting the win when the Diamondbacks scored twice in the sixth off Giants reliever Juan Gutierrez (also known as J.C. Gutierrez). I'm a little concerned about the Giants bullpen behind closer Sergio Romo. They've milked a lot of years and innings out of the likes of Santiago Casilla, Javier Lopez and Jeremy Affeldt (currently on the DL). Gutierrez is a 30-year-old journeyman with a 4.65 ERA, pitched for the Royals and Angels last season. Matt Cain scuffled through five innings (99 pitches) so Bruce Bochy had to go early to his pen. (As Buster Olney writes, that game also had a replay controversy when Bochy used up his challenge and then the umps missed a call on a play at the plate that couldn't be challenged because it happened before the seventh inning.

Finally, bad news for Wilson Ramos and the Nationals as he'll miss one to two months. The good news is that Jose Lobaton, who was with the Rays last year, is one of the better backup catchers in the majors.
February, 12, 2013
2/12/13
7:08
PM ET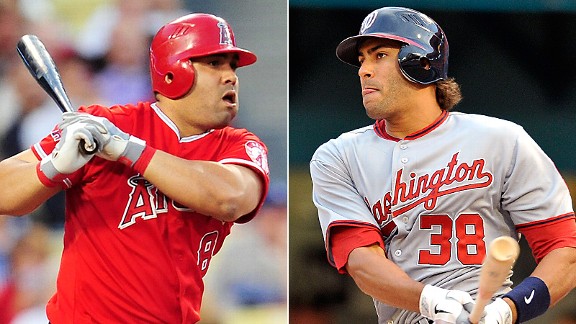 USA TODAY SportsKendrys Morales and Michael Morse should provide the pop that Seattle has been recently lacking.
In the fantasy baseball world, everyone wants to know if
Mike Trout
can repeat his amazing 2012 performance. It's not likely, certainly not to that level, in part because there's basically no precedent for what he did at his age. But when it comes to surprising
teams
, it's more common to see accomplishments like what the Orioles and A's achieved last year. We're not talking about actually winning the World Series, but going from out of consideration to, well, relevance. With
Felix Hernandez
now officially under contract for seven more years, I think
Seattle Mariners
fans would jump at more good news for 2013 besides Felix's new deal.
Sounds outrageous, right? Well, it
needs
to be in February. Did you think the Orioles and Athletics could contend a year ago? Look at the 13 teams that lost more games than they won a year ago, remove the
Toronto Blue Jays
and
Boston Red Sox
, for they have the financial means -- and frankly wouldn't be much of a surprise -- and find a contender. The 2012 Orioles didn't win their 93 games with MVP hitters and Cy Young contenders; it was mainly bullpen, which is impossible to predict from year to year, and a ridiculous 29-9 mark in one-run games and 16-2 record in extra innings. The Orioles barely outscored their opponents. The Athletics were considerably better in run differential, though they won only one more game than Baltimore and scored only one more run. The Athletics certainly didn't succeed by getting on base or avoiding strikeouts, but they prevented runs. A rotation full of rookies posted the third-best ERA for AL starting staffs.
In the Mariners' case, I don't think it's far-fetched to see them in a one-game playoff if these reasonable things happen:
1. Bring the power:
It's unfathomable to post a sub-.300 OBP three consecutive seasons, but the M's have done it. This year they'll raise the mark to .310, which still stinks, but it's all the Athletics did in 2012. Expect improvement from
Dustin Ackley
at the top of the order, and hopefully Nick Franklin soon, but watch for an Oakland-like improvement in the power department. Yes, the fences have been moved in at Safeco Field, but there's also more power now.
Kendrys Morales
and
Michael Morse
aren't stars, but they don't have to be. That duo should be able to hit 45 home runs with regular playing time.
Jesus Montero
might be a poor catcher, but he's a power-hitting one. He will improve at the plate, too. The 2011 Athletics had one guy (
Josh Willingham
) hit more than 15 home runs. Last year five Athletics did so, in
Josh Reddick
,
Yoenis Cespedes
,
Brandon Moss
,
Jonny Gomes
and
Chris Carter
. Their team OBP actually went down, but they won 20 more games. I love OBP, but this year's Mariners could reasonably add 50 home runs to their 2012 total, enough to rank in the middle of the pack in runs, just like the Athletics and Orioles a year ago. Sure, it would have been nice had the Mariners addressed OBP --
Michael Bourn
, anyone? -- but a team can somewhat overcome this, on a short-term basis, with power.
2. Miss more bats:
Orioles starting pitchers lowered their incredibly awful 5.39 ERA of 2011 to a palatable, and again middle of the pack, 4.42 mark in 2012. They also relied on defense. The Mariners have several excellent defenders, notably at shortstop with
Brendan Ryan
and center field with
Franklin Gutierrez
, but unlike those Orioles shouldn't have to make their defense work as hard. The Mariners were only 22nd in pitcher strikeouts in 2012, but look at the underrated work
Hisashi Iwakuma
and
Erasmo Ramirez
did as they combined for a 2.97 ERA and 1.14 WHIP over 24 starts, each with a healthier K rate than what
Kevin Millwood
and
Hector Noesi
provided. Now they're expected to make 60 starts. Drop a run off that ERA, and it's still good enough.

Joe Saunders
and
Blake Beavan
are competent, especially at home, but don't expect 60 starts from them; instead, dream of the top-level prospects ready to emerge in
Danny Hultzen
, Taijuan Walker, James Paxton and
Brandon Maurer
. Several of these guys could help immediately, like
Jarrod Parker
and
Tommy Milone
did for Oakland, but in this case they'll be striking hitters out and removing potential BABIP luck. Oh yeah, they've got an ace, too, and he's never been in a playoff game. Sounds like a team rallying cry.
3. Be fortunate:
It can't be forced, but a strong relief corps can make the rest of a team look greater than its parts, even if it's mostly magic. The 2010
Arizona Diamondbacks
went from last to first thanks in large part to a revamped bullpen that lowered its collective ERA from 5.74 to 3.71. It wasn't as pronounced, but the 2011 Orioles shaved more than a run off its bullpen ERA. Well, look at the current Mariners, and you can see the potential for a great 'pen. Right-hander
Carter Capps
hits triple digits with his fastball, and is a future closer. The Mariners bullpen was third in the AL in K rate, and it should improve as Capps, closer
Tom Wilhelmsen
,
Stephen Pryor
,
Josh Kinney
and even lefty
Charlie Furbush
each fanned more hitters than innings pitched. In short, there's no need for a
Pedro Strop
-type to come from nowhere. They're already here, and while performance in close games cannot be predicted, when in doubt, go with power arms, not groundballers like
Jim Johnson
.
Add it up and the Mariners -- whether SweetSpot editor/blogger David Schoenfield (a Mariners fan for life) believes it or not -- aren't that far from beating up on the division rival
Houston Astros
but also holding their own with the Angels, Rangers and Athletics and finding a way into the one-game playoff.
Of course, if something's wrong with King Felix's elbow ... all bets are off!