May, 3, 2011
5/03/11
10:35
AM ET
In 2007, just three seasons after losing 111 games, the
Arizona Diamondbacks
won 90 games and the NL West title and reached the NLCS. They were swept by red-hot division rival Colorado, but it was a terrific season for a young ballclub. The future looked bright for a team that started just one regular position player over 30 and had the youngest lineup in the National League.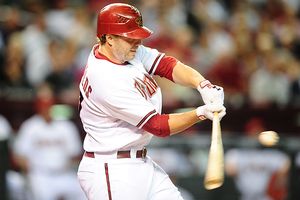 Mark J. Rebilas/US PresswireAfter striking out 638 times during the 2008-10 seasons, Mark Reynolds was traded to the Orioles.
Among the promising hitters: Rookie center fielder
Chris Young
hit 32 home runs and stole 27 bases; shortstop
Stephen Drew
, in his first full season, hit just .238 but played solid defense and had 44 extra-base hits; rookie third baseman
Mark Reynolds
hit .279 with 17 home runs in 111 games; second-year right fielder
Carlos Quentin
had struggled (.214/.298/.349), but the team had called
Justin Upton
, who was just 19 when he made his major league debut. Backup catcher
Miguel Montero
showed promise in his rookie season. Sitting in the farm system:
Carlos Gonzalez
,
Brett Anderson
,
Max Scherzer
and Jarrod Parker. With that base, the D-backs followed their 90-win season by winning 82, 70 and 65 games and the 2011 team is 12-15 with four starters owning ERAs on the wrong side of 5.00.
So, what went wrong?
1. The 2007 team wasn't that good. Despite winning 90 games it was actually outscored 732 to 712 and despite playing in a great hitter's park, ranked just 14th in the NL in runs and 16th in batting average and on-base percentage. In truth the Diamondbacks had a
bad
offense -- granted, one that could be expected to improve due to the young hitters ... but how much?
2. The
Eric Byrnes
contract. Late in the 2007, the team signed the scrappy Byrnes to a three-year, $30 million extension. Byrnes had a nice 2007, hitting 21 home runs and stealing 50 bases. But he was 31 years old and the contract proved a disaster as Byrnes hit .218 over two seasons before getting released.
3. Thinking they need to improve upon a rotation of
Brandon Webb
,
Livan Hernandez
,
Doug Davis
and
Micah Owings
, the team traded Gonzalez and Anderson to the A's for Dan Haren. Haren was traded last season to the Angels for a mediocre
Joe Saunders
and prospect Tyler Skaggs, who is several years from the majors. So, for Gonzalez and Anderson the team basically received two-plus years of Haren and a bottom-of-the-rotation starter.
4. Brandon Webb's injury. The team's ace and 2006 Cy Young winner, Webb won 22 games in 2008 before hurting his shoulder.
5. A related note has been Arizona's complete inability to develop starting pitchers. Once you get past Webb, the starting pitcher developed from within with the most victories in a D-backs uniform is Owings, who won just 14.
6. Strikeouts, strikeouts, strikeouts. The homer-happy approach of the lineup went too far. After striking out the 10th and 11th most times in history in 2008 and 2009, the team set the all-time record in 2010, whiffing an amazing 1,529 times, with five players striking out at least 145 times. The strikeouts became a major hindrance to the young hitters becoming bigger stars, most notably Upton, who followed an excellent 2009 with a disappointing 2010. Young has been inconsistent and the team finally gave up on 200-strikeout man Reynolds, trading him to the Orioles.
7. Too much lost talent: Quentin,
Alberto Callaspo
and
Jose Valverde
were all traded and
Orlando Hudson
left as a free agent. The Diamondbacks have nothing on the current roster to show for those guys.
8. Bullpen blues. The pen -- led by closer Valverde -- was excellent in 2007, but slowly deteriorated to the point that Baseball Prospectus analyzed the 2010 pen as the fourth-worst since 1950.
This much is clear: The days of
Randy Johnson
and
Curt Schilling
heating up the desert seem long ago.
Follow David Schoenfield on Twitter at @dschoenfield. Follow the SweetSpot blog at @espn_sweet_spot.
September, 23, 2009
9/23/09
3:58
PM ET
MLB Trade Rumors on what might be
the denouement of Pigpen
(in Arizona, anyway):
Scott Bordow of the East Valley Tribune suspects that the Diamondbacks will consider cutting ties with Eric Byrnes this offseason and would be willing to eat the final year of his three-year, $30MM contract.

Arizona's outfield is set for 2010, and it doesn't include the injury-plagued Byrnes. Conor Jackson will start in left field, Chris Young is expected to start in center and Justin Upton will play right. Gerardo Parra, after a fine rookie campaign in 2009, will operate as the fourth outfielder but should find regular playing time.
Repeat after me:
sunk cost ... sunk cost ... sunk cost ...
Look, I've spent the last couple of seasons making great sport of Byrnes' three-year, $30 million contract. I didn't like it when he signed it, because he was a left fielder with league-average hitting stats and the Diamondbacks didn't have room for both Byrnes and Carlos Quentin in the lineup.
Of course the contract looked truly awful last year, when Byrnes was awful and Quentin drove in 100 runs with the White Sox. It continued to look awful this season, even though Quentin has massively regressed, because Byrnes has somehow managed to play even worst this year than last year.
But looking back at it, the contract really wasn't crazy. Because Byrnes had been such a fine baserunner and outfielder, his hitting stats hadn't told the whole story. While $30 million might have been a bit much, considering Byrnes' age, it was not outrageous. The Diamondbacks might reasonably have expected $25 million of performance, and another $5 million of goodwill (Byrnes is a popular guy in the Valley of the Sun).
It just hasn't worked out, is all. Byrnes is one of those kamikaze ballplayers, and sometimes those guys get hurt and just don't enjoy the fruits of their physical talents for as long as they might otherwise. Byrnes is only 33 and he was a real good player not so long ago, so usually we'd be inclined to give him the benefit of the doubt ... except he's been so useless (sorry) for two full seasons now. At this point the money is irrelevant (sunk cost), but if the club doesn't have room for Byrnes as their fourth outfielder, there's little reason to keep him around.
April, 15, 2009
4/15/09
11:21
AM ET
Not much blogging yesterday (or today) because I foolishly left my wireless card at home, which left me stuck on a train to Seattle for four hours with no Internet access (back to "normal" tonight). On a happier note, I spent some of those four hours (finally) reading Sports Illustrated's baseball preview, which includes a "modest proposal" for every club (all of which were "compiled" by Joe Sheehan, one of our friends over at
Baseball Prospectus
). Running through a few of the more interesting proposals:
•

Red Sox: Use Jed Lowrie as leadoff man rather than Jacoby Ellsbury.
I love the idea. Lowrie was pretty good last year despite a wrist injury that sapped his strength for much of the season. He played exceptionally well in spring training. And now his wrist is hurting again, so he's not going to be playing shortstop -- let alone leading off -- for quite some time, it seems. Julio Lugo's out, too. Nick Green played shortstop last night. And people wonder why it's hard to predict the standings.
•

Twins: Send Delmon Young back to the minors, where he might learn to hit.
Most of the preseason stuff I read suggested that Michael Cuddyer should have been the odd man out in the Twins' outfield, with Young joining Carlos Gomez and Denard Span as regulars. The assumption, as I recall, was that Young needs to play regularly if he's going to improve. But even just looking at performance, Young actually out-hit Cuddyer last season. And of course he's seven years younger. So unless someone can demonstrate that Young would develop significantly quicker in the minors, I think you leave him in the majors and let him take his lumps for 450-500 plate appearances this season.
•

Indians: Don't be shy about dumping Travis Hafner in favor of Matt LaPorta.
The Indians have to give Hafner one more shot, and by "shot" I mean at least a couple of months. If not a couple of years, since they still owe him $49 million and he was real good just two seasons ago. As usual, though, there's a lesson here: long-term commitments to sluggardly sluggers often bite you in the backside.
•

Phillies: Break up lefties in the lineup with Jayson Werth.
This one deserves a bit of extra credit for the author's prescience ...
Having replaced lumbering Pat Burrell in leftfield with lumbering Raul Ibanez, the Phillies find themselves with the 3-4-5 part of their lineup batting exclusively from the left side. That will be a major tactical issue late in games, when opposing managers bring in relief specialists to face Chase Utley, Ryan Howard and Ibanez in high-leverage situations. All lefthanded hitters struggle against such lefties as the Braves' Mike Gonzalez and the Mets' Pedro Feliciano. Sliding Jayson Werth (career .374 on-base percentage, .545 slugging versus lefthanders) into the fifth spot ahead of Ibanez would force managers to choose between making pitching change or taking a bad matchup, a decision that will come up repeatedly in the 36 games games Philadelphia plays against its top two division rivals.
Sure enough, that's exactly what happened in the Phillies' very first game, as Mike Gonzalez was able to escape a big ninth-inning jam by retiring a couple of those lefty hitters. I'll bet a silver dollar that Charlie Manuel does eventually break those guys up when a southpaw is starting.
•

Brewers: Trade Prince Fielder, play Mat Gamel instead.
This echoes a suggestion I made last year, I believe. My thought was that Ryan Braun should wind up at first base instead of Fielder, but Gamel -- who was 22 last season and tore up the Double-A Southern League -- would fit in nicely, too. Perhaps as soon as right now. Not that the Brewers should just give Fielder away; after all, he's a fine hitter and he's still cheap. But he doesn't figure to age particularly well, and low-revenue teams simply can't afford to let major league talent waste away in the minors. The Brewers need to either play Gamel or trade him (as they did with LaPorta last summer; you judge how well that worked out).
•

Diamondbacks: Even if he's healthy, Eric Byrnes should be a fourth outfielder.
Well, yeah. I'm mentioning this one only because I love this line: "Energy is good, left turns at first base are better; Byrnes and his .325 career OBP don't provide enough of the latter."
•

Giants: Trade Barry Zito.
As the argument goes, the Giants already have three young starters who are better than Zito (true), they've got Randy Johnson this season (also true), and they've got a couple of hot prospects in the minors who may well be ready in 2010. Well, OK. But what about 2009? And exactly what might the Giants expect in return for a pitcher -- for the sake of argument, we'll say Barry Zito -- who's a No. 5 starter for most clubs but is still owed a gazillion dollars? I say the Giants should keep Zito until the exact moment that they just can't stand to look at him for one more #@&%$ second. And then they release him.
•

Padres: Trade Brian Giles.
Boy, this is a tough one. The Padres have two good hitters and Giles is one of them and the fans probably wouldn't be real thrilled if he got sent along to a contender. On the other hand, Giles is 38 (38!) and the Padres' farm system isn't exactly loaded with prospects. So, yeah: they should trade him for prospects if they can. In fact, anything else should be considered malpractice.