June, 11, 2014
Jun 11
7:18
PM ET
The other day, while writing about
Astros manager
Bo Porter
using a pitcher,
Tony Sipp
, in right field for a batter and then bringing him back to pitch, I mentioned that 1986 game in which Mets manager Davey Johnson alternated pitchers
Jesse Orosco
and Roger McDowell between the mound and the outfield over the final five innings of a 14-inning game.
I mentioned some other crazy events from that game, but blew the most obvious: The reason
Eric Davis
, after stealing second and third in the 10th inning, was pinch-run for, and why Gary Carter had to play third base, was because that was the game with the famous Davis-Ray Knight brawl. Thanks to an alert reader for pointing that out and shame on me for not realizing that.
Anyway,
here's the brawl
-- and it was a good one. Knight didn't like the way Davis slid into third. Or something. Those Mets didn't need much reason to fight. I love umpire Eric Gregg pulling away Davis and the announcer saying, "I'll tell you one thing, you're barking up the wrong tree when you go after Ray Knight." Knight had been an amateur boxer as you can see from his fighting. And John Denny was apparently some sort of karate expert. And Kevin Mitchell looked like he got in a few haymakers (not shocking!). Ahh, the '80s. Good times.
Also worth mentioning: The only reason the game went into extra innings is Dave Parker hot-dogged a fly ball with two outs in the ninth, dropping it and letting the tying runs score.
Now
that's
a fun night at the ballpark.
September, 6, 2012
9/06/12
1:00
PM ET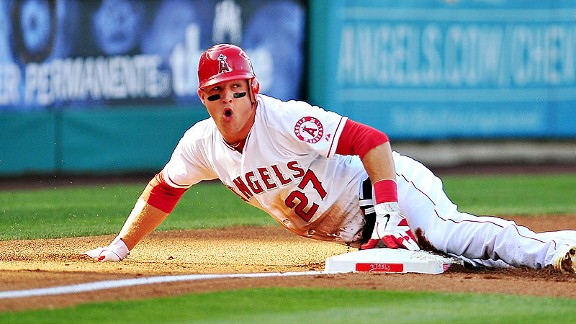 Gary A. Vasquez/US PresswireAngels outfielder Mike Trout has the tools to be baseball's most exciting player for years to come.
We all have our own favorites, of course, and maybe they change from season to season. Or month to month. That's a little of the beauty of baseball; we don't all have to enjoy and appreciate the same players. The stars aren't necessarily shoved down our throats like a certain sport played with an orange ball.
For me,
Mike Trout
has been the most exciting player in baseball in 2012. It's completely subjective opinion, of course, but if you think of some of the factors that would be considered for such a description, Trout fits (as do
Bryce Harper
,
Andrew McCutchen
,
Matt Kemp
and others):
1. Power. Check.
2. Speed. Check.
3. Spectacular plays on defense. Check.
4. Young. Check. This is kind of like how we get excited over a new restaurant or new girlfriend or new TV show.
5. Looks good in a baseball uniform. Check.
6. Has the It Factor. Hard to define, but you know what it is when you see it.
7. Cool name. Mickey Mantle wouldn't quite be Mickey Mantle if his name had been "Andy Stankiewicz."
8. He's good. Duh. Although I suppose there's a different kind of excitement for players who aren't good.
Pitchers have a slightly different list of criteria, much of which boils down to "He's one bad dude."
The first year I remember following baseball was 1976, the year before the Mariners arrived in my hometown. Leaving out the fact that most of us probably prefer a guy on our favorite team, here's my own list of Most Exciting Player in Baseball since that year.
1976: Mark Fidrych, P, Tigers
There hasn't been anybody like Fidrych since he became a national phenomenon as a 21-year-old rookie. For all the attention given to Trout or Harper this year, imagine if ESPN and 24-hour sports coverage had been around in 1976, when Fidrych was talking to baseballs and shaking hands with infielders after a good play -- in the middle of innings. I remember watching the famous June "Monday Night Baseball" game against the Yankees, that's how big it seemed at the time. Fidrych would start the All-Star Game, complete 24 of his 29 starts and boost attendance whenever he pitched (he accounted for nearly half of the Tigers' attendance that year while making just 18 starts at Tiger Stadium). In Dan Epstein's "Big Hair and Plastic Grass," a history of baseball in the '70s, he writes that other teams begged the Tigers to pitch Fidrych in their parks.
How exciting was he? Here's a
clip of that Yankees game
; fast-forward to the 2:30 mark and not just for the awesome '70s clothes and fans smoking in the stands. Detroit fans hung out
after
the game, chanting "We want The Bird! We want The Bird!" When he finally appears from the clubhouse, the place explodes. One of a kind.
1977: George Foster, LF, Reds
Maybe a bit of a one-dimensional slugger, but his 52 home runs that year seemed otherworldly. And maybe they were. It was the only 50-homer season between Willie Mays in 1965 and Cecil Fielder in 1990, Foster waved that menacing black bat and was awesome.
1978: Dave Parker, RF, Pirates
Built like a linebacker, for a few years there Parker was arguably the best all-around player in baseball. He was the MVP in 1978 as he led the majors in batting average and OPS and owned a howitzer for an arm. Plus, this was the year he fractured his jaw and cheekbone in a home-plate collision and returned two weeks later
wearing a hockey mask
at the plate (quickly replaced by a football-like face mask).
[+] Enlarge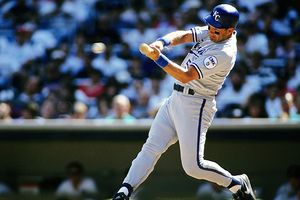 Ronald C. Modra/Sports Imagery/Getty ImagesGeorge Brett had 85 extra-base hits for the Royals in 1979.
1979-1980: George Brett, 3B, Royals
That sweet Charlie Lau swing. The dirty uniform even though he played his home games on turf. And then the chase for .400 in 1980. But how about this line in 1979: .329, 212 hits, 42 doubles, 20 triples, 23 home runs.
1981-1983: Rickey Henderson, LF, A's
Actually, you could probably give him the whole decade if you want.
1984-1985: Dwight Gooden, P, Mets
In 1984, he was Kid K, the 19-year-old phenom who finished second in the Cy Young vote, helping turn around a moribund Mets franchise. In 1985, he was Dr. K, the best pitcher on the planet -- 24-4, 1.53 ERA, 268 strikeouts. He pitched eight shutouts that year with his blistering high fastball and knee-buckling curveball, plus he had two more nine-inning scoreless outings where he got a no-decision. The four games he "lost" he allowed two, two, two and three runs. With a little luck, he could have gone unbeaten. You couldn't watch all the games back then, of course, unless you lived in the New York area, but I'd stay up late to watch the news to see how Gooden fared or devour the box score in the morning paper.
1986: Roger Clemens, P, Red Sox
Twenty strikeouts in a game. Twenty-four wins. Nothing then about needles in the butt.
1987: Eric Davis, CF, Reds
Skinny as a golf club, Davis somehow generated big power from his slight frame and combined that with blazing speed and acrobatic outfield play. In 1986, he hit 27 home runs and stole 80 bases; in 1987 he hit 37 home runs and stole 50 bases (in just 129 games). In a Sports Illustrated story, Reds manager Pete Rose said, "It's like having an atomic bomb sitting next to you in the dugout." Teammate Dave Parker said, "Eric is blessed with world-class speed, great leaping ability, the body to play until he's 42, tremendous bat speed and power, and a throwing arm you wouldn't believe. There's an aura to everything he does." In the long run, he couldn't stay healthy, although he did last until he was 39. If you missed seeing the young Davis, you missed something special.
1988: Jose Canseco, RF, A's
Don't laugh. When he went 40-40 it was a
very
big deal. But, no, I never called the
Jose Canseco hotline
.
1989-1994: Ken Griffey Jr., CF, Mariners
OK, Barry Bonds was better. He was faster. When you break it down, he was a little better hitter and that was even before Big Barry broke out. But Griffey had the It Factor from the time he reached the majors at age 19 and Bonds never really did.
[+] Enlarge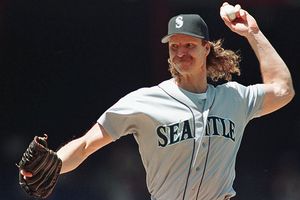 AP Photo/Duane BurlesonRandy Johnson's heroics in 1995 perhaps saved baseball in the city of Seattle.
1995: Randy Johnson, P, Mariners
Power and might, adrenaline at 100 miles per hour with his long hair flapping behind him, as intimidating a pitcher the game has ever seen. And if you were a Mariners fan in those days, a Johnson game was a treat to be savored. And when he trudged in from the bullpen in Game 5 of the 1995 Division Series, the Kingdome exploded in pandemonium. Without Johnson's spectacular '95 season (remember, Griffey was hurt part of that year), there may not be baseball in Seattle.
1996: Alex Rodriguez, SS, Mariners
The common theory is that A-Rod -- like Bonds -- never managed to connect with the fans on a national scale like Griffey, but that's a little rewriting of history, especially after he left Seattle for his first megabucks contract. In 1996, when he was 20 years old (turned 21 in July), he was, like Mike Trout, a young guy putting up bizzaro offensive numbers -- he'd hit .358 with 36 home runs and 54 doubles. It's too easy to forget now but there was a moment when Rodriguez was a player of our affection instead of a player of derision.
1997: Ken Griffey Jr., CF, Mariners
Griffey's MVP season when he led the AL with 56 home runs and 147 RBIs.
1998: Mark McGwire, 1B, Cardinals ... and Sammy Sosa, RF, Cubs
You have to put them together, no? And, no, you can't rewrite history: The home run chase was exhilarating, thrilling and astonishing.
1999-2000: Pedro Martinez, P, Red Sox
In the midst of the barrage of home runs, Pedro was putting up numbers we'd never seen before from a pitcher. In 1999, he struck out 313 batters in 213.1 innings, an average of 13.2 K's per nine innings ... and he walked just 37. He was Nolan Ryan with command and one unhittable changeup. In 2000, opponents hit .167 off him. This wasn't some reliever throwing one inning at a time. Attending a Pedro game at Fenway during this peak was like going to a religious revival, 35,000 fans believing fervently in the gifts of Pedro. He wasn't a god, but he sure pitched like one.
2001: Ichiro Suzuki, RF, Mariners
I think this list is just making Mariners fans sad.
2002-2004: Barry Bonds, LF, Giants
Are walks exciting? Bonds somehow made them so. Love him or hate him, a Bonds at-bat in this era was must-see TV.
2005: Albert Pujols, 1B, Cardinals
A weird season.
Bartolo Colon
won a Cy Young Award. Roger Clemens had a 1.87 ERA at age 42. Scott Eyre picked up 10th-place MVP vote. No, seriously, he did. We'll give the nod to Pujols, if only for that 9,000-foot home run off
Brad Lidge
in the NLCS.
2006-2008: Jose Reyes, SS, Mets
Over those three seasons he hit .292 while averaging 16 home runs, 16 triples and 66 stolen bases per season. Admit it: He was fun.
2009: Hanley Ramirez, SS, Marlins
Maybe should have mentioned him during the Reyes seasons. This was the year he hit .342 with power and speed.
2010: Josh Hamilton, CF, Rangers
He was so good he won the MVP Award despite missing the final month.
2011: Justin Verlander, P, Tigers
With apologies to Matt Kemp.
So that's my list, no slights intended to those I left off. What about your most exciting players? Discuss below ... and enjoy baseball.
September, 20, 2011
9/20/11
4:18
PM ET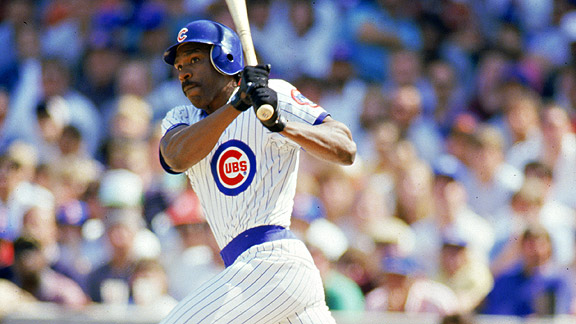 Ron Vesely/Getty ImagesAndre Dawson led the NL with 49 home runs and 137 RBIs in 1987.
In the first of a series, we're going to take a look back at some questionable MVP winners. We appear safe from disaster in 2011 -- none of the leading candidates getting mentioned is a bad choice. For example, the Tigers'
Jose Valverde
hasn't blown a save, but nobody is talking about him as an MVP candidate. At one point in history, that wouldn't have been the case. But perhaps voters are getting smarter as they learn to consider sabermetric data and rely less just on RBIs and batting average.
So let's take a look back to 1987 and perhaps the oddest MVP winner of all time.
The winner:
Andre Dawson, RF, Cubs (.287/.328/.568, 49 HR, 137 RBI, 90 R, 11 SB)
The runner-up:
Ozzie Smith, SS, Cardinals (.303/.392/.383, 0 HR, 75 RBI, 104 R, 43 SB)
Other candidates:
Jack Clark 1B, Cardinals (.286/.459/.597, 35 HR, 106 RBI); Tim Wallach, 3B, Expos (.298/.343/.514, 123 RBIs);
Eric Davis
, CF, Reds (.293/.399/.593, 37 HR, 100 RBIs, 120 R, 50 SB); Tim Raines, LF, Expos (.330/.429/.526, 123 R, 50 SB);
Tony Gwynn
, RF, Padres (.370/.447/.511, 119 R, 56 SB); Darryl Strawberry, RF, Mets (.284/.398/.583, 39 HR, 36 SB)
If you know your baseball history, 1987 was the rabbit-ball year; for whatever reason, home runs were flying out of the park that season. In 1986, NL teams averaged 4.18 runs per game; in 1987, 4.52; in 1988, it was back down to 3.88. As you can see from the numbers above, many players posted big offensive numbers. And that's what makes Dawson such a poor choice: Sure, he led the league in home runs (by five over Dale Murphy) and RBIs (by 14 over Wallach), but he ranked just 10th in OPS, sixth in slugging percentage and 42nd in on-base percentage. Yes, that's 42nd, just below Gerald Perry. His OBP is the third-lowest for an MVP position player and one of just seven MVP winners with an OBP under .350. If you're a WAR person, Dawson's 2.7 bWAR (Baseball-Reference), is the second-lowest for any MVP winner, hitter or pitcher, behind only Willie Stargell in 1979.
And here's the kicker: the Cubs finished in last place. Dawson is one of only five MVP winners to play for a losing team (
Cal Ripken
, Alex Rodriguez with the Rangers and Ernie Banks twice are the others).
So how did he win? Three reasons:
1. Even though Bill James' "Baseball Abstract" had been a best-seller for years by 1987, many writers still lived and died by the RBI.
They believed Dawson was the best hitter in the league. While many hitters had superior years to Dawson in '87, only Wallach was reasonably close in RBIs. As Orange County Register columnist Randy Youngman wrote, "Never mind that the Cubs will finish last. Right fielder Andre Dawson ... still was the most valuable (and most underpaid) player in the league. The Cubs didn't win with him, but they would have finished in the Florida State League without him." For some reason, that last-place finish or losing record didn't bother voters, unlike pretty much every other MVP vote. "But in the absence of a player-of-the-year award, the MVP has often saluted the season's outstanding performance, regardless of the standings," wrote Ross Newhan of the Los Angeles Times. "There is no rule, in other words, that says the MVP has to belong to a winning team, though the baseball writers, who do the voting, justifiably lean that way when possible. ... Dawson's statistics were overwhelmingly the league's best. He was a marked man on a bad team but remained at his own high level rather than sinking to his teammates', not an easy thing to do."
2. Dawson was a great story.
Youngman alluded to the strange winter of 1986-87, when owners were refusing to sign free agents (we now know they colluded). Dawson had been one of the best players in the National League with the Expos in the early '80s and twice finished second in the MVP vote. But bad knees had led to a move from center field and right field and he'd had three mediocre years from 1984 to 1986. Determined to leave the concrete turf of Montreal, he gave the Cubs a blank contract. The Cubs signed him for $500,000, making him the lowest-paid regular on the team. It was a redemption and it happened to one of the nicest guys in the game. The writers loved it.
3. Jack Clark got hurt.
The Cardinals won the NL East and entering September, Clark was the overwhelming MVP favorite. But he injured an ankle on Sept. 9 and only played three games the rest of the season. He also wasn't a favorite of the media. Tom Cushman of the San Diego Union-Tribune explained why Clark wasn't the league's MVP: "Except for one futile swing last weekend, he since has been unavailable during the Cardinals' September struggle with the Mets and Expos. Clark's tendency to remove himself from the lineup through peculiar incidents and at critical times has not escaped the good fans of St. Louis." He then went on to rip Clark for striking out too much, not hitting with runners on base (he actually hit .330/.550/.661 with runners on that year) and saying he was only the fourth-most valuable player on the Cardinals.
In the end, Dawson got 11 first-place votes, Ozzie got nine (but was left off two ballots entirely) and Clark finished third, getting three first-place votes. Eric Davis scored 30 more runs than Dawson, had a better on-base and slugging percentage, played a wonderful center field and stole 50 bases to 11, but only finished ninth in the voting.
Ouch.
Follow David Schoenfield on Twitter @dschoenfield.