SweetSpot:

Eric O'Flaherty
August, 28, 2014
Aug 28
1:15
AM ET
1. A big night in the AL Central.
The Royals scored six runs in the bottom of the eighth to beat the Twins 6-1 ... which came a couple hours after David Price allowed -- not a typo --
nine
consecutive hits in the third inning as the Yankees scored eight runs. Most of the hits were not cheapies, either. The inning went:
Single, double, single, double, single, single, single, infield single, single. Four of the hits were ground balls but only two of those were soft. Price became the first pitcher since Bob Forsch in 1989 to allow nine hits in a row. As our friend Jonah Keri tweeted, the Yankees scored more runs that inning than Drew Smyly has allowed in his five starts with Tampa Bay since being traded for Price.
As for the Royals, here's a stat: Before Tuesday, the Twins had lost just two games all season they led heading into the eighth inning. The Royals rallied two nights in a row in the ninth and eighth innings.
2. Speaking of Smyly ... he's good.
You don't want to overreact to five starts, but in those five starts Smyly has allowed just six runs. In beating the Orioles on Wednesday and allowing just two hits in seven innings, he became the second Rays pitcher to pitch at least seven innings and allow two hits or fewer in consecutive starts. Bottom line: For those who think the Rays didn't get enough in return for Price, think again; Smyly is more than just a back-end starter.
We all loved this trade for the Tigers because we overfocused for the Tigers, but it's fair to ask: How much is Dave Dombrowski sweating right now?
3. The Cubs are worth watching down the stretch.
I mentioned Javier Baez in non-pennant race news on Tuesday, and now we discuss Jorge Soler, the dynamic Cuban right fielder who debuted for the Cubs on Wednesday ... and promptly slammed a Mat Latos fastball for a home run in his first at-bat. Soler is the same physical presence as Baez but his minor numbers suggest a swing with a little more control: He struck out 48 times in 200 at-bats between Double-A and Triple-A (hitting .340/.432/.700) compared to Baez's 130 K's in 388 at-bats. That's still a high strikeout rate, so he may face the same initial struggles as Baez. Soler's biggest issue has been staying healthy: He had a fractured tibia last year and had injuries to both hamstrings that forced him to miss most of April and May this year. But with 15 home runs in 62 minor-league games, the power potential resembles Baez's.
Now ... let's hope the Cubs call up Kris Bryant. I don't want to hear about service time and all that. He's ready for the big leagues.
4. Eric O'Flaherty, A's closer, for now.
Oakland's first save opportunity since Sean Doolittle went to the former Braves lefty, who has pitched well in limited action for the A's so far. He gave up a run to the Astros but preserved the 5-4 win. (The A's scored three off Chad Qualls in the top of the ninth, with Sam Fuld hitting a tiebreaking two-run homer.)
Also note: Drew Pomeranz, good outing. Pomeranz didn't replace Jason Hammel in the rotation, but was taking a start to give Sonny Gray an extra day of rest. But he pitched well enough if that Bob Melvin may give him another one.
5. Give these guys Gold Gloves.
1.
Alex Gordon
.
2.
Juan Lagares
.
3.
Andrelton Simmons
.
Maybe the three best defensive players in the game.
May, 19, 2013
5/19/13
12:40
AM ET
By
Christina Kahrl
| ESPN.com
The Braves might be atop the National League East, the beneficiaries of
Justin Upton
's slugging largesse, and they just got
Jason Heyward
back from the disabled list
after getting
Brian McCann
back in action earlier this week.
Yet for all that, the news in the bullpen seems dire after the past 72 hours or so. Start off with
Jonny Venters
' Tommy John surgery on Thursday: expected, but glum. Then,
Jordan Walden
landed on the DL on Friday. And then
Eric O'Flaherty
joined him there on Saturday -- with the always-ominous appointment with Dr. James Andrews to look at his torn ulnar collateral ligament and a likely Tommy John surgery in his future to look forward to.
How much can a team meaningfully prepare for losing just about everybody in your bullpen
but
your closer? The Braves had already insured themselves by dealing for depth, trading for Walden -- the Angels' former closer -- during the winter and then adding Orioles veteran
Luis Ayala
last month.
This isn't new territory for the Braves: They've seemingly used up top-shelf relief talent before, and they probably will again. They worked Aussie side-armer
Peter Moylan
hard in 2007; he blew out his elbow in 2008. Moylan came back to pitch 172 games combined between 2009-10, scragged his shoulder and hasn't been the same since. But the Braves got three tremendous relief seasons out of somebody nobody else had even noticed -- and without spending top dollar to get it on the open market.
[+] Enlarge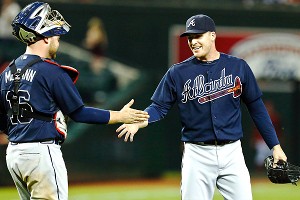 AP Photo/Ross D. FranklinJust after Atlanta got Brian McCann back, it lost lefty Eric O'Flaherty, right -- perhaps for the season.
O'Flaherty had durability issues as a younger pitcher coming up with the Mariners, but after snagging him on a waiver claim, the Braves managed to get a pair of 78-game seasons out of him in the four seasons they've had him before 2013, and his only DL time on their watch was time lost to mononucleosis in 2010.
Venters threw 81 games (majors and minors combined) in 2010 before his league-leading 85 in 2011. He wasn't the same pitcher last season. After he recovers from Tommy John surgery, we'll see if he'll ever be that rubber-armed shutdown reliever again.
But you can't really put that on the Braves as instances of bullpen abuse. Would O'Flaherty or Venters or Moylan have ever amounted to as much? Would they have blown out their arms at some point? They were assets, and the Braves used them to good effect over multiple seasons. For all the advances that have been made in evaluating starting pitcher workloads, there's still a relative lack of hard information about what's possible out of the pen in terms of appearances and innings.
It's also pretty clear that when it comes to ideal workloads, one size does not fit all, so even individual examples don't form a basis for useful comparison. Not everybody should grow up to be Rollie Fingers or Dennis Eckersley -- pitching one inning and only one inning; not everybody who is left-handed could do what Jesse Orosco or Rick Honeycutt did, either. Not everybody could handle the kind of workload that Mark Eichhorn or Mike Marshall did. In short, managers and general managers are in a constant cycle of adapting to the talent at hand and adapting those to their teams' needs.
So you can gnash your teeth over these losses, because if you're a Braves fan, you have the right to be worried. But if anybody can cope, it's the Braves. One of the most overused tropes about them throughout the '90s and on into the 2000s was that the Braves needed relievers, but whether it was a matter of fishing Kerry Ligtenberg out of the independent leagues, finding Moylan at the World Baseball Classic or investing their full faith in a journeyman like Mike Remlinger, few teams have been as consistently good at conjuring up quality relief help out of thin air to augment their bullpen as the Braves. O'Flaherty came over a waiver claim. They've made mistakes (Danny Kolb, anybody?), but they've rarely hurt them badly or cost them much.
So, if anybody is going to find quality help on the fly without having to spend top dollar, I'd bet on the Braves doing so in their moment of need. To put their problem in perspective, consider what they still have going for them:
Craig Kimbrel
owns the ninth, and even if he has had a moment of vincibility or two, he's still arguably the best reliever in baseball right now. They still have a nifty situational side-arming righty in
Cory Gearrin
and another live-armed righty in
Anthony Varvaro
. Walden's injury doesn't appear serious; he'll be back. So will Ayala.
On the other side of every ballgame, Atlanta has a rotation armed with four men who can consistently pitch into the sixth or seventh inning. In the fifth slot, the Braves have a top prospect in
Julio Teheran
, a live arm who, for his own workload as well as the team's need for relief, stands ready to bump back into the bullpen once starter
Brandon Beachy
comes off the DL in a few weeks.
In the aggregate, they'll be fine if they keep their heads and stick with what they have. What the Braves will need with an eye toward high-leverage matchups later in the season will be a top-shelf lefty, because that's where they've been truly spoiled by having both Venters and O'Flaherty around. If (when)
Joe Beimel
disappoints, Braves general manager Frank Wren could settle for dealing a Grade C prospect for a similar vet at the deadline. But if he decides to replace like with like and aim for better southpaw support, it'll be interesting to see whom he targets. The Angels'
Scott Downs
or
Sean Burnett
?
Matt Thornton
of the White Sox?
J.P. Howell
of the Dodgers? All it takes is a little bit of big-budget heartbreak and a visible white flag, and those will be run up in good time. The Braves can supply a suitable semi-promising Grade C prospect not yet on the 40-man roster to make it all seem reasonable.
Christina Kahrl covers baseball for ESPN.com. You can follow her on Twitter.
June, 13, 2012
6/13/12
6:35
PM ET
Jonny Venters
entered Tuesday night's game in Atlanta with a 4-0 lead, a runner on first and one out. Here's what happened:
Four batters, four bad results, four runs and then the loss when
Nick Swisher
greeted
Cory Gearrin
with a two-run homer. (Where was
Craig Kimbrel
, you ask? Nowhere to be found, of course. Closers can't pitch in the eighth or be forced to get five outs.)
A year ago, Venters posted a 1.84 ERA, held hitters to a .176 average and went 6-3 with five saves. This year, he's 3-3 with a 4.50 ERA and .330 opponents' average.
Ben Duronio of our Capitol Avenue Club blog on the Braves wrote a post today saying Venters is just fine. In fact, he titled the post "
Jonny Venters is just fine
." Ben writes, "Venters currently has a BABIP of .439 compared to a .288 career average, with a HR/FB rate of 33.3% compared to a career rate of 9.5%. If you think those rates will continue, I do not know what to tell you."
I went back and watched Tuesday's performance. While neither Granderson or Cano hit the ball hard, it's also true that Venters was horrible, falling behind all four hitters and throwing six of his 19 pitches in the dirt. The ball A-Rod hit for the slam was the third straight fastball in the same general location. With Venters not trusting his slider with the bases loaded, A-Rod was able to sit on the fastball.
That's just one game. Ben has been watching Venters all year and it's true that his strikeout and walk percentages are pretty much the same as last year. With the movement he gets on both his hard sinker and slider, he's always going to walk his share of hitters, so control is never going to be a strong suit. And while the Granderson and Cano hits are good examples of soft singles, it's all also true Venters is not throwing to the same location as consistently as last year.
Here are the heat maps of all his pitches in 2011 and 2012. They don't look the same to me.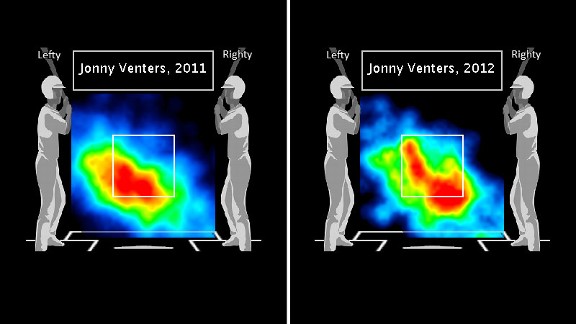 ESPN Stats & InformationJonny Venters' location isn't the same as it was last season.
I'm with Ben in that Venters
is
likely to improve moving forward. But I'm also not sure he's going to be a reliable eighth-inning guy. His approach in the A-Rod at-bat was also terrible. Last year, he probably gets A-Rod to strike out or ground out on a 3-2 slider. This year, he falls behind and A-Rod knows the fastball is coming.
As my friend MK the Braves fan told me, "And without fail, I wake up weeping the morning after he pitches."
What do the Braves do?
Kris Medlen
has been getting stretched out as a starter in the minors. He may return as a starter (although
Mike Minor
pitched well on Tuesday) or maybe he just goes back to the pen.
Eric O'Flaherty
, also so good a year ago, has a sore elbow and has been unavailable for a few days. He hasn't pitched as well as last season either. Maybe Fredi Gonzalez turns the eighth inning over to
Cristhian Martinez
, who has been solid as the team's middle guy.
Or, less likely, Kimbrel could also be brought in on occasion with runners on base. But Kimbrel hasn't pitched in the eighth inning all year, so that doesn't seem to be in Gonzalez's playbook. Maybe Kimbrel's arm will fall off if he has to get more than three outs.
Regardless, with the Braves' rotation just 12th in ERA in the National League, they need more than just Kimbrel to be effective at the end of games.
March, 22, 2012
3/22/12
1:54
PM ET
By
Ben Duronio
| ESPN.com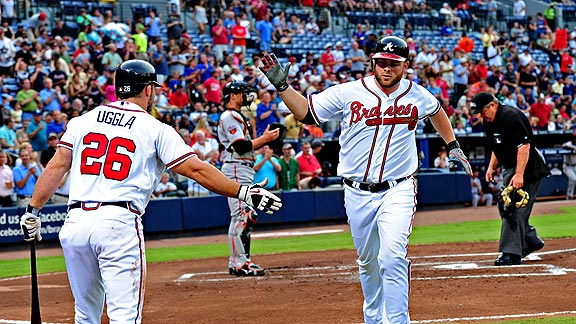 Scott Cunningham/Getty ImagesDan Uggla and Brian McCann will be counted on to provide pop for the Braves in 2012.
With the way 2011 ended for the
Atlanta Braves
, many hoped a good start in spring training would put any thoughts about last season behind them. At the start of camp, however,
Tommy Hanson
crashed his car and received a concussion. That was certainly not a good omen, to say the least.
Then
Tyler Pastornicky
, the expected starting shortstop, started 3-for-33, sparking questions about whether he or last season's Lynchburg Hillcat (Atlanta's high-A affiliate) shortstop Andrelton Simmons should start at shortstop. A week ago,
Chipper Jones
stated in jest that he was unsure if he could even finish the season, and then Thursday announced that
he'll retire at the end of the season
. Additionally, the team is 6-13 in the Grapefruit League, ahead of only the Mets. Spring training records do not mean much, if anything, but the Braves have most certainly not played quality baseball.
On Tuesday, the worst news of the spring hit the Braves as
Arodys Vizcaino
, the 14th-ranked prospect in baseball according to Keith Law, will miss the entire season with Tommy John surgery. Vizcaino was projected to pitch in the Braves' bullpen and was expected to help ease the workload of the team's back-end relievers.
Not much has gone right, but there are still reasons to be optimistic. With
Mike Minor
and
Brandon Beachy
ready to break out and
Julio Teheran
and
Randall Delgado
not far behind them, the Braves still have a strong core of young starting pitchers who are major league ready. With
Tim Hudson
already being ruled out until the start of May and Hanson and
Jair Jurrjens
attempting to rebound from last year's season-ending injuries, the depth in the rotation is the team's biggest strength and should come in handy over the course of the season.
Although Vizcaino will miss the year, swingman
Kris Medlen
should bolster what was already one of the game's top bullpens. His ability to eat innings, along with fellow bullpen mate
Cristhian Martinez
, should lessen the workload on
Craig Kimbrel
,
Jonny Venters
and Eric O'Flaherty. The bullpen should again be stellar.
While the pitching should remain sturdy, the big questions in Braves camp revolve around the bats.
Jason Heyward
and
Martin Prado
had sub-standard years and will look to rebound, while
Brian McCann
and
Dan Uggla
try to stay consistent throughout the season. Heyward has altered both his swing and stance, and he has really started to swing the bat well over the past two weeks. Prado and Uggla have both looked tremendous all spring.
The basic assumption the front office has made, judging by their lack of acquisitions, is that they doubt things go as bad for the offense in 2012 as they did last year. Having
Michael Bourn
in center field for the entire season should stabilize the top of the lineup and result in improved production compared to what the Braves received from
Nate McLouth
,
Jordan Schafer
and Bourn during his few months with the team.
With all that went bad toward the end of last year, this team still won 89 games and would have made the playoffs if this season's playoff format had been in place. They have a ton of pitching depth and have one of the best bullpens in the league. While they do not have a tremendous offense and will likely struggle with their infield defense, they do have the tools to score runs and prevent runs at a better than average rate. As bad as this spring has been, the Braves are still one of the better teams in the National League and should certainly be in competition for a playoff spot, which is all you can really ask for in a crowded NL East.
Ben Duronio writes regularly about the Braves at Capitol Avenue Club. You can follow him on Twitter @Ben_Duronio.
January, 25, 2012
1/25/12
12:47
PM ET
Here are some links to check out in Internet land. We'll begin with reaction to the big signing from Tuesday.
And some stuff from the non-Prince area ...
September, 2, 2011
9/02/11
10:00
AM ET
By
Christina Kahrl
| ESPN.com
So who are the real firemen? You know who leads the majors in saves, but ninth-inning save opportunities aren't distributed especially equally. And in the age of Eck-style three-out saves, it isn't like the guys getting saves are the ones charged with putting fires out with the game on the line. They're fulfilling the job of protecting ninth-inning leads, and they get the glory stat and the big-time money for their troubles. Not that there's anything wrong with that, but the ninth inning isn't often the point in time when a game's outcome hangs in the balance.
Instead, let's take a look at the guys who have made the biggest impact on outcomes because of the situations they get thrown into, which often involves handing off that lead to the closer. Using what Baseball-Reference.com refers to as "High Leverage" situations, who are the non-closers who have been put into the most key situations this season? Here's the list of the guys with the highest number of High Leverage games without notching 20 or more saves. For good measure, let's toss in innings pitched, games, their average leverage index (aLI), their tally of Holds + Saves and their total save situations (rarely in the ninth inning), their inherited runners, inherited runners who scored (IS), and the percentage of inherited runners who scored (IS%):
As much as we've already gotten to hear about Venters this season, it's worth noting that he and Adams have come into more high-leverage situations than anybody in the game today, even after you include the closers. It's also nice to see O'Flaherty show up, because Spuds has to live with being the third wheel in the Braves' outstanding late-game trio, and not everyone gives him his due. The Cubs' Marshall makes an appearance as a pitcher very similar to Venters, in that he's earned a rubber-armed reputation while killing people with sinkers. And as former starting pitchers, they're not the sort of southpaw set-up men who get chased by the first sign of a right-handed bat in the on-deck circle.
In Clippard and Veras, you get a pair of mid-game workhorses on non-contenders. More so than the others here, they're also relievers who rank high among those who've had to pitch with the most runners on base. The MLB average for inherited runners scoring is 29 percent, and Clippard's 19 percent clip puts him among the most effective at stranding other people's problems. For the curious, the man with the mixed fortune of pitching with the most inherited baserunners has been
Jason Motte
with 56, but he's also allowed a slightly worse-than-average 32 percent to score. Beyond Motte are a gaggle of situational guys: lefties
Bill Bray
of the Reds and
Tim Byrdak
of the Mets, plus submariner
Brad Ziegler
.
Which leaves Mike Adams, who's interesting in that he's almost the antithesis of a mid-game fireman: He almost never gets put into situations with men on. Instead, he's entrusted with eighth-inning leads that are save opportunities -- they just don't happen to lead to him notching many saves. Between San Diego and Texas this year, Adams has been handed 28 eighth-inning leads of three runs or fewer, and appeared in 16 eighth-inning ties. Between an injury-marred career that argues against him being asked to pitch multiple innings and a long delivery that makes him a poor choice to pitch with runners aboard, but leave him alone in this sort of role and he'll strike out a man an inning and pitch his own innings. As set-up heroes go, he's fairly unusual, but handled carefully, he's an asset who belongs on this sort of list.
Christina Kahrl covers baseball for ESPN.com. You can follow her on Twitter.
August, 19, 2011
8/19/11
12:31
AM ET
On Thursday night,
Mike Minor
was brilliant against a Triple-A lineup, while
Chipper Jones
made
Tim Lincecum
pay for one mistake. But good luck beating the
Atlanta Braves
when
Eric O'Flaherty
,
Jonny Venters
and
Craig Kimbrel
jog in from the bullpen.
They may sound like a law firm or maybe the Notre Dame backfield from 1955, but what they are is baseball's most lethal bullpen trio. The three each pitched one inning in Thursday's 1-0 victory over the Giants: O'Flaherty threw 15 pitches, allowed a two-out single, but otherwise cruised through the seventh; Venters threw 12 pitches and induced three easy grounders in the eighth; and Kimbrel threw 14 high-explosive laser beams in the ninth, getting a popout,
Pablo Sandoval
swinging and
Aubrey Huff
looking.
The trio's combined numbers on 2011: 187 1/3 innings, 1.39 ERA, four home runs allowed, 73 walks, 228 strikeouts, 41 saves. Forget
Roy Halladay
or
Clayton Kershaw
or
Cliff Lee
, the NL Cy Young Award should go to O'Ventrel.
While many managers and executives prefer to put their late-inning trust in more experienced arms, the Braves entered spring training with a plan for relying on the rookie Kimbrel and second-year lefty Venters, who came out of nowhere to excel last season. In doing so, manager Fredi Gonzalez simply followed a belief system long held by Bobby Cox and John Schuerholz: Don't be afraid to go with the youngsters -- especially those with power arms. This isn't the franchise that's going to pick up
Arthur Rhodes
and give him important innings in a pennant race.
Cox and Schuerholz learned this the hard way. The 1992 Braves had hard-throwing young guys
Kent Mercker
,
Mike Stanton
and
Mark Wohlers
, but the team picked up veteran closer Jeff Reardon late in the season … an end-of-the-line, fool-'em-with-offspeed-stuff Jeff Reardon, who served up a game-losing home run in the World Series to Toronto's Ed Sprague.
After that, Cox never shied away from using a young closer. Rookie Greg McMichael saved 19 games in 1993. Wohlers, still just 25, assumed closer duties in 1995 as the team won its only World Series. When Wohlers developed the yips in 1998, rookie
Kerry Ligtenberg
became the closer, saving 30 games while the Braves won 106. Ligtenberg got hurt the next season so Cox turned to hard-throwing
John Rocker
, in his first full season. He had 38 saves and struck out 104 batters in 72 1/3 innings. True, Cox would later install
John Smoltz
as closer for a few seasons, but the Atlanta philosophy has always been to try to find young, power arms for the late innings.
Can the Braves' late-game threesome carry them to a World Series title, like the Cincinnati Reds' Nasty Boys trio of Randy Myers, Rob Dibble and
Norm Charlton
did in 1990? If there's one concern that many bloggers and fans have raised, it's the workload the three have carried. O'Flaherty is on pace for 73 innings, Kimbrel for 78 2/3 and Venters for 91 2/3. The Giants, for example, had a similar shutdown threesome last year in
Brian Wilson
,
Sergio Romo
and
Santiago Casilla
, as they combined for a 1.97 ERA, but threw just 192 innings in the regular season -- or just five more than the Atlanta three has already thrown.
But their projected workloads aren't that out of whack with some other recent World Series champions. The 2008 Phillies' top three of
Brad Lidge
,
Ryan Madson
and
Chad Durbin
all appeared in more than 70 games and combined for 239 2/3 innings, with Madson and Durbin both topping 82. The 2004 Red Sox had closer
Keith Foulke
with 83 innings and set-up man
Mike Timlin
with 76. And the Nasty Boys? Myers pitched 86 2/3 innings, Dibble 98 and Charlton 154. (OK, Charlton started part of the season.)
If the Braves are concerned, they can take comfort in building their wild-card lead to six games over the Giants and 6 1/2 over the Cardinals. They have plenty of room to play with. Oh, and
another
young gun just arrived: Hard-throwing 20-year-old
Arodys Vizcaino
has started his major league career with 5 1/3 scoreless innings.
Just what Braves' opponents want to see: Another Atlanta reliever throwing nasty 95-plus stuff in the late innings.
PHOTO OF THE DAY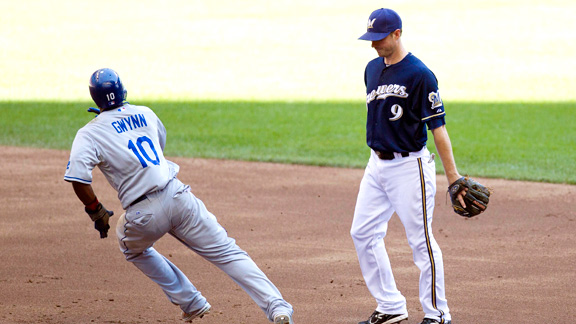 Jeff Hanisch/US PresswireTony Gwynn Jr. figures he has places to go and things to do.
June, 8, 2011
6/08/11
12:02
AM ET
By
Christina Kahrl
| ESPN.com
For
Tommy Hanson
, winning in the big leagues might have seemed somewhat easy at the start of his career. When he came up as a 22-year-old rookie in June 2009, the highly touted prospect delivered on his promise by collecting 11 wins in his first 21 starts, against just four losses. He collected his first big league victory in his second start in what you might term a "cheap" win, in that he didn't get through six innings, getting away with just two runs allowed while giving up 14 baserunners in 5 2/3 innings. The team's bullpen and offense picked him up, and the Braves beat the Orioles 7-2.
A win's a win, but almost two years later Hanson's victory over the Marlins on Tuesday serves as a reminder that there has been nothing cheap about Hanson's victories since that rookie campaign. Hanson's 17-15 record in 2010-2011 might make it seem as though he's merely been a placeholder in the Braves' rotation, but nothing could be further from the truth. Marlins rookie
Brad Hand
threw an excellent game in his debut, his lone mistake an inside fastball that
Alex Gonzalez
got around on and jacked into the left-field seats to lead off the fourth inning. As it turned out, that would be the only run the Braves needed.
Hanson pitched six shutout innings to get his seventh win of the season, that in his seventh quality start. Hanson has won all seven -- simply put, anything less than a quality start, and Hanson has nothing to show for it so far. That may sound like a hard circumstance, but he has been here before: Hanson got his first eight wins in his first eight quality starts in 2010. It's what came after that last season which has made it seem as though Hanson has been anything less than outstanding. After going eight-for-eight, Hanson had to settle for one win, three losses and seven no-decisions in his final 11 quality starts.
In a microcosm, Hanson's quality spin Tuesday provided the reasons why. It goes back to the how and why of his first win -- like any well-managed young pitcher, he gets pulled before his pitch counts pile up too far beyond 100. In 2009, when Hanson was 22, he pitched into the seventh inning or later just 10 times in 21 starts. In 2010, he got into the seventh or later just 14 times in 34 starts. This year, in his age 24 season, he's done so in just four of his first 13 starts.
That isn't about a quick hook, not from Bobby Cox or now from Fredi Gonzalez. Instead, that's the nature of careful management of a quality arm as he matures. In the meantime, more often than not, Hanson is pitching two-thirds of the game or less -- which makes generating wins a tough proposition without great run support (like he got in his first win and first season), as well as great relief help.
This year he's as carefully managed as ever, and Hanson's getting the worst run support of his brief career. After Tuesday's 1-0 win, a quick envelope calculation says that he's getting just 3.7 runs of support per 27 outs, against the 5.0 he got as a rookie or the 4.2 he received last season. But he is getting a boost from the other unit that can turn a good start from Hanson into a win in the standings: the Braves' bullpen.
Hanson has a power trio to make his good work stand up: lefties
Eric O'Flaherty
and
Jonny Venters
, and closer
Craig Kimbrel
, a righty. O'Flaherty, Venters and Kimbrel have provided the Braves' game-winning script for the final three frames this season, a major change from last year; only Venters is reprising anything like the role he had on Cox's watch.
All three relievers rank among the league leaders in appearances, and all three are almost entirely reserved for pitching with the lead. Instead of strictly situational roles defined by pursuing platoon advantages, Gonzalez's bullpen has its roles defined by the score: If the Braves lead after six, the trio pitches. It's the older pitchers who are assigned the less significant roles -- 30-somethings
Scott Linebrink
and
George Sherrill
generally pitch when the Braves are down by a little, and veteran
Cristhian Martinez
when they're down by a lot.
Combined, the three older men have pitched to protect a lead just nine times in 63 appearances, and 11 tie games. The kids? They've been entrusted with 56 leads and 22 ties, and with a combined 1.61 runs allowed per nine while stranding 18 of 23 inherited runners, they're making those leads stand up as wins -- including Hanson's.
PHOTO OF THE DAY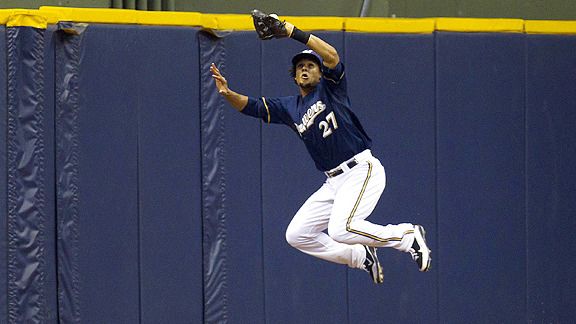 Jeff Hanisch/US PresswireCarlos Gomez is just hanging out. He got the ball, but will he ever come down? Please hold.
Christina Kahrl covers baseball for ESPN.com. You can follow her on Twitter.