August, 29, 2013
8/29/13
12:25
AM ET
Major League Baseball began handing out the Manager of the Year award in 1983, and Bobby Cox of the 2004-05
Atlanta Braves
is the only man to win it in consecutive seasons. If the lineup the
Oakland Athletics
fielded Wednesday night is a snapshot of the tools at Bob Melvin's disposal, he should be a strong candidate to replicate that feat.
Yes, John Farrell has changed the mindset in Boston a year after that 69-win Bobby Valentine-led debacle. Joe Maddon of the
Tampa Bay Rays
deserves to win the award every year, and Terry Francona has done a wonderful job keeping the
Cleveland Indians
in postseason contention despite the team's flaws. But have any of them done a noticeably better job than Melvin, who has taken a star-free team with the 26th-highest payroll in baseball and put it in the mix for a wild-card spot and possibly a second straight American League West title?
[+] Enlarge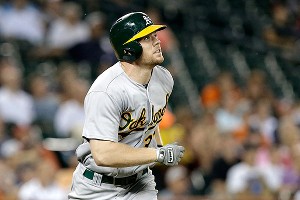 AP Photo/Paul SancyaBrandon Moss is the perfect Oakland A: Discarded by others, but he comes to play.
With a 14-4 laugher in Detroit on Wednesday that featured six RBIs from
Brandon Moss
, the A's raised their record to 75-57. They're 2 ½ games behind Texas in the division and four games ahead of Cleveland in the race for the second wild-card spot, and they're starting to get some important pitching reinforcements.
Bartolo Colon
returns from the disabled list to face
Max Scherzer
in a Thursday matinee at Comerica Park, and
Brett Anderson
is back and pitching in the bullpen for now after missing four months with a foot injury.
The lineup requires some cobbling together on a lot of nights.
Coco Crisp
has contributed some monster moments this season, but he brings a .330 career on-base percentage in the leadoff spot.
Eric Sogard
, the second baseman, looks like the kid selling you an iPad at Best Buy.
Daric Barton
continues to hang around at first base despite being on the
Russ Canzler
-
Eli Whiteside
designated-for-assignment plan. And the A's recently had to scramble to reacquire old friend
Kurt Suzuki
from Washington when injuries to
Derek Norris
and
John Jaso
put a serious crimp in their catching contingent.
When the season began, the outfield looked like Oakland's strong suit. But it hasn't turned out that way.
Chris Young
and
Seth Smith
are both having disappointing seasons. Worse yet,
Josh Reddick
and
Yoenis Cespedes
haven't come close to their performances in 2012, when they combined for 55 home runs in the three and four spots in the order. Reddick has a .658 OPS and just went on the DL with a wrist injury. Cespedes has been too pull-happy and prone to chasing breaking balls out of the strike zone, and it's reflected in his .289 OBP and increased strikeout total.
As Athletics beat writer John Hickey pointed out earlier this week,
Jason Kubel
might be a good fit in Oakland after getting designated for assignment by Arizona. For late-August trade buffs,
Justin Morneau
is also still out there and readily available.
Only three Oakland hitters --
Josh Donaldson
,
Jed Lowrie
and Moss -- have performed to or beyond expectations this season, and they all project a certain dirtbag quality befitting the team persona. So why are the A's so good? They grind out at-bats (they lead the majors with 476 walks and average a lofty 3.96 pitches per plate appearance). They're 24-16 in one-run games, and they're tied with Pittsburgh for the major league lead with 13 victories when trailing after six innings.
The A's also pitch.
A.J. Griffin
,
Jarrod Parker
and the other starters have gone deep into games consistently enough that the bullpen has logged only the 11th-heaviest workload in the league. That means closer
Grant Balfour
and his relief-mates won't be running on fumes in September.
Oddly enough, a few hours before Oakland took the field and banged out a season-high 21 hits against
Doug Fister
and the Detroit bullpen Wednesday, Donaldson was candid in his assessment of what the A's have to do to survive the final month.
[+] Enlarge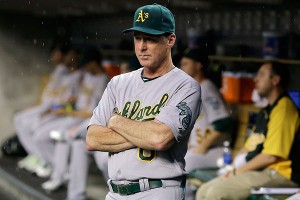 AP Photo/Paul SancyaHas Bob Melvin earned his second straight manager of the year award?
"We know how we're built, and we're built to pitch and play defense," he said. "Anytime one of those gets out of whack is when we start faltering a little bit. I don't feel like we're going to bang with teams like the Tigers and Rangers every day."
Even the departure of
Jonny Gomes
to Boston through free agency hasn't put a crimp in the
esprit de corps
in Oakland. That's largely a tribute to Melvin, a manager whose approach wears well over six months and 162 games. Players love him because of his even temperament, fairness and attention to detail -- but he can be tough when the situation warrants. After the A's failed to show much spark against Houston and Seattle during their last homestand, Melvin let the players know things had to change in a hurry. It appears he got their attention.
When the Detroit series concludes, the A's will head home for six games against Tampa Bay and Texas, at which point the schedule gets less taxing. Of Oakland's final 23 games, 20 are against Houston, Minnesota, the
Los Angeles Angels
and Seattle.
The young A's learned a lot about perseverance last year when they went on a 51-25 roll after the All-Star break to overtake Texas for the division title. Expectations were higher this year, but that doesn't minimize the job that Melvin and his coaching staff have done squeezing the most out of the roster.
Melvin's name should be in the middle of the Manager of the Year conversation again in November. But as long as he has the chance to keep making out lineup cards in October, the rest is gravy.
April, 11, 2013
4/11/13
9:00
AM ET
It's easy to forget that a year ago there were the big three super prospects:
Bryce Harper
,
Mike Trout
and
Matt Moore
, and not necessarily in that order. Baseball America named Moore its No. 2 prospect and wrote, "He makes it look so easy, and he's so good he'll make
David Price
a No. 2 starter." While Harper and Trout exploded after getting called up in late April, Moore was quickly forgotten, in part because Harper and Trout exploded, in part because he plays for Tampa Bay, but mostly because it wasn't so easy for Moore in his rookie campaign.
Moore went 11-11 with a 3.81 ERA and struck out 175 batters in 177.1 innings, normally numbers about which one would be ecstatic from a rookie left-hander, but viewed with some disappointment. But it's not fair to view Moore through the lens of what happened to Harper and Trout, or even the 2.95 ERA that Rays teammate
Jeremy Hellickson
had posted as a rookie in 2011.
Expectations for Moore shot up after the dominant playoff start against the Rangers in 2011, when he pitched seven scoreless innings in just his second major league start. After an inconsistent first half in 2012, Moore was very good in the second half (3.01 ERA, five home runs allowed, opponents' batting line of .220/.303/.336). It was that improvement that was one reason many believed -- myself included -- that Moore would step in nicely behind Price as the team's No. 2 with the trade of
James Shields
to Kansas City.
Anyway, fast-forward to 2013. Most of the attention in the American League East has been paid to the revamped Blue Jays, the injury-riddled Yankees, and the revamped Red Sox (remember them?).
Jackie Bradley Jr.
drew a walk off
CC Sabathia
in the season opener and poems were written about his future greatness. Matt Moore? Yesterday's news.
After allowing no runs in his first start, Moore started again Wednesday on a 39-degree day in Texas, following a rain delay. He walked a career-worst six but escaped unscathed. In some regards, he was a little lucky -- last season, a starter walked at least six batters 65 times but only twice allowed no runs. His biggest out was getting
Elvis Andrus
to ground into an inning-ending double play with two on in the fifth. (
Ben Zobrist
would make the game's other key defensive play,
throwing out
Adrian Beltre
at home in the eight to help preserve the 2-0 lead.)
"Where the big pitches that really needed to be made, I was locked into those moments," Moore said. "From that, we can be happy with what the results were."
The cold weather makes it difficult to evaluate Moore's performance. His fastball velocity is down a couple miles per hour from last year in his first two starts, but that's not yet a concern in early April. What is a concern is the location of those fastballs. Look where he has been throwing it against right-handed batters so far: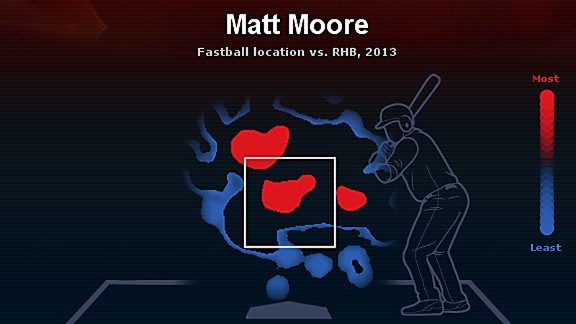 ESPN Stats & InformationMatt Moore hasn't allowed a run in his 11.1 innings despite where he's left some fastballs.
Those are tough places to make a consistent living, especially when you're throwing 91-92 instead of 95-96. If he gets batters to chase that high fastball, it can work. But as we saw Wednesday, high fastball can also lead to walks. Again, it's early, and I think Moore will be fine -- heck, he hasn't allowed a run -- but the fastball command is something to pay attention to before we declare him the next David Price.
My bigger point: Before we move on to hoping for the next great thing, let's pay attention to the good ones already here.
Other quick thoughts from Wednesday:
March, 17, 2013
3/17/13
8:15
PM ET
By
Christina Kahrl
| ESPN.com
I wrote
a short bit
about how the
Oakland Athletics
are that rare team that still has pretty major decisions to make this spring, about who's going to start in their infield and why. You can find this column over in ESPN's Spring Training blog, where I'll be checking in from Phoenix every day on different teams and their outlook as we approach Opening Day.
No sooner had my story gone up than today's A's-Cubs game finished up. Jesse Rogers of ESPN Chicago has
a rapid reaction
up already on the Cubs' side of things --
Scott Baker
did not do well in his debut,
Brent Lillibridge
homered to help his bid to be the last man on the bench -- but from the A's perspective, the infield plot thickened just that wee bit more after
Eric Sogard
had another good game at the plate in his start at second base, while utility infielder
Adam Rosales
ripped a pair of home runs. Curiouser and curiouser, but you can bet
Jemile Weeks
and
Scott Sizemore
are starting to hear footsteps with just two weeks left until Opening Day.
Christina Kahrl covers baseball for ESPN.com. You can follow her on Twitter.