June, 5, 2013
6/05/13
11:17
PM ET
The game survives. It always survives.
A routine Wednesday afternoon game on a gorgeous June day in Seattle between two teams rapidly going nowhere can slog along for 13 uneventful innings -- so uneventful that it was 0-0 heading to the 14th, with nary a hit with runners in scoring position.
Then the White Sox score five runs in the top of the 14th. Mariners fans began filing out into the concourses of Safeco Field. The Mariners score a run and load the bases with two out. White Sox closer
Addison Reed
has
Kyle Seager
in a 1-2 hole when Seager dramatically turns the routine into the remarkable, hitting a game-tying grand slam out to right-center.
The game heads to the 15th inning and the camera pans to fans heading back to their seats.
This is what baseball does to us. For 24 hours, the talk had been about
Ryan Braun
and
Alex Rodriguez
and Biogenesis instead of
Yasiel Puig
and
Domonic Brown
. Instead of discussing scores, everyone was discussing suspensions. And then Kyle Seager hits a grand slam and the fans return.
Maybe Bud Selig cares more about penalizing players who used performance-enhancing drugs than publicizing up-and-coming stars. Maybe he cares more about increasing owner profits than creating a playoff system that makes sense. Maybe he cares more about limiting bonuses to amateur players instead of trying to attract the best athletes to his sport.
There are many problems with the business of baseball.
There are not problems with the game. We
do
go back.
* * * *
The
White Sox won 7-5
in 16 innings, snapping an eight-game losing streak. It's probably fair to say that they needed this one. Reed blew the five-run lead but, out of pitchers, manager Robin Ventura left Reed in to go three innings, which these days is like asking your closer to climb Mount Everest without oxygen and carrying
Pablo Sandoval
on his back.
[+] Enlarge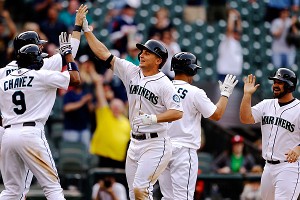 AP Photo/Elaine ThompsonKyle Seager, center, became the first player to hit a game-tying grand slam in extra innings.
Needless to say, the game contained a few "first-evers" and other oddities. Seager became the first player in major league history to hit a game-tying grand slam in extra innings. It was the first time both teams scored 5-plus runs in extra innings after the game had been 0-0 through nine. The 12 total runs in extra innings tied an American League record. (All nuggets courtesy of ESPN Stats & Information.) Mariners catcher
Kelly Shoppach
became the 13th player since 2010 to strike out five times in a game -- although the only one to also register two hits. Mariners manager Eric Wedge didn't use a single position player off his bench. The White Sox turned six double plays.
But the game also exposed the weaknesses of these two clubs. If they don't hit home runs, they don't score. The five runs the White Sox scored in the 14th were more than they had scored in any game during their eight-game losing streak, a stretch in which they hit .197 with one home run and a .486 OPS. With a 25-32 record, the White Sox appear to be a dysfunctional unit, hoping unproductive veterans
Adam Dunn
(.162 average, .261 OBP) and
Paul Konerko
(.233 average, .296 OBP) find a fountain of youth, with no youth to build a lineup around. The entire offense is a wreck outside of
Alex Rios
, last in the AL in runs, average, walks, OBP and 13th in home runs. The White Sox are likely going to be sellers at the deadline, but outside of Rios and
Chris Sale
(who isn't going anywhere) there aren't many assets here of much value.
The Mariners hit
Endy Chavez
and
Jason Bay
1-2 on Wednesday, which also tells you the state of a team that's in Year 5 of general manager Jack Zduriencik's attempt to clean up the mess left behind by the Bill Bavasi. The Mariners are 26-34, and that's with two of the best starters in the league.
Hisashi Iwakuma
was terrific once again, pitching eight scoreless innings to lower his ERA to 1.94. He's 6-1 in 13 starts but has allowed more than three runs just once; with a little run support he could easily have 10 wins.
I don't know if this was the game of the year, but I'm pretty sure it will end up on the short list. For 5 hours and 42 minutes, two bad baseball teams gave us baseball to talk about.
Thank goodness for that.
May, 28, 2013
5/28/13
7:22
PM ET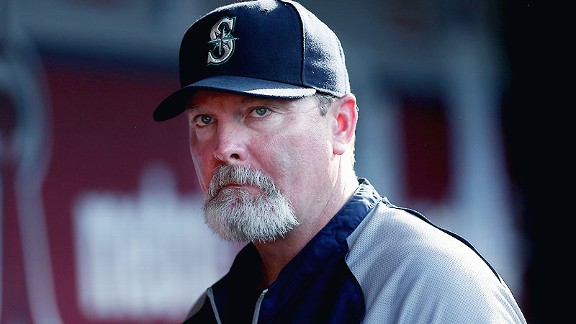 Jeff Gross/Getty ImagesSeattle's failure to consistently develop prospects could soon cost manager Eric Wedge his job.
No, I'm not writing about
Dustin Ackley
again because I'm a Mariners fan. I'm writing about him because he was the second overall pick in the 2009 draft and got sent down to the minors over the weekend, the exclamation point on his quick demise from promising rookie in 2011 to .205-hitting replacement-level second baseman in 2013.
Actually, I'll save myself the pain and link to
Dave Cameron's take
over at the U.S.S. Mariner blog, including his reference to Mariners manager Eric Wedge's quote that blamed Ackley's struggles on sabermetrics. No, really. Here's what he said: "It's the new generation. It's all this sabermetrics stuff, for lack of a better term, you know what I mean? People who haven't played since they were 9 years old think they have it figured out. It gets in these kids' heads."
Read Dave's piece as he breaks down Wedge's quote with the lethal result of a
Felix Hernandez
changeup. He wraps up by saying that Wedge will probably be fired soon, which is probably true:
Everyone knows that the only people capable of offering any kind of intelligent analysis of baseball players are those who have Major League experience. You know, like Eric Wedge. That's what's made him such a successful Major League manager, with his career record of 725 wins and 784 losses. And, you know, clearly Wedge knows how to develop young talent, since he helped all those young players turn into superstars in Cleveland.

Oh, wait, Cleveland's young players didn't develop as well as they were expected, and Wedge has had two winning seasons in 10 years as a big league manager. Hmm. Maybe experience isn't the only thing that matters after all?

Eric Wedge is going to be fired in the not too distant future. That move, in and of itself, won't turn around the Mariners franchise. But it won't hurt.
There's another piece on the U.S.S. Mariner site by Jeff Sullivan which
compares Ackley
to another former Mariner who was supposed to hit,
Jeremy Reed
. This points to the larger issue within the Mariners organization going back more than 10 years and three different front-office regimes: The complete inability to develop hitters (
Kyle Seager
, who was never a top prospect, being the exception).
Actually, they've developed three other real good ones in the past decade. Trouble is, they traded away
Adam Jones
,
Shin-Soo Choo
and
Asdrubal Cabrera
. But the list of Mariners position players besides Jones and Choo once rated in Baseball America's top 100 prospects is a sad list:
Dustin Ackley: Second overall pick in the 2009 draft. Was Baseball America's 11th and then 12th-best prospect. Truth is, he didn't tear apart the minor leagues (.280), but did draw more walks than strikeouts, and his decent rookie performance (.273/.348/.417) suggested he'd develop into a decent hitter. Definitely the most difficult one here to explain.

Justin Smoak: No. 13 prospect in 2010. His 24 home runs in 702 minor league at-bats suggests his power potential was always overrated anyway. Maybe remaking himself as well ... he's drawing walks now but a .698 OPS from a first baseman isn't exactly middle-of-the-order material.

Jesus Montero: Minor league numbers were impressive for his age, but the fact that he hit worse his second year in Triple-A was probably a bad sign in retrospect. Remember, this guy was BA's No. 4, No. 3 and No. 6 prospect three years running based on his sure thing as a hitter.

Michael Saunders: A May 13 headline in the Seattle Times reads, "Michael Saunders has gone from flop to force at the plate." Since then he's hit .109 (5-for-46) and is down to .217 with a sub-.300 OBP. Was BA's No. 30 prospect heading into 2010. He now has over 1,300 major league PAs and owns a career .219/.283/.366 line. I thought he had a breakthrough last year but now all bets are off.

Carlos Triunfel: BA's No. 62 prospect after debuting in the States at age 17. Remained in the top 100 the next year. Power never developed, undoubtedly aided by his poor plate discipline (35 SO, 7 BB in Triple-A this year).

Adam Moore: No. 83 before 2010, his minor league numbers were good, not great, but he was a catcher. Hit .195 as a rookie. Then came a bunch of injuries.

Jeff Clement: Drafted third overall in the loaded 2005 draft, peaked at No. 33 on the BA prospect lists. Just a misfire. A costly one.

Jose Lopez: Peaked as Baseball America's No. 38 prospect and reached the majors at age 20 and even made the All-Star team his first full season. But his willingness to swing at pretty much anything (never walked 30 times in a season) ruined his career.

Jeremy Reed: Acquired from the White Sox in the Freddy Garcia trade, he had hit .373 with 70 walks and 36 strikeouts in 2003 between A and Double-A. But a .289 average in Triple-A in 2004, the year the Mariners acquired him, suggests a guy who was probably overrated as the No. 25 prospect.

Chris Snelling: Three-time top-100 prospect, as high as No. 39. Couldn't stay healthy. The one guy here who I'm convinced would have hit.
How does this happen? How can one organization fail so miserably? Certainly, there's been a system-wide failure -- again, through different regimes and thus different major and minor league coaches and instructors -- to develop hitters with the ability to control the strike zone. Is that just bad luck? Bad coaching? Bad Safeco Field karma?
I don't really know. A friend of mine posits that the Mariners continually emphasize how much pressure they're under in the major leagues, instead of just letting them hit instead of talking about their struggles all the time. Maybe bad hitting and bad approaches just feed off itself like the Ebola virus. Losing is a disease, right?
There is no answer here other than that there is no magic wand you can wave, no secret sauce, no hitting coach that can flip the switch. The new guys are arriving --
Nick Franklin
is here to replace Ackley and Mike Zunino will be up soon.
They better be good.
April, 25, 2013
4/25/13
11:25
AM ET

Eric Karabell and I discuss which manager may be the first to be fired. I go with the obvious choice but Eric has a surprising answer about a manager who better keep winning.
April, 11, 2013
4/11/13
9:00
AM ET
It's easy to forget that a year ago there were the big three super prospects:
Bryce Harper
,
Mike Trout
and
Matt Moore
, and not necessarily in that order. Baseball America named Moore its No. 2 prospect and wrote, "He makes it look so easy, and he's so good he'll make
David Price
a No. 2 starter." While Harper and Trout exploded after getting called up in late April, Moore was quickly forgotten, in part because Harper and Trout exploded, in part because he plays for Tampa Bay, but mostly because it wasn't so easy for Moore in his rookie campaign.
Moore went 11-11 with a 3.81 ERA and struck out 175 batters in 177.1 innings, normally numbers about which one would be ecstatic from a rookie left-hander, but viewed with some disappointment. But it's not fair to view Moore through the lens of what happened to Harper and Trout, or even the 2.95 ERA that Rays teammate
Jeremy Hellickson
had posted as a rookie in 2011.
Expectations for Moore shot up after the dominant playoff start against the Rangers in 2011, when he pitched seven scoreless innings in just his second major league start. After an inconsistent first half in 2012, Moore was very good in the second half (3.01 ERA, five home runs allowed, opponents' batting line of .220/.303/.336). It was that improvement that was one reason many believed -- myself included -- that Moore would step in nicely behind Price as the team's No. 2 with the trade of
James Shields
to Kansas City.
Anyway, fast-forward to 2013. Most of the attention in the American League East has been paid to the revamped Blue Jays, the injury-riddled Yankees, and the revamped Red Sox (remember them?).
Jackie Bradley Jr.
drew a walk off
CC Sabathia
in the season opener and poems were written about his future greatness. Matt Moore? Yesterday's news.
After allowing no runs in his first start, Moore started again Wednesday on a 39-degree day in Texas, following a rain delay. He walked a career-worst six but escaped unscathed. In some regards, he was a little lucky -- last season, a starter walked at least six batters 65 times but only twice allowed no runs. His biggest out was getting
Elvis Andrus
to ground into an inning-ending double play with two on in the fifth. (
Ben Zobrist
would make the game's other key defensive play,
throwing out
Adrian Beltre
at home in the eight to help preserve the 2-0 lead.)
"Where the big pitches that really needed to be made, I was locked into those moments," Moore said. "From that, we can be happy with what the results were."
The cold weather makes it difficult to evaluate Moore's performance. His fastball velocity is down a couple miles per hour from last year in his first two starts, but that's not yet a concern in early April. What is a concern is the location of those fastballs. Look where he has been throwing it against right-handed batters so far: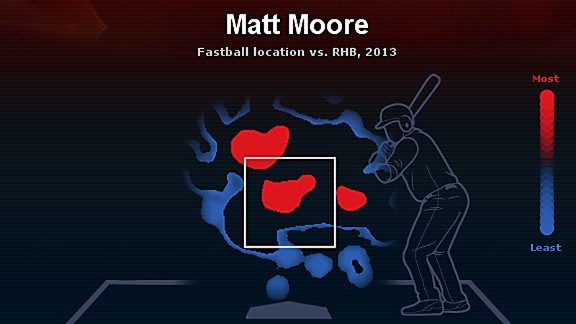 ESPN Stats & InformationMatt Moore hasn't allowed a run in his 11.1 innings despite where he's left some fastballs.
Those are tough places to make a consistent living, especially when you're throwing 91-92 instead of 95-96. If he gets batters to chase that high fastball, it can work. But as we saw Wednesday, high fastball can also lead to walks. Again, it's early, and I think Moore will be fine -- heck, he hasn't allowed a run -- but the fastball command is something to pay attention to before we declare him the next David Price.
My bigger point: Before we move on to hoping for the next great thing, let's pay attention to the good ones already here.
Other quick thoughts from Wednesday:
April, 7, 2013
4/07/13
11:55
PM ET
Sunday's day of aces turned more into a game of Crazy Eights -- there were some crooked numbers put up against several of baseball's top pitchers and none of the anticipated showdowns materialized into a pitcher's duel.
One of the disappointing matchups was the
Stephen Strasburg
-
Johnny Cueto
game in Cincinnati. There's really not much at stake in early April, but this game had that little extra taste of powerhouse teams trying to get a little early bragging rights. The Reds had wiped out the Nationals 15-0 on Friday and the Nationals won 7-6 on Saturday, blowing a four-run lead only to win in 11 innings, so this game would determine the series winner.
Cueto gave up a three-run homer to
Kurt Suzuki
in the second inning, but did settle down and didn't allow anything else through his six frames. Strasburg's final line -- 5.1 IP, 9 H, 6 ER, 4 BB, 5 Ks -- looked liked he got knocked around, but that wasn't really the case. On the other hand, he wasn't the dominant Strasburg we unfairly expect to see every start.
In the first inning, the Reds scored three runs with only one hit out of the infield:
-- With one out,
Xavier Paul
weakly chopped an 0-2 curveball off Strasburg's glove for an infield hit.
--
Joey Votto
does what Joey Votto does: he walked on five pitches. Strasburg tried to bust him twice inside but was way off the plate on both pitches.
--
Brandon Phillips
hit a first-pitch fastball hard to third that
Ryan Zimmerman
put a nice diving stop on but lost the ball on the transfer.
-- With the bases loaded,
Jay Bruce
lined a 2-2 curve to left-center for a two-run double.
--
Todd Frazier
's infield grounder plated the third run.
The curveball to Bruce wasn't in a bad location -- low and away -- but was a bit lazy without a sharp break, and Bruce was clearly sitting on it. Until Strasburg gets better at commanding his fastball inside to lefties, it's going to be easier for hitters to lean over the plate with two strikes -- or at least anticipate that outside curveball. Here, check out Strasburg's fastballs to Cincinnati's left-handers on Sunday: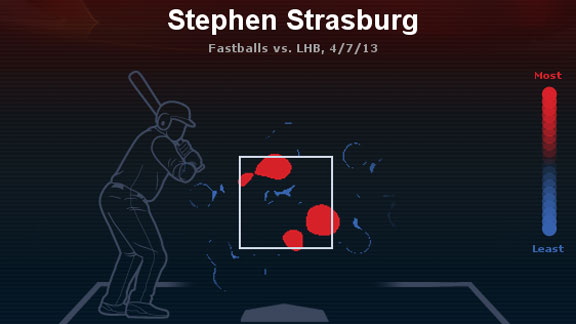 ESPN Stats & Information Stephen Strasburg didn't throw many inside fastballs for strikes against lefties on Sunday.
In the sixth, the Reds scored three more runs. Speedy pinch hitter
Derrick Robinson
slapped a base hit past a drawn-in Zimmerman for his first major league hit.
Shin-Soo Choo
then lined a 1-2 high fastball into center to push Robinson to third. With the infield halfway, Paul hit a hard grounder to second baseman
Danny Espinosa
, who threw home instead of turning two. Everybody was safe. Davey Johnson said Espinosa should have turned two. Espinosa said, "The way I thought was, we were playing halfway because we were trying to cut that run down." After Votto grounded out, Phillips hit a 2-2 changeup into left for an RBI single, knocking Strasburg from the game. The final run scored on Bruce's infield hit.
So it was a bit of a bad-luck outing for Strasburg, as he walked four and was unable to punch out Bruce and Phillips in key situations. He apparently had some problems pitching out of the stretch in spring training as well. "I have to look at video and see what I'm doing out there," Strasburg told MLB.com. "Some days, you kind of give up a lot of singles, and when they all get on base, they seem to come up with the clutch hits. You have to tip your cap and move forward."
I think there's another issue brewing here. Let's see Strasburg become a great pitcher before we
declare him
the greatest pitcher. In Vegas, he was the betting favorite to win the NL Cy Young Award over
Clayton Kershaw
. He and Kershaw received the most Cy Young predictions on the
ESPN staff balloting
. Sure, that's somewhat understandable considering his dominant strikeout rate from last season (30.2 percent, highest in the majors for any pitcher with 150 innings since
Randy Johnson
,
Curt Schilling
and
Pedro Martinez
in 2002).
So, yes, there's no denying Strasburg's potential. But let's keep in mind he's never pitched more than seven innings in a game, let alone 200 innings in a season. He's not quite a polished pitcher yet, especially against left-handed batters, who hit a respectable .271/.326/.387 off him last year, including .323 off his fastball. Kershaw -- only a few months older than Strasburg, mind you -- is at the peak of his powers, a guy who could easily be gunning for his third straight Cy Young Award (he finished second to
R.A. Dickey
last year).
After an Opening Day shutout against the Giants, Kershaw was brilliant again on Saturday, allowing two hits in seven scoreless innings against the Pirates. He's thrown 94 and 97 pitches in his two outings, whereas as Strasburg labored through 114 on Sunday.
I do think Strasburg will get to that next level. He may reel off 15 brilliant starts in a row. But he's not Kershaw just yet. The hype is a product of today's world, but how about if the man pitches eight innings in a game before we say he's as good as Kershaw.
REST OF THE WEEKEND

Three stars
1. Justin Upton, Braves.
How cool was Saturday night?
B.J. Upton
tied the game in the bottom of the ninth with a home run off the Cubs'
Carlos Marmol
, and then one out later, his brother Justin won it with his second homer of the game and fifth of the season.
2. Kershaw, Dodgers.
Through two starts he's allowed no runs, one walk and no extra-base hits. Next up: At Arizona on Friday.
3. Paul Goldschmidt, Diamondbacks.
Went 6-for-13 with a homer, three doubles, five runs and five RBIs as the D-backs swept the Brewers in Milwaukee.
Clutch performance of the weekend
CC Sabathia, Yankees.
With the Yankees off to a 1-4 start, on Sunday they had to face
Justin Verlander
, who was looking to go 2-0 for the first time in his career. He still is, as Sabathia tossed seven scoreless innings. Hold off on that Yankee funeral march -- at least for another week.
Best game
Nationals 7, Reds 6 (Saturday).
The Nationals led 5-1 but scored twice in the eighth (with the help of some sloppy defense) and twice in the ninth off proven closer
Rafael Soriano
to tie it (Choo homered and Votto tripled and scored on wild pitch).
Ian Desmond
and
Jayson Werth
homered in the 11th only to see the Reds score on Votto's walk and Phillips' double -- but
Craig Stammen
finally struck out Bruce on an 0-2 curveball.
Hitter on the rise: Chris Davis, Orioles.
Davis went RBI-less on Sunday, but still has 17 in Baltimore's first six games (fantasy owners everywhere thank you, Chris). As John Fisher of ESPN and Stats Info pointed out, Davis has been crushing outside pitches, going back to late last September. In his last 11 regular-season games since Sept. 26, Davis has six home runs on the outside part of the plate (or off it), largely because he's been staying back and going the opposite way or to center field.
ESPN colleague Curt Schilling said (via email) to watch very closely how Davis is pitched moving forward. Schilling says the smart teams will start pounding Davis with hard stuff inside. "If he has matured as a hitter," Curt wrote, "he will draw a significant number of walks this week because only top of the rotation guys (A) have consistent command in; (B) get the consistent call in from umpires."
Pitcher on the rise: Kyuji Fujikawa, Cubs
Thanks to
Carlos Marmol
's implosions in the ninth inning, Fujikawa will take over as the Cubs' closer, even though Fujikawa also had a rough outing on Saturday prior to Marmol's Upton affair, giving up three runs in the eighth.
Lineup move I can't understand
Eric Wedge, I don't understand you. And I'm not even talking about your various outfield arrangements so far. If the Mariners have any chance to win this year, a primary reason will be because
Dustin Ackley
develops into the hitter everyone thought the was going to develop into a couple years ago. But Wedge has already sat Ackley twice in seven games against left-handers. For
Robert Andino
. I get it,
Chris Sale
is tough on lefties. But we know Andino can't hit. What the Mariners have to find out is if Ackley can hit. He needs to play every day.
Team on the rise: Rockies
Hey, they're 5-1 and tied for the best record in baseball. They also have the best run differential in the majors at +21 -- an amazing 47 runs
better
than the Padres after just six games. Ahh, first-week stats!
Team on the fall: Brewers
Where do I even begin? The Brewers lost 8-7 in 11 innings on Sunday -- the final out coming when pitcher
Kyle Lohse
had to pinch hit and struck out looking with runners on first and third. But the more egregious strikeout looking came with the previous batter, when
Rickie Weeks
took a called third strike, KNOWING THE PITCHER WAS ON DECK AND THE BREWERS HAD NO BENCH PLAYERS LEFT.
How did the Brewers get there? Well,
Ryan Braun
was unavailable and
Jean Segura
got hurt earlier in the game, but the Brewers are only carrying 12 position players on the roster to begin with, meaning they had 11 guys minus Braun. I know the Brewers' bullpen is bad, but carrying 13 pitchers is about the dumbest kind of roster management you can have. The Brewers deserved to lose that game and deserve to be 1-5 right now.
September, 20, 2012
9/20/12
2:28
AM ET
This is
Baltimore Orioles
baseball.
This is
Seattle Mariners
baseball.
Watching the last few innings of their game against Seattle, you knew how it would end:
The Orioles would win
. They'd wait out
Felix Hernandez
. They'd wait out
Tom Wilhelmsen
. They waited 18 innings to win on Tuesday and they'd wait as long as it took to win their 15th consecutive extra-innings game on Wednesday. Eventually, they'd run into a Mariners reliever who didn't have it. Or maybe they'd wait for the Mariners to make a mistake or Eric Wedge to make a dumb move or Jeff Reboulet to come off the bench and hit a home run.
You knew. You knew BECAUSE THE ORIOLES DON'T LOSE IN EXTRA INNINGS. GOT THAT? THE ORIOLES DO NOT LOSE IN EXTRA INNINGS. The game was over. It was just a matter of how the baseball gods wanted the O's to win on this night.
It didn't take 18 innings.
Adam Jones
belted a two-run home run off
Josh Kinney
in the 11th, off a "hit me hard, please" 3-2 hanging slider. It was Jones' 30th long one of the season, his fourth go-ahead home run in extra innings (no other player has more than two) and his sixth in the seventh inning or later (no other player has more than four). You don't have to call that clutch if you don't want to, but you can call it awesome.
As for the bottom of the 11th, the Mariners' first two hitters singled. I'll let Joe Sheehan take over from there:
First and second, no outs. Two pitches later you've given away the game. Hard to believe the Mariners haven't made the playoffs in 11 years.

— Joe Sheehan (@joe_sheehan) September 20, 2012
Joe wasn't quite accurate on the pitch count, but you get the idea.
Justin Smoak
, displaying all the speed of a Molina, grounded into a 3-6-1 double play, pitcher
Jim Johnson
making a nice scoop to complete the play.
Michael Saunders
walked. Wedge then pinch-hit his best hitter,
John Jaso
. At least he managed to get him in the game this time; in Tuesday's loss he was outmaneuvered by Buck Showalter, pinch-hitting Jaso only to see Showalter bring in a lefty, which forced a pinch hitter for Jaso.
Trouble is, Jaso never got a chance to swing the bat. Saunders tried to steal on the first pitch. The Orioles saw it coming, as Johnson threw a high-and-away fastball, the perfect pitch for catcher
Taylor Teagarden
to gun down to second base. He nailed Saunders with a perfect throw right on the corner of the base.
[+] Enlarge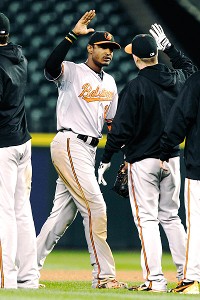 AP Photo/Ted S. WarrenAdam Jones' winning blast was his fourth this season in extra innings -- twice as many as anyone else.
Orioles baseball. Mariners baseball.
It wasn't necessarily the worst move to send Saunders, who had been 20-for-23 in steal attempts. Give credit to Showalter or Teagarden for reading the tea leaves, as Johnson normally throws his heavy sinker pitch after pitch.
* * * *
I'm jealous of Orioles fans right now. I want to be in your seat, rooting for a team I've suffered with for far too long, to keep doing the improbable, to keep winning games like this. There is nothing in sports more exciting than the daily adrenaline rush of pennant-race baseball, sweating through every pitch and sometimes forgetting to breathe. Orioles fans deserve this; there are high school seniors who had never seen the O's even experience a winning season until this year.
Earlier in the day, I wrote a post titled
"It's just an Orioles kind of season."
Indeed. I've never seen anything like this; and unless you were rooting for the 1949
Cleveland Indians
-- who won 17 straight in extra innings -- neither have you.
The Yankees swept a doubleheader from the Blue Jays on Wednesday, leaving the Orioles a half-game behind their wealthy neighbors in the American League East. But the remaining schedule seems to slightly favor Baltimore: The O's have a day off on Thursday and then three at Boston, four against Toronto, three against Boston and three at Tampa Bay. The Yankees have one with Toronto, three against Oakland, three at Minnesota, four at Toronto and three against Boston.
When Bobby Thomson beat the Dodgers to win the pennant in 1951, Red Smith wrote, "Now it is done. Now the story ends. And there is no way to tell it. The art of fiction is dead. Reality has strangled invention." When Don Larsen pitched his perfect game in the 1956 World Series, Dick Young wrote one of the great first sentences in sports writing: "The imperfect man pitched the perfect game."
The Orioles' story in 2012 is far from its end, but that's how I feel about this group: The imperfect team has strangled invention.
June, 1, 2012
6/01/12
10:00
AM ET
By
Mark Simon, ESPN Stats & Information
| ESPN.com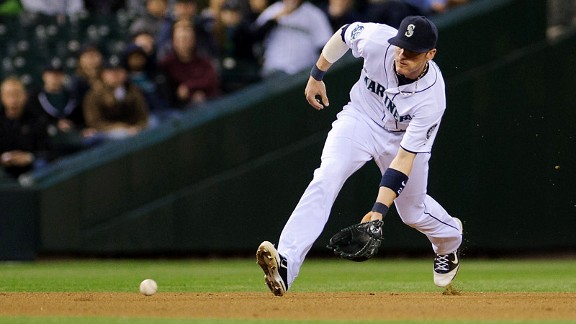 US Presswire/Steven BisigBrendan Ryan was baseball's standard-setter on the defensive side for the month of May.
Seattle Mariners
shortstop
Brendan Ryan
had to think when we asked him if he had a favorite play in May.
"There weren't any between-the-legs, bare-hand, behind-the-neck crazy plays for me," Ryan said with a laugh.
That might be true, but the sum of Ryan's work this month was statistically impressive. He was the winner of our voting for Defensive Player of the Month for May. Dodgers utility man
Jerry Hairston Jr.
won the award for April
.
Ryan had 13 Defensive Runs Saved for the month, second-most in the majors to Blue Jays third baseman
Brett Lawrie
.
He had 17 Good Fielding Plays and only four Defensive Misplays & Errors (see explanation in the accompanying chart). His 4-to-1 Good Play/Misplay ratio is far above average for a shortstop.
Lawrie benefited from turning outs in unusual spots on the field due to the Blue Jays' frequent extreme defensive shifts. Ryan's tally is almost entirely non-shift-based.
He was given 10 "Good Play" credits by Baseball Info Solutions' video-tracking team for recording an unlikely ground-ball out, five for his work starting or serving as relay man on a double play, one for an assist on an attempted baserunner advance, and one for a pop-up catch.
"His anticipation of plays, and his reactions, make the tough plays, really tough plays, almost seem simple," Mariners manager Eric Wedge said. "He slows the game down and can make reads that most players won't even come close to. And the thing that I think separates him is his uncanny ability to always know where he is on the field. He can field a ball in center field, turn on a dime, and know exactly where he is to make an accurate throw to first base. You can't teach that stuff."
So what did Ryan do right this month? As he noted, he's not making the super-flashy play, though he did net a pair of Web Gems.
In the past couple weeks, Ryan
twice
made
the play for which he has become most identified, going deep into the shortstop-third base hole, almost into left field, to thwart Rangers second baseman
Ian Kinsler
.
"There are a lot of guys defensively who are underrated, and he's one of them," Kinsler said afterwards.
These are the plays that tend to add to a shortstop's Runs Saved because so few shortstops make them (the recently published book "Fielding Bible III" goes into this in great depth).
Ryan talked about his defense at length in a recent interview on
FanGraphs
. We asked him to elaborate further on the thought process that goes into this type of play.
"You rely a lot on feel and projecting where the ball is going to go, and trust that the ball will be hit that way," he said. "You don't want to move too early. It's like you want to get a cheater's head start in a sprint. You want your feet off the ground when the ball crosses the plate, so your feet are on the ground when the ball is hit, and you can explode to whichever side you need."
Ryan said knowing the hitter helps.
"Ian Kinsler likes to get the bat head out. His home runs are typically to left-center. His swing path is such that he's not going to get a ton of ground balls up the middle. With his swing, if he hits a ground ball, he's going to top a lot of them into the six-hole. So I'm going to shade him to the right. Though if it's a fastball from
Jason Vargas
, I might shade him up the middle. If it's a cutter in, it's probably going to be hit to my backhand side."
There is a mental aspect to defense that Ryan has put a lot of time into mastering. This dates back to his time in the
St. Louis Cardinals
organization a few years ago.
"I made an error in Double-A that ended a game," Ryan said. "I was (with) Springfield and we were in Wichita. Right before the play, I was thinking, 'If a ball is hit to me and I make an error here, we lose,' and then it happened. It was a horrible feeling, because I knew if I backhanded the ball, we'd be going extra innings."
"I said to myself after that play that I would never think that way again. You know you can play defense. Why would you think that way?"
It has been a while since Ryan thought that way. Wedge said that Ryan's abilities have progressed to being "beyond any defensive statistic."
That led to us asking Ryan how we could best evaluate defensive play. He came up with an idea that we found intriguing.
"The Olympics are coming up ... you know how they have the guy on the bobsled," Ryan said. "He sets the mark, and then when you see other people competing, you see the lead racer as like a ghost figure (compared to where the current racer is). It would be cool to be able to do that, and to see which players could get to the ball from where. It would be really cool to watch a game on TV and see that."
April, 15, 2011
4/15/11
12:59
AM ET
Hey, I love blaming the manager. You love blaming the manager. It's as much a part of baseball as peanuts, Cracker Jack and questioning every home run hit from 1993 to 2005, except those hit by
David Eckstein
.
So let's go around one night in baseball and play the newest SweetSpot game, coming soon to GSN, "I Could Do A Better Job, If Only I Weren't Sitting On My Couch Blogging Instead."
The move:
Marlins manager Edwin Rodriguez brings in
Leo Nunez
to close out a 6-5 lead against the Braves.
What happened:
Nunez got the job done, giving up a leadoff line-drive single to
Alex Gonzalez
, but escaping further damage.
My take:
Nunez is a mediocre reliever (4.37 career ERA) who lucked into the Marlins' closer role a couple seasons ago -- and held on to it despite allowing 13 home runs. I would have kept
Clay Hensley
in the game. Hensley, so dominant last season (2.16 ERA, 1.11 WHIP, only three home runs), threw five pitches in the eighth inning in recording the game's two biggest outs,
Dan Uggla
and
Jason Heyward
, leaving the bottom of the order for Nunez. Even then, Nunez was lucky to escape without a blown save. After Gonzalez's single,
Freddie Freeman
laced a liner into deep right-center that
Scott Cousins
made a nice running catch on. A couple more feet and it's a tie game.
The move:
Twins manager Ron Gardenhire takes out
Carl Pavano
after eight shutout innings, brings in
Joe Nathan
to protect a 2-0 lead against the Rays.
What happened:
Double, walk, two-run double, game tied. Twins lose in the bottom of the 10th when
Matt Capps
blows another lead.
My take:
Two years ago, before Nathan blew out his elbow, this move wouldn't have been questioned, of course, as Nathan was one of the most dominant closers around. But he's not Joe Nathan anymore. His fastball, 93-94 mph before the injury, has been averaging 91 this season. Pavano had thrown just 104 pitches and allowed four hits and two walks. He'd retired the side in order in the eighth, including a strikeout of
Johnny Damon
. He's a workhorse. Leave him in.
The move:
Buck Showalter has
Mike Gonzalez
pitch to
Nick Swisher
with runners at second and third and one out in the bottom of the 10th inning.
What happened:
Swisher hits a sac fly to give the Yankees a 6-5 win.
My take:
I wholeheartedly agree with this move. Not a big fan of the intentional walk to set up the double play, as it forces the pitcher to throw a strike -- and the hitter knows it. (Last season, batters hit for a higher average and more power with the bases loaded than with runners on second and third.) Plus, in this specific case you have a high strikeout batter (Swisher struck out 139 times in 2010) and a pretty good strikeout pitcher in Gonzalez. The argument for walking Swisher would be to set up a double play with
Jorge Posada
, but last season Posada grounded into a double play in only 7 percent of his possible opportunities (14 percent in 2009). And Gonzalez isn't a groundball pitcher, so a double play would have been unlikely. Sometimes the right move just doesn't work. (Now, if you want to argue whether
Kevin Gregg
should be Baltimore's closer. …)
The move:
Eric Wedge hits
Adam Kennedy
cleanup for the Mariners. Kennedy had started at cleanup once before in his career.
What happened:
Kennedy drives in Seattle's lone run in a 5-1 loss to Kansas City! Shockingly, a lineup with Adam Kennedy hitting cleanup struggled to score runs.
My take:
Look, I know why Eric Wedge did this: He doesn't want to bat
Justin Smoak
cleanup, presumably to take "pressure" off him. Hey, I don't know if Smoak is going to be any good. He's easily been Seattle's best hitter so far (cough) and whether he turns out to be a big-time hitter will have nothing to do with where he bats in the lineup. Either he can hit major league pitching or he can't. And I know this: the only way Seattle will ever be a good team again is if Justin Smoak develops into a cleanup hitter. At some point you have to take the training wheels off and let the kid ride or fall.
So there you go. One night in baseball. Sometimes the moves work, sometimes they don't, and sometimes they just confuse us. But in the end I tend to believe it's the ballplayers who win and lose the games.
It's just more fun to blame the manager.
PHOTO OF THE DAY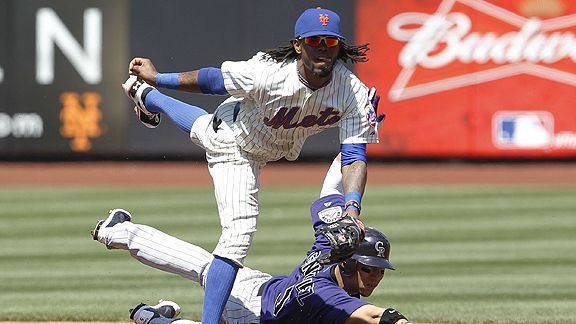 William Perlman/THE STAR-LEDGER/US PresswireJose Reyes was able to get out of the way of CarGo. The Mets couldn't avoid the Rockies, though.
September, 30, 2009
9/30/09
3:39
PM ET
Let's Go Tribe! on the (perhaps) too-long-delayed
firing of Eric Wedge
:
The decision to do nothing appears even more damning in retrospect. We now know, especially following the trades of Lee and Martinez, that the Indians were operating on a competitive and financial edge not just for this season but for 2010 as well. If this season failed, next season went down with it. The front office knew this by July 1st, which means they should have known it on April 1st. Reviving this season was critical for the trajectory of this franchise. Shapiro should have fired Wedge and whatever coaches he wanted to go with him because it was the only option for saving 2010, as well as salvaging this season.

--snip--

I am happy the Indians have fired Wedge. I don't know whether Wedge is a good coach or not, although I think there are probably a lot of better coaches out there. I am not sure what failures are properly assigned to Wedge. The decision to fire Wedge now is the right one, but it is in itself a failure, although it is a failure not of Wedge, but of Shapiro.
Some managers, you can't fire.
Joe Girardi
, Terry Francona, Mike Scioscia, etc.
A few managers, you have to fire. Cecil Cooper, etc.
Most managers fall somewhere in the middle. You're not going to fire them if the club is winning as many games as it's supposed to. If the club's not winning, it's not hard -- especially for the fans -- to find reasons to fire the guy, particularly if the non-winning has been happening for a while.
The Indians were supposed to win in 2006, but instead went 78-84.
The Indians were supposed to win in 2008, but instead went 81-81.
The Indians were supposed to win in 2009, but instead went 64-92 (so far).
Eventually the losing becomes a force of its own, not necessarily tied to any specific complaints. Could Eric Wedge have convinced Jeremy Sowers and Fausto Carmona to throw more strikes? Seems like a tall order. But losing in Cleveland seems to have become habitual, and that's reason enough.
June, 24, 2009
6/24/09
5:05
PM ET
After detailing
Kerry Wood
's recent (and season-long) struggles and predicting a DL stint for the Indian closer, Paneech gets to
the meat of the thing
:
Wood is the least of the bullpen problems as bad as he has been lately, and that is a pretty sad but true statement. I can recall at least seven games this season already, when the Indians had at least a three-run lead after five innings and have lost the game.

Eric Wedge needs to go. He is bringing in the wrong pitchers in the wrong situations and has had zero luck finding a cork for the leaky dam we call the Indians bullpen. The bullpen, and Wood in particular, need to step it way up and do a better job for the next manager. Wedge downplayed last nights almost tragic collapse and said, "Wood got the last out and that's what matters most." Wrong Eric, what matters most is the fact that Wood should not have even been used in the game and that you have serious problems behind the fence in your bullpen.
Here's where Cleveland's relievers have ranked in the American League, ERA-wise, since Wedge took over in 2003:
2003: 4th
2004: 12th
2005: 1st
2006: 11th
2007: 4th
2008: 13th
2009: 13th
Not much of a pattern there. Well, these last two seasons have been disastrous. But is it Wedge's fault that Rafael Betancourt and Rafael Perez, who were so brilliant in 2007, haven't been nearly as brilliant since? Did he know how to run a bullpen in 2003, forget in 2004, then really remember in 2005 ... before forgetting completely again in 2008 and '09?
I don't mean to completely absolve Wedge. I seem to recall Bill James once writing that a good manager should be able to cobble together a reasonably effective bullpen from the materials at hand, like a good cook can come up with a fine meal with whatever she finds in the kitchen (that last part is mine).
Anyway, we probably won't have Eric Wedge to kick around much longer. According to this report, the Indians' owner is soon going to meet with the Indians' general manager about the Indians' manager. And as Craig notes, "One of the most important things I've learned in my life is that you never want to be an agenda item at a meeting to which you're not invited."