SweetSpot:

Eric Young Jr.
March, 27, 2014
Mar 27
12:44
PM ET
We're getting closer ...
Watched the Baltimore-Tampa Bay game on Wednesday night since it featured Opening Day starters Chris Tillman and David Price. Considering the teams are division rivals, both starters may have held back just a bit and neither pitcher went five innings. I think Price has a huge season coming, one reason I'm picking the Rays to win the AL East. Yu Darvish was going to be my Cy Young pick until his current stiff neck issue means he's going to miss the first week of the season and raises at least a little doubt over his season. I may shift now to Price -- or Max Scherzer or Justin Verlander -- as he became a strike-throwing machine when he returned from his DL stint last season, walking just 13 batters over his final 18 starts. When you can command your stuff like that and throw 95+ mph, a lot of good things are going to happen.
The Angels cut Joe Blanton even though he's owed $8.5 million on his contract. Teams still have a hard time admitting mistakes so give Angels GM Jerry DiPoto credit here for cutting bait. It was a bad deal at the time -- Blanton predictably got hammered in the AL after straddling the line of mediocrity in the NL -- and his poor performance (2-14, 6.04 ERA) was a major reason the Angels finished under .500. Blanton was worth -2.0 WAR last year, so even replacement-level pitching from the fifth spot will be an improvement.
Strong final start from Rockies Opening Day starter Jorge De La Rosa, with six shutout innings against the Giants with one walk and seven strikeouts. The Rockies will need Jhoulys Chacin to come back strong in May but I'm starting to think the Rockies could be that sleeper team to watch -- a team that finished below .500 in 2013 that could make the playoffs. A lot of that depends on the health of some injury-prone players -- Carlos Gonzalez, Troy Tulowitzki, Brett Anderson -- but if the back of the rotation holds up the Rockies could crack .500 and surprise.
The Mets still haven't decided between defensive whiz Juan Lagares and stolen-base dude Eric Young Jr. for a starting outfield slot. The Mets know Lagares can play center -- his great range and 15 assists allowed him to post 26 Defensive Runs Saved in 2013, the sixth-highest total of any fielder -- but also know the .281 OBP he posted may not get any better. OK, I get that he can't hit. But EYJR, who led the NL with 46 steals, had a .310 OBP with the Mets last year. Young has been worth 0.3 WAR in his major league career, Lagares valued at 3.5 WAR a year ago. Lagares doesn't have to improve with the bat to be a more valuable player than Young. Even if his defense slips a little (he may not get as many assists, for example), he's still the better player.
The Pirates locked up Starling Marte to a six-year, $31 million extension, buying out at least one year of free agency and owning options on two more. Looks like a great deal for the Pirates, exactly the kind of below-market rate they need to sign their young players to, and once Gregory Polanco reaches the majors at some point this year, you're going to see what could be one of the best defensive outfields in recent memory with Marte in left, Andrew McCutchen in center and Polanco in right.
Tanner Scheppers was named Opening Day starter for the Rangers, in what will be his first career start. I wonder how many pitchers have made their first career start on Opening Day? If I did the search right on Baseball-Reference, it looks like just three (at least since 1914): Lefty Grove of the Philadelphia A's in 1925, Jim Bagby Jr. of the Red Sox in 1938 and Al Gerheauser of the Phillies in 1943. So who were those three guys? Grove had been a star for years for Baltimore in the International League when the A's purchased him. Bagby, son of a former major leaguer, had gone 21-8 in the Class A New York-Penn League in 1937, enough for the Red Sox to start him against the Yankees as a 21-year-old rookie. Boston had been 80-72 in 1937, so starting a rookie seems a little odd. Gerheauser was a 26-year-old minor league vet who had pitched for Yankees' Triple-A club in Newark in 1942. The Phillies had lost 109 games in 1942, so probably were hoping some Yankee magic would rub off on them. (Actually ... that list looks like pitchers who made their major league debut as an Opening Day starter. Fernando Valenzuela's first career start -- after 10 relief appearances in 1980 -- came on Opening Day of 1981. He pitched a shutout and then reeled off seven more starts in a row of nine innings (one wasn't a complete game). He allowed four runs in those eight starts and we had Fernandomania.
So Randy Wolf was told he had made the Mariners' Opening Day rotation. And then got released. So ... what? Apparently, the Mariners asked Wolf to sign a 45-day advanced-consent relief form, which would mean the Mariners could release Wolf within 45 days and not have to pay his full season's salary. I didn't know such a possible contract existed, and I don't know how common such requests are, but Wolf refused to sign it and became a free agent. (Ryan Divish of the Seattle Times has the story here.) It's understandable why the Mariners would make the request -- Wolf didn't pitch in the majors last year and was last effective in 2011 and it's possible he would simply be holding a spot for a few starts until Taijuan Walker is ready, but considering Wolf was set to make just $1 million, it makes the Mariners look petty and cheap. It's already hard enough to get players to come to Seattle; this isn't going to help.
November, 14, 2013
11/14/13
8:00
AM ET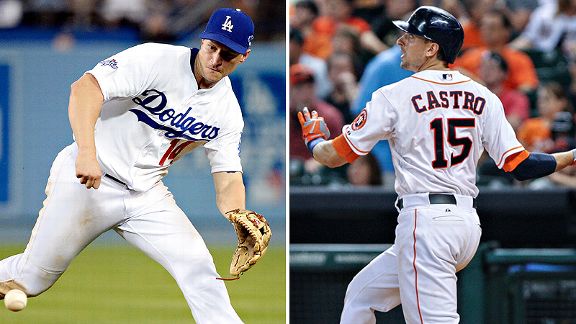 USA TODAY SportsMark Ellis and Jason Castro were two of 2013's unsung players.
While most people are drawn to the top of the names at the MVP ballot, I always find myself checking the bottom of the list.
I've always found the one-vote wonders intriguing -- someone who one person out of 30 voters found worthy of recognition.
In the past, I've voted in small-college football and basketball polls and have tried to find instances in which I could be that voter, one who had a good (often unnoticed) reason to deem someone legitimate. I found it to be a fun and challenging exercise and it's one I've decided to repeat here.
I can fully understand wanting to reward the 10 players whose value was greatest, but I think it would be cool if any of these five got a single 10th-place vote.
Mark Ellis, 2B, Dodgers
Ellis hit .270 with six home runs and 48 RBIs, so it's not his offense for which we're rewarding him. Ellis was credited with 12 Defensive Runs Saved, the most by an NL second basemen and that helped him finish with 3.0 WAR, which ranked just outside the top 40 among NL position players.
But Ellis was probably worth more than that when you consider the Dodgers' alternatives at second base. Five other players combined to play about 500 innings there and they were worth a combined -14 Defensive Runs Saved. The Dodgers went 69-37 when Ellis started in 2013. They were 23-33 when he didn't.
Drew Smyly, RP, Tigers
There are a couple of directions I could have gone in for picking a non-closing relief pitcher (whether one is
really
worthy of a vote is a subject of legit debate).
I went with Smyly over a couple of other options (Alex Torres and Luke Hochevar among them) because I liked his versatility. He could get one out when needed and more when necessary. He gave the Tigers a relief-pitching option who was just as good as their starting pitchers.
If you wonder how good he was, just ask the teams in the AL East.
Smyly pitched 13 games against the Yankees, Orioles, Blue Jays, Red Sox and Rays. In them, he pitched 20 innings and allowed no runs and 10 hits, with 22 strikeouts and one walk (and for those asking, I excluded the postseason appearances, since the MVP is based on regular-season production).
Martin Prado, 3B/LF/2B, Diamondbacks
This one seems counter-intuitive, given that Prado's WAR dropped from 5.5 in 2012 to 2.3 in 2013.
But I call your attention to him because he was the NL leader in a cool stat.
Prado had a dozen plate appearances in the seventh inning or later in which he either tied the game or gave the Diamondbacks the lead. That was two more than the Diamondback who will rightfully get lots of MVP votes (Paul Goldschmidt) and matched the major-league best totals of Chris Davis and Jose Bautista.
Lest you say that Prado racked these up when the Diamondbacks were wilting, that's not true. His 11th of those 12 came on Aug. 27, a date on which they were still within five games of the wild-card spot.
Eric Young Jr., OF, Mets
Full disclosure here: Eric's father worked with me on Baseball Tonight for three seasons and I enjoyed his time at ESPN. So if you accuse me of not thinking clearly on this one, that's fine.
But the Mets were not just a better team when Young started (46-44 when he did, and an ugly 28-44 when he didn't), they were much more watchable. Young's presence made the Mets more reliant on their baserunning and that was a good thing. He led the NL in FanGraphs' baserunning metric (UBR) and the Mets led the majors in that stat.
The Mets also defended much better in the outfield because it cleared out Lucas Duda in favor of a player who wound up rating second among left fielders in the SABR Defensive Index used to aid in the Gold Glove voting.
Yes, the Mets also added Zack Wheeler around the time they added Young, but Wheeler only pitched every fifth day. Young played every day and played well.
Jason Castro, Astros
You know how bad the Astros were.
But imagine how much worse they would have been without Castro, who finished with 4.5 WAR, nearly two wins better than anyone else on the team.
It was the fourth-highest WAR for anyone who played at least 50 percent of their games at the position last season. The three guys ahead of him were Yadier Molina, Joe Mauer and Buster Posey.
And since I can't get away with calling any of those three underrecognized, I'll go with Castro, who played a significant role in preventing the Astros from being mentioned in the same sentence as the 1962 Mets.
May, 7, 2013
5/07/13
11:40
PM ET
I'm not a
Colorado Rockies
fan so I can't profess to know how they feel about
Todd Helton
returning from the disabled list and into the starting lineup a couple days ago. He's the greatest player in Rockies history, a guy who will have an interesting Hall of Fame case in a few years, a respected veteran who has played in nearly two-thirds of the games the franchise has ever contested.
He's also a first baseman who has been a below-average park-adjusted hitter in three of the past five seasons, a hitter whose injuries have sapped his power. He can't run and, while he's still regarded as a good fielder, he's not Keith Hernandez-in-his-prime good, and not many teams win pennants with a slick-fielding, bad-hitting first baseman anyway.
More importantly, the Rockies don't necessarily need him. His stint on the DL with a left forearm strain allowed the Rockies to give more playing time in the outfield to
Eric Young Jr.
, who has played well, and slide right fielder
Michael Cuddyer
to first base on occasion (or play
Jordan Pacheco
at first). Playing Young in the outfield instead of the slow-footed Cuddyer improves the defense, and playing Cuddyer over Helton likely improves the offense, even if Cuddyer cools down from his hot start.
It's the first big test of rookie manager Walt Weiss' season and it's not an easy decision, one perhaps clouded by the fact that Weiss and Helton were briefly teammates during Helton's call-up to the majors in 1997. It's never easy knowing what to do with a player of Helton's stature; they don't all go out on top like
Chipper Jones
did a year ago. It's also unclear whether Helton's offseason arrest for driving under the influence (he
pleaded guilty Tuesday
to driving while impaired) affected his standing in an organization that has made public overtures through the years about acquiring "good guys."
[+] Enlarge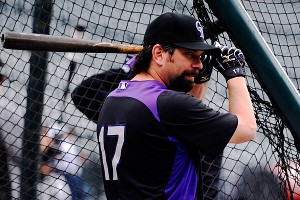 AP Photo/Jack DempseyFitting Todd Helton into a Rockies lineup that's gotten along OK without him presents a dilemma.
All this was on my mind as I watched the Yankees and Rockies face off in a rare Coors Field pitchers' duel.
Carlos Gonzalez
's two-run homer in the sixth off
Hiroki Kuroda
was it for the scoring as
Jorge De La Rosa
tossed six scoreless frames (the Yankees can't hit lefties at all, even in Coors Field) in a
2-0 Colorado victory
. Helton went 1-for-3, singling to right in the sixth.
"He has been driving us crazy," Weiss told MLB.com when Helton, who turns 40 in August, was activated. "At some point about halfway through his DL stint here in the dugout, I tried to get [head trainer Keith Dugger] to hit him with a tranquilizing dart. But it's good to have him back out there. It'll be nice watching him take [at-bats] again, doing his thing."
The Rockies don't need Helton's value -- if it even exists -- as the "face of the franchise." For one thing, he's not that guy anymore.
Troy Tulowitzki
, when healthy, is one of the 10 best players in baseball and right now he's healthy and mashing. Gonzalez is playing his best baseball since 2010 and
Dexter Fowler
may finally be developing into the star player

many once projected he would be. Second-year catcher
Wilin Rosario
looks like he'll improve on the 28 home runs he hit as a rookie. Plus, rookie third baseman
Nolan Arenado
has made a huge impact in just eight games in the majors.
In other words, this isn't a case of the 2009
Seattle Mariners
bringing back Ken Griffey Jr. in an attempt to draw a few extra fans to see a bad team (and then making the mistake of re-signing him for 2010). But Helton should have to
earn
his spot in the lineup. If he hits like he did in 2012 -- .238/.343/.400 -- it's hard to justify a regular spot. Maybe Weiss develops a Helton/Young platoon, with Helton sitting against left-handers and Cuddyer moving back and forth between right field and first base. Helton certainly deserves the leash to prove there's something left in the bat; knowing how long of a leash is what can turn competent managers into great ones.
I'm not quite sure what to make of the Rockies. They're probably better than I projected, and definitely
interesting
and exciting, especially with Tulo playing so well. Unlike pretty much every Rockies team ever, they're actually hitting well on the road (so far), as their .800 OPS led the National League entering Tuesday's action.
Arenado just adds another dimension. He was a highly rated prospect before 2012 after a big season in Class A, and nearly made the big league club out of spring training. Some of his shine was lost after a mediocre season at Double-A Tulsa (.285, 12 home runs), but a hot start at Triple-A and
Chris Nelson
's struggles led to Nelson getting traded to the Yankees and the quick call-up for Arenado.
He's a high-contact guy with power potential, and a contact hitter who can spray the ball around can do a lot of damage in Coors Field. He's just 22 but he doesn't have to be a star just yet; he just has to be a solid contributor.
That's also all the Rockies want from Helton at this point. Who knows, maybe his body will hold up and he can put together one last .300 season. That would be a nice way to head off into his retirement years -- with maybe a surprising playoff appearance to boot.
Speaking of: Now, about the pitching ...