SweetSpot:

Ernesto Frieri
April, 9, 2013
4/09/13
12:06
AM ET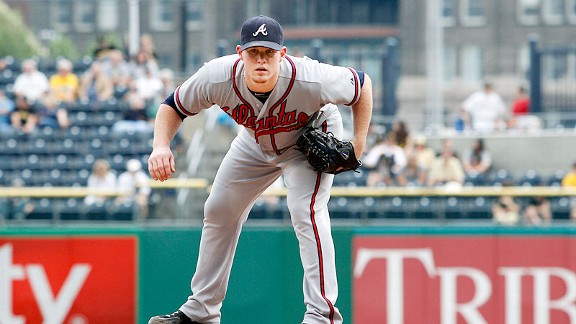 Justin K. Aller/Getty ImagesCraig Kimbrel led the NL in saves last season and is considered the most dominant closer in baseball.
The Tigers need one. The Brewers thought they had one. The Cubs already have a new one. Some teams probably wish they had a different one. Closers are already melting down in rapid fashion.
On Monday afternoon, with closer
Jason Motte
sidelined with a sore elbow (he'll get a new MRI on Tuesday), the Cardinals' bullpen imploded in a
13-4 loss
to the Reds, led by
Mitchell Boggs
giving up seven runs in the ninth inning. Now they might have closer issues as well. Rookie
Trevor Rosenthal
blew a 4-3 lead in the eighth, his second blown "save" of the young season, so he's not necessarily the answer if manager Mike Matheny has lost faith in Boggs.
The Tigers will apparently give
Joaquin Benoit
their next save opportunity, but many think they need to make a trade for a Proven Closer (tm). The problem ... well, there aren't really that many Proven Closers out there. And the truth is, most closers weren't preordained to be closers anyway, many arriving at the role only after failing as starters or finally getting the opportunity in their late 20s. Let's rank all 30 closers and you'll see what I mean.
Proven Closers
These are guys who have done the job for more than one season, thus earning the coveted title of Proven Closer.
1. Craig Kimbrel, Braves
The best ninth-inning guy in the business, coming off maybe the most dominant relief season ever -- he fanned over half the batters he faced -- in the modern era, or what Goose Gossage likes to refer to as "After I retired."
Before becoming a closer:
Groomed as a closer, he's never started a game in pro ball and became Atlanta's closer as a rookie in 2011.
2. Aroldis Chapman, Reds
I'm actually breaking my own rule here since Chapman has only been a closer for less than one season. But unless his control suddenly abandons him, he's obviously the real deal after striking out 122 in 71.2 innings last season.
Before becoming a closer:
Lacked the secondary pitches and stamina to make it as a starter.
3. Mariano Rivera, Yankees
He's old, he basically has one pitch and he's coming off a torn anterior cruciate ligament. Anyone want to bet against him?
Before becoming a closer:
Failed starting pitcher prospect.
4. Jonathan Papelbon, Phillies
Starting his eighth year as a closer, which is entering elevated territory. (Hall of Famer Bruce Sutter, for example, only had seven dominant seasons as a closer.) Papelbon had some not-so-clutch moments last season, however, finishing with four blown saves and six losses.
Before becoming a closer:
Forty-eight of his 58 appearances in the minors and his first three major league appearances came as a starter, but Red Sox converted him to relief.
5. Joe Nathan, Rangers
Not quite the Rivera-like force he was during his Twins days, but still pretty good. Picked up his 300th career save Monday, becoming the 23rd reliever to hit that mark.
Before becoming a closer:
Had a 4.70 ERA in two seasons as a part-time starter for the Giants in 1999-2000, had a 7.29 ERA in the minors in 2001 (5.60 in 2002), made it back, traded to the Twins, then became a closer at age 29.
6. Rafael Soriano, Nationals
Has three seasons as a closer with three different teams, so this will be his fourth year as a closer with his fourth different teams, making him the best example of Proven Closer, Will Travel.
Before becoming a closer:
Spent parts of seven seasons in the majors (starting as a rookie with Seattle), many parts of which were spent on the disabled list.
7. Huston Street, Padres
Now entering his ninth season as a closer, Street has recorded 30-plus saves just twice, as he's often hurt and hasn't pitched 60 innings since 2009.
Before becoming a closer:
Groomed as a closer since Oakland made him the 40th pick in the 2004 draft out of Texas.
8. Chris Perez, Indians
Now entering his fourth season as Cleveland's closer, he's been an All-Star the past two seasons despite a less-than-awe-inspiring 3.45 ERA and 4-11 record.
Before becoming a closer:
Mediocre middle reliever with St. Louis and Cleveland for two years. Fell into the closer role in 2010 because
Kerry Wood
was injured at the start of the season.
9. J.J. Putz, Diamondbacks
He's had four seasons of 30-plus saves, although he spent three years in between closer jobs. He's another guy who isn't the most durable pitcher around and hasn't pitched 60 innings since 2007.
Before becoming a closer:
Started for three years in the minors for Seattle, moved to the bullpen, spent two years as a mediocre middle guy, but learned the splitter and became a closer at age 29 after Proven Closer
Eddie Guardado
imploded early in 2006.
10. Joel Hanrahan, Red Sox
All-Star closer with the Pirates the past two seasons, but he walked 36 and allowed eight home runs in 59.2 innings last year. Could easily lose the job to former Proven Closer
Andrew Bailey
.
Before becoming a closer:
Didn't make it as a starter with the Dodgers, traded to the Nationals and then to the Pirates. Spent three years as a middle reliever.
One-year wonders
These guys became closers last year, and several of them had dominant seasons. But beware the
John Axford
lesson: One season does not make you a Proven Closer. Do it again and we'll start believing.
11. Fernando Rodney, Rays
After years as basically a bad reliever (22-38 career record., 4.29 ERA), he signed with Tampa Bay and lucked into getting a save in the season's second game as the fourth reliever of the ninth inning in a game against the Yankees. Went on to have one of the greatest relief seasons ever, with a 0.60 ERA and five earned runs allowed. He's already allowed three earned runs in 2013. Was last year a fluke?
Before becoming a closer:
See above. Did save 37 games (with a 4.40 ERA) for the Tigers in 2009.
[+] Enlarge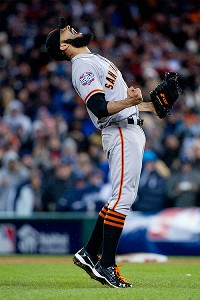 Ron Vesely/MLB Photos/Getty Images)After many seasons as a middle reliever, Sergio Romo finally got the chance to close and got the last out in the 2012 World Series.
12. Sergio Romo, Giants
The slider specialist replaced
Santiago Casilla
, who had replaced the injured
Brian Wilson
. Saved 14 games and then allowed one run in 10.2 postseason innings.
Before becoming a closer:
Not much of a prospect as a 28th-round pick who didn't throw hard, but Romo was an excellent middle guy for four seasons.
13. Ernesto Frieri, Angels
The hard-throwing righty came over after an early-season trade with the Padres, got the closer job after
Jordan Walden
struggled and had a terrific season. Might lose his job anyway if former Journeyman Made Good
Ryan Madson
gets healthy.
Before becoming a closer:
Moved to the bullpen after posting a 3.59 ERA in Double-A in 2009.
14. Jason Motte, Cardinals
Took over the closer role late in 2011 and helped the Cards win the World Series. Saved 42 games with 2.75 ERA last year. Currently injured.
Before becoming a closer:
Spent first three pro seasons as a catcher.
15. Jim Johnson, Orioles
In his first full year as closer he saved 51 games. Rare among closers, he's a ground ball specialist who doesn't register many whiffs (41 in 68.2 innings in 2012).
Before becoming a closer:
A not-very-good minor league starter.
16. Tom Wilhelmsen, Mariners
In his first full year in the majors, he replaced a struggling
Brandon League
. Did just fine with his mid-90s fastball and hammer curve.
Before becoming a closer:
Was bartending.
No, seriously
.
17. Addison Reed, White Sox
Saved 29 games as a rookie, although his 4.75 ERA wasn't exactly Rivera-ish.
Before becoming a closer:
Drafted in the third round out of San Diego State in 2010, he had a dominant relief season in the minors in 2011 (1.26 ERA) that pushed him quickly to the majors.
18. Greg Holland, Royals
Had 16 saves last season, but his job could be in jeopardy after four walks in his first two innings of 2013. Aaron Crow saved Monday's win for the Royals.
Before becoming a closer:
Came out of nowhere to post a 1.80 ERA with the Royals in 2011.
19. Steve Cishek, Marlins
Saved 15 games after expensive Proven Closer
Heath Bell
gakked up several memorable save opportunities.
Before becoming a closer:
The sidearmer was never on prospect radar lists because sidearmers are never on prospect radar lists.
20. Brandon League, Dodgers
Saved 37 games for Seattle in 2011, but lost his job early last season due to general lack of impressiveness. Throws a hard sinker so he gets ground balls but not many K's. Pitched better in 27 innings for the Dodgers last season so they gave him a bunch of money. Control was fine in 2011, not so fine last year.
Before becoming a closer:
Didn't make it as a starter in the minors despite high-90s fastball.
Journeymen Made Good
These guys became closers essentially because their teams didn't have anyone else. Perseverance pays off!
21. Grant Balfour, A's
Hard-throwing Aussie became a closer last year for the first time at age 34.
Before becoming a closer:
Played Australian rules football. OK, not really. Went from Twins to Reds to Brewers before finally having some good years with Tampa Bay.
22. Glen Perkins, Twins
The rare lefty closer had 16 saves a year ago.
Before becoming a closer:
Career 5.06 ERA as a starter in 44 games before moving to the bullpen.
23. Rafael Betancourt, Rockies
At 37 years old, he became a closer for the first time and saved 31 games for Rockies in 2012.
Before becoming a closer:
Has a career 3.13 ERA, so he'd been a good reliever for a lot of years.
24. Jason Grilli, Pirates
The veteran reliever had a career year last year at age 35 with 90 K's in 58.2 innings and took over the closer role when Hanrahan was traded.
Before becoming a closer:
Played for five major league teams before Pittsburgh.
25. Casey Janssen, Blue Jays
Another late bloomer, he got the ninth-inning job after
Sergio Santos
was injured last year.
Before becoming a closer:
The former starter didn't really have a wipeout pitch so he got pushed to the pen.
26. Bobby Parnell, Mets
He's long been heralded as a closer candidate due to his high-octane fastball. Now he'll finally get the opportunity.
Before becoming a closer:
One-time minor league starter has spent past four seasons in the Mets' bullpen.
The Import
27. Kyuji Fujikawa, Cubs
The new Cubs' closer could be good, bad or something in-between. I think he'll be pretty good.
Looking for help
28. Tigers.
The problem with
Phil Coke
as a closer is that Phil Coke just isn't a very good reliever.
Al Alburquerque
and
Brayan Villarreal
have better stuff but not much experience.
29. Brewers.
Axford was signed out of independent ball and had a monster 46-save season for the Brewers in 2011. He's allowed four home runs in 2.2 innings this season and the Brewers may sign Rollie Fingers.
Might not get a save opportunity until May
30. Jose Veras, Astros.
Now 32, he's pitched for the Yankees, Indians, Marlins, Pirates and Brewers and has five career saves.
Before becoming a closer:
The Brewers had the worst bullpen in the majors last year and even they didn't want him back.
April, 2, 2013
4/02/13
1:20
AM ET
It's one of the best days of the year. Maybe
the
best. Especially if your team won. Here are 10 things to take away from Monday's action.
1. Bryce Harper loves the spotlight.
While Opening Day is, technically speaking, just one game of 162, it
is
special -- to players, to managers and certainly to fans, who fill parks across the country, even in 35-degree weather (applause to hearty Minnesotans). Opening Day isn't just another game in late July, where the legs are tired and the fatigue of a season has to be fought through. Everybody is pumped up and focused. The lights shine bright and that's why I love what Harper did on Monday. Davey Johnson showed no fear in naming the 20-year-old his No. 3 hitter and Harper's two solo home runs in a 2-0 victory showed a Ken Griffey Jr.-like flair for the dramatic (Griffey hit eight home runs on Opening Day in his career). Harper is going to take that No. 3 position in the lineup and own it for the next decade. And those gutsy MVP predictions for him don't look so crazy.
2. Yankees feed into preseason fears.
With a lineup that featured
Eduardo Nunez
hitting second,
Kevin Youkilis
hitting cleanup (his .409 slugging percentage last year was lower than his on-base percentage in 2009 and 2010),
Vernon Wells
,
Ben Francisco
,
Jayson Nix
and
Francisco Cervelli
, the Yankees are clearly going to struggle to score runs until they get
Derek Jeter
,
Curtis Granderson
and
Mark Teixeira
back. But will they still be in the race by then?
CC Sabathia
got dinged a little bit in a four-run second inning in the Yankees' 8-2 loss to the Red Sox -- two infield singles, a little flare, a groundball hit -- but he also walked four batters in five innings.
3. Jackie Bradley Jr. shows mature approach.
While Boston's rookie left fielder is already overhyped -- I worry Red Sox fans are expecting the next Harper or
Mike Trout
-- he showed why the Red Sox were confident he could hold his own in the majors despite playing just 61 games above Class A ball. He drew three walks, including a crucial freebie during that second inning in which he fought back from an 0-2 count and laid off three tough sliders to load the bases with one out.
4. Bullpen worries already in Milwaukee.
Brewers closer
John Axford
was outstanding in 2011 when the Brewers won the NL Central. He was the opposite of outstanding last year, losing his role for a spell to
Francisco Rodriguez
as the Brewers lost an MLB-leading 11 games they led heading into the ninth inning (MLB average: under four). So it didn't inspire confidence when he served up a game-tying home run to
Dexter Fowler
in the ninth. The Brewers did win the game in the 10th, but keep an eye on Axford's next few outings.
5. Cy Young candidates dominate.
Clayton Kershaw
,
Stephen Strasburg
,
Matt Cain
,
Justin Verlander
,
Chris Sale
and
Felix Hernandez
combined to allow ... nothing, in 41.2 scoreless innings.
Jered Weaver
and
Johnny Cueto
each allowed one run. What did we learn from those guys? Nothing! We already knew they were good. But the most impressive may have been Cubs right-hander
Jeff Samardzija
, who allowed two hits in eight scoreless innings against the Pirates, walking one and striking out nine. Samardzija surprised last year in moving to the rotation, especially with his command after having control issues as a reliever, and with a fastball clocked as high as 97 mph, his first outing suggests that maybe -- maybe -- he'll soon be mentioned in the same paragraphs as those other guys. Like this one. (By the way,
Anthony Rizzo
's home run to center was sweet, just a nice easy swing ... and boom.)
6. Angels bullpen answers first test.
The Angels had issues in middle relief last year, a problem that was hoped to be solved by signing
Ryan Madson
and
Sean Burnett
, and moving closer
Ernesto Frieri
to a setup role. But Madson is still recovering from Tommy John surgery and the bullpen didn't look good during the Angels' 10-20 spring training. But in relief of Weaver, the pen tossed seven innings of one-hit baseball to beat the Reds 3-1 in 13 innings. Frieri fanned
Jay Bruce
looking for the final out and you wonder even if Madson comes back if Frieri keeps the ninth-inning role.
7. Speaking of closers ...
It didn't take for
Carlos Marmol
to possibly lose his grip on the closer role for the Cubs, which is probably more important to fantasy owners than it actually is to the Cubs. After hitting
Andrew McCutchen
and then allowing a stolen base, RBI single and walk, the Cubs used
James Russell
and
Kyuji Fujikawa
to record the final two outs.
8. The Marlins hit Placido Polanco cleanup.
And they wonder why they're having trouble selling season tickets.
9. Andrelton Simmons makes me happy.
While the three home runs the Braves hit off
Cole Hamels
in a 7-5 win --
Freddie Freeman
,
Dan Uggla
and
Justin Upton
(welcome to Atlanta!) -- were the big story, Simmons made a couple nice plays in the field and showed off his cannon arm. If the Braves battle with the Nationals in the NL East, Simmons' Ozzie-like defense will be a key reason why.
10. Young stars everywhere.
Look at the names cited above. Harper. Bradley. Samardzija and Rizzo. Sale. Simmons. Strasburg. Even Kershaw is still just 25 years old. This is my biggest takeaway from Opening Day 2013: Baseball is stronger than ever, with young talent oozing all over the sport. This great game is in good hands and when we get to watch players like this, so pull up a chair and enjoy the next 179 days. I know I will.
February, 13, 2013
2/13/13
11:00
AM ET
2012 in review
Record: 89-73 (88-74 Pythagorean)
767 runs scored (3rd in American League)
699 runs allowed (7th in AL)
Big Offseason Moves
Signed free agent
Josh Hamilton
to five-year, $125 million contract. Traded
Kendrys Morales
to Mariners for
Jason Vargas
. Traded
Jordan Walden
to Braves for
Tommy Hanson
. Signed free agents
Ryan Madson
,
Sean Burnett
and
Joe Blanton
. Traded
Ervin Santana
to Royals. Lost
Torii Hunter
,
Zack Greinke
,
Dan Haren
,
Maicer Izturis
,
LaTroy Hawkins
and
Jason Isringhausen
.
What to make of general manager Jerry Dipoto's busy offseason? In some ways, it's just a reshuffling of the deck chairs.
Hunter: 5.5 WAR, 88 runs created in 584 PAs
Hamilton: 3.4 WAR, 115 runs created in 636 PAs
At quick glance, Hamilton looks like the far superior hitter in 2012, creating 27 more runs in a few more plate appearances. Once you adjust for home-park environment, Hunter edges a little closer, then when you factor in Hunter's superior defense (Hunter plus-15 defense runs saved, Hamilton minus-9 DRS), you can see why Hunter moves ahead in wins above replacement. That doesn't mean Hamilton was a bad signing; Hunter was unlikely to repeat his season -- at the plate or in the field -- and Hamilton might have a better year. In terms of 2012 value versus 2013 value, however, this looks pretty even.
Vargas and Hanson: 2.8 WAR and minus-0.9 WAR (392 IP)
Haren and Santana: minus-0.6 WAR and minus-1.6 WAR (354.2 IP)
Haren and Santana
were
pretty bad last year, posting high ERAs despite playing in a pitchers' park and with a good defense behind them. Hanson remains an injury risk, but Vargas has developed into a solid innings-eater and should put up good numbers in Angel Stadium with
Mike Trout
and
Peter Bourjos
running down fly balls behind him. This should be an upgrade of a few wins over 2012 performance. However, some of that is given back with the Blanton signing, given that he's unlikely to replicate the Greinke/
Jerome Williams
rotation slot. So unless Hanson is healthy and pitches better than last year, this looks like a minor upgrade -- maybe a win or two.
Morales out, Bourjos in.
Bourjos won't produce as much offense as Morales, but adding his elite glove back to the outfield on a regular basis is a big plus. Still, if Morales is 20 runs better at the plate than Bourjos and Bourjos is 20 runs better than
Mark Trumbo
in the outfield, that's another equal tradeoff.
The bullpen should be better, although Madson -- returning from Tommy John surgery -- has already been shut down with a sore elbow.
In the end, I can't give the Angels' offseason that high of a grade, especially given that they didn't get the guy they
really
wanted: Greinke. But at least give Dipoto credit for adjusting to not getting Greinke by signing Hamilton and trading for Vargas.
Position Players
The Angels have the best player in baseball, a 40-homer guy, one of the greatest players of all time who is still pretty good even if he's in decline, a Gold Glove-caliber center fielder, a 32-homer designated hitter and two middle infielders who hit pretty well for middle infielders. The catcher hits OK for a catcher, and the third baseman at least puts up a decent OBP.
That's a lineup without a glaring weakness. It's a lineup that will be as fun to watch as any in the game. Is it a great lineup, however, or just very good?
Aside from Trout's sophomore campaign and Hamilton's transition across the AL West,
Albert Pujols
is the guy to pay attention to. Take away his homerless April and he hit .297/.357/.553. His days as a .400 OBP machine are long gone thanks to the continued deterioration in his walk rate, but a lot of teams would still like Pujols anchoring their lineup.
The one problem area? Depth. There is none (no,
Vernon Wells
doesn't count). The Angels do have some players with injury histories, so we'll see whether that comes into play.
Pitching Staff
A year ago, we were talking about the possibility of the Angels having four 220-inning starters. Instead,
C.J. Wilson
led the staff with 202.1 innings.
Jered Weaver
, Wilson and Vargas should be a solid top three, although Wilson had his elbow cleaned out in the offseason. His first season with the Angels was a bit of disappointment -- 3.83 ERA after a 3.14 ERA with the Rangers over the previous two seasons -- and if his walk rate remains at 4.0 per nine innings, it's going to be difficult to get that ERA under 3.50.
Blanton is a bit of wild card in the fifth spot. He's the opposite of Wilson -- a guy who basically throws strikes and hopes his defense helps him out. He had a 4.79 ERA in the National League over the past three seasons, so there's a good chance he won't last the season in the rotation.
The Angels' bullpen had a 3.97 ERA last year, ranking ahead of only Cleveland and Toronto in the AL. But it was arguably even more problematic than that. Only the Yankees' pen threw fewer innings, so Mike Scioscia was able to concentrate his innings in his best relievers. Although
Ernesto Frieri
did an excellent job as the closer after coming over from the Padres, it was the middle relief that hurt the club. The Angels lost 12 games when they led heading into the seventh inning -- 3.5 more than the major league average. Madson was supposed to help out there (or assume closer duties, with Frieri sliding to the seventh and eighth) but is a big question mark. The one thing the Angels do have is three good lefties in Burnett,
Scott Downs
and rookie
Nick Maronde
, if he's kept on the big league roster as a reliever instead of starting in the minors.
Heat Map to Watch
With a quick glance at Trout's heat map, you can see he punished low pitches. On pitches in the lower half of the zone, he hit .360/.396/.608 -- the best OPS in the majors against pitches down in the zone. Does that mean pitchers should attack Trout up high this year? Possibly. But if you attack up in the zone, that means doing it with the fastball. Trout hit .297/.397/.509 in plate appearances ending in fastballs. Which is actually kind of scary: He already has shown he can cream the off-speed stuff. Good luck, pitchers.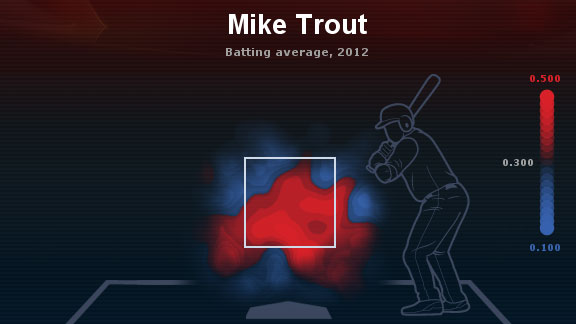 ESPN Stats & InformationWhere do you pitch Mike Trout? Working him low in the zone didn't pay off in 2012.
Overall Grade

The Angels might be the best team in the American League. With Trout, Pujols and Hamilton, they might have the best offensive trio of any team in baseball. In Weaver, they have a legitimate No. 1. That makes them one of the top World Series favorites, at least according to the latest odds in Vegas.
But they were in that position last year and failed to make the playoffs despite Trout's monster rookie season. I worry about the lack of depth behind the starting nine and the back end of the rotation. I don't think Pujols will put up better numbers than last year, and I don't think Hamilton will hit 43 home runs again. The Angels will surely be in the playoff chase, but I don't expect them to run away with the division -- and they might not win it.
What do you think?
September, 25, 2012
9/25/12
11:59
PM ET
One year ago -- 368 days to be exact --
Freddie Freeman
batted in the bottom of the 13th inning with one out and grounded a 3-2 pitch from the Phillies'
David Herndon
to first base.
John Mayberry Jr.
started a 3-6-3 double play and the Braves' season was over in a 4-3 defeat, the final gut-punch in a horrific final month that saw Atlanta go 9-18 in September and lose its final five games to miss the playoffs by one win.
So maybe it was fitting that Freeman was the player who launched the Braves into the 2012 postseason, hitting a dramatic game-winning two-run home run in the bottom of the ninth on Tuesday night, an arching blast over the 400-foot sign in dead center that gave Atlanta a
4-3 win
over Miami.
Maybe it was fitting that
Craig Kimbrel
, the closer who blew a ninth-inning lead in that 162nd game a year ago, pitched a scoreless ninth to pick up the win.
It certainly was fitting that
Chipper Jones
, who went 0-for-5 with three strikeouts in the 2011 finale, started the rally with a leadoff double. Old man Chipper, still stinging line drives all over the place.
And needless to say, it was no surprise that
Kris Medlen
, the Braves' good-luck charm, started the game. He didn't get the decision and even proved human -- allowing three runs! -- but the Braves have now won 22 consecutive games he's started, going back to 2010, tying the all-time mark with Whitey Ford's Yankees and Carl Hubbell's Giants.
"We are shooting for the stars," Jones said after the game. "It makes it all worth it. I'm happier for these guys because they worked hard."
What did we learn on this evening? That maybe the Braves should start Medlen in the wild-card game ... and Game 1 of the Division Series ... and Game 2 ... and ... OK, we learned that Braves fan can finally breathe. No collapse this year. And we learned that Medlen is still the hottest pitcher in the game -- 7 innings, 5 hits, no walks, 8 strikeouts -- and continues to give Atlanta ace-level performance.
Here are a few other things we learned:
Anibal Sanchez puts the pressure on the White Sox
Sanchez delivered one of the dominant outings of the season with his fifth career shutout, a
10-strikeout, 3-hit, 105-pitch
gem. His Game Score of 90 was just the fourth of 90-plus by a Tigers starter since 2010 (some guy named Verlander had the other three) and just the 17th such start in the majors in 2012. More importantly, it moved the Tigers into a first-place tie with the White Sox, who
had lost earlier
in the day, their sixth loss in seven games.
Is it panic time in Chicago? Robin Ventura announced that he'll start
Hector Santiago
on Wednesday, pushing
Jake Peavy
back to start the series opener against the Rays on Thursday. Peavy hasn't been the dominant pitcher in the second half (4.20 ERA) that he was the first three months, so maybe an extra day of rest is a smart move, especially since he got roughed up in his previous start. Still, the sinking Sox turn to a rookie making just his third major league start. Things are starting to look gloomy in ChiTown.
David Price might have locked up the Cy Young Award
Umm, remember the
Tampa Bay Rays
? The Little Team That Could before the Orioles and A's became the Little Teams That Could. They were declared dead after getting swept in Baltimore, losing two of three to the Yankees and then two to the Red Sox, but here are they are, winners of six in a row after Price struck out a season-high 13 in a
5-2 complete-game win
over Boston. Price improved to 19-5 and leads the American League with his 2.56 ERA.
The Rays are hitting .346 over this six-game stretch and trimmed another game off their deficit to the wild-card-leading Orioles after they were
blanked by the Blue Jays
. Is this right time to remind Orioles fans that the Rays and O's finish the season with a three-game series in Tampa? Not that right time? I mean, the Orioles -- after all this, after finally earning respect -- they're not going to blow it, are they?
Johnny Cueto had an important outing for the Reds
You don't want to read
too
much into mini-slumps this time of year, but the Reds' ace had been a little shaky his past few outings. Cueto quelled concerns with seven terrific innings (7 IP, 5 H, 2 R, 0 BB, 5 SO) to
beat the Brewers
for his 19th win -- the first Reds pitcher to win that many since Danny Jackson in 1988 and first right-hander since Jack Billingham in 1974. More good news for the Reds:
Aroldis Chapman
also pitched his second game since his 12-day layoff and threw 10 fastballs in a 1-2-3 inning -- 100, 100, 99, 98, 98, 98, 97, 97, 96 and 95.
Don't be alarmed by another Nationals loss
The Nationals are now 4-7 over their past 11 games. Davey Johnson has said he's more concerned with resting players than beating out the Reds for the top seed in the National League. Should Nationals fans be worried about this little slump? Not really. Late-season hot streaks or cold streaks are overrated. I looked at the World Series champs since 1996 and looked at how they played during the entire season, over the final month (September or September/October) and over the final 10 games.
Season: .586 winning percentage
Final month: .575 winning percentage
Final 10 games: .587 winning percentage
This is why you shouldn't pay much attention to what happens down the stretch. World Series winners haven't been any "hotter" down the stretch than they've played all season. Mixed in those World Series winners are the 2006 Cardinals (12-17 the final month, 3-7 in their final 10 games); the 2002 Angels (4-6 their final 10); the 2000 Yankees (13-18 and 2-8); and the 1997 Marlins (12-15 and 3-7). Yes, the past four World Series winners went a combined .667 the final month, but that doesn't tell which other "hot" teams didn't win the World Series. Plus, the Nationals are still 13-10 in September. They're fine.
Brandon Moss might have saved the A's season with a spectacular catch
The situation: bottom of the seventh, bases loaded, two out,
Sean Doolittle
versus
Elvis Andrus
.
Then Moss does this
.
Jorge Coutares is Dominican, right?
No? What, he's Greek? His name is spelled
George Kottaras
?
He just won a big game for the A's?
Have they even invented sticks and balls in Greece yet?
Angels tie record with 20 strikeouts in nine-inning game
Zack Greinke
fanned 13 in five innings against the Mariners but had to leave after throwing 110 pitches.
Ernesto Frieri
struck out
John Jaso
for the final out in a
5-4 victory
. Amazingly, the Mariners tied only their own club record. The Angels remain just two games behind the A's. If Oakland goes 3-5 over its final eight games, the Angels have to go 6-2 to pass them. Good news for the A's: The Mariners send King Felix to the mound on Wednesday ... which means he won't start against the A's over the weekend, making his final start Monday against the Angels.
PHOTO OF THE DAY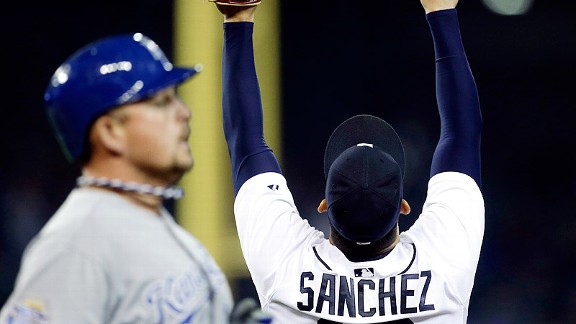 AP Photo/Paul SancyaJust ask Anibal Sanchez: 'Tis the season for more than a little
rational
exuberance.
August, 26, 2012
8/26/12
11:00
PM ET
I just returned from vacation and spent a portion of the weekend catching up on the HBO series "The Newsroom." The show has been a little uneven -- what's with all the personal discussions and arguments taking place right in the middle of the newsroom, in front of everyone? -- but a recent episode did present an interesting dilemma.
The theme of the show's first season has been the challenges the newscast faces as it transitions to broadcasting more legitimate news and less fluff. Set in 2011, when the newscast doesn't initially cover the Casey Anthony trial the ratings drop dramatically, so the producers have to decide: Do you give more air time to the trial or to the more important debt-crisis debate going on in Congress?
Well, the
Boston Red Sox
are Casey Anthony. The
Los Angeles Angels
are the debt crisis. It's a sexier issue to talk about
Josh Beckett
's golf outings than
Ervin Santana
's hanging sliders. It's a lot more fun to break down Bobby Valentine's personality conflicts -- misunderstood genius or funny-nose-and-glasses nutty? -- than to break down Mike Scioscia's bullpen usage. Tabloid headlines about chemistry issues and unhappy players will bring in more readers than stories about
Dan Haren
's earned run average.
So the dark clouds that hovered over the Red Sox all season had been the car crash we couldn't keep our eyes off. Like it or not, the Red Sox bring in the ratings. While the Red Sox finally, mercifully, died when general manager Ben Cherington seduced the Dodgers with Saturday's big trade, dangling
Adrian Gonzalez
in order to purge the contracts of Beckett and
Carl Crawford
, in the end the Red Sox story was more fluff than substance, beginning with this: The Angels, not the Red Sox, have been the season's most disappointing team.
Not that expectations weren't high for the Red Sox, of course, but consider the preseason predictions for the Angels:
Of 50 people who voted on ESPN.com's preseason predictions list, 25 picked the Angels to win the American League West and 21 picked them to win a wild card. Only four predicted they would miss the playoffs.

Of those 50 voters, only one picked the Red Sox to win the AL East and 15 picked them to win a wild card. Thirty-four picked them to miss the playoffs.

The Angels were also the overwhelming consensus World Series pick -- remarkably, 18 of the 50 voters picked them to win it all, 10 more than other team (eight chose the Rangers). Only one person picked the Red Sox.
So on a national level, the Angels were the big story heading into the 2012 season, not the Red Sox. According to the vast majority of ESPN's baseball contributors, the Red Sox weren't even supposed to be a playoff team. (Before Angels fans jump all over me, it's obviously too early to write off the Angels just yet. They're 66-62 after
losing 5-2 to the Tigers on Sunday
, four games behind the wild-card leading trio of Tampa Bay, Oakland and Baltimore, and also 3.5 games behind Detroit. So they have 34 games left to pass at least three teams and claim one of the two wild-card spots.)
But a one-game coin-flip affair is not what the Angels expected after signing
Albert Pujols
and
C.J. Wilson
in the offseason and then acquiring
Zack Greinke
at the trade deadline. Remember when the spring-training storyline was how the Angels-Rangers rivalry was going to develop into baseball's best? Well, wake me up when it begins. The Angels are 9.5 games behind the Rangers, closer in the standings to the Mariners than to the Rangers.
What's remarkable about the Angels is they're in this position despite the unexpected MVP-caliber season from
Mike Trout
and improvement from
Mark Trumbo
. And Pujols, even with his homerless April, is essentially on pace to match his 2011 numbers with the Cardinals. Unlike the Red Sox, the Angels don't even have the injury excuse to fall back on. The only significant injury has been to catcher
Chris Iannetta
. Reliever
Jordan Walden
missed most of July and half of August and set-up man
Scott Downs
missed a couple of weeks, but even there the Angels caught lightning in a bottle with
Ernesto Frieri
.
Trout's monster season, of course, has served to obscure the Angels' inability to stay close to Texas. He has deservedly been the most intriguing individual player story of the season. I think everyone kept expecting the Angels to go on a big streak; it hasn't happened. And now it's getting late.
While Trout's rise to stardom wasn't expected -- at least, not this quick and not at
this
level -- the Red Sox's collapse fit neatly into the spring-training angst that the media stirred up: chicken, beer, Bobby Valentine, a meddling ownership and so on. While there were obvious issues inside the Boston clubhouse, those stories served to detract attention from the real reasons the Red Sox are 61-67: Beckett,
Jon Lester
and late-game bullpen issues.
Even with all the missed time from
Jacoby Ellsbury
,
David Ortiz
and Crawford, the Red Sox are second in the American League in runs scored. If Beckett (5.23 ERA) and Lester (4.98 ERA) had allowed even one run fewer per nine innings, we're talking about a 32-run improvement -- or about three wins. If they were 1.5 runs better per nine innings, we're talking a 48-run improvement -- or about five wins. Add five wins, and the Red Sox are 66-62 ... the same as the Angels. The Red Sox have lost 12 games they've led entering the seventh inning; cut that down to a more normal total of six and the Red Sox have 72 wins -- just two fewer than the Yankees. You can blame clubhouse chemistry; I'll blame the team's two aces and a lousy bullpen.
So the Red Sox are now irrelevant; they won on Sunday but nobody cares. The Angels lost again and it's time to start analyzing why. And asking the obvious follow-up question: Are there chemistry issues in the Angels' clubhouse?
PHOTO OF THE DAY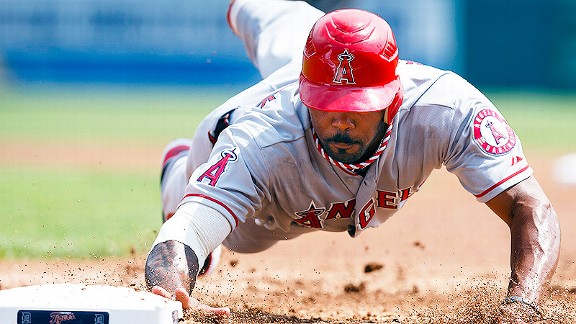 Rick Osentoski/US PresswireHoward Kendrick's dive back to the bag reflects an Angels team that isn't advancing.
August, 2, 2012
8/02/12
3:17
PM ET
Have you recovered from the epic Keith Law-Kevin Goldstein prospect podcast from Wednesday? If so, join Keith and myself as we return to the majors for Thursday's
Baseball Today
.
1. Was Wednesday's Angels-Rangers game the best game of the season? We discuss
Yu Darvish
's struggles and potential problems with the Angels' bullpen.
2. The Rangers called up Mike Olt but is there a place for him to play?
3.
Bobby Abreu
,
Hideki Matsui
and
Derek Lowe
have been cut loose by their teams. Have we seen the last of them in a big league uniform?
4. Hey, the Mariners have won seven in a row. They just called up relievers
Carter Capps
and
Stephen Pryor
. Do these two really throw 100 mph?
5. User emails bring up
Eric Hosmer
's struggles,
Todd Frazier
's rookie season and
Desmond Jennings
' sophomore slump.
All that and more on Thursday's big show!
July, 5, 2012
7/05/12
10:18
AM ET

Eric Karabell and myself debate which players deserve the final All-Star nods for each league.
June, 4, 2012
6/04/12
12:15
PM ET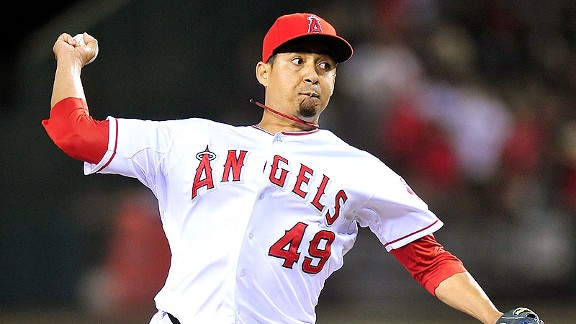 Gary A. Vasquez/US PresswireSince joining the Angels, Ernesto Frieri has allowed one hit in 14.1 innings with 30 strikeouts.
Who is the most exciting pitcher to watch in baseball right now?
If we had to guess, we're thinking most of you will say
Justin Verlander
,
Clayton Kershaw
or
Stephen Strasburg
. If we asked you to pick a reliever, you'd probably say
Aroldis Chapman
.

But how about new Angels closer
Ernesto Frieri
?
As we noted last week, the Angels' bullpen has been a key to their resurgence. Frieri's emergence is at the heart of that.
Frieri set a major league record by not allowing a hit in his first 13 appearances with a new team. The Rangers finally broke that streak on Saturday, but by night's end, they had succumbed as well, as Frieri picked up his fourth save. Opponents are now 1-for-43 with 30 strikeouts versus Frieri since he joined the Angels in a May 3 trade with the Padres.
Part of the fun of watching Frieri is that his pitches are all over the place. Since joining the Angels, he's thrown only 38 percent of his pitches in the strike zone. His fastball tails away from a lefty and in to a righty with such movement that it's very difficult to hit.
Here's a chart that shows what Frieri has done since joining the Angels and how that compares to the average major league pitcher: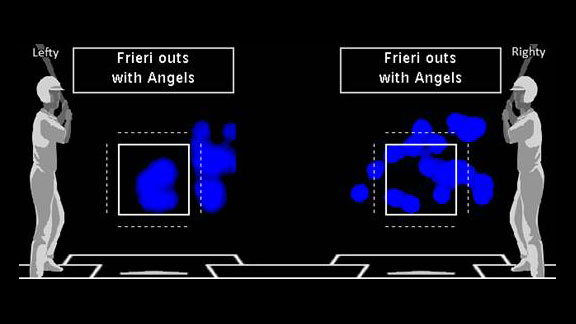 ESPN Stats & InformationNo matter where the ball goes, hitters have had a hard time hitting Frieri.
May, 24, 2012
5/24/12
1:48
PM ET
SweetSpot blogger Dave Schoenfield and I had plenty to talk about on Thursday's
Baseball Today podcast
!
1.
Cole Hamels
let his pitching do the talking about
Bryce Harper
and the Nationals Thursday, but each time Hamels throws it reminds us of his talent and contract status.
2.
Albert Pujols
speaks out about his slump! Do we buy his excuses or not?
3. Was Arizona's win over the Dodgers on Wednesday an important win?
4. Our emailers want to know about strength of schedule, ballpark gamesmanship,
Drew Sutton
and some of the more interesting pitcher-hitter matchups to watch for years to come.
5. Smaller schedule for Thursday but the amazing
Justin Verlander
is
on the mound
, as well as the only pitcher in baseball who provides a quality start each and every time out to the mound.
So download and listen to Thursday's Baseball Today podcast and get ready for Friday's fun show!