May, 24, 2011
5/24/11
12:49
AM ET
I was at a family function over the weekend and spent much of it talking baseball with my wife's uncle, a huge Yankees fan. The short version of his analysis: He's not too concerned about the state of the team because he's convinced the Yankees will make a few trades.
You know ... like for
Felix Hernandez
. Everybody in New York still thinks the Yankees can just trade for Felix because ... well, I guess because they're the Yankees. Now, let's repeat something we've said several times:
The Mariners aren't going to trade Felix Hernandez.
Repeat:
The Mariners aren't going to trade Felix Hernandez.
Now, my wife's uncle says that's OK, because the Yankees will just acquire
Mark Buehrle
instead. Now, maybe the White Sox will eventually fall far enough out of the race that trading Buehrle will make sense. But it doesn't now. But these five trades ... well, they
do
make sense.
Mets trade Carlos Beltran and $5 million to the Mariners for 2B Kyle Seager.
Considering genius Fred Wilpon just torpeded Beltran's value by suggesting he's not close to the player he used to be, the Mets can't expect a top prospect in return for their right fielder, a free agent after the season. Plus, his $18.5 million contract is a problem for most teams. The Mariners' current hot streak (granted, it's come against the punchless Twins and Padres) suddenly put them in the thick of the AL West race despite their offensive struggles. Designated hitter
Jack Cust
just hit his first home run and
Carlos Peguero
and
Mike Wilson
are hardly the short-term (or long-term) solutions in left field. Beltran could play left and DH, and Seattle has the ability to pick up some additional payroll. (Beltran would have to waive his no-trade clause.)
Seager was a teammate of
Dustin Ackley
's at North Carolina, but with Ackley set as Seattle's second baseman of the future, he doesn't have a spot. After hitting .345 with 40 doubles and 14 home runs in the California League, he's proving himself in the tough transition to Double-A, hitting .302/.371/.477. He has a nice line-drive stroke, although there are some doubts about his range. Then again, this is a team playing
Daniel Murphy
at second base.
Reds trade C Ryan Hanigan to Rays for P Alex Cobb and C Kelly Shoppach.
The Rays are getting no production from their
John Jaso
/Shoppach platoon. The Reds' 4.71 ERA from their rotation ranks 14th in the NL. Thus, a perfect trade matchup.
Hanigan is probably the best backup catcher in the majors. He doesn't have much power, but takes a walk and rarely strikes out (he has more walks than strikeouts in his career). More importantly for the Rays, he's signed to a cost-friendly contract of $4 million
total
through 2013.
Cobb is an underrated pitching prospect who doesn't wow scouts with his stuff, but he gets great results. He throws strikes and led the Southern League with 9.6 Ks per nine innings last season. He had a 1.31 ERA in seven Triple-A starts with a 45/10 SO/BB ratio and made his major league debut on May 1. The Reds can afford to trade Hanigan with two excellent catching prospects in the minors (Devin Mesoraco and Yasmani Grandal) and
Ramon Hernandez
still on the big league roster. Who gets bumped from the rotation? Take your pick.
Bronson Arroyo
and
Edinson Volquez
have both been terrible.
Padres trade P Mike Adams to Tigers for 3B Francisco Martinez.
The trade speculation with the Padres revolves around closer
Heath Bell
, an impending free agent, but they could possibly extract more in a trade by dealing setup man supreme Adams, who has a 1.25 ERA, 21/2 SO/BB ratio and .55 WHIP.
The Tigers make perfect sense: They have the worst bullpen ERA in the majors (5.97) and the highest batting average allowed (.287). Closer
Jose Valverde
has been the team's only reliable reliever. Martinez is a 20-year-old third baseman currently hitting .261 with five home runs in Double-A. He's a bit of a project, but scouts like his tools and the Padres need to take some chances in hopes of finding some offense.
Astros trade OF Hunter Pence to Phillies for OF Domonic Brown and P Jarred Cosart.
Why should the Astros trade their best player? For several reasons: (1) He's good, but not
that
good; he does a lot of nice things on a baseball field, but a mediocre OBP prevents him from being a true star. (2) He's starting to get expensive. He won $6.9 million in arbitration for 2011 and will likely get at least $10 million next season. (3) He's 28, and while he's at his peak right now, he may not be at his peak as he turns 30 ... aka, by the time the Astros are likely to be good again.
As for the Phillies, they are in win-now mode. Sure, Brown and Cossart are arguably their top prospects, but the jury remains out on how much Brown will contribute this season. They risk giving up a future All-Star, but Pence gives them a much-needed dependable bat for the middle of the lineup. With $24 million of
Raul Ibanez
and
Brad Lidge
coming off the books after this season, the Phillies can also afford to pick up Pence's future salary.
Royals trade 3B Wilson Betemit to Rockies for CF Dexter Fowler and P Esmil Rogers.
Colorado third basemen have been beyond awful, hitting .169 with two home runs. Betemit is hitting .315 with a .379 on-base percentage, but with Mike Moustakas soon to arrive in the big leagues, Betemit looks like perfect trade bait for the rebuilding Royals.
Jose Lopez
and
Ty Wigginton
aren't the answer at third, so unless you think
Ian Stewart
can rebound from his 3-for-47 start and banishment to Triple-A, Betemit looks like a nice fit to play third and take over Colorado's leadoff spot.
The man currently holding that position is Fowler, but the former top prospect just hasn't developed as expected. His game has regressed this season with too many strikeouts, a lack of power and just two steals in eight attempts. He needs a change of scenery and maybe a wake-up call. Rogers is a power arm in need of refinement.
So there you go. Five trades that make sense from all angles. And I didn't even mention
Jose Reyes
or
Prince Fielder
or ...
PHOTO OF THE DAY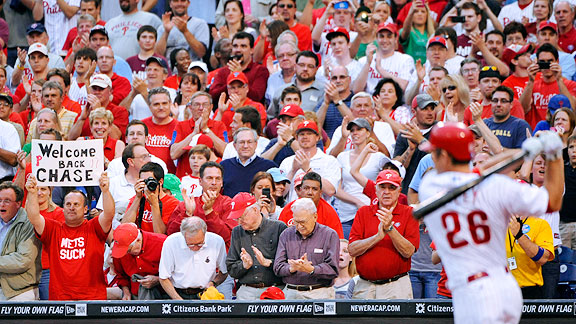 Howard Smith/US PresswireThink Phillies fans were kind of waiting for Chase Utley to return? Well, yes, yes they were.
April, 17, 2011
4/17/11
10:40
PM ET
Who says there's no such thing as a big series in April? Not me.
Starting Monday, we have Giants at Rockies for three games, and it certainly
feels
like a big showdown to me. The Rockies have baseball's best record at 12-3 -- but have yet to play a team with a winning record, as they've cleaned up against the Diamondbacks, Dodgers, Pirates, Mets and Cubs. So they have a little something to prove. The Giants are 8-7, four games behind the Rockies, and certainly don't want to leave Denver seven games out of first place. They have their three top starters lined up (
Tim Lincecum
,
Jonathan Sanchez
,
Matt Cain
) to prove something to
Troy Tulowitzki
and Co.
The Rockies have been impressive in outscoring their opponents 85 to 59, especially going 7-1 on the road, after a dismal 31-50 mark in 2010. The Rockies have had only one winning road season in franchise history -- 41-40 in 2009 -- so getting off to a strong start there is a positive sign.
Second-year righty
Esmil Rogers
starts Monday against Lincecum in what may look like a mismatch, but Rogers has been solid in winning his first two starts. As a rookie in 2010 he was jerked around between Triple-A and the majors, between the bullpen and starting, so this is a good opportunity for the Rockies to see what they have. So far he's been effective against left-handers (.200/.300/.343) but there are doubts on how his stuff will fare consistently against lefty swingers.
And with
all the attention given to Tulowitzki and
Carlos Gonzalez
, it's easy to forget that
Ubaldo Jimenez
is back after missing a couple starts with a cracked cuticle. The Giants hit just .168 in four games against Jimenez last season. He starts Tuesday against Sanchez.
Cain has allowed three runs over his first three starts, despite just 10 strikeouts over 19 innings. Going back to last September, and including his three postseason starts, Cain has allowed more than two runs just once in 10 starts (his final regular-season start of 2010). He may not impress you with the raw stuff that Lincecum and Jimenez possess, but since 2009 the only starters with a better ERA are
Felix Hernandez
,
Adam Wainwright
,
Roy Halladay
,
Josh Johnson
,
Clayton Kershaw
,
Chris Carpenter
and Lincecum.
The Giants may also make a move with
Cody Ross
during the series. After a couple rehab starts with Fresno on Sunday and Monday, he should be activated from the DL. Will rookie first baseman
Brandon Belt
be sent down? After an 0-for-4 effort on Sunday, Belt is down to .200/.310/.280, with one homer and one double in 50 at-bats. But his eight walks shows the excellent discipline and understanding of the strike zone he displayed in the minors.
Considering Aubrey Huff's shaky efforts in the outfield, the Giants may want to move Huff back to first and send Belt down until his bat gets going. I think it would be a mistake; despite his postseason heroics, Ross just isn't that good (and it hurts saying that, as I'm a big fan). Ross can hit lefties -- .883 OPS in 2010 -- but shouldn't be a regular against righties (.687 OPS in 2010). Andres Torres' strained Achilles tendon that landed him on the DL may give Belt a two-week reprieve, as Ross could slide into center field (except Aaron Roward is inexplicably off to a .364/.378/.568 start in 44 at-bats).
It all adds up to some intriguing subplots to the best series of the week.
OTHER SERIES OF THE WEEK
Los Angeles Angels at Texas
Monday:
Ervin Santana
(0-1, 3.74 ERA) vs.
C.J. Wilson
(1-0, 3.72)
Tuesday:
Matt Palmer
(0-0, 7.71) vs.
Colby Lewis
(1-1, 5.25)
Wednesday:
Jered Weaver
(4-0, 1.30) vs.
Matt Harrison
(3-0, 1.23)
The Angels are riding the red-hot arms of Jered Weaver and
Dan Haren
and come to Texas riding a five-game winning streak. The offense has been solid, but it's coming from surprising sources:
Maicer Izturis
is hitting .383,
Alberto Callaspo
.346 and Howie Kendrick has five home runs.
Vernon Wells
has raised his average to .148, but still seeks his first home run. (How many years left on that deal?) For the Rangers, their own hot pitcher, Matt Harrison, squares off against Weaver in the series finale. Harrison's start is especially impressive considering his outings have come against the Yankees, Orioles and Red Sox. Harrison entered this season with 225 major league innings and not much of a track record -- 5.39 ERA, 261 hits, 31 home runs, only 4.9 K's per nine innings. He's allowed just 14 hits in 22 innings despite a below-average strikeout rate (5.7). He's throwing more strikes and getting more ground balls, but I'm not sold on him just yet.
PITCHING MATCHUP OF THE WEEK
Friday:
Jon Lester
(1-1, 3.20 ERA) vs. Dan Haren (4-0, 1.16 ERA), Red Sox at Angels
Haren has been absolutely dominant so far, pounding the strike zone, allowing opponents a .164 average and generally looking like the best pitcher in the AL. If there's been one complaint about Haren over the years it's that he throws
too
many strikes, leading to a lot of home runs (31 in 2010, 27 in 2009), So far, he's allowed just one in 31 innings, and pitching in Angel Stadium will help, as it's one of the tougher home runs parks in the AL.
THREE SWINGS
1. Watched
Jose Contreras
close out the Phillies' 3-2 win over the Marlins for his third save. It wasn't pretty, as he walked two batters and threw just nine of 22 pitches for strikes, finally getting
Omar Infante
to ground out sharply to end it. Contreras hasn't allowed a run in five innings, but I'm still a little skeptical about the Philly bullpen. But … maybe the Phillies won't need much beyond Contreras,
Ryan Madson
(five scoreless innings) and
Antonio Bastardo
(nine K's in 5 2/3 innings). Philadelphia relievers threw just 421 innings last season, fewest in the NL. No team has pitched fewer than 400 since the 2005 Cardinals threw 397 2/3, but the Phillies are a good bet to do it. That Cardinals team won 100 games and all five starters -- Chris Carpenter,
Jason Marquis
,
Mark Mulder
,
Jeff Suppan
and
Matt Morris
-- made at least 31 starts.
2. Welcome back,
Grady Sizemore
. Nice to see Cleveland's center fielder go 2-for-4 with a home run, double and an RBI in his first game since May 16. The Indians are 11-4 after sweeping the Orioles for their third series sweep already, and it's worth noting that
Shin-Soo Choo
(.214/.286/.339) and
Carlos Santana
(.196/.276/.314) aren't hitting yet, and they will.
3. I watched the major league debut of Arizona pitcher Josh Collmenter and he had one of the weirdest motions you'll see. Midway through the windup, as he brings the ball back behind him, he does a little bit of a knee jerk of sorts, leans back a bit, and then comes straight over the top. He's not really much of a prospect -- Baseball America didn't rate him as one of Arizona's top 30 prospects -- but he entered in the 11th inning against the Giants, threw strikes, worked quickly (a lesson for all rookies), retired all six batters he faced and got the win when Arizona scored in the bottom of the 12th. Congrats, Josh.
RANT OF THE WEEK
Right when I start believing in the Brewers … they go out and lose a doubleheader to Jason Marquis and
Livan Hernandez
, two guys who can't break 90 with their fastballs (actually, in the case of Livan, he can't break 85). The Brewers desperately need
Corey Hart
to return, as the team's lack of depth is embarrassing.
Mark Kotsay
? Forty-year-old
Craig Counsell
? Thirty-three-year-old outfielder
Erick Almonte
, once hailed as the next
Derek Jeter
, but now listed at 245 pounds and coming off a two-homer season in Triple-A? Please. This has to be one of the worst benches in the majors, especially for a supposed contender.
PHOTO OF THE DAY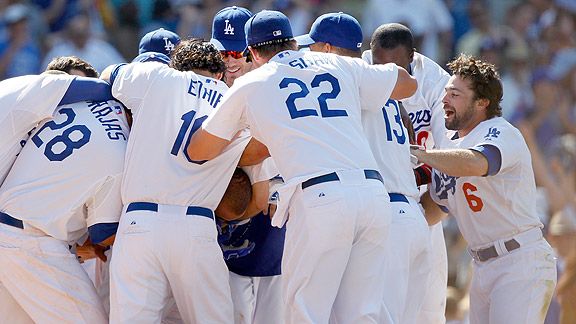 AP Photo/Alex GallardoSomewhere in there is Matt Kemp, who belted a walk-off winner in the ninth against St. Louis.
April, 8, 2011
4/08/11
12:08
PM ET
The Red Sox are 0-6, but things could be worse: the 1988 Braves started 0-10, the 2002 Tigers started 0-11, the 1997 Cubs started 0-14 and the 1988 Orioles lost an amazing 21 in a row to begin the season. The Cubs finished 68-94, the best record of the four teams. Thomas Neumann at Page 2 digs into the archives to see what was being said about those teams.
Take his quiz
to see where the Red Sox fit in.
Nishioka out with broken leg
Nick Swisher's hard slide breaking up a double play took out Tsuyoshi Nishioka, the Twins' rookie second baseman from Japan. Swisher sought out Nishioka after the game to apologize and nobody on the Twins complained that Swisher was out of bounds with the slide. I thought it was a little rougher than you usually see, as Swisher kind of kicked his legs out and up to get Nishioka.
Nick Nelson over at Nick's Twins blog
makes a good point
that in Japan takeout slides aren't really part of the game and the Twins worked with Nishioka on this during spring training. Matt Tolbert presumably steps in at second base. Considering his career .246/.305/.345 line, the Twins won't be getting much offense up the middle. The Twins have hit just two homers in their first six games and anxiously await Justin Morneau launching his first long ball.
Yankees-Red Sox: Friday's big game
You may have heard about the afternoon tilt at Fenway. It's not just the Red Sox with the spotlight on them, however. Phil Hughes struggled in his first start for the Yankees, topping at about 88 mph with his fastball. Dave Cameron writes that his
velocity drop isn't a cause for concern

right now.
Other links of the day
Follow David Schoenfield on Twitter at @dschoenfield. Follow the SweetSpot blog at @espn_sweet_spot.