SweetSpot:

Eugenio Suarez
September, 9, 2014
Sep 9
12:24
AM ET
By
Christina Kahrl
| ESPN.com
We've all heard this one before, right?
Justin Verlander
wins a big game against AL Central challenger in September. It's like the Detroit Tigers have a script to follow: Come into the season the overwhelming favorite to win the AL Central, something everyone has expected of them every season for at least the past four years. Head into September worried about fighting off a frightening underdog challenger, whether that was the White Sox (2012), the Indians (2013) or now the Royals. And then set things right in the last month. If they do put the Royals away this month after pulling even with them in the win column on Monday night, maybe that means it'll be the Twins' turn again in 2015.*
But this year might be the most interesting of them all, because the free-spending Tigers haven't seen money buy them happiness. Joe Nathan has been a bit of a big-budget bust as closer, after all, and Anibal Sanchez's latest injury perhaps forced GM Dave Dombrowski's hand to get
David Price
and make sure he still has the league's best four-man postseason rotation. Instead, what's making this year's Tigers team interesting is how much it owes to how well it has lined up supporting talent beyond the famous people.
[+] Enlarge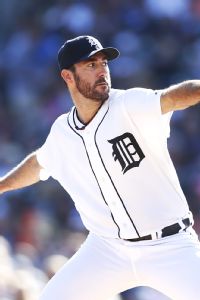 Joe Robbins/Getty ImagesIt's easier for Justin Verlander to be a winner again with the run support their deep lineup is cranking out.
Take the lineup. The thing to relish about the Tigers' win as they pulled even in the win column wasn't Verlander delivering a serviceable start. What won this one game was their lineup's ability to deliver on the old Bill James observation that a winning team will outscore its opponents in the entire game if it breaks out a big crooked number in one big inning. Sure enough, that six-spot that the Kitties busted out in the third provided the winning margin.
What's important about that is how much any inning like that can owe to lineup depth. Nobody hit a grand slam; the well-remunerated stars such as
Miguel Cabrera
,
Torii Hunter
or
Victor Martinez
didn't make this inning happen, certainly not by their lonesomes. Instead, the Tigers knocked the Royals'
Jeremy Guthrie
out of the box thanks to three straight RBI doubles hit by farmhands old and new in
Nick Castellanos
,
Don Kelly
and
Alex Avila
. Avila and Castellanos were both drafted on Dombrowski's watch in the front office, but even noting that Kelly was a 2001 pick who washed out and back in with the transactional tide of minor league free agency brings up another point: This team, as it comes together, is not merely an assemblage of big-money pickups.
That's worth noting because the Tigers certainly resemble a fairly extreme interpretation of the stars-and-scrubs approach to team-building. After the acquisition of Price, they have eight guys on the roster making eight figures. On the other hand, counting Kelly you find that seven of their position players are making a million bucks or less.
Having a farm system that can crank out playable talent is what lets you afford the big boppers in the first place. The Tigers' talents may not have gotten the touts of the Royals' oft-touted stack of blue-chip prospects who have come of age, but having Castellanos at third on Opening Day and then
Eugenio Suarez
ready to take over at shortstop two months into the season reflects organizational strength. If the worst player in the Tigers' everyday lineup is Suarez, a 22-year-old shortstop with upside at the plate, or if it's Avila's lefty bat providing a strong Isolated Power number versus right-handers (.168 before Monday), that's a lineup that goes much, much deeper than a caricature as Miggy and Miggettes. To that scorecard you can add in the scouting moxie that led the Tigers to trade for Rule 5 pick
Kyle Lobstein
from the Mets to keep him from being returned to the Rays back in spring 2013, and they had the depth this year to survive the combination of two August doubleheaders at the same time they're waiting on Verlander to be Verlander after already losing Sanchez.
Another thing that needs to be credited? The Tigers' patience, especially with their big investments. More than a few of my fellow statheads were calling for Victor Martinez
to be benched last year after his stone-cold start
(.693 OPS) as V-Mart worked his way back from a 2012 season lost to tearing up his left knee. Giving up was the easy, if expensive choice; letting it ride, not so much. But Dombrowski's Tigers stuck with a 34-year-old DH who wasn't hitting and reaped a big second half last year (.913 OPS) and an even bigger year in 2014 (a career-best .982) now that he's 35. Good luck summoning that out of nowhere.

On the other hand, the Tigers had
exactly
that kind of good fortune too, because how else do you explain where they got J.D. Martinez from? In an age when the number of waiver-combing GMs smart enough to be hunting for free talent is legion, and when there isn't an active executive who wouldn't sell his soul for a corner outfielder with an OPS north of .850, Dombrowski didn't have to sacrifice so much as a bed bug to snag Martinez and reap (or luck into) a hitter who had, as
Ryan Parker pointed out at Baseball Prospectus a few weeks back
, substantially remade his swing and his hitting approach, and was ready to become
a massively improved hitter generating a significantly larger number of line drives
.
So what is it that's going to push the Tigers past the Royals, this week or next, at season's end? Not just the guys making the big bucks, and not just the big-money decisions. This year's Tigers team might be the most interesting because of how they've adapted in-season and created answers for their problems. At least one of those was self-inflicted -- imagine the irony if they have to face
Doug Fister
in the World Series -- but this particular team might be a testament to the in-season problem-solving skills of the organization. But right now? They're scoring 4.6 runs per game in the second half, and even with the injuries they have a front four nobody should want to face come October. If they're ready to romp in October, nobody's going to remember that they once again had to fend off the AL Central's latest underdog du jour.
*: Because let's not forget, the Twins did pull off the come-from-behind stretch win in 2009, taking down the Tigers in a 163rd game that year.
Christina Kahrl writes about MLB for ESPN. You can follow her on Twitter.
June, 29, 2014
Jun 29
12:50
AM ET
By
Richard Bergstrom
| ESPN.com
With the season nearly half over, the
Detroit Tigers
have stumbled to first place in the AL Central. And yes, I said "stumbled." As you might recall, the Tigers were the ESPN Forecast preseason prediction to be the American League representative in the World Series. Yet so far they have the second-best record and worst run differential of the three AL division leaders.
As bland as leading a division by 4.5 games can be (which can make all the difference in sudden-death wild-card formats), the 2014 Tigers could have been even worse. I wouldn't call it karma, but trading
Prince Fielder
seemed fortunate, especially after he stuck his neck out with some rather nonchalant comments about last year's playoffs but before he had the season-ending neck injury. Throw in slow starts from
Austin Jackson
,
Torii Hunter
and
Miguel Cabrera
, a false start from
Joe Nathan
, and no start at all from their original starting shortstop,
Jose Iglesias
, and even the
Cleveland Indians
(briefly) looked competitive.
That phase has passed. After
Saturday's come-from-behind victory
over the
Houston Astros
, the Tigers are 8-2 in their past 10 games while other teams in the AL Central have wilted. Cabrera, their reigning Triple Crown winner, has a .994 OPS over the past week. To complement Cabrera,
Victor Martinez
hasn't exactly been roster filler either, nesting himself among the league leaders in hitters. And the guy they acquired for Fielder?
Ian Kinsler
's got a higher WAR than Martinez and Cabrera. While you might be dazzled by the offense, don't forget that the Tigers have two Cy Young award winners,
Max Scherzer
and
Justin Verlander
, on their staff which can make all the difference in a short series playoff format. Furthermore, they have remaining upside on both sides of the ball if Jackson returns to form and Nathan returns to relevance.
[+] Enlarge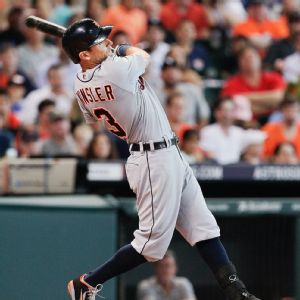 Bob Levey/Getty ImagesIan Kinsler for Prince Fielder? The Tigers have certainly gotten the better end of that deal so far.
But what if Jackson falters or Nathan remains, um, not good? What separates the Tigers from the other AL division leaders and wild-card wannabes is that they have much more flexibility to make moves at the trade deadline, getting the players needed to win in 2014. It is no secret that Mike Ilitch, the elder Tigers' owner, badly wants to win a World Series. Ilitch has thrown, wisely, his support (and let's not forget the money) to a front office headed by GM Dave Dombrowski, who has provided Detroit with one of baseball's rarities, a team that perpetually wins.
We've seen evidence of Dombrowski's handiwork beyond the Fielder trade. Before the season, he signed
J.D. Martinez
to a minor league contract and called him up near the end of April to avert an offensive outfield offense. While Martinez has been used sparingly and is highly unlikely to continue to post an elite OPS of .957, he's bought time for the rest of the offense to find its wheels. Meanwhile, though Rookie of the Year candidate
Nick Castellanos
has been serviceable at third base, Dombrowski's early promotion of
Eugenio Suarez
to plug the shortstop hole is paying off offensively, if not defensively, so far.
Furthermore, there's little that blocks Dombrowski from making a future move. Though the Tigers' farm system isn't the richest in the world, there is still some talent that can be used to snatch players from "rebuilding" teams. Meanwhile, they can still take on more money despite having a payroll in excess of $161M. Comparatively, the Blue Jays and A's are both near their limit payroll-wise. Sure, they can acquire players for prospects (which would be a break for the norm for both of them), but the Tigers can swim in both ends of the pool.
If Hunter continues to look better smiling than he does hitting, he can ride the bench and be sent on his merry way while a star player (and their ensuing salary) is brought on. Ilitch has the finances to absorb a Nathan demoted to middle reliever status if it means bringing on a still-working closer. If Castellanos (or some other Tiger) goes into a horrible slump, the Tigers can make a move. Those are worst case scenarios from a front office that wants to win. If Castellanos achieves his upside, pure gravy cometh.
The AL East and AL West are still tight races, meaning that even the Oakland A's, with their lofty run differential, could get bumped out early in either a wild-card game or short series. We also know that there are teams "in the hunt" such as the
Los Angeles Angels
or (gasp) the
New York Yankees
that will spend. While the Tigers, at present, have neither the best record nor the best run differential, they have an outstanding group of core talent, they are in the best position to win their division and have the kind of roster that can go far in the playoffs. Furthermore, they have a front office empowered to make moves that their rivals just can't or won't make.
Richard Bergstrom writes for Rockies Zingers, a SweetSpot network blog on the Colorado Rockies.