June, 18, 2014
Jun 18
11:43
PM ET
It's about time somebody in baseball lightens up. So, thank you,
Milwaukee Brewers
marketing department, for this
wonderful video
that has a little fun with the All-Star voting while simultaneously satirizing those ridiculous political ads.
In the ad, a woman's voiceover says, "
Yadier Molina
is a great catcher, but did you know that he plays for the
St. Louis Cardinals
? Do you want another St. Louis Cardinal to start in an All-Star Game? Isn't there a better way?" We see a picture of Molina with a baby crying in the background. As we see highlights of
Jonathan Lucroy
, the voice says "Cast your vote for change." At the end, we hear Lucroy saying, "I'm Jonathan Lucroy, and I approve this message."
There was
a similar ad
for
Carlos Gomez
, but everyone is talking about the Lucroy ad. Why? Because Cardinals manager
Mike Matheny
apparently found it a little offensive.
He
told MLB.com
:
"I think you have to take it in the nature in which it was meant, and it was meant to be geared toward their fan base. It was just amazing that it was that much directed at our organization. I think that part probably caught me off guard the most.

"Not saying that's surprising. We've gone through this the last few years, especially last year with the Cardinal Way stuff getting blown way out of proportion. I think it can put a bad taste in a lot of peoples' mouth."
[+] Enlarge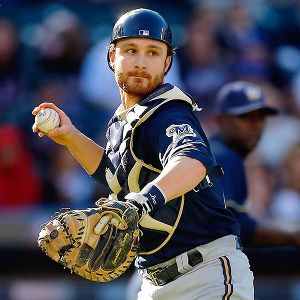 Jim McIsaac/Getty ImagesJonathan Lucroy's solid receiving skills make him more than just a three-month wonder in any All-Star conversation.
Lighten up, Mike. I mean, I know you learned from the Master of Seriousness, Tony La Russa, but a little spirited amusement is OK. We get enough consternation over players flipping bats and admiring home runs, so we don't need yet another "issue" that makes baseball too much like the No Fun League. And really, the ad, as you sort of admit, isn't criticizing Molina or the organization. If anything, it should be viewed as a compliment to all the great things the Cardinals have accomplished in recent years.
As the creator of the ad, Brad Weimer,
told the Milwaukee Journal-Sentinel
, "The only thing we accuse Yadier Molina of in the entire ad is being a St. Louis Cardinal. That's it. And it's tongue in cheek. Just having some fun. But I can see why some passionate fans might get a little riled up."
Indeed, the Internet lit up with anti-Cardinals sentiment. Non-Cardinals fans are certainly tired of the "best fans in baseball" stuff that Cardinals fans love to trumpet. (There's a Twitter account that retweets nasty things Cardinals fans tweet, existing to prove that Cardinals fans can be just as ugly and obnoxious as other fans.) The Cardinal Way thing got out of hand last year when the Cardinals set an MLB record with batting average in runners in scoring position, and it was breathlessly reported that Cardinals hitters had figured out some magical hitting aptitude. (They're 20th in the majors this season with RISP at .245.)
As for the actual issue at hand, Molina has a comfortable lead over
Buster Posey
of the
San Francisco Giants
in the voting with Lucroy third, but this is what makes many All-Star debates fun: How much do you just look at the current year and how much do you factor in the past?
If you're focusing just on 2014, the choice is pretty clear:
Lucroy: .340/.403/.537, 8 HR, 37 RBI, 34 R, 3.9 bWAR/3.4 fWAR
Molina: .284/.332/.407, 6 HR, 26 RBI, 23 R, 1.0 bWAR/1.6 fWAR
Posey: .276/.335/.421, 9 HR, 35 RBI, 28 R, 1.4 bWAR/1.3 fWAR
Evan Gattis
: .294/.346/.588, 16 HR, 38 RBI, 26 R, 1.8 bWAR, 2.4 fWAR
I threw in Gattis, as his recent power surge has him putting up some nice numbers at the plate.

The WAR totals (using both flavors, bWAR from Baseball-Reference and fWAR from FanGraphs) include a catcher's throwing ability -- at which Molina obviously excels -- but not a catcher's pitch-framing ability. Molina excels there as well, but so does Lucroy.
According to StatCorner.com
, Lucroy has saved more runs with his pitch framing than any other catcher. That's no fluke considering Lucroy also ranked No. 1 last season and fifth in 2012 (when he missed time with injury). Molina actually ranks just below average this year, so I'm not sure what's going on there. Posey ranks high the past three seasons. Gattis doesn't have a good reputation but ranks about average this year.
Anyway, the point is that while Molina is an all-time great defensive catcher, Lucroy and Posey are also positives defensively. But Lucroy and Gattis are certainly having the better seasons offensively, and Lucroy easily trumps the other three in WAR.
Should 2014 be the only factor? The defenders of that argument point out that it's the 2014 All-Star Game, not the career All-Star Game. The argument against is that we shouldn't consider three months as the best evaluation of a player's ability and thus have to consider previous performance. A third argument is that it's the All-STAR Game and Molina and Posey are stars. In 2014, this especially applies to
Derek Jeter
, no longer one of the best players in the game but certainly a player a lot of fans want to see in the All-Star Game.
It is important to remember that Lucroy has been a good player, not just a guy having three hot months -- 3.6 fWAR in 2013 and 3.6 in 2012, when he played just 96 games -- but Molina has gone 5.6 and 6.1, while Posey has been valued at 4.7 and 7.6.
There are cases to be made for all three. I like to weigh it about 50/50 -- half this season and half the player's past. But Lucroy is so far ahead of the others right now that I'm casting my vote for change.
April, 15, 2014
Apr 15
1:15
AM ET

PHILADELPHIA -- After beating up on the Washington Nationals all weekend, the Atlanta Braves reached a point Monday night where they appeared to be rolling toward a nice, methodical win over the Philadelphia Phillies. Then the momentum began whipsawing in umpteen different directions and vertigo took hold in the dugout, and it was the kind of game when bald managers make jokes about how they're glad they don't have any hair to turn gray.

"It was almost like two different games out there tonight," said Braves manager Fredi Gonzalez.
[+] Enlarge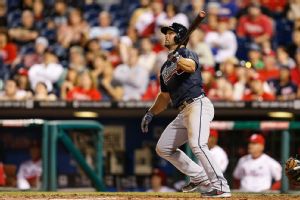 Brian Garfinkel/Getty ImagesDan Uggla admires his second home run of the night -- and of the season.

Atlanta's second most reliable reliever, Luis Avilan, morphed into a human line-drive dispenser in the eighth inning to turn a 5-1 lead into a 6-5 deficit. Then Dan Uggla, a power hitter who entered Monday night with a .195 average and zero homers in his first 41 at-bats this season, lofted a grand slam into the left-field seats in the top of the ninth to give the Braves a 9-6 lead they wouldn't relinquish.

And then, when the bullpen gates swung open and everyone expected All-Star closer Craig Kimbrel to come jogging out to nail it down, out came David Carpenter, who was pressed into service because Kimbrel has a sore right shoulder. (Nothing serious, Kimbrel insists. But he still might require a "few days" of rest and maintenance to get back on the mound.)

It's hard to tell precisely what lesson to draw from the aforementioned sequence of events. But if you begin with the premise that resilience is paramount during a 162-game season, that's a pretty good start.

"That's baseball," Uggla said. "A comfortable win turns into an uncomfortable loss sometimes -- or an uncomfortable win. It's just the way the game is. You can never think that things are going to work out a certain way."

If anyone can grasp that concept, it's the Braves, who have to be feeling pretty good about themselves with their 9-4 start, given the numerous unsightly alternatives.

Think back a little more than a month ago, when Kris Medlen and Brandon Beachy learned they would need Tommy John surgery and the Atlanta rotation bordered on wrecked beyond repair. A pessimist might have described the projected Opening Day rotation as "Teheran and Wood, and not very good."

Things have fallen into place quite nicely since then. Aaron Harang, picked up by Atlanta in late March after he was released by Cleveland, has been terrific, with a 0.96 ERA and a .145 batting average against in three starts. Reinforcements are on the way, with Mike Minor close to returning from a shoulder issue and Gavin Floyd (recovering from his own Tommy John surgery) not far behind. And the Braves just might have found themselves a new ace in Ervin Santana, who is giving Stephen Drew and Kendrys Morales a primer on how an unemployed free agent can cut his losses and make the best of a bad situation.

Like Morales and Drew, Santana was trapped in free-agent compensation hell before downsizing his expectations and signing a one-year, $14.1 million deal with Atlanta on March 12. Two starts into his tenure with the Braves, he has a 0.64 ERA and 17 strikeouts in 14 innings, and he's showing that a full complement of spring training innings can be highly overrated.
[+] Enlarge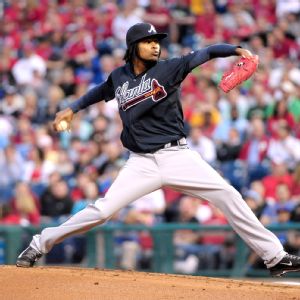 Eric Hartline/USA TODAY SportsErvin Santana has settled in quickly as a rotation solution for the Braves.

Santana was lights-out in his National League debut with eight scoreless innings against the Mets, and was almost as formidable against the Phillies. He struck out 11 batters in six innings, with every one coming on a swing and miss. Santana complemented a mid-90s fastball with an effective slider and changeup that induced an abundance of tentative, awkward swings.

"He has three plus pitches and he attacks hitters," said a scout who watched Santana at Citizens Bank Park on Monday. "A lot of swings and misses. We all wondered how he stayed out there on the market that long. Money, I guess. But he's pretty good."

Santana insists he doesn't have any extra motivation after a winter of anxious unemployment. But it's clear he made the right decision to take the plunge and go back on the market when he did.

"I don't have to prove anything," Santana said. "Just be me and pitch every time I take the mound. It was tough for me to get a job with the draft compensation being part of the deal. I don't want anything bad for anybody. But injuries happen. That's part of the game. When [the Braves] reached out to me I said, 'OK, let's do it.'"

Gonzalez knew Santana would be a good fit in Atlanta when Kansas City GM Dayton Moore and manager Ned Yost, two old friends, both called him and raved about Santana as a person, a professional and a competitor from his days with the Royals. If Gonzalez is surprised about anything to this point, it's that a pitcher as slight as Santana can summon so much life from that right arm. The dreadlocks merely add to Santana's aura.

"If you took a poll of people who didn't know baseball and said, 'What does that guy do for a living?' I think baseball would be the last thing they'd think," Gonzalez said. "They'd probably say this guy is an artist or a singer."

Santana is 1-0 through two starts, and Atlanta's supporting cast showed enough signs of life to bode well for him and the rest of the Atlanta staff moving forward:

• Evan Gattis, who hit two home runs Monday, is a career 4-for-20 at Citizens Bank Park. All four of those hits are home runs.

• Andrelton Simmons, Atlanta's all-world defensive shortstop, went 3-for-5 and is now hitting .341 this season. He has yet to strike out in 41 at-bats.

• Uggla committed a throwing error, but he made two sensational plays in the field and sent two balls into the seats. If the Braves plan on maintaining their early momentum, they need Uggla, Gattis and the rest of the lineup to give Freddie Freeman and Justin Upton some help over the coming weeks and months.

"We have a lot of guys who can change the game with one swing," Uggla said.

For now, the Braves are just happy to be in "weathered-the-storm" mode. After hitting rock bottom in spring training, they're fully prepared for the wild emotional swings that a baseball season brings. Some nights that trait comes in handier than others.
December, 29, 2013
12/29/13
9:31
AM ET
Today, Buster Olney
rated the top defensive teams in the majors
. We thought we would take the time to look at the offseasons for each team from a defensive perspective. Here's our National League look:
NL East
Braves:
The big change for Atlanta will be dealing with the departure of
Brian McCann
, whose strike-stealing skills will be hard to replace.
Evan Gattis
and
Gerald Laird
will try. Gattis may be better than you think (3 Defensive Runs Saved in 2013). By our tally (and that of StatCorner's
publicly available data
), he ranked among the best in the majors at getting pitches in the strike zone to be called strikes.
Marlins:
The Miami infield rated as average last season, but it has a new -- and potentially worse -- look in 2014, with shortstop
Adeiny Hechavarria
as the lone holdover. The Marlins will try
Garrett Jones
(and his negative-22 career Runs Saved) at first base,
Rafael Furcal
at second base (last played there for two innings in 2004) and
Casey McGehee
at third (bad numbers there in 2009 and 2010, but average in 2011). They'll also have
Jarrod Saltalamacchia
catching; he typically rates bottom of the pack when it comes to defensive metrics.
Mets:
The big story for the Mets will likely be how three center fielders coalesce in the outfield. If it works, the Mets could have the best ground-covering combo in the league. The likely alignment will be
Curtis Granderson
in left,
Juan Lagares
in center and
Chris Young
in right, though Young could shift to center (with Granderson moving to right and
Eric Young
to left) if Lagares' offense isn't to the Mets liking.
Nationals:
Washington hasn't done anything to tinker with its primary starting unit. Arguably the biggest worry will be making sure
Bryce Harper
doesn't overhustle his way into any walls as he did last season. The other thing that will be intriguing will be how new acquisition
Doug Fister
fares with a better infield defense behind him than he had in Detroit the past couple of seasons.
Some think that could bode really well
.
Phillies:
Many scoffed at the
Marlon Byrd
contract, but he represents a
huge
defensive upgrade for the Phillies in right field. The transition from John Mayberry Jr.,
Delmon Young
,
Darin Ruf
and
Laynce Nix
to Byrd represents a swing of 31 Runs Saved (the four combined for negative-19 Runs Saved; Byrd rated among the best with 12).
The Phillies still have a lot of defensive issues, though. First baseman
Ryan Howard
has minimal range. Shortstop
Jimmy Rollins
may still pass the eye test but has rated poorly three years running (negative-30 Runs Saved in that span). Their third-base combo rated almost as badly as right field. And primary center fielder
Ben Revere
had all sorts of issues with balls hit over his head last season. There is a lot of potential trouble brewing for 2014.
NL Central
Brewers:
Ryan Braun
will not just be returning from a performance-enhancing drug suspension. He'll also be playing a new position, right field, as the Brewers announced their intention to shift him from left field. Braun has 23 Runs Saved over the past four seasons, but the deterrent value of his throwing arm, which is minimal to below average, will now be a bigger factor. He'll have to be pretty good all-around to match what the team got from
Norichika Aoki
& Co. (combined 13 Defensive Runs Saved).
Cardinals:
St. Louis ranked second to last in the NL in Defensive Runs Saved last season and had only one position that rated above the major league average. That shouldn't happen again.
The Cardinals have moved
Matt Carpenter
from second to his natural spot at third, where he should be an upgrade over
David Freese
. Freese was traded to the Angels for
Peter Bourjos
, who, if his hamstrings are healthy,
could be a 20-plus run improvement
over
Jon Jay
in center field. Another great glove in
Mark Ellis
signed to share second base with
Kolten Wong
, which will be an improvement over Carpenter. And
Jhonny Peralta
probably is no worse than on par defensively with the man he'll replace at short, Pete Kozma. In sum, the Cardinals could be the most-improved defensive team from last season to this season.
Cubs:
The Cubs aren't vastly different from what they were at the end of last season, at least not yet. Their outfield defense needed an upgrade, and the one thing they've done to that end is obtain
Justin Ruggiano
. He has fared both well and poorly in center field in the past. Ruggiano may get a full-time shot to see what he can do in 2014.
Pirates:
Pittsburgh liked
Russell Martin
so much it brought in a defensive standout to back him up in
Chris Stewart
. Stewart
excels in all areas
and could invert what the team got in 2013 from its backup catchers (negative-6 Runs Saved). The Pirates were also smart about keeping
Clint Barmes
around on a low-salary deal. He's no
Andrelton Simmons
, but he rates
among the best defensive shortstops
in the league.
Reds:
Cincinnati will give
Billy Hamilton
every chance to be the every-day center fielder in 2014. He
rates as "fine,"
which will be a major upgrade from the struggles of
Shin-Soo Choo
, who was forced to play out of position last season. The Reds will also fully take the training wheels off
Devin Mesoraco
with outstanding defender
Ryan Hanigan
having been traded to the Rays. Keep an eye on that one. The security of having Hanigan could be a big loss on the defensive side.
NL West
Diamondbacks:
Mark Trumbo
shifted back and forth between first base and the outfield with the Angels, but he should be the full-time left fielder in 2014 for a team that had four players with 25 or more starts at the position last season. Trumbo showed he could handle left in a stint there with the Halos two seasons ago (a better fit there than in right). My guess is the
Diamondbacks will play him deep
and concede some singles to limit the number of times he'll have to retreat to chase a potential extra-base hit.
Dodgers:
Yasiel Puig
posted a terrific defensive rating in his initial stint in the big leagues (10 Runs Saved), but one concern the Dodgers will have was visible in the NL Championship Series -- how Puig does at limiting his mistakes.
Puig ranked 20th in innings played in right field last season but had the seventh-most Defensive Misplays & Errors (22) based on Baseball Info Solutions' video review. Over 162 games, that might not
affect his overall rating
, but that sort of thing could play a large role in swinging a couple of important games one way or the other.
The loss of Mark Ellis could also be big, though the jury is out until we see how
Alexander Guerrero
handles second base.
Giants:
San Francisco cast its lot with a pair of outfielders who will look a bit awkward in the corners, with Mike Morse in left and
Hunter Pence
in right. This could be a problem if the pitching staff is fly ball inclined. Pence is at negative-16 Runs Saved over the past two seasons. Morse fits best as a DH, and his value will be in whether he can drive in more runs than he lets in. Whoever the Giants' center fielder is this season will have his work cut out for him.
Padres:
San Diego will look to run
Seth Smith
, whom it got from the Athletics for
Luke Gregerson
, in right field. This could be a little dicey. Smith has negative-13 Runs Saved in the equivalent of about a season's worth of games there. Expect
Chris Denorfia
(21 career Runs Saved in right) to remain as a valuable fourth outfielder, late-game replacement.
Rockies:
The big defensive-themed news for the Rockies this offseason was their decision to commit to Gold Glove left fielder
Carlos Gonzalez
as a full-timer in center after trading
Dexter Fowler
. So long as he's not the Gonzalez of 2012, who looked a little heavy and finished with negative-13 Runs Saved, that should work out all right.
Colorado does have a lot of flexibility in its outfield with
Brandon Barnes
and
Drew Stubbs
coming off the bench for now. Either could come in as a late-game replacement for
Michael Cuddyer
if needed, and we wouldn't be surprised if either got some significant playing time in left field too.
November, 26, 2013
11/26/13
12:37
PM ET


It's another edition of Offseason Rapid Fire with Eric Karabell. We discuss the latest news and also ask: Which is the team to beat right now?






October, 4, 2013
10/04/13
1:17
AM ET
ATLANTA --
Evan Gattis
slipped on a pair of jeans and buttoned his plaid shirt, turned around and faced the questions.
Gattis is the Braves rookie with the inspiring backstory, the guy who quit baseball in college and was out of the sport for several years, working odd jobs across the country before getting back into the game. He's the kind of player who fans love, an everyman who hits without batting gloves, seemingly a testament to his unconventional path to the big leagues.
The Braves won 96 games and coasted to the National League East title, but in the biggest game of their season, there was Gattis, a catcher by trade with limited experience in the outfield, playing left field and batting cleanup against the best pitcher on the planet.
[+] Enlarge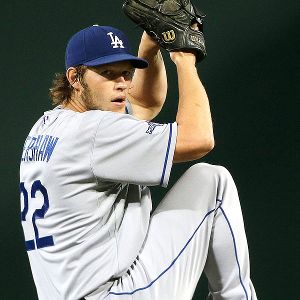 AP Photo/David GoldmanClayton Kershaw struck out 12 in seven innings in the Dodgers' Game 1 win.
As fun as is story is, and even with all the late-inning heroics he's provided this year, it's also a sign of the Braves' weaknesses that Gattis is now playing such a vital role on this team. He was involved in two crucial plays in the Braves' 6-1 opening game loss to the Dodgers.
In the second inning, he butchered a soft liner from
A.J. Ellis
into a run-scoring double, running hard but missing the catch as he dove after the ball. "Just a play I didn't make," he said. In the bottom of the inning, Gattis reached against
Clayton Kershaw
on a bloop single but then got caught off first when
Yasiel Puig
easily ran down a shallow fly in right-center. "I got deked," he said. "I didn't think he was going to get there. Took a hard step towards second base. Just a mistake."
Manager Fredi Gonzalez has Gattis in the lineup for power, but even the bat has cooled off after a hot start. Gattis hit just .242/.272/.406 in the second half, and that included his six-homer September; his .291 OBP is decidedly a non-cleanup kind of number. In fact,
Dan Uggla
-- left off the playoff roster -- had a higher OBP on the season than Gattis.
Gonzalez's other gamble of sorts is Uggla's replacement at second,
Elliot Johnson
, claimed on waivers from the Royals in late August after hitting .179 with Kansas City. Johnson hit a quiet .261 for the Braves in 32 games, enough to take the job away from the slumping Uggla. But he's in there for his glove not his bat and he booted
Carl Crawford
's grounder leading off the third -- generously ruled a hit -- setting the stage for a two-run Dodgers rally that made it 4-0.
That was the most discouraging part of this game for the Braves. There's no shame in losing to Kershaw, but the defense let starter
Kris Medlen
down.
Jason Heyward
had two good opportunities to throw out a runner at home plate but overthrew the cutoff man both times, allowing baserunners to advance. Medlen's final line looked ugly -- four innings, nine hits, five runs -- but with better defense he keeps his club in the game (although he did make one huge mistake, a changeup left out over the plate that
Adrian Gonzalez
crushed to center for a two-run homer following Johnson's hit/error.
As for Kershaw, the Braves hadn't faced him this year, and he's tough enough to figure out even if you have seen him before.
Justin Upton
, who was 3-for-29 in his career against Kershaw from his Diamondbacks days, said, "He's the best I've ever seen. He got into a rhythm. He got any fire we had going early on and that was it."
Kershaw appeared to struggle early on with his fastball command but even a not-his-best Kershaw can make any team look helpless, and he battled through seven innings and 124 pitches, striking out 12 of the whiff-prone Braves while walking three and allowing just three hits. As he struggled with his command, he started to throw more offspeed pitches in the middle innings, including one unfair curveball to pinch-hitter
B.J. Upton
that Upton simply looked and headed to the duguout.
Don't worry, B.J., you're not the only one: Batters his .097 off Kershaw's curveball this year with 80 strikeouts, no extra-base hits and no walks. That's as unhittable a weapon as pitcher can possess.
"We went out and worked him,"
Freddie Freeman
said "I think he had 130 pitches in seven innings. We just couldn't get the runs across and in the end that's all that matters."
[+] Enlarge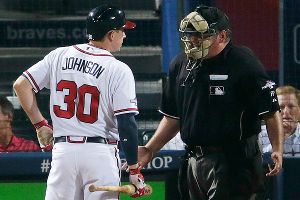 AP Photo/Dave MartinElliot Johnson and the rest of the Braves' hitters had no answer for what Kershaw had to offer.
The Braves, of course, have a fairly tortured playoff history, and not just those great teams of the '90s that won just one World Series (tell Cubs and Indians fans that one title wasn't enough). Including last year's wild-card game they've lost seven series in a row since beating the Astros in the 2001 Division Series. Including Thursday's loss, the Braves are 9-21 in the playoffs since beating Houston.
The Braves are still confident heading into tomorrow. You don't win 96 games without a lot of that. Facing right-hander
Zack Greinke
will give Freeman, Heyward and
Brian McCann
-- arguably their three best hitters -- the platoon advantage. Don't be surprised if lefty-swinging
Jordan Schafer
is out in left field.
"That's the beauty of it," Freeman said. "Come back and go at it tomorrow. Give these fans something to cheer about."
When asked if it's a must-win game, Justin Upton smiled. "That's why they give us five games."
Unfortunately, if it does go the distance, the large shadow of Mr. Kershaw looms in the distance.
June, 2, 2013
6/02/13
12:40
AM ET
By
Christina Kahrl
| ESPN.com
When it comes to this year's rookies, as fans I think we sort of came into this season like the kid at Christmas the year after you got the bike
and
the pony, or the new car
and
the Red Ryder BB gun. Because, let's face it, the year after
Mike Trout
and
Bryce Harper
arrived on the scene had to be something of a letdown, right?
Turns out, not so much, at least not in the National League. The difference is that this year the kids are all right on the mound.
Hyun-Jin Ryu
has been one of the few bright spots on a Dodgers team desperate for something worth bragging about beyond its price tag. But the Cardinals'
Shelby Miller
just got his ERA down to 1.82, almost a full run lower than Ryu's, while catching the Korean southpaw in the win column for at least a day, what with Ryu set to take the mound Sunday.
It's a showdown between a pair of outstanding candidates who press many of the hot-button issues about Rookie of the Year voting every season. Some fans -- and perhaps more than a few voters -- might favor the future value they anticipate when they see Miller. Some might have qualms about voting for a foreign leagues veteran, MLB-rookie status or no. But as long as Miller keeps pitching like a man who belongs with teammate
Adam Wainwright
in the conversation on who the best pitcher in the league might be, two months into the season it's Miller's race to win -- if he pitches all year.
[+] Enlarge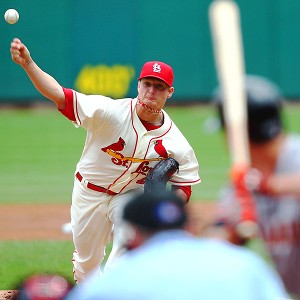 Dilip Vishwanat/Getty ImagesShelby Miller improved to 6-3, and lowered his ERA to 1.82, in the Cardinals' win over the Giants.
That said, it
is
a long season, and as the Nationals' decision to shut down
Stephen Strasburg
in 2012 reflected, pitchers might be excused for factors that have nothing to do with performance.
Happily, the NL field for first-year talent is wider than that tandem, even as Miller and Ryu contend for headlines. Just from among the hurlers,
Jose Fernandez
might have to labor in relative obscurity with the Marlins, marooned in the depths of a new-park hangover that has many Miami fans and voters asking themselves the coyote-ugly question about their franchise a year or two too late. But that has nothing to do with Fernandez's talent, on full display as he mowed down Mets on Saturday. Like Miller, he's striking out more than a man per inning, good enough to put him in the top 10 among NL starters in K/9. If it weren't for Ryu
and
Miller, even in the spring of
Matt Harvey
, we'd be talking about Fernandez a lot more. So you can imagine how
Julio Teheran
, doing well as a rotation regular on a first-place Braves team, feels.
This year, you can really only say one NL rookie position player is generating anything like the same buzz. Atlanta's
Evan Gattis
deserves the love he's getting, not for the backstory but for the production. This is not
Chris Coste
2.0 -- not that a guy like Coste wasn't as easy to root for as Gattis, but when you're slugging north of .600 two months into the season, you're not a passing fancy, you're somebody hitting so well that demoting an eight-figure salary becomes
something more than merely speculative
.
Gattis is doing for position players what Miller and Ryu have done for the pitchers in terms of sucking all the oxygen out of the room. As a result,
Jedd Gyorko
of the Padres might not merit more than a courtesy mention now, but I wouldn't count him out over the next four months. Gyorko has the power to slug .450 or better despite having to call Petco Park home as a rookie; if he cranks 60 extra-base hits while helping the Padres finish around .500, that's an amazing season.
You could say much the same for the pair of rookies starting up the middle for the Diamondbacks. However overmuch attention has been given to Kirk Gibson's clubhouse makeover or the likely big-picture penalties for trading away
Justin Upton
, the work Arizona is getting from
Didi Gregorius
at shortstop (and
A.J. Pollock
in center field) has helped propel the Snakes to first place in the NL West. As easy as it might be to say Gregorius has been helped by the D-backs' bandbox ballpark, three of his four homers have come on the road. If he starts slugging at home, too, how do you count out a slick-fielding shortstop with power on a first-place team?
Even with their delayed call-ups, by this time last year Trout and Harper had already been strutting their stuff. Trout was putting up an .887 OPS for an Angels lineup that needed all the help it could get overcoming
Albert Pujols
' slow start. Harper was hitting .274/.357/.504 in a little more than a month. They might not have been brought up until the end of April, but you already knew we were in for something special. But this year's class? Its players might not compare directly, but they're doing more than enough to pay attention to, now and down the stretch.
The American League, on the other hand ... well, you have to give the Rangers some unexpected due. I don't know if anyone really expects
Justin Grimm
or
Nick Tepesch
to still be in this conversation at the end of June, let alone September, but their contributions have clearly helped keep the Rangers' riding to the league's best record. But
Conor Gillaspie
?
Yan Gomes
? That they're among the top WAR-generating rookies in the AL so far just means that nobody has shown enough, for long enough, with the expectation that he'll still have a job at the All-Star break. I wouldn't rule out
Nick Franklin
or
Jurickson Profar
in partial seasons. I also wouldn't rule out that the eventual AL Rookie of the Year hasn't been called up yet. Or possibly even drafted yet -- who said Christmas comes just once per year?
Christina Kahrl covers baseball for ESPN.com. You can follow her on Twitter.
May, 29, 2013
5/29/13
12:19
AM ET
So, the way I see it, there are two answers here for the
Atlanta Braves
, both equally defensible:
1. You signed
B.J. Upton
to be your center fielder for the next five years. You're paying him a lot of money to do that. You can't give up on him so easily, so quickly, even if his batting line is a horrifying .148/.236/.252 after 176 plate appearances.
2. The object is to field your best team possible. Right now, that doesn't include B.J. Upton playing center field, at least on a regular basis.
What do you do if you're Fredi Gonzalez?
@dschoenfield I ask myself that question every morning, Dave. Schafer is simply better than Bj right now, HR today was best AB of his career

— Zeth Olive (@ZethOlive) May 29, 2013
@dschoenfield Upton.Gotta stick with him.You don't give up on $75M after 8 weeks.

— Allan Turner (@ThisRedRocks) May 29, 2013
@dschoenfield reluctantly BJ because $75m. Would love Heyward in CF with J Upton in RF and Gattis in left.

— Josh Sorah (@JoshSorah) May 29, 2013
Of course, it's not even as easy as either/or. The Braves could keep playing Upton out there. They could play
Jordan Schafer
, who is hitting .299/.419/.455 in 95 PAs after hitting his second home run in Tuesday's
7-6 win
over the Blue Jays.
The most interesting scenario is finding a way to keep
Evan Gattis
' bat in the lineup with
Brian McCann
back catching. The only way to do is that is to play Gattis in left,
Justin Upton
in right and move
Jason Heyward
to center. Gonzalez tried out that trio for the first time on Saturday.
What makes this so fun to debate is that all of these scenarios have issues. Is Gattis' bat for real -- he hit his 12th home run on Tuesday -- or will the league catch up to him? And how brutal would he be defensively? Heyward is a Gold Glove right fielder but has only played three games in center in his major league career, so how well could he handle the position? Schafer's track record suggests he's playing way over his head, but what if his improved walk rate is for real? There's also the worry -- it can't be ignored -- that benching B.J. Upton could upset his brother.
But the biggest question: What's going on with B.J.?
As Lee Singer of ESPN Stats & Information reports, Upton has been working with coaches to eliminate the excessive load in his swing, which Braves hitting coach Greg Walker said has
caused Upton to be late on fastballs
all season. Indeed, Upton is hitting .159 against fastballs after hitting .254 against them from 2009-12. Just 16 percent of his balls in play against fastballs have been "well hit," compared to 33 percent over those previous four seasons.

Upton said it's an easy fix, although you have to why has it taken 175 plate appearances to fix it? "Just kind of a bad habit that developed," he told the Atlanta Journal-Constitution. "That happens in the game, man. Nothing you can do but just keep going, man. It's not the first time I struggled, won't be the last time. Just keep working. My thing is, just don't give up. As long as I do that, I'll come out of it.
"There's still time left. I'll get it turned around."
But will he? I went to the Baseball-Reference.com Play Index and looked at the past 25 years and found 18 players who hit below .175 in the first half of the season while getting at least 175 plate appearances. (Obviously, Upton has time in the first half to get over that .175 mark.) Of those 18, only four ended the season above .200, the highest being .219.
Now, most of those guys weren't 28-year-olds in their supposed primes who had just signed $75 million contracts. The most interesting comparison is one Braves fans might be familiar with. In 2006,
Andruw Jones
hit 41 home runs and drove in 129 runs. He hit .222 the next year, and in 2008, after signing a two-year, $36.5 million deal with the Dodgers, plummeted to .158 in 238 PAs. He hurt his knee in late May but was already well under .200. He was also out of shape and three years older than B.J., but was also better than B.J. at his best.
If anything, this speaks to the Braves' depth, a key reason why they are 4.5 games up on the Nationals in the NL East. That lead means Gonzalez doesn't have to panic. But I would suggest that Upton has been
so
bad that I don't believe he'll find an easy fix to his problems. And money certainly shouldn't be the deciding factor. I'd keep platooning Schafer and Upton and find a way to play Gattis a few times a week in left field. The big picture says you let Upton work his out of his slump, but baseball is also a game of streaks, and right now you ride Schafer and Gattis while they're hot.
May, 28, 2013
5/28/13
12:59
PM ET
We talked some baseball. We talked Paul Goldschmidt versus Joey Votto. The record paces of Miguel Cabrera and Manny Machado. What's wrong with the B.J. Upton and Matt Kemp and what the Braves and Dodgers should do. We talked about the defense of Mike Trout and Shin-Soo Choo, disappointing prospects, Pete Kozma, Joe Mauer's RBI production, Oscar Taveras and Jurickson Profar, and much more!
Click here for the complete chat wrap
.
May, 22, 2013
5/22/13
12:46
AM ET
Quick thoughts on Tuesday's excellent slate of major league action …
May, 20, 2013
5/20/13
12:00
AM ET
A quick warning about
Jurickson Profar
's call to the majors to
replace
the disabled
Ian Kinsler
: Do not expect
Mike Trout
; do not expect
Bryce Harper
; do not expect
Manny Machado
.
Yes, the performance of those three wunderkinds has, unfortunately, raised the expectations for
all
prospects, especially one deemed the best in the game entering this season.
In time, maybe Profar joins them as generational talents (I can see the corny nickname already: "The Four Tops"), but it would be unfair to believe Profar will hit like they have, at least right off the bat. Remember, he's only 20, and, while he held his own in Triple-A, hitting .278/.370/.438 with four home runs, HE'S ONLY 20 YEARS OLD. Most 20 year olds are still learning how to hit curveballs in the South Atlantic League.
That said, I'm excited to see the kid play for a couple weeks. While Profar didn't start Sunday and Ron Washington said he'll split time with
Leury Garcia
, I'm not sure the Rangers recalled Profar to play three games a week. Profar has a good approach at the plate, particularly for a kid so young, drawing 21 walks in 37 games at Round Rock, so that's a good sign that he'll come up to the majors and not get in trouble by being overly aggressive. And, as Washington likes to say, "He's not afraid of the game."
Kinsler had been one of the best players in the league so far, hitting .302 with seven home runs, 20 RBIs and 24 runs, so the Rangers will miss his production from the leadoff spot. But they have a comfortable lead in the AL West and there was no reason to push him through the injury.
Profar is likely headed back to Triple-A once Kinsler's DL stint ends. Of course, who knows, maybe Profar hits so well he leaves the Rangers no choice but to find a regular spot for him. I don't think that will happen, but I wouldn't be that eager to bet against him, either.
REST OF THE WEEKEND

Three stars
1. Matt Joyce, Tampa Bay Rays.
Down 4-0 after one inning to the
Baltimore Orioles
on Saturday, Joyce hit a two-run homer in the third to get the Rays closer and then hit a two-run, go-ahead double in the ninth. On Sunday, Joyce's homer provided the insurance run in a 3-1 win as the Rays swept the O's.
2. Dexter Fowler, Colorado Rockies.
The Rockies had many heroes in winning three of four against the
San Francisco Giants
at home, but Fowler jumpstarted the offense all weekend with 10 hits and seven runs scored. Not a bad four days: He raised his average from .252 to .286.
3. Justin Masterson, Cleveland Indians.
Masterson tossed his second consecutive scoreless start, striking out a season-high 11 in seven innings against the
Seattle Mariners
on Sunday in a 6-0 victory. Masterson improved to 7-2 while lowering his ERA to 2.83. This is a different Masterson than we've seen the past couple seasons, with a much higher strikeout rate (25 percent versus 18 percent last season) but still keeping the home runs to a minimum (just three). While he's struggled in the past against left-handers, he's held them to a .226 average this season with a 36/19 K/BB ratio compared to 72/56 in 2012. And it's not all batting average on balls in play (BABIP), which is a fairly normal .285 so far. If he keeps getting lefties out, he's going to keep winning games.
Honorable mention star of the weekend
Have to mention
Joey Votto
for getting on base all six times in Saturday's win for the
Cincinnati Reds
-- he went 4-for-4 with two walks, a double and a home run. Only two players had a "6-for-6" day last season --
Aaron Hill
of the
Arizona Diamondbacks
and
Neil Walker
of the
Pittsburgh Pirates
. Both went 5-for-5 with a walk and, like Votto, doubled and homered.
One more honorable mention star of the weekend
The Diamondbacks beat the
Miami Marlins
on Saturday as
Brandon McCarthy
pitched the three-hit shutout (no save!), but he had a lot of help from
Gerardo Parra
, who led off the game
with this
on the first pitch and
then did this
in the bottom of the first. Parra has one of the better arms in the majors, but his bat is a big reason the D-backs are in first place, as he's hitting .320/.385/.494 with 28 runs (11th in the NL). That batting line, combined with his outstanding defense, has Parra leading the NL in Wins Above Replacement (WAR), tied with
Matt Harvey
and
Clayton Kershaw
, at 3.1. Justin who?
Clutch performance of the weekend
Atlanta Braves
rookie
Evan Gattis
keeps finding a way to get himself into the highlights. On Saturday, he pinch hit in the eighth inning against hard-throwing
Kenley Jansen
of the
Los Angeles Dodgers
with the Braves down 1-0 and a runner on and
did this
on a 2-2 fastball. The best part of the highlight is
Freddie Freeman
's "I don't believe that" reaction in the dugout.
The Dodgers bullpen, meanwhile, continues to implode. They followed Saturday's loss with another one on Sunday, giving up four runs in the eighth in a 5-2 loss. It has 13 losses, three more than any other team, and its 4.61 ERA is better only than the
New York Mets
and
Houston Astros
.
Unclutch performance of the weekend
Aroldis Chapman
, step on down. Chapman entered with a 2-1 lead on Sunday and walked
Delmon Young
with one out. That was bad enough, but
Cliff Lee
pinch ran for Delmon (yes, a guy who plays the outfield regularly got run for by a pitcher) … and got picked off for the second out of the inning. Game over, right? Nope.
Erik Kratz
homered on a 3-2, 98 mph heater. And then
Freddy Galvis
-- Freddy Galvis! --
hit the dramatic walk-off home run
off a 95 mph fastball.
Best game
OK, it's pretty difficult to top that one. There were some wild games this weekend -- Tampa beat Baltimore 12-10 on Friday, the Indians gave up two home runs in the ninth to Seattle on Saturday only to win in the bottom of the inning -- but Friday's
Washington Nationals
-
San Diego Padres
game was a tough one for San Diego.
Adam LaRoche
homered twice off rookie
Burch Smith
, but the Padres tied it with two runs in the bottom of the ninth off
Rafael Soriano
-- with the help of another
Ryan Zimmerman
throwing error. (A situation that's becoming a serious problem for the Nationals, as that's nine errors for Zimmerman with his fielding percentage a
Mark Reynolds
-like .897.) Anyway,
Chad Tracy
hit a
pinch-hit homer
off
Huston Street
in the 10th to give the Nats a 6-5 win. That's already six home runs allowed for Street, whose trade value is shrinking with each home run.
Hitter on the rise: Jason Kipnis, Indians
He had a three-run,
walk-off home run
in the 10th inning on Friday and two hits on Saturday and Sunday, giving him nine in his past four games, all Cleveland victories. The Indians are 17-4 since April 28 and Kipnis has hit .305 with seven home runs and 21 RBIs in the 20 games he's played. He won't start the All-Star Game with
Robinson Cano
in the American League, and the AL is loaded at second base with Kinsler,
Dustin Pedroia
and
Jose Altuve
, but it wouldn't surprise me to see Kipnis at the All-Star Game.
Pitcher on the rise: Jeff Locke, Pirates
I'm not necessarily buying, but the lefty is now 4-1 with a 2.73 ERA after tossing seven scoreless innings on Sunday against the Astros
in a 1-0 win
. His K/BB ratio is a pedestrian 32/22, but opponents are hitting just .219 off him, thanks to a .230 BABIP. With that number likely to rise, Locke will need to record a few more whiffs to maintain success close to this level. Still, that's three scoreless outings this season and one did come against the Cardinals. Even though he's not
this
good, if he can give the Pirates 175 solid innings as a No. 4 starter, they'll take it.
Team on the rise: Pirates
The Pirates took two of three from the Astros to improve to 11-6 in May and 26-18 overall. They're second in the majors in ERA, and it's not necessarily a huge fluke as they're third in strikeouts. One thing to keep an eye on: Only the hapless Astros have needed more innings from their bullpen, so while the Pittsburgh crew has been outstanding, the workload is a possible concern down the road.
Team on the fall: Dodgers
The two bright spots this week were
Zack Greinke
's return and
Matt Kemp
's great catch
on Saturday, but three losses in Atlanta reiterated that this isn't just a team ravaged by injuries: It's a bad team with a bad bullpen that finds ways to lose. Manager Don Mattingly said not to blame the bullpen. "You add on a run here or there, it takes a lot of pressure off a guy that you can't give up one hit that changes the whole game. I think we have to take this all as a group."
OK, then, we'll call it a team effort of a team on the fall.
April, 14, 2013
4/14/13
11:53
PM ET
The
Atlanta Braves
sent a message this weekend: Don't forget about us.
We all know the
Washington Nationals
were prohibitive favorites to win the NL East --
38 of 43 ESPN.com experts picked them
-- and only five picked the Braves. I think the Braves' impressive sweep over the Nationals this weekend, culminating in Sunday's
9-0 shutout
, did more to showcase the talents of the Braves than to expose any particular weaknesses in the Nationals.
"We know the Nationals are supposed to be pretty good, so it was good to make a statement early," Braves shortstop
Andrelton Simmons
said after the club won its ninth game in a row. "Let them know we're going to be tough to beat."
Nationals manager Davey Johnson took the more experienced response of a manager who knows pennants aren't won in April: "We should have won the first one. We were right there on the second. We just got waffled today. I don't put too much stock in it."
The most impressive thing about the Braves is -- like the Nationals -- they're a team constructed not just for 2013 but for the long haul. What's
really
impressive is how the Braves have built this team. Astute draft picks, player development, great trades, obscure pickups and, rarely, an impact free-agent signing.
Unlike the Nationals, who benefited from years of losing records that resulted in high draft picks (especially lucky enough to own the No. 1 overall pick the years
Stephen Strasburg
and
Bryce Harper
were in the draft), the Braves developed young talent without the benefit of all those high picks. In fact, in the past 20 years, they've had just two picks in the top 15 --
Mike Minor
, No. 7 overall in 2009, and
Jason Heyward
, No. 14 overall in 2007. Minor was a polished college left-hander who some felt the Braves overdrafted; Heyward was a local high school kid who fell to 14th in part because he was pitched around so much as a senior that he had just 52 at-bats.
Credit the Braves scouting staff for not missing those guys. Roy Clark, the scouting director for the Braves when they drafted Heyward and Minor, is now the assistant general manager to Mike Rizzo in Washington. But beyond those first-rounders, the Braves have found talent later in the draft:
Simmons was a second-round pick out of Western Oklahoma State Junior College in 2010 and his meteoric rise to reach the majors was remarkable, considering few teams believed in his bat and some even projected him as a pitcher.
Closer Craig Kimbrel was a third-rounder in 2008, another junior college pick.
Starter Kris Medlen was a 10th-rounder, yet another junior college pick, and like Kimbrel is a short right-hander (both are under 6 feet tall).
First baseman Freddie Freeman, currently on the disabled list, was a second-round pick in 2007, and like Heyward reached the majors at age 20.
Brandon Beachy, also on the DL after last year's Tommy John surgery, was primarly a third baseman at Indiana Wesleyan and went undrafted. Braves scout Gene Kerns saw him pitching in relief in a college summer league and recommended the team sign him.
And then there's the quickly growing legend of Evan Gattis, who less than three years ago was a 23-year-old playing for the University of Texas-Permian Basin after having quit baseball for five years. The Braves drafted him in the 23rd round, and now he's a 26-year-old rookie catcher filling in for the injured Brian McCann, batting cleanup and hitting .324/.385/.724. Gattis, who knocked in two runs in Sunday's win, has 10 RBIs and four home runs in nine games this season.
All that young talent means the Braves had an Opening Day payroll just under $90 million -- 16th-highest in the majors and less than half of the Yankees and Dodgers.
Then, of course, there are the Upton brothers. Instead of re-signing speedster
Michael Bourn
, the Braves signed the younger
B.J. Upton
to add more power to the offense. Then came the blockbuster deal to acquire
Justin Upton
. All he's done is club seven homers -- his seventh came on Sunday off a
Gio Gonzalez
2-2 curveball that Upton hit out to right-center.
Sunday's pitching star was veteran lefty
Paul Maholm
, another astute Braves pickup, acquired last summer from the Cubs for
Arodys Vizcaino
, a youngster who missed all of 2012 because of Tommy John surgery. Maholm is a cost-effective mid-rotation starter making $6.5 million this year, the kind of pitcher who is underrated because his stuff isn't overpowering. He'd had a good year with the Pirates in 2011 and was pitching well for the Cubs.
He's added a slow curve
to his repertoire this year and hasn't allowed a run in three starts.
Maholm will give up a run eventually and the Braves' winning streak will end soon. Right now they're playing the best of any team in baseball, a fun team to watch that does everything -- play defense, pitch, hit for power and then hand the ball to Kimbrel. And the scary thing: B.J. Upton is just finally starting to hit -- he had three on Sunday to raise his average to .163 -- and Heyward is hitting .103 with just two extra-base hits.
Consider the message received.
REST OF THE WEEKEND

Three stars
1. Clay Buchholz, Red Sox.
Took a no-hitter into the eighth inning on Sunday against the Rays, finishing with 11 K's over eight scoreless frames in
Boston's 5-0 win
. Buchholz had a dominant spring training and it's carried over into April as he's 3-0 with a 0.41 ERA.
2. Hisashi Iwakuma, Mariners.
Outpitched
Yu Darvish
in a
3-1 Seattle victory
on Friday in a matchup that was certainly huge in Japan. Through three starts Iwakuma is 2-0 with a 2.18 ERA, .129 average allowed and 16/1 SO/BB ratio.
3. Matt Harvey, Mets.
Can't avoid another pitcher, but Harvey was dominant once again on Saturday against the Twins, pitching through a start-time temperature of 35 degrees. In three starts he's 3-0 with two runs allowed and six hits in 22 innings.
Clutch performance of the weekend
Albert Pujols, Angels.
Trailing the Astros 4-1 in the eighth inning on Saturday, and staring at an embarrassing 2-9 start, the Angels rallied for two in the eighth and then Pujols doubled home
Luis Jimenez
and
Mike Trout
with two outs in the bottom of the ninth. A win on Sunday pushed the Angels to 4-8; not good, but not yet a complete disaster.
Best game
Braves 6, Nationals 4, 10 innings (Friday).
The Nationals led 4-0 after two innings and starter
Ross Detwiler
departed after seven innings with a 4-1 lead. But the Nationals bullpen struggled yet again, the Braves tied it in the ninth off
Drew Storen
, and then backup infielder
Ramiro Pena
hit a two-run homer off
Craig Stammen
in the 10th.
Hitter on the rise: Evan Gattis, Braves.
What does it say about the confidence Fredi Gonzalez has in Gattis to hit him cleanup after just a few games in the majors? If Gattis is this good, it's going to create a good kind of problem when McCann and Freeman return from the DL. What do you do with him? He's catching now and started one game at first, but you can't really hide him anywhere else.
Pitcher on the rise: Jose Fernandez, Marlins
The 20-year-old rookie had his second straight solid outing, with six scoreless innings against the Phillies on Saturday. That's two starts and one run allowed, although he hasn't earned the W yet.
Move I can't understand
Oh, Dusty Baker, how we love to analyze your moves. On Sunday, the
Reds led the Pirates 6-4
entering the bottom of the eighth (and had led 5-0 entering the bottom of the seventh).
Aroldis Chapman
hadn't pitched in ... well, a week. Neither had setup man
Jonathan Broxton
, who came in and promptly gave up a walk and home run to
Michael McKenry
. And then after a groundout, another walk. But it wasn't a save situation so Chapman remained in the bullpen.
Starling Marte
then homered. Broxton then gave up a walk (to pitcher
Jonathan Sanchez
) and a single. And was still in there to give up a sac fly. (Baker blamed rust for Broxton's stuggles. OK.) Chapman was finally summoned from the pen. So Baker managed to go an entire week without getting Chapman into a meaningful situation. Meanwhile,
Johnny Cueto
left Saturday's game with right triceps pain and
Shin-Soo Choo
continues to hit but struggled defensively in center field.
Team on the rise: Pirates
The Pirates entered the weekend hitting .153 and had scored 21 runs in nine game. They swept the Reds to improve to 6-6, one game behind St. Louis in the NL Central.
Team on the fall: Twins
The Twins have lost five in a row and got snowed out on Sunday, which maybe was a good thing. Rookie center field
Aaron Hicks
may find a trip to Triple-A in his future, as after a big spring training he looks completely overmatched, hitting 3-for-43 (.047) with 20 strikeouts. And yet Ron Gardenhire continues to hit him leadoff.
April, 3, 2013
4/03/13
11:35
PM ET
The great ones don't all go out like Ted Williams, hitting .316 in his final season and homering in his final at-bat, rounding the bases at Fenway Park on a gray afternoon that required the lights turned on. "He didn't tip his cap," wrote John Updike. "Though we thumped, wept, and chanted 'We want Ted' for minutes after he hid in the dugout, he did not come back."
Pitchers, especially, have a difficult time seeing the end. There's Bob Gibson hobbling through a bad knee. There's Juan Marichal suiting up for -- say it wasn't so -- the Dodgers. There's Steve Carlton trying to hang on with the Giants and the White Sox and the Indians and the Twins.
I'm not saying
Roy Halladay
is done. Not after one mediocre season and one bad season-opening start on a wet, drizzly night in Atlanta. But Halladay's work in Wednesday's
9-2 loss to the Braves
did nothing to assuage concerns about his rocky spring training that included a lack of velocity and poor results (16.1 IP, 21 H, 9 BB, 16 SO). Those totals don't even include a game against Blue Jays minor leaguers when he retired only seven of the 18 batters he faced and induced just three swings-and-misses.
"It's not a boxing match," Halladay had said after that outing, which included only a pitch or two that cracked 90 mph. "It's not strength versus strength. It's a chess match. It's competition of the mind and execution and being smarter and being more prepared."
There's no doubting that no pitcher will be more prepared than Halladay, who is known for his legendary workout routines. But that doesn't hide the obvious here: He isn't throwing like the Roy Halladay who won the National League Cy Young Award in 2010 and finished second in the voting in 2011. His playoff no-hitter against the Reds in the 2010 National League Division Series was Van Gogh painting "Starry Night" or Koufax in the 1965 World Series, a master at the peak of his powers. That game was only 30 months ago but was a different incarnation of Halladay. That year, his four-seam fastball averaged 92 mph but he could crank it up as high as 95. Last year, according to pitch-classification data, Halladay largely abandoned the four-seamer and used a cut fastball more often. His velocity was down to the upper 80s for the most part, partially because of that pitch selection, but also because of a shoulder problem that eventually landed him on the disabled list.
[+] Enlarge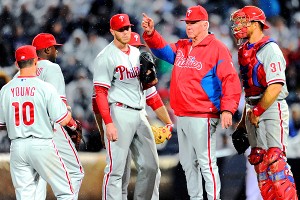 Dale Zanine/USA TODAY SportsManager Charlie Manuel signals for relief after a short outing from struggling Roy Halladay, center.
Against the Braves on Wednesday, Halladay finished with one of the oddest pitching lines you'll ever see. He struck out nine batters, a good sign, but lasted just 3.1 innings, removed after 95 pitches, certainly a bad sign. According to ESPN Stats & Information, he became the first pitcher since 1900 to strike out that many batters while lasting that few innings; he also threw 40 pitches in an inning for the first time since July 2007.
It's that pitch count that creates more cause for worry than the strikeouts create cause for optimism. Halladay's game
is
a chess match, but it's one that involves quick outs, ground balls and low pitch counts. That game against the Reds? 104 pitches. In 2010 and 2011, Halladay had only three starts of fewer than six innings, the shortest being a four-inning stint in 2011, a game he left early because of the heat and humidity at Wrigley Field. Last year, he had three starts of fewer than five innings, including two against the Braves (he allowed 22 runs in 17.2 innings against Atlanta last year).
Maybe the Braves just have his number.
Justin Upton
hit a two-run homer on a 1-2, 91 mph fastball in the first inning. Catcher
Erik Kratz
set up inside but the pitch moved over the center of the plate, low in the zone, though Upton cleared the fence in right-center, a pretty good piece of hitting. In the fourth, rookie catcher
Evan Gattis
, making his major league debut, hit a 1-1, 88 mph fastball over the fence in left. Neither cleared by much, so there was a little bad luck there for Halladay, but neither pitch demonstrated the pinpoint Halladay location we're used to seeing.
It's certainly too soon to panic. Halladay's fastest pitch of the evening was clocked at 91.7 mph, which is a good sign considering his velocity in spring training. And as Halladay will tell you, velocity isn't everything. But if he's going to win his future chess matches, he's going to have to continue to adapt and start painting those corners like the Halladay of old.
* * * *
Quick note on Gattis, the 26-year-old rookie who became a folk hero during spring training, winning a spot on the roster with
Brian McCann
still rehabbing from shoulder surgery. If you're not familiar with
Gattis' story
, he had been a star player in high school in Texas, recruited to play at Texas A&M, but admitted a fear of failure and depression drove him to quit the game and he never enrolled in school. He went through drug rehab for marijuana and alcohol use and didn't play baseball for four years.
He later got the baseball itch again, enrolled in junior college, was drafted by the Braves in the 23rd round in 2010 and hit .305 with 18 home runs in 272 at-bats in the minors last year. He's big (6-foot-4, 230 pounds) and strong and can hit, although he doesn't really have a position yet (he has played some left field along with catching). I was watching the Braves' local telecast and as Gattis was batting in the fourth,
his father was being interviewed
. As Gattis made contact, his dad simply interrupted the interview to say, "There he goes ..." And it went.
What a great moment. Roy Halladay has had many great moments. Hopefully he'll have a few more. And I suspect we haven't heard the last of Evan Gattis, either.