SweetSpot:

Fernando Salas
July, 19, 2014
Jul 19
3:22
PM ET
By
Christina Kahrl
| ESPN.com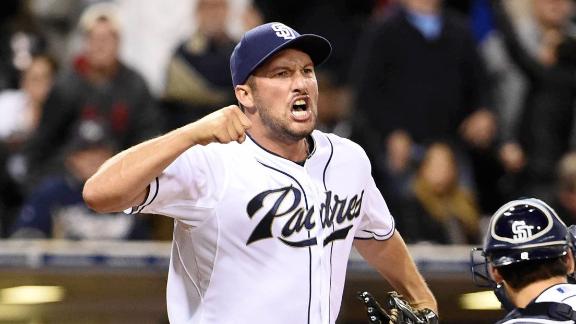 After all of the hue and cry over the Angels' bullpen woes, you'd have to think that the decision to trade for closer
Huston Street
after already getting
Jason Grilli
from the Pirates would answer their needs. Angels manager Mike Scioscia was second in the league in relievers used (behind Cleveland), sorting through answers to a relief crew that, per Baseball Prospectus,
was second-worst in the league
at preventing inherited baserunners to score, allowing 6.1 more runs than you'd expect (with the Tigers owning the dubious honor of being even worse, with 10.3 runs more than expected allowed on inherited baserunners).
My quick takeaways from general manager Jerry Dipoto's decision to go after Street?
1. Getting Grilli and Street is comparable to the Marlins' midseason bullpen overhaul in 2003.
The Marlins had a similarly lousy pen in-season, but they fixed all that when they stopped getting hung up on Braden Looper's virtues and went out and got
Ugueth Urbina
and
Chad Fox
, bumping Looper, their erstwhile closer, forward into earlier in-game situations. Guess what's going to happen with
Joe Smith
? Which is not a bad thing for anyone concerned, because Joe Smith joining Grilli,
Kevin Jepsen
,
Fernando Salas
and
Mike Morin
in the mix in the seventh and eighth innings sounds like a very good thing.
But wait, aren't all of those guys right-handed?
[+] Enlarge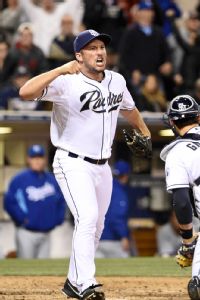 Denis Poroy/Getty ImagesHuston Street should be as fired up to join the Angels as they are about adding him.
2. Not enough lefties? No problem.
The one thing the Angels haven't done in the course of their bullpen makeover is get an awesome lefty, settling for adding veteran
Joe Thatcher
as a token southpaw. Thatcher probably won't get entrusted with lots of leads, but as Scioscia demonstrated quite effectively while winning a World Series in 2002, you don't
have
to have even one top-shelf situational lefty in your pen; he kept
Scott Schoeneweis
around as his lone token lefty threat, but he relied on
Brendan Donnelly
,
Ben Weber
and
Francisco Rodriguez
to protect leads and set up closer
Troy Percival
. In 2004, Scioscia got exactly two innings of lefty relief on the season; the Angels nevertheless won 92 games and the AL West. In 2005, he ramped it all the way up to just 31 ⅓ relief innings from lefties; the Angels won 95 games and the AL West.
Now, no doubt some of you La Russa groupies might quail at this prospect, but Street is exactly the sort of asset whom Scioscia can use and win with. As Stats & Info
pointed out last night
, Street has been essentially indifferent to handedness of late, in that he can beat people on either side of the plate by hitting low-and-outside spots with machine-like consistency. And Grilli has been similarly effective against lefties over time, holding them to a .293 slugging percentage across the last three seasons.
So the Angels may be good to go with just these two, although I'd anticipate that if there's something else Dipoto can pick up cheaply between now and Sept. 1, you can bet he will. But there's the rub, because…
3. Much like the A's deciding to trade away Addison Russell in the Samardzija and Hammel deal, this may be the Angels' last major move.
The Angels (like the A's) don't have much in the way of ready-now farm talent they could call up, and after this trade, they don't have a stock of farm talent to deal from. Per
Keith Law's preseason rankings of one of baseball's worst farm systems
(ranking 29th), Dipoto just dealt three of the Angels' top 10 prospects in second baseman Taylor Lindsey (third in Keith's rankings, No. 1 over at Baseball America), shortstop Jose Rondon (fifth, per Keith) and righty R.J. Alvarez (ninth).
Unless the Angels start dealing players at the major league level, potentially robbing Peter to pay Paul, this may have to be it for them. But a relief quintet of Street, Grilli, Jepsen, Salas and Morin might be more than enough to get it done for the Halos down the stretch. Credit Dipoto for working within his limited means to trade from, and giving a win-now Angels team a great shot at not just catching the A's, but having the kind of relief talent to win with in October.
Christina Kahrl writes about MLB for ESPN. You can follow her on Twitter.
March, 9, 2013
3/09/13
12:42
AM ET
Justin Verlander
,
Prince Fielder
,
Clayton Kershaw
and
Mike Trout
aren't on the United States roster, and their absence means a lot of fans don't care about the World Baseball Classic -- certainly not enough to spend a Friday evening in early March watching a baseball game between a largely no-name Mexico team and a still-star-laden U.S. team.
But this tournament isn't for fans who so willingly dismiss it. It's not even so much for fans in the United States, who are more focused on their professional teams or the impending NCAA basketball tournament. Earlier in the day, MLB reported that one-third of all television sets in Japan had watched the first-round games involving the Japanese team. I'm sure its dramatic comeback win over Taiwan on Friday morning rated even higher. Fans in Puerto Rico cheered on their team to a victory over Spain. Fans in Venezuela and the Dominican Republic care intensely about how their teams fare.
And Chase Field in Phoenix was nearly full for Friday's Mexico-U.S. game -- with maybe half that crowd rooting for Mexico.
Those
fans certainly cared that Mexico pulled off the huge
5-2
upset victory, essentially avoiding elimination after Thursday's heartbreaking ninth-inning loss to Italy. The players on the Mexican team certainly cared.
The Mexico lineup is pretty weak outside of Dodgers first baseman
Adrian Gonzalez
.
Jorge Cantu
hit fifth and he spent all of last year in Triple-A.
Karim Garcia
is still around and he hasn't played in the majors since 2004. But
R.A. Dickey
's knuckleball wasn't effective, a leadoff bloop single led to two runs in the first inning and Gonzalez torched a 73 mph knuckler to center field for a two-run homer in the third.
Other thoughts:
Pool D is really interesting now. It could all come down to run differential to see which two teams advance to the second round. If we assume the U.S. beats Italy on Saturday, and the U.S. and Mexico both beat Canada, then Italy, the U.S. and Mexico all finish 2-1. But Italy mercy-ruled Canada in a 14-4 victory, putting pressure on the U.S. lineup to do some damage in its next two games. The eighth inning could prove a key for the U.S., as Tim Collins and Steve Cishek worked out of a second-and-third, nobody-out jam.
After Dickey's performance, fans will be crying that Verlander or Kershaw or David Price aren't here. First off, Dickey wanted to be here and those guys didn't. Second, Dickey earned his invite as much as those guys would have, coming off his National League Cy Young Award. He just didn't have a good night. That's what happens in a tournament, not much different than what happens in the postseason: Anything can happen.
Joe Torre's lineup left a little to be desired. He hit Jimmy Rollins and Brandon Phillips 1-2, because they're fast and they hit at the top of the order for their regular teams. He hit Eric Hosmer sixth, pushing Giancarlo Stanton -- who only led the NL in slugging percentage -- all the way down to seventh, and Adam Jones, he of the 32 home runs last year, batting eighth. Stanton and Jones are better hitters than Rollins, Phillips and Hosmer. Torre might have been playing the hot hand with Hosmer, who had hit .391 in spring training with the Royals, and maybe he wanted to spread out his three left-handed hitters (switch-hitter Rollins, Joe Mauer and Hosmer). Still, a little more creativity would have had something like David Wright, Mauer, Ryan Braun, Stanton, Jones, Rollins, Phillips, Hosmer and catcher J.P. Arencibia.
Dodgers third baseman Luis Cruz had two key at-bats for Mexico. In the first inning, he delivered a sacrifice fly that was also deep enough to move Ramiro Pena to third, and Pena scored on Gonzalez's sac fly. In the fifth, after Eduardo Arredondo slapped an Ichiro-like double down the left-field line off Twins closer Glen Perkins and was bunted to third, Cruz delivered another sac fly.
Pitchers are allowed a maximum of 65 pitches in first-round games, but Yovani Gallardo was on a 50-pitch limit for Mexico. He looked sharp, allowing two hits and striking out four in 3.1 innings, but that meant Mexico had to rely on its bullpen, a day after using four relievers in that 6-5 loss to Italy. Royals righty Luis Mendoza escaped a jam in the fifth after walking the first two batters, striking out Arencibia on a nice 0-2 slider and then retiring Rollins and Phillips on ground balls. Oliver Perez got a key out in the sixth and Oscar Villareal pitched a scoreless seventh. The U.S. scored once off Cardinals reliever Fernando Salas in the eighth, and Giants closer Sergio Romo closed it out.
The Giants were undoubtedly nervous seeing Romo come in. They had apparently requested that Romo not appear in consecutive games, and manager Bruce Bochy has always been very cautious with his use of Romo. He threw 26 pitches Thursday, but this was a must-win game for Mexico. Saving him for Saturday's game against Canada doesn't make any sense if you lose this game. A reliever can't appear three consecutive days, so Romo is unavailable now for Canada.
Ryan Vogelsong starts for the U.S. against Italy, and while the Italian team is mostly comprised of U.S.-born players -- including several major leaguers -- they will start an actual pitcher from Italy: Luca Panerati, a left-hander who was in the Reds' system from 2008-11, never advancing past Class A. Last year, he pitched in the Italian Baseball League. Now he gets to face a team of the best players in the world. This is what the World Baseball Classic is all about.
October, 16, 2011
10/16/11
11:56
PM ET
I'm not going to suggest it was the single worst play in postseason history. Babe Ruth, for instance, once got caught stealing for the final out in Game 7 of the World Series, trailing by one run with the Yankees' cleanup hitter at the plate. Dropped fly balls and dropped pop-ups have led to winning runs in Game 7 of the World Series.
But when
Milwaukee Brewers
third baseman Jerry Hairston Jr. tried to field a ground ball with his knee, then flip the bouncing baseball to second baseman
Rickie Weeks
with his glove, only to have the ball bounce in front of Weeks, and then to have Weeks see the ball go through his legs, with the runners moving up a base ... well, it was atrocious baseball at its worst. Two physical errors by Hairston, one mental error on Hairston for attempting the trick play in the first place when he had no shot to get the runner at second, and one mental error by Weeks for pulling up on the ball like a fourth grader taking infield practice.
So, no, I won't say it was the worst postseason play we've ever seen; that would be exaggeration just for effect. Plus, that play alone did not lose Game 6 of the National League Championship Series for the Brewers and prevent them from reaching the second World Series in franchise history. But, as the
St. Louis Cardinals
beat up Milwaukee
12-6
to win their 18th NL pennant, it symbolized a night that saw:
While Milwaukee's defense was questioned all season, it was also a questionable decision to stick with Marcum, who had been blistered in his two previous postseason starts and five of his past six starts going back to September. It's certainly understandable
why
Roenicke would believe in Marcum, who went 13-7 with a 3.54 ERA during the regular season. But Marcum clearly tired down the stretch, wasn't getting strikeouts and you had to question his mental state going back to the division series when he threw his glove up in the air after surrendering a home run to
Paul Goldschmidt
.
Sadly for the Brewers, his first inning was all too predictable: Four runs, capped by
David Freese
's three-run bomb to left on a first-pitch curveball (making Freese 7-for-9 with 10 RBIs in the series when swinging at the first pitch). For the Cardinals, it was another game in which they scored first, making them the first team to score first in all six games of a six-game series. Overall, St. Louis scored 11 runs in the first inning and four in the second.
There was a glimmer of hope for the Brewers in the bottom of the third when
Jonathan Lucroy
absolutely destroyed an
Edwin Jackson
fastball way over the fence in left-center to cut the lead to 5-4. But the Cardinals -- as they did all series -- just kept hitting and scored four in the top of third, as Albert Pujols lined a high fastball out to left off
Chris Narveson
, followed by the sac fly/missed cutoff man/two-run single string of events. Craig, hitting for Jackson, fought off a 94-mph fastball from
LaTroy Hawkins
, bouncing it over Hawkins' head and into center.
Yuniesky Betancourt
, shifted over in the hole toward third, had no shot at it; then again, it's Yuniesky Betancourt, and we saw balls all series going
just
out of his range.
But that pinch-hit was the finishing touch on a magical series for Tony La Russa. He saw the chance to score runs and took it, even if it meant removing Jackson from the game and using his bullpen for seven innings. Cardinals starters pitched just 24.2 innings in the series and allowed 19 runs. The bullpen, of course, was brilliant, pitching 28.2 innings and allowing seven runs. Three of those relievers were picked up during the season:
Octavio Dotel
and
Marc Rzepczynski
in the
Colby Rasmus
trade, and
Arthur Rhodes
off waivers after he was released by the Rangers.
The St. Louis pen, of course, had been maligned for much of the season, although it pitched much better after several early-season blown saves by former closer
Ryan Franklin
. But give La Russa credit for his willingness to adjust:
Fernando Salas
became the closer after Franklin, pitched well and saved 24 games. As
Jason Motte
got on a roll late in the season with his high-90s heat, La Russa made him the ninth-inning guy. Salas became a setup guy and then, as he did in this game, has become the team's long reliever of choice. So while most managers resort to using the back end of the bullpen early in games, even in loser-out games -- see Roenicke in this game, or Detroit's Jim Leyland in Game 6 of the ALCS -- La Russa can turn to a good pitcher who closed games earlier in the season.
Of course, the team the Cardinals will be facing in the World Series have a similar approach. Ron Washington has managed his
Texas Rangers
pitching staff in the postseason like La Russa: Turn over the game to the bullpen as soon as reasonably possible.
It should make for a fun World Series of tactical moves and decisions. Both teams have deep benches. The Cardinals have the red-hot Freese (12-for-22 with nine RBIs in the NLCS) and the Rangers have the red-hot
Nelson Cruz
(six home runs, 13 RBIs in the ALCS). What's perhaps most amazing of all: After losing on Aug. 24, the Cardinals were just 67-63. They were 11.5 games behind the Braves in the wild-card race.
Their season was over.
Almost over. They went 23-9 to make the playoffs on the final day as the Braves fell apart, a minor miracle essentially lost in all the attention given to the collapse of the
Boston Red Sox
.
Almost over. And now they're four wins away from a World Series title.
A great bullpen. David Freese delivering huge hits. Who saw this happening back in August?
October, 13, 2011
10/13/11
2:05
PM ET
By
Christina Kahrl
| ESPN.com
As is so often the case, the game reminds you that you know less about it than you think you do. Wednesday, figuring that there'd be less need to write about the Cardinals' bullpen before Game 3 --
with Chris Carpenter
starting, it made sense to save the 'pen story for before Game 4 --
I wrote about
David Freese
and
Jon Jay
doing good things in October.
Then Carpenter was pulled out of the game just five innings in, and as Wayne Drehs
subsequently described
, it was the bullpen that was the "player" of the game.
My old colleague Joe Sheehan has been trumpeting the virtues of the Cardinals' bullpen in his newsletter (
if you don't subscribe, you should
). How this relief corps has become one of the game-changing units of October serves as a great example of how, come the postseason, a team is
not
the sum of what it was during the regular season. The Cardinals' ratio of converting saves and holds in save situations (to credit the guys trusted with leads who held them before the ninth) was just over 74 percent; the NL average was 82.5 percent.
However, the team that generated that much late-game misery doesn't exist anymore.
Ryan Franklin
and
Trever Miller
are best forgotten, and Mitchell Boggs' alarming proclivity for leaving his fastball up in the zone doesn't enter into late-game calculations anymore --
he has pitched with the lead just twice since July
.
Instead, between the veteran relievers GM John Mozeliak brought in -- some things old (the ubiquitous
Arthur Rhodes
and
Octavio Dotel
) and something new in lefty
Marc Rzepczynski
-- manager Tony La Russa's bullpen has the situational studs he long has been known for using to such game-delaying success.
But homegrown talent, such as rookies
Lance Lynn
and
Fernando Salas
, serves as an important reminder that La Russa doesn't hate young pitchers. The power-ground ball mix of former starter Lynn made him the middle-inning go-to guy with runners on, while Salas' mix of off-speed sliders and changeups off his average fastball made him an unconventional closer option for much of the season.
And beyond all that, the Cardinals have
Jason Motte
coming into his own as the closer, looking eerily like Bruce Sutter of old while throwing as hard as Todd Worrell. It's as if Dr. Frankenstein conjured up a synthesis of the two best closers in Cardinals history (with apologies to
Jason Isringhausen
and Lee Smith).
The Cardinals' late-season transformation has a lot in common with other dynamic late-developing bullpens that wound up winning the World Series. Halfway through their surprising championship run, the 2003 Marlins had a bullpen every bit as awful as the Cards' crew appeared to be a few months into 2011, but trading for
Ugueth Urbina
and resurrecting
Chad Fox
transmogrified their 'pen into the unit that helped beat the Yankees. Both former Angels coach Ron Roenicke and former Angels closer
Francisco Rodriguez
no doubt remember K-Rod's arrival on the national stage in September 2002, when his electric stuff became the shutdown weapon of choice in the Angels' World Series run. And Cardinals fans, however much they might not like how the 1985 World Series ended, will remember that year as the season when Worrell arrived late, the cherry on top of a bullpen already well-stocked with quality arms -- Ricky Horton and Ken Dayley, Jeff Lahti and Bill Campbell.
Going into Game 4, you can expect the Cards' bullpen performance to be a key to the game. Starter
Kyle Lohse
has managed two quality starts in his past five against the Brewers, having been hit hard by
Ryan Braun
and usually choosing discretion over valor and putting
Prince Fielder
on first base. But with this bullpen behind him, Lohse might not need to see them more than twice.
In contrast, with a shaky
Randy Wolf
on the mound facing a Cardinals lineup that mauls lefties, the danger that this series doesn't get back to Milwaukee is strong. The man you might have expected Roenicke to leave be to use for an extended stretch in Game 4,
Chris Narveson
, was used in Game 3, and Roenicke's one of the game's more cautious managers about using relievers on consecutive days. If Wolf runs into trouble early, Milwaukee can ill afford seeing Roenicke stand by his starter as stoically as he did
Zack Greinke
,
Shaun Marcum
and
Yovani Gallardo
in each game of this series.
Christina Kahrl covers baseball for ESPN.com. You can follow her on Twitter.
August, 3, 2011
8/03/11
11:37
AM ET
"People ask me what I do in winter when there's no baseball. I'll tell you what I do. I stare out the window and wait for spring."
--Rogers Hornsby
Last night was one of those evenings that makes you dread the winter with no baseball, no box scores, no highlights, no flipping through the TV and MLB.TV, soaking in all the excitement and drama of this sport that invades our minds for seven months.
The Indians and Red Sox played a tense game that Boston won 3-2 with a run in the bottom of the ninth -- a big win for the Red Sox, but a bigger defeat for the Indians, a team you feel is playing on life support with every contest. In a battle of division leaders, the Tigers beat the Rangers 6-5, as
Brennan Boesch
homered in the bottom of the eighth off
Mike Adams
, the Rangers' new stellar setup reliever. The Diamondbacks moved into a first-place tie,
Kyle Kendrick
was masterful and the Pirates suffered another painful loss.
But the game of the night was St. Louis at Milwaukee. Miller Park was nearly full with 39,000-plus Brewers fans, the majors' smallest market nearly selling out on a Tuesday night, the kind of positive attendance story that nobody bothers to mention. The Brewers seem unbeatable at home, an edge that reminds me of the Twins in the old Metrodome days with Kirby Puckett and Kent Hrbek and Homer Hankie-waving Minnesotans yelling themselves crazy. At home, the Brewers are the best team in baseball. They entered Tuesday's game with a seven-game winning streak and the chance to put another game between them and the second-place Cardinals.
All this game featured was:
And those were just the big highlights. Molina's spittle may have been unintentional, but his outburst was unprofessional and considering it happened in the 10th inning of a crucial game for his club, an alarming brain lock and lack of discipline for a veteran player.
As for the Cardinals going after Braun, it's typical La Russa. His guy gets hit -- La Russa even said he thought it was unintentional -- so he then
intentionally
hits your guy. This stuff seems to happen much more often with the Cardinals, doesn't it? I can't fault La Russa for wanting to protect his star, but his eye-for-an-eye behavior isn't going to stop teams from pitching inside to Pujols. La Russa knows that's part of the game, and his insistence on retaliation has become a tiresome and dangerous tactic.
But it makes for interesting baseball, issues to debate, and yet another club and fan base that finds the Cardinals rather loathsome. (Cincinnati welcomes you to the club, Milwaukee.)
La Russa does deserve credit for what I think was the key move of the game: He got two innings out of his closer,
Fernando Salas
, while Ron Roenicke used
Francisco Rodriguez
and
John Axford
for just one inning each. (K-Rod, in typical K-Rod fashion, threw 29 pitches in his one inning.) The game did mean more for the Cardinals, but most managers stick to an unwritten rule that you can't, under any circumstances, ever use your closer for more than one inning just in case you need him tomorrow, so kudos to La Russa. As a result of those moves, the Brewers used
Marco Estrada
for two innings, and he got the loss. As maligned as the St. Louis bullpen has been, it pitched six scoreless innings on Tuesday after Garcia got knocked out early.
These teams are back on the field Wednesday afternoon. Beware of fireworks. And the fun part of all this? These teams play again next week in St. Louis.
Follow David Schoenfield on Twitter @dschoenfield.
May, 10, 2011
5/10/11
1:05
AM ET
The Minnesota Twins and Boston Red Sox battled for 11 innings on Monday night, and in the end,
Carl Crawford
's double high off the Green Monster plated
Jose Iglesias
with the winning run in a 2-1 victory.
Twins manager Ron Gardenhire, apparently waiting to take the lead before using closer
Matt Capps
, and not wanting to use
Joe Nathan
on back-to-back days, was left with somebody named
Jim Hoey
on the mound. With one out, Hoey walked
Jed Lowrie
-- not necessarily a surprise since Hoey walked 34 in 52 2/3 innings in the minors last season. Iglesias came in as a pinch-runner and Crawford hit a 3-2 pitch off the wall.
We're going to see a lot of games like that this season: low-scoring affairs decided in the late innings. With scoring down, games will be tight, and with close games, late-inning bullpen work may be more important than ever. And if you're relying on Jim Hoey in tie games, chances are you may be 12-21.
Let's do a quick overview of the state of 'pens around baseball.
Three best bullpens on contenders
1. San Francisco Giants: The unheralded secret weapon of last year's champs, the bullpen has picked up where it left off, with
Javier Lopez
,
Sergio Romo
,
Ramon Ramirez
and
Guillermo Mota
throwing lights-out. Closer
Brian Wilson
blew his first save chance but has since converted 11 in a row, despite a little wildness. The team has lefty-righty balance, with lefties
Jeremy Affeldt
and
Dan Runzler
adding solid depth.
2. Florida Marlins: Several arms were added to the Marlins' 'pen after last season's shaky performance and so far they have a 2.59 relief ERA, second only to San Diego's. I believe in this group, although stellar setup man
Clay Hensley
was just placed on the DL with a bruised rib. Closer
Leo Nunez
appeared in 17 of the team's first 32 games, so watch his usage carefully.
3.
New York Yankees
: Yes,
Mariano Rivera
had that little burp, but he's back on track. Setup man
Rafael Soriano
has struggled, but I project he'll turn it around.
Joba Chamberlain
is throwing better than he has in years, and underrated
David Robertson
has one of the nastiest curves you'll see. The 'pen has allowed just five home runs in 95 innings. The big question is whether
Boone Logan
will prove to be a reliable lefty in the absence of
Pedro Feliciano
.
Bullpen doing it with smoke and mirrors right now
Tampa Bay Rays: The Rays have a 2.69 bullpen ERA, third-best in the majors, and have allowed opponents a .203 batting average. They've allowed just 61 hits in 87 innings despite a poor 51/34 strikeout/walk ratio. Some of that is attributable to their defense, but the low strikeout rate means that .203 average will be difficult to maintain. And maybe you believe in
Kyle Farnsworth
more than I do.
Three bullpens I'm worried about
1. Texas Rangers: The Rangers will be fine at closer once
Neftali Feliz
returns, but the rest of the 'pen looks shaky, as it has allowed 16 home runs in just 94 innings and has a poor 66/43 strikeout/walk ratio. Forty-somethings
Darren Oliver
and
Arthur Rhodes
are looking more their age and have surrendered three home runs apiece, and
Darren O'Day
is on the 60-day DL with a torn labrum in his hip.
2. Detroit Tigers: The team's best reliever has been
Al Alburquerque
, and with a name like that, he'd better be good, because we want him to last a long time. Closer
Jose Valverde
is always a tightrope, but the rest of the setup crew, including high-priced free agent
Joaquin Benoit
, has looked inconsistent.
3. Milwaukee Brewers: Brewers relievers already have nine defeats. They have a few good arms in closer
John Axford
and
Zach Braddock
and
Brandon Kintzler
, but control issues have been a problem so far and lack of depth could be an issue.
Two awesome bullpens if you only need two guys
1. Atlanta Braves:
Craig Kimbrel
and
Jonny Venters
are dominant (and
Eric O'Flaherty
provides a nice third guy). We'll have to see whether Venters holds up after pitching 79 games and 83 innings last year, but so far he's been even better than he was in 2010, with a 0.70 WHIP.
2. Boston Red Sox:
Daniel Bard
's raw numbers are great (well, except that 0-3 record, which is not exactly a non-important notation).
Jonathan Papelbon
is back with an 18/2 strikeout/walk ratio. But new acquisitions
Bobby Jenks
and
Dan Wheeler
have been disastrous, leaving a gaping hole after the top two.
Bullpen that may actually be OK
St. Louis Cardinals: The Cards are tied with the Brewers with nine bullpen losses, three by deposed closer
Ryan Franklin
. And while the team may not have a set closer (
Fernando Salas
has the role for now), there are some good arms here.
Jason Motte
,
Mitchell Boggs
and rookie
Eduardo Sanchez
all average more than 93 mph with their fastballs, and Salas throws strikes. Mix in LOOGYs
Trever Miller
and
Brian Tallet
, and I think Tony La Russa will figure out roles that turn this into one of the better 'pens in the NL.
PHOTO OF THE DAY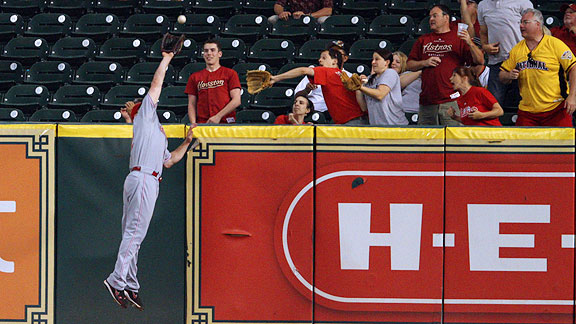 Thomas Campbell/US PresswireStretch! Jay Bruce reached as high as he could, but no dice. That one's gone.