SweetSpot:

Fernando Valenzuela
June, 19, 2012
6/19/12
12:21
AM ET
In spring training of 2010, the Mets made their first cuts in mid-March. A 35-year-old pitcher who was trying to make the team as the last man out of the bullpen was one of those sent to minor league camp.
Give up? Retire? Are you kidding? The pitcher threw a knuckleball.
R.A. Dickey
began that season at Triple-A Buffalo. He'd spent a lot of time in Triple-A, racking up 148 career starts and 42 relief appearances among Oklahoma City, Nashville, Tacoma and Rochester. That's a lot of Holiday Inns and a lot of minor league roommates.
It's two years later, and Dickey has perfected that knuckleball, like
Mariano Rivera
perfected the cutter or
Pedro Martinez
perfected the changeup or
Greg Maddux
perfected the outside corner. Dickey just threw his second straight one-hitter in the
Mets' 5-0 win Monday over the Orioles
, the first pitcher to do that since Toronto's Dave Stieb did so in his final two starts of the 1988 season.
(Stieb, for those who remember, lost both of those near no-hitters with two outs in the ninth inning. He also pitched a shutout in the start before those two games.)
But Dickey has gone to another level, becoming the first pitcher to allow no earned runs and strike out at least eight batters in five consecutive starts. He joined Stieb as
one of 10 pitchers since 1900 to allow one hit or fewer in consecutive starts
. Over his past six starts, Dickey is 6-0 with a 0.18 ERA (one earned run in 48 2/3 innings), 63 strikeouts, five walks and a .131 average allowed.
It is a beautiful thing, when a pitcher gets on a roll like this, when he shuts down the opposition inning after inning, batters helpless to do anything but take their awkward swings and slump back to the bench. Even in this season, in which it seems somebody flirts with a no-hit bid on a nightly basis, it's an amazing string of games. At some point, you'd think Dickey would hang a knuckler or a batter would accidentally run into one or a bleeder would be followed by a bloop.
That's not happening. Dickey himself is almost having trouble explaining his dominance. When asked about his favorite moment during this run, he laughed, saying, "Probably the base hit," referring to his leadoff single in the sixth inning Monday, starting a rally that led to
Ike Davis
' grand slam. "In reality, I have a good feel for [the knuckleball] right now, making it do a couple different things."
Watching him mow down the Orioles reminded me of something Roger Angell once wrote about Sandy Koufax in the 1965 World Series, when he pitched shutouts in Game 5 and, on two days' rest, Game 7:
"It is almost painful to watch, for Koufax, instead of merely overpowering hitters, as some fastball throwers do, appears to dismantle them, taking away first one and then another of their carefully developed offensive weapons and judgments, and leaving them only with the conviction that they are victims of a total mismatch."
That's what it was at Citi Field against the Orioles: a mismatch, the game's hottest pitcher facing the team that has struck out more than any other. Dickey, of course, has been commanding and locating the knuckleball with precision. He walked two against the Orioles and has just seven walks in his past eight starts. Seven walks by a knuckleballer? Phil Niekro walked at least seven batters in a game 12 times; Nolan Ryan, who didn't throw a knuckleball, walked that many in a game 71 times.
So we're left wondering: Where does Dickey's run of excellence rank? Orel Hershiser, of course, spun six consecutive shutouts in September 1988. Hershiser wasn't quite as dominant as Dickey, as he allowed a .160 average over those 55 innings but had just 30 strikeouts. In 1994, Greg Maddux posted a 1.56 ERA; he was mostly a model of consistency that season, allowing two earned runs or fewer in 21 of his 25 starts. From July 2 until the strike hit in August, he had an eight-start stretch in which he allowed seven earned runs (but 11 runs) and allowed a .182 average with 50 strikeouts and five walks. In 1995, when he posted a 1.63 ERA, he had a 58-inning stretch over eight starts, during which he allowed five runs.
Maybe the most dominant run I've ever was seen was Pedro Martinez at the end of the 1999 season. Over his final seven starts, he allowed seven runs (five earned) with eight walks and 96 strikeouts in 55 innings. In consecutive starts, he struck out 15, 11, 15, 17, 14, 12 and 12. Against Seattle on Sept. 4, he pitched eight scoreless innings, allowing two hits. In his next start, he was nearly perfect against the Yankees, allowing only a Chili Davis home run as he struck out 17. Every start at Fenway was a raucous party, fans standing and cheering with every two-strike count from the first inning onward.
In the postseason, he threw 17 more scoreless innings, allowing just five hits, a string that included his memorable six-inning hitless relief appearance in Game 5 of the American League Division Series against Cleveland. Add all that up -- including a one-inning relief appearance at the end of the season -- and Pedro allowed five earned runs over 73 innings (0.62 ERA) with 120 strikeouts.
There have been other memorable runs, of course. Fernando Valenzuela at the start of the 1981 season, when he threw five shutouts in seven starts and allowed two runs in 63 innings. Bob Gibson, in 1968, had an 11-start stretch in which he threw 11 complete games and allowed three runs. Hey, it was 1968 and all, but
still
, that's just sick.
We could go on. But this is what it feels like watching Dickey right now, that we're seeing the stuff of legends -- Maddux's control, Pedro's arsenal, Fernando's screwball, Gibson's fastball/slider combo ... R.A. Dickey's knuckleball. For the past six starts, it's been as dominant as any pitch, for a short period of time, as we've ever seen.
Maybe he'll lose the feel of it one of these starts. Maybe he'll crack a fingernail. All I know is this: I'll be watching his next start. It's the best story of the season.
PHOTO OF THE DAY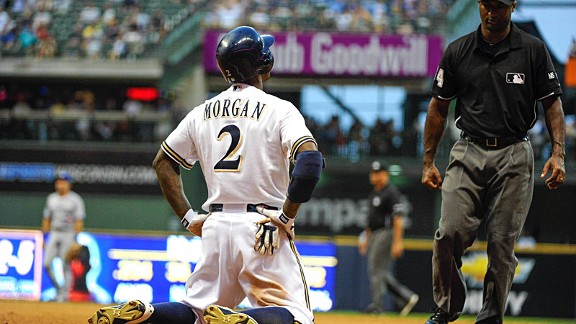 Benny Sieu-US PresswireGiven recent headlines, maybe Nyjer Morgan shouldn't make a federal case out of a call.
February, 15, 2012
2/15/12
3:50
PM ET
I wrote the other day on
baseball's versions of Jeremy Lin
-- guys who came out of nowhere to stir up attention on a national scale. Some withstood the test of time (Fernando Valenzuela), some didn't (Hurricane Hazle).
My friend B.K. wrote in about Hazle:
I spent the summer of '57, between high school and college, working for my uncle's small telephone company in Waunakee, Wis., just outside Madison. My cousin, later to be baseball MVP at the University of Wisconsin one year after the legendary Pat Richter (and who bumped Bobby Murcer off shortstop one summer for a Yankee farm club), and I would spread the paper out on the dining room table every morning and pore over every single major league box score. And, every night we played one-on-one hoops on the concrete driveway off the back alley with a radio in the window tuned to the Braves and Earl Gillespie. As the summer evolved, Hurricane Hazle became big, bigger, biggest. We went to Milwaukee every chance we had, especially doubleheaders, getting to the park when the gates opened for batting practice and infield. I'll never forget those times. A dream --- Hammering Henry, Eddie Mathews, Spahn and Burdette, Bob Buhl. Schoendienst and Logan. Wes Covington. Remember him?
B.K. was also one of the people to mention Kevin Maas. How could I forget him? A 22nd-round pick, Maas was 25 when called up to the Yankees in late June of 1990. He hit 10 home runs in his first 79 at-bats but slowed down after that, finishing his rookie season with 21 home runs in 254 at-bats. In 1991, he was the team's regular DH, played a little first base, and hit .220 with 23 home runs. He did draw 83 walks and got another chance to start in 1992. He was hitting .291/.376/.518 through early June but then slumped and he never got another regular shot.
Maybe this is a New York thing. Shane Spencer, another Yankee, had that memorable run in 1998 when he hit .373/.411/.910 with 10 home runs and 27 RBIs in just 67 at-bats. He hit two more home runs in the ALDS. He did last seven seasons in the majors although was never a full-time starter. And there's Benny Agbayani of the Mets, a 30th-round pick who got called up in May of 1999 and hit .468/.519/.979 with six home runs in his first 16 games that year. Benny lasted three seasons as an effective platoon player for the Mets.
I'm not sure Spencer or Agbayani quite become national sensations (Spencer did it in September, when all eyes were focused on Mark McGwire and Sammy Sosa). A reader mentioned Dontrelle Willis with the Marlins in 2003, which is a pretty good example. Somebody else mentioned Francisco Rodriguez and his playoff run with the Angels in 2002 (good one). Finally, my favorite comment, from jdrobins2112:
Fernando Valenzuela is not baseball's Linsanity.

Jeremy Lin is basketball's Fernandomania.
Well said.
February, 13, 2012
2/13/12
6:00
PM ET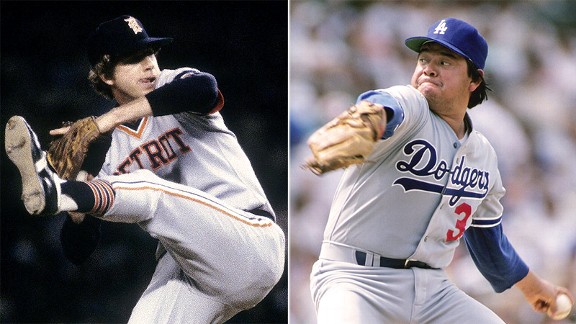 Getty ImagesMark Fidrych, left, and Fernando Valenzuela came out of nowhere, taking baseball by storm.
Even if you don't follow the NBA you've been unable to ignore the amazing story of New York Knicks point guard Jeremy Lin.
Whether the story would be getting the same amount of attention if Lin played for the Sacramento Kings or Charlotte Bobcats is a question we probably know the answer to, but Lin's rise got me thinking of similar episodes in MLB history. Here are five guys who seemingly came out of nowhere to spark the baseball world. Bonus points if the player has an interesting back story.
Bob "Hurricane" Hazle, 1957 Milwaukee Braves.
Hazle was a 26-year-old minor league vet with six games of big league experience with the Reds in 1955 when the Braves recalled him in late July. At the time, the Braves were tied for first. In 41 games, Hazle hit .403 with seven home runs, 12 doubles and 27 RBIs, earning the nickname "Hurricane" -- named after, in part, a powerful hurricane that had struck his home state of South Carolina in 1954. The Braves went on to win the World Series, and while Hazle was just 2-for-13, both hits came in Game 7, including a one-out single in the third inning that started a four-run rally. The following spring, Hazle was hit in the head by a pitch and then early in the season sprained his ankle and was again hit in the head by a pitch, putting him in the hospital. The Braves sold him to Detroit in May, and after 63 plate appearances with the Tigers
his major league career was over
.
Mark Fidrych, 1976 Detroit Tigers.
Fidrych was a one-time 10th-round draft pick who began 1975 at Class A, although he had worked his way up to Triple-A. He wasn't overpowering (just 73 strikeouts in 117 innings) but made the Tigers' Opening Day roster. And mostly sat on the bench, appearing just twice in relief in the team's first 23 games. But he started on May 15 and threw a two-hit complete game. Ten days later, he threw another complete game. In his third and fourth starts, he won again -- pitching 11 innings both times. He was a sight few fans had ever seen: With his long, curly hair, he was nicknamed "The Bird," after "Sesame Street's Big Bird. More oddly, he talked to the baseball. A memorable "Monday Night Baseball" game in late June drew a packed Tiger Stadium and huge TV audience. Fidrych didn't disappoint. He'd go 12-6 with a 2.36 ERA that first half, completing 16 of his 18 starts, and started the All-Star Game. Everywhere Fidrych went
he drew huge crowds
. In Anahem, he reportedly had to sign autographs from inside a cage to prevent fans from rioting. Sadly, after winning 19 games as a rookie, he suffered knee and shoulder injuries in 1977 and was never the same.
Fernando Valenzuela, 1981 Los Angeles Dodgers.
Back in 1981, there was no Internet and no overhyping of prospects, certainly not of baseball prospects. Valenzuela was a 20-year-old rookie from Mexico who had pitched out of the Dodgers bullpen in September of 1980. He spoke no English, had those chubby cheeks, a screwball and that crazy windup where he looked up into the heavens at the apex of his delivery. Steve Wulf did profile Valenzuela that March for Sports Illustrated, but nobody expected this when the season unfolded: Shutout, complete game with one run, shutout, shutout, shutout, nine innings with one run, shutout, complete game with two runs. Eight starts, eight wins, five shutouts, 0.50 ERA. In early May, SI wrote on Fernando Fever; two weeks later he was on the
cover
. The media hounded Valenzuela so much that the Dodgers had to hold special news conferences, and Valenzuela complained to his agent that he didn't have time to shag flies or take batting practice.
Fernandomania was so intense
that it spread across the country and into South America: the number of Mexican radio stations carrying Dodger games increased from three to 17, and the number of Venezuelan stations from 20 to 40. When the Dodgers traveled to Shea Stadium early in the season, the Mets built two extra ticket booths. Averaging barely 11,000 fans per game, the Mets drew nearly 40,000 for Fernando.
Hideo Nomo, 1995 Los Angeles Dodgers.
Fourteen years later, the Dodgers had another rookie sensation, although this time it was a 26-year-old veteran from Japan. Nobody knew what to expect when Nomo came over, and once the season finally began in late April, Nomo started off slow, failing to win any of his first six starts. But then he won all six of his starts in June, allowing just five earned runs and posting games with 16 strikeouts and two with 13. Like Fernando, he made the
cover of Sports Illustrated
. He started the All-Star Game against Randy Johnson and threw two scoreless innings. Nomo never matched the success of his first season, as hitters clued in on his deceptive delivery, but with 123 career wins he wasn't a mere flash either.
Jeff Francoeur, 2005 Atlanta Braves.
Francoeur didn't exactly come out of nowhere, as he'd been a first-round pick and Atlanta's No. 1 prospect entering the 2005 season. But when the local product got called up on July 7 and then hit .432 through his first 23 games,
Sports Illustrated put him on its cover with the headline "The Natural,"
the same billing used back in 1990 for Ken Griffey Jr. The magazine also asked of Francoeur, "Can anyone be this good?" It was, of course, an absurd and unfair question, highlighted by the fact that Francoeur didn't draw a walk until his 34th game. That lack of strike-zone judgment would end up undermining his "natural" abilities throughout his career.
Others of note:
Tim Wakefield
(converted minor league first baseman went 8-1, 2.15 with the Pirates in 1992, helping them reach the playoffs);
Albert Pujols
(Baseball America ranked him as the Cardinals' No. 2 prospect before 2001, behind ... Bud Smith);
Jose Bautista
(if Lin turns into an MVP candidate then we can compare him to Bautista).
September, 16, 2011
9/16/11
6:29
PM ET
By
Christina Kahrl
| ESPN.com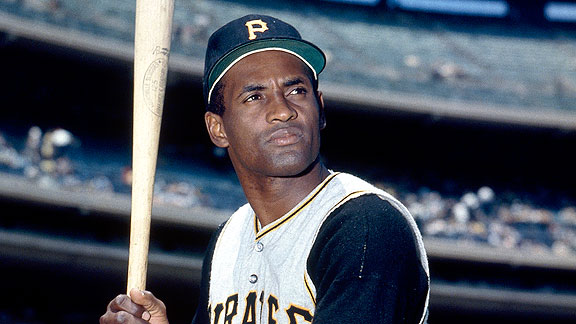 Louis Requena/ MLB Photos via Getty ImagesRoberto Clemente became the first Latin player to win the NL MVP, doing it with the Pirates in 1966.
Yesterday, in recognition of Hispanic Heritage Month, we talked about one person's list -- mine alone -- for
the AL team's all-time greats of Hispanic heritage
, so naturally enough, let's turn to the senior circuit and look at the best of the National League's teams.
Arizona Diamondbacks
: Although a recent expansion addition to the circuit, the Snakes have a clear favorite in
Luis Gonzalez
, who as recently as the All-Star break was inducted into the Hispanic Heritage Baseball Museum Hall of Fame. Gonzo's also the man who beat
Mariano Rivera
in the ninth inning of Game Seven of the 2001 World Series, a postseason feat unlikely to be forgotten any time soon.
Atlanta Braves
: If you make the mistake of thinking this is about Latin America versus what is or isn't culturally Hispanic, you might count
Andruw Jones
, but the Netherlands Antilles aren't culturally Spanish or Portuguese. Among the Braves' Hispanic players, the choices boil down to Dominican bopper Rico Carty or catcher Javy Lopez of Puerto Rico. While the 'Beeg Boy' won the 1970 batting title, I'll go with Lopez for his playing a key role on the great teams of the Braves' recent dynasty.
Chicago Cubs
: Arguments over how he got there will go on for as long as we're willing to debate the impact of PEDs on performance, but Dominican
Sammy Sosa
's easily the most productive player to call Wrigley Field home. His 545 homers top all Cubs ever, and his .569 SLG as a Cub is second only to Hack Wilson.
Cincinnati Reds
: You can make arguments for either of two great Latin players who were key players for the Big Red Machine: first baseman Tony Perez of Cuba, or Venezuelan shortstop Davey Concepcion. Concepcion was a career Red, so 19 years in the Queen City puts the nimble defender high up on the Reds' al-time counting stats, while "Big Doggie" moved around a bit, but was mostly, essentially, a Red. Per WAR, it'd Perez's place, but I'd also cite Joe Posnanski's fine
The Machine
, which helps remind us today how important Perez was then to a team stuffed with stars.
[+] Enlarge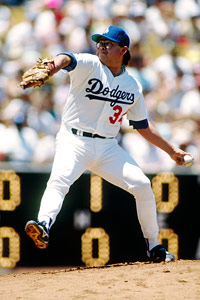 Icon SMIFernando Valenzuela won the NL Rookie of the Year and Cy Young awards in 1981.
Colorado Rockies
: The Rockies have never had a shortage of great Latin players, but perhaps surprisingly, none of them have had long careers in Denver.
Ubaldo Jimenez
would have been an easy choice if he hadn't already been traded away, while Mexico's
Vinny Castilla
mashed 239 homers in nine seasons manning the hot corner. However, let's use this as an opportunity to give well-traveled
Andres Galarraga
some love, because the Big Cat was the team's first star by winning the batting title in the franchise's inaugural season in 1993.
Florida Marlins
: Between going by teams and the near-impossibility of anyone sticking around as a Fish for any great length of time, it makes for a short list, but Dominican
Hanley Ramirez
makes for a relatively easy selection, although you can offer honorable mentions to
Luis Castillo
,
Miguel Cabrera
,
Anibal Sanchez
and
Livan Hernandez
for their contributions to the Marlins' strange, episodic history.
Houston Astros
: Given a choice between Cesar Cedeno and Jose Cruz, you could easily pick either player and have good reason to. Cedeno was a wonderful center fielder and may well be the least well-remembered great player of the '70s, while Cruz was the gifted all-around hitter hurt badly by a career almost entirely spent shackled by the Astrodome. I'm slightly biased towards Cruz (a personal favorite back in the day), but for purposes of this sort of exercise, it's easy to leave this as a tie.
Los Angeles Dodgers
: While you could concoct an argument for Pedro Guerrero because he was one of the best bats of the '80s, this is a slam dunk: Fernandomania, baby! Fernando Valenzuela's breakthrough was a national phenomenon, as the Mexican southpaw provided both peerless pitching early in his career -- winning the Cy Young and Rookie of the Year Awards in 1981 – with unprecedented box-office and media value in Los Angeles. His unique delivery and nifty screwball are things you had to see to believe, putting him on a short list of pitchers you never forgot after watching him work.
Milwaukee Brewers
: It isn't a strong field, but it wasn't Teddy Higuera's fault that his career flamed out early, as injuries sapped the Mexican hurler's career early on. He still ranks third all-time in wins for the team while handily leading their pitchers in career WAR as a Brewer, not too shabby for what was essentially a six-year run spent in relative obscurity.
New York Mets
:
Carlos Beltran
wins via WAR, but he's also been tabbed as the Royals' best, while better health from
Johan Santana
would have made him worth choosing. So let's use the opportunity to cite
Jesse Orosco
, who holds the all-time record for games pitched on a career.
Philadelphia Phillies
: It's perhaps characteristic of the franchise and city that its greatest Latin player, Venezuelan
Bobby Abreu
, was dumped on the Yankees at the deadline in 2006 -- for nothing, effectively -- but Abreu's brand of patience and power made him an offensive keystone for nine years, hitting .303/.416/.513.
Pittsburgh Pirates
: Roberto Clemente, the easiest great to note in a wide field of greats, and the first Latin to win an MVP award in 1966.
St. Louis Cardinals
:
Albert Pujols
has become as easy a selection as Clemente, but with a career that's still going strong, the question best asked might be whether or not the man who will unseat Lou Gehrig on all-time lists walks and plays among us.
San Diego Padres
: Strangely enough, the border town franchise doesn't have a storied history where its Latin talent is concerned, but native son
Adrian Gonzalez
makes for a good fit, even with his recent shuffle to Boston.
San Francisco Giants
: There's a fun debate to be had over whether this ought to be the Baby Bull, Orlando Cepeda or their Dominican ace of the '60s, Juan Marichal. Much like Galarraga and Perez, Cepeda was a hard-hitting first baseman who got around -- he immediately followed Clemente as the NL MVP in 1967, for the Cardinals, but started out winning the Rookie of the Year award in 1958 (second in this as well, as Luis Aparicio was the first to win in 1956 with the White Sox). Against that, Marichal had six 20-win seasons and 238 victories for San Francisco while contributing the highest Giants WAR pitching tally since Christy Mathewson. Whether as a matter of career value or peak value as a Giant, I think you have to go with Marichal.
Washington Nationals
: Vladi Guerrero has already gotten credit as an Angel, but since this is the franchise stolen from Montreal, stealing the Impaler from their list might seem an additional injustice. However, doing so opens the field to tab Nicaragua's greatest player,
El Presidente
. In a 23-year career, Dennis Martinez won 100 or more games with both the Orioles and Expos, pitched the only perfect game thrown by a Latin pitcher, and nearly helped deliver Cleveland a long-awaited championship as a 40-year-old workhorse in 1995.
Christina Kahrl covers baseball for ESPN.com. You can follow her on Twitter.
June, 9, 2011
6/09/11
2:06
PM ET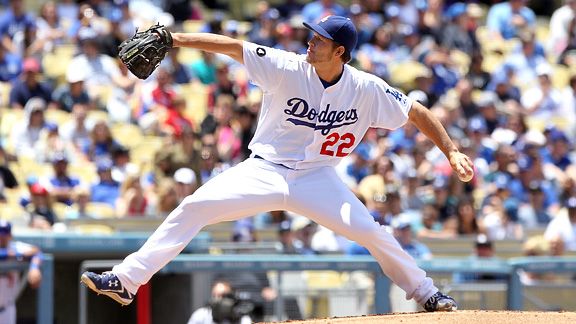 Jeff Gross/Getty ImagesJust 23 years old, Clayton Kershaw is pitching like a Cy Young contender so far in 2011.
Clayton Kershaw
was the seventh player selected in the 2006 draft, the first high school pitcher taken following five college pitchers, and it's safe to say that those five teams regret passing on the hard-throwing lefty from Dallas. Those five pitchers --
Luke Hochevar
(Royals),
Greg Reynolds
(Rockies),
Brad Lincoln
(Pirates),
Brandon Morrow
(Mariners) and
Andrew Miller
(Tigers) -- have combined for a 62-98 record and only Morrow has a career ERA under 5.00.
Kershaw, meanwhile, has developed into the best young lefty in the game. Since his arrival in the big leagues in 2008 at age 20, he ranks 10th among starting pitchers in ERA (3.15), third in strikeouts per nine innings (9.4) and first in opponents' batting average (.221). The Dodgers have handled him carefully in his career, he's remained healthy and he's increased his dominance in 2011, putting up career bests in strikeouts per nine innings (10.1) while lowering his walk rate from 3.6 per nine innings in 2010 to 2.7, and down from 4.8 in 2009. He's an electrifying presence on the mound, a guy who can bring no-hit stuff any start. As Tim Kurkjian writes,
he's added a slider
to his fastball/curveball repertoire and improved his changeup. He topped 200 innings in 2010 for the first time and his final step to greatness is to prove he can handle a 230-inning workload, although he may be another season away from the Dodgers pushing him to that level. (He's on pace for 208 innings over 32 starts.)
Did we mention he's only 23?
Here's a comparison of Kershaw's numbers to some of other recent left-handers and what they accomplished through their age-23 seasons:
The most interesting comparison is obviously
Scott Kazmir
, as Kershaw is at the exact point in his career where Kazmir was at the end of the 2007 season. Kershaw was a little tougher to hit, but some of that is pitching in the NL West versus the AL East. Their career strikeouts, walks and ERA (once adjusted for park and league) are eerily similar. In 2007, Kazmir had gone 13-9 with a 3.48 ERA for Tampa Bay, leading the AL with 239 strikeouts (10.4 per nine innings).
There was one big difference: Kazmir was still walking four batters per nine innings. He still had a solid 2008, but spent time on the DL and he hasn't been the same pitcher since. Could this happen to Kershaw? Kazmir was pushed a little harder, but not
too
much harder. Through his first 97 starts, Kazmir averaged 102.1 pitches per start; through 96 starts, Kershaw has averaged 99.4. In 2007, Kazmir averaged 106.1 pitchers per start; Kershaw has averaged 101.1 this season. Kazmir threw at least 90 pitches in all 34 starts that year, with a season high of 118. Kershaw's season high is 122, but he's been under 90 five times. Don Mattingly is still being careful with his prized ace.
The other difference: Kazmir is 6-foot, 195 pounds. Kershaw is 6-foot-3, 215 pounds. If you believe the old adage that big pitchers are more durable, that may be another positive for Kershaw's long-term outlook.
That's always the big question with any young pitcher: Can he stay healthy?
CC Sabathia
had 54 wins through his age-23 season, the eighth-most ever for a left-handed pitcher and fourth-most since 1969. (Babe Ruth has the most, with 80.) He's been durable and became a better pitcher in his late 20s, but that's not always the case, as we learned with Kazmir. Oakland's talented young lefty
Brett Anderson
just landed on the DL with elbow soreness. Those two serve as a warning that the only thing keeping Kershaw from winning a Cy Young Award in the future (or heck, in 2011) is the health of all those gifted tendons and ligaments.
We're in a golden age of young pitching, and Kershaw is just one of many outstanding 25-and-younger left-handed starters in the game: Anderson,
David Price
,
Jaime Garcia
,
Madison Bumgarner
,
Zach Britton
,
Brian Matusz
,
Gio Gonzalez
and
Derek Holland
, to name the best. Check out some of their numbers so far:
Kershaw (23): 6-3, 3.05 ERA, 85.2 IP, 69 H, 26 BB, 96 SO, 7 HR

Price (25): 7-5, 3.35 ERA, 91.1 IP, 78 H, 14 BB, 83 SO, 7 HR

Garcia (24): 6-2, 3.20 ERA, 81.2 IP, 76 H, 20 BB, 72 SO, 4 HR

Bumgarner (21): 2-7, 3.42 ERA, 71 IP, 71 H, 23 BB, 52 SO, 2 HR

Gonzalez (25): 5-4, 2.62 ERA, 75.2 IP, 65 H, 33 BB, 70 SO, 5 HR

Britton (23): 6-4, 3.18 ERA, 82 IP, 72 H, 29 BB, 47 SO, 7 HR
Which would young lefty would you want for the next five years?
I'd give the slight edge to Price (I'd like to see the numbers he could post in the NL West) over Kershaw, with the others somewhere behind those two, but what do you think? Vote in the poll (we could only list five!).
Follow David on Twitter @dschoenfield and check out the SweetSpot Facebook page.