SweetSpot:

Francisco Cordero
May, 27, 2012
5/27/12
2:02
AM ET
By
Alex Convery
| Special to ESPN.com
Josh Hamilton
flipped the bat back and jogged around the bases with his eyes fixed to the ground. There was no fist-pump, no pointing at the dugout, not even a wave to the fans. That's not how you react when you expect to win games, and Hamilton and the
Texas Rangers
certainly expect to do that every time they take the field. Boasting the best run differential in the American League, Texas certainly deserves the respect it's being given this year.
But look just two ticks below them in the run-differential standings, and you'll see a team that may surprise you: The
Toronto Blue Jays
, the very team that Hamilton beat with his walk-off home run on Saturday afternoon.
Toronto certainly had some hype coming into the season. With the two-time defending home-run king,
Jose Bautista
, to build around, things up north were only getting better. Add in a full season of emerging superstar
Brett Lawrie
, who looked like a legitimate All-Star during his brief time in the majors last year, and there seemed to be no reason why the Blue Jays couldn't find themselves playing October baseball, especially once Bud Selig announced the addition of a second wild-card team in each league.
Well, two months later Bautista is hitting only .234, Lawrie has a meek .672 OPS, and the man who protected Bautista in the lineup over the past two years,
Adam Lind
, isn't even on the major league team. Knowing those three facts alone, one would predict that the season hasn't exactly gone as general manager Alex Anthopoulos and manager John Farrell imagined. Yet even after Saturday's heartbreaking
13-inning loss to the Rangers
, Toronto sits only 1 1/2 games out of a playoff spot with a 24-23 record.
Like almost anything else in baseball, success starts with the starting pitching. Toronto's top four of
Brandon Morrow
,
Ricky Romero
,
Kyle Drabek
and
Henderson Alvarez
all have ERAs of 3.86 or lower, with at least five quality starts apiece. That type of production will keep any team afloat.
Morrow in particular has been brilliant. The ex-Mariner was always plagued with command issues that limited his success as a starter. His 8 percent walk rate this year is a full 3 percent lower than his career mark, and would seem to indicate that he has finally gotten a grip commanding his stuff.
Unfortunately for Toronto, each of these four pitchers has a higher FIP than ERA, indicating that all of them are probably due for some regression as the season continues. Don't be surprised to see the Jays in on any starters who might become available as the trade deadline gets closer, with
Zack Greinke
as the ultimate prize.
Although Bautista has been struggling,
Edwin Encarnacion
has been a revelation for the Jays. He has already jacked 15 home runs, only two fewer than he did all of last year, with a robust .929 OPS. That being said, his power is likely to slide off a bit over the coming weeks. His current HR/FB rate of 18.8 percent is much higher than his 12.4 career mark.
Bautista, on the other hand, hasn't gotten any breaks this season. His .211 BABIP means his average will bounce back soon enough, and it's not like he's experiencing a power outage -- he has 12 homers on the year. On top of that, his fly-ball and ground-ball rates are right around his career averages, reflecting that he hasn't changed anything fundamental with his swing. Just give him time, and there's every reason to believe Bautista will return to form.
At the moment, the Blue Jays have two big problems besides Bautista's struggles. The first is their bullpen, something that was supposed to be a strength coming into the season. When Anthopoulos acquired
Sergio Santos
from the White Sox over the winter, many believed that the Blue Jays had finally found a consistent closer, a position that had been in flux over the past few years. Instead, Santos blew the first two save opportunities he had before being placed on the disabled list with an injured shoulder. The man Anthopoulos acquired to be Santos' setup man,
Francisco Cordero
, took over; he was even worse.
Casey Janssen
has since assumed the role and has done remarkably, not allowing a run since being named the closer. Still, the Jays' bullpen has almost no depth, with the ageless
Darren Oliver
as the only other consistent option. This is another area that Toronto will be looking to fix come the end of July if it wants to contend.
The other main obstacle Toronto faces right now is, of course, the division it plays in. The AL East is easily the best division in baseball, if not all of sports. Having to compete with the Red Sox and Yankees every year is tough enough, but now that Tampa Bay is a legitimate power and Baltimore is looking better and better every day (and in first place), there are five legitimate playoff contenders vying for three spots. Toronto is 7-12 against teams in its division, and 17-11 against everyone else. The fact that the Jays have to play 18 games every year against four teams with so much talent is almost unfair.
With a fourth of the season done, Toronto is still very much in the playoff race. Farrell would surely tell you that this team can do better, and the numbers would back him up. Although the Jays saw a sure victory turn into a mirage in the Texas heat Saturday, their future is still bright.
If Toronto acquires an ace and some bullpen depth at the deadline, it should have more than just playoff aspirations. That sort of reinforced Jays club could have championship aspirations. Blue jays traditionally start heading south when the October winds blow in, but this just might be the year where those traditions begin to change.
PHOTO OF THE DAY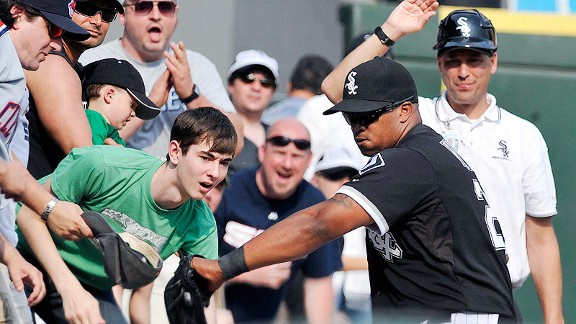 David Banks/US PresswireSox fans don't interfere, they just let left fielder Dayan Viciedo do his thing.
Alex Convery writes for Fire Brand of the American League, a SweetSpot network affiliate. You can follow him on Twitter here.
January, 24, 2012
1/24/12
5:58
PM ET
Brandon Morrow
has a career ERA of 4.37 and he's never pitched 180 innings in a season.
And yet I love this deal for the
Toronto Blue Jays
: They signed Morrow to a
three-year deal for $20 million
, plus a $10 million option. If the fourth year is exercised, the Jays will buy out the first two seasons of Morrow's free agency.
After averaging 10.9 strikeouts per nine innings in 26 starts in 2010, Morrow led the American League with 10.2 K's per nine in 2011. That's precisely why this deal has big upside for the Jays, despite Morrow's 4.72 ERA.
In the past 10 seasons, we've had 66 pitchers who threw at least 162 innings and averaged at least 9.0 strikeout per nine. Only
Ricky Nolasco
with a 5.06 ERA in 2009 and
Brandon Duckworth
with a 5.41 ERA in 2002 had a higher ERA than Morrow's 4.72. Here's how those 66 pitchers break down in regards to ERA:
2.00 to 2.49: 11
2.50 to 2.99: 16
3.00 to 3.49: 17
3.50 to 3.99: 12
4.00 to 4.49: 6
4.50 or higher: 4
Now, I'm not saying Morrow will turn into
Justin Verlander
. Maybe he's more
A.J. Burnett
than ace. But I like his chances to improve. His big problem in 2011 was pitching from the stretch. With the bases empty, he dominated hitters with a line of .217/.292/.340. With men on base, opposing batters hit .267/.346/.466, including .288 with a .523 slugging percentage with runners in scoring position. He had similar issues in 2010, when batters hit .222 with the bases empty and .280 with runners on.
I'm not sure what's going on there, if it's a focus issue or not relaxing or relying too much on his fastball or what. It seems like something that can be corrected. Look, Morrow still has a lot to prove: He has to pitch deeper into games (he averaged fewer than six innings per start in 2011) and there is still room to improve his command. Blue Jays
GM Alex Anthopoulos talks about Morrow's contract and work ethic here
. All in all, a wise move to lock him up now; if he busts out this season he'd be even more expensive to sign.
* * * *
In the midst of the
Prince Fielder
hysteria, the Blue Jays also announced that they signed former Reds closer
Francisco Cordero
to a one-year, $4.5 million deal. Cordero had 37 saves and a superficially low 2.45 ERA in 2011. He's unlikely to match that number in 2012 as he likely serves as set-up man to
Sergio Santos
. The Blue Jays' bullpen had a 3.88 ERA in 2011, ninth in the AL. They've added Santos, Cordero and
Darren Oliver
while losing
Frank Francisco
,
Jon Rauch
and
Shawn Camp
. That should be a net gain, as Francisco, Rauch and Camp combined for a 4.21 ERA. If Morrow and
Brett Cecil
improve and
Brett Lawrie
takes the league by storm and
Colby Rasmus
reaches his potential ... well, the Blue Jays could be
very interesting
.
* * * *
Finally, the Jays signed
Omar Vizquel
to a minor-league contract. Vizquel will turn 45 in April. Maybe he'll play as long as
Julio Franco
, who hit .309 at age 45 and played until he was 48. I hope so. Vizquel once played with Paul Assenmacher, who played with Phil Niekro, who played with Warren Spahn, who played with Si Johnson, who played with Edd Roush, who played with Jimmy Callahan, who played with Cap Anson, who hit .285 at age 45 for the 1897 Chicago Colts. Vizquel is 13th on the all-time games played list. He needs 79 games to pass
Barry Bonds
and move into the top 10 all time. Go get 'em, Little O.
January, 12, 2012
1/12/12
11:48
AM ET
Some thoughts on the big free agents remaining not named
Prince Fielder
.
Johnny Damon:
He's 277 hits away from 3,000 but currently scraping for a job.
Tampa Bay apparently signed Luke Scott as its designated hitter
and with
Desmond Jennings
taking over in left field, there won't be room for Damon in Tampa. While he still has something left in the tank -- his .743 OPS ranked ninth in the AL among 20 left fielders and DHs with at least 400 appearances -- there just aren't teams looking for a 38-year-old left fielder with a noodle arm. One possibility: the Orioles. With
Nolan Reimold
in left and
Chris Davis
and
Mark Reynolds
slated for third and first, they could sign Damon as their DH.
Edwin Jackson:
A Scott Boras client allegedly seeking a five-yeal deal (good luck, Scott!), Jackson is what he is: A durable but mediocre starter. He's one of just 22 pitchers to start 150 games over the past five seasons, but only
A.J. Burnett
and
Livan Hernandez
own a worse ERA among those 22. Teams appear to be viewing Jackson correctly: A short-term placeholder, but not a guy you want to make a long-term investment on. He's apparently talked to the Yankees, but I could see him landing in a place like Detroit, allowing the Tigers to give
Jacob Turner
more seasoning in Triple-A.
Roy Oswalt:
Yes, he missed time with a bad back in 2011, but it was the first season he hasn't started at least 30 games since 2003. He's said he's willing to sign a one-year deal to prove he's healthy, so he's a low-risk signing. I still like him: He's one season removed from leading National League starters in lowest WHIP and he had a better SO/BB ratio in 2011 than
C.J. Wilson
,
Tim Lincecum
,
Jon Lester
or
Mark Buehrle
. Here's one red flag, especially if a team like the Red Sox or Yankees is interested: Oswalt has spent most of his career in the NL Central facing a lot of weak lineups. His career ERA is 3.21, but 3.70 in interleague games. If he's not the pitcher he once was, that could translate to an ERA in the mid-4 range pitching in the AL East.
Carlos Pena:
He can still mash against right-handers (.255/.388/.502 in 2011), but really needs to be a platoon player. Trouble is, most teams can't afford to carry a platoon at first base, not when you carry 12 or 13 relievers. (Now, a smart team would realize that carrying an extra bat can be more valuable than an extra LOOGY, but that's a different essay.) The Indians still seem like a good fit and at this point, Pena won't be busting their budget. The Rays may still be in play, although the Scott signing certainly makes that less likely. By the way, only five players have hit more home runs the past five seasons than Pena:
Ryan Howard
, Fielder,
Albert Pujols
,
Mark Teixeira
and
Miguel Cabrera
.
Hiroki Kuroda:
He's allegedly seeking $12 to $14 million per season and he just may be worth it. He's put up solid numbers with the Dodgers despite some mediocre defenses behind him. His fastball velocity has averaged 92 mph for four years in the majors, so he's shown no signs of decline despite his age (37 in February). He won't give you much more than 200 innings, but he could be a big difference-maker for a pennant contender. Do the Angels spend even more money and have Kuroda replace
Jerome Williams
as the No. 5 starter? That may be overkill, but aren't the Angels all-in at this point?
Francisco Cordero:
I'd be vary wary. If you look at the 37 saves and 2.45 ERA you may be mislead. But most front offices are smarter than that these days, so they'll look at the low strikeout rate (5.4 K's per nine), drop in fastball velocity (from 95 in 2009 to 94.5 in 2010 to 93 last season) and see an aging pitcher in decline, even if he did throw his changeup more last season and walk fewer batters. Yes, he's a Proven Closer, but there just doesn't seem like there's much interest in $8 million relievers this offseason. Good luck, Francisco. I don't think you'll be getting that much.
November, 9, 2011
11/09/11
6:53
PM ET
Reports out of Philadelphia have the Phillies considering
re-signing closer
Ryan Madson
to a four-year, $44 million deal.
Since converting to relief full-time in 2007, Madson has been one of the game's most underrated relievers, posting a 2.89 ERA and 1.19 WHIP, relying on a 93-95 mph fastball and terrific changeup. In his first full season as Phillies closer he was 32-for-34 in save opportunities and allowed just two home runs in 60.2 innings. While Madson has missed time each of the past two seasons, neither injury was to his arm -- a hand injury in 2011 when hit by a groundball and a self-inflicted toe injury in 2010.
He's just 31, so maybe it seems like a relatively safe bet by the Phillies. Except it isn't.
I took a look at the 10 largest multi-year contracts given to relievers (according to Cot's Baseball Contracts) and compared the numbers for the 10 relievers before the contract and after the contract, using the same number of seasons as the length of the contract (so if a guy signed a three-year deal, I used his three previous seasons). Here's what we get:
[+] Enlarge

Howard Smith/US PresswireIs Ryan Madson worth a four-year, $40 million deal?

In the 32 combined seasons before signing their deals, the 10 relievers accumulated 71.4 WAR (wins above replacement, from Baseball-Reference.com) and pitched 2,152.1 innings.

In the 32 combined seasons after signing their deals, the relievers accumulated 42.7 WAR and pitched 1,676 innings.

That's an overall decrease in value of 40 percent and a decrease in innings of 22 percent.

Only two of the 10 had an increase in value (Mariano Rivera and Jose Valverde) and only two threw more innings (Kerry Wood and Valverde, both on two-year deals).
Here's a closer look at each of those 10 relievers.
1. Mariano Rivera, Yankees, 2008-10, $15 million
2005-07: 9.6 WAR, 2.08 ERA, 107 saves, 224.2 IP
2008-10: 10.1 WAR, 1.64 ERA, 116 saves, 197 IP
Despite pitching 27 fewer innings, Rivera maintained his value with three more excellent seasons. His 2011 season, the first of another two-year deal that also pays him $15 million per season, was another good one. But Mariano is obviously one of a kind.
2. Brad Lidge, Phillies, 2009-11, $12.5 million
2006-08: 2.3 WAR, 3.58 ERA, 92 saves, 211.1 IP
2009-11: -1.3 WAR, 4.73 ERA, 59 saves, 123.2 IP
The Phillies re-signed Lidge after his remarkable 2008 when he didn't blow a save all season, including a 7-for-7 mark in the postseason as the Phillies won the World Series. Even then, however, Lidge should have come with a big warning sign tattooed to his forehead: His 4.5 walks per nine innings in 2008 indicated a pitcher who always lived on the edge. He fell off it in 2009 with one of the worst relief seasons of all time (0-8, 7.21 ERA) and battled injuries the past two seasons.
3. Francisco Rodriguez, Mets, 2009-11, $12.33 million
2006-08: 9.9 WAR, 2.24 ERA, 149 saves, 208.2 IP
2009-11: 4.7 WAR, 2.88 ERA, 83 saves, 197 IP
Like the Phillies, the Mets bought high on K-Rod, signing him after his record-breaking 62-save season with the Angels in 2008. Despite those 62 saves, K-Rod's strikeout rate had declined from previous years and his control had always been spotty. He posted a 2.88 ERA in the three seasons of the deal, but was hardly the dominant closer expected for a $12.3 million salary.
4. Joe Nathan, Twins, 2008-11, $11.75 million
2004-07: 13.0 WAR, 1.94 ERA, 160 saves, 282.1 IP
2008-11: 6.8 WAR, 2.49 ERA, 100 saves, 181 IP
Only
Trevor Hoffman
recorded more saves than Nathan from 2004 through 2007. Over those four years Nathan allowed a lower OPS than Rivera. Entering his age-33 season, the Twins gave him a big four-year deal. He was terrific for two seasons before tearing a ligament in spring training in 2010 and undergoing Tommy John surgery.
5. Francisco Cordero, Reds, 2008-11, $11.5 million
2004-07: 10.1 WAR, 3.06 ERA, 152 saves, 279.1 IP
2008-11: 6.2 WAR, 2.96 ERA, 150 saves, 279.1 IP
Cordero was exactly as advertised: A durable closer who makes you gnaw your fingernails on a nightly basis. He blew 24 saves over his four-year deal with the Reds, giving him a save percentage of 86 percent. In other words, the Reds paid top dollar for a guy who was essentially a league-average closer.
6. Billy Wagner, Mets, 2006-09, $10.75 million
2002-05: 10.8 WAR, 2.01 ERA, 138 saves, 287 IP
2006-09: 5.2 WAR, 2.35 ERA, 101 saves, 203.1 IP
It's hard to say this signing turned out well for the Mets, although Wagner posted good numbers when healthy. In 2006, he blew a 1-0 lead in Game 2 of the NLCS. By Game 7, Willie Randolph had lost confidence in Wagner and left in
Aaron Heilman
in the ninth inning of a tie game;
Yadier Molina
homered. In 2007, Wagner blew fives saves, but two of those came in late August and the final one came in late September, in the middle of the Mets' horrific collapse (he allowed three runs in the bottom of the ninth to the Marlins, who would win in 10 innings). In 2008, he missed the final two months as the Mets blew another division lead in September. That led to the club signing Rodriguez for 2009, which meant the Mets paid over $20 million for two relievers. They lost 92 games.
7. Kerry Wood, Indians, 2009-10, $10.25 million
2007-08: 2.1 WAR, 3.28 ERA, 34 saves, 90.2 IP
2009-10: 1.2 WAR, 3.74 ERA, 28 saves, 101 IP
After a solid 34-save season with the Cubs in 2008, the Indians took a chance on the injury-prone right-hander. He had a 4.80 ERA in 81 games with Cleveland, before getting traded to the Yankees at the trade deadline in 2010.
8. B.J. Ryan, Blue Jays, 2006-10, $9.4 million
2001-05: 7.5 WAR, 3.25 ERA, 42 saves, 318.1 IP
2006-10: 4.5 WAR, 2.95 ERA, 75 saves, 155.1 IP
Ryan had emerged as a dominant reliever with the Orioles in 2004 and 2005 (he averaged 12.7 strikeouts per nine innings those two seasons), leading then-Toronto general manager J.P. Ricciardi to sign Ryan to mega-deal worth $47 million. The Jays got a great 2006 out of him (38 saves, 1.37 ERA), but then Ryan hurt his elbow and underwent Tommy John surgery.
9. Brian Fuentes, Angels, 2009-10, $8.75 million
2007-08: 2.8 WAR, 2.90 ERA, 50 saves, 124 IP
2009-10: 1.5 WAR, 3.41 ERA, 72 saves, 103 IP
Fuentes posted solid numbers with the Rockies, relying on his deceptive left-handed delivery to fool hitters. While he saved 48 games for the Angels in 2009, his big platoon split made his overall numbers mediocre and Mike Scioscia limited him to just 55 innings. The next year, he was traded to the Twins in August.
10. Jose Valverde, Tigers, 2010-11, $7 million
2008-09: 3.3 WAR, 2.93 ERA, 69 saves, 126 IP
2010-11: 3.8 WAR, 2.59 ERA, 75 saves, 135.1 IP
After going 52-for-52 in save opportunities in 2011 (he did lose five games, however, including one in the postseason), the Tigers exercised a $9 million club option for 2012. Needless to say, Papa Grande will be hard-pressed to match his 2011 numbers.
Madson is a good pitcher, but predicting good health for a reliever -- especially a 30-something one -- is clearly a dicey proposition. The Phillies are now of baseball's big-market monsters, so they can afford a $40 million gamble more than most teams, but that's what signing Madson would be -- a very big gamble.
Follow David Schoenfield on Twitter @dschoenfield.
May, 16, 2011
5/16/11
6:50
PM ET
Because we're nothing if not innovative here at the SweetSpot blog, we're going to combine our Monday stroll through the stats with some links of the day.
As I mentioned in today's weekly look ahead, Jose Bautista's OPS+ was entering Barry Bonds territory. Dave Cameron has a bunch of fun Bautista facts over at FanGraphs. Over the past calendar year, Bautista has homered 63 times; the second-most over that span is Albert Pujols, with 41.
Jon Lester won Sunday night, improving his career W-L record to 66-26, a .717 winning percentage. Elias reports that's the best winning percentage through 92 starts of any active starter. Tim Hudson was 65-27 through 92 starts. I went over to Baseball-Reference to find the best winning percentage through a pitcher's first six seasons since 1901 (minimum 100 decisions):1. Johnny Allen, Yankees/Indians, 1932-37, 86-30 (.739)
2. Whitey Ford, Yankees, 1950-57, 91-33 (.734)
3. Ron Guidry, Yankees, 1975-80, 76-29 (.724)
4. Dwight Gooden, Mets, 1984-89, 100-39 (.719)
5. Vic Raschi, Yankees, 1946-51, 91-38 (.705)

Hudson is sixth on the list with a .702 percentage. The only other active pitcher in top 15 is Roy Oswalt, who ranks 15th with a 98-47 (.676) record from 2001-06. On a related Red Sox, our Fire Brand of the AL blog takes a look at Boston's anti-Lester: What's gone wrong with John Lackey?
In case you missed it, the Reds and Cardinals had a little war of words and finger pointing after Francisco Cordero hit Albert Pujols in the ninth inning on Sunday. I made the point that Cordero's pitch was barely off the plate and that like many modern hitters, Pujols crowds the plate and hangs his hands almost over the strike zone. Anyway, hit by pitchers have actually been declining slightly in recent years, averaging .29 per team per game in 2011, the lowest total since 1994. The peak was .39 in 2001. The totals were even lower in the '80s, usually less than .20 per game.
Ozzie Guillen still supports Juan Pierre. Among the 22 players with at least 100 plate appearances from the leadoff spot, Pierre ranks 17th in OBP, 22nd in slugging, 22nd in OPS and 1st in caught stealing.
Here are your major league RBI leaders:1. Ryan Howard, 35
2. Lance Berkman, 34
2. Adrian Gonzalez, 34
4. Adrian Beltre, 33
4. Ryan Braun, 33
6. Prince Fielder, 31
6. Hunter Pence, 31
8. Paul Konerko, 30
8. Michael Young, 30
10. Matt Holliday, 28
10. Curtis Granderson, 28

Now the top 10 list of most runners on base while batting (from Baseball Prospectus):

1. Ryan Howard, 139
2. Torii Hunter, 133
3. Matt Kemp, 130
4. Albert Pujols, 128
5. Adrian Gonzalez, 123
6. Hunter Pence, 121
7. Jeff Francoeur, 120
7. Troy Tulowitzki, 120
9. Jimmy Rollins, 119
10. Paul Konerko, 119

Now the top 10 for highest percentage of runners on base driven in (aka, OBI -- Others Batted In), mimimum 100 PAs:

1. Chipper Jones, 26.4%
2. Mike Aviles, 25.9%
3. Michael Young, 25.7%
4. Stephen Drew, 25.6%
5. Martin Prado, 24.7%
6. Victor Martinez, 24.4%
7. Matt Wieters, 24.3%
8. Matt Holliday, 23.0%
8. Alex Gordon, 23.0%
8. Corey Patterson, 23.0%

Now, here's our list of top 10 RBI guys again and their percentage of OBI:

1. Ryan Howard, 35 (18.7)
2. Lance Berkman, 34 (22.1)
2. Adrian Gonzalez, 34 (20.3)
4. Adrian Beltre, 33 (20.7)
4. Ryan Braun, 33 (19.1)
6. Prince Fielder, 31 (18.8)
6. Hunter Pence, 31 (21.5)
8. Paul Konerko, 30 (16.8)
8. Michael Young, 30 (25.7)
10. Matt Holliday, 28 (23.0)
10. Curtis Granderson, 28 (16.5)
May, 16, 2011
5/16/11
12:02
AM ET
Step aside, Yankees-Red Sox and Giants-Dodgers. There is a new most-heated rivalry in baseball. The
Cincinnati Reds
and
St. Louis Cardinals
are no longer just NL Central rivals: They are officially blood enemies.
In closing out the Reds' 9-7 victory over the Cardinals on Sunday -- completing Cincinnati's first three-game sweep over St. Louis since 2007 --
Francisco Cordero
hit
Albert Pujols
with an 0-2 fastball that rode a little far in. Now, the pitch wasn't that far off the plate ... maybe a couple inches. But like so many hitters these days, Pujols crowds the plate, his hands hanging over the black like a couple sides of beef. It was good purpose pitch; and as Cordero said after the game, he wasn't trying to put Pujols on base, not since he represented the tying run ... and
Matt Holliday
and
Lance Berkman
were on deck.
But in typical Tony La Russa fashion, the Cardinals starting barking. La Russa wasn't at the game as he was dealing with an eye infection, but his longtime pitching coach Dave Duncan, acting manager Joe Pettini and players on the bench didn't like their star getting hit and started yelling at Cordero. So after Cordero struck out Berkman to end it, he yelled back and pointed to the St. Louis dugout.
"They took offense to it, we took offense to it, and the soap opera continues between these guys," Pettini said. "It's always something when you come in here."
Pujols acknowledged after the game that Cordero wasn't trying to hit him, but this incident comes on the heels of last August's brawl in Cincinnati, when
Brandon Phillips
and
Yadier Molina
exchanged pleasantries that led to a bench-clearing brawl in the first inning, a brawl that led St. Louis backup catcher
Jason LaRue
suffering a severe concussion after getting kicked in the head by Reds pitcher
Johnny Cueto
.
"I know our guys," La Russa said after that game. "This is not the first time that we've been challenged. You just go up and down our roster -- we've got a bunch of guys that are very tough characters. Like I say, there's times that you beat us, we're not good enough. But you're never going to scare us and we're never going to back down."
That's definitely a typical La Russa response, and a reason his teams are often in the middle of these conflicts. La Russa does seem to believe in a certain code of conduct when it comes to pitching inside -- not that he necessarily follows that code too religiously himself. The Cardinals are second in the NL in hit batters, and while they ranked 13th last season, they're usually in the top half of the league: 13th, 8th, 8th, 3rd, 2nd, 9th, 6th, 7th, 5th and 2nd, going back to 2001.
As for the Reds and Cardinals, the sweep pushed the Reds past St. Louis and into first place. They're 9-2 over their past 11 games as they allowed more than four runs just twice over those 11 games.
Scott Rolen
returned to the lineup this weekend and went 7-for-15.
Drew Stubbs
is playing like an All-Star center fielder, hitting .282/.371/.468, with 31 runs and 13 steals in 14 attempts. Their catching duo of
Ramon Hernandez
and
Ryan Hanigan
continue to be a secret weapon, combining for eight home runs and 27 RBIs. Reds mananger Dusty Baker seems reluctant to pull the plug on
Jonny Gomes
, who is down to .186 and doesn't play good defense, in place of
Chris Heisey
, a solid defender with an .847
OPS
so far in 57 at-bats.
As for the rivalry, I think it's the best in baseball. Sure,
Jason Varitek
and
Alex Rodriguez
aren't going to dinner together, but the Yankees-Red Sox rivalry has cooled down from its 2003-05 peak. The hate seems to come from the fans than it does the players. The Dodgers and Giants haven't been in a pennant race against each other since 2004. Those two just don't have the animosity and dislike that fuels every Reds-Cardinals game these days.
The Reds and Cardinals next meet July 4 in St. Louis. Think there may be some fireworks?
SERIES OF THE WEEK
Cubs at Red Sox, Friday-Sunday
Friday:
Carlos Zambrano
(4-1, 4.35) vs.
Jon Lester
(4-1, 3.28)
Saturday:
Matt Garza
(2-4, 4.17) vs.
Daisuke Matsuzaka
(3-3,4.64)
Sunday:
Casey Coleman
(1-3, 7.22) vs.
John Lackey
(2-5, 8.01)
The series everyone wanted to see in 2003 will finally happen as the Cubs visit Fenway Park for the first time since the 1918 World Series. The Red Sox won in six games despite hitting .186, as Babe Ruth won two games.
By one measure, Matt Garza has been the third-best pitcher in baseball this season. FanGraphs rates him third in WAR (behind
Roy Halladay
and
Dan Haren
), thanks to his 1.61
FIP
, which factors in his walk rate (2.9 per nine innings), strikeout rate (11.8 per nine, best in the majors among starting pitchers) and home run rate (one in 49 2/3 innings). What Garza hasn't been doing is eliminating base hits: his .382 average on balls in play is worst in the majors. Has he been unlucky or the victim of bad defense? The Cubs do rank 29th in
Defensive Efficiency
and 21st in UZR, so he's not getting backed by Gold Glove-caliber defense.
After last Thursday's start, John Lackey uttered the infamous "Everything in my life sucks right now" quote in reference to his bad start and his wife's battle with breast cancer. A disappointment a year ago, Lackey's strikeout/walk ratio has deteriorated to 19/18. His ground ball percentage is a career-low 34 percent (compared to 46 percent over his career). So he's giving fewer ground balls, walking more and striking out fewer. The Red Sox will soon need to consider other rotation options.
PITCHING MATCHUP OF THE WEEK
Thursday:
Justin Verlander
(4-3, 2.91) vs.
Josh Beckett
(3-1, 1.75), Tigers at Red Sox
Beckett has allowed 10 runs in eight starts (none in his past three, although one of those was rain-shortened) and opponents are hitting .175 off him. Verlander has not struck out 10 batters in a game this season, but his opponents are batting just .175 off him. Also pay attention to this:
Roy Oswalt
returns from the DL to face red-hot
Jaime Garcia
, who is 5-0 with a 1.89 ERA for the Cardinals.
THREE SWINGS
1. One of the biggest disappointments this season has been Reds reliever
Aroldis Chapman
. He's been so bad that Baker brought him in for mop-up duty with a 9-2 lead in the ninth on Sunday. Chapman walked four of the five hitters he faced, giving him 20 walks in 13 innings. He may throw hard, but right now the Reds need to send him down to Triple-A to see if he can find the strike zone.
2. On a similar note, when do the Marlins pull the plug on
Javier Vazquez
? He's had a nice career (154 wins), but after another bad start Sunday he's 2-4 with a 7.55 ERA and looks near the end of the road. He has 24 walks and 20 strikeouts in 39 1/3 innings. He's allowed 17 first-inning runs, most in the majors. The Marlins have a good team --
Logan Morrison
returned this weekend and showed no ill effects from his DL stint -- but they need more production from the back of their rotation (Vazquez and
Chris Volstad
). How they replace Vazquez could go a long way towards them staying in the NL East race.
3.
Jose Bautista
is crazy awesome right now. After hitting three home runs Sunday, he's hitting an insane .368/.520/.868. "It's ridiculous, it feels like a dream right now," Bautista said after his three-homer barrage, which gives him 16 in just 32 games he's played. "Sometimes I can't really believe it myself, but I keep seeing the good pitches." His OPS+ entering Sunday's game was 266 ... which is
Barry Bonds
territory. Bonds holds the three best OPS+ seasons of all time, led by a 268 mark in 2002. Bautista is the best player in baseball right now.
RANT OF THE WEEK
My editor Nick Pietruszkiewicz makes a guest appearance: "I swear I watched the entire fourth quarter of the Heat-Bulls game in the time it took the Red Sox and Yankees to play a half-inning." And that's saying something since the usual NBA playoff game consists of eight timeouts in the final two minutes. (Of course, that game wasn't close, so I'm guessing the timeouts were avoided.) But that's always the problem with Yankees-Red Sox: Their. Games. Take. Way. Too. Long. Their six games this season have gone 3:07, 3:26, 2:58, 3:35, 3:26 and 3:41. And that's worth ranting about.
PHOTO OF THE DAY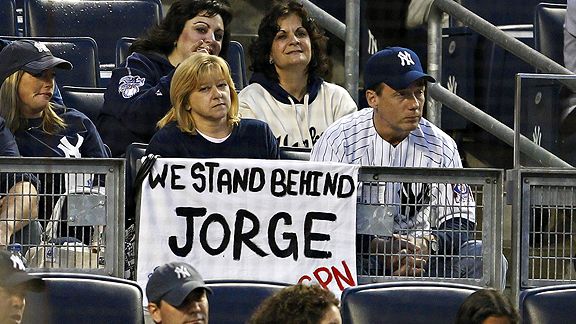 William Perlman/US PresswireThere was a game at Yankee Stadium on Sunday. But everybody was focused on Posada-Gate.
April, 21, 2011
4/21/11
4:50
PM ET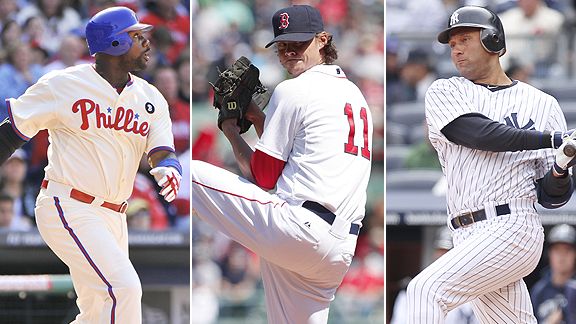 US Presswire, Getty ImagesRyan Howard, Clay Buchholz and Derek Jeter have spots on the all-overrated team.
I did my
all-underrated team
the other day. Here's the all-overrated team. Now, all these guys aren't bad players. In fact, most of them are good players -- just not as good as I think they are widely viewed. And just because I included them doesn't mean I hate them or their team.
C -- Ivan Rodriguez, Nationals.
He's had a Hall of Fame career, but it's been a long time since we've seen vintage Pudge. He hasn't posted an adjusted OPS above the league average since 2004 and posted a .286 OBP over the previous two seasons. And yet the Nationals still brought him back.
1B -- Ryan Howard, Phillies.
When I asked for overrated nominees on Twitter, Howard easily received the most votes. Over the past three seasons, 16 first basemen received at least 1,500 plate appearances. Howard is 14th in OBP. He's fifth in slugging, but 10th in OPS. Look, Howard is a good player. He hits home runs and drives in runs. He seems like a great guy. But he's not one of the top five first basemen in the game and shouldn't be finishing in the top 10 in the NL MVP vote every season.
2B -- Ian Kinsler, Rangers.
How good would he be away from the friendly hitting confines of The Ballpark? He's a career .312/.394/.530 hitter at home, but a pedestrian .246/.317/.404 on the road. He also has trouble staying healthy (he's played 140 games just once in five seasons).
[+] Enlarge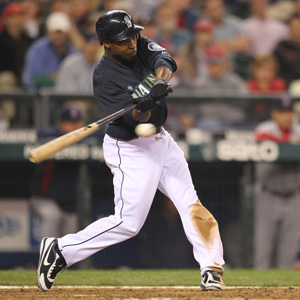 Otto Greule Jr/Getty ImagesChone Figgins is off to a rough start, with just a .217 OBP through 17 games.
3B -- Chone Figgins, Mariners.
OK, with a terrible start and a bad 2010, maybe nobody rates him too high anymore. The Mariners signed him to a big four-year deal after his fluke 2009 season -- his WAR totals via
Baseball-Reference.com
since 2006: 0.3, 2.8, 2.5, 6.9, 1.1 -- and now they're paying the price for misreading that season.
SS -- Derek Jeter, Yankees.
I know, too easy. I'm not a Jeter hater -- I've written that you can make a case for him as the second-best shortstop of all time. His slow start isn't alleviating concerns that he's getting old.
OF -- Delmon Young, Twins.
With a .298 average, 21 home runs and 112 RBIs, Young had a really great season in 2010, right? Except his OBP was only .333 (and .324 career) and nobody thinks his defense is any good. A classic example of a guy with Triple Crown stats that mask other problems.
OF -- Jacoby Ellsbury, Red Sox.
Red Sox fans weren't happy when I mentioned in a recent chat that Ellsbury wasn't all that. I'll stick to that comment. His career OPS+ is 92 (below league average) and while he does steal bases, I think he's more adequate than great on defense. If he didn't play in Boston, he'd be known as "
Michael Bourn
."
OF -- Hunter Pence, Astros.
He's consistent and durable and a good player who plays hard, but his .336 OBP prevents him from being the true star many fans view him as.
P -- Ricky Nolasco, Marlins.
I'm with Eric Karabell on this one: Sabermetricians love his SO/BB ratio, but his career ERA is 4.40 in a good pitcher's park and he hasn't pitched 200 innings since 2008.
P -- A.J. Burnett, Yankees.
Even when he was good, he wasn't
that
good. For years, we heard that he had the best stuff in the game, but his career ERA is 4.00. Now people are back on the Burnett bandwagon after his 3-0 start, but his WHIP is still an unimpressive 1.46.
P -- Clay Buchholz, Red Sox.
He had a 2.33 ERA last season (helped in part by 10 unearned runs) and a lot people said he was a bit lucky since his strikeout rate wasn't impressive enough to match the few number of hits he gave up. So far, they've been proved right as Buchholz has stumbled out of the gate with a 10/14 SO/BB ratio and six home runs allowed (he gave up only nine all last season).
P -- Joba Chamberlain, Yankees.
Have so many words ever been written about a mediocre middle reliever?
P -- Francisco Cordero, Reds.
He's third among active pitchers with 292 career saves, but he's hardly a lights-out closer with a 3.23 career ERA and 1.36 WHIP. He's proof that a lot of guys could rack up 200-plus saves if given the opportunity.
April, 4, 2011
4/04/11
1:08
PM ET
By
Christina Kahrl
| ESPN.com
It's a mantra this time of year: Early-season action can lead to early-season overreactions, producing hastily conjured trends. Consider the lot of NL Central closers after their teams' first series:
March 31
Up 6-3, Brewer John Axford blows the ninth-inning save against the Reds by allowing four to score.

The Cards' Ryan Franklin blows his ninth-inning save opp up 3-2 against the Padres by giving up a tying homer to Cameron Maybin.
April 1
Astro Brandon Lyon blows a 4-2 lead over the Phillies by surrendering three runs and allowing hits to six of the seven batters he faced.

Joel Hanrahan of the Pirates notches a clean save to lock up a 6-3 win over the Cubs, making him the division's first closer to come through.
April 2
Although not a ninth-inning save opportunity, Bucs set-up man Evan Meek gives up five runs in the bottom of the eighth against the Cubs -- not a classic save opp, since all he'd get for his efforts if he did well is a hold, but it winds up being a bit of BS action nonetheless.

Carlos Marmol closes out the Cubs' 5-3 victory by striking out the side.

Francisco Cordero logs a save up 4-1 against the Brewers, but gives up a run.
April 3
Marmol blows a 4-3 lead in his ninth-inning save opportunity against the Pirates.

Hanrahan notches his glory stat in the bottom half of the inning, making him the division's picture of perfection as the only unscored-upon closer in the Central.
That's a total of four saves in eight classic "closer" opportunities in the ninth inning, and two of those were by Hanrahan, a man who had to pitch his way into the job over Meek's rival claim in front of new manager Clint Hurdle. Hanrahan's far from what you'd call an established closer, having never finished with a double-digit save season. Interpretive metrics like any of the flavors of Wins Above Replacement (whether FanGraphs' WAR or Baseball Prospectus' WARP) say nice things about Hanrahan's 2010, but the balance of his career suggests that, as with many relievers, what you get from him year to year is far from a sure thing.
[+] Enlarge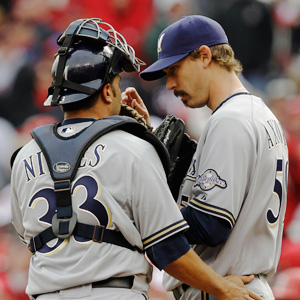 AP Photo/Al BehrmanCatcher Wil Nieves talks things over with John Axford before Axford gave up the three-run homer to Ramon Hernandez.
Evaluating relief performance is easier than projecting it, of course, but because relievers face so few batters over a season, let alone in April, the results aren't nearly as cut and dried as you might wish. Take leverage-minded relief metrics and their potential problems: Referring to Win Probability Added, Axford's four-run disaster on Opening Day took a 91 percent shot at a win and converted it into 100 percent of a loss, but that goes far toward noting that leverage metrics only go so far to document value -- Axford was just a batter away from notching his glory stat, after all, and
Ramon Hernandez
's homer matters very little if
Joey Votto
doesn't work his way aboard for a walk, or if the umps rule that
Brandon Phillips
was out of the basepath while avoiding
Casey McGehee
's tag on
Scott Rolen
's grounder to third. That play created a bases-loaded situation that Axford had to pitch out of.
The full sequence of events, not all of which Axford had control over, define the value of the subsequent homer. But Axford's giving it up and Hernandez's hitting it winds up being the one play that accrues the most value, despite it's absolute dependence on everything that happened before to become possible. So Axford gets that big -0.96 WPA hit on Day 1 of the season.
Concern over overreacting to early-season performance, however, is merited in part, especially when we're talking about new managers or newly elevated or recently acquired closers. If Axford keeps getting lit up into April, that's not going to represent a statistically significant sample of what he's capable of, but it would also go pretty far toward Ron Roenicke subsequently deciding that enough's enough, and maybe it's time to hand save opportunities to
Takashi Saito
or somebody else.
The other thing to think about is that poor performance from a pen early in the season can change how a manager chooses to manage his bullpen, and that's what is at stake now, for the managers and for their relievers. For example, when Eric Wedge was managing the Indians in 2006, an early-season series of bad ballgames from his middle-relief crew led to a decision to favor letting his starters finish their own innings. As an adaptive strategy, it led to a league-leading tally of blown quality starts -- games when his starters had gone six innings and allowed three runs or less (I'm going with runs, not earned runs here), all because he'd acquired a strong distrust of the bullpen he had on hand.
In light of this "trend," you can sort of understand why Tony La Russa looked at Sunday's 2-0 lead over the Padres, with
Jaime Garcia
's pitch count at 95 through eight innings, and decided to leave well enough alone rather than risk another ninth-inning conflagration. We can't say which of these late-game disasters will herald a real trend in terms of how managers run their staffs, but just as a late-game blown save isn't always the product of a single independent event, these kinds of decisions will be the product of cumulative, mounting frustrations with bullpen performance, and these decisions, no matter how little evidence exists to support them either way, will get made just the same.
Christina Kahrl covers baseball for ESPN.com. She helped found Baseball Prospectus in 1996 and was voted into the Baseball Writers' Association of America in 2008 as one of its first four Internet columnists. You can find her ESPN archives here, and follow her on Twitter here
.
September, 17, 2010
9/17/10
12:25
PM ET
Cincinnati's got the division title locked up, but Paul Daugherty thinks they still need to make a
big change in the bullpen
, swapping the struggling
Francisco Cordero
for the electric
Aroldis Chapman
...
The manager makes the fair case that pitching in the last inning is more difficult than pitching in any that precede it. Closers have to have great arms and heads.
Cordero has had both. Chapman owns the former, as far as we know. Baker asks, "Is this the place to experiment?''
Meaning, "Do we really want to audition a rookie with eight major-league appearances for a crucial October role?''
Great question.
Better answer: Yes, we do.
--snip--
Ninth-inning pressure is invisible, compared with what Chapman has endured, and continues to endure. Try having your first child, and the child's mother, in a place you can never return. Focus? Chapman has to succeed, because he can't go home.
Sure, he has lots of money. But money can't buy his dream, which he is living right now, and intends to keep living for the next decade at least. That'd get a man's mind right.Look, I've never said that psychology doesn't matter in baseball.
What I've said is that I'm not smart enough to understand it.
I'm not absolutely convinced that Paul Daugherty is smart enough, either. And I'm not convinced that Chapman's history as a defector tells us anything about his ability to pitch in pressure situations.
But I think Daugherty's essentially right: Cordero's not getting it done, and Chapman's probably the best candidate to fill that role.
Six Cincinnati relievers have pitched in at least 32 games. Among those six, Cordero's ERA ranks fifth and his strikeout-to-walk ratio ranks sixth. Sure, maybe he'll find his old self in time for October, but his 1.47 K-to-BB ratio just doesn't inspire optimism. He's throwing plenty hard, but I do notice that he's throwing more fastballs than ever and I'm wondering if he's throwing too many of them. And even with all those fastballs -- the easiest pitch to control -- Cordero's walk rate is elevated this season. And so I wonder if there's some mechanical issue that isn't likely to be repaired this fall.
The problem with demoting Cordero and promoting Chapman is simple: It would be a huge, disruptive story and you prefer to avoid those as you're entering the postseason. So if you're Dusty Baker (or Walt Jocketty) you have to weigh the marginal benefit of switching relief roles against the unknown cost of rocking the clubhouse (or at least one corner of it).
If you're playing a computer game, you make the move. If you're playing National League baseball, maybe you don't. Dusty Baker and Walt Jocketty probably won't, unless Cordero gets roughed up a few times in the next couple of weeks.
It's worth thinking about, though. I don't know anything about Aroldis Chapman's psychology. We all know a lot about his dynamite left arm, though.