SweetSpot:

Francisco Lindor
March, 3, 2014
Mar 3
2:30
PM ET
By
Christina Kahrl
| ESPN.com
So, you think
Cleveland Indians
shortstop prospect Francisco Lindor might be ready for the show, do you? Paul Swydan
makes a great case
for why the Tribe should turn to one of the game's top 10 prospects, not just to reap defensive benefits but to follow a time-honored tradition of fast-tracking a top-shelf shortstop prospect.
The question is, who needs one year of
Asdrubal Cabrera
? He's a free agent after 2014, so if you get him, you get him because you need a shortstop now, because you have big expectations for your team in 2014 and maybe because you think you can sign him next winter.
[+] Enlarge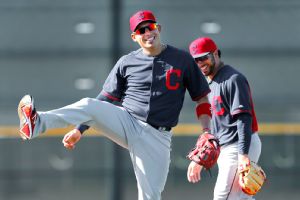 AP Photo/Paul SancyaAsdrubal Cabrera might be more than happy to step into a high-profile gig like playing short for the Mets.
Who fits all of those criteria? I think just one team, the "
we'll win 90 now
"
New York Mets
.
What can the Mets give up to get him? Stuff the Indians need, and dealing from depth: First base/LF type
Lucas Duda
, third-base prospect
Wilmer Flores
and right-hander Michael Fulmer.
The Mets' gains are pretty obvious, especially if you accept projections of Cabrera rebounding in 2014, whether Baseball Prospectus' .734 OPS, Dan Szymborski's ZiPS (.736 OPS, 17 home runs) or the Bill James Handbook's projecting a .746 OPS. That's a 100-point jump from what's generally expected from incumbent
Ruben Tejada
at the plate. Like Cabrera (minus-16 in BIS' plus-minus last year), Tejada's defense wasn't an asset last year (rating minus-9 in almost a third of a season); unlike Cabrera, there's no past track record to suggest that he can do better. And why Duda and not
Ike Davis
? Well, if you're drinking the Kool-Aid that says 90 wins is possible for this team now, I have to believe Davis' .954 OPS in the second half last year is a big part of the reason. And trading for Cabrera means you're drinking pretty deeply from that pitcher of Kool-Aid.
Why does this work for the Indians? Because it gives them help now
and
upside. Starting with the least valuable player first, Duda would give Cleveland a lefty bat to mix in at first, DH and the outfield, another moving part with platoon punch to fit within Terry Francona's lineup-card shifts. Duda's career numbers against right-handers (.255/.356/.456) will come in handy, especially if
David Murphy
's awful 2013 season (.656 OPS) was his career's death rattle, leaving the Tribe without a good answer for lefty at-bats at first or in right.
Moving to the long shot with upside, Fulmer is the injury-prone arm in the Mets' stack of talented arms who might reach a middle slot in a big league rotation. Between shoulder and knee problems last year, he didn't log much time on the mound after making his full-season debut in low Class A in 2012, and his bulk combined with the knee injury and the general fragility suggests he might wind up as "just" a bullpen asset. But with a plus fastball/slider combo that he throws with command, and heat that can hit the mid-90s in a bullpen role, he's an upside guy who wouldn't be on the 40-man roster and who could move up fast from high Class A in the next few years if he's healthy.
Which brings us to the top-shelf prospect, which is something you have to give up to get something of value. The question isn't the big league value the Indians would get in the deal. By starting with Duda to help out at first base, DH and the outfield corners, they're getting three years of adequacy. And they already have
Mike Aviles
around as an insurance policy at short if Lindor stalls, gets hurt or even just needs that initial month in the minors. But what moves the dial for the Tribe is a prospect, especially since trading Cabrera means giving up their own shot at compensation picks. They need a quality prospect, and the Mets, thanks to
the sixth-best farm system in baseball according to ESPN Insider's Keith Law
, have something to offer.
[+] Enlarge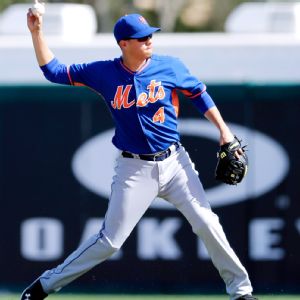 AP Photo/Jeff RobersonWilmer Flores' upside at the plate could eventually bring the Indians a .500 slugger at third base.
The easy thing would be to ask for a first-round-quality talent, either a high-OBP tweener like Brandon Nimmo or a ready-now option for third base like Flores. But I don't see the Mets giving up Nimmo, while Flores is blocked by
David Wright
and his new deal. And frankly, third base is where the Indians have a need, now and into the immediate future. They're already forced to ask themselves how good
Lonnie Chisenhall
is ultimately going to be, either as a lineup regular (since a .300 OBP or a .700 OPS aren't automatic for him) or as an everyday defender at third base. Chisenhall's shortcomings have already inspired this spring's experiment with putting starting catcher
Carlos Santana
at third base, a case of robbing Peter to pay Paul the Tribe should forgo so that they can keep Santana behind the plate or at first and DH.
So they get Flores in the Cabrera trade. He's just 22, but is about as ready as he's ever going to be after an .888 OPS in Triple-A last year and .855 at Double-A the year before that. He has a quick bat and good power to all fields, and he comes with .500 slugging potential. Like Chisenhall, he's already projected to produce around a .700 OPS in the majors, but his youth suggests higher eventual upside. Assuming the Indians aren't permanently scarred from the
Andy Marte
experience -- the last time they traded for another organization's top touted hot-corner prospect -- Flores is a perfect fit.
Finally, remember, the Mets wouldn't be trading for Cabrera to have and to hold forever after -- they're just renting him for a year. But once you have him, you also have a season to make a sales pitch on why he should stick around. If you're the Mets, wouldn't you want to be able to exploit that window, before free agency? Because the other thing to consider is that if the Mets don't trade for Cabrera now, they may well be in the exact same situation in nine months: Making him a multiyear pitch paying eight figures per year, but while competing against every other team on the market. Why not take your chance now, gain that brief, exclusive negotiating window in the offseason?
There are also side benefits come draft day. Let's say getting Cabrera is already something the Mets are thinking about for next winter. By getting Cabrera now they don't just protect their own future first-round pick that they might lose by signing him in December (if they wind up outside the 10 protected picks), they potentially gain one if they instead lose him to free agency. As one former governor of Illinois put it, that's a frickin' valuable thing.
Christina Kahrl writes about MLB for ESPN; you can follow her on Twitter.
June, 15, 2012
6/15/12
2:15
PM ET
By
Stephanie Liscio
| Special to ESPN.com
I grew up in the small town of Hermitage, Pa., which is situated on the Pennsylvania-Ohio border about midway between Cleveland and Pittsburgh. I watched people almost come to blows over the storied Steelers-Browns rivalry, yet saw people treat the Indians and Pirates with indifference. Obviously a big part of this is due to the fact that the baseball teams are not only in separate divisions, but separate leagues. Yet I still don't think that fully explains the lack of any developed rivalry between the Tribe and the Bucs. There is still plenty of animosity between crosstown interleague rivalries in New York and Chicago, and even cross-state in Missouri and Texas. I'm not necessarily complaining; I'm mostly indifferent about football, and can therefore enjoy both the Indians and Pirates in peace without harassment. At the same time, I can't help but think that Major League Basball is missing out on a great opportunity to encourage a rivalry between two teams just 133 miles apart.


The Indians' brass seems to prefer their cross-state rivalry with the
Cincinnati Reds
in the battle for the Ohio Cup, while the Pirates don't have a true interleague rival. I think one of the big reasons that an interleague rivalry never developed between the Indians and Pirates was because neither team has really been good at the same time. Since interleague play began in 1997, the Pirates haven't had a season when the team even played .500 baseball; you'd have to go back to 1992 to find the last time the Pirates finished a year above .500. The Indians have made the playoffs five times since interleague play began, but were still terrible in the early 1990s when the Pirates made their last trips to the playoffs.
For a portion of 2011 and thus far in 2012, the Indians and Pirates have both been in contention. Whether they can maintain their positions through the end of the season has yet to be determined. While both had high hopes in 2011 and were buyers at the trade deadline, the end result was anything but a close race for the Tribe or the Bucs. When the two teams square off at Progressive Field this weekend, both teams will hope to creep closer to first place in their respective divisions. Both teams have something on the line when they meet this year.
There are myriad connections between the Indians and Pirates on the field, in the front office, and even in their recent past. The Pirates are a team that has survived throughout the 2012 season based on the strength of their pitching. Even though their offense is much improved over the past couple of weeks, they still are last in baseball in runs scored. The Indians' offense has struggled at times as well, and the team has often gotten help from their strong bullpen in order to close out victories.
Both teams have a mix of exciting young stars and prospects --
Jason Kipnis
,
Michael Brantley
,
Carlos Santana
and
Francisco Lindor
in Cleveland;
Andrew McCutchen
,
James McDonald
,
Gerrit Cole
and
Jameson Taillon
for Pittsburgh. Pirates general manager Neal Huntington spent a number of years in Cleveland's front office, eventually serving as assistant general manager and special assistant to the general manager at the time, Mark Shapiro. The Pirates and the Indians also suffered crushing Game 7 walk-off losses: the Pirates in 1992 against the
Atlanta Braves
in the NLCS, and the Indians in 1997 against the Florida Marlins in the World Series. Both teams saw their title hopes crushed by the Atlanta Braves in that decade (the Indians in the 1995 World Series).
When baseball decided to whittle the National League Central down to five teams, the most logical solution was to move Houston to the American League West. This also amplifies the already cross-state rivalry between the Rangers and the Astros. But think about what would have happened if MLB found a way to move the Pirates to the AL Central. Not only would you establish a true rivalry with the Indians, but with the
Detroit Tigers
as well. Why would a rivalry with the Tigers be significant, apart from their geographical proximity to the Pirates? Several members of the Tigers coaching staff have connections to the great Pirates teams of the early 1990s. Jim Leyland, Gene Lamont and Lloyd McClendon all managed the Pirates; Leyland from 1986 to 1996, Lamont from 1997 to 2000, McClendon from 2001-2005. Former Pirates player Rafael Belliard is also on the Tigers' coaching staff.
There will undoubtedly be people who scoff at the Indians-Pirates series this weekend, who think there is nothing of interest between a team that hasn't had a winning season in 19 years and a team that hasn't won a World Series since Harry Truman was in the Oval Office. (Not to mention the fact that both crumbled in the second half of 2011.) Despite the fact that the Indians and Pirates both had bad weeks against the Reds and Orioles respectively, this still has a chance to be an exciting matchup. Optimistically, one hopes that the Indians and Pirates both have bright futures ahead of them. It would be the ultimate interleague battle for the pair to meet up in October a few years down the road.
Stephanie Liscio writes for the It's Pronounced "Lajaway" blog on the Indians.
May, 17, 2012
5/17/12
5:20
PM ET
Bubba Starling has yet to play a professional game. He's older than Bryce Harper. #Royals #Nationals

— David Schoenfield (@dschoenfield) May 16, 2012
Yes, I just quoted my own tweet.
Bubba Starling was the fifth pick in last year's draft. The Royals selected the multi-sport star from a Kansas high school ahead of polished college hitter Anthony Rendon (Nationals), high school pitcher Archie Bradley (Diamondbacks) and high school shortstop Francisco Lindor (Indians). A quarterback recruited to play at Nebraska, Starling received a $7.5 million bonus to forgo his college commitment.
Viewed as the best athlete in the draft, an outfielder with tape-measure power potential and plus-plus speed, the Royals were ecstatic to sign a kid who grew up rooting for the Royals. "The combination of speed, power, athleticism, the ability to play the field up the middle, we feel like he's got the makings of a star player in the major leagues," Royals assistant general manager J.J. Picollo said when the club
signed Starling
last August.
Right now, Starling has yet to play his first professional game as he's
in extended spring training
. Meanwhile, Bradley is dominating Class A hitters in the Midwest League, with just 14 hits allowed in 40 innings, and Lindor is hitting .322 with four home runs in the same league. (Rendon fractured his ankle in his second game and
may miss the rest of the season
.)
Back to the above tweet. I mentioned this to a friend of mine, who made the good point that Harper and
Mike Trout
have spoiled us by reaching the major leagues while still 19 years old. I pointed out that
Jason Heyward
and
Giancarlo Stanton
were just 20 when they debuted, but the larger point remains true: Most players -- even stars -- don't reach the majors until they're at least 22 or 23, sometimes older.
Still, Starling's age
is
an issue. Born Aug. 3, 1992, that made him an old high schooler -- nearly a year older than many of the kids he competed against. Now factor in that he didn't play last summer and won't play in an official professional game until rookie season begins in June and he'll be nearly 20 years old when he plays his first game. Even then, he'll be competing against many players born in 1994 or maybe even 1995 in the case of Latin American teenagers. Compare that to Lindor, who was born Nov. 14,
1993
. He's 15 months younger than Starling and already playing well in low Class A, a league Starling may not play in until 2013. Starling is only a month younger than 2010 Orioles first-rounder Manny Machado, who is already holding his own in Double-A. As Rany Jazayerli wrote last fall in
an important piece of research
, "At least when it comes to high school hitters, young draft picks are a MASSIVE market inefficiency."
Certainly, Starling's raw tools are off the charts. Maybe he'll be a star; frankly, there's no way of judging that now until we start seeing him in games where they keep track of the numbers. But I'll say this: I would absolutely take Francisco Lindor over him right now.
* * * * *
I looked up the debut ages of all position players drafted in the top 10 from the 2001-10 drafts who have reached the major leagues. Here are the relevant guys:
Mike Moustakas
was the oldest high schooler, debuting at 22 years and 9 months. If Starling is to match that, he'd debut in May of 2015. Certainly, if everything comes together for him and he proves as much baseball player as great athlete, he should accelerate quickly through the minors: 2012 in rookie ball, 2013 in low A/high A, 2014 in Double-A, 2015 in Triple-A/majors. I'm not saying that Starling won't be a star, just that his clock to stardom is delayed compared to the normal curve.
* * * *
The top prospect in the 2012 draft may be Georgia high school outfielder Byron Buxton (Keith Law has him No. 1 on his
draft board
. Here's a Baseball America
feature on him
. "This guy is better than (Pirates outfielder
Andrew) McCutchen
," a National League crosschecker said in the story. "He's probably the best player I've scouted." Buxton is compared to Starling for his athletic ability, but has more polished baseball skills. "I was a big Starling guy," a second National League crosschecker said. "There's not much separation for me."
Buxton was born Dec. 18, 1993, making him a more normal-aged high school kid, although not 17 when he'll be drafted like Machado or Lindor. When factoring in age, Puerto Rican shortstop Carlos Correa -- Keith has him No. 7 on his board -- becomes even more intriguing. His birthdate is Sept. 22, 1994, so he'll also be just 17 on draft day.
Follow David Schoenfield on Twitter @dschoenfield.