SweetSpot:

Frank Francisco
December, 22, 2012
12/22/12
8:00
AM ET
Last weekend, I presented the top 10 teams in my
personal power rankings
. That was before the Blue Jays officially acquired
R.A. Dickey
, so I updated my top 10 after that trade, and, to spur on more debate, now present the rest of my rankings. Agree or disagree, but I do think this is the most parity we've seen in a long time. It's why the Orioles and A's were able to surprise this past season and why we will undoubtedly see another surprise team in 2013. It's a great time to be a baseball fan.
1. Nationals
Most talented rotation in the majors, deep lineup, depth. Re-signing
Adam LaRoche
to add another lefty power bat will help.
2. Reds
Superb rotation could be better if the
Aroldis Chapman
transition works, bullpen is deep enough to absorb his loss and
Shin-Soo Choo
provides a needed leadoff hitter.
3. Yankees
I think they can stretch things out more season with a deep rotation, excellent bullpen and power. Remember, they had the largest run differential in the American League last season.
4. Tigers
Deep rotation, great 1-2 punch with Miggy and Prince, and
Torii Hunter
and
Victor Martinez
should improve the lineup.
5. Braves
Left-handed power, power bullpen and a young team that could improve from last year's 94 wins.
6. Blue Jays
Addition of Dickey adds a needed No. 1 to a rotation that could be dominant if
Josh Johnson
and
Brandon Morrow
remain healthy.
7. A's
Young teams that show big improvement are usually for real, and this team has a solid rotation, a strong outfield and power arms in the bullpen.
8. Dodgers
Have to love the
Clayton Kershaw
-
Zack Greinke
combo and an offense with big upside if
Matt Kemp
and
Adrian Gonzalez
come close to 2011 levels.
9. Rangers
I think the rotation is playoff-caliber with
Yu Darvish
,
Matt Harrison
,
Derek Holland
,
Alexi Ogando
,
Martin Perez
and
Colby Lewis
.

10. Cardinals
Have to replace
Kyle Lohse
, but they'll score plenty of runs as long as
Carlos Beltran
(36 years old in April) and
Matt Holliday
(33 in January) keep producing.
11. Rays
Still some holes in the lineup, and replacing
James Shields
' 220-plus innings won't be that easy, but underestimate the Rays at your own risk.
12. Angels
Oddsmaker Bovada.lv has the Angels with the second-best odds to win the World Series (behind the Blue Jays), but I see a rotation
with a lot of question marks
behind
Jered Weaver
, and
Josh Hamilton
only replaces Hunter, who was terrific in 2012.
13. Giants
I discussed
my issues with the Giants here
. I could be wrong, although our friends at Bovada only put the Giants tied for ninth in their World Series odds.
14. Diamondbacks
Their run differential wasn't much different than the Giants last year, and they've added
Brandon McCarthy
, infield depth and still have
Justin Upton
.
15. Phillies
I want to say we're all underestimating a team that includes
Cole Hamels
,
Cliff Lee
and
Roy Halladay
, but then I see an outfield of
Darin Ruf
,
Ben Revere
and
Domonic Brown
, and an infield defense that includes
Michael Young
and
Ryan Howard
and 30-somethings
Jimmy Rollins
and
Chase Utley
.
16. Brewers
They can score runs -- most in the National League last season -- and if the bullpen regroups after 2012's gruesome late-inning efforts, this team could surprise.
17. Red Sox
There will be no expectations after the disaster in 2012 (the franchise's worst record since 1965), but I see a big rebound coming.
18. Royals
I'll buy -- but I'm not buying a playoff spot.
Eric Hosmer
and
Mike Moustakas
have to take huge leaps forward ... or the Royals could be headed for another rebuild.
19. Orioles
Last season's 93-win playoff team provided a beautiful ride, but the Orioles haven't added that big bat they need.
20. Padres
Young team is moving in the right direction after winning 76 games in 2012. Can rotation improve to push Pads over .500?
21. Mariners
Mariners have pursued a big bat all offseason but were only able to pick up
Kendrys Morales
, and he cost them
Jason Vargas
, opening up a 200-inning hole in the rotation. Looks like 2014 before Mariners can make a push in the tough AL West.
22. Pirates
Still no No. 1 or even No. 2 starter (sorry,
A.J. Burnett
is a No. 3 at best) and not enough support for
Andrew McCutchen
. One of these years, Pirates fans, one of these years.
23. White Sox
No
A.J. Pierzynski
, a declining
Paul Konerko
, good year/off year
Alex Rios
due for an off year. Then again, White Sox had a bigger run differential in 2012 than the Tigers.
24. Cubs
Rotation of
Edwin Jackson
,
Jeff Samardzija
,
Travis Wood
,
Scott Baker
and
Scott Feldman
could be competitive, but offense won't be.
25. Mets
At least Mets fans can dream of a future rotation that includes
Matt Harvey
,
Zack Wheeler
,
Jonathon Niese
and Noah Syndergaard. Unfortunately, the 2013 version still includes
Frank Francisco
and a bunch of fourth outfielders.
26. Marlins
Giancarlo Stanton
still makes this team worth watching on a daily basis.
27. Indians
Getting
Trevor Bauer
in the Choo deal added a much-needed starting pitcher prospect. Unfortunately, much of the rest of rotation remains suspect.
28. Twins
Kevin Correia
,
Vance Worley
,
Mike Pelfrey
... what, Rich Robertson and Sean Bergman weren't available?
29. Rockies
At least the Twins have a direction as they wait for young position players to reach the majors. I have no clue what the Rockies are doing, intend to do, want to do, wish to do or hope to achieve.
30. Astros
Welcome to the AL West, boys.
May, 16, 2012
5/16/12
6:58
PM ET
You know,
Fernando Rodney
has never really been that good. He had 44 good innings for the Tigers in 2005 and he was tough to hit in 2006, when he had a 3.52 ERA. But from 2007 through 2011, he posted a 4.42 ERA, hardly impressive for a relief pitcher, and allowed a ton of baserunners (1.50 WHIP) as he always walked too many batters (5.2 walks per 9). He lucked into 37 saves for the Tigers in 2009 despite a 4.40 ERA and other uninspiring numbers (41 walks, 61 strikeouts, eight home runs in 75.2 innings).
Rodney
So of course the Angels gave him $11 million, and then were surprised when it turned he was wild and ineffective.
And then the
Tampa Bay Rays
signed him. The Rays are always in search of power arms for their bullpen. Sure enough,
Kyle Farnsworth
gets hurt, Joe Maddon decides to sort of make Rodney his closer, he starts throwing strikes for the first time in his career and now he's 2-0 with 11 saves, no blown saves, no extra-base hits allowed and a .232 opponents' OBP, more than 100 points below his .342 career mark.
Can he keep it up? Look, I've learned never to bet against Maddon, but we have a long track record of wildness from Rodney. I doubt the Rays were the first team to tell him, "Throw more strikes."
Anyway, it's been an interesting season for closers, with nearly half the teams in baseball needing to replace their projected closer since spring training began. Of 33 relievers to record at least three saves, only 16 of them have an ERA under 3.00. We have 46 starting pitchers with an ERA under 3.00. Fifteen closers have an opponents' OBP under .300; 52 starters do. (Yes, there are more starters than closers, but still ... shouldn't the guy pitching three innings a week be a little more dominant?)
While Rodney has been perfect, closers have struggled:
And so on. Let's just say you know it's a strange season when we're singing the praises of Fernando Rodney.
December, 6, 2011
12/06/11
11:23
PM ET
DALLAS -- Unable to secure
Jose Reyes
, lacking the money to pursue a big name free agent, perhaps unwilling to trade
David Wright
and commit fully to a rebuilding project, the
New York Mets
instead turned to Plan D, or maybe Plan E or F, at the winter meetings:
Collect a bunch of right-handed relievers for the bullpen
.
In a flurry of moves over an hour or so, the Mets signed relievers
Frank Francisco
(2 years, $12 million) and
Jon Rauch
(1 year, $3.5 million), and reportedly traded center fielder
Angel Pagan
to the
San Francisco Giants
for reliever
Ramon Ramirez
and outfielder
Andres Torres
.
[+] Enlarge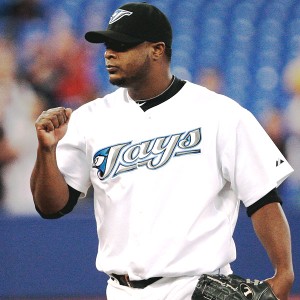 Abelimages/Getty ImagesFrank Francisco got a two-year, $12-million deal to be the Mets' new closer, one of several New York moves.
Certainly, bolstering the bullpen without blowing K-Rod money makes sense: In 2011, Mets' relievers posted a 4.33 ERA, 28th in the majors. Their .267 batting average allowed ranked 28th, their 24 blown saves ranked tied for 23rd (18 more than NL East rival Philadelphia) and their .344 on-base percentage allowed ranked 28th. They fared a little better in categories like strikeout rate and strikeout-to-walk ratio, but no matter how you slice it the pen wasn't good.
A quick capsule of the players they acquired:
Francisco: He'll assume the closer duties, relying on his 93- to 96-mph fastball and split-finger. He's solid if unspectacular and earned the coveted "closer" label primarily by lucking into the job with the 2009 Rangers. He was a flyball pitcher early in his career, but has increased his ground-ball percentage the past two seasons. The biggest concern is that he usually lands on the disabled list once or twice a season and hasn't pitched more than 52 innings in any of the past three years. So even if you make him the closer, you'll likely need a backup closer for 15-20 innings or so.

Rauch: Once named Baseball America's top prospect in the minor leagues (ahead of Albert Pujols), Rauch will be joining his fifth team in five seasons. He's a serviceable middle guy who has closed at times (58 career saves), but has been pretty hittable in recent seasons: 256 hits in 251 innings since 2008, with just 197 strikeouts. He's also been prone to the long ball at various times in his career, including allowing 11 with the Blue Jays in just 52 innings last season. Frankly, I don't see Rauch as any improvement over currents Mets relievers Bobby Parnell, Pedro Beato, Tim Byrdak or Manny Acosta. He's mediocre depth, which I guess isn't the worst thing but doesn't exactly have Mets forgetting Jose Reyes.

Ramirez and Torres: Pagan and Torres is an exchange of center fielders who played well in 2010, but poorly in 2011. Both were in danger of being non-tendered, although on Monday Mets manager Terry Collins had been talking about using Pagan as his leadoff hitter. The biggest issue with Pagan was that his defense notably slipped from 2010. Torres' bat is a question mark, but he'll draw walks and is a more consistent defender. Still, in the end he's nearly 34 with a career .244/.318/.403 line. He's not going to get better. Ramirez is a fastball/slider/changeup type with a career ERA of 3.16 over five-plus seasons. He was terrific in his year-plus with the Giants and there's no reason to necessarily assume it was home-park effect -- he dominated on the road in 2011, with a .157 average allowed.
So, yes, the Mets now have eight or nine relievers to choose from. The Mets were 67-6 when leading after eight innings and 60-10 when leading after seven innings. Those don't seem like high totals, but actually are worse than the league average, so even though there's nothing flashy in these three relievers, the bullpen should be a few wins better in 2012. Sorry, Mets fans: We mean 4-5 wins or so, not 10 or 12. That's an important improvement, sure, but only a small step if the Mets wish to contend in an NL East that could end up being much tougher in 2012.
While blowing fewer late-innings leads will certainly be less frustrating, the big question remains: How many late-inning leads will they have?
November, 28, 2011
11/28/11
9:30
AM ET

Sure, every team would love to plug its shortstop hole with Jose Reyes or Jimmy Rollins. Albert Pujols would look terrific in any uniform. Have a spare $40 million sitting around? Sure, Ryan Madson is an underrated closer.
But let's be realistic here: Those can't be solutions for every team. So let's identify three key areas of importance for each team and determine a more likely action plan as the offseason wheeling and dealing starts to heat up. We'll start with the National League East. (Check back all week for the other divisions.)
Philadelphia Phillies
1. Shortstop: Empty (
Jimmy Rollins
, free agent)

Rollins just turned 33, but the Phillies would like to bring him back -- on a four-year contract, while Rollins is reportedly looking for a five-year deal that would take him through his age-37 season. While Rollins isn't the hitter he was in his 2007 MVP season, Phillies shortstops still ranked ninth in the majors in OPS, tied for second in runs scored and tied for sixth in RBIs. Rollins is the obvious candidate here, but if it takes five years, why not go after the younger
Jose Reyes
?
Likely solution: Rollins. The big question: Was his 2011 season a fluke, or will he regress back to his subpar numbers of 2009 and 2010 (.248 average, .306 OBP)? It's also worth mentioning that Rollins hasn't been a good postseason player. He has a career .686 OPS in 46 postseason games, and he's homerless in his past 140 postseason at-bats.
2. Left field: Empty (
Raul Ibanez
, free agent)
Stats you may not believe: Despite Ibanez's .298 on-base percentage, Phillies left fielders ranked 16th in the majors in OPS and tied for fourth with 95 RBIs. Remember when left fielders owned big bats? Those days are gone. Still, considering Ibanez's lack of defensive value, it should be easy for the Phillies to upgrade the overall production with
Domonic Brown
and
John Mayberry Jr.
Oddly, the Phillies offered Ibanez arbitration, meaning they're risking Ibanez accepting and earning a likely payout of $12-14 million. (As Buster Olney writes, there could be a gentleman's agreement between the two sides to not accept the offer, although Ibanez must know he won't get anything close to that on the open market.)
Likely solution: Brown/Mayberry Jr. platoon. It's time to give Brown 450 at-bats to see what he can do. Mayberry can play against lefties (and also fill in at first base until
Ryan Howard
returns). Even if Ibanez DOES return, the Phillies should stick with the youngsters.
3. Third base: 22nd in majors with .665 OPS
Here's incumbent third baseman
Placido Polanco
's year-by-year WAR (wins above replacement) since 2007, via Baseball-Reference: 5.0, 3.7, 2.5, 2.0, 1.8. He still carries an excellent glove, but this is a player in decline. Factor in that he's missed 70 games the past two seasons and he's an even bigger question mark.
Likely solution: Polanco will return, but the Phillies would be wise to have a solid alternative. Unfortunately, recent acquisition
Ty Wigginton
is not the answer, as he's been a below-average hitter each of the past three seasons, despite having a little pop. As the Phillies are learning with Polanco, and will learn with Howard, giving long-term contracts to guys past 30 can be a very risky proposition.
Atlanta Braves
1. Shortstop: Empty (
Alex Gonzalez
, free agent)

The Braves didn't even offer arbitration to Gonzalez, a solid fielder with a little pop, but also the owner of an abysmal .270 OBP. Atlanta has a couple of good shortstop prospects in Andrelton Simmons (.311 in Class A) and Tyler Pastornicky (who hit .314 between Double-A and Triple-A). They may believe Pastornicky is ready to handle the job or maybe they'll enter the Rollins/Reyes sweepstakes.
Likely solution: Considering the state of shortstops, the Braves' best option could be to dangle one of their talented young starting pitchers in a trade. But good luck finding a team with an extra shortstop -- maybe Boston's
Jed Lowrie
, with the Red Sox looking for a rotation arm. Short of that, maybe the Braves bring
Rafael Furcal
back to Atlanta.
2. Left field: Upgrade
Martin Prado
One hot rumor was the Braves trading Prado for
Delmon Young
, a "big" right-handed bat the Braves need. Here's the problem with that rumor: Young isn't a big bat. Prado had a .687 OPS in 2011 while battling a staph infection, but Young's OPS was just .695. Over the past three years, Prado's OPS is .771, Young's .758. And Young is a lousy left fielder. Anyway, that rumor was quickly shot down for those obvious reasons, but it does point to the larger issue of trying to upgrade left field: If Young is considered a big bat, maybe you're better off sticking with Prado and hoping for a bounce-back season.
Likely solution: Prado. Why not see if he hits better; if not, you can always seek an in-season fix. Or what about a trade for Dodgers outfielder
Andre Ethier
? The Braves could keep Prado as
Chipper Jones
insurance, and trade a young pitcher for Ethier, who the Dodgers may not want to pay after inking
Matt Kemp
to a $160 million deal.
3. Right field: More production from
Jason Heyward
In reality, the best hope for more offense for the Braves rests in improvement from Heyward and sophomore first baseman
Freddie Freeman
. With Heyward hitting just .227/.319/.389, Braves right fielders ranked just 26th in the majors in OPS, 29th in runs and 27th in RBIs.
Likely solution: Heyward is just 22. I think he's going to have a big season.
Washington Nationals
1. Rotation: Find a power starter

Washington's rotation actually posted a respectable 3.80 ERA, seventh in the NL, but did so despite averaging just 5.67 K's per nine innings, 15th in the NL. That's a difficult equation to maintain. With
Jordan Zimmermann
the only good bet to repeat his 2011 production, the Nats shouldn't simply rely on a healthy
Stephen Strasburg
to bolster the rotation.
Likely solution:
C.J. Wilson
. While some expect the Nats to bid for
Prince Fielder
or
Albert Pujols
, why not spend around half the money and go after Wilson? He's not a classic power pitcher in the sense of fastball velocity but he's racked up 376 strikeouts the past two years. His adjusted ERA over the past two seasons is seventh best among all starters. If you can pitch in Texas, you could dominate in the NL. And with Strasburg around, he won't have to shoulder the pressure of staff ace.
2. Center field: Vacant (
Rick Ankiel
, free agent)
Nationals center fielders posted a .691 OPS, 23rd in baseball. They've reportedly inquired about one of the Twins' glove wizards,
Denard Span
or
Ben Revere
. But rather than trade away a good prospect for a marginal player like Span or Revere (neither would offer much with the bat), why not play
Jayson Werth
there? He'd be an adequate defensive center fielder, at least for a couple of years, and clear room for Bryce Harper in right field, who may be ready by the All-Star break. The Nats will also have to find room in a year or so for 2011 top pick Anthony Rendon, a third baseman in college who will have to move positions with
Ryan Zimmerman
around. Rendon could end up in left field.
Likely solution: Move Werth to center, sign a short-term corner outfielder like
Josh Willingham
,
Jason Kubel
or
Cody Ross
(
Michael Morse
could also play left if
Adam LaRoche
returns healthy, but is best suited for first base).
3. Manager: Is Davey Johnson the long-term answer?
Considering he'll be 69 in January and hadn't managed in the majors since 2000, Johnson was an interesting choice to replace Jim Riggleman. Following an 80-win season and with a slew of talented prospects close to the majors -- Harper, Rendon, pitcher
Brad Peacock
, catcher Derek Norris -- this is a team on the verge of becoming a playoff contender. Maybe not in 2011, but soon. Johnson built a young team in the Mets, but also had veterans Gary Carter and Keith Hernandez as clubhouse leaders. He won in Baltimore, but with a veteran team. Is he the right guy to trust the youngsters as they gain big league experience? I believe he is.
New York Mets
1. Shortstop: If not Reyes, who?

Likely solution: Sign Reyes, or give the job to
Ruben Tejada
. He's never going to hit with any power, but he posted a .360 OBP last season at age 21 (in 376 plate appearances). How rare is that? Since 1980, only three other middle infielders had at least 300 plate appearances at age 21 and posted an OBP of at least .350 --
Alex Rodriguez
,
Delino DeShields
and Jerry Browne. If Tejada can handle short, maybe the Mets are better off spending their money elsewhere.
2. Bullpen: Who closes?
Only the Cubs, Rockies and Astros had a worse bullpen ERA than the Mets in 2011, and none of them had the luxury of pitching their home games in Citi Field. While the Mets could certainly use an ace for the rotation (only the most hopeful will believe in
Johan Santana
's comeback), building a bullpen can be cheap and easy.
Likely solution:
Ryan Madson
? No, he's too expensive. If the Mets don't trust a guy like
Bobby Parnell
, how about a second-tier closer like
Frank Francisco
, who would cost about $30 million less than Madson? I'd also consider adding a second reliever like righty killer
Octavio Dotel
or veteran
Takashi Saito
. Hopefully the Mets learned their lesson with
Francisco Rodriguez
: Bullpen depth is more important than an overrated $15 million closer.
3. Power in the outfield
With
Carlos Beltran
gone,
Jason Bay
a shell and
Angel Pagan
apparently returning to play center, the Mets may be struggling to get power from the outfield.
Solution: Move in the fences! (Wait, this will help the other team as well?) OK: Don't discount
Lucas Duda
, who presumably moves into a regular spot in right field, with the return of
Ike Davis
to first. Duda hit an impressive .292/.370/.482. His park-adjusted OPS was higher than
Troy Tulowitzki
, Howard,
Shane Victorino
or
Carlos Gonzalez
.
Miami Marlins
1. Third base: Empty

Since the Marlins traded
Miguel Cabrera
to the Tigers, they've had four different regular third basemen in four seasons. In 2011, Marlins third basemen ranked 23rd in the majors in OPS and only the Mariners received fewer home runs and RBIs. Certainly, signing Jose Reyes to play shortstop and moving
Hanley Ramirez
to the hot corner makes perfect sense, especially since Reyes would be a defensive upgrade and maybe moving Ramirez would get his bat back to his 2007-2009 level. Prospect Matt Dominguez, who received a September cameo, carries a superb glove but questionable stick (.258/.312/.431 in Triple-A). He's still just 22, though.
Likely solution: In a year with so few top free agents, the odds are slim the Marlins will be the top bidder for Reyes, new ballpark or not. It's a nice smoke screen in an attempt to sell a few season tickets. The most realistic option is to give the job to Dominguez, or if management feels that he needs another year in Triple-A, go the stopgap approach and sign a guy like
Wilson Betemit
. If the Marlins are determined to spend money, they could go after
Aramis Ramirez
, although a Ramirez-Ramirez left side of the infield is a little scary defensively. (The other option would be to slide
Emilio Bonifacio
back to third base, but that would mean more
Chris Coghlan
in center field, and nobody wants that.)
2. Find a quality starter
For all the talk about Reyes and Albert Pujols, the Marlins have some problems in the rotation. Their 4.23 ERA ranked 12th in the NL, and that's despite a pretty good home park to pitch in.
Javier Vazquez
, who rebounded with a strong second half (2.15), is also a free agent, leaving a current rotation of
Josh Johnson
,
Anibal Sanchez
and the eternally disappointing
Ricky Nolasco
and
Chris Volstad
.
Brad Hand
, who turns 22 in March, is in the mix, but his minor league track record is mixed, and more seasoning in Triple-A to improve his command appears necessary.
Likely solution: Re-sign Vazquez and go after a high-risk, lower-cost starter like
Erik Bedard
. Look, Volstad has made 102 starts in the majors; while he's still young, it's time to maybe face the fact he just isn't that good. He doesn't miss bats and for a guy who is supposed to be a ground ball pitcher, he gives up way too many home runs (23 in just 165.2 innings).
Mark Buehrle
would be a nice addition, but Bedard is the more realistic signing. If Johnson returns healthy and Bedard comes up big, the Marlins could suddenly have a strong rotation.
3. Be realistic about appraising your players
Volstad isn't that good. Coghlan hasn't hit in two years.
Gaby Sanchez
is OK, but hardly a star -- 20 teams had a better slugging percentage from their first basemen than Sanchez's .427 mark. (And at 28, he's unlikely to get better.)
Logan Morrison
is better suited to first base, not left field, where he's a big defensive liability.
Likely solution: Yes, a lineup of Reyes, Bonifacio, Ramirez, Pujols,
Mike Stanton
, Morrison,
John Buck
and
Omar Infante
and would look pretty impressive ... even adding a guy like Aramis Ramirez would plug a hole in the middle of the lineup. Despite their 72-90 record, I don't think the Marlins are
that
far away, but I have doubts they'll be able to lure any of the big free agents. But at least the pitches to guys like Pujols and Reyes indicates the Marlins may be aware that Sanchez isn't a star or that Ramirez's days at shortstop may be numbered. Those are good signs.