SweetSpot:

Frank Robinson
July, 16, 2012
7/16/12
7:06
PM ET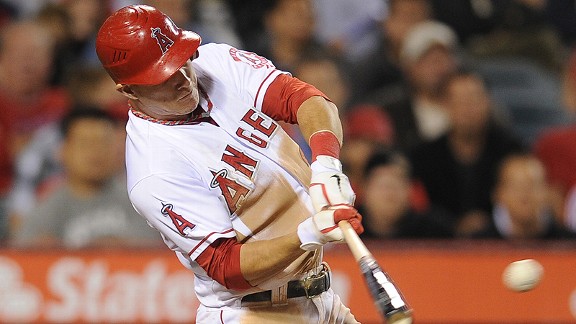 Kelvin Kuo/US PresswireIs Angels outfielder Mike Trout having one of the best rookie seasons of all time?
This came up on my Twitter timeline Sunday night when somebody asked if
Mike Trout
is having the greatest rookie seasons of all time. Entering Monday night's game against the Tigers, Trout is hitting .349/.403/.574 and leads the American League in batting average, stole bases and adjusted OPS. He also leads in Baseball-Reference WAR, at 5.0 ... despite missing the first 20 games while in Triple-A. Assuming he keeps that rate of production over the Angels, we're talking about an additional 5.4 WAR over the Angels' final 73 games (if he plays every game).
That's beyond phenomenal. That's season-for-the-ages kind of stuff. And not just because he's 20 years old. Since 1901, Baseball-Reference rates 46 different seasons for position players at 10.0 Wins Above Replacement or better -- eight of those by Babe Ruth, six by Willie Mays and so on. Only eight of those 46 have come since 1969. For those reasons, the logical analysis is that Trout will slow down a bit at some point. Maybe a little fatigue sets in. More likely, his .401 average on balls in play drops a bit or he falls into a three-week slump.
Anyway, back to the original question. Here are 12 great rookie seasons.
[+] Enlarge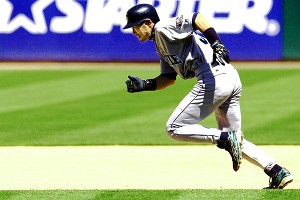 AP Photo/Bob GalbraithIn his rookie season in 2001, Ichiro Suzuki hit .350 and scored 127 runs.
Ichiro Suzuki, 2001 Mariners: 7.5 WAR
Stats: .350/.381/.457, 8 HR, 69 RBI, 242 H, 127 R, 56 SB, 126 OPS+, Gold Glove, MVP
Quote: "It's almost as if he has a tennis racket in his hands. I'm gonna lob this one -- and it's a blooper over the shortstop's head. I'm gonna ace this one -- and it's a liner down the right-field line. He's toying with guys, and there's nothing they can do about it." -- Mariners coach John Moses (Sports Illustrated)
Albert Pujols, 2001 Cardinals: 6.3 WAR
Stats: .329/.403/.610, 37 HR, 130 RBI, 47 2B, 112 R, 157 OPS+, 4th in MVP
Quote: "I watched him in spring training and I saw that he wanted to be here. He adjusts well, he's very coachable, very intense. He concentrates well. He does all of the things you want in a ballplayer. He's going to go through his struggles. Everybody does. But he's a young, gifted player. He's well ahead of his class. In fact, he's the valedictorian." -- Cardinals hitting coach Mike Easler (Milwaukee Journal Sentinel)
Nomar Garciaparra, 1997 Red Sox: 6.5 WAR
Stats: .306/.342/.534, 30 HR, 98 RBI, 44 2B, 209 H, 122 R, 22 SB, 123 OPS+, 8th in MVP
Quote: "He's got power, he's got RBI, he's got average, he's got range, he's got a strong arm and he has great instincts -- but he can't (slide) headfirst. I was telling him the only thing he needs to do is slide headfirst. It seems like he's been safe on an awful lot of plays they've called him out on." -- Red Sox catcher Mike Stanley
Mike Piazza, 1993 Dodgers: 6.8 WAR
Stats: .318/.370/.561, 35 HR, 112 RBI, 81 R, 153 OPS+, 9th in MVP
Quote: "I was at a baseball card show with a scout that knew Mr. (Ted) Williams, and he told him about Mike's hitting. So when Mr. Williams asked if he could come over and see Mike's swing, I said, 'Are you kidding?' He watched Mike's swing and he said, 'If this kid is swinging this well now and he's only 16, I guarantee you that he will hit in the major leagues.'" -- Mike's father, Vince (Los Angeles Times)
[+] Enlarge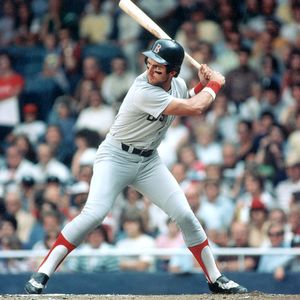 Hulton Archive/Getty ImagesFormer Red Sox outfielder Fred Lynn won an MVP and gold glove in his rookie season.
Fred Lynn, 1975 Red Sox: 7.1 WAR
Stats: .331/.401/.566, 21 HR, 105 RBI, 47 2B, 103 R, 162 OPS+, Gold Glove, MVP
Quote: "But if anybody is ever going to look like the deliverer whom dedicated, oft-disappointed, doggedly impatient Red Sox fans demand -- and have been demanding more and more ever since Yastrzemski filled the role in the team's last pennant year, '67 -- it may be Lynn. He does resemble Yaz, and also Musial, facially, and he has what pitchers see in nightmares: 'a live bat.' -- Roy Blount Jr. in Sports Illustrated
Carlton Fisk, 1972 Red Sox: 7.0 WAR
Stats: .293/.370/.538, 22 HR, 61 RBI, 74 R, 162 OPS+, Gold Glove, 4th in MVP
Quote: "My original intention this year was to use him primarily against running teams. We have always felt he was sound defensively, but he hadn't proven he could hit for average over an entire season. But Duane Josephson got hurt the first week, and I decided to give him his chance. Nobody's beat him out yet. He's our most consistent hitter." -- Red Sox manager Eddie Kasko (Sports Illustrated)
Dick Allen, 1964 Phillies: 8.5 WAR
Stats: .318/.382/.557, 29 HR, 91 RBI, 38 2B, 13 3B, 125 R, 162 OPS+, 7th in MVP
Quote: "I saw Richie hit one this spring that was as long as any I've ever seen hit. When he played at Little Rock last year he hit 33, and we kept getting reports that some were terrific. On March 24 in Tampa I saw him hit one that I will always remember. It came off Mike Fornieles of the Reds. Richie's best power is supposed to be to right center, but he pulled this one. Right above the sign that says 360 feet in Al Lopez field there is a light pole, and on top of the pole are the lamps. The ball hit in the middle of the lamps, and I'd guess that that pole is between 80 feet and 100 feet up. The ball actually was still rising when it hit." -- Phillies general manager John Quinn (Sports Illustrated)
Tony Oliva, 1964 Twins: 6.6 WAR
Stats: .323/.359/.557, 32 HR, 94 RBI, 43 2B, 217 H, 109 R, 150 OPS+, 4th in MVP
Quote: "As a rule, Cubans playing in the United States are looked upon as 'traitors' here and their names are not even mentioned in the newspapers or on radio. Oliva, however, has changed all that. Oliva has been wielding such a hot bat and making such big baseball news that Havana newspapers could not resist reporting his activities to baseball-loving Cubans. Too many Cubans have been calling them to find out how Oliva is doing." -- ANP
Vada Pinson, 1959 Reds: 6.3 WAR
Stats: .316/.371/.509, 20 HR, 84 RBI, 47 2B, 131 R, 129 OPS, 15th in MVP
(Technically, Pinson was not considered a rookie at the time, since he had 96 at-bats in 1958, six more than the 90 the allowed to maintain rookie status.)
Quote: "At the plate, where Pinson hits left-handed, his swing is just like Vada: smooth and compact. He stands in the middle of the box, takes a short, controlled stride, and the bat comes around in a short, controlled arc. If the pitch is in where he wants it, he pulls sharply to right; if the pitch is away, he goes to center or left. He has not allowed himself to become hypnotized by the home run. Vada Pinson is so good that he is almost boring. Except that he can run. Boy, how Vada Pinson can run." -- Roy Terrell in Sports Illustrated
Frank Robinson, 1956 Reds: 6.2 WAR
Stats: .290/.379/.558, 38 HR, 83 RBI, 122 R, 143 OPS+, 7th in MVP
Quote: "He's the greatest young ballplayer I've seen since Ted Williams. This kid can do everything. He'll be around a long, long time." --Reds manager Birdie Tebbetts (Associated Press)
[+] Enlarge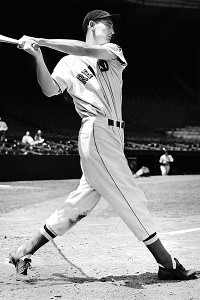 AP PhotoTed Williams' rookie season wasn't his best statistically, but he still finished fourth in the MVP voting.
Ted Williams, 1939 Red Sox: 6.6 WAR
Stats: .327/.436/.609, 31 HR, 145 RBI, 44 2B, 11 3B, 131 R, 160 OPS+, 4th in MVP
Quote: "Notice the kid. He doesn't hit the ball; he doesn't hit at it. He swings clean through it. He's close to being, and may well be before he's through, the wrist-hitter par excellence." -- San Diego sportswriter Stuart Lake (Associated Press)
Shoeless Joe Jackson, 1911 Naps: 9.0 WAR
Stats: .408/.468/.590, 7 HR, 83 RBI, 45 2B, 19 3B, 233 H, 126 R, 193 OPS+, 4th in MVP
(Jackson had 115 at-bats spread out over three seasons before 1911. He would not have been considered a rookie at the time, but using the 130 at-bat cut-off that is now applied, we'll consider Jackson a rookie.)
Quote: "Everything he hit was really blessed. He could break bones with his shots. Blindfold me and I could still tell you when Joe hit the ball. It had a special crack." -- Pitcher Ernie Shore
June, 11, 2012
6/11/12
3:29
PM ET
By
Hudson Belinsky
| ESPN.com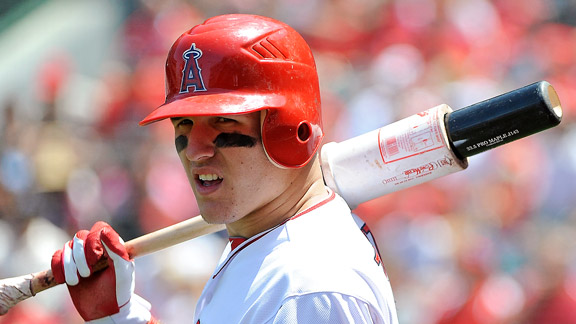 Lisa Blumenfeld/Getty ImagesMike Trout has revitalized the Angels' offense since being recalled in late April.
It's April 27. The
Cleveland Indians
are celebrating a walk-off victory, after getting to the Angels' bullpen, an occurrence that has become a fixture for the Halos in April. The Angels sit at 6-14, having lost five straight games and won only one series.
Albert Pujols
isn't hitting. In fact,
no one
is hitting. The bullpen can't get any one out. This team that was supposed to be magical instead is boring. If you want to see a magical team, look no further than the top of the American League West, where the
Texas Rangers
boast a 15-5 record and can do no wrong. The Angels sit nine games behind their rivals and there's no sign of things turning around any time soon.
Fast forward to June 11. The Angels are 32-29 and are 14-4 in their last 18 games. The starting pitching has been brilliant. The bullpen has turned things around. Even the offense is performing. What happened?
Mike Trout
happened. Since being recalled on April 28, Trout has raked, posting a .350/.407/.548 slash line along with five home runs, three triples and 10 doubles. He's also stolen 13 bases in 16 attempts. Over the weekend, he went 8-for-14 with eight runs scored in three games against the Rockies. Since May 26 he's batting .441.
Defensively, every metric loves him. He's been worth between 2.3 (Baseball-Reference, eighth among AL position players) to 2.9 (FanGraphs, third in AL) wins above replacement, depending upon which advanced metric you choose to subscribe to. That may not sound like much, but it's the difference between the Angels sitting five or six games behind Texas instead of their current three-game deficit.
Forget about what the numbers say for a second. Every baseball cliché you can think of applies to Trout. The 20-year-old is a "professional hitter" who "plays the game the right way" and is an absolute "gamer." This kid is arguably the best player on this team right now, and he's expected to get better and better. The swagger and attitude he's brought to the Angels aren't quantifiable, but have certainly helped this team turn things around.
So where would the Halos be without Trout? You could argue that the bullpen's success was inevitable, especially given what
Ernesto Frieri
has added. The starting rotation has always been solid, but the offense is where the Angels have seen the most improvement since Trout came up.
Trout turns 21 in August, but this is considered his age-20 season. Can he really contend for a batting title in his rookie season? His batting average on balls in play is .410, which is probably unsustainable (since 2000, only two hitters have hit .400 on balls in play over a full season --
Manny Ramirez
in 2000 and
Jose Hernandez
in 2002), but Trout is also improving rapidly. In his first 20 games this season, he struck out 20 times in 88 plate appearances; in his next 19 games, he struck out 13 times in 89 plate appearances. So while the average on balls in play may come down, he may put more balls
in
play as the season progresses.
Currently, Dan Szymborski's ZiPS system projects Trout to hit .301/.367/.467, worth about 5.8 wins above replacement. If we project his current Baseball-Reference WAR (2.3 in 39 games) over an additional 100 games (the Angels have 101 remaining), we get 8.2 WAR by season's end. Since 1901, Baseball-Reference lists only 10 20-year-old position players as recording 5.0 WAR or more:
Alex Rodriguez
, 1996 Mariners: 9.2
Al Kaline, 1955 Tigers: 8.0
Mel Ott, 1929 Giants: 7.3
Ted Williams, 1939 Red Sox: 6.6
Ty Cobb, 1906 Tigers: 6.6
Jason Heyward
, 2010 Braves: 6.3
Vada Pinson, 1959 Reds: 6.3
Mickey Mantle, 1952 Yankees: 6.3
Frank Robinson, 1956 Reds: 6.2
Ken Griffey Jr.
, 1990 Mariners: 5.0
OK, matching Alex Rodriguez's 1996 season will be next-to-impossible. But 5.0 WAR seems like a realistic expectation, which would make Trout one of the best 20-year-olds in baseball history.
Hudson Belinsky attends Cornell University, is the Owner/Editor of Halosdaily.com and an intern for Baseball Prospectus.
May, 6, 2011
5/06/11
4:09
PM ET
To go with our Willie Mays package today, SportsNation worked up a list ranker with 30 of the greatest players of all time. Don't agree with me that
Willie Mays was the greatest ever
? Then
Click here to vote
yourself.
Here's my quick list without spending too much time thinking about it:
1. Willie Mays: He could hit, hit for power, run the bases and field with the best we've ever seen. Could have won as many as 10-11 MVP Awards.
2. Barry Bonds: If he had played center field instead of left, I'd consider him for No. 1.
3. Babe Ruth: I'd like to see him hitting 95-mph fastballs on a regular basis.
4. Hank Aaron: A testament to longevity, consistency, durability and greatness.
5. Stan Musial: Won three MVPs and finished second four other times.
6. Ted Williams: Maybe the greatest hitter of all time, but I give Musial the slight all-around edge.
7. Albert Pujols: Barring injury, he's this good.
8. Roger Clemens: We don't know what he did and if it helped. But we know what he did on the field. Greatest pitcher of all time.
9. Mike Schmidt: Dominated the mid-'70s to the mid-'80s. Eight-time home run champ and one of best fielding third basemen ever.
10. Walter Johnson: Could have dominated in any era.
11. Honus Wagner: Won batting titles, ran the bases and hit for power in the dead-ball era.
12. Lou Gehrig: Only strike against him is he didn't play a premium defensive position.
13. Alex Rodriguez: You can't deny the numbers.
14. Lefty Grove: The most underrated great pitcher of all time. Won nine ERA titles.
15. Mickey Mantle: If only he had stayed healthy.
16. Ty Cobb: Would love to go back in time and bring him back to 2011.
17. Josh Gibson: They say he hit 'em longer than the Babe.
18. Joe Morgan: The most underrated great position player of all time. Did everything well.
19. Rickey Henderson: The object is to score runs and nobody has scored more than Rickey.
20. Greg Maddux: 355 wins, fourth-most starts, more pitches painting black than anyone.
21. Cal Ripken: Overrated as a hitter, underrated as a fielder.
22. Tom Seaver: Mets fans still can't believe they traded him.
23. Pedro Martinez: At his
peak
, the best ever. Four pitches that made batters cry.
24. Frank Robinson: And to think he was only third-best NL outfielder of the early '60s.
25. Johnny Bench: Knees gave out, but those first 12 seasons were amazing.
26. Satchel Paige: Was he even the best Negro Leagues pitcher?
27. Rogers Hornsby: No denying his hitting numbers. Too low? Maybe so.
28. Pete Alexander: Won 94 games over one three-year span, impressive even for the time.
29. Cy Young: Yes, you can say I'm disrespecting the 19th century.
30. Sandy Koufax: A little bit of a product of his time and a huge home/road splits, plus short career for this list.
Follow David on Twitter: @dschoenfield. Follow the SweetSpot blog: @espn_sweet_spot.
March, 3, 2011
3/03/11
12:30
PM ET
By
The Common Man
| ESPN.com
The
Minnesota Twins
do seem awfully down on their ace,
Francisco Liriano
, lately. Between openly criticizing his offseason workouts, giving the Opening Day start to
Carl Pavano
and exploring trade offers, it sounds as though the club is doing its best to alienate the pitcher and send him packing. The other day,
Charlie Saponara argued
that teams should not be undervaluing Liriano, calling him "one of the most dominating pitchers in the game." Indeed, everything points to the notion that trading Liriano would be a disastrous blow to Minnesota's chances in 2011. Dealing him now, with two years left before free agency, makes no sense. But as I argued Wednesday
on my site
, the Twins aren't exactly big on rationality and logic.
They aren't alone, however. While doing research for my
40 worst offseasons series
, I found that many of the worst trade decisions in baseball history were born out of emotion, rather than clear thinking. Consider:
[+] Enlarge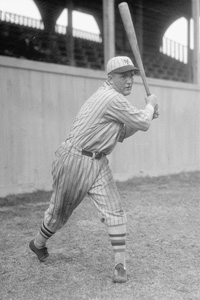 AP PhotoRogers Hornsby lasted just one season with the Giants.
Anger -- 1928 New York Giants
The Giants had the best player in the National League in Rogers Hornsby, who had hit .361/.448/.586 the year before. But early in the offseason, rumors reached owner Horace Stoneham that Rajah had directed some unflattering words his way in private discussions. Stoneham ordered his superstar traded, and Hornsby was sent to the Boston Braves. The Giants missed the World Series by two games, which they would have won had Hornsby been with the club.
Impatience -- 1972 Houston Astros
The Astros were tired of waiting for John Mayberry to develop, so they sent Joe Morgan, Cesar Geronimo, Jack Billingham and others to the Reds for slugging first baseman Lee May and change. Mayberry was sent to Kansas City for a couple relievers. May was merely decent in Houston, while Morgan became a 10 WAR-per-season player in Cincy. Mayberry hit 108 homers over the next four years. And Geronimo and Billingham became founding members of the Big Red Machine.
Spite -- 1972 St. Louis Cardinals
Steve Carlton had a history of contentious negotiations with Augustus Busch, the owner of the Cardinals, who had once told his GM, "I don't care if he ever throws another damn ball for us." In 1972, in the middle of another protracted negotiation, he got his wish. Carlton was dealt to Philadelphia for Rick Wise. Lefty went 27-10 with a 1.97 ERA for the last-place Phils. Rob Neyer calculated in his Big Book of Baseball Blunders that the move cost the Cards three NL East crowns.
Resignation -- 2008 Minnesota Twins
With just one season left before he would become a free agent, everyone seemed to agree that the Twins had to deal ace lefty
Johan Santana
. They set out to find a partner, and courted offers from both the Yankees and the Red Sox (though there was speculation the Sox were simply trying to get the Yankees to up their offer). When both sides balked at the Twins' demands and cut off negotiations, Minnesota was left in the lurch. Rather than regrouping, the Twins simply took the best offer they could find, which ended up being
Carlos Gomez
,
Philip Humber
,
Kevin Mulvey
and Deolis Guerra from the Mets, a quartet of disappointing players. Meanwhile, the '08 Twins tied for the AL Central lead, and lost a one-game playoff to the White Sox. If they hadn't felt obligated to deal Santana, they could have kept him and assuredly would have won the title outright.
The Gut Feeling -- 1966 Cincinnati Reds
Frank Robinson had been a leader in Cincinnati since he was a 20-year-old rookie in 1956. The Reds' general manager, Bill DeWitt, thought Frank Robinson was lazy and a malcontent, and allegedly told him so at their first meeting in 1960. That feeling didn't go away, and DeWitt dealt him to Baltimore, saying that Robby was "not a young 30" and that he'd "rather trade a player a year early than a year late." But what a year it was, as Robinson won the Triple Crown while smacking 49 homers and winning the AL MVP. And anyway, it turned out to be about nine years too early, since Robinson was still productive into the mid-'70s.
---
The Twins may indeed trade Liriano prematurely. They may allow their dissatisfaction with Liriano's conditioning and contract and injury history to overcome the club's desperate need for a shutdown ace. It's nice to know, if that happens, that the Twins will have plenty of bad company.
The Common Man writes obsessively on The Platoon Advantage and you can follow him on Twitter.