SweetSpot:

Franklin Gutierrez
February, 22, 2013
2/22/13
9:00
AM ET
By
Mark Simon, ESPN Stats
and
Information
| ESPN.com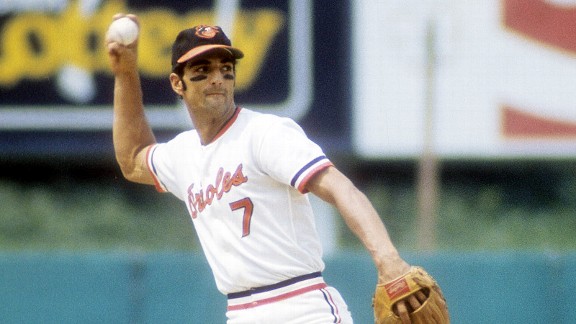 Focus on Sport/Getty ImagesMark Belanger was an eight-time Gold Glove winner with the Orioles.
Everyone has things they like to do to kill time during the baseball offseason, particularly on days in which massive snowstorms blanket the East Coast. Our editor, Dave Schoenfield, likes to make lists of things like the best one-season wonders.
In my case, I like to fiddle with and look more closely at advanced defensive numbers.
That got me to thinking of a little project, albeit an obscure one: What was the best individual defensive season in each team's history, strictly from a statistical perspective?
This can be done, thanks to the wonder that is
Baseball-Reference.com
.
Through 2002, B-R's metric of choice is Sean Smith's Total Zone runs, a statistic that can be tracked throughout baseball history (a full explanation on which
can be found here
.) It's one that checks out reasonably well from our initial examination.
From 2003 to 2012, Baseball-Reference uses the metric we use -- Defensive Runs Saved. Both those stats have the same goal: To estimate the value of a player's defense in runs as opposed to something such as fielding percentage.
It is a painstaking process to go through all 30 teams. So I picked out my 10 favorites and thought I'd share them.
Baltimore Orioles: SS Mark Belanger, 1975 (35 Defensive Runs)
One of the reasons to feel good about the Total Zone metric is that it often (though not always) passes the smell test.
It does so, perhaps no better, than with the Orioles. Of the top 11 stat-based defensive seasons in Orioles history, all belong to either Belanger, Brooks Robinson, Paul Blair or Bobby Grich, each of whom was regarded during his time as a defensive superstar (Grich's four Gold Gloves are the fewest among them).
Belanger's 1975 tally ranks best ever by any shortstop on any team.
Cincinnati Reds: 2B Pokey Reese, 1999 (29 Defensive Runs)
Scouts and stats agreed on the greatness of Reese at that time in his career, when he won a pair of Gold Glove Awards for his defensive excellence.
An article in the Cincinnati Enquirer that year assessed Reese by each of four defensive tools -- range, positioning, footwork, and arm strength, showing what made him so good. It also included this quote from Reds scout Johnny Almarez:
"With Pokey, it's like a sixth sense. It's almost like he knows where the ball's going before it's hit."
Kansas City Royals: LF Willie Wilson, 1979 (25 Defensive Runs)
Of the top four seasons in Royals history, Wilson has three of them (
Alex Gordon
's 24 Runs in 2012 is the other). He racked up at least 20 Defensive Runs four seasons in a row, largely because his speed allowed him to catch up to a lot of flyballs in spacious Royals Stadium.
Wilson averaged 2.77 putouts per nine innings as a left fielder, the best by anyone for as far back as range factor per nine could be tracked (since 1954).
Milwaukee Brewers: LF Greg Vaughn, 1993 (20 Defensive Runs)
This is a misprint.
Actually no, we're surprised to say it isn't. This is by far the biggest outlier on our list. Since 1969 (the Brewers' first season, when they were still the Seattle Pilots), there have been 222 seasons in which a player accumulated either 20 Total Zone Runs or 20 Defensive Runs Saved. Vaughn's is the only one in Brewers history.
Vaughn somehow racked up 20 Defensive Runs despite being used as an outfielder in fewer than 100 games, with putouts and assist totals that were pedestrian. He didn't have any seasons that came close to approaching this. His next-best was six Defensive Runs for the 1999 Cincinnati Reds.
The best possible means of explanation I can come up with (beyond Greg Vaughn breaking into cyberspace and tinkering with his metrics) is that the Brewers don't have a history of defensive greatness.
Of the nine Gold Glove Awards won by the franchise, seven came by first basemen George Scott or Cecil Cooper. And it's rare that first basemen run up the amazing defensive numbers of some other positions.
Anyways. If you don't buy it, we completely understand. Second-best was a tie between shortstop Robin Yount (1981) and catcher
Jason Kendall
(2008). Each finished with 19 Defensive Runs.
Montreal Expos/Washington Nationals: C Gary Carter, 1983 (27 Defensive Runs)
This is the rare instance of a catcher topping the list. In fact, No. 2 in Expos/Nationals history is a 24-run season by Brian Schneider in 2004.
How does a catcher go about saving 27 runs in a season?
That year, Carter threw out 70 of 156 would-be basestealers. His 45-percent success rate led the majors, as did his six catcher pickoffs. That caught-stealing rate was impressive -- it was 12 percentage points better than the major-league average.
Lastly: the Expos' ERA with Carter behind the plate was 3.52. Without him, it was 3.86.
Oddly, Carter won the Gold Glove every year from 1980 to 1982, but lost out to Tony Pena in 1983.
New York/San Francisco Giants: 2B Hughie Critz, 1933 (32 Defensive Runs)
This is the educational portion of this article. I'll admit to never having heard of Hughie Critz before I began this project (I was guessing the answer here was going to be Willie Mays).
Critz was a second baseman, and a pretty good one, from 1924 to 1935. He was runner-up for the MVP with the Reds in 1926, in the days before the BBWAA voted and it must have been for his defense, because Critz finished the season with an 87 OPS+ and only seven steals.
Critz was traded to the Giants in 1930 and helped the 1933 Giants win the World Series. Not long after the deal, Metropolitan Newspaper Feature Services put together an argument that the Giants had the best infield ever (69 years before the 1999 Mets).
In the article, Critz is described as "a million dollar fielder."
That's good enough for us.
Oakland Athletics: CF Bill North, 1973 (25 Defensive Runs)
North wasn't the star of stars like Reggie Jackson and Catfish Hunter were on those Athletics teams. But he played an important undervalued role, both with his ability to get on base (.376 on-base percentage) and his defense.
There is a great anecdote in Tim Herlich's internet biography of North on the SABR bioproject website:
"Always taking pride in his defense, North attended the pitchers' meetings to find out how they were going to pitch to opposing batters. Before computer models were developed to dictate placement of the outfielders, Bill ran the A's outfield and made those decisions. 'I took running my outfield very importantly. That's part of the reason we had good outfield defense.'"
San Diego Padres: CF Darrin Jackson, 1992 (30 Defensive Runs)
Spots two through four on this list are held by who you would expect -- Tony Gwynn and Ozzie Smith. But the top honor goes to Jackson for his 1992 season, the only year in his career in which he played more than 122 games.
Internet searches produce quotes from the likes of Don Zimmer saying that Jackson was a great defender: "This was a year in which everything came together and he was able to show just how great he could be."
Jackson was significantly better than his peers in throwing out baserunners. He led major-league outfielders with 18 assists and nine double plays (no one else in the NL had more than four).
Seattle Mariners: CF Ken Griffey Jr., 1996, and CF Franklin Gutierrez, 2009 (32 Defensive Runs)
For the most part the advanced defensive metrics are not kind to Griffey Jr., particularly on the downside of his career. But the early days rate pretty well, 1996 more so than any other (his next-best seasons are 1997 with 15 runs and 1995 with 14 runs).
It took a herculean effort by Gutierrez in his first year as an everyday center fielder to catch him, including home run robberies of
Jason Kubel
and
Mark Teixeira
.
Gutierrez's ranking (one that rates well across the board regardless of your advanced stat of choice) was the product of his ability to run down the balls hit to the deepest parts of spacious Safeco's center field.
Texas Rangers: 3B Buddy Bell, 1979 (30 Defensive Runs)
The all-time leaders in Total Zone runs for third base is a great list. Brooks Robinson leads the way, but Bell ranks a very solid second ahead of Clete Boyer, Robin Ventura and
Scott Rolen
Bell won six Gold Gloves in his career, though he didn't win any until he arrived in trade from the
Cleveland Indians
in 1979.
Bell got to balls at a considerably higher rate than his peers (3.48 putouts + assists per 9 innings compared to league average of 3.07) and limited his mistakes.
It only took the Rangers a couple of weeks to realize what they were getting. Hall of Fame teammate Ferguson Jenkins paid Bell a strong compliment:
"The thing I'm happy to see is nobody is comparing Buddy Bell to anybody. When a great defensive player comes along, people are always comparing them with somebody else. With third basemen, it's always Brooks Robinson. But I haven't heard any comparisons with Bell. That's good, because Buddy Bell is Buddy Bell and that's enough."
September, 27, 2012
9/27/12
10:39
PM ET
Knowing the
Oakland A's
were down big to the
Texas Rangers
(and would eventually lose), all the
Los Angeles Angels
had to do was beat the last-place
Seattle Mariners
, a team they had defeated 10 times in 15 games this season.
This is why only crazy people bet on baseball. The night before, the Angels had defeated the Mariners for the fourth time in a game started by
Felix Hernandez
(although the win came in the ninth against the Seattle bullpen, with help from catcher
Miguel Olivo
's inability to block a pitch in the dirt). On this day, Mariners bats
erupted for a 9-4 victory
, although most of those runs came late against the Angels bullpen.
Seattle led 3-2 in the seventh behind another solid performance from the underrated
Hisashi Iwakuma
, who ranks fourth in the American League in ERA since the All-Star break at 2.67.
Franklin Gutierrez
had crashed into the wall
making a fantastic catch
of
Mike Trout
's long drive with a runner on, a key play to help keep the lead. Mike Scioscia pulled starter
Dan Haren
in the sixth after just 80 pitches. Haren has actually fared better of late, with a 2.45 ERA over his past six starts entering the game, but whether because of Haren's balky back or other issues, Scioscia doesn't trust him to go deep into the game. He's pitched into the seventh inning just twice in his past 14 starts.
[+] Enlarge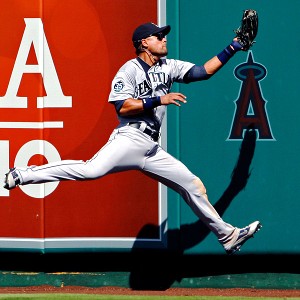 AP Photo/Reed SaxonFranklin Gutierrez's running, crashing catch in the fifth kept the Angels at bay.
Anyway, the game's key decision came when the Mariners had runners at second and third with one out and
Garrett Richards
pitching. Scioscia elected to intentionally walk
Dustin Ackley
to face
Trayvon Robinson
. I hate this move, hate it, especially with a guy like Richards, who isn't exactly Greg Maddux when it comes to his ability to throw strikes. Look, Robinson stinks and strikes out a ton, but Ackley isn't exactly Edgar Martinez. The problem with the move is it makes Robinson a better hitter, forces Richards to throw strikes, and increases the likelihood of a big inning.
Sure enough, Robinson walked to force in a run,
Kyle Seager
singled in two runs and
Jesus Montero
hit a sacrifice fly. Maybe the big inning still happens if you pitch to Ackley, but Scioscia's move made it more likely.
So the Angels remain two games behind the A's. The Angels have never missed the playoffs three consecutive years under Scioscia, but it might happen, despite all the money spent in the offseason to sign
Albert Pujols
and
C.J. Wilson
, plus the in-season acquisition of
Zack Greinke
and
the emergence of Trout.
"The momentum is crazy this time of year," Scioscia said. "We need to get right back on the horse tomorrow. These guys have played well, especially in the last month. They know what's going on. They know the fine line we have to walk."
Many have pointed to the Angels' middle relief as a key problem. While the bullpen didn't pick up the loss on Thursday (Haren left trailing 3-2), it certainly helped wrecked the chances of a comeback. One way to look at middle is to compare the Angels' record in the middle innings to the top American League teams.
Leading after five innings
Rangers 74-6, .925 (9-10 when tied)
Rays 65-9, .878 (12-13 when tied)
Athletics 6-10, .859 (18-6 when tied)
Yankees 66-11, .857 (9-5 when tied)
Orioles 57-10, .851 (16-8 when tied)
Angels 67-14, .827 (10-9 when tied)
Leading after six innings
Rangers 75-4, .949 (9-9 when tied)
Orioles 62-4, .939 (11-7 when tied)
Yankees 70-8, .897 (9-5 when tied)
Rays 69-8, .896 (7-8 when tied)
Athletics 66-8, .892 (12-6 when tied)
Angels 70-12, .854 (10-6 when tied)
Leading after seven innings
Orioles 70-0, 1.000 (10-5 when tied)
Rangers 77-1, .987 (9-10 when tied)
Rays 71-3, .959 (6-8 when tied)
Yankees 75-5, .938 (6-4 when tied)
Athletics 68-6, .919 (13-7 when tied)
Angels 70-8, .897 (12-6 when tied)
So, yes, middle has been a major issue, even though Angels relievers have thrown the second-fewest innings in the AL (only the Yankees have thrown fewer). It's funny how you spend hundreds of millions on the big names and it's the guys making $600,000 who can decide your fate.
Just another reason we love this game.
May, 18, 2011
5/18/11
12:02
PM ET
After a slow start, Dustin Ackley is red hot in May, leading to speculation the Mariners will soon recall their second-base prospect, the second overall pick in the 2009 draft.
Ackley is 9-for-14 over his last three games and has seven multihit games in his last 10, bringing his May batting line up to .377/.482/.638. The Tacoma Rainiers are returning from a road trip (Ackley went 17-for-33) and
Jack Zduriencik said on Seattle radio
the other day that Ackley will be up "sooner than later." Ackley has supreme plate discipline (33 walks so far) and has 15 extra-base hits, including six home runs. The Mariners certainly need offense, although second base hasn't actually been their biggest black hole -- the .705 OPS produced by
Jack Wilson
,
Adam Kennedy
and
Luis Rodriguez
is actually fifth in the AL among second base totals.
That said, it's time for Ackley to show what he can do. He was rated one of the best college bats in years, and while his power hasn't translated as some expected, he's still projected to hit for a decent average and produce a high on-base percentage.
Franklin Gutierrez
is batting .275 over 11 games on his rehab stint and should soon be ready as well. The Mariners could then roll out a lineup that looks something like this:
Ichiro Suzuki
, RF
Dustin Ackley, 2B
Justin Smoak
, 1B
Jack Cust
, DH
Franklin Gutierrez, CF
Miguel Olivo
, C
Mike Wilson/
Carlos Peguero
, LF
Chone Figgins
, 3B
Brendan Ryan
, SS
OK, still pretty bad, but at least better than a lineup featuring Olivo hitting cleanup and
Michael Saunders
and Jack Wilson hitting anywhere. And, hey, Seattle is only 4 1/2 games out of first.
April, 19, 2011
4/19/11
2:52
PM ET
I joined Eric for Tuesday's
Baseball Today podcast

and we had a grand old time talking baseball.
Tim Lincecum's no-hit bid against the Rockies and why he's my favorite pitcher to watch.
After a nice outing, what do you make of Daisuke Matsuzaka?
Carlos Zambrano had one of his best starts in years. Who wins more games, Cubs or Indians?
Injury issues: Joe Mauer, Franklin Gutierrez, Dallas Braden.
Mailbag: Is Cole Hamels an ace? Best unwritten rules in baseball. Should the Mets use a six-man rotation?
Preview of Tuesdays games and more talk of Carl Crawford hitting seventh.
March, 29, 2011
3/29/11
1:41
PM ET
I never know what to make of spring training injuries. It
seems
like there have been a lot of injuries this spring (
listen to Orel Hershiser talk about all the pitching injuries

) but unless we went back and checked previous seasons, it's difficult to say if that's really the case. It's also easy to overreact, since teams are going to be cautious with any sore arms or tight hamstrings at the start of the season -- especially for clubs heading north, where temperatures are still hovering in the 30s and 40s.
With that, here's a scroll through the American League with some of the latest injury updates:
Curtis Granderson and Pedro Feliciano, Yankees:
Granderson has a strained oblique but
thinks he'll be ready for the first series
. Feliciano, who hasn't pitched since March 9, sounds less promising, as he'll remain behind in camp. Steve Garrison might win his spot on the roster.
Brian Matusz and Justin Duchscherer, Orioles:
The lefty had to leave a minor league game on Monday after getting struck on the biceps with a line drive, but
should be fine
to make his first start on Saturday. Duchscherer will start the season on the DL with a strained hip that sidelined him most of last season, opening up rotation slots for Chris Tillman and Brad Bergesen.
J.P. Howell, Rays:
He's still on track
to start pitching in the minor leagues in mid-April and hopefully reach the majors by early May.
Dayan Viciedo, White Sox:
He fractured his thumb on March 10 after getting hit by a pitch. He'll stay behind in Arizona until he's ready.
Jake Peavy, White Sox:
He is to pitch three innings in a minor league intrasquad game today and then stay behind in Arizona. Phil Humber will be the team's fifth starter until Peavy is ready.
Grady Sizemore, Indians:
He'll start the season on the DL, making
Michael Brantley
the starting center fielder with
Austin Kearns
in left. The Indians
have no timetable
for Sizemore's return from knee surgery.
Justin Morneau, Twins:
As of Monday, Morneau still hadn't been officially cleared by doctors to play Opening Day, but
Morneau is hopeful he'll be ready
.
Joe Nathan Twins:
He hasn't pitched great this spring as he comes back from Tommy John surgery, but he passed a test by going two innings in one outing and pitching on back-to-back days. Still, Ron Gardenhire as indicated
Matt Capps
might be used in some save situations early on.
Kendrys Morales, Angels:
He took batting practice Monday and will begin agility work on Tuesday.
Mark Trumbo
will begin the season as the team's first baseman.
Joel Pineiro, Angels:
He might head to the DL with muscle soreness in his back, pushing his first start to April 8.
Andrew Bailey, A's:
A strained right foreman has landed Bailey on the DL. He's also recovering from elbow surgery. No timetable on his return.
Brian Fuentes
and
Grant Balfour
will share closer duties, according to manager Bob Geren.
Franklin Gutierrez, Mariners:
He's likely to begin on the DL with a stomach ailment the team is still trying to diagnose. That leaves
Michael Saunders
and
Ryan Langerhans
as center field options.
Tommy Hunter and Brandon Webb, Rangers:
The Rangers are having all kinds of issues with their pitching staff. Hunter is out at least six weeks with a strained groin while Webb is still in the midst of rehabbing his shoulder. A May return is the optimistic outlook. Meanwhile,
C.J. Wilson
left his last start with a tight hamstring and
Arthur Rhodes
has tendinitis in his wrist.
Alexi Ogando
appears to be the guy stepping in for Hunter.
Follow David Schoenfield on Twitter at @dschoenfield. Follow the SweetSpot blog at @espn_sweet_spot.
March, 28, 2011
3/28/11
12:13
AM ET
Lots of pitching and defense in baseball's four-team division. Not many big sticks. (And in case you missed the other divisions:
AL East
,
AL Central
,
NL East
,
NL Central
and
NL West
.)
Catcher -- Kurt Suzuki, A's.
No, he's not exactly Gene Tenace or even Terry Steinbach, and this small honor isn't meant to suggest Suzuki is anything near a legitimate All-Star. His bat fell apart last season, perhaps fatigue from three seasons of little rest, as his average decreased 32 points and his extra-base hits fell from 53 to 33. It looks like rookie
Hank Conger
will hit, but he'll share time with
Jeff Mathis
.
First base -- Daric Barton, A's.
Doesn't have the power you want from a first baseman, but he led the AL in walks to produce a .393 OBP, and his excellent defense made him a valuable player.
Justin Smoak
has upside and
Mitch Moreland
keeps exceeding expectations.
Kendrys Morales
is a question mark and begins the season on the DL.
Second base -- Ian Kinsler, Rangers.
He turns 29 this season, so it's probably time to stop thinking along the lines of "what he might do" and appreciate him for what he is. The .319 season of 2008 looks more like an aberration, but he actually posted a career-high .382 OBP in 2010. His power should return.
Third base -- Adrian Beltre, Rangers.
Let's see ...
Chone Figgins
,
Maicer Izturis
and
Kevin Kouzmanoff
. And it's Beltre in a unanimous vote. Beltre turns 32 on April 7 and has 1,889 career hits. He needs to average just 139 hits over the next eight seasons (through age 39) to reach 3,000.
Shortstop -- Elvis Andrus, Rangers.
Cliff Pennington
was actually the better player last season, according to Fangraphs, Baseball Prospectus and Baseball-Reference. Not surprising, considering Andrus slugged a woeful .301. Andrus had just 18 extra-base hits, tied for fewest among players with at least 600 plate appearances since 1990. (Research via
Baseball-Reference.com
.) On the bright side, Andrus at least draws some walks, providing hope he can improve other elements of his offensive game.
Left field -- Josh Hamilton, Rangers.
He was the only AL West player to finish in the top 10 of the MVP voting last season. The only others to receive votes were
Vladimir Guerrero
,
Felix Hernandez
and
Ichiro Suzuki
.
Center field -- Franklin Gutierrez, Mariners.
Can we get a fifth team in this division, please? Gutierrez is
battling a stomach ailment
that has the Mariners concerned, but who else can I pick?
Coco Crisp
gets hurt every year,
Peter Bourjos
is a supreme defender who has a long way to go with the bat and
Julio Borbon
is kind of a poor man's Crisp.
Right field -- Suzuki, Mariners.
Nelson Cruz
had a monster season with the bat, but he has yet to remain healthy for an entire year, and his season was fueled by his friendly home park as he hit .267 AVG/.324 OBP/.480 SLG on the road. Add up Ichiro's durability, fielding and baserunning, and he gets the nod over Cruz (and
Torii Hunter
).
Designated hitter -- Jack Cust, Mariners.
He did have the highest OPS+ of the four DHs last season (
Hideki Matsui
,
Michael Young
,
Bobby Abreu
). He's also the youngest. And that's my case.
Right-handed starter -- Felix Hernandez, Mariners.
With apologies to the Angels' 1-2 duo of
Jered Weaver
and
Dan Haren
.
Left-handed starter -- Gio Gonzalez, A's.
Teammate
Brett Anderson
and the Rangers'
C.J. Wilson
are the other obvious candidates. I like Gonzalez's stuff, and he has All-Star ability if he cuts down on the walks. Anderson is a polished lefty who generated ground balls, but he battled minor elbow issues last year. Wilson was effective but wild (93 walks) and is unlikely to give up just 10 home runs again.
Closer -- Neftali Feliz, Rangers.
I'm with Keith Law on this one: If Feliz spends the whole season as closer, I don't think we'll ever see him in the rotation.
Follow David Schoenfield on Twitter at
@dschoenfield
. Follow the SweetSpot blog at
@espn_sweet_spot
.
June, 18, 2009
6/18/09
3:35
AM ET
Today's links were thrown together with great haste and little care ...
• You're not going to believe what Mark DiFelice -- who ran his record to 4-0 Wednesday night -- does to right-handed batters. Or how he does it.
• I've long disdained the notion that umpires call pitches depending on what the catcher does (rather than the pitch itself). But Wednesday night in Cleveland, Kelly Shoppach got crossed up, lunged to his right for what he thought would be a breaking ball, and wound up having a down-the-middle fastball glance off his wrist. Umpire Mike Everitt called it a ball.
• As Harvey Araton writes, Steve Wilstein -- who broke the story, in 1998, that Mark McGwire was using androstenedione -- has been nominated for the J.G. Taylor Spink Award. My first official act as a member of the Seattle chapter of the BBWAA was to second (or third, or whatever) Wilstein's nomination, and I couldn't be happier about it.
• In response to Wednesday's post about Franklin Gutierrez and his fantastic defense, a friend writes: "Another interesting thing is that Coco Crisp, who is comparable to Gutierrez defensively, was also relegated to a corner-outfield spot by Grady Sizemore, and traded to another team who made him a great center fielder. Ironically, it is Sizemore who wins the Gold Gloves."
I'm not sure if that's ironic. But it sure is interesting.
• Oh, and speaking of Wednesday's posts, I never get tired of smart guys ripping me to intellectual shreds.
• In a slightly older post, I wondered what might happen if you tried to quantify the value of every draft pick. Well, of course it had already been done. But courtesy of Baseball Analysts and Sky Andrecheck, here's the very latest on the subject.
• The Mariners might have waited too long to trade Erik Bedard and Jarrod Washburn. But if one or both of them does round into form, Dave Cameron's got some advice.
June, 17, 2009
6/17/09
12:27
PM ET
In
last night's game in San Diego
,
Felix Hernandez
was working on a one-hit shutout in the bottom of the seventh when he walked
Brian Giles
with two outs. Next up,
Chase Headley
drove second Hernandez' second pitch toward the far reaches of center field. Here are Mariner broadcasters Dave Sims and Mike Blowers on what happened next:
Sims: There's a drive to center field, long run Gutierrez, he makes the catch. Oh, he's been brilliant all year. Ran it down around 394, got a great jump. He bails Felix out. That could have been all kinds of trouble, but Gutierrez on the spot ...

--snip--

Well, we've just been thrilled by a fabulous catch by Franklin Gutierrez to end the inning. Got the matinee-idol looks and he is covering center field as well or better than anybody in all of baseball. What a catch ... Mike, what did you think when that ball came off the bat?

Blowers: Well, when it was hit, as hard as it was hit and the line that it was hit on, I didn't think he had any chance to run that down. But he's surprised me a number of times so I should probably stop thinking that, because if it stays in the ballpark he's probably going to get it.
It's a beautiful thing, when objective analysis meets subjective evaluation. If you
watch
Gutierrez for just a few games -- and I probably haven't seen more than six or eight Mariners games this season -- you would guess that he's one of the best center fielders in the majors. Meanwhile, the four center fielders with the
highest Ultimate Zone Ratings
this season are
Coco Crisp
,
Matt Kemp
,
Mike Cameron
, and -- topping the list -- Franklin Gutierrez.
The Mariners and general manager Jack Zduriencik deserve a great deal of credit for all this. Gutierrez is 26, and prior to this season he had started the grandiose total of 15 games in center field in the majors (because he was behind Grady Sizemore on the depth chart in Cleveland). Sure, his numbers as a corner outfielder with the Indians were outstanding ... but who pays attention to numbers? Other than Zduriencik, how many baseball executives were wild about turning Gutierrez into a center fielder? How good would Gutierrez look in a White Sox uniform right about now?
Let's be honest. Gutierrez is not a great player, nor even a particularly good player because he can't particularly hit. But he is good, because he's great in center field. And at $455,000 this season, he's an absolute steal.