June, 28, 2014
6/28/14
8:01
AM ET
The reason for doing this piece should be pretty obvious:
Masahiro Tanaka
is 11-2 with a 2.11 ERA, leading the American League in wins and ERA. He's not just the clear best rookie so far but a Cy Young
and
MVP contender.
Tanaka makes his 16th start on Saturday and his consistency has perhaps been his most impressive attribute. He's pitched at least six innings each start and allowed more than three runs just once, a four-run game against the Cubs in May. He's allowed more hits than innings three times and has reached double-digit strikeouts in five starts, second-most in the majors only to
David Price
. His splitter has been as good -- or better -- than advertised, as opponents are hitting .119 against it with one home run (his first pitch of the season, actually).
Of course, some don't like to call him a rookie considering his years of experience in Japan, but he's a rookie under MLB rules. We're just about at the halfway point and Tanaka has earned 4.1 Wins Above Replacement via Baseball-Reference. Double that and you get 8.2, and only one rookie pitcher since the lively ball era began in 1920 has been worth more.
More on that guy later. Let's take a look at some of the great rookie seasons ever since 1901.
The MVPs: Ichiro Suzuki, 2001 Mariners (7.7 WAR), and Fred Lynn, 1975 Red Sox (7.4 WAR)
Suzuki and Lynn rank fourth and fifth on the all-time rookie list for WAR among position players, if we consider Joe Jackson a rookie in 1911. Did both deserve their awards? Suzuki ranked fourth in the AL in WAR, behind
Jason Giambi
(9.1), teammate
Bret Boone
(8.8) and
Alex Rodriguez
(8.4). I always thought Boone deserved MVP honors that year, hitting .331 while driving in a league-leading 141 runs. Of course, one reason he drove in 141 was Ichiro getting on in front of him. There's no doubt Ichiro had the "wow" factor that year and was so unique -- this little guy playing small ball in the middle of the steroids era -- that everyone fell in love with him.
Lynn hit .331 with 21 home runs and 105 RBIs, leading the league in slugging percentage, runs and doubles and winning a Gold Glove for his defense in center. Baseball-Reference has Rod Carew (7.8 WAR) better, but you can't argue with Lynn getting MVP honors considering the numbers are close and the Red Sox won the AL East while the Twins finished under .500.
The should-have-been MVP: Mike Trout, 2012 Angels (10.8 WAR)
Not to rehash old wounds, but Trout's rookie season WAR is easily the best ever for a rookie position player -- and one of the best ever no matter the experience level. He hit .326/.399/.564 with 30 home runs, 129 runs and a league-leading 49 steals in a depressed offensive era. He played great defense, including four home run robberies. Baseball-Reference ranks his season 22nd all-time since 1901 among position players and the seventh-best of the expansion era (1961).
The only other rookie position player to lead his league in WAR was Paul Waner of the 1926 Pirates, by the modest total of 5.3.
A guy you've probably never heard of: Russ Ford, 1910 Yankees (11.0 WAR)
Actually, they were still called the Highlanders back then. Ford was a right-hander born in Manitoba, Canada -- the first player born in that province to reach the major leagues (and still just one of three, and the other two played a combined 14 games in the majors). Ford had pitched one game in 1909 and then went 26-6 with a 1.65 ERA in 1910, great numbers even for the dead-ball era. He ranked second to Walter Johnson in pitching WAR. His secret? He used an emery board hidden in his glove to scuff up the baseball. The pitch was actually legal back then and Ford was apparently an early practitioner of the pitch, or maybe even its inventor.
This SABR bio
of Ford says he claimed to the press that he had 14 different varieties of the spitball (also still a legal pitch). "He had the emery paper attached to a piece of string, which was fastened to the inside of his undershirt," said umpire Billy Evans. "He had a hole in the center of his glove. At the end of each inning he would slip the emery paper under the tight-fitting undershirt, while at the start of each inning he would allow it to drop into the palm of his glove."
Ford wasn't quite a one-year wonder. He was effective in 1911 but then led the league in losses in 1912 as he started suffering from arm fatigue. He jumped to the Federal League in 1914 but then the emery ball was banned, and combined with his arm problems, Ford was out of the majors by 1916.
Best rookie teammates: Shoeless Joe Jackson (9.2 WAR) and Vean Gregg, 1911 Indians (9.1 WAR)
There is dispute on whether to call Jackson a rookie or not. He had 127 plate appearances with the Athletics and Indians over the three previous seasons, below the 140-PA standard we now use, although he probably exceeded the roster time limits. I would prefer to call him a rookie, and what a year he had: He hit .408/.468/.590, knocked in 83 runs and stole 41 bases. He was the second-best player in the league behind Ty Cobb, who hit .420.
His teammate has been forgotten, but Gregg went 23-7 with a league-leading 1.80 ERA. The 6-foot-2 left-hander was already 26 years old when he joined the Indians. Actually, the Indians had purchased his contract from Spokane in 1910, but Gregg refused to sign with Cleveland for $250 a month and was instead sold on option to Portland of the Pacific Coast League. He won 32 games and finally went to Cleveland.
That was a pretty interesting team. Besides Jackson and Gregg, you had an aging Cy Young in his final season (for seven starts) and Hall of Famer Nap Lajoie. Star pitcher Addie Joss, who had fallen ill the previous season, died in April. Anyway, Gregg was a revelation. Cobb and Eddie Collins called him the best left-hander in the league. He remains the only pitcher to win 20 or more games his first three seasons in the majors. Unfortunately, Gregg suffered from recurring arm pain throughout his career and 1913 was his last good season in the majors, although he eventually returned to the PCL and had some good years with Seattle.
1964: Dick Allen, Phillies (8.8 WAR) and Tony Oliva, Twins (6.8)
Allen's WAR total is third among rookie position players behind Trout and Jackson. He hit .318/.382/.557 with 29 home runs while leading the NL in runs and triples. Oliva won the AL batting title with a .323 mark and hit 32 home runs, also leading in hits, runs and doubles. Both had Hall of Fame talent, although they failed to get there. Oliva led the league five times in hits and won two more batting titles but had knee injuries that ruined the second half of his career.
The catchers: Carlton Fisk, 1972 Red Sox (7.2 WAR) and Mike Piazza, 1993 Dodgers (7.0)
In a dominant year for pitchers, Fisk hit .293/.370/.538, making him one of the best players in the league. Piazza hit .318/.370/.561 with 35 home runs. Fisk finished fourth in the MVP voting, Piazza ninth (although he ranked second to
Barry Bonds
in WAR).
The shortstops: Troy Tulowitzki, 2007 Rockies (6.8 WAR) and Nomar Garciaparra, 1997 Red Sox (6.6 WAR)
Kind of similar in one regard: If Garciaparra had remained healthy, he was on a Hall of Fame trek through the first part of his career. As a rookie, he hit .306 with 85 extra-base hits. Tulo: If
he
stays healthy, we could be talking about a Hall of Famer.
Ted Williams, 1939 Red Sox (6.7 WAR)
Williams hit .327 with 31 home runs and a league-leading 145 RBIs as a 20-year-old rookie. He was already cocky. When asked before the season opener who he hit like, Williams said, "I hit like Ted Williams." It was in April of his rookie season when he uttered his famous quote, "All I want out of life is that when I walk down the street folks will say, 'There goes the greatest hitter who ever lived.'"
Fifty-two years later, another future Hall of Famer put up nearly identical numbers:
Williams: .327/.436/.609, 31 HR, 145 RBIs
Albert Pujols
: .329/.403/.610, 37 HR, 130 RBIs
Greatest relief season ever: Mark Eichhorn, 1986 Blue Jays (7.4 WAR)
By greatest, I don't mean just among rookies. Eichhorn's season was a season for the ages: 14-6, 1.72 ERA, 10 saves and a mind-boggling 157 innings pitched. The sidearmer struck out 166 and allowed just 105 hits. Somehow, he finished third in the Rookie of the Year voting behind
Jose Canseco
and
Wally Joyner
, whose combined WAR doesn't beat Eichhorn's 7.4.
Britt Burns, 1980 White Sox (7.0 WAR)
Among starting pitchers since 1980, Burns has the highest WAR --
Jose Fernandez
's 6.3 from last year would be second-highest. (Dwight Gooden had a 5.5 WAR in 1984; thought he'd rank a little higher.) Burns went 15-13 with a 2.84 ERA, throwing 238 innings at age 21. He actually led AL pitchers in WAR that but didn't factor in the Cy Young voting due to his win-loss record (the White Sox were 70-90 that year). Burns also finished just fifth in the Rookie of the Year voting, which didn't make any sense. Joe Charboneau won it and Dave Stapleton, a part-time first baseman for Boston who hit seven home runs, was second.
Burns, who made his debut in 1978 just two months after getting drafted, made the All-Star team in 1981 and could have been a great one. He hurt his shoulder in 1982, costing him velocity, and suffered from a degenerative hip condition. After winning 18 games in 1985, he never pitched again in the majors.

Mark Fidrych, 1976 Tigers (9.6 WAR)
A lot of pitchers in the pre-1920 era put up big numbers as a rookie. Hall of Famer Pete Alexander, for example, went 28-13 while pitching 367 innings for the Phillies. Even then, Alexander's WAR doesn't beat what Fidrych did in his rookie season with the Tigers.
The numbers are astounding -- 19-9, 2.34 ERA, 24 complete games in 29 starts -- but don't begin to tell the story of Fidrych's magical season. He didn't even begin the season in the rotation, pitching once in relief in April and then once in early May before finally making his first start on May 15. He threw a two-hitter. He started again 10 days later and lost that game but then came a remarkable run: From May 31 through July 20, Fidrych went 10-1 in 11 starts with 10 complete games. He averaged
more
than nine innings per start because he twice pitched 11 innings. He was a phenomenon, this quirky kid with the curly hair who talked to the baseball.
I just mentioned this video the other day, but
here it is again
: the final moments of Fidrych's Monday night game against the Yankees that June. As the announcer says, "He is some kind of unbelievable."
February, 3, 2014
2/03/14
6:16
PM ET
All-Stars born on Feb. 3 -- Bake McBride and Joe Coleman (once each). And this guy.
Fred Lynn: Born 1952
Here's a question: Who's the most famous non-Hall of Fame player? And by that, let's exclude steroids guys who haven't been elected, Joe Jackson and Pete Rose, players not yet eligible for the Hall of Fame, active players and players who also made a mark as managers (say, Lou Piniella).
I'm not asking who the
best
player not in the Hall of Fame, but simply the most famous. Doesn't Fred Lynn have to rank up there? Compare him to somebody like Tim Raines, who was unquestionably the better player. Raines spent his best years in Montreal, underrated and in relative obscurity. He never won an MVP Award, was never a big star on a World Series team and so on.
Lynn played for the Red Sox and was Rookie of the Year and MVP in the same season, which gave him name recognition the rest of his career. That same season he played in one of the most famous World Series of all time. He later went to the Angels, another big-market team. The fans loved Lynn. He made nine straight All-Star teams from 1975 to 1983, starting six of them.
The kicker is that Lynn was really a great player in just two seasons -- 1975 and 1979. Lynn may not have not the best player in 1975, but was one of the best, and he was probably the best player in the American League in 1979, him or George Brett, but neither the Red Sox nor the Royals made the playoffs so they gave the award to Don Baylor. Lynn was very good in 1976, 1978, 1980 and 1982, earning between 4.4 and 4.7 WAR each season.
So there must have been something about Lynn that captured the fans' imagination. He drove in 100 runs just twice, reached 80 just two other times. He hit 30 home runs just once. But he was good-looking and smooth and graceful with a pretty left-handed swing. I guess everyone remembered that rookie season and Lynn crashing into the wall at Fenway Park in the World Series and wanted to believe he was still that kid running around the outfield.
Maybe he's not the most famous non-Hall of Famer. You have Steve Garvey and Dale Murphy and Roger Maris or guys who became announcers or Bo Jackson and Deion Sanders. Jose Canseco. Anyway, Lynn is up there. He was one of the most famous players of the '70s and '80s.
He was a good player, a guy who did everything well except steal bases. His main problem was staying healthy. He played 140 games just four times and only once reached 150, and that was 150 on the nose. If he'd stayed with the Red Sox -- they traded him to the Angels, not wanting to pay him what he wanted -- maybe he'd be a Hall of Famer. He hit .347/.420/.601 in his career at Fenway. He hit .300 four times with the Red Sox, none after leaving Boston.
For me, I'll always remember one Lynn moment above all others:
His home run in the 1983 All-Star Game
. I was an AL kid and the NL won every year back then and we actually cared about this stuff at the time. The NL had won 11 in a row and 19 out of 20 heading into that game at Comiskey Park. Lynn started (in what would be his final All-Star appearance) and hit third, between Robin Yount and Jim Rice. In the third inning he came up with the bases loaded and two outs, the AL already up 5-1. I still see him rounding the bases, arm upraised in triumph. It remains the only grand slam in All-Star history.
July, 16, 2012
7/16/12
7:06
PM ET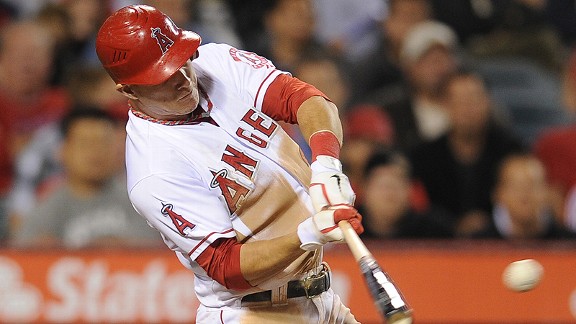 Kelvin Kuo/US PresswireIs Angels outfielder Mike Trout having one of the best rookie seasons of all time?
This came up on my Twitter timeline Sunday night when somebody asked if
Mike Trout
is having the greatest rookie seasons of all time. Entering Monday night's game against the Tigers, Trout is hitting .349/.403/.574 and leads the American League in batting average, stole bases and adjusted OPS. He also leads in Baseball-Reference WAR, at 5.0 ... despite missing the first 20 games while in Triple-A. Assuming he keeps that rate of production over the Angels, we're talking about an additional 5.4 WAR over the Angels' final 73 games (if he plays every game).
That's beyond phenomenal. That's season-for-the-ages kind of stuff. And not just because he's 20 years old. Since 1901, Baseball-Reference rates 46 different seasons for position players at 10.0 Wins Above Replacement or better -- eight of those by Babe Ruth, six by Willie Mays and so on. Only eight of those 46 have come since 1969. For those reasons, the logical analysis is that Trout will slow down a bit at some point. Maybe a little fatigue sets in. More likely, his .401 average on balls in play drops a bit or he falls into a three-week slump.
Anyway, back to the original question. Here are 12 great rookie seasons.
[+] Enlarge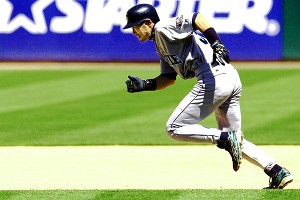 AP Photo/Bob GalbraithIn his rookie season in 2001, Ichiro Suzuki hit .350 and scored 127 runs.
Ichiro Suzuki, 2001 Mariners: 7.5 WAR
Stats: .350/.381/.457, 8 HR, 69 RBI, 242 H, 127 R, 56 SB, 126 OPS+, Gold Glove, MVP
Quote: "It's almost as if he has a tennis racket in his hands. I'm gonna lob this one -- and it's a blooper over the shortstop's head. I'm gonna ace this one -- and it's a liner down the right-field line. He's toying with guys, and there's nothing they can do about it." -- Mariners coach John Moses (Sports Illustrated)
Albert Pujols, 2001 Cardinals: 6.3 WAR
Stats: .329/.403/.610, 37 HR, 130 RBI, 47 2B, 112 R, 157 OPS+, 4th in MVP
Quote: "I watched him in spring training and I saw that he wanted to be here. He adjusts well, he's very coachable, very intense. He concentrates well. He does all of the things you want in a ballplayer. He's going to go through his struggles. Everybody does. But he's a young, gifted player. He's well ahead of his class. In fact, he's the valedictorian." -- Cardinals hitting coach Mike Easler (Milwaukee Journal Sentinel)
Nomar Garciaparra, 1997 Red Sox: 6.5 WAR
Stats: .306/.342/.534, 30 HR, 98 RBI, 44 2B, 209 H, 122 R, 22 SB, 123 OPS+, 8th in MVP
Quote: "He's got power, he's got RBI, he's got average, he's got range, he's got a strong arm and he has great instincts -- but he can't (slide) headfirst. I was telling him the only thing he needs to do is slide headfirst. It seems like he's been safe on an awful lot of plays they've called him out on." -- Red Sox catcher Mike Stanley
Mike Piazza, 1993 Dodgers: 6.8 WAR
Stats: .318/.370/.561, 35 HR, 112 RBI, 81 R, 153 OPS+, 9th in MVP
Quote: "I was at a baseball card show with a scout that knew Mr. (Ted) Williams, and he told him about Mike's hitting. So when Mr. Williams asked if he could come over and see Mike's swing, I said, 'Are you kidding?' He watched Mike's swing and he said, 'If this kid is swinging this well now and he's only 16, I guarantee you that he will hit in the major leagues.'" -- Mike's father, Vince (Los Angeles Times)
[+] Enlarge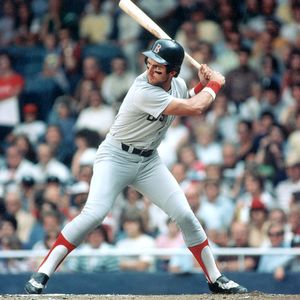 Hulton Archive/Getty ImagesFormer Red Sox outfielder Fred Lynn won an MVP and gold glove in his rookie season.
Fred Lynn, 1975 Red Sox: 7.1 WAR
Stats: .331/.401/.566, 21 HR, 105 RBI, 47 2B, 103 R, 162 OPS+, Gold Glove, MVP
Quote: "But if anybody is ever going to look like the deliverer whom dedicated, oft-disappointed, doggedly impatient Red Sox fans demand -- and have been demanding more and more ever since Yastrzemski filled the role in the team's last pennant year, '67 -- it may be Lynn. He does resemble Yaz, and also Musial, facially, and he has what pitchers see in nightmares: 'a live bat.' -- Roy Blount Jr. in Sports Illustrated
Carlton Fisk, 1972 Red Sox: 7.0 WAR
Stats: .293/.370/.538, 22 HR, 61 RBI, 74 R, 162 OPS+, Gold Glove, 4th in MVP
Quote: "My original intention this year was to use him primarily against running teams. We have always felt he was sound defensively, but he hadn't proven he could hit for average over an entire season. But Duane Josephson got hurt the first week, and I decided to give him his chance. Nobody's beat him out yet. He's our most consistent hitter." -- Red Sox manager Eddie Kasko (Sports Illustrated)
Dick Allen, 1964 Phillies: 8.5 WAR
Stats: .318/.382/.557, 29 HR, 91 RBI, 38 2B, 13 3B, 125 R, 162 OPS+, 7th in MVP
Quote: "I saw Richie hit one this spring that was as long as any I've ever seen hit. When he played at Little Rock last year he hit 33, and we kept getting reports that some were terrific. On March 24 in Tampa I saw him hit one that I will always remember. It came off Mike Fornieles of the Reds. Richie's best power is supposed to be to right center, but he pulled this one. Right above the sign that says 360 feet in Al Lopez field there is a light pole, and on top of the pole are the lamps. The ball hit in the middle of the lamps, and I'd guess that that pole is between 80 feet and 100 feet up. The ball actually was still rising when it hit." -- Phillies general manager John Quinn (Sports Illustrated)
Tony Oliva, 1964 Twins: 6.6 WAR
Stats: .323/.359/.557, 32 HR, 94 RBI, 43 2B, 217 H, 109 R, 150 OPS+, 4th in MVP
Quote: "As a rule, Cubans playing in the United States are looked upon as 'traitors' here and their names are not even mentioned in the newspapers or on radio. Oliva, however, has changed all that. Oliva has been wielding such a hot bat and making such big baseball news that Havana newspapers could not resist reporting his activities to baseball-loving Cubans. Too many Cubans have been calling them to find out how Oliva is doing." -- ANP
Vada Pinson, 1959 Reds: 6.3 WAR
Stats: .316/.371/.509, 20 HR, 84 RBI, 47 2B, 131 R, 129 OPS, 15th in MVP
(Technically, Pinson was not considered a rookie at the time, since he had 96 at-bats in 1958, six more than the 90 the allowed to maintain rookie status.)
Quote: "At the plate, where Pinson hits left-handed, his swing is just like Vada: smooth and compact. He stands in the middle of the box, takes a short, controlled stride, and the bat comes around in a short, controlled arc. If the pitch is in where he wants it, he pulls sharply to right; if the pitch is away, he goes to center or left. He has not allowed himself to become hypnotized by the home run. Vada Pinson is so good that he is almost boring. Except that he can run. Boy, how Vada Pinson can run." -- Roy Terrell in Sports Illustrated
Frank Robinson, 1956 Reds: 6.2 WAR
Stats: .290/.379/.558, 38 HR, 83 RBI, 122 R, 143 OPS+, 7th in MVP
Quote: "He's the greatest young ballplayer I've seen since Ted Williams. This kid can do everything. He'll be around a long, long time." --Reds manager Birdie Tebbetts (Associated Press)
[+] Enlarge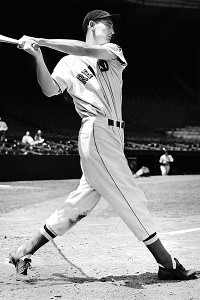 AP PhotoTed Williams' rookie season wasn't his best statistically, but he still finished fourth in the MVP voting.
Ted Williams, 1939 Red Sox: 6.6 WAR
Stats: .327/.436/.609, 31 HR, 145 RBI, 44 2B, 11 3B, 131 R, 160 OPS+, 4th in MVP
Quote: "Notice the kid. He doesn't hit the ball; he doesn't hit at it. He swings clean through it. He's close to being, and may well be before he's through, the wrist-hitter par excellence." -- San Diego sportswriter Stuart Lake (Associated Press)
Shoeless Joe Jackson, 1911 Naps: 9.0 WAR
Stats: .408/.468/.590, 7 HR, 83 RBI, 45 2B, 19 3B, 233 H, 126 R, 193 OPS+, 4th in MVP
(Jackson had 115 at-bats spread out over three seasons before 1911. He would not have been considered a rookie at the time, but using the 130 at-bat cut-off that is now applied, we'll consider Jackson a rookie.)
Quote: "Everything he hit was really blessed. He could break bones with his shots. Blindfold me and I could still tell you when Joe hit the ball. It had a special crack." -- Pitcher Ernie Shore
May, 1, 2012
5/01/12
4:40
PM ET
Time for a quick poll.
Ryan Braun
went 4-for-5 with three home runs, a triple and six RBIs (the first player with three homers and triple since Fred Lynn in 1975) on Monday night, giving him 15 total bases. Certainly a great day, one of the best in major league history, especially if you factor in that it came at spacious Petco Park. But according to Baseball-Reference.com's Play Index, since 1918 17 players have had at least 16 total bases.
So today's question: Which hitter had the greatest day in major league history? We can only list five in the poll, so I've narrowed the field down to five finalists. (Note: Postseason performances not included since they're a different beast.)

1. Carlos Delgado, 2003 Blue Jays: 4-for-4, 4 HR, 4 R, 6 RBIs
(
box score
)
Several players have hit four home runs in a game, but Delgado is the only one to do it in four plate appearances. Isn't that perfection? He hit a three-run homer in the first and three solo shots, all leading off an inning.
2. Shawn Green, 2002 Dodgers: 6-for-6, 4 HR, 2B, 6 R, 7 RBIs
(
box score
)
Green set the major league record with 19 total bases in a game the Dodgers hit eight home runs. He's also just one of eight players since 1918 to score six runs in a game. Green's homers came off Brian Mallette (two), Glendon Rusch and Jose Cabrera. I had to look up Mallette. He pitched in five games in his career and this ended up being his final major league appearance.
3. Mark Whiten, 1993 Cardinals: 4-for-5, 4 HR, 4 R, 12 RBIs
(
box score
)
In the second game of a doubleheader, Hard-Hittin' Whiten tied major league records with his four homers and 12 RBIs. He hit a grand slam, two three-run homers and a two-run shot, fouling out with the bases empty in the fourth.
4. Fred Lynn, 1975 Red Sox: 5-for-6, 3 HR, 3B, 4 R, 10 RBIs
(
box score
)
Lynn hit a two-run homer and three-run homer in the first two innings off Joe Coleman, a two-run triple in the third and a three-run homer in the ninth. In between, he lined out and singled.
5. Jim Bottomley, 1924 Cardinals: 6-for-6, 2 HR, 2B, 3 R, 12 RBIs
(
box score
)
Batting cleanup for the Cardinals against the Brooklyn Robins, Bottomley hit a two-run single, an RBI double, a grand slam, a two-run homer, a two-run single and an RBI single. Not a bad day's work.
My vote goes to Green: The total bases record
and
six runs scored. Jose Reyes scored six all month for the Marlins.
May, 3, 2011
5/03/11
4:34
PM ET
Yes, we're tying the imminent announcement that
Derrick Rose will win the NBA MVP Award
to baseball ... because we can tie anything to baseball. (Just wait for the post when I hypothesize that Thomas Jefferson would have made a great sabermetrician.)
OK, here we go: At 22 years, 191 days, Rose will become the youngest NBA MVP ever, edging out Wes Unseld at 23 years, 9 days. Now, the fact that Wes Unseld once won an MVP Award (as a rookie, no less) is another story. So, who are baseball's youngest MVP winners? Here are those who won at 23 or younger:
Vida Blue, 1971 A's: Turned 22 on July 28.
Johnny Bench, 1970 Reds: Didn't turn 23 until Dec. 7.
Stan Musial, 1943 Cardinals: Didn't turn 23 until Nov. 21.
Cal Ripken, 1983 Orioles: Turned 23 on Aug. 24.
Willie Mays, 1954 Giants: Turned 23 on May 6.
Jeff Burroughs, 1974 Rangers: Turned 23 on March 7.
Fred Lynn, 1975 Red Sox: Turned 23 on Feb. 3.
Several players have won an MVP at 24, including Jose Canseco, Roger Clemens, Don Mattingly, Ryne Sandberg, Denny McLain, Mickey Mantle, Joe DiMaggio, Jimmie Foxx and Lou Gehrig.
Not on the above list: Ty Cobb, because there wasn't an MVP Award for much of his career. He arguably was the AL's best player in 1907, when he was 20 years old.
Dwight Gooden remains the youngest to win a Cy Young Award, just 20 years old when he won in 1985.
Follow David Schoenfield on Twitter at @dschoenfield. Follow the SweetSpot blog at @espn_sweet_spot.