January, 7, 2014
Jan 7
6:15
PM ET
Let's move on to Part 3 of our 2014 mammoth Hall of Fame post. Here's
Part 1
and
Part 2
.
Close, but not quite Hall of Famers
19. Fred McGriff (52.6 WAR, 20.7 percent)
-- Here's a question: Do you think the Tom Emanski commercial has hurt McGriff's legacy? I mean, instead of remembering all those home runs or that beautiful left-handed tomahawk of a swing, we just keep seeing him in that goofy hat trying to sell a video on defensive drills, which is kind of ironic considering McGriff was hardly known for his defense.
Here's another question: Assuming McGriff was clean and didn't use PEDs, how much was he hurt by the offensive explosion in the mid-1990s? For example, compare his career numbers to Tony Perez and Eddie Murray, two Hall of Fame first basemen elected by the BBWAA:
McGriff: 493 HRs, 1,550 RBIs, .284/.377/.509, 134 OPS+
Perez: 379 HRs, 1,652 RBIs, .279/.341/.463, 122 OPS+
Murray: 504 HRs, 1,917 RBIs, .287/.359/.476, 129 OPS+
McGriff didn't quite match those two in RBIs, but he had the better career on-base and slugging percentages. Even while factoring in the high offense of McGriff's era, his adjusted OPS is higher than those two. Is McGriff being penalized by the monster numbers other first basemen put up later in his career? He led the AL with 36 home runs in 1989 and led the NL with 35 in 1992, but when he hit 32 for the Rays in 1999 he ranked just 17th in the league. McGriff's prime years -- 1988 to 1994, when he led all major leaguers in home runs (24 more than
Barry Bonds
) and ranked second to Bonds in OPS -- are now 20-plus years in the rearview mirror. McGriff had a seven-year run as one of the best hitters in the game. And then still hit 231 home runs after that. So, yes, I think the voters have short-changed McGriff's early dominance.
However, in career WAR, McGriff ranks just behind Perez (53.9) and significantly behind Murray (68.2). Much of that is due to defense. Baseball-Reference credits McGriff with -18.1 dWAR due to positional adjustments and defensive metrics. Perez, who spent several years at third base, is at -6.9 dWAR and Murray at -12.8. Murray, who won four Gold Gloves, is credited with +61 runs saved on defense, McGriff with -34. In the end, the difference between Murray and McGriff is almost all defensive. I think that's a fair assessment.
18. Sammy Sosa (58.4 WAR, 12.5 percent)
-- If we remove the PED cloud, how clear would Sosa's path have been to Cooperstown? He's a complicated case. The 609 home runs (eighth all-time) scream pretty loudly, as do the 1,667 RBIs (27th), a total that includes four straight years with at least 138. His peak was fairly short for a Hall of Famer: From 1995 to 2002 he compiled 46.2 WAR, including a monster 10.3 season in 2001, one of just 10 10-win seasons since the divisional era began in 1969 (but overshadowed that year by Barry Bonds' 11.9 WAR). But outside of that eight-year period, he didn't do a whole lot else. Sosa had flaws in his game -- early in his career he didn't walk much so he posted poor-to-mediocre OBPs; later in his career, his once outstanding defense suffered as he bulked up and slowed down; his .273 batting average isn't anything special for an outfielder. Statistically, his 58.4 WAR is well below that 68-to-70 level that makes him a strong candidate.
Still, for a period of time Sosa was one of the biggest names in the sport, a guy who graced magazine covers, and fans paid just to watch him take batting practice. But those guys don't always get to Cooperstown. Steve Garvey didn't make it; Dale Murphy, who won two MVP awards, didn't make it; Dave Parker didn't make it. With those 609 home runs, however, I think Sosa clears the 75 percent hurdle, minus PEDs. With those allegations, however, he drew little support last year and is a good bet to fall off the ballot this year. That may not be fair, but I won't be too heartbroken about it.
17. Larry Walker (72.4 WAR, 21.6 percent)
-- Speaking of fair, I do feel like I'm possibly treating Walker unfairly by putting him short of the Hall of Fame. His career WAR is well above 70, he was an outstanding two-way player, he won three batting titles and an MVP award and hit .313 in his career. In his case, it's the Coors Field cloud I can't escape. His career road batting line of .278/.370/.495 pales in comparison to what he did in Colorado (.381/.462/.710). He did have some good seasons on the road. In his 1997 MVP year, he hit 29 of his 49 home runs on the road, with a .346 average. But in 1998 he hit .418 at Coors with 17 of his 23 home runs; in 1999, he hit .461 versus .286 with 28 of 39 home runs; in 2000 he hit 100 points higher at Coors; in 2001, the split was .406 and .293.
But doesn't WAR account for the home park factor?
Yes, it does. But Walker was
so
much better at home -- even compared to the average Rockies hitter -- that even park adjustments may not completely explain what was going on. The biggest problem I have with Walker's case is that he had teammates putting up all sorts of similar numbers at the same time: In 1996,
Ellis Burks
hit .344 with 40 home runs and
Andres Galarraga
hit 47 home runs with 150 RBIs;
Vinny Castilla
had three 40-homer, .300 seasons;
Dante Bichette
hit .340 and led the league in homers and RBIs in 1995 and hit .330 another year;
Todd Helton
hit as high as .372 and as many as 49 home runs. Coors Field was such an extreme hitters' park that even hitters like Castilla and Bichette were able to take unique advantage of it. If Walker had been a little more durable (he played 140 games just four times), I'd like his case a little more. He's just short for me.
So borderline I can't make a decision
16. Rafael Palmeiro (71.8 WAR, 8.8 percent)
-- At one point, I wrote that I'd vote for Palmeiro if I had a ballot (that was before the ballot got so crowded). His career numbers are hard to ignore -- 569 home runs (12th), 1,835 RBIs (18th), 1,663 runs (32nd), 3,020 hits (25th), 5,388 total bases (11th), 71.8 WAR (87th). The durability and consistency were amazing, and I've said PEDs aren't an issue for me; of course, Palmeiro does fall into a different category there since he tested positive
after
testing began. The other issue: Isn't he kind of the Don Sutton of position players? Sutton did eventually make the Hall of Fame for being very good for a very long time. Like Palmeiro, he crossed one of those magic barriers (300 wins). But according to Baseball-Reference, Palmeiro ranked as one of the top 10 players in his league just once (eighth in 1993) and as a top-10 position player five times (topping out at fourth in '93). Here are his annual rankings among all MLB first basemen:
He was a top-three first baseman just three times. I'm not sure that's enough for me. He had five seasons of 5+ WAR, not a big total for a Hall of Famer. For now, I'd be inclined not to vote for Palmeiro. Like Sosa, he's also a good bet to fall off the ballot.
15. Jeff Kent (55.2 WAR, first year)
-- I thought Nick from Clovis, Calif., made an interesting point in my
Tuesday chat
: "As a lifelong Giants fan, I was very surprised at how great Kent's stats ended up being; I don't believe there is one Giants fan that can honestly say that they felt like they were watching one of the greatest offensive 2B of all time or even a potential future Hall of Famer when he was playing and that is probably what hurts Kent most."
I mean, if your hometown fans are having trouble drumming up enthusiasm for you ...
Kent is an unusual Hall of Fame candidate -- most of his career value came after he turned 30: 40.7 of his 55.2 career WAR. He had his first 100-RBI season when he was 29 and followed that up with seven more, making him one of the best "RBI men" ever for a second baseman. He finished with 377 home runs, 357 of those as a second baseman (the most ever). He drove in more than 1,500 runs. He won an MVP award. He played in seven different postseasons. Those are a lot of positives. On the negative side: Only twice was he top-10 position player (2000 and 2002); his career WAR is well below our 68-to-70 level; his range, especially in his later years, wasn't great; his speed wasn't a factor.
Tough call. Matt Wilks on Twitter asked me to compare Ryne Sandberg to Kent. Here goes:
Sandberg: 2,164 G, 282 HR, 1,061 RBI, .285/.344/.452, 114 OPS+, 1,318 R, +60 fielding runs
Kent: 2,298 G, 377 HR, 1,518 RBI, .290/.356/.500, 123 OPS+, 1,320 R, -42 fielding runs
Sandberg also won an MVP award. Kent was a little better offensive player, Sandberg -- both by reputation and metrics -- was the superior defensive player. Sandberg could run, Kent couldn't. And the RBI total is a little misleading. Sandberg spent most of his career batting second in the National League, a terrible RBI slot. Kent spent his prime years with the Giants batting after Barry Bonds, meaning a ton of baserunners on in front of him. Sandberg had six seasons of 5+ WAR, four with 7+ (Kent had four and two). I think Sandberg was pretty clearly the more valuable all-around player. Put him behind Bonds and he, too, drives in a ton of runs. Take Bonds away from Kent and are we even having a Hall of Fame discussion?
As with Palmeiro, I'm on the fence with him. For now, I guess I say no, as focusing too much on RBIs is the easiest way to overrate a player. But I reserve the right to change my opinion.
July, 10, 2013
7/10/13
10:37
AM ET
By
Martin Gandy
| ESPN.com
Throughout July we're going to present 30 deals in 30 days: the best trade deadline deal ever made by each team. We've covered the AL East so far and are now on the NL East.
THE TEAM:
Atlanta Braves
THE YEAR:
1993

THE SITUATION:
At the beginning of the day on July 18, 1993, the Braves were nine games behind the San Francisco Giants in the NL West (yes, the West). Atlanta was trying to defend its back-to-back NL pennants and return to the World Series at a time when there was no reward for a team finishing second. San Fran had the best record in baseball, an amazing 61-31, and was the toast of baseball, enjoying a renaissance in the first year of its prized free-agent signing, Barry Bonds. An aging Sid Bream, less than a year removed from "the slide," was putting up paltry numbers as Atlanta's everyday first baseman (.227/.302/.389).
THE TRADE:
The Padres were firmly out of the race, and looking to deal and dump salary (they had traded Gary Sheffield in June). Fred McGriff was as consistent a first baseman as there was at the plate, having hit 30 or more home runs for five consecutive years. The Braves traded three of their top 10 prospects to San Diego to acquire McGriff, but amazingly none of their really good top prospects (Chipper Jones, Javy Lopez, Ryan Klesko or Mike Kelly). Outfielder Melvin Nieves was the 39th-best preseason prospect in baseball, according to Baseball America, and enjoying a good season in the minors. Outfielder Vince Moore looked like a good speed and power prospect, and minor league pitcher Donnie Elliott was the No. 9 prospect in the Braves' system.
THE AFTERMATH:
Atlanta was hoping McGriff would light a fire under the Braves' offense, but before his debut at Atlanta Fulton County Stadium on July 20, the press box caught on fire. The game was in doubt for a while, but the fire marshal declared it was safe to play. It was an amazing bit of foreshadowing for what would happen to the Braves the rest of the season. The Crime Dog launched a two-run game-tying homer in the sixth inning of his first game, and the Braves went ahead in the eighth to secure the win.
Atlanta would go 51-17 the rest of the season and overtake the Giants to once again win the NL West. McGriff hit .310/.392/.612 and gave the Braves the cleanup hitter they had lacked all season. As for the prospects who were traded: Moore never made it above Double-A; Elliott sniffed the majors the next two years as a middle reliever, then faded away; and Nieves played five more mostly negative-WAR major league seasons. McGriff was the centerpiece of Atlanta's offense for the next four years, including its World Series title team in 1995, and the Braves retained their best prospects who would become key pieces of many future pennant-winning teams.
January, 8, 2013
1/08/13
11:53
AM ET
Let's play a little Hall of Fame game. I'm going to present two players with similar statistics. One is in the Hall of Fame and the other is on this year's ballot. Presented two lines of numbers, can you guess which player is the Hall of Famer? Check the numbers, vote in our poll and then check below to see who the players are. (No cheating!)
Comparison No. 1
I should note that these two are contemporaries and the Hall of Famer made it in the first year he was on the ballot.
While the Hall of Famer was never considered the best player in the game, there is an argument to be made that the non-Hall of Famer was the best player in the game at his peak.
Both were good defensive players and had speed, at least early in their careers.
Comparison No. 2
Both had some monster seasons, however. The Hall of Famer led his league in several offensive categories at various times, including runs scored, home runs, RBIs, on-base percentage and slugging percentage. The non-Hall of Famer also led his league in home runs, on-base percentage and slugging percentage. Both were considered good all-around players.
The Hall of Famer took a few years to get elected, but nobody ever calls him out as a poor selection.
Comparison No. 3
I can say these two were pretty similar in many ways, both among the biggest names in the sport while active, with some legendary tales about their performances.
Both pitched for multiple World Series champions but neither came close to 300 wins. Their adjusted ERAs are pretty similar.
When elected, the Hall of Famer was viewed as a controversial selection, in large part because of his win total. The non-Hall of Famer will have to face that same bias.
Comparison No. 4
The Hall of Famer made it on his first year on the ballot and made seven All-Star teams. The non-Hall of Famer made five All-Star teams. Both led their league twice in home runs.
The Hall of Famer hit 30-plus home runs six times while the non-Hall of Famer hit 30-plus home runs 10 times, including six seasons in a row at one point.
According to Baseball-Reference, both players had five seasons with 4-plus WAR.
Comparison No. 5
They didn't play the same position, but both did play key up-the-middle positions and were awarded multiple Gold Gloves in their careers.
One guy was part of more than one World Series champion while the other never played in a World Series. The Hall of Famer made it in on his third year on the ballot while the non-Hall of Famer has work to do.
As far as fame, both would rate very high in that category while active. Had they played longer, both would have a better chance to meet some of the automatic Hall of Fame standards.
Comparison No. 6
Both were arguably the best player on a World Series championship team.
While the Hall of Famer made it after a short stay on the ballot, the non-Hall of Famer has struggled to get enough support. Both players won multiple Gold Gloves. The Hall of Famer hit .300 nine times and the non-Hall of Famer hit .300 seven times.
According to Baseball-Reference, the Hall of Famer had eight four-win seasons while the non-Hall of Famer had nine. This one is close.
Answers
Comparison No. 1: Player A is Tony Gwynn and Player B is Tim Raines.
Of course, I left out Gwynn's 3,000 hits and .338 career average. But as you can see from above, the two were quite similar players: Raines drew more walks, hit a few more home runs and stole more bases at an excellent percentage, making up the advantage Gwynn had in base hits. But Gwynn won batting titles and Raines' dominant years in the '80s came in the obscurity of Montreal.
Comparison No. 2: Player A is
Larry Walker
and Player B is Duke Snider.
Snider's Hall of Fame case was originally hurt by the fact that he wasn't Willie Mays or Mickey Mantle. Of course, who is? But he was a key member of one of the great teams of all time, the 1950s Brooklyn Dodgers. Snider never won an MVP Award but finished as high as second; Walker won MVP in 1997. Of course, Walker is questioned because of the Coors Field numbers, but as you can see, each player's adjusted OPS is about the same. (Ebbets Field was a great hitters' park as well, and Snider's career OPS is 79 points higher at home.)
Comparison No. 3: Player A is
Curt Schilling
and Player B is Don Drysdale.
Two hard-throwing right-handers who racked up strikeouts. Schilling, of course, has the great postseason record (11-2, 2.23 ERA); Drysdale was 3-3, 2.95 in the postseason (all World Series games). Both pitched for three World Series champs. Drysdale has the lower career ERA -- 2.95 to 3.46 -- but once you adjust for eras and ballpark (Dodger Stadium in the '60s was a great pitchers' park), Schilling's ERA is a little better.
Comparison No. 4: Player A is Willie Stargell and Player B is
Fred McGriff
.
And both had cool nicknames as well -- Pops and Crime Dog. Stargell did win an MVP (shared with Keith Hernandez) but that was an award earned for leadership more than production; he did finish second twice in the voting. McGriff finished as high as fourth in the voting.
Comparison No. 5: Player A is
Bernie Williams
and Player B is Ryne Sandberg.
This was my favorite comparison on the list. Sandberg made it on the third ballot while Williams, despite playing center field for four World Series champs, got just under 10 percent of the vote his first year on the ballot. Shouldn't center fielders be given a similar defensive consideration as second basemen?
Comparison No. 6: Player A is
Barry Larkin
and Player B is Alan Trammell.
There is very little to separate these two. Larkin did win an MVP Award, but Trammell should have won in 1987, when he finished second. Larkin played until he was 40, but their career games totals are similar. I think his edge over Trammell is that once Ozzie Smith faded, Larkin was viewed as the best shortstop in the National League. Trammell was always behind somebody -- Robin Yount or
Cal Ripken
, and then after he retired, the AL had all the shortstops putting up the big numbers -- A-Rod,
Derek Jeter
,
Nomar Garciaparra
and
Miguel Tejada
. But there's no shame in being ranked behind Yount or Ripken. Trammell deserves to join Larkin in Cooperstown.
August, 13, 2012
8/13/12
5:46
PM ET
Before the Olympics began,
Kobe Bryant
suggested this year's Olympic basketball team would defeat the fabled 1992 Dream Team that featured Michael Jordan, Magic Johnson, Charles Barkley and Larry Bird. Bryant later adjusted his thoughts, saying the Dream Team was better but that the 2012 squad could beat them.
Bryant and company cruised throughout the tournament until Sunday's gold-medal game against Spain,
prevailing 107-100
after leading by just one point heading into the fourth quarter.
Anyway, that's a lead-in to this: What would baseball's dream team from 1992 look like? Let's turn back the clock and imagine we're in the summer of 1992. Let's pick a 25-man team -- 15 position players, seven starting pitchers and three relievers. Just like the '92 hoops Dream Team, legend status should come into play a bit. Since we're imagining an Olympic-type scenario, we're going with U.S. players only.
The Starters
1. 2B Ryne Sandberg, Cubs
(.304/.371/.510, 26 HR, 7.6 WAR)
Made his ninth consecutive All-Star appearance in '92.
2. CF Kirby Puckett, Twins
(.329/.374/.490, 19 HR, 6.8 WAR)
Had led the Twins to a World Series title in 1991; finished second in '92 American League MVP vote.
[+] Enlarge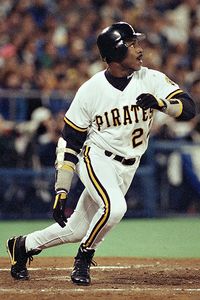 AP Photo/John SwartBarry Bonds led the Pirates to the NLCS in 1992.
3. LF Barry Bonds, Pirates
(.311/.456/.624, 34 HR, 8.9 WAR)
The best player in the game; won his second MVP award in '92.
4. DH Frank Thomas, White Sox
(.323/.439/.536, 24 HR, 6.7 WAR)
In his second full season, but the most feared hitter in the AL. Led the league in OBP and OPS for the second consecutive season.
5. 1B Mark McGwire, A's
(.268/.385/.585, 42 HR, 6.2 WAR)
Had rebounded from a poor 1991 to lead the AL in slugging percentage and the A's to the AL West title.
6. RF Ken Griffey Jr., Mariners
(.308/.361/.535, 27 HR, 5.5 WAR)
At 22 years old, already one of the game's best all-around players. We'll move him to right field with Kirby in center.
7. 3B Terry Pendleton, Braves
(.311/.345/.473, 21 HR, 4.8 WAR)
People remember his 1991 MVP season, but he finished second to Bonds in the '92 vote.
8. C Darren Daulton, Phillies
(.270/.385/.524, 27 HR, 6.7 WAR)
It was a weak year for catchers, but Daulton had a monster season with the fourth-highest WAR among position players.
9. SS Cal Ripken, Orioles
(.251/.323/.366, 14 HR, 3.8 WAR)
Not a good season but a baseball dream team wouldn't have been complete without Ripken.
The Bench
OF Rickey Henderson, A's
(.283/.426/.457, 15 HR, 5.4 WAR)
The best leadoff hitter in the game compiled 5.4 WAR despite playing just 117 games.
OF Andy Van Slyke, Pirates
(.324/.381/.505, 14 HR, 5.9 WAR)
Led the NL in doubles and hits, fourth in the MVP vote, Gold Glove center fielder. His window was small, but a terrific player for a few years.
OF Dave Winfield, Blue Jays
(.290/.377/.491, 26 HR, 3.8 WAR)
Others with a higher WAR, but Winfield gets credit for legend status and helping the Blue Jays win the World Series.
SS Ozzie Smith, Cardinals
(.205/.367/.342, 0 HR, 5.0 WAR)
Tough call here:
Barry Larkin
(.304/.377/.452, 5.5 WAR) or the 37-year-old Ozzie? The Wizard could still pick it and had 43 steals.
3B Gary Sheffield, Padres
(.330/.385/.580, 33 HR, 6.0 WAR)
Challenged for the Triple Crown much of the year before finishing first in batting, third in homers and fifth in RBIs.
C Terry Steinbach, A's
(.279/.345/.411, 3.8 WAR)
Gets the nod over Mickey Tettleton as the backup catcher for his good defense and leadership.
Pitching Staff
Tom Glavine, Braves
(20-8, 2.76 ERA, 3.6 WAR)
The only lefty on our 10-man staff, finished second in the Cy Young vote after winning it the year before.
[+] Enlarge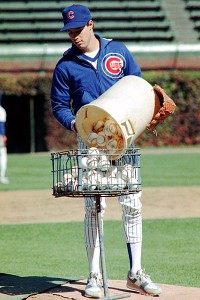 AP Photo/Bill WaughGreg Maddux would win four consecutive Cy Youngs beginning with the 1992 season.
Greg Maddux, Cubs
(20-11, 2.18 ERA, 8.9 WAR)
Won the first of his four consecutive Cy Young Awards.
Roger Clemens, Red Sox
(18-11, 2.41 ERA, 8.4 WAR)
Led the AL in ERA, shutouts, WHIP and SO/BB ratio, but finished just third in Cy Young vote.
Doug Drabek, Pirates
(15-11, 2.77 ERA, 5.1 WAR)
Career went downhill after signing with the Astros in '93, but regarded as one of the toughest competitors in the game at the time.
Jack Morris, Blue Jays
(21-6, 4.04 ERA, 2.5 WAR)
Morris absolutely would have been on a '92 dream team despite the high ERA. He'd just won back-to-back World Series titles and had the 21 wins.
Jack McDowell, White Sox
(20-10, 3.18 ERA, 4.9 WAR)
Kevin Appier
and
Mike Mussina
had better ERAs, but Black Jack had the image at the time. And the league-leading 13 complete games.
Nolan Ryan, Rangers
(5-9, 3.72 ERA, 1.8 WAR)
The numbers don't merit inclusion, but by '92 Ryan was the biggest icon in the game, a 45-year-old flame-throwing legend. Much like Bird, you wouldn't leave him off.
Dennis Eckersley, A's
(7-1, 1.91 ERA, 51 saves, 2.8 WAR)
The last AL reliever to win the Cy Young, Eck also walked away with the MVP trophy. OK, it was a bad vote, but Eck seemed unbeatable back then.
Rob Dibble, Reds
(3-5, 3.07 ERA, 25 saves, 0.9 WAR)
At the time, Dibble had four of the five highest K/9 rates in major league history (minimum 50 innings).
Jeff Montgomery, Royals
(1-6, 2.18 ERA, 39 saves, 3.0 WAR)
From '89 to '93, Montgomery fashioned a 2.22 ERA with 159 saves. What, you expected Mitch Williams?
So, who got Isiah'd? We mentioned Barry Larkin.
Tony Gwynn
was in a bit of a down spell (for him), so he loses out as well. We can't find room for NL home run leader
Fred McGriff
, Will Clark or Paul Molitor. For pitchers, some of the better statistical options would have included the aforementioned Mussina (7.9 WAR) and Appier (7.7 WAR) as well as Frank Viola, Sid Fernandez, Bob Tewksbury and
David Cone
, plus some up-and-coming guys like
John Smoltz
and
Curt Schilling
.
How does this team compare to a 2012 dream team? I'll let you debate who would be on such a 2012 team in the comments section.
January, 9, 2012
1/09/12
12:42
PM ET
I'm not an actual Hall of Fame voter. But if I did have a ballot, here's what it would look like.
Yes votes
Jeff Bagwell:
He's vastly overqualified by even tough Hall of Fame standards, an outstanding all-around player who was one of the very best of his generation. A "no" vote on Bagwell can only be justified under ...
well, I don't believe it can
.
Barry Larkin:
As valuable as Ozzie Smith, I view him as
one of the top 10 shortstops of all time
. Easily qualified by even tough Hall of Fame standards.
Edgar Martinez:
I wrote about Edgar a couple years ago
. I admit to some bias as a Mariners fan, but Martinez is simply one of the best hitters of all time. His career was a little short, and yes, he spent most of his time as a designated hitter, but he was so dominant at the plate that he deserves the votes.
Mark McGwire:
We all know the issues. Look, eventually these guys will get in ... the Hall of Fame won't stand for the baseball writers determining a moral standard for election to
its
Hall of Fame. The Hall doesn't belong to the writers; they are merely a conduit for election. It might take five years or 10 years or 25 years, but time will pass and McGwire and others from his generation will get in.
Rafael Palmeiro:
Leaving aside the PED issue, there's obviously no precedent for leaving out a player with Palmerio's career credentials -- 569 home runs (12th all time), 3,020 hits (25th), 1,835 RBIs (16th), 1,663 runs (31st) and 5,388 total bases (10th). You do read things like "Palmeiro was never one of the best at his position" as justification for not voting for him. But I don't think that's quite accurate. Using Baseball-Reference WAR, here are the top five first basemen in the majors from 1989 to 2004:
Palmeiro twice rates as the best first baseman in the league, second another time and has two other seasons in the top five (plus one season as the best DH). On top of the career totals and amazing durability, that's good enough for me.
Tim Raines
: The second-greatest leadoff hitter of all time, comparable in value to Tony Gwynn.
Should be a lock
, but hasn't reached 40 percent of the vote during his four years on the ballot. SweetSpot readers give Raines the "yes" nod by an 85-15 vote.
Alan Trammell:
I didn't write about Trammell, but his Hall of Fame support has been surprisingly minimal and he has no shot of getting in this year. In reality, you can't find two players much more identical than Larkin and Trammell.
So close I would feel guilty if I had an actual ballot
Jack Morris:
I think those who rely solely on WAR sell him short. He survived in an era when most starting pitchers didn't last long enough to establish Hall of Fame credentials. He
did
have a certain aura about him that doesn't show up in the statistics. As I wrote the other day,
he's very close
. SweetSpot voters are split as well: 54 percent say yes, 46 percent say no.
Worth strong consideration, and maybe I'll change my mind in the future
Fred McGriff:
I wrote on the Crime Dog over the weekend
. I could be wrong here; of the nearly 3,500 votes in the SweetSpot poll, 83 percent of you consider McGriff a Hall of Famer ... a huge split over the criminally low support the BBWAA has given him (just 18 percent last year).
Larry Walker:
My friend Jim Caple asks how I could consider Martinez a Hall of Famer, but not Walker, considering Walker's all-around brilliance, similar career length (8,030 plate appearances for Walker, 8,672 for Martinez) and similar OPS+ totals (147 for Martinez, 140 for Walker). I'll investigate Walker further next year, but three things still bother me:
(1) His home/road splits during his Coors Field days are generally quite large:
1995: .343/.401/.701 at home, .268/.361/.484 on the road
1996: .393/.448/.800 at home, .142/.216/.307 on the road
1997: .384/.460/.709 at home, .346/.443/.733 on the road
1998: .418/.483/.757 at home, .302/.403/.488 on the road
1999: .461/.531/.879 at home, .286/.375/.519 on the road
2000: .359/.446/.615 at home, .259/.371/.399 on the road
2001: .406/.483/.773 at home, .293/.416/.549 on the road
2002: .362/.453/.671 at home, .312/.387/.530 on the road
2003: .338/.469/.551 at home, .227/.370//395 on the road
(2)
Dante Bichette
,
Ellis Burks
,
Andres Galarraga
,
Todd Helton
-- a lot of players put up monster numbers in Coors in the '90s and early '00s.
(3) Martinez didn't have a long career, because the Mariners screwed around with him for three years. Walker only reached 8,000 plate appearances because he was very injury-prone -- he missed 495 games during his prime years with various injuries. (Walker played 140-plus games just four times; Martinez did it nine times.)
Bernie Williams:
A brilliant player for eight seasons and a key player on four World Series champs. But the Hall of Fame is simultaneously a mix of peak performance and endurance; Williams' peak value is close, but I believe he falls short on the career trek.
A little short for my tastes
Dale Murphy:
Similar to Williams, except he won two MVP Awards but lacks the rings. His run was even shorter -- really only an outstanding player from 1982-1985, plus 1980 and 1987.
Lee Smith:
I'm not a big fan of closers, even if they did last forever.
When I wrote about Smith
, my biggest issue is that I don't think he was ever the best closer in the game. It might also be worth considering that the four modern closers in the Hall -- Rollie Fingers, Goose Gossage, Bruce Sutter and Dennis Eckersley -- were all closers for World Series winners. Smith appeared in only four postseason games in his career (and lost two of them).
January, 7, 2012
1/07/12
10:34
AM ET
I used to play my friend Dusty in a Pursue the Pennant simulation league, back when the game was still played with cards and dice. Our battles were famed for our Dennis Martinez-Nolan Ryan pitching duels, but Dusty also had Fred McGriff. He killed me. Considering I was stuck with fat, past-his-prime Kent Hrbek as my first baseman, I lusted to acquire McGriff. He was, after all, one of the premier hitters in the game -- although nobody seemed to give him much attention as such at the time, as he was kind of the quiet assassin plying his lumber north of the border.
Crime Dog has a pretty good Hall of Fame case, and it has nothing to do with his owning the last great nickname in baseball or even the Tom Emanski commercial. As Jim Caple once wrote, if McGriff ever makes the Hall of Fame, there should be no controversy over which cap he'll wear on his plaque -- he should
just wear this one
. He'd whip that bat through the zone, finishing the swing with a high-arcing flourish, his top hand coming off the bat, his bottom hand ending above his head. You always knew a Fred McGriff swing. It was a thing of unique, awkward beauty.
This will be McGriff's third year on the ballot and he hasn't done well so far -- 21.5 percent in 2010 and 17.9 percent last year. But check out his career numbers compared to the past three first basemen elected to Cooperstown:
Murray, with his long career and 3,000 hits and 500 home runs, soared in his first year. Cepeda was a Veterans Committee selection in 1999, which essentially forced the writers to finally vote in Perez the following year.
Let's look at two more numbers: career WAR and seasons in the top 10 of MVP voting.
McGriff: 50.5, six (best finish: fourth)
Murray: 66.7, eight (best finish: second two times)
Perez: 50.5, four (best finish: third)
Cepeda: 46.8, three (best finish: first)
So McGriff favors comparably with Perez and Cepeda, although to be fair, they are pretty soft as far as Hall of Famers go. On the other hand, Hall of Fame voters have been tough on first basemen -- only four Hall of Famers who played at least 50 percent of their career games at first base began their careers after 1936 -- Cepeda, Perez, Murray and Willie McCovey.
McGriff's career is a little tough to analyze, since he began in the reputed pre-steroids era and then played into the heart of the era of high-powered sluggers. So while his production remained fairly consistent, his
value
went down, in comparison to other first basemen. Here, let me show you. Here are his rankings in various categories among players who played at least 50 percent of their games at first base each season.
In 1989, a .924 OPS was good enough to lead the American League (and rank second behind Will Clark among first basemen). A .930 OPS in 2001 ranked only seventh. McGriff was one of the best first basemen in baseball from 1988 through 1994 -- a solid run of seven seasons. A mid-career dip and increase in offense around the majors lessened his value. By 2000, a first baseman who hit 27 home runs with an .826 OPS had little value at all; every team seemingly had a first baseman who could match that rate of production.
It doesn't help McGriff's case that he's not identified with one team. He did make four playoff appearances with the Braves (and one with the Blue Jays) and hit very well in the postseason -- .303/.385/.505 in 50 games -- but going from the Blue Jays to the Padres to the Braves to the Rays to the Cubs to the Dodgers seems to have sapped his legacy. Perez, for example, was a key component on the Big Red Machine. Having a label like that helps. For McGriff, his best seasons were performed in relative anonymity in Toronto and San Diego. His monster numbers from those early years don't look as impressive in comparison to the monster numbers of a decade later.
But they were. From 1988 to 1994, he ranked fourth, first, third, third, third, fifth and fifth in his league in OPS. How many Hall of Famers can claim a run like that?
In the end, however, McGriff remains borderline. The biggest problem is that there are three first baseman on the ballot who are
better
Hall of Fame candidates in Jeff Bagwell, Mark McGwire and Rafael Palmeiro. Obviously, there are complicating issues around those guys. Plus, there are first basemen such as Keith Hernandez, John Olerud and Will Clark, who arguably had similar value to McGriff, albeit compiled in ways that didn't appeal to Hall voters (on-base percentage, defense).
For now, I say McGriff is just short. And that's not an easy assessment to make for a guy with 493 home runs and over 1,500 RBIs.
July, 25, 2011
7/25/11
2:43
PM ET
So your team is offering up a star? Sometimes the prospect you get in return
turns to gold
. And sometimes (more often?) deals like these 10 happen.
1.
Fred McGriff
for Melvin Nieves, Donnie Elliott and Vince Moore. (Braves/Padres, 1993.)
2.
Rickey Henderson
for
Steve Karsay
and Jose Herrera. (A's/Blue Jays, 1993.)
3.
David Cone
for Marty Janzen, Jason Jarvis and Mike Gordon. (Yankees/Blue Jays, 1995.)
4.
Mark McGwire
for
T.J. Mathews
, Eric Ludwick and
Blake Stein
. (Cardinals/A's, 1997.)
5.
Curt Schilling
for
Vicente Padilla
,
Travis Lee
,
Omar Daal
and
Nelson Figueroa
. (Diamondbacks/Phillies, 2001.)
6.
Jason Schmidt
for
Ryan Vogelsong
and
Armando Rios
. (Giants/Pirates, 2001.)
7.
Aramis Ramirez
and
Kenny Lofton
for
Bobby Hill
,
Jose Hernandez
and Matt Brubeck. (Cubs/Pirates, 2003.)
8.
Carlos Beltran
for
Mark Teahen
,
John Buck
and
Mike Wood
. (Astros/Royals/A's, three-way trade, 2004.)
9.
Jason Bay
for
Andy LaRoche
, Bryan Morris,
Craig Hansen
and
Brandon Moss
. (Pirates/Dodgers/Red Sox three-way trade, 2008.)
10.
Matt Holliday
for
Brett Wallace
,
Clayton Mortensen
and Shane Peterson. (Cardinals/A's, 2009.)
Follow David Schoenfield on Twitter @dschoenfield.
July, 22, 2011
7/22/11
12:54
PM ET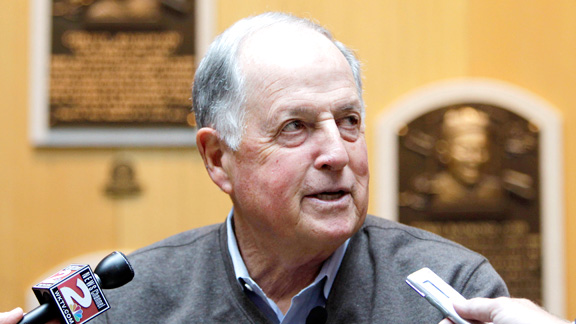 AP Photo/Mike GrollHall of Fame baseball executive Pat Gillick helped build playoff teams in several cities.
You can debate the merits of an executive getting elected to the Hall of Fame; personally, I find it a bit ridiculous that Pat Gillick got elected and will be enshrined this year while deserving players like
Barry Larkin
, Tim Raines, Alan Trammell and others were snubbed yet again by the voters (yes, Gillick was elected via a special expansion era committee).
Gillick was the general manager of the Blue Jays from 1978 through 1994, building them from an expansion franchise into a two-time World Series champion. He ran the Orioles from 1996 to 1998, making the playoffs his first two seasons. He took over the Mariners for the 2000 season, and his first big move was to trade a disgruntled Ken Griffey Jr. The Mariners made the playoffs anyway and then won a record 116 games the following season. He took over the Phillies in 2006 and retired after they won the World Series in 2008 (he remains an advisor).
His ability to build winners is undeniable, although Gillick also had good timing with his various retirements. After winning two World Series, the 1994 Blue Jays had become an aging, past-its-prime ballclub, finishing 55-60. Gillick wasn't around when the Jays stumbled to the worst record in the AL in 1995. He took over a solid Orioles club in 1996, added a few veterans to get them over the playoff hump, but left after the team fell under .500 in 1998. The Orioles haven't seen a winning record since. The Mariners won 93 games in 2003, but were an old club with a bad farm system, depleted in part because Gillick had forfeited draft picks to sign veteran free agents. He stepped down before the team lost 99 games in 2004. Only the Phillies have maintained success after Gillick left, either a testament to his genius or a testament to knowing when to quit.
Here are 10 moves that got him into the Hall of Fame, in chronological order.
1. Selecting George Bell in the Rule 5 draft.
Bell had missed most of the 1980 season while in the Phillies' system, but the Blue Jays were astute enough to select the outfielder. He didn't become a regular until 1984, but over seven full seasons with the Jays hit .288 while averaging 24 home runs and 102 RBIs, winning the 1987 AL MVP when he hit 47 home runs and led the league with 134 RBIs.
2. Acquired Fred McGriff for Dale Murray.
McGriff had hit .272 AVG/.413 OBP/.456 SLG as an 18-year-old in rookie ball with the Yankees when Gillick got him as a throw-in for a deal that brought Dave Collins and
Mike Morgan
to the Blue Jays. Collins had been a high-priced free-agent bust for the Yankees in 1982, and George Steinbrenner eagerly dumped him for Murray, a middling middle reliever who was nearly done. McGriff would hit 125 home runs for the Blue Jays, helping them win the '89 AL East crown.
3. Drafted Tom Henke from the Rangers.
Teams that lost a free agent used to be able to draft an unprotected player off another team. In 1985, Gillick selected Henke, a hard-throwing but wild right-hander who had posted a 6.35 ERA for the Rangers in 1984. Henke turned into one of the best closers in the league, had a 2.48 ERA and 217 saves over eight seasons in Toronto, and was the closer on the 1992 World Series champion.
4. Drafting John Olerud ... and then signing him as a free agent.
Olerud had been one of the best college players in the nation as a sophomore at Washington State, hitting .464 while going 15-0 as a pitcher. But he suffered a brain aneurysm before his junior season and played sparingly. Most teams were scared off, but the Jays drafted him in the third round in 1989 and he went straight to the majors. Later, in Seattle, Gillick signed Olerud as a free agent and he posted a .392 OBP from 2000 to 2003.
5. Acquired Devon White from the Angels for Junior Felix and Luis Sojo.
Felix had played well for the Blue Jays in 1990 as a 22-year-old while White had hit .217 for the Angels. But the Jays needed better defense in center (34-year-old Mookie Wilson had been the team's primary center fielder in '90) and White was one of the game's supreme fly chasers. White not only won three Gold Gloves as the Jays won three straight AL East titles from '91-93, but he hit well and averaged 108 runs per season over those three years.
6. Trading McGriff and Tony Fernandez to the Padres for Roberto Alomar and Joe Carter.
A few days later, Gillick made a good old-fashioned challenge trade, the likes of which you don't see much anymore. Fernandez had been a three-time All-Star with the Jays, but Alomar was younger and on the rise. McGriff was a better player than Carter, but the Jays had Olerud ready to play first base. In five seasons with the Jays, Alomar became one of the best all-around players in baseball, making the All-Star team all five seasons. He also hit .373 in five postseason series while with Toronto, driving in 18 runs and stealing 18 bases in 29 games. When Gillick went to the Orioles, one of his first moves was to sign Alomar as a free agent.
7. Signing Jack Morris, Dave Winfield and Paul Molitor as free agents.
By 1992, the Jays were drawing 4 million fans per season and had become one of baseball's richest franchises. Gillick had money to work with; the Jays had the third-highest payroll in 1992 and the highest in 1993. In '92, he signed veterans Morris and Winfield. Morris went 21-6 while Winfield hit .290 with 108 RBIs as the team's DH. The next season, Molitor replaced Winfield and was even better, hitting .332, driving in 111 runs, scoring 121 and finishing second in the AL MVP vote.
8. Signing Ichiro Suzuki.
Many American scouts and executives believed Ichiro was too thin and frail to succeed in the U.S. The Mariners won negotiating rights with a $13 million bid and soon signed Ichiro to a three-year, $14 million contract entering the 2001 season. All he did as a rookie was hit .350, score 127 runs, steal 56 bases, win AL MVP honors and lead the Mariners to 116 wins.
9. Signing Bret Boone as a free agent.
As good as Ichiro was in 2001, Boone might have been even better. He had one of the greatest seasons ever for a second baseman, hitting .331 with 37 home runs, leading the AL with 141 RBIs and winning a Gold Glove. All for $3.25 million.
10. Trading for Jamie Moyer.
Notice a trend? Gillick has a history of bringing back his former players. He had Moyer in Seattle and picked him up for nothing in 2006. In truth, all the key parts of the Phillies' 2008 World Series were already in place when Gillick arrived --
Ryan Howard
,
Chase Utley
,
Jimmy Rollins
and
Cole Hamels
had been drafted by the previous regime, and
Shane Victorino
had been acquired in the Rule 5 draft. Gillick's big moves were trading for Moyer, who would go 56-40 for the Phillies and was the team's No. 2 starter in 2008, and signing
Jayson Werth
before the 2008 season, after he had missed all of 2007 with a wrist injury.
Follow David Schoenfield on Twitter @dschoenfield.