December, 3, 2012
12/03/12
9:03
PM ET
NASHVILLE, Tenn. --
Philadelphia Phillies
general manager Ruben Amaro Jr. found time for a little hot stove humor before his daily winter meetings media briefing Monday. Upon arriving at the team's Opryland Hotel suite a couple of minutes late, Amaro apologized to the assembled scribes for his tardiness.
"I had to dry my eyes because Angel is gone," Amaro said.
That's a reference to
Angel Pagan
, who signed a four-year, $40 million contract with the
San Francisco Giants
on Monday. In the aftermath of
B.J. Upton
's five-year, $75 million deal with Atlanta last week, the Phillies now have watched two potential center-field targets sign with other clubs.
"He's off the market," Amaro said of Pagan. "We move on. We liked both players, but that's part of the process."
The Phillies made it clear from the outset that they would explore lots of avenues in free agency, and several routes remain open. They can make a serious play for
Michael Bourn
, a true leadoff hitter who spent his first five professional seasons in the Philadelphia organization before being traded to Houston in 2007. Bourn's price tag is likely to be high, but agent Scott Boras' leverage appears to be dropping due to a recent sequence of events. Washington filled its center-field void by trading for
Denard Span
, and Cincinnati GM Walt Jocketty has publicly downplayed the team's interest in Bourn.
The Phils could really make a splash and go for
Josh Hamilton
-- a move that fits with Amaro's history of dropping stealth bombshells. But when Amaro was asked Monday whether he's spoken with Hamilton or his agent, Mike Moye, he gave the same terse response.
"No," he told one of the team's beat reporters. "But I wouldn't tell you if I did."
The Phillies also could bring back
Shane Victorino
, but the consensus in baseball circles is that a return engagement isn't likely. Victorino was a popular player during his first run in Philadelphia and a key member of the team's 2008 world championship club. But sources said the Phils are more inclined to go in a different direction this time around.
At the moment, the Phillies' outfield consists of
Domonic Brown
in right field,
John Mayberry Jr.
in center and
Darin Ruf
in left, so the only certainty is that Amaro will do something. He has a hole to fill at third base along with multiple vacancies in the outfield, and the prospect of a
Freddy Galvis
-
Kevin Frandsen
platoon isn't going to do much for season-ticket sales.
"This offseason we're going to have to be as creative as we can possibly be to make our team better," Amaro said, "even if it means having two or three platoons or improving in other areas. We're going to have to be as creative as possible, because the market is not a great market."
The Phillies had enough of a need in center field for Amaro to engage on Upton and Pagan, but he wasn't sold enough on either player to go beyond his comfort level price-wise. A month into free-agent season, Philadelphia's general manager still has money in his pocket. He also has a lot of work to do.
November, 4, 2012
11/04/12
10:30
PM ET
By
Javier Maymí
| ESPN.com
Freddy Galvis
, who last spring played his way onto the
Philadelphia Phillies
' Opening Day starting lineup, is off to an eye-opening start in Venezuela as he tries to come back from back surgery and his suspension for testing positive for performance-enhancing drugs.
In his first 19 games with the Zulia Aguilas, Galvis is hitting .342 with three homers and nine RBIs, a sign that he is recovered from his season-ending injury that kept him from returning from his 50-day suspension last August. Galvis hit just .226 for the Phillies in April and May as he filled in for the injured
Chase Utley
at second base.
Meanwhile, Dodgers outfield prospect
Scott Van Slyke
is finding his power stroke with the La Guaira Tiburones, hitting seven homers in his first 18 games. While that may be impressive, teammate
Darin Ruf
, a legitimate candidate for an outfield job with the Phillies after a 2012 season in which he hit 38 homers at Double-A Reading, has nine homers and 18 RBIs through 19 games with La Guaira.
Another Phillies prospect enjoying his winter in Venezuela is relief pitcher Justin Friend, who is 3-1 with a 1.80 ERA in 11 games for La Guaira thus far this season.
Gordon, Marte, Luna start hot in the Dominican
A slew of veteran Dominican players seeking to revive their careers, led by
Vladimir Guerrero
and
Miguel Tejada
, have flooded the Dominican Winter League this season, but it is the upstart youngsters who are thrilling the crowds.
Dee Gordon
,
Starling Marte
and
Hector Luna
are off to flying starts offensively while
Colorado Rockies
pitcher
Josh Outman
has been the surprise of the league, yielding just two runs in his first 15 innings as a starter with the Toros del Este in a rotation that also includes
Atlanta Braves
pitcher
Jairo Asencio
.
Luna, who played 28 games for the Phillies in 2012, is off to a 17-for-44 start with the Aguilas Cibaeñas while Gordon is batting .326 in his first three games with the Licey Tigres. After a disappointing season with the Dodgers, Gordon is trying to impress the club with a strong winter ball season.
Marte, who dazzled in his major league debut with the
Pittsburgh Pirates
this summer, made his debut with the defending champion Escogido Leones and went 5-for-13 in his first three games.
The league this year is also serving as a refresher course for some prospects who didn't perform as expected over the summer. Atlanta's
Tyler Pastornicky
, Colorado's
Charlie Blackmon
and Cincinnati's
Denis Phipps
were on opening day rosters and are looking to hone skills for spring training as they're projected to compete for major league roster spots.
Veteran hitters
Fernando Tatis
and
Timo Perez
have also returned while it is expected that
Manny Ramirez
will don the Aguilas Cibaeñas uniform this week as he seeks a return to the majors.
Cañizares leads Obregón's attack in Mexican Pacific League
Former Cuban national team member and Atlanta Braves prospect Barbaro Cañizares, who last winter set a new single-season home run record, is on pace to break his own record having belted seven through his first 19 games with the defending champion Ciudad Obregon Yaquis.
Cañizares, 32, had hoped his revamped power stroke earned him a spring training invite last winter but since it did not materialize, he played in the Mexican Summer League with the Oaxaca Guerreros, batting .348 with 28 homers and 103 RBIs in 107 games, primarily as a first baseman.
Meanwhile,
Marlon Byrd
, trying to salvage his career after getting released by the Red Sox in June, is off and running through 19 games with the Culiacán Tomateros. Byrd is hitting .386 with a 1.213 OPS while teammate
Cory Aldridge
is batting .338 with a league-leading 11 homers and 22 RBIs. Aldridge joined the Angels' Triple-A team in Salt Lake after starting the season in Mexico and was unproductive, hitting only .215 in 73 games.
Puerto Rican League getting ready for opening day
The Puerto Rican League, which last season was pared down to just four teams, will return to its six-team format when the season opens on Nov. 8.
The Santurce Cangrejeros, once an iconic franchise that saw legends Roberto Clemente, Willie Mays and Satchel Paige don its uniform, will return to play, even if general manager Carlos Baerga can't finalize negotiations to use San Juan's Hiram Bithorn Stadium as their home field.
Baerga told media that they have "different options," one of them being sharing a stadium with the Carolina Gigantes. The other team that will return is the Manati Atenienses, a franchise once owned by former major leaguer Jose Valentin. Santurce and Manati will join Carolina, Ponce, Arecibo and the defending champion Mayagüez Indios for this season.
May, 7, 2012
5/07/12
7:00
PM ET
Arizona Diamondbacks
infielder
Willie Bloomquist
had the longest-reigning Web Gem of the season so far, a from-his-stomach flip to second base to get a force play on a ground ball up the middle on April 28 against the Marlins.
That lasted six days as the "Best of the Best" Web Gem and was named the Sports Science Play of the Week. It also inspired us to look up something that we've asked to have video-tracked this season. There are many different ways to get an out in baseball. We've arranged with Baseball Info Solutions to track players who make three different types of plays. They are:
1. The barehand -- in which a fielder does not use his glove, but manages to get an out.
2. The glove flip -- in which a fielder flips the ball to a teammate using his glove, rather than his ungloved hand.
3. The throw-from-knees -- which we actually made sure covered any throw in which the fielder was not upright, a la Bloomquist.
Let's take a snapshot look at the leaders for each, all entering Sunday's games.
May, 2, 2012
5/02/12
10:48
AM ET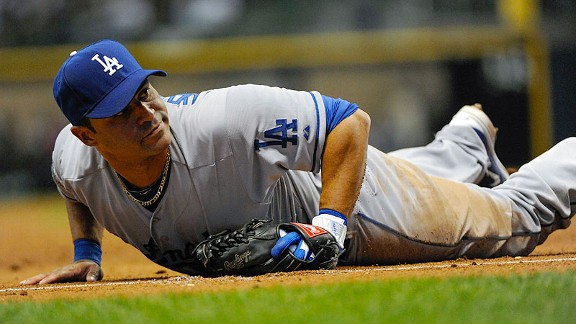 Benny Sieu/US PresswireJerry Hairston Jr. didn't mind getting a little dirt on his uniform to make good defensive plays in April.
Major League Baseball rewards its best offensive players and its top pitchers with Player of the Month Awards. But it does not salute a Defensive Player of the Month with the same level of reverence.
We're here to fill that void, with the help of the folks from Baseball Info Solutions (BIS). BIS has a team of video trackers who watch every play of every game, charting where balls are hit, which ones are turned into outs and which are not, and categorizing plays into approximately 30 groups of Good Fielding Plays and 50 groups of Defensive Misplays.
BIS data is also used in the computation of a stat called Defensive Runs Saved, which measures value relative to others at the same position. How Runs Saved are calculated is explained in the chart on the right.
We came up with a list of nominees using this data and our Web Gem tracking (which allows us to measure "Great Fielding Plays"), then had a 10-person panel cast their votes. The panel came from our Stats & Information crew, writers Dave Schoenfield and Jayson Stark and ESPN baseball analyst Chris Singleton.
Our winner for April is an unlikely selection in that he's not the first person that comes to mind when you think of defensive standouts --
Los Angeles Dodgers
utilityman Jerry Hairston Jr.
Hairston was able to make the good play and the great play. He finished April tied with
Ryan Zimmerman
for the major league lead with four Web Gems (including the No. 1 Gem on consecutive nights). He was credited with one Defensive Run Saved at second base, one at third base and two in left field.
Hairston finished April with a Good Play/Misplay tally of 11 to 1 in only 15 games in his first month with the Dodgers.
His highlight-reel play came on April 19 against the
Milwaukee Brewers
while playing third base, when
he robbed
Alex Gonzalez
of the game-tying hit in the eighth inning with a diving stop and throw from his knees on a groundball down the line.
The next day, he missed on a similar diving attempt against
Jose Altuve
of the Astros, but then
sprinted into foul territory and threw a strike to second base
to nail Altuve's attempt at an extra-base hit.
Hairston got six of our 10 first-place votes, and even someone who voted him second-best was quite impressed. "No matter where you put him on the field, he posseses the ability to make a dynamic play," Singleton said. "His value as a utility player is as high as anyone on the defensive side."
Dodgers manager Don Mattingly agreed, saying, "Jerry's been great from the standpoint of wherever we put him, he's made some unbelievable plays."
Alex Gordon, Royals
Though Gordon didn't hit at the level he did in 2011, his advanced defensive stats were of Gold Glove caliber, and that earned him runner-up status for April.
Gordon had seven Defensive Runs Saved in left field for April, and finished with a 9 to 1 tally in Good Plays/Misplays, including a
home run robbery
on
Danny Valencia
.
Gordon's rating was high partly because of the component that measures the deterrent value of one's throwing arm. There were 18 situations in which Gordon fielded a ball, and a baserunner had a chance to advance an extra base (score on a sacrifice fly, go first to third on a single, etc). He only had one assist, but it was a nifty one, nailing
Albert Pujols
at the plate. But Gordon only allowed the runner to advance three times, thus netting a deterrent rate worth two runs.
"You can never truly appreciate with the naked eye just how well Gordon takes routes to the ball on base hits," Singleton said. "It gets overlooked, but it's huge when you're an outfielder and can shut the running game down like a catcher does."
Freddy Galvis, Phillies
If there was an award for Defensive Rookie of the Month, Galvis would edge out
Kirk Nieuwenhuis
of the Mets for top honors. He finished with a Good Play Misplay tally of 14 to 3 and tallied three Defensive Runs Saved. He won No. 1 Web Gem honors twice, good enough to finish third in our voting.
Jamey Carroll, Twins
Carroll finished with two Defensive Runs Saved, but was impressive in the way in which he made plays. His 16 Good Fielding Plays were the most among shortstops. He made only two Misplays all month, and his 8 to 1 ratio was among the best for infielders.
Albert Pujols, Angels
Though Pujols struggled offensively, he didn't let his power outage impact his defense.
Pujols tied with
Adrian Gonzalez
for the most Defensive Runs Saved among first basemen with three, and had a Good Play/Misplay ratio of 14 to 2. Pujols was rewarded both for his ability to handle difficult throws (for which he was credited with nine Good Fielding Plays), and his ability to turn batted balls into outs. One of the few bright spots for the Angels in April was that they allowed a .197 batting average on groundballs, fourth-best in the American League, behind the Indians, Athletics and Blue Jays.
Also considered
: Ryan Zimmerman (Nationals 3B),
Paul Goldschmidt
(Diamondbacks 1B),
Josh Hamilton
(Rangers OF),
Aaron Hill
(Diamondbacks 2B), and
Dustin Pedroia
(Red Sox 2B).
April, 11, 2012
4/11/12
6:30
PM ET
March, 21, 2012
3/21/12
5:09
PM ET
ESPN Insider Dan Szymborski asks: Is there another Jose Bautista lingering near the bottom of the ESPN 500 list? Dan throws out some interesting names, including Travis Snider and Pedro Alvarez, although both of them were former first-round picks and one-time top prospects. Of course, what makes any Bautista comparison difficult is that he hasn't just had a couple of nice seasons out of nowhere; he's had two seasons that made him one of the best players in baseball. There may be a more systematic way of doing this: Check players who were (A) never top prospects; (B) had some time in the majors before blossoming into an MVP candidate. I have to think Bautista is fairly unique in this regard. Worth looking at during some down time.
Tristan Cockcroft has a list of players he's not excited about. Tristan is writing for a fantasy baseball audience, but I like his support evidence. Names such as Adam Wainwright and Dee Gordon will provide some debate.
Eric Karabell has updated his fantasy top 100. He's sticking with Ryan Braun at No. 1.
One more link from our fantasy department: AJ Mass looks at the Rays and whether the hype surrounding Matt Moore is justified.
Mets Today has a roundup of all the fallout from the court decision regarding the Mets.
Dodger Thoughts author Jon Weisman has a piece on ESPNLosAngeles.com on the Clayton Kershaw-Tim Lincecum rivalry.
How do the Brewers replace Prince Fielder? In Part 1 of a 2012 preview, Disciples of Uecker examines whether Aramis Ramirez will come close to Fielder's 2011 production.
Harper Gordek is worried about a Nationals lineup that may open up with Rick Ankiel hitting fifth. Can the pitching staff prevent enough runs to make the Nationals contenders?
Michael Baumann on Chase Utley, Freddy Galvis and panic (or lack of it) in Philly.
Brenden Lowery breaks down Carlos Santana and his approach from both sides of the plate in 2011. With heat maps!
Craig Brown examines the Royals trade in which they acquired catcher Humberto Quintero to fill in for the injured Salvador Perez and outfielder Jason Bourgeois. If the word "train wreck" is used as descriptive medicine, it may not be a cure.
Here's what the Red Sox's 25-man roster may look like.
One thing the Twins have: Guys who can play center field. With Denard Span, Ben Revere, Joe Benson and prospect Aaron Hicks, should the Twins consider dealing from their surplus?
Chris Quick with an interesting study on Giants infielder Emmanuel Burriss: With his lack of power what are the odds he can be of some value at the plate?
Finally, a fun list of the top 10 final seasons, in honor of Will Clark's 2000.
March, 19, 2012
3/19/12
12:35
PM ET
There's a disturbing trend in
Chase Utley
's batting averages that a lot of Phillies fans don't like to acknowledge. It goes like this: .332, .292, .282, .275, .259.
[+] Enlarge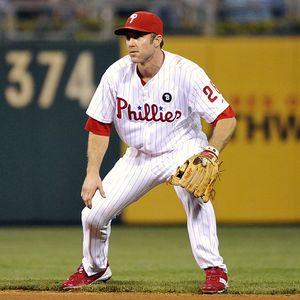 Howard Smith/US PresswireThe Phillies could be without Chase Utley for an extended period again this season.
You can do the same thing his yearly OPS figures: .976, .915, .905, .832, .769.
Now comes word that Utley is doubtful for Opening Day because of
issues with both knees
. So you have an aging, declining player who missed the first 45 games of 2011 with knee tendinitis now battling two bad knees.
Utley has survived several injuries in his career to remain one of the best second basemen in baseball. He spent 31 days on the disabled list in 2007 with a broken bone in his right hand, had offseason hip surgery following the Phillies' World Series title in 2008, and spent 49 days on the DL in 2010 with torn ligaments in his thumb. He's often bounced back quicker than expected. Following his hip surgery, he was expected to be out until May, but was in the Opening Day lineup. There was belief last spring that he'd be out until the All-Star break or later, but he returned May 23.
But he's now 33, hasn't played yet this spring, and is off to see a "specialist." It sounds ominous.
The Phillies' replacement options for Utley:
1.
Freddy Galvis
. The team's potential shortstop of the future, Galvis is a 22-year-old who spent most of 2011 in Double-A. While he carries a good-glove reputation, his bat is questionable. ZiPS projects his batting line at .261/.299/.359. Even with his decline in production, Utley created about 64 runs in 454 plate appearances in 2011. Galvis' line translates to about 41 runs created over 454 appearances.
2.
Michael Martinez
. The club's utility player a season ago, Martinez is a speedster who can play all positions on the field and not hit at any of them, as he showed with a .198/.258/.282 line in 234 PAs in 2011.
3.
Ty Wigginton
. Brought in to play first base until
Ryan Howard
returns from
his
injury, Wigginton has "played" second base in the past. Quote marks needed to emphasize the fact that it would be like putting a statue in the middle infield. Not a great option, especially since he's not much with the bat, either, but the Phillies could slide
John Mayberry Jr.
to first base (with an occasional appearance from
Jim Thome
) and go with some form of
Juan Pierre
/
Domonic Brown
/
Laynce Nix
in left field.
Galvis might be the best option, especially since Wigginton might be needed to fill in some at third base for
Placido Polanco
(he just
suffered a sprained finger
), who battled his own hip problems a season ago and is now 36.
Look, none of this is surprising. The Phillies are an old team with several players with recent injury issues. Players don't tend to get healthier as they move into their mid-30s.
We can't speculate yet how long Utley will be out. The Phillies won 102 games last season even though he played just 103 games. They scored 713 runs last season, and while that was a big drop from their offensive heyday a few years ago, it was still good for seventh in the NL. But without Howard for at least a couple of months and possibly without Utley for an extended period of time, and with a lineup that might end up seeing a lot of Pierre and Wigginton, this could end up being one of the worst offenses in the league.
Which means
Roy Halladay
,
Cliff Lee
and
Cole Hamels
are going to have to win a lot of 3-2 games.
December, 12, 2011
12/12/11
5:58
PM ET
Let's get back to throwing out some good links from around the SweetSpot network ...