SweetSpot:

Garret Anderson
February, 8, 2011
2/08/11
3:50
PM ET
My
recent interview with Dodgers general manager Ned Colletti
prompted me to reflect on a little-discussed aspect of his tenure.
Colletti has held the management reigns for more than five years now, and some clear patterns have emerged. He values depth. He values veteran leadership. He wants young players to succeed, but he'd much rather do it on his own timetable. One of the funnier revelations I've had is that while Dodger fans think Colletti took too long to commit to then-kids like
Andre Ethier
or
Matt Kemp
, Colletti would tell you that he wishes they could have had more time in the minor leagues to develop. You can imagine that there would be some fun arguments at the imaginary Dodgers dinner table.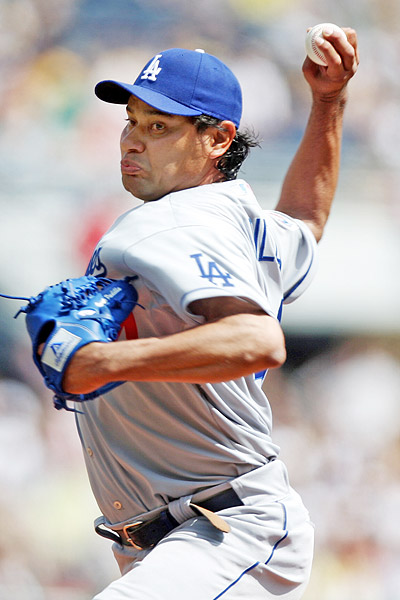 Jason Bridge/US PresswireNed Colletti has signed Vicente Padilla twice after picking him up midway through the 2009 season.
I've long been suspicious of the value placed on so-called clubhouse leaders, for a number of reasons. For one thing, these clubhouse leaders, at times, seemed not all they were cracked up to be. Players like
Nomar Garciaparra
,
Luis Gonzalez
and
Jeff Kent
were supposed to show how this game was played, but often they seemed more concerned with turning up their noses and looking out for themselves.
Then there were the players who would seem to have no other function other than to be clubhouse gents and gems. The Dodgers would give money to players staring retirement right in the face -- last year, it was
Garret Anderson
and
Brad Ausmus
-- and justify it in large part by the examples they set as professionals. Nothing against these guys personally, but there's a word for baseball men who can teach but can no longer play. They're called coaches -- or at least they should be.
All this might be enough to conjure up an image of Colletti's Dodger clubhouse as a local branch of the VFW -- guys hanging out, sharing war stories while hazing the rebellious small-fry. But that wouldn't tell the whole story.
It doesn't get discussed much in a broader context, but Colletti has also taken in guys who have worn problems on their sleeves.
Vicente Padilla
was practically chased out of Texas, but not only did Colletti pick him up from the midseason junkyard in 2009, he has signed him as a free agent twice since, including once shortly after Padilla shot himself in the leg.
In his first year as Dodger GM, Colletti traded away catcher
Dioner Navarro
when he was a 22-year-old with promise, in order to clear the path for
Russell Martin
. This winter, Colletti signed Navarro to a $1 million contract when he was a 26-year-old who packed his bags and left the
Tampa Bay Rays
after they didn't include him on the active postseason roster, rather than stay and support the team.
Ronald Belisario
will be back, visas willing, despite being late to the past two spring trainings and having a DUI arrest and rehab stint on his ledger.
Meanwhile,
Blake DeWitt
, who wowed even the irascible Larry Bowa with his work ethic, and
Juan Pierre
, who was considered the clubhouse MVP at one point, are among the good citizens who have been traded away in the past year.
In other words, the pattern to Colletti's attitude toward the clubhouse is that there isn't exactly a pattern. He's wants a good mix off the field, but he's not afraid to take a chance on a player that would upset that mix if he thinks he can help. Colletti asks the question, "Can they succeed in Los Angeles?" and comes up with an answer. That answer might sometimes perplex fans, but it isn't dependent on the players being angels.
Jon Weisman writes about the Dodgers at Dodger Thoughts for ESPNLosAngeles.com.
October, 14, 2009
10/14/09
1:54
PM ET
It's nice to see
Bobby Abreu
-- perhaps the single most underrated player in the last 20 years -- getting a little love, especially
in the Times
...
For Abreu, the winter was nothing but question marks. Why did the Yankees not offer him a contract? Why were other teams not aggressive in courting him? Why did he have to take a contract that guaranteed less than a third of what he made last season?

After paying him $16 million last season, the Yankees forecast correctly that Abreu, now 35, could not command such a salary in a depressed free-agent market. If they offered him arbitration, he might accept and be awarded a raise. So they declined and forfeited the compensatory draft pick.

"I didn't know what was happening, really," Abreu said. "I was doing a pretty good job over there. I didn't expect that they would let me go like that, but business is business."

The Yankees believed they had right field covered with Xavier Nady and Nick Swisher, a younger and similarly patient left-handed hitter obtained in a November trade. They plowed most of their free-agent dollars into elite pitchers (C. C. Sabathia and A. J. Burnett) and the best hitter on the market (Mark Teixeira).
The Yankees were right. Even with Nady playing only seven games all season, they were covered because of Swisher, who is -- due mostly to his relative youth -- a slightly better hitter and fielder than Abreu. Swisher wound up earning slightly less than Abreu this season, too, so the Yankees won this "trade" all the way around. They got better and they got cheaper.
Of course, so did the Angels, who paid Garret Anderson $12.6 million last season. The Yankees were smart to let Abreu go, and the Angels were smart to sign him at a discounted price in a depressed market. They presumably figured he would bounce back from the worst season of his career, and he did.
Oddly, the headline on the story about Abreu reads, "Stats Tell Only Half the Story for Abreu."
Only half? Really? I can excuse a bit of poetic license, but you have to figure that stats tell at least 90 percent of the story for Abreu, right?
The Angels drew 66 more walks this season than last season, which pushed them from 12th in the league to 7th. This improvement is due almost entirely to two players: Abreu, and Chone Figgins. Abreu drew 67 more walks this season Garret Anderson drew last season, and Figgins drew 39 more walks this season than last season. Obviously, the rest of the team actually drew fewer walks this season than last season.
Abreu brings more walks to the table, and it's possible that his presence has contributed to Figgins drawing more walks, too. Does Abreu bring less tangible to the table? A winning attitude, perhaps?
Perhaps. But in the five seasons before Abreu arrived, the Angels averaged 94 wins per season. This season they won 97 games. This season, statistically speaking, Abreu was worth roughly three wins. Sometimes the stats really do tell most of the story.
August, 11, 2009
8/11/09
6:27
PM ET
Will we be seeing baseball's No. 1 prospect soon? Mark McCarter thinks
maybe we should
:
It's a scorching afternoon in a near-empty ballpark as Jason Heyward strolls into the batting cage.

A Kanye West songs blares through the PA system and echoes through the park.

We're just wasting time.

Where's the finish line?

In the minds of many in Braves Nation, it's wasting time to have Heyward, a McDonough native, toiling away in Double-A when the obvious finish line is right field in Atlanta.

"It's just a matter of when. It's going to happen, probably in the very near future," says his Mississippi teammate Greg Creek.

After 31 games in the Southern League, through Sunday, Heyward was batting .411 with six homers, 23 RBIs, a .492 on-base percentage and .729 slugging percentage. He has a sensational throwing arm and draws raves for his ability to hit with authority to all fields and his mature approach at the plate.

Now 20, he was recently named the game's best prospect by Baseball America in its midseason rankings, when he was playing in the Class A Carolina League.
Well, it's certainly true that the "obvious finish line" for Heyward is playing right field for the big club.
It's not so obvious that he should be doing that right now. Nobody's been talking about it much, but Ryan Church has been productive since joining the Braves. Matt Diaz is pretty good, too. The odd man out is Garret Anderson, who's batting .284 (as usual) but doing (as usual) very little else.
Is Jason Heyward -- all 20 years and 32 Double-A games of him -- better than Garret Anderson, right now?
Well, yeah. Maybe just a little bit. Fundamentally speaking, anyway. But how long would it take him to adjust to the bright lights and the big crowds of the National League? How would he respond to the pressure of a pennant race, and the (almost) inevitable failures that come with being the youngest player in the league?
When Andruw Jones first reached the majors, he was only 19, even younger than Heyward. Like Heyward, Jones blew through Class A, then Double-A (38 games), and then blasted through a dozen Triple-A games for good measure. The Braves had to call him up, right?
In 31 games with the big club, Jones batted .217/.265/.443 ... and improved just marginally the next season, when he played almost every day. Yes, yes ... Jones put on a show in the '96 World Series, and that counts for something. Still, I think if you're going to bring up a tyro with very little professional experience, you bring him up because you think he needs it. Not because you think you need it.
May, 26, 2009
5/26/09
3:28
PM ET
As David O'Brien writes, the Braves
have one huge, glaring, gaping weakness
:
When Jeff Francoeur and Jordan Schafer combined for an 0-for-8, six-strikeout performance in Monday's loss to the Giants, it underscored the Braves' serious need to add an outfield bat between now and the July 31 trade deadline, and ideally a lot closer to now than to July 31.

Yes, when your right fielder is hitting .259 with a .647 on-base plus slugging percentage (OPS), and your center fielder is hitting .205 with a .625 OPS, well, it's a damn good thing that your left fielder is piling up big power numbers.

What's that? Oh, yeah. The Braves' left fielders are Garret Anderson (.256, .598 OPS) and Matt Diaz (solid at .299, .863 OPS).

If someone told you before the season that, 44 games into this thing, Diaz would be the only Braves outfielder with an OPS above .650, what would you have thought about the team's chances of staying in the division race?

But he is, and they are. So they count their blessings and should leave no stone unturned in trying to fix this thing while there's still plenty of time to make a run at a postseason berth.
The thing is, I'm not convinced that this thing
can
be fixed. Sure, if the Braves turn over enough stones they'll find an outfielder eventually. But one's not enough. They need at least two, and possibly two-and-a-half because Diaz isn't really good enough to play regularly against right-handed pitching.
I'm not saying the Braves shouldn't give it a shot. But they need help, they need lots of help, and they need lots of help soon. I don't know that they can find help worth getting without trading away half their farm system. Especially before July. The front office made a bed that included an outfield consisting of Anderson, Schafer and Francoeur. Now they probably just have to lose in it.
April, 10, 2009
4/10/09
2:28
AM ET
Sorry, no snappy banter or little joke in this space today. Not in the mood. Maybe next week.
• Three years ago, Rich Lederer interviewed Nick Adenhart.
• Joshua Fruhlinger presents the best baseball tech of 2009 (and be sure to click through to No. 11 on the list).
• This time, Darryl Strawberry really seems to have turned his life around. Good for him. Does that mean it's time to retire his and Dwight Gooden's numbers? No way!
• Can Carlos Silva thrive while essentially throwing just one pitch? As Dave Cameron writes, it's certainly an interesting experiment.
• He's more than the answer to a trivia question; he's "Spook" Jacobs!
He was drafted out of the Brooklyn Dodgers chain and joined the Athletics in the last season they called Philadelphia home. His opening day show, in which he grounded out only in his last at-bat, began an eventful 17-year Major League career.

He stayed with the Athletics when they moved to Kansas City, then went to the Pittsburgh Pirates. But both before and during his time in the Majors, he had some pretty good years with other leagues.
Seventeen years in the majors? Wow. I didn't remember Jacobs having that kind of career.
Oh. He didn't. Jacobs spent three seasons -- well, one season and parts of two others -- in the majors (which is, of course, three more than I spent in the majors). Jacobs did bat .300 on the nose in 14 seasons, including a healthy .342 while playing Triple-A ball in 1956.
Wondering why I'm writing so much about a guy with 164 career hits in the majors? It's because, though I don't have much of a baseball card collection, for some reason I do have this one.
• Do you want to work in baseball? Or: Do you want to work for Baseball Prospectus? The latter has been known to lead to the former. Anyway, here's your big chance!
• Inspired by the odd sight of Garret Anderson in Braves livery, Bill Chuck presents a list of the players who have played the most games with their current teams.
• David Broder really, really, really likes the latest edition of The Dickson Baseball Dictionary. So do I.