SweetSpot:

Garrett Atkins
March, 20, 2011
3/20/11
10:59
AM ET
As a resident of the Baltimore-Washington metro area, I've heard a lot of chatter regarding the Orioles' winter trades and free-agent signings from fans and sports radio talking heads alike. For the most part, the tone has been positive and hopeful. To be perfectly honest, after 13 straight losing seasons, any sense of optimism is exciting. Still, I can't help but wonder if the fans' expectations are a tad too high as a result of these improvements. Are they setting themselves up for disappointment? Let's take a look at their four big offseason acquisitions to see what kind of improvements we can expect to see over the upcoming season.
First Base – Derrek Lee
[+] Enlarge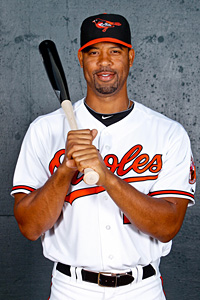 Derick E. Hingle/US PresswireThe Orioles are counting on new first baseman Derrek Lee to add some punch to their lineup.
Last season, first base was a big problem for the Orioles.
Garrett Atkins
was nothing short of a train wreck, and the immediate replacements that followed in
Jake Fox
and Rhynes Hughes weren't any better. Even Ty Wiggington, the de facto starter who hit 22 home runs, was a near-replacement level player last year, producing 0.3 fWAR. All-in-all, the production (or lack thereof) the O's received from their first basemen was about a win below the replacement level.
Even though Lee had a down season in 2010, there are encouraging signs he could rebound this season. He plays solid defense at first, draws walks, works counts and should hit about 20 home runs. There's absolutely no doubt that Lee is a big upgrade. Still, considering his age and recent performance history, we shouldn't expect more than a 2-3 WAR season. Considering the monster spring training showing by Fox, perhaps Fox could see more time here if Lee is hurt or struggles.
Third Base – Mark Reynolds
In terms of Oriole problem areas, their third base situation was nearly as dire as the one at first base. Last season, the Orioles gave the majority of playing time to
Miguel Tejada
and
Josh Bell
, and in return they received -0.5 WAR in value. Something tells me that this isn't what the front office envisioned when the season started.
To remedy this issue, the Orioles traded for Reynolds, the former Arizona third baseman. Despite coming off a difficult season in which he hit a measly .198, Reynolds still managed to provide the Diamondbacks with 2.4 WAR in value, primarily on the strength of his power, durability and defensive contributions. While Reynolds isn't the defensive player that UZR made him appear to be last season, he'll likely make up for the lost value in terms of improved offensive production. Reynolds' paltry 13.3 percent line drive rate is likely to rebound given that his career average exceeds that rate by 4 percent. With an improved line drive rate, his batting average and OBP will improve in kind. A 2.5-3.0 WAR season is not out of the question.
Shortstop – J.J. Hardy
From 1983 to 2007, the Oriole shortstop situation was about as stable as any position in baseball with
Cal Ripken
,
Mike Bordick
and Tejada all holding down the fort for extended periods of time. In the three years since Tejada's departure,
Juan Castro
,
Alex Cintron
,
Freddie Bynum
, Brandon Fehey,
Luis Hernandez
, Cesar Izturiz,
Robert Andino
and
Julio Lugo
have all been given their share of playing time. Yikes! Talk about replacement-level production.
Like Lee and Reynolds, Hardy is coming off of a down year. The good news is that even if he reproduced his 2010 season, he'd still provide about a 2.0-2.5 WAR improvement over last year's crew. Still, I wouldn't be surprised to see Hardy's performance rebound this season. Last year, he played half of his games at Target Field, which was the most unfriendly ballpark in which to hit home runs. With Camden Yards being a home run neutral park, Hardy should see more of his long fly balls leave the yard. If he does, his improved offense, along with his above average defense, should provide about 3.0-3.5 WAR in value to the Orioles this season.
Designated Hitter – Vladmir Guerrero
Despite my objections to the Orioles increasing their offer to Vlad from $2 million to $8 million without a real competing offer on the table, his signing makes sense from a "good will" perspective. While he's not the same player he was five years ago, he generates considerable excitement; especially with regards to the Orioles fan base. Still, I feel I should temper expectations. He's old, can't play defense (as we saw in the 2010 postseason), and his offensive skills are eroding, though he still commands a great deal of respect within the locker room. Furthermore, his signing shifted the defensively challenged
Luke Scott
from DH to left field, thus weakening the team at that position. Despite all the hoopla surrounding Vlad's arrival, he projects to provide about 2.0 WAR in value. While that's admirable production, it neither outpaces Scott's 2010 production, nor improves the team in a measurable way. His addition appears to be purely cosmetic.
Even with the improvements the Orioles made during the offseason, it's probably only enough to take them from 66 to 76 wins. While that's an admirable accomplishment, I have to wonder if it was worthwhile to invest in short-term stop gaps, especially when the Orioles lack talented young prospects to fill behind those veterans. Really, if the Orioles are going to make any marked improvements, it will need to be on the backs of their young starters. At this point, outside of
Brian Matusz
, none of their young arms have shown they're ready to take that next big step forward this year. That could change, but until they do, the Orioles will probably remain in the back of the AL East pack.
Chip Buck walks the tight rope of the Red Sox-Yankee rivalry by contributing to both Fire Brand of the American League, a blog about the Boston Red Sox, and It's About the Money Stupid, a blog about the New York Yankees. IIATMS can also be found on Facebook here and you can follow on Twitter here.
June, 21, 2010
6/21/10
5:18
PM ET
Recently I visited a
World War II museum
, and a number of the displays were accompanied by (according to the placards) "factoids" ... Aren't
factoids
a bit too unserious for a museum dedicated to the battles and deaths of many tens of thousands of humans? Just seemed a little off to me.
Now
here
is a factoid: this season
Baltimore Orioles
first basemen have hit a
grand total of zero home runs
. Big League Stew's David Brown:
The franchise that gave us Boog, George Sisler, Eddie Murray, the pointy-fingered Rafael Palmeiro and, heck, even Randy Milligan, is suffering mightily at the not-so-hot corner.

The four guys who have played first base for the O's this season — Garrett Atkins, Rhyne Hughes, Ty Wigginton and Luke Scott — have combined to hit .219 with a .564 OPS.

Sounds bad, if in a nerdy sort of way. It gets worse.

No home runs. Not one. Summer has arrived and the Orioles STILL haven't had any first basemen able to go into a tater trot.

Atkins, acquired for his power, has a home run — but it came as a DH. Scott and Wigginton have positive stats, too, but while playing other positions. Once any of these guys slap on a mitt, their bats go totally limp.
That's an exaggeration, of course. Wigginton and Scott are both having fine seasons, and if one of them were handed the every-day job at first base tomorrow, those putrid numbers would improve in a hurry.
But that would just beg the question. If you move Scott to first base, you weaken the DH slot. If you move Wigginton to first base, you weaken second base (at least until
Brian Roberts
finally
comes off the DL
in August, they hope). The Orioles don't need a first baseman who can hit; they need a
hitter
, period.
Rhyne Hughes isn't a
hitter
, really. But it's a minor crime that he's spent the last five weeks languishing in Triple-A while Atkins remains on the big club's roster. What happens tomorrow night, when the Orioles need a DH again after six games in National League ballparks? Will the manager run Atkins out to first base yet again?
Unfortunately, it's essentially Atkins or (if he's recalled from Norfolk) Hughes. Among all the players on the Orioles' Triple-A roster, nobody's got an 800 OPS; at 794, 29-year-old outfielder
Jeff Salazar
leads the way (Hughes is second, at 781).
One way or another, an Orioles first baseman will hit a home run this season. Shoot, I'll bet they end up with around 10. But this is a major weak point, and isn't likely to be addressed all season.