June, 30, 2013
6/30/13
12:50
AM ET
By
Christina Kahrl
| ESPN.com
First team to 50 wins, the
Pittsburgh Pirates
? For reals? Legit? By getting there behind
Francisco Liriano
's start, a deep pen's collective hold and save, and the homers hit by
Pedro Alvarez
and
Garrett Jones
, today's Pirates might have done something no Pirates team has done since the franchise's 1960 championship squad.
Holy moly, we might be witnessing the end of professional sports' longest, dimmest dark age, not least in terms of Steel City baseball history. Praise be that it might be done for; never have so many suffered for so long to so little reward. A generation of children born in Pittsburgh since the Pirates' last winning season and postseason appearance have already been eligible to vote since the Buccos' major-sports record of 20 consecutive losing seasons -- the past six with the Nutting family running the show -- got started. Give it much longer, and they'd have been graduating from college en masse. Say what you will about Cubs fans, but they've never had to endure something like this.
It might all seem improbable enough. But by notching his seventh win in Saturday's
2-1 victory
over visiting Milwaukee, Liriano is making it clear that his initial strong start is not the flashy return from yet another injury, followed by a predictable fade. He's notched five quality starts in his past six turns. His walk rate isn't just down by 1.5 free passes per nine, it's down below 3.5 BB/9, at which it was when he was helping pitch the
Minnesota Twins
into one-game playoffs and contention. As easy as it might be to write off Liriano as flaky, this is the guy who was once the sixth-best prospect in baseball (per Baseball America before 2006), and after a year lost to Tommy John surgery on his elbow plus five different 15-day disabled-list stints for shoulder woes and arm soreness, there comes a point at which you have to stop calling the guy flaky and recognize the talent he's capable of showing when he's healthy, as infrequent as that might be.
But there's the rub: That fragility is part of what made him a Pirate, but that talent is part of why the Buccos were smart to get him. The fascinating thing about the Pirates making the leap from sub-mediocrity to best record in baseball isn't that it's a surprise. It's that they have the talent to make it so.
These Pirates aren't some ragamuffin band of misfit toys -- they are not the Oakland A's of "Moneyball" legend or present-day fact. This is a team built around past top prospects, whether they belonged to the Pirates or others. Guys like
Andrew McCutchen
and
Neil Walker
and Alvarez and
Gerrit Cole
are men that they picked and any team might envy; faded former studs like
A.J. Burnett
and Liriano and even a well-traveled veteran like closer
Jason Grilli
-- if you go back to the '90s and his pedigree as a Giants farmhand 15 years ago -- are past top prospects who they have picked up, recognizing who they've been and what they might still be capable of.
[+] Enlarge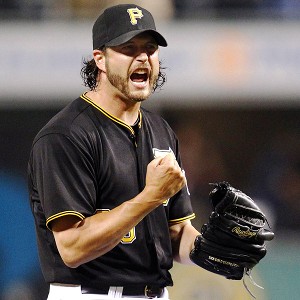 Charles LeClaire/USA TODAY SportsA Jason Grilli save is worth just as much in the standings as any other save, so why pay more than you have to?
Never mind that they're rattling off wins while either three- or four-fifths of their rotation is on the DL. (That depends on how you feel about
Jeff Karstens
' place on the depth chart.) With Burnett and
Wandy Rodriguez
due back from the DL within a week's time, that just means Pittsburgh has the kind of depth in its rotation to sustain big weeks, big months and big seasons, no matter how well or badly its lineup is doing. Add their in-season fixes like switching from the oh-so-glovely
Clint Barmes
to better everyday option
Jordy Mercer
at shortstop, and it's clear the Pirates are willing to fix things on the fly to aim for targets that might once have seemed sky-high.
But that's the thing. As much as things are going right by reaching 50 wins first, for all that, these really aren't your daddy's Pirates. And why is that? How is it that the franchise of Dave Parker, or Roberto Clemente, or Paul Waner, as proud a legacy of right-field greatness as any team this side of Babe Ruth's employers, could be producing a collective .656 OPS before Saturday's action?
That's the lowest RF mark in the National League, the worst among NL corner outfielders (even the
Juan Pierre
-hobbled Marlins), and worse production than 10 teams in the NL are getting from their center fielders. This is even more epically awful when you consider that right field is supposed to be one of your best run-producing slots, with production that bounces around the standard set by first basemen. It is a huge part of the reason the Pirates rank just 10th in the NL in runs scored per game, and it's the most obvious fix that, once addressed, would provide a platform for them to really romp in the second half, something that goes beyond just hoping that the rotation's depth and McCutchen's inevitable monster month carry them.
The Pirates' right-field issue is the biggest problem slot in any outfield in the National League, whether you're just talking contenders or not -- and the Pirates, despite their recent history for second-half fades, have earned the right to be called contenders. So this isn't just something on general manager Neal Huntington's eventual to-do list -- it's important, and it's important
right now
. This is not a problem you solve by getting
Jose Tabata
back from the DL next week; it certainly isn't something you settle for patching up by grabbing
Jeff Francoeur
off waivers and hoping he forgets he's Jeff Francoeur for a few months. This requires a bold stroke in the same way that breaking from two decades of below-.500 baseball demands something more than an 82-win season.
If you think this is a coming-of-age trade deadline coming up for the Pirates, you'd be forgiven for forgetting that Huntington has actually been fairly aggressive at the deadline in recent seasons -- striking deals for Rodriguez,
Gaby Sanchez
and
Travis Snider
last season and
Derrek Lee
and
Ryan Ludwick
in 2011.
So as far as that goes, the Pirates have proven more than willing to play in the inexpensive end of the deadline market when it comes to the self-improvement sweepstakes. But what would it mean if the people signing the checks would pony up the cash to add a premium bat for right field? Everything. Or Nutting.
The Pirates will be defined not by their ambitions, but by their actions. As brilliant as those have been on the field, here's hoping that they're matched by off-field machinations in the month to come. The good folks in Pittsburgh deserve nothing less.
Christina Kahrl covers baseball for ESPN.com. You can follow her on Twitter.
June, 27, 2013
6/27/13
1:00
PM ET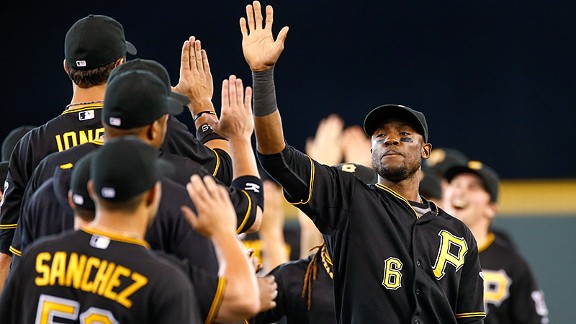 Otto Greule Jr/Getty ImagesThe Pirates began Thursday at 48-30, tied with St. Louis for baseball's best record.
The Pirates -- the
Pittsburgh Pirates
-- have the best record in baseball. In late June.
Want to jump aboard the bandwagon? Here's everything you need to know about baseball's best team (as of this writing).
A -- Andrew McCutchen:
Pittsburgh's center fielder is the face of the franchise. He even made the cover of "MLB 13 The Show" this year thanks to fan voting. And it was legitimate voting, not like when the mean kids in high school vote an unpopular girl prom queen as a prank. Almost all of McCutchen's offensive numbers so far are well off the pace of his 2012 career highs, yet the Pirates are still winning, and winning a lot. This is the most balanced Pirates team in decades -- excluding the many Pirates teams that achieved perfect roster garbage equilibrium, of course.
B -- Base-stealing:
The Pirates have caught 28 percent of attempted base-stealers this year, good for 13th in baseball. What's so great about that? It's a massive improvement over last year, when they were dead last at 11 percent and caught just 19 baserunners attempting to steal -- the lowest total in baseball in 50 years. The reason for the improvement is twofold. New catcher
Russell Martin
has a better arm than
Rod Barajas
, and the organization has decided that ignoring baserunners and focusing solely on the hitter, thereby letting every even mildly ambulatory opposing player who reached first to jog to second, was probably not the best approach. Good thinking!
C -- Cole:
The Pirates drafted
Gerrit Cole
with the No. 1 overall pick in the 2011 draft. He made his major league debut two weeks ago and struck out the first batter he faced on three pitches. He later broke a scoreless tie with a two-run single. With three starts under his belt, Cole is 3-0 with a 3.44 ERA. On Tuesday against the Angels, he became the first starter not named
Justin Verlander
to hit 101 on the gun since 2008. He probably should call Kate Upton.
D -- Division:
The National League Central has long been considered one of baseball's weakest divisions, even though it has produced two of the past seven World Series champions and four of the past nine NL champs. But this season, the Pirates, Cardinals and Reds mean the Central has three of the four best records in baseball. Just imagine if they still got to feast off the Astros 15 times a year.
E -- Errors:
The Pirates have the seventh-most errors in baseball this season, so that's a definite area for improvement.
Errors go both ways
, however, as the Pirates know well.
F -- Francisco Liriano:
The Pirates agreed to a two-year, $12.75 million contract with Liriano in December, but that contract was renegotiated -- under more favorable terms for the Pirates -- after Liriano broke his arm playing with his kids. Liriano is now 6-3 with a 2.30 ERA, 1.28 WHIP and 10.0 K/9. A year ago the Pirates acquired
A.J. Burnett
, who promptly broke his face bunting in spring training and then had a very good season. The lesson is this: If the Pirates sign a veteran pitcher everyone has given up on and then he sustains a comical injury, watch out.
G -- Grilli:
The fourth overall pick by the Giants in the 1997 draft, 36-year-old
Jason Grilli
was given the closer's job this season after Pittsburgh traded
Joel Hanrahan
to the Red Sox. Grilli leads the National League in saves and has an absurd 15.1 K/9. Hanrahan underwent Tommy John surgery in May. It's a strange world when good fortune shines on the Pittsburgh Pirates.
H -- Hurdle:
Manager Clint Hurdle has managed to keep the Pirates positive in the wake of
last season's historic collapse
. Even better, he no longer has the Pirates bunting every time a guy gets on first base.
I -- Inge:
Do the Pirates have the best record in baseball because they are pitching well and getting timely hitting? Or is it because of the INGETANGIBLES provided by
Brandon Inge
? Inge has a .207/.232/.272 slash line, which only further highlights his intangibles.
J -- Jordy Mercer:
One of Pittsburgh's biggest weaknesses was thought to be that
Clint Barmes
provides zero offense from the shortstop position. Barmes has continued to provide zero offense, but now he does it from the bench. Since the 26-year-old Mercer took over at shortstop full time two weeks ago, he has hit .326. While Barmes has a higher OBP than Inge, his name unfortunately doesn't work well with intangibles-related word play.
K -- Kansas City Royals:
If the Pirates finally end their streak of losing seasons -- they need to play just .404 baseball from here on out to do so -- the Royals will take over as the baseball team with the most consecutive losing seasons. In football, the Raiders have the longest streak of .500 or worse seasons, because the Raiders.
[+] Enlarge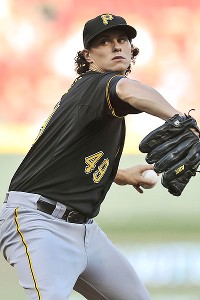 Jamie Sabau/Getty ImagesLefty Jeff Locke could go from maybe-fifth-starter material to the All-Star team.
L -- Locke:
Twenty-five year-old
Jeff Locke
entered spring training as one of the options for the fifth spot in Pittsburgh's rotation. He's now 7-1 with a 2.06 ERA and a 1.11 WHIP and kind of has to be put on the All-Star team. He seems to be holding the team's depth chart upside-down.
M -- "Million Dollar Arm":
"Million Dollar Arm," a Disney film starring Jon Hamm as J.B. Bernstein, the agent who signed Indian pitchers Rinku Singh and Dinesh Patel, is set to be released in 2014. The movie could have an even happier Disney ending if the team that signed Singh and Patel turns out to not be the laughingstock of baseball.
N -- Nineteen Ninety-Two:
It's the year burned into the psyche of every Pirates fan. 1992: The last year the Pirates made the playoffs. 1992: The last year the Pirates had a winning season. 1992: When the sadness began. How long ago is 1992? Jaromir Jagr played in the Stanley Cup finals then. OK, maybe not the best example. But it's a long time ago.
O -- Organizational strength:
Not only do the Pirates have the best record in major league baseball, but their Triple-A team has the best record in
its
league. Baseball America rated their farm system seventh-best at the start of the season, which was before the Pirates brought in two more first-round talents in the June draft. They also have McCutchen signed through 2018. It's going to be really hard to screw this up.
P -- Pedro Alvarez:
The former No. 2 overall pick may never hit for average or even get on base much, but when he does connect, the ball often lands in a faraway land. If you want to compare Alvarez to a great Pedro from baseball history, go with Cerrano.
Q -- Quacks:
The Pirates made news in the offseason when their bizarre practice of putting prospects through a "hell week" of Navy SEALs-style training was revealed. Of course, if the Pirates end the season with the best record in baseball, expect every organization to start doing this. It's a copycat league. Disagree with me and you owe me 75 pushups.
R – Rotation:
In Burnett,
Wandy Rodriguez
, Cole,
Charlie Morton
, Locke, Liriano and
Jeanmar Gomez
, the Pirates have seven solid starters at their disposal, with
James McDonald
and
Jeff Karstens
set to come off the disabled list later this season for a total of nine. When Pirates general manager Neal Huntington took the job, Pittsburgh's rotation featured
Paul Maholm
,
Zach Duke
,
Ian Snell
,
Matt Morris
,
Tom Gorzelanny
and
John Van Benschoten
. An improvement, wouldn't you agree?
S -- Starling Marte:
In his first full season in the majors, 24-year-old leadoff hitter Starling Marte is making headlines with a .340 OBP, 22 steals and eight home runs. His name also has "Star" in it and Marte loosely rhymes with "party," so he is a pun-loving headline writer's dream.
T -- Trades:
Last season, the Pirates made the biggest trade deadline acquisition in their history by getting Rodriguez from the Astros. It was a fine deal for Pittsburgh, but Rodriguez isn't the kind of player who shifts the balance of power in baseball. Making a play for
Giancarlo Stanton
, however, as ESPN.com's David Schoenfield
suggested
? Yeah, that would do it. The Pirates have plenty of prospects and pitching to make a major deal happen. The one downside: If the Pittsburgh Pirates become heavy World Series favorites, the world probably ends. So there's that.
U -- Underwater:
On June 1,
Garrett Jones
became the first Pirates player -- and second player in PNC Park history -- to hit a home run into the Allegheny River on the fly. Pirates ownership didn't even demand that he reimburse them for the lost ball, which is definitely a positive sign.
V -- Voting:
No Pirates are currently on pace to start in the All-Star Game. Is there a better indicator that the team is relevant than getting ignored by All-Star voters? Also, is Cal Ripken still getting All-Star votes? I'm too afraid to look.
W -- Walker:
Neil Walker
is Pittsburgh's second baseman. He is also from Pittsburgh. His nickname is the Pittsburgh Kid. Disparage him in any way at your own risk.
X -- eXplode:
Burnett's rosin bag exploded in Pittsburgh's season opener.
Normally that would be a bad omen for the Pirates. But they played the Cubs that day, so the Cubs probably sucked up all the negativity in the environment like the sponge of failure that they are.
Y -- Yankees:
When Russell Martin signed with the Pirates in the offseason because the Yankees didn't make a comparable offer, he was clearly disappointed to leave the pinstripes. Now the Pirates look clearly superior to the Yankees. There is no one of sound mind who can't enjoy that.
Z -- Zoltan:
The Pirates
make the "Zoltan" sign
-- it's a reference to "Dude, Where's My Car?" ... don't ask -- when they get a big hit. Zoltan also served as the Z in an article very much like this around this very time last season, in which someone wrote that the 2012 Pirates probably wouldn't collapse like the 2011 Pirates because "there are
big differences between the 2012 Pirates and 2011 Pirates
." Ooof. So, yeah. We'll see what happens. All aboard the bandwagon! For now. Know that the exits are clearly marked.
DJ Gallo founded SportsPickle.com and has been a staff writer for ESPN's Page 2 and Playbook.
June, 3, 2013
6/03/13
11:05
AM ET
Some thoughts on Sunday's MLB games and other stuff ...
February, 15, 2013
2/15/13
3:40
PM ET
2012 in review
Record: 79-83 (78-84 Pythagorean)
651 runs scored (10th in NL)
674 runs allowed (7th in NL)
Big Offseason Moves
Signed free agents
Russell Martin
and
Francisco Liriano
. Re-signed free agent
Jason Grilli
. Traded
Joel Hanrahan
and
Brock Holt
to Boston for
Mark Melancon
,
Jerry Sands
,
Ivan De Jesus
and Stolmy Pimentel. Acquired
Clint Robinson
and
Vin Mazzaro
from the Royals. Lost free agents
Kevin Correia
and
Rod Barajas
.
What, you expected the Pirates to sign
Josh Hamilton
,
Zack Greinke
and
Kyle Lohse
? The Neal Huntington regime began in late September 2007. The GM took over a club that won 68 games and has won 67, 62, 57, 72 and 79 games. I guess that's progress. The club he inherited wasn't completely without talent, at least on offense:
--
Jose Bautista
: Traded in 2008 for
Robinzon Diaz
.
--
Jason Bay
: Traded in 2008 in a three-way deal. Pirates got
Andy LaRoche
,
Brandon Moss
,
Craig Hansen
and
Bryan Morris
. Also known as the poo-poo platter (although Moss resurfaced with Oakland last year and played well).
--
Adam LaRoche
: Traded in 2009 for
Hunter Strickland
and
Argenis Diaz
.
--
Freddy Sanchez
: Traded in 2009 for Tim Alderson.
--
Jack Wilson
: Hit .296 in '07. Traded in 2009 with
Ian Snell
for
Jeff Clement
,
Ronny Cedeno
and two minor leaguers.
Look, Huntington took over a wreck of a franchise. The farm system did have
Andrew McCutchen
and
Neil Walker
, but not much else. But Huntington had five players with some value (six if you include
Xavier Nady
, who had a decent 2007), traded all of them, and got nothing in return. That's one reason the Pirates are still where they're at today.
Huntington's first draft pick was
Pedro Alvarez
, the second overall pick in 2008. It took longer than expected, but he finally produced a decent season with 30 home runs in 2012. Still, he's hardly a star, hitting .244 last year with mediocre defense and no value on the bases.
Buster Posey
went a couple picks later. The Pirates selected catcher
Tony Sanchez
with the fourth pick in 2009, a choice widely panned at the time. He hasn't hit much in the minors (.268 AVG/.365 OBP/.403 SLG). With the second pick in 2010, the Pirates selected pitcher Jameson Taillon, who looks good, although
Manny Machado
was the next pick.
Gerrit Cole
was the first overall pick in 2011 and should reach the majors this year. Behind those two upside arms, Keith Law ranked the
Pirates' system seventh overall

.
Will that be enough to save the Huntington regime? After contending into July the past two seasons only to collapse over the final two months, this may be a make-or-break season for him.
As for the offseason moves, it was smart to trade Hanrahan while his value was high, although I don't think the Pirates got much back. Melancon is just another relief pitcher and Sands has a chance to stick as a platoon outfielder. Martin is an upgrade over Barajas, although backup catcher
Michael McKenry
actually had better numbers than Martin, and Liriano has had an ERA over 5.00 in three of the past four seasons, so good luck with that. (And now he'll miss the start of the season after breaking his arm in a freak Christmas accident, the day before he was to fly to Pittsburgh for his physical. Only the Pirates.)
Position Players
Well, McCutchen is pretty good. He may have won the MVP Award if he had better teammates.
The Pirates had four regulars with an OBP under .300 last year, but only shortstop
Clint Barmes
is back in his starting role, and he's there for his glove. Young outfielders
Jose Tabata
and
Alex Presley
flopped, so this year's flavors of the month appear to be Blue Jays former top prospect/washout
Travis Snider
and homegrown
Starling Marte
.
Marte is a 24-year-old with tools, but in his first exposure to major league pitching he struck out 50 times in 167 at-bats and walked just eight times. That approach isn't going to lead to a long and fruitful career, that's for sure. His career walk rate in the minors was abysmal, so I don't see much -- if any -- star potential here. More time in the minors may be needed, giving Tabata another chance at full-time duty.
That approach is Pittsburgh's overall problem on offense: They were fourth in the NL in homers but last in walks drawn, leading to a .304 OBP. Walks are good.
Defensively, the Pirates ranked 24th in the majors at minus-25 defensive runs saved, with Barmes being the only real plus defender. Barajas was terrible throwing out runners a year ago: 93 steals and only six caught stealing (not a misprint).
Pitching Staff
There is some potential here for an above-average rotation if Burnett repeats,
James McDonald
figures out what went wrong in the second half (9-3, 2.57 before the break, 3-5, 7.52 after),
Wandy Rodriguez
pitches like Wandy Rodriguez, and Cole makes a rapid ascension into the big league rotation. Even
Jeff Karstens
isn't a bad No. 5 starter, a soft-tosser who at least doesn't beat himself.
On the other hand, it's still
A.J. Burnett
, McDonald's first half may have been a fluke, Rodriguez could be ripe for a decline, and Karstens isn't really that good. You know things are going bad if free-agent reclamation project
Jonathan Sanchez
appears in the rotation.
The bullpen had a solid 3.36 ERA in 2012, seventh in the NL, but I'm skeptical about a repeat performance. Hanrahan wasn't always dominant, but he blew just four saves each of the past two seasons. Veteran Jason Grilli came out of nowhere to fan 90 in 58.2 innings, so if he pitches like that again he'll be fine as the closer. But guys like
Jared Hughes
and
Tony Watson
are good bets for regression, and I don't see much depth.
Heat Map to Watch
What's amazing about McCutchen's final numbers -- .327 average, 31 home runs -- is that it's easy to forget he didn't hit a home run in April. He did fall off the final two months, hitting .252 in August and .254 in September, as maybe the weight of 24 teammates on his shoulders wore him down. He tinkered with his swing mechanics last offseason and it paid off, especially against fastballs. He hit .363/.423/.676 against fastballs, with 22 of his 31 homers. He had hit .280 off fastballs in 2011. The new revamped swing allowed him to do much more damage on inside pitches.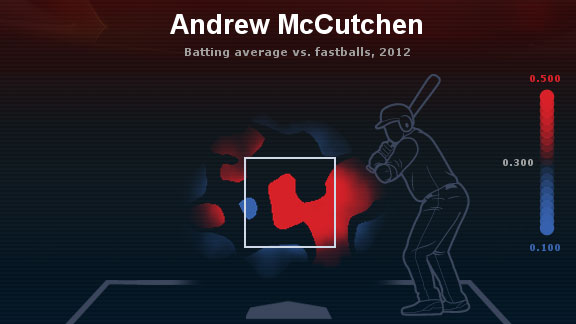 ESPN Stats & InformationAndrew McCutchen feasted on fastballs in 2012, especially those on the inner half of the plate.
Overall Grade

Is this the year? Can the Pirates finish over .500 for the first time since 1992?
I'd like to say yes. I'd like to say that Pedro Alvarez will hit .275 with 40 bombs, and both Travis Snider and Starling Marte will hit .280 (and combine for 40 home runs), and McCutchen will have another MVP-caliber year, and Burnett and McDonald and Rodriguez will win 15 games apiece, and Cole will come up from the minors in May and go 12-5 with a 3.27 ERA.
But I don't see it. The Astros aren't much competition (Pittsburgh went 12-5 against Houston) and the Reds and Cardinals look pretty tough again. But I hope I'm wrong.
August, 19, 2012
8/19/12
10:42
PM ET
By
Jack Moore, SweetSpot network
| ESPN.com
The
Pittsburgh Pirates
can be forgiven for lingering bad memories of 19th innings past. It was the 2011 season that looked like the breakthrough that Pittsburgh has been waiting for since 1992 … until it
all came crashing down on July 26
, as an apparent blown call at the plate gave the
Atlanta Braves
a victory in the 19th frame.
The Pirates entered that game last year at 53-47, tied with the Cardinals for the National League Central lead. Much as they were entering Sunday's game, the Pirates were no lock for the playoffs, but they were right in the thick of things. Fast-forward to October and the Pirates were 24 games out of first. It wasn't a collapse, it was an implosion -- the Pirates were an NL-worst 19-42 after that infamous extra-inning contest.
On Sunday, the Pirates and Cardinals -- along with San Francisco the Pirates' closest rivals for the second NL wild-card slot -- slogged through 18 innings knotted up in an increasingly epic 3-3 tie. Who in Pittsburgh could help but recall the moment that turned last season's seemingly magical campaign on its head?
But then with one out in the Pirates' half of the 19th,
Pedro Alvarez
launched a ball deep into the St. Louis evening. Pittsburgh tacked on two more via an
Andrew McCutchen
single, and then
Wandy Rodriguez
held the lead with a 1-2-3 inning for his
first victory as a Pirate
.
Should the Pirates manage to hold their still-slim lead on the NL's last playoff slot, it will be easy to point at July 26, 2011, and Aug. 19, 2012, as key points in Pirates history. Some will wax poetic about the Pirates breaking free, or of a reversal of franchise fortune. What Aug. 19, 2012, really proves is the quality of this 2012 squad -- far above anything Pittsburgh baseball has seen in recent memory.
Let's not forget the mirage created by the 2011 Pirates' first four months. The lineup featured just four starters with an OPS+ of 82 or lower. The club managed a 3.46 first-half ERA despite a strikeout-to-walk ratio below 2.0 and just 6.2 strikeouts per nine innings. The Pirates' 116 FIP- wound up as the worst mark in the National League. It was, simply put, not a good team.
The differences with the team they're fielding in 2012 begin with Sunday's hero, third baseman Alvarez. Alvarez was easily the worst hitter on the 2011 Pirates, a team featuring 99 games of
Brandon Wood
, 128 games of
Ronny Cedeno
, 100 games of
Matt Diaz
and 121 games of
Xavier Paul
. Alvarez managed just four home runs in 74 games, limping to a 58 OPS+ and an early demotion to Triple-A. Alvarez still strikes out nearly once every three at-bats, but his prodigious power is back -- Sunday's game-winner marked Alvarez's 23rd home run of the season, raising his slugging percentage to .467, nearly 200 points above last year's disastrous clip.
Alvarez is just one component behind the improved lineup --
Garrett Jones
(131 OPS+),
Neil Walker
(123),
Michael McKenry
(140) and obviously McCutchen (180) have all had their say in raising the Pirates' offensive output from 3.8 runs per game in 2011 to 4.2 runs per game this season.
But the biggest improvement for the Pirates has come in run prevention, not run production. The Pirates created their 2011 mirage on pitching and defense. Their 383 runs allowed through the debacle in Atlanta was fourth best in the National League; they nearly doubled that mark in 40 fewer games, allowing a league-worst 329 runs down the stretch.
Adding
A.J. Burnett
to the rotation was key. The bullpen has featured more than just
Joel Hanrahan
this season -- after all, the Pirates' closer and six others combined for 12 innings of nine-hit, one-run baseball in St. Louis on Sunday, with setup men like
Jason Grilli
and
Jared Hughes
lowering their ERAs to 2.38 and 2.51 respectively.
But the real key has been defense. McCutchen could be in the running for a Gold Glove. If
Starling Marte
and
Travis Snider
can return quickly from injuries, they will give the Pirates one of the speediest outfields in baseball.
Clint Barmes
hasn't hit, but his glove has stabilized the always-difficult shortstop position. McKenry saved the game several times Sunday with clutch stops behind the plate.
Overall, the Pirates own a .720 defensive efficiency, meaning they turn 72 percent of batted balls in play into outs. Only Washington, Seattle, Oakland and Anaheim own better marks, with Washington's .723 leading the league. Last year, the Pirates' squad finished 25th in baseball at .700, roughly 10 points below the league average.
Sunday's 19-inning victory against St. Louis showed plenty of things -- heart, perseverance and even some good fortune. But it also showed the one thing that really separates the 2012 Pirates from the 2011 version that faltered down the stretch: Talent. The Pirates still have a long way to go, but this year's team is infinitely better equipped to walk the path and carry Pittsburgh into the postseason for the first time since 1992.
PHOTO OF THE DAY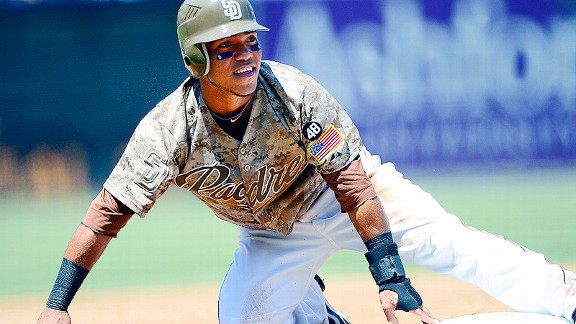 Christopher Hanewinckel/US PresswireThat's Alexi Amarista of the Padres sliding into third base, not G.I. Joe.
Jack Moore's work can be seen at FanGraphs and Disciples of Uecker (a SweetSpot affiliate devoted to the Brewers). Follow him on Twitter @jh_moore.
August, 9, 2012
8/09/12
1:20
AM ET
By
Christina Kahrl
| ESPN.com
In the Pittsburgh Pirates' first 50 games, you had to wonder if they would wind up as the "
Andrew McCutchen
and Friends" show. They were struggling to score three runs per game, averaging 2.9 while playing break-even baseball.
The focus was on McCutchen, then as now, and it'll probably stay there until the day after the 2012 NL MVP award is announced. But as formulas for team-wide offensive success go, one man does not a contending lineup make, at least not easily, even if he is the best hitter in the game. Sure, the '85 Royals and George Brett are a feel-good story if your memory stretches back to those days, but even Brett had help.
Fortunately for the Bucs, things have changed for the better on offense since the first two months, and not just because the bats warmed up with the weather. Their
7-6 win
over the Diamondbacks on Wednesday night was the latest reflection of what's going on. In their 60 games since that slow start, the Pirates have scored 5.2 runs per game, a league-leading clip that would outpace even the Cardinals.
Neil Walker
's five runs driven in on Wednesday, starting with a three-run home run in the first inning, make him the big-number star in this one game. Plating a fistful of runs is consistent with what Walker has been doing, especially from the fifth slot in the lineup: From that lineup perch, Walker was putting up a .901 OPS while plating baserunners at a 19-percent clip, a mark that puts both him and McCutchen in baseball's top 20 for cashing in their scoring opportunities.
Beyond them, this season's lineup has been a work in progress, but one that could be saving its best for last.
Pedro Alvarez
has successfully silenced questions over whether he'd stick by providing some power (if little else). The promotion of
Starling Marte
to step into their hole in left field gives the Bucs another homegrown talent with power in a power hitter's slot; he ripped his fourth homer off the D-backs as he completes his second week in the majors.
These breakthroughs with homegrown talent can make a general manager look brilliant, like this was all a matter of planning and patience. Nevertheless, there hasn't been a stampede to nominate Neal Huntington for a Nobel Prize for baseball just yet. You can also argue he'd already achieved his one masterstroke with the pitching staff this spring when he struck a bargain to liberate
A.J. Burnett
from a chamber of horrors in the Bronx; how many miracles do you want in a single season? And at the deadline, Huntington didn't make the big, splashy move.
In fairness, he didn't need to; Marte was on the way. But Huntington did not just settle for letting his farm crop ripen. What he didn't do in terms of making a name for himself he might have achieved more quietly, and more lastingly, than any deadline headline. Getting
Travis Snider
from the Blue Jays might turn into a coup. (However disappointed the Jays might have been in him, he's a 24-year-old with the power to play in a corner, exactly the kind of hitter the Pirates could employ during this stretch and for years to come.) While Snider's outfield glove has been described as DH-worthy, that's a risk the Pirates were already willing to run, after playing first baseman
Garrett Jones
in right field. Now Jones is back at first base, platooning with the just-acquired
Gaby Sanchez
.
Huntington has wound up with a significantly different, yet better lineup than the one he started with, and that's what a smart GM is supposed to achieve in-season. The Pirates now feature two young power-hitting outfielders in the corners, and a young-vet first-base platoon that didn't cost them anything significant to construct. Plant that around the core of McCutchen and Walker and Alvarez, and you wind up with a lineup that's strong enough to sustain their in-season growth.
Say the Pirates keep up their current clip of scoring down the stretch -- they may not finish the year any higher than seventh in total runs scored, which sounds mediocre but discounts the kind of team they're becoming. And that's because of that slow start, with players such as
Jose Tabata
or
Alex Presley
playing every day. They might also be watching October's action from the bench, if not a couch near you.
This year's Pirates may be a ways away from breaking out in refrains of "We Are Family." But as Sister Sledge said, have faith in you and the things you do. By lining up a few more bats worth having faith in, McCutchen can look forward to getting more than a little help from his friends.
* * * * *
As post-cool as batting average might be among stats, McCutchen's current .370 clip is the highest from anybody since
Barry Bonds
also hit .370 in 2002. It's the highest single-season average for a right-handed batter since Nomar Garciaparra's .372 in 2000. The last right-handed hitter to hit .370 or better in the NL was the Big Cat,
Andres Galarraga
, for the Rockies in Denver back in 1993.
To find a right-handed hitter in the NL who delivered an average so high that didn't involve doing it at altitude, you have to go all the way back to Joe Medwick in 1937. Whatever your complaints are about batting boosts from the PED era or a mile-high setting, the competitive environment of the small eight-team, all-white leagues of the '30s was such that you might even asterisk Ducky's big year as well. Simply put, McCutchen's season already looks like one for the ages.
PHOTO OF THE DAY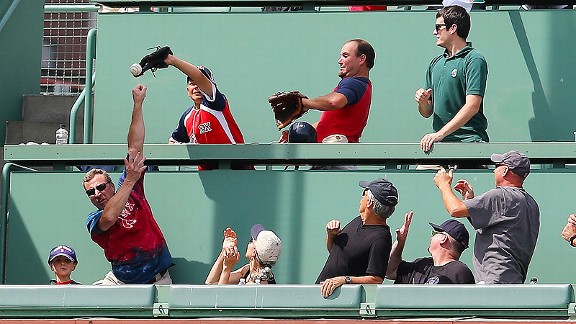 Jim Rogash/Getty ImagesCody Ross' home run didn't go to the top of the world, just the top of the Green Monster.
May, 19, 2012
5/19/12
12:35
AM ET
By
Christina Kahrl
| ESPN.com
Justin Verlander
very nearly pulled off a no-hitter against the Pirates, which would have been his third career no-hitter. Two outs shy of the feat, the Pirates'
Josh Harrison
waved his bat in time to flick a soft liner up the middle, thwarting the top gun's bid for history.
If Verlander had pulled it off, he would have joined a very short list of people with more than two career no-nos, a select group populated by just five other men in baseball history: Nolan Ryan (seven), Sandy Koufax (four), and Cy Young, Bob Feller and Larry Corcoran with three apiece.
On a visceral level, it's a group he belongs to, but it's also one that might really become just a list of two men before Verlander's done with it. Not because Verlander's a 100 percent lock to throw another no-no (although these days, would you bet against him?). Rather, as a matter of his ability in the face of a time when -- even if you consider this "Year of the Pitcher 3," even while strikeouts are at all-time highs -- it still isn't that easy to dominate, not like this. But before all is said and done, it shouldn't surprise anybody if the top of this list might be just Nolan Ryan and Justin Verlander before Verlander is done with it.
That isn't meant to take anything from the other men on this list. However, as a matter of simple fact, they were competing at different times, confronting very different challenges in very different competitive environments. Corcoran was throwing from 10 feet closer to home plate, back under the old pre-60-feet-6-inches rules in the 19th century, and in all-white leagues. Cy Young was pitching during the dead ball era, when he was throwing something dark, lumpy, and vaguely baseball-ish. Feller threw two of his no-hitters before integration -- a cause that he bravely championed before it was an accomplished fact -- was at long last achieved. Koufax had the high mound of the 1960s going for him, and that plus the Dodgers' move to pitcher-friendly Dodger Stadium helped him as he mastered his incredible talents for overpowering people.
Pitching in today's game, Verlander doesn't have any of those things going for him, any more than Ryan did during his remarkable career. Take it from somebody stupefied as a youngster that Mike Warren had no-hit the White Sox back in 1983: You can't predict no-hitters from anyone. But if Verlander was to add one, let alone two no-hitters on his career, wouldn't that seem like a matter of his talent delivering its due?
On the other hand, Verlander is pitching at a time when there are other advantages and disadvantages. Interleague play gives you a shot at pitching to opponents who might only know you from spring-training scrimmages and "Baseball Tonight" highlights. Only four Pirates in Friday night's lineup had ever faced Verlander in a game that counted:
Andrew McCutchen
,
Casey McGehee
,
Neil Walker
and
Garrett Jones
.
Also, it probably didn't hurt Verlander any that this was an interleague game. The extent to which some teams are less ready than others for interleague play might be best reflected in their lineup choices. Going up against Verlander, who was the Pirates' designated hitter? None other than Harrison, who came into the game with a .256/.275/.436 line on the year. In an increasingly desperate yet fruitless pursuit of runs, the Bucs have sat Opening Day left fielder
Alex Presley
, on the off-chance that getting journeymen McGehee and Jones into the lineup simultaneously will help matters. You can't really blame Verlander for mowing the Pirates down; pitting Pittsburgh against one of baseball's best starters has "historic result" potential any written all over it.
But even saying that takes nothing away from Verlander. The Pirates are a big league team, and it isn't like anyone in their lineup clearly doesn't belong in the major leagues. McGehee had homered off Verlander before; McCutchen had ripped a couple of doubles.
Those four Pirates who had faced Verlander before were a combined 5-for-14 against him coming in -- and fat lot of good that did them, because he was
on
. Even in an age armed with advanced scouting and video-enhanced batting cages for virtual at-bats, when a guy this good is on, let's face it, you're off. And knowing all that we do about how hard it is to no-hit anybody even once, that's as beautiful a thing as the diamond can give us, on this or any night.
PHOTO OF THE DAY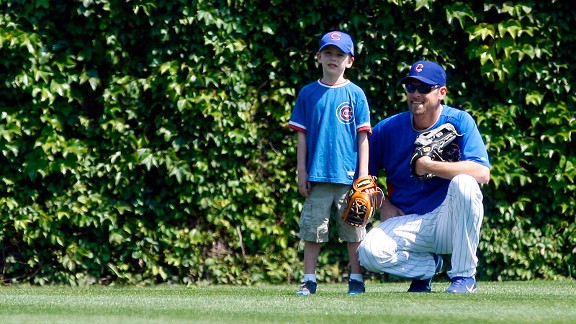 Jerry Lai/US PresswireOn his very last day at the office, Kerry Wood took his son to work.
June, 4, 2011
6/04/11
12:00
PM ET
By
Christina Kahrl
| ESPN.com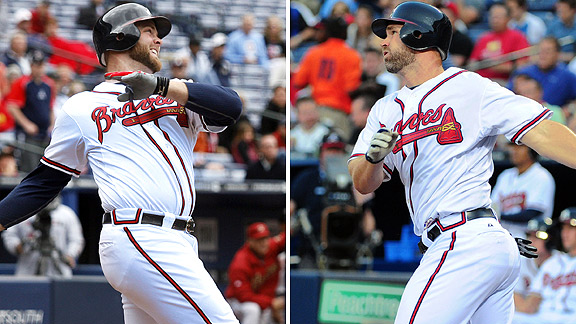 US Presswire/Getty ImagesThe lefty/righty catching platoon of Brian McCann and David Ross has been the NL's best this season.
If the American League has very few stable platoons but a few identifiable platoon players getting work, is the National League any better off? Even with today's bigger bullpens, the absence of a DH gives NL skippers and GMs a little more freedom to carry a player whose primary value is to platoon, since they have five reserves, so even if one is a catcher and another is someone who can play short, that still leaves space for the odd guy. Say, that journeyman who can knock a situational lefty right out of the box, or who can help put up a crooked number against that tiring right-handed starter in the fifth or sixth inning. And it doesn't hurt that these kinds of guys are handy for double-switches.
As in the American League, you find a few catching platoons of convenience, in which the backup backstop bats from the other side and conveniently gets his starts on the days the starter needs a rest. The Braves' setup with
Brian McCann
and
David Ross
is the best of the lot, but when Atlanta afforded itself Ross, it did so knowing it was getting more than a platoon player. The Mets' young/old and lefty/righty combo of
Josh Thole
and
Ronny Paulino
has its virtues. Charlie Manuel has the benefit of a slight inversion of the paradigm when
Brian Schneider
is healthy -- a lefty-batting backup is a lot easier to spot when
Carlos Ruiz
really does need a rest, since most pitching is right-handed -- but he's on the DL.
Stable platoons beyond those behind home plate are surprisingly limited in the Senior Circuit. I'd divide the current group of platoons in the league into three groups: committed, accidental and diffident, reflecting the level of planning and commitment that went into constructing them, and whether or not they're going to last more than a couple weeks.
Among the few we'd call committed, Clint Hurdle's stolidly running out his right-field combo of
Garrett Jones
and
Matt Diaz
. It isn't hitting all that well, but that was the plan, and so far, they're sticking with it. The Phillies anticipated a right-field platoon before the season, but
Domonic Brown
's injury kept that from becoming a reliable feature of Manuel's lineup cards until recently, pressing
Ben Francisco
back into an everyday role he handed back.
[+] Enlarge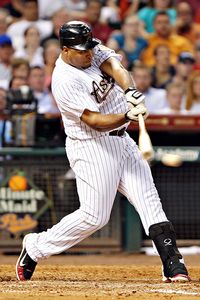 Troy Taormina/US PresswireThe Astros are 10-8 against lefties this season, which could be partly because that matchup allows them to move Carlos Lee out of left field.
In the infield, San Diego manager Bud Black has been reliably sticking with
Brad Hawpe
and
Jorge Cantu
as his first-base arrangement, but there's only so much Can'tu at the plate that even the Padres can endure. The rare multi-position platoon that's a matter of design, but also a certain diffidence is found in Houston, where Brad Mills is moving
Carlos Lee
between left and first base, but not every time out.
Brett Wallace
sits against a few lefties,
Jason Michaels
plays left and Lee moves to first and keeps getting to play every day. The 'Stros might have a 10-8 record vs. lefties, but getting Michaels into the lineup isn't the reason why. But re-potting the increasingly immobile Lee someplace other than left field might be a contributing factor.
Alone among their NL brethren, the Marlins have stuck with an infield platoon someplace other than first base, and they platoon at third without actually finding a set right-handed half of the platoon. Edwin Rodriguez has damned the defensive torpedoes to run
Greg Dobbs
out there every day against right-handers, while leaving his partner du jour as a matter of mystery -- sometimes it's
Wes Helms
, sometimes it was
Donnie Murphy
, and now sometimes it's the roving
Emilio Bonifacio
. Those happy few who root for the Teal Deal are no doubt on their seat's edge when their Fish face a lefty.
Among the accidental platoons, three NL West teams have setups they didn't necessarily expect. To the credit of both Bruce Bochy and Black, they've proven reliably willing to platoon, and they're assembling new ones on the fly after their initial designs broke down. Black got plenty of mileage out of his outfield platooning last year, but
Will Venable
flopped this spring, handing back his half of the right-field job. In his desperation, Black is pairing
Eric Patterson
with
Chris Denorfia
, which isn't helping matters.
While Bochy isn't trying anything quite as inspired as last year's mid-season lineup platoon between
Travis Ishikawa
and
Aaron Rowand
-- with
Aubrey Huff
moving to the outfield against righties and returning to first base against lefties -- he has been aggressive in getting
Nate Schierholtz
into the lineup against right-handers while playing
Cody Ross
daily. Rowand is getting platoon time with
Andres Torres
in center, but
Pat Burrell
hasn't been entirely reduced to Schierholtz's platoon partner.
Then their is the Dodgers' Don Mattingly. Some combination involving
Jay Gibbons
in left field was probably going to be part of the program at the outset, but Gibbons' spotty health, a passing interest in
Tony Gwynn
's speed, and
Marcus Thames
' breakdown opened up an opportunity for first baseman
Jerry Sands
to win the job. But like so many other thundersticks from Albuquerque in Dodgers history, his stick fell still in Chavez Ravine, and now Sands is in an accidental platoon with Gibbons until they decide there's a better alternative.
Injury created the Braves' temporary replacement platoon setup for
Jason Heyward
, as the
Eric Hinske
/
Joe Mather
platoon is working out nicely -- but it's also clear that pair will head back to pine time as soon as Heyward's healthy. In contrast, some managers look like they'd like to platoon more, but injuries have gotten in the way. The Brewers' Ron Roenicke appears committed to a
Nyjer Morgan
/
Carlos Gomez
platoon in center because of the speed 'n defense combo it provides, but Morgan's injury got in the way at the outset. If it sticks, that's the circuit's lone platoon arrangement up the middle someplace other than catcher.
The Pirates' loose platoon at the infield corners reflect what I mean by "diffident platooning." In contrast with his greater faith in his right field platoon, at the infield corners Clint Hurdle's sort of futzing around with
Steven Pearce
at both first and third vs. lefties to give him something to do, and sometimes
Brandon Wood
gets time at third. But it isn't an everyday sort of devotion, and has as much to do with
Pedro Alvarez
's career-stunting slow start and
Lyle Overbay
's offensive indifference than any abiding faith in Pearce or Wood.
I'd also chuck Kirk Gibson's first-base set-up into this category as well --
Xavier Nady
and
Juan Miranda
are platooning, sort of, but Gibson isn't exactly being a stickler about it. Since neither are hitting the people they're supposed to, and since neither plays first base all that well, it's more first base by coin toss at gunpoint than a straight platoon.
Platooning isn't automatically a good idea, after all, and if as Casey Stengel put it, "I could'na dunnit widdout the players," that's just as true today -- skippers can only use what they've got, no matter how clever they might be in how they employ it.
Christina Kahrl covers baseball for ESPN.com. You can follow her on Twitter.
September, 22, 2010
9/22/10
10:29
AM ET
Baseball Management 101, via
Dejan Kovacevic
:
So, Garrett Jones thinks he can be more than a platoon player?

You can read about that it in the Notebook below, but I will add here that all concerned, the Pirates and Jones, would do well not to affix or accept labels prematurely. And then, if the Pirates do affix such labels, they should not take umbrage when the athlete thinks he can do better.

Any of this ring a bell?

In the summer of 2008, just before a morning workout at Wrigley, Jose Bautista was told by John Russell that he had lost his job to Andy LaRoche. This was what Bautista told me that morning in the visitors' dugout.

Seem harmless?

Nevertheless, the Pirates, by several accounts, took umbrage that Bautista expressed that he still saw himself as everyday material, almost as if it were an act of insubordination.

Then, Bautista was sent to the minors.

Then, after Bautista did very well in the minors, he was traded to Toronto for third-string, since-released catcher Robinzon Diaz.

You know the rest.
The Rest: Diaz signs with Tigers, posts .269 on-base percentage in Triple-A; Jose Bautista leads Major League Baseball in home runs.
Oh, and in case you didn't click: That morning in the dugout, Bautista told Kovacevic, "If there's a reason for my demotion, I don't have one. They really didn't give me one."
That's his side. And frankly, while we have some idea of what Bautista told Kovacevic, we have no idea what Bautista might have said to management. Still, you can understand if he was frustrated. At the time, his .251/.326/.421 line wasn't anything special ... but at the same time, Andy LaRoche's line in 62 games with the Dodgers was less special: .217/.348/.316.
Of course, at the time I
loved
that move for the Pirates. I loved LaRoche's fantastic minor-league numbers, and was convinced that all he needed was a real chance to play.
You know the rest of that, too. The Pirates were wrong. I was really wrong. Jose Bautista's leading Major League Baseball in home runs.
Maybe, as Kovacevic suggests, there's a lesson in here for the Pirates about letting players express themselves. I hope there's a lesson for me in here, about the unpredictability of young men playing a difficult game.
Granted, Garrett Jones
does
have a .245 career OBP against lefties ...