February, 22, 2013
2/22/13
9:00
AM ET
By
Mark Simon, ESPN Stats
and
Information
| ESPN.com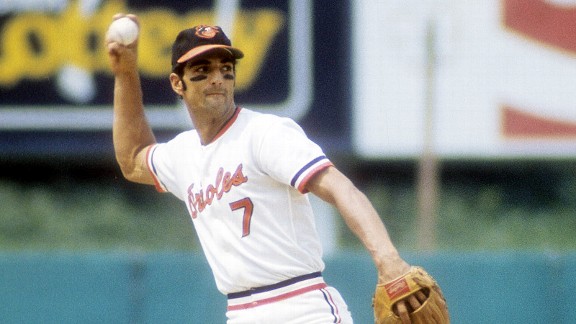 Focus on Sport/Getty ImagesMark Belanger was an eight-time Gold Glove winner with the Orioles.
Everyone has things they like to do to kill time during the baseball offseason, particularly on days in which massive snowstorms blanket the East Coast. Our editor, Dave Schoenfield, likes to make lists of things like the best one-season wonders.
In my case, I like to fiddle with and look more closely at advanced defensive numbers.
That got me to thinking of a little project, albeit an obscure one: What was the best individual defensive season in each team's history, strictly from a statistical perspective?
This can be done, thanks to the wonder that is
Baseball-Reference.com
.
Through 2002, B-R's metric of choice is Sean Smith's Total Zone runs, a statistic that can be tracked throughout baseball history (a full explanation on which
can be found here
.) It's one that checks out reasonably well from our initial examination.
From 2003 to 2012, Baseball-Reference uses the metric we use -- Defensive Runs Saved. Both those stats have the same goal: To estimate the value of a player's defense in runs as opposed to something such as fielding percentage.
It is a painstaking process to go through all 30 teams. So I picked out my 10 favorites and thought I'd share them.
Baltimore Orioles: SS Mark Belanger, 1975 (35 Defensive Runs)
One of the reasons to feel good about the Total Zone metric is that it often (though not always) passes the smell test.
It does so, perhaps no better, than with the Orioles. Of the top 11 stat-based defensive seasons in Orioles history, all belong to either Belanger, Brooks Robinson, Paul Blair or Bobby Grich, each of whom was regarded during his time as a defensive superstar (Grich's four Gold Gloves are the fewest among them).
Belanger's 1975 tally ranks best ever by any shortstop on any team.
Cincinnati Reds: 2B Pokey Reese, 1999 (29 Defensive Runs)
Scouts and stats agreed on the greatness of Reese at that time in his career, when he won a pair of Gold Glove Awards for his defensive excellence.
An article in the Cincinnati Enquirer that year assessed Reese by each of four defensive tools -- range, positioning, footwork, and arm strength, showing what made him so good. It also included this quote from Reds scout Johnny Almarez:
"With Pokey, it's like a sixth sense. It's almost like he knows where the ball's going before it's hit."
Kansas City Royals: LF Willie Wilson, 1979 (25 Defensive Runs)
Of the top four seasons in Royals history, Wilson has three of them (
Alex Gordon
's 24 Runs in 2012 is the other). He racked up at least 20 Defensive Runs four seasons in a row, largely because his speed allowed him to catch up to a lot of flyballs in spacious Royals Stadium.
Wilson averaged 2.77 putouts per nine innings as a left fielder, the best by anyone for as far back as range factor per nine could be tracked (since 1954).
Milwaukee Brewers: LF Greg Vaughn, 1993 (20 Defensive Runs)
This is a misprint.
Actually no, we're surprised to say it isn't. This is by far the biggest outlier on our list. Since 1969 (the Brewers' first season, when they were still the Seattle Pilots), there have been 222 seasons in which a player accumulated either 20 Total Zone Runs or 20 Defensive Runs Saved. Vaughn's is the only one in Brewers history.
Vaughn somehow racked up 20 Defensive Runs despite being used as an outfielder in fewer than 100 games, with putouts and assist totals that were pedestrian. He didn't have any seasons that came close to approaching this. His next-best was six Defensive Runs for the 1999 Cincinnati Reds.
The best possible means of explanation I can come up with (beyond Greg Vaughn breaking into cyberspace and tinkering with his metrics) is that the Brewers don't have a history of defensive greatness.
Of the nine Gold Glove Awards won by the franchise, seven came by first basemen George Scott or Cecil Cooper. And it's rare that first basemen run up the amazing defensive numbers of some other positions.
Anyways. If you don't buy it, we completely understand. Second-best was a tie between shortstop Robin Yount (1981) and catcher
Jason Kendall
(2008). Each finished with 19 Defensive Runs.
Montreal Expos/Washington Nationals: C Gary Carter, 1983 (27 Defensive Runs)
This is the rare instance of a catcher topping the list. In fact, No. 2 in Expos/Nationals history is a 24-run season by Brian Schneider in 2004.
How does a catcher go about saving 27 runs in a season?
That year, Carter threw out 70 of 156 would-be basestealers. His 45-percent success rate led the majors, as did his six catcher pickoffs. That caught-stealing rate was impressive -- it was 12 percentage points better than the major-league average.
Lastly: the Expos' ERA with Carter behind the plate was 3.52. Without him, it was 3.86.
Oddly, Carter won the Gold Glove every year from 1980 to 1982, but lost out to Tony Pena in 1983.
New York/San Francisco Giants: 2B Hughie Critz, 1933 (32 Defensive Runs)
This is the educational portion of this article. I'll admit to never having heard of Hughie Critz before I began this project (I was guessing the answer here was going to be Willie Mays).
Critz was a second baseman, and a pretty good one, from 1924 to 1935. He was runner-up for the MVP with the Reds in 1926, in the days before the BBWAA voted and it must have been for his defense, because Critz finished the season with an 87 OPS+ and only seven steals.
Critz was traded to the Giants in 1930 and helped the 1933 Giants win the World Series. Not long after the deal, Metropolitan Newspaper Feature Services put together an argument that the Giants had the best infield ever (69 years before the 1999 Mets).
In the article, Critz is described as "a million dollar fielder."
That's good enough for us.
Oakland Athletics: CF Bill North, 1973 (25 Defensive Runs)
North wasn't the star of stars like Reggie Jackson and Catfish Hunter were on those Athletics teams. But he played an important undervalued role, both with his ability to get on base (.376 on-base percentage) and his defense.
There is a great anecdote in Tim Herlich's internet biography of North on the SABR bioproject website:
"Always taking pride in his defense, North attended the pitchers' meetings to find out how they were going to pitch to opposing batters. Before computer models were developed to dictate placement of the outfielders, Bill ran the A's outfield and made those decisions. 'I took running my outfield very importantly. That's part of the reason we had good outfield defense.'"
San Diego Padres: CF Darrin Jackson, 1992 (30 Defensive Runs)
Spots two through four on this list are held by who you would expect -- Tony Gwynn and Ozzie Smith. But the top honor goes to Jackson for his 1992 season, the only year in his career in which he played more than 122 games.
Internet searches produce quotes from the likes of Don Zimmer saying that Jackson was a great defender: "This was a year in which everything came together and he was able to show just how great he could be."
Jackson was significantly better than his peers in throwing out baserunners. He led major-league outfielders with 18 assists and nine double plays (no one else in the NL had more than four).
Seattle Mariners: CF Ken Griffey Jr., 1996, and CF Franklin Gutierrez, 2009 (32 Defensive Runs)
For the most part the advanced defensive metrics are not kind to Griffey Jr., particularly on the downside of his career. But the early days rate pretty well, 1996 more so than any other (his next-best seasons are 1997 with 15 runs and 1995 with 14 runs).
It took a herculean effort by Gutierrez in his first year as an everyday center fielder to catch him, including home run robberies of
Jason Kubel
and
Mark Teixeira
.
Gutierrez's ranking (one that rates well across the board regardless of your advanced stat of choice) was the product of his ability to run down the balls hit to the deepest parts of spacious Safeco's center field.
Texas Rangers: 3B Buddy Bell, 1979 (30 Defensive Runs)
The all-time leaders in Total Zone runs for third base is a great list. Brooks Robinson leads the way, but Bell ranks a very solid second ahead of Clete Boyer, Robin Ventura and
Scott Rolen
Bell won six Gold Gloves in his career, though he didn't win any until he arrived in trade from the
Cleveland Indians
in 1979.
Bell got to balls at a considerably higher rate than his peers (3.48 putouts + assists per 9 innings compared to league average of 3.07) and limited his mistakes.
It only took the Rangers a couple of weeks to realize what they were getting. Hall of Fame teammate Ferguson Jenkins paid Bell a strong compliment:
"The thing I'm happy to see is nobody is comparing Buddy Bell to anybody. When a great defensive player comes along, people are always comparing them with somebody else. With third basemen, it's always Brooks Robinson. But I haven't heard any comparisons with Bell. That's good, because Buddy Bell is Buddy Bell and that's enough."
February, 21, 2012
2/21/12
2:58
PM ET
Pitchers and catchers report this week, and this week's edition of the
Baseball Today podcast
(with Mark Simon and fill-in guest Steve Berthiaume) touches on everything you could want in a spring training preview.
Mark and Steve react to the news of the day. Steve loves the Manny Ramirez signing for the Athletics and wonders what took everyone so long. Mark touts Raul Ibanez's power as a perfect fit for the Yankees.
With so many older players in the news, Mark and Steve select an Elderly All-Star Team ... the best players in the majors, 35 and older. The likely soon-to-be-retiree Mariano Rivera heads the class. But Steve has a particularly smart selection for his hitter choice.
Mark and Steve run the gamut on spring training question and answer, going through best/worst signings, players to watch and why to watch them, and sleeper team to watch. Steve and Mark both like the same team in the AL Central, with Steve arguing that that team is one player away from being a serious contender. Also, Steve and Mark each have a player to watch that you may have never heard of -- Steve's choice is a Diamondbacks reliever while Mark goes with baseball's best Harvard rep.
We only get to one e-mail, but it's a doozy -- the All-Presidents team in honor of President's Day.
Mark and Steve each share their thoughts on Gary Carter and Steve provides some baseball book reading for the end of winter. It's all in a 55-minute jam-packed show!
July, 7, 2011
7/07/11
6:15
PM ET
By
Christina Kahrl
| ESPN.com
The
news has broken
that Hall of Fame manager Dick Williams passed away today. He was 82 years old, and was one member of a generation of dugout greats, and with the loss of Sparky Anderson last November and Chuck Tanner in February, it's a generation whose ranks have taken a few too many hits in recent months.
[+] Enlarge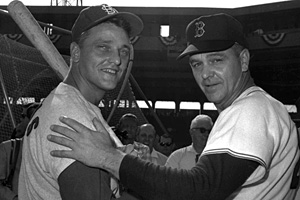 AP File PhotoFormer Red Sox manager Dick Williams, right, chats with St. Louis outfielder Roger Maris before Game 2 of the 1967 World Series. Williams made a career of rebuilding downtrodden teams.
Williams is perhaps best remembered as the manager of the "Impossible Dream" team in Boston in 1967, that Red Sox squad that took the Cardinals all the way to seven games in the World Series before coming up short. Williams set a precedent there for the kind of manager he would be, placing his faith in young talent; in Boston, he gave Reggie Smith and Sparky Lyle their first big breaks.
But the Red Sox would not be his last or best team, let alone mark his last visit to the World Series. Fired by Boston at the tail end of the '69 season -- in part for his authoritarian tendencies as a skipper -- Williams went to Oakland and took over as the firm hand perhaps perfectly suited to run the rowdies and rebels of the Big Green Machine dynasty of the early '70s. The A's won consecutive World Series on his watch in '72 and '73 before winning a third in a row under his replacement, Alvin Dark. After dealing with larger-than-life personalities like Reggie Jackson and Vida Blue on the field and team owner Charlie Finley off it, he finally resigned over team owner Finley's meddlesome, disgraceful attempt to humiliate and deactivate Mike Andrews for poor fielding during the course of the '73 Series.
Williams did not always have the magic touch -- there was nothing he could do in his next job to get the California Angels into contention in 1975 or '76 before he was fired in July, but he did break in long-term big-leaguers like Jerry Remy, Dave Collins, and Ed Figueroa. However, his setback in Anaheim freed him for the next signature gig in his career, his multi-year run managing the Montreal Expos from 1977 to 1981, helping drive them to second-place finishes in '79 and '80. He once again got fired in the middle of the '81 stretch run with his team in the race and 27 games left to play, an event as shocking then as Ned Yost's firing by the Brewers in the middle of the 2008 stretch run was in the recent past; Williams' hard hand running the club had worn thin again. But in Montreal, he was the manager with the good sense to get Gary Carter out of the outfield and back behind the plate as an everyday catcher, setting the Kid on his own Hall of Fame track. Moving Carter helped make space for future Hall of Famer Andre Dawson in the outfield, and in Williams' last season in Montreal he installed the eventually Hall-worthy Tim Raines alongside Dawson. Williams also oversaw the breakthroughs of an incredible batch of pitching talent: Scott Sanderson, Bill Gullickson, Charlie Lea and David Palmer, for starters.
A free agent again, Williams next landed in San Diego for the '82 season. In three years, he'd won another pennant, again by installing a crew of young pitchers (notably Eric Show, Dave Dravecky and Andy Hawkins), a speedy leadoff threat in Alan Wiggins, Kevin McReynolds in center and yet another Hall of Famer,
Tony Gwynn
, in right. Williams also got to supplement that squad with famous discards from more famous teams: Steve Garvey of the Dodgers, and Goose Gossage and Graig Nettles from the Yankees, but it only took one more season before Williams was forced out, reportedly by Jack McKeon and others in the front office.
Williams would finish his MLB career in the dugout unsuccessfully trying to turn around the Mariners -- but installing a future All-Star in Harold Reynolds at second base -- and then put in time in the Senior Professional Baseball Association, a league that operated in 1989-90 that was populated by former big-leaguers aged 35 and older. He "retired" to years spent as a special consultant to George Steinbrenner, one of many great baseball minds who the Boss has employed in that sort of gig over the years.
Williams' legacy for delivering winners, turning teams around, and breaking in young players is exceptional, and clearly places him among the front rank of baseball's best skippers. It came with the price of a man whose heavy-handed brand of leadership tended to make him unpopular within a few seasons, but it was a price teams were understandably willing to pay given Williams' ability to deliver.
At a time when some sabermetricians still favor the notion that managers don't matter, Williams serves as a great example of the reasons why and how they do, not simply via in-game tactics but more importantly in their ability to determine who plays and why. If you're interested in investing something more than just memory to Williams and his legacy as a manager, you could pick up a copy of Williams' biography,
No More Mister Nice Guy
(written with Bill Plaschke), which is well worth having on your shelf to understand where he was coming from, in Boston in '67 or in Seattle 20 years later, and at all points in between. For a fine take of his virtues as a skipper, you can also check out Chris Jaffe's
Evaluating Baseball Managers
.
Christina Kahrl covers baseball for ESPN.com. You can follow her on Twitter.
May, 23, 2011
5/23/11
3:50
PM ET
I wanted to say a few words about Gary Carter, who over the weekend issued a statement saying doctors have found four small tumors on his brain and he will have further tests this week.
[+] Enlarge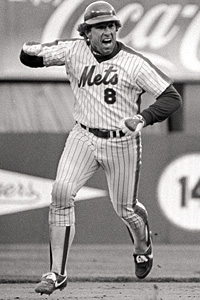 AP Photo/Ray StubblebineDuring his peak, former Mets catcher Gary Carter produced statistics that compare to the all-time greats at his position.
Carter was one of the iconic players of my youth, a power-hitting catcher with a rifle for an arm. Even though he appeared on the
cover of the 1983 Sports Illustrated baseball preview issue
-- with a headline proclaiming "The Best In The Business" -- Carter always seemed somewhat underrated until he was traded by the Expos to the Mets in 1985. He had two excellent seasons with the Mets, leading the club to the 1986 World Series championship (his two-out single in the 10th inning of Game 6 started the three-run rally) and finishing sixth and third in the MVP voting. Those two seasons seemed to bring him more attention than he ever received in Montreal. Much like Johnny Bench, however, the grind of catching caught up to him and while he played until he 38, he wasn't too productive his last six seasons. If you remember Carter, you might only remember those final seasons when he couldn't hit, couldn't run and his throwing arm had deteriorated. All he had left was the personality that led teammates to call him "The Kid" (which wasn't always meant in a positive manner).
That's why if you're younger than 30, you might not realize how
good
Carter was at his peak. In doing some research for a post on Jorge Posada last week, I looked up the eight-year peak value for the
best catchers of all time
.
Not surprisingly, Johnny Bench had the highest WAR (wins above replacement level), according to
Baseball-Reference.com
, at 49.2.
But guess what? Gary Carter matched him with a 49.2 during his best eight-year peak.
Here are their numbers during those eight-year peaks:
Now, admittedly, something about the numbers don't exactly add up: Bench rates as the slightly superior offensive player (43.4 WAR to 38.5), but Carter trumps him in defense (10.7 WAR to 5.8). Carter was a legitimately outstanding defensive catcher while with the Expos -- as you can see by his 41 percent success rate in throwing out basestealers. But Bench had an even better caught stealing percentage (49 percent). Why the difference in defensive value? I'm not exactly sure, but it might come down to opportunity: Carter had 1,171 stolen base attempts against him during this period; Bench had just 531. While some of that is attributable to the run-happy era in which Carter played, some of that is attributable to the fact that runners just didn't try to steal on Johnny Bench.
Anyway, my point is that I don't think anybody puts Carter in the same class as Johnny Bench, but he deserves to be right there alongside him, or at least
thisclose
. Even when we stretch that peak period to 10 years, Carter comes in at 58.0 WAR, Bench at 57.8. Bench had about three more good seasons than Carter and that does give him the edge in career value.
And yet ... when Johnny Bench entered the Hall of Fame ballot in 1989, he received 96.4 percent of the vote, one of the highest totals ever. Gary Carter received 42.3 percent and it took him six seasons to get elected.
Carter will go undergo more tests at the Duke Medical Center on Thursday. Let's hope the news is positive.
January, 8, 2010
1/08/10
1:57
PM ET
Honestly, I can't remember seeing the baseball writers as worked up about anything as they are about
Roberto Alomar
. Here's Ken Rosenthal with a fairly
representative opinion
:

Our membership is too bloated, too riddled with voters who do not take the process seriously enough to educate themselves properly.

Oh, we usually get it right, and we'll surely get it right next year with Alomar, who fell short by only eight votes. But the eligibility requirements for voters need to be tightened before worse mistakes are made.

To vote for the Hall, a writer must be a 10-year member of the BBWAA. But one sports editor from each outlet also is eligible, and so are feature writers and current or former columnists who rarely attend games.

The sports editors should be eliminated immediately; they simply do not develop the same feel for the game as writers who cover the sport regularly. Drawing the line on feature writers and columnists would be more difficult; many columnists, in particular, are astute observers of the game. But somehow, the local chapters need to police their memberships more diligently. There has to be a better way.

--snip--

Virtually every voter I know is honored to participate in the process. Virtually every voter I know considers the ballot a tremendous responsibility. It's the voters I don't know — the ones I never see at ballparks — who worry me. I fear that some do not give the candidates the consideration they deserve.

The BBWAA has done a fine job in recent years of adding Web-based writers, including several whose work is strongly influenced by sabermetrics. The next step is to go the other way, trim the fat from the membership, purge those who do not study the game closely enough to warrant Hall of Fame votes.

The Alomar snub is an embarrassment.

If people's feelings get hurt, too bad.

Rosenthal isn't the only prominent BBWAA member calling for change. Shoot, Buster Olney believes the
writers shouldn't be involved
at all (
Jeff Pearlman agrees
, snarkily).
Rather than editorialize -- Rosenthal and Olney have beaten me to the punch, with style -- I'll simply offer a bit of knowledge and a humble prediction.
First, Rosenthal is absolutely right about the voting population. I've written about this at some length, and if the die-hard baseball fans knew who's being sent Hall of Fame ballots every year, it would be a major scandal.
Or a minor kerfuffle, at least.
But my prediction is that little will come of this. Sure, it would be a neat story if the snubbing of Alomar wound up as the tipping point for real reform. But the BBWAA is a big ship that takes a great deal of time and effort to change directions. I suspect that if a candidate like Alomar was repeatedly snubbed, something might actually change after a few years. But it takes time, and any real movement toward change will likely be forgotten a year from now, when Alomar is elected. The next controversy will come in a few years if
Roger Clemens
and
Barry Bonds
aren't elected. That will result in a great deal of hand-wringing and self-reflection, and might eventually lead to something.
I take it back. I will editorialize. I agree with Rosenthal the system is flawed. I don't necessarily agree that the writers shouldn't be involved, but I believe they (we) should be somewhat
less
involved. But be careful what you wish for. If the BBWAA culls all the current voters who don't really pay any attention to baseball -- and there are many dozens of them -- we'll have
more
candidates elected. How many more, I don't know. But more, for sure.
More isn't necessarily bad. But more wouldn't mean Tim Raines and Alan Trammell. It would mean Jack Morris and Lee Smith. The standards for election would inevitably be lowered. Not maintained. Lowered.
The system that's in place, however flawed, usually arrives at a good result, eventually. It took too long, but eventually Ryne Sandberg and Gary Carter were elected. It's taking too long, but eventually Bert Blyleven and Roberto Alomar will be elected. Raines and Trammell? Sure, they've been terribly jobbed. But the Hall of Fame would never endorse any reform that would get either of them elected.
Be careful what you wish for.