May, 2, 2013
5/02/13
11:15
PM ET
I love a good cheating accusation. I mean -- peanuts, hot dogs, hating the Yankees, pitching inside and cheating: Aren't they all a fundamental part of the game we love?
Blue Jays broadcaster Jack Morris thinks Red Sox pitcher
Clay Buchholz
is throwing a spitball
, telling ESPNBoston's Gordon Edes:
"What do you think? Look at the pitches. Fastball at 94 that goes like that," Morris said, his hand darting swiftly down and away. "On a fastball?

"He's not the first guy to ever do it? You can get away with it. Gaylord [Perry] made a nice career out of it."
Blue Jays radio analyst Dirk Hayhurst, who pitched briefly in the majors, also said that Buchholz "absolutely" was cheating during Wednesday's start. First off, Morris has been around the block a few times, so I don't think we can simply dismiss the allegations as sour grapes from the Blue Jays' perspective. Does Morris strike you as the type who would crazily throw something like this out there? What does he have to gain by doing so?
Here are some
highlights of Buchholz pitching
from Wednesday's game. That's some mean stuff there. In particular, check out the fastball to
Jose Bautista
at the 1:00 mark. Ty Cobb couldn't hit that pitch.
You know what the pitch reminds of? Mike Scott in the 1986 playoffs, when the Astros right-hander blew away the Mets in two starts. If you're not familiar with Scott, he won the Cy Young Award that year using a high-powered fastball and lethal split-fingered pitch. A splitter that the Mets suggested was actually a scuffball.
Check out the pitch to Gary Carter at the 1:07 mark
. Don't show that video to Keith Hernandez.
[+] Enlarge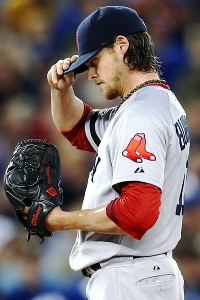 Tom Szczerbowski/Getty ImagesClay Buchholz struck out eight and allowed just two hits in Wednesday's victory in Toronto.
Looks kind of like the Buchholz pitch, doesn't it?
Buchholz, who is 6-0 with a 1.01 ERA, says he's the same pitcher he's always been. Which obviously isn't the case. He's striking out 27.8 percent of the batters he's faced, well above the 16.1 percent rate of last season and his 18 percent career rate. So, let's check into some of the detailed movement on his pitches.
Horizontal break on fastball, 2013: minus-4.7 inches
Vertical break on fastball, 2013: 9.9 inches
Horizontal break on fastball, 2012: minus-4.8 inches
Vertical break on fastball, 2012: 9.1 inches
Those are average totals, of course, suggesting he's getting a little more downward movement on his fastball, but overall, the movement is similar to last season. But his ball was really moving on Wednesday night, averaging minus-5.5 inches of horizontal break. His 16 fastballs thrown with two strikes averaged minus-6.5 inches of horizontal break (although 7.1 inches of vertical break). Some of that variance comes with the different types of fastballs thrown -- two-seamers versus four-seamers -- but that pitch to Bautista was 96 mph, as hard as any pitch Buchholz threw all night. Four-seam fastballs are thrown harder but are also usually straighter than two-seamers.
By the way, there's nothing unusual about Buchholz's average movement on his pitches. He ranks 33rd in average vertical break on his fastball among 110 starters (
Clayton Kershaw
is No. 1). Still, that pitch to Bautista seemed almost unnatural.
Aside from whatever Buchholz is doing, or not doing, cheating is part of the fabric of the game's history. Baseball players will always look for that extra edge. Sometimes, they go a little too far, of course, and start making a mockery of the game (we mean you, Barry Bonds). Or in the 1950s, when the spitball was apparently so prevalent that commissioner Ford Frick actually lobbied to have the pitch
re-legalized
. Whitey Ford was the most famous practitioner; according to "The Baseball Codes" by Jason Turbow and Michael Duca, Ford used a concoction of turpentine, baby oil and rosin that he stored on the dugout bench during games.
Pitchers from Don Sutton to Scott to Greg Maddux and Tom Glavine have been accused of throwing spitballs or scuffing the ball. Perry, of course, went through his famous
pre-pitch routine
in which he may or may not have been applying a foreign substance to the ball. (Once, when asked by a writer what pitch her daddy threw, his young daughter said, "It's a hard slider.")
Turbow writes that Ozzie Guillen said, "Everyone cheats. If you don't get caught, you're a smart player. If you get caught, you're a cheater. It's been part of the game for a long time."
Indeed it has. Morris has simply stirred up an age-old controversy. I have no idea if Buchholz is doing anything illegal. But I'm glad we have something fun to argue about.
April, 24, 2013
4/24/13
12:15
PM ET
On Tuesday night,
B.J. Upton
and little brother
Justin Upton
became just the second brother combo to hit
back-to-back home runs
, joining Hall of Famers Lloyd and Paul Waner, who did it on Sept. 15, 1938. Here are some notes about major league brothers ...
The fact that the Waners went back-to-back is pretty remarkable since Lloyd only hit five homers that year and Paul six (he actually hit two in the game). It was also that last home run of Lloyd's career (he hit 27 in his career). Lloyd is one of the weakest members of the Hall of Fame, with the old story being he only got in because the Veterans Committee must have been looking at Paul's stats. The only other family to produce two Hall of Famers are brothers Harry and George Wright, early pioneers of the professional game.
Gaylord Perry and Jim Perry had identical career records of 215-174 for a few days in 1976.
Pitcher Joe Niekro hit one home run in his long career -- it came off brother Phil.
In the late '50s and early '60s, the Giants came with Felipe, Matty and Jesus Alou. Felipe was easily the best, as Matty and Jesus didn't have much power. Jesus was the last to reach the majors, late in 1963, and Felipe was traded to the Braves after the season, so the brothers only played together a few weeks. With Willie Mays in center and Willie McCovey playing left that year, the three never started a game together. They did, however, play a few innings together in three separate games. In 1966, Matty and Felipe -- both no longer with the Giants -- finished 1-2 in the NL batting race, Matty at .342 and Felipe at .327.
Five Delahanty brothers reached the majors -- Ed was the eldest and the best, a Hall of Famer and one of the biggest stars of the 1890s. You may be familiar with his unfortunate death, when he drunkenly fell (or jumped) off a bridge over Niagara Falls after being kicked off a train.
Ken and Bob Forsch are the only brothers to each pitch a no-hitter (Bob threw two), but there's an asterisk of sorts here. Melido and Pascual Perez each threw a shortened no-hitter (six and five innings, respectively) and then there's Ramon and Pedro Martinez. Ramon threw one for the Dodgers and while Pedro never threw an offical no-hitter, he did throw nine perfect innings against the Padres in 1995, only to give up a hit in the 10th.
The only two brothers to win batting titles were Dixie (.357 with Brooklyn in 1944) and Harry Walker (.363 with the Cardinals and Phillies in 1947). Harry was only a regular for three seasons (1943, 1947 and 1949), but he didn't stick in the majors until he was 24, had his career interrupted by World War II, played poorly in 1947, got traded early in '47 and had a big year, didn't play as well in '48 and by 1950 was 33 years old and hit .207.
March, 1, 2013
3/01/13
12:15
PM ET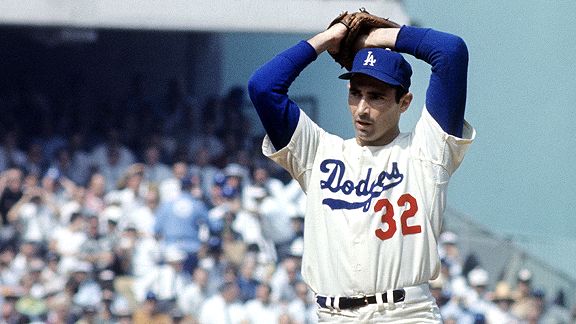 Focus on Sport/Getty ImagesOver his final five seasons, Sandy Koufax went 111-34 with a 1.95 ERA and three Cy Young Awards.
This is another follow-up to a debate that arose in a recent chat session: Which pitcher had the best five-year peak?
With
Sandy Koufax having spent time at Dodgers camp this spring
it seems like a perfect time for a list, doesn't it?
Well, I can never make things easy, so this will be a long list. I started with pitchers since 1950, primarily because I'm not as interested in comparing the peak of dead-ball era pitchers to the more modern game. Plus, we had to make this somewhat manageable. I'm going to use Baseball-Reference Wins Above Replacement to rank the pitchers and we'll have a vote at the end of the story.
The rules: It has to be a five-year consecutive peak -- not necessarily the best five seasons of a pitcher's career, but the best five years in a row. A pitcher can appear only once. That's it. I didn't include postseason results, but maybe should have. I looked at all the Hall of Fame starting pitchers from this era, some current guys and some others I wanted to include. The list is 41 pitchers, but this is
not
the best 41 peaks. I left out some good pitchers, such as Orel Hershiser, Dwight Gooden,
Roy Oswalt
and others. I do think I got all the guys who accumulated at least 30 WAR, however.
Jack Morris, 1983-1987: 20.2 WAR
We have to start somewhere.
Don Sutton, 1971-1975: 21.1
Despite winning 324 games, Sutton was a controversial selection to the Hall of Fame when he made it on his fifth year on the ballot. He was viewed as a compiler -- and, well, he sort of was, as his career-high WAR was 6.3 and he topped 5.0 just three times. From '71 to '75 he went 89-53 with a 2.63 ERA and 25 shutouts. Not bad for a compiler.
Early Wynn, 1952-1956: 22.3
In 1948, Wynn went 8-19 with a 5.82 ERA for the Senators, walking 94 and striking out 49. Bill Veeck of the Indians coveted Wynn anyway because of his good fastball, they got him along with Mickey Vernon in a trade, pitching coach Mel Harder taught Wynn a curve and slider, and he went on to average 18 wins per season in his nine years in Cleveland.
Whitey Ford, 1961-1965: 22.5
Here's a fair question: Is Whitey Ford overrated? Think about it: He pitched in the old Yankee Stadium, with its mammoth left-center power alley, certainly helpful to a left-handed pitcher; he didn't have to face the best team in the league, back when there were only eight teams in the league for much of his career; he won "only" 236 games. Of course, he was the ace of many World Series winners and was certainly clutch in the postseason. Ford's best five years came after Casey Stengel was fired after the Yankees lost the 1960 World Series. Stengel was always cautious with Ford's workload, using him for more than 230 innings only once. But from '61 to '65 Ford averaged 260 innings and went 99-38, a .723 winning percentage.
John Smoltz, 1995-1999: 22.9
When Smoltz shows up on the Hall of Fame ballot, it will be interesting to see how he fares compared to Curt Schilling, two guys with similar career records (Smoltz: 213-155, 3.33; Schilling: 216-146, 3.46) and similar excellence in the postseason. The big difference between the two is Smoltz never had the string of dominant seasons like Schilling did.
Catfish Hunter, 1971-1975: 23.4
Made his mark by winning seven games in the postseason as the A's won three consecutive World Series from 1972 to 1974, but vastly overrated as a pitcher. This five-year peak accounts for two-thirds of his career WAR of 32.1
Tom Glavine, 1995-1999: 24.0
What were the odds that a 22-year-old pitcher who led the league with 17 losses and struck out only 84 batters in 195 innings would turn into a 300-game winner and future Hall of Famer? Lower than slim and none? Glavine's best season via WAR was his breakout campaign in 1991 (8.2) when he won his first Cy Young Award, but in many ways he was similar to Sutton, an amazingly durable pitcher who was very good for a long time.
Felix Hernandez, 2008-2012: 24.1
Working on four straight years of 230-plus innings and doesn't turn 27 until April. With his new contract, the Mariners are banking on many more of those 230-inning seasons in the future.
Nolan Ryan, 1973-1977: 26.0
His first big year came after the Mets traded him to the Angels in 1972 and he won 19 games with a 2.28 ERA, worth 5.8 WAR. Twenty years later he was 44 and posted a 5.0 WAR season for the Rangers. In between, he was a dynamic, often wild, always amazing, and certainly one-of-a-kind. His mid-'70s peak was dragged down by a couple mediocre seasons in '75 and '76 when he posted a 3.40 ERA, only league average for the time once you adjust for his home park.
Mike Mussina, 1999-2003: 26.7
His career WAR of 78.1 is higher than many Hall of Fame pitchers of this era. Best season came in 1992 (7.9 WAR), but he had seven seasons of 5.0 or higher, five of those coming with the Orioles.
Justin Verlander, 2008-2012: 26.7
This stretch includes Verlander's 2008 when he went 11-17 with a 4.84 ERA, worth 1.5 WAR, so the total will jump up with a big 2013. Verlander led the league in losses that year, which prompts the question: How many Hall of Fame pitchers led their league in losses? Well, Phil Niekro managed to do it four straight seasons. Bert Blyleven did it at the end of his career in 1988, and future Hall of Famer Glavine did it the same season at the beginning of his career. Steve Carlton and Robin Roberts each did it twice. Early Wynn and Hal Newhouser. A couple of others. Not necessarily that unusual.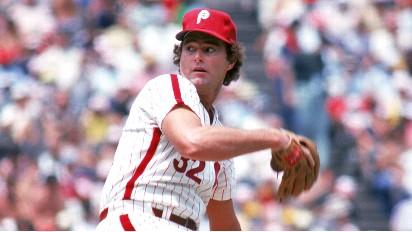 Rich Pilling/Getty ImagesSteve Carlton won four Cy Young Awards, but only one came during his best five-year WAR peak.
Steve Carlton, 1969-1973: 27.9
Maybe the most inconsistent great pitcher ever, this period includes Carlton's all-timer season in 1972 when he went 27-10 with a 1.97 ERA for a Phillies team that won only 59 games. No other pitcher won more than seven games, and he was a reliever. But Carlton followed that up with a 13-20, 3.90 year in 1973 and had some less-than-stellar years. His best stretch of consistent excellence actually came later in his career from 1980-1983, but his 11.7 WAR in '72 helps make this his best five-year stretch.
Don Drysdale, 1960-1964: 28.0
Dodger Stadium: 65-43, 2.19 ERA
L.A. Coliseum: 36-25, 3.14 ERA
Road games: 95-92, 3.41 ERA
Cliff Lee, 2008-2012: 28.9
Sort of the anti-Nolan Ryan. Whereas Ryan would
never
give in to a hitter, preferring to walk a batter rather than just throw something over the middle of the plate, Lee
never
wants to give up a free pass. Over this five-year stretch he has walked 165 batters; Ryan walked that many in a season three times.
Bret Saberhagen, 1985-1989: 29.1
Includes his Cy Young seasons in 1985 (6.9 WAR) and 1989 (9.2 WAR), but he couldn't stay healthy after that. Remember when Dave Stewart whined about not winning the Cy Young in 1989? Yeah, let's not get into that.
Jim Palmer, 1975-1979: 29.2
Palmer won 20 games eight times in nine seasons, but went 7-12 in 1974 right in the middle of that stretch to drag down his five-year peak (we ended up using a mediocre 10-6, 3.30 partial season in 1979 to round out our five years).
Frank Tanana, 1974-1978: 29.3
One of the best young pitchers ever, but hurt his arm in 1978. Returned as a finesse guy to have a long career.
David Cone, 1993-1997: 29.4
Only averaged 184 innings per season over this span thanks to the two strike-shortened seasons and an injury in 1996 that limited him to 11 starts, but went 64-35 with a 3.17 ERA during a high-scoring era and won the Cy Young Award in 1994.
CC Sabathia, 2007-2011: 29.7
Finished in the top five of the Cy Young voting all five seasons.
Rick Reuschel, 1976-1980: 29.8
A favorite of sabermetricians because of a career WAR of 64.6 that ranks 32nd
all time
among pitchers -- just ahead of Palmer, Sutton and Smoltz. Hmm. Reuschel's career record of 214-191 with a 3.37 ERA doesn't blow you away, but he spent his best years with mediocre Cubs teams in a hitter's park with bad defenses behind him. In these five years, he went 77-62 with a 3.33 ERA, topped by a 1977 season (20-10, 2.79 ERA) in which Baseball-Reference rates him not only as the best pitcher in the National League (9.2 WAR), but as the most valuable
player
. In comparing to Palmer, Baseball-Reference estimates Palmer's defense saved him 0.33 runs per nine innings over his career but cost Reuschel 0.18 runs per nine innings (a difference of about 14 runs over 250 innings). Maybe Reuschel would have won three Cy Young Awards if he had Mark Belanger and Paul Blair behind him.
Jim Bunning, 1963-1967: 30.2
After going 12-13 with a 3.88 ERA in 1963, the Tigers traded Bunning to the Phillies (for Don Demeter and Jack Hamilton), figuring at 32 he was past his prime. He wasn't. Instead, Bunning reeled off four magnificent seasons with the Phillies, going 74-46 with a 2.48 ERA while averaging 298 innings per season.
Kevin Appier, 1992-1996: 30.9
Surprise! Went 69-43 with a 3.22 ERA, including a spectacular 9.0-WAR 1993 when he led the AL with a 2.56 ERA and allowed only eight home runs. Should have won the Cy Young Award that year.
Warren Spahn, 1949-1953: 32.2
This stretch includes four of his five highest WAR seasons, the other being his best one -- 9.1 in 1947. Two awesome Spahn stats: (1) From 1947 to 1963, the
fewest
innings he pitched was 245.2; (2) Led the NL in complete games seven consecutive seasons, from ages 36 to 42. Here's a third one: Led or tied for the NL lead in wins eight times.
[+] Enlarge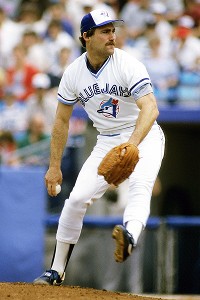 Ronald C. Modra/Getty ImagesToronto ace Dave Stieb should have won a Cy Young Award or two in the early '80s.
Dave Stieb, 1981-1985: 32.4
Underrated in his own time, Baseball-Reference rates Stieb as the first- or second-best pitcher in the AL all five seasons in this stretch, but he never finished higher than fourth in the Cy Young voting because they were giving the awards to guys like Pete Vuckovich and LaMarr Hoyt.
Roy Halladay, 2007-2011: 32.5
Went 93-44 with a 2.80 ERA.
Bert Blyleven, 1971-1975: 33.5
Blyleven's run came from ages 20 to 24 and included a 325-inning season in 1973 when he was 22. Somehow his ligaments and tendons remained attached and didn't turn into soba noodles. You'll notice that Blyleven is the third pitcher with the exact same five-year dates; to a large extent this is because innings totals increased during this period. With more innings comes a higher WAR. In the 1960s, for example, there were 25 300-inning seasons; in the first five years of the '70s, there were 27. Or, really, innings started ramping up in the late '60s, when offense declined, leading to the lowering of the mound after 1968 and the advent of the designated hitter in the American League. To put a more dramatic spin on the increase in workload, from 1955 to 1964, there were seven 300-inning seasons (three by Drysdale); in the next 10 years, there 47 300-inning seasons.
Johan Santana, 2004-2008: 34.2
Won three ERA titles and two Cy Young Awards (and probably should have won a third) in this period.
Ferguson Jenkins, 1968-1972: 34.9
Went 107-71 with a 3.02 ERA, averaging 309 innings and winning the 1971 Cy Young Award. The Cubs were still pretty good in this era, finishing over .500 all five years, so this wasn't just a pitcher excelling despite a bad team behind him.
Curt Schilling, 2000-2004: 35.0
This run includes half a season in Philly, three and a half in Arizona and his first year in Boston, a year that culminated with a bloody sock and the lifting of a curse. Five-year totals: 85-40, 3.24, three Cy Young runner-up finishes, three 20-win seasons, a 300-strikeout season (he had two more in 1997 and 1998) and two World Series championships. Schilling pounded the strike zone -- he averaged only 1.5 walks per nine innings -- and had a remarkable 316/33 strikeout/walk ratio in 2002.
Kevin Brown, 1996-2000: 35.4
Deserved to hang out on the Hall of Fame ballot longer than one year and have his case at least discussed. For a time, Brown was impressive as any pitcher of his generation, throwing that hard, mid-90s sinker. In this stretch he went 82-41 with a 2.51 ERA in the heart of the steroids era, averaging 242 innings, twice leading in ERA and pitching in two World Series. His seasonal WAR totals: 7.7, 6.7, 8.3, 5.9, 6.8.
Juan Marichal, 1962-1966: 35.4
Starting in 1963, he went 25-8, 21-8, 22-13, 25-6, 14-10, 26-9 and 21-11. You know how many Cy Young votes he received those seasons? None. His best five-year peak would be better if not for that 1967 season where he missed some time and made 26 starts. As is, he went 107-45 with a 2.37 ERA.
Wilbur Wood, 1970-1974: 36.7
Another early '70s guy, Wood's knuckleball allowed him to post some of the more freakishly awesome seasons in modern history, including 1971 when he had a 1.91 ERA in 334 innings, and 1972 when he started 49 games and pitched 376.2 innings. Those two seasons were worth 11.5 and 10.3 WAR. (He slacked off in 1973 and started only 48 games and threw 359.1 innings.)
10. Gaylord Perry, 1972-1976: 37.0
OK, we're into the top 10, so we'll start numbering the countdown. If you're getting the idea that the early '70s were to pitching what the late '90s and early aughts were to hitting, then give yourself a gold star. Perry's 1972 with Cleveland was an amazing season: 24-16, 1.92 ERA, 29 complete games, 342 innings, worth 10.4 WAR. From May 6 to Aug. 5 he started 22 games and completed 19, posting a 1.55 ERA. Here's the kicker: He averaged
more than
nine innings per start in that stretch (one of his non-complete games was a
13-inning scoreless effort
).
Five-year totals: 97-79, 2.83 ERA, 313 innings per season.
9. Tom Seaver, 1969-1973: 37.4
Went 103-51 with a 2.35 ERA. Followed this up with another five-year stretch valued at 30.2 WAR.
8. Bob Gibson, 1966-1970: 38.0
This period includes his memorable 1968 season when he went 22-8 with a 1.12 ERA, a year that included a 47-inning scoreless streak and one period where he allowed two earned runs in 92 innings. No wonder baseball lowered the height of the mound from 15 to 10 inches for 1969. That season was worth 11.1 WAR, and he followed that up with two more pretty good ones: 10.3 WAR in 1969 and 8.4 in 1970, when he won another Cy Young Award. If not for a broken leg that forced him to miss two months in 1967, he'd be even higher on the list. (Or if we included hitting; he accumulated 3.3 WAR at the plate as well, and had 19 RBIs in 1970.) Five-year totals: 99-48, 2.30, 27 shutouts.
7. Phil Niekro, 1974-1978: 38.6
This is never mentioned as a great peak since Niekro's record was just 87-77 (pitching for bad Braves teams in the post-Aaron era) and his ERA was 3.16. He even led the league in losses in 1977 and 1978 (and would do so again in 1979 and 1980, joining Pedro Ramos as the only pitchers to do that four consecutive years). His ERA+ of 127, for example, was much lower than Gibson' five-year mark of 153. What Niekro did was throw a lot of innings -- 302.1, 275.2, 270.2, 330.1 and 334.1 -- and that workload led to WAR totals of 7.5, 6.5, 6.4, 8.6 and 9.6.
6. Sandy Koufax, 1962-1966: 39.1
Only sixth? For a pitcher who went 111-34 with a 1.95 ERA, won the NL ERA crown all five years and had seasons of 25-5, 26-8 and 27-9? He won an MVP Award and finished second in the voting two other years, while winning three Cy Young Awards (when they gave it to just one pitcher in all of baseball). So why only sixth? Well, there's no doubting Koufax's domination -- he, Gibson and Wood are the only two pitchers with two seasons of 10+ WAR during their peak runs. But a couple of things: (1) Dodger Stadium was a huge pitcher's park in those days, with a notoriously high mound (Koufax had a 1.37 ERA at home and 2.57 on the road, not that there's anything wrong with 2.57), so his numbers are knocked down a bit to adjust for that; (2) He missed time in 1962 (184 innings) and 1964 (223 innings), so that cuts into his value, at least compared to the other three seasons.
5. Greg Maddux, 1992-1996: 39.2
This is when he won his four consecutive Cy Young Awards. Five-year math: 90-40, 2.13 ERA, 191 ERA+, single-season WAR of 8.9, 5.5, 8.3, 9.5, 7.0 (followed by seasons of 7.6 and 6.3). And remember, his value was held down by the shortened seasons of 1994 and '95, when he had ERAs of 1.56 and 1.63.
[+] Enlarge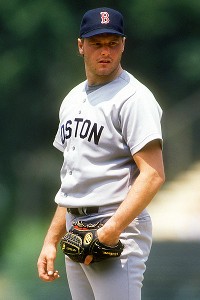 Mitchell Layton/Getty ImagesThe young Roger Clemens wasn't too shabby.
4. Roger Clemens, 1986-1990: 40.1
The numbers: 100-42, 2.71 ERA, 156 ERA+, 256 innings per season, 57 complete games, 23 shutouts, two Cy Young Awards (and was robbed in 1990). Also had 33.7 WAR from 1996 to 2000 and six other seasons of 5+ WAR not included in either of those two stretches.
3. Robin Roberts, 1950-1954: 40.5
Now this is what you call a peak: 115-64, 2.87 ERA, 138 ERA+, 135 complete games, 327 innings per season, seasons of 7.0, 7.6, 7.9, 9.4 and 8.6 WAR. By the 1950s, innings pitched totals had to started to decline, especially compared to the dead-ball guys, but not for Roberts. There were 10 300-inning seasons in the decade and Roberts had six of them. From his autobiography (tip of the cap to the "Neyer/James Guide to Pitchers"): "I was mainly a one-pitch pitcher, although sometimes I mixed in a curveball when I was ahead in the count. I could put my fastball where I wanted it, but I was sometimes criticized for not pitching inside more. ... I just went after people with my best stuff and let the batters hit it if they could."
Roberts threw very hard -- Bill James says he threw about as hard or possibly harder than Bob Feller or Bob Gibson or any of those big guys. Because his control was so good, he relied primarily on that one pitch. (He did give up a lot of home runs.) Outside of this stretch, Roberts had only one more season rated above 5.0 WAR, and one other above 4.0.
2. Pedro Martinez, 1997-2001: 41.4
Let's take these seasons one-by-one:
--1997: 17-8, 1.90 ERA, 8.7 WAR, 241.1 IP, 158 H, 305 SO, won Cy Young Award. Led NL in ERA and complete games (13).
--1998: 19-7, 2.89 ERA, 6.9 WAR, second in Cy Young voting in first year with Red Sox, struck out 251 in 233.2 innings.
--1999: 23-4, 2.07 ERA, 9.5 WAR, won Cy Young, second in MVP voting, 313 SO in 213.1 innings (13.2 per nine).
--2000: 18-6, 1.74 ERA, 11.4 WAR, won Cy Young, somehow only fifth in MVP voting, 284 SO in 217 IP, opponents hit .167 off him --
.167!
This isn't a closer we're talking about here. .167.
--2001: 7-3, 2.39 ERA. Injured, made only 18 starts.
It's too bad we couldn't sub in his 2002 (20-4, 2.26) or 2003 (14-4, 2.22). Great fastball, the best changeup of all time, command, varied his arm angles, mixed in a cut fastball, slider and curveball, and wasn't afraid to deliver some chin music every now and then. Only thing he lacked was the durability to rack up a lot of innings.
Five-year totals: 84-28, 2.18 ERA, 215 ERA+, 1,316 SO in 1,022 innings.
1. Randy Johnson, 1998-2002: 42.2
As awesome as Pedro was, the Unit rates even higher, which tells us something about how good
he
was. Five-year totals: 100-38, 2.63 ERA, 174 ERA+, four Cy Young Awards, three ERA titles, 41 complete games, 17 shutouts, five 300-strikeout seasons, 1,746 SO in 1,274 innings.

Individual seasons: 5.4, 8.8, 7.8, 9.8, 10.4. In fact, his five-year peak could have been higher had he not sulked his way through the first half of 1998 with the Mariners before finally getting traded to the Astros (where he went 10-1 with a 1.28 ERA in 11 starts).
On a rate basis, Pedro was a little better, as reflected in his better ERA+. He also had to face DH lineups for four of his five seasons. But Johnson was dominant
and
durable -- he pitched 252 more innings than Pedro in his five-year peak and that puts him at No. 1.
* * * *
Of course, you don't have to rely on WAR for your own personal rankings. My top five would probably go Johnson, Martinez, Koufax, Maddux, Clemens, with apologies to Bob Gibson.
In the poll, we can only include five names. I apologize to Robin Roberts fans for leaving him out despite his No. 3 ranking above. Like Phil Niekro, his value comes as much from a huge workload as being a great pitcher. But he wasn't dominant in the same sense as some of these other pitchers -- he never led his league in ERA, for example, and his ERA+ during his five-year peak was 138, well below the others. So he got the boot from the poll.
Who do you have?
January, 2, 2013
1/02/13
3:30
PM ET
I told myself I wasn't going to write on this topic, since the lines are more divided than Congress. But driving into work today I heard Mike Ferrin and Jim Duquette interview Jim Palmer on MLB Radio. Asked about the PED issue and the upcoming Hall of Fame voting results, in classic Palmer fashion he answered in a long and winding narrative, saying he's not one who would boycott induction ceremonies since it's an honor to be a Hall of Famer. He didn't exactly answer the question, but after mentioning Mark McGwire and Rafael Palmeiro, he told a story about Gaylord Perry.
He related that after giving up three home runs in the 1977 All-Star Game, his first start after the break was the Saturday Game of the Week and he pitched 11 shutout innings while Perry pitched nine innings. Back then, Palmer said, the ball would just be left on the mound after each half inning instead of thrown out and the pitcher given a new one, like now. Perry's ball was diving and darting all over the place that day, and when he'd come out to the mound he could see Perry's two fingerprints on the ball. The implication: Palmer could see Perry's fingerprints because of something Perry was applying to the ball.
[+] Enlarge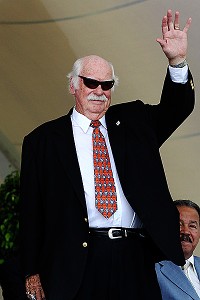 AP Photo/Mike GrollShould Gaylord Perry's induction into the Hall of Fame be questioned because of his use of the spitball?
The best part of the story is that it absolutely checks out. On Saturday, July 23, 1977, Palmer did start against Perry and the Rangers, and he did throw 11 shutout innings while Perry threw nine scoreless frames. The Rangers would win the game in the 13th when Mike Hargrove singled in Bump Wills. In an ode to a different era, the teams combined to use only five pitchers.
Here's the box score
.
Anyway, if I read into Palmer's story correctly he's pointing out that there are already cheaters in the Hall of Fame. I'm not sure that particularly bothers him, but I do gather he's still pretty upset 35 years later about pitching 11 scoreless innings and not winning that game, considering he remembered the details perfectly.
The question Palmer's story poses is thus: Would Perry be a Hall of Famer without throwing a spitball, an illegal pitch? Palmer, who still broadcasts games for the Orioles, told another story about Palmeiro chasing 3,000 hits and still needing 60 or 70 but his bat speed had slowed down ("You could go to a tee ball game and see faster bats") ... and then suddenly it got a little quicker. Again, Palmer is just giving us the anecdotal stories, not choosing a side.
The other day in his newsletter Joe Sheehan pointed out many of the statistical oddities that occurred during the "amphetamine era." Here's one take from Joe's essay:
In the early days of baseball, individual pitchers routinely through nearly all of their team's innings pitched. When "pitching" went from just that to more of a skill, individual innings pitched totals dropped, and they dropped further as pitchers threw harder spun the ball in an effort to miss the bats of hitters swinging as hard as they could. There have been 371 seasons of at least 300 innings pitched since 1901. They break down, by decade, like this:

1901-10: 142
1911-20: 89
1921-30: 34
1931-40: 19
1941-50: 13
1951-60: 8
1961-70: 29
1971-80: 37
1981- the end of time: 0

There were 40 300-inning seasons from 1931-1960. There were 37 from 1971-1980. There has not been one since then. The period from 1963 through 1987 also was the peak for reliever usage; 130 of the 166 seasons in MLB history in which a pitcher threw 120 games while making 90% of their appearances as a reliever occurred in this 25-year span. No pitcher has done this since 1991.

The amphetamine era featured just as many statistical anomalies as did the steroid era, but there was no connection between the two reported. No one cared. Why that is the case is a topic for a book, I'd imagine, but you cannot defend the idea that steroids alone fundamentally changed the game's statistics in a way that the previous generation's drug of choice didn't. The correct answer, or course, is to see the whole board and acknowledge that peak homer was the product of a dozen factors, with the number "73" an explicable statistical outlier in that context, just as peak steal (and "130") were the same, just as peak playing time was the same, just as peak innings pitched was the same.
I suspect Palmer realizes players from every era have their own warts, which is why he said he would still attend the induction ceremonies, unlike some of his contemporaries. But unlike some of them, Palmer has remained around the game. He knows players -- like Perry and his foreign substances or Whitey Ford scuffing the ball or those who ingested amphetamines like candy to gain a potential performance increase or, yes, those who used steroids -- will always seek that extra edge. Like hot dogs and the seventh-inning stretch, seeking that edge -- cheating or otherwise -- has always been a part of the game.
July, 1, 2011
7/01/11
3:44
PM ET
On Thursday, I wrote a post on my list of the
15-best pitching seasons since 1960
, topped by
Pedro Martinez
's superlative 2000 campaign.
I wanted to post this quick follow-up chart, which lists each pitcher's runs allowed per nine innings, innings pitched per start, hits and strikeouts per nine and strikeout-to-walk ratio, all rated as to how much better they were than the league average for that season. (Totals are not park adjusted.)
A few notes. Gaylord Perry and
Zack Greinke
probably have the shakiest ground to be on the list. Depending on the importance you want to place on the various numbers, Greinke's relative lack of stamina and Perry's relative lack of dominance in strikeout rate and strikeout/walk ratio hurt them. Perry was amazingly durable that season, throwing 342 innings, so his WAR (wins above replacement) was very high. But it was a low-scoring era and a lot of starters pitched deep into games that year, so Perry's innings per start, while still high, didn't necessarily tower over the league.
Greg Maddux
probably deserved to be ranked higher. I didn't put him as high since he only made 28 starts in the strike-shortened season, but I rated Pedro's two 29-start seasons higher. Maddux didn't dominate like Pedro did with the killer strikeout rates, but he did dominate in his own way. I think you could also make the case the
Roger Clemens
' 1997 and Dwight Gooden's 1985 seasons were incrementally more impressive than Bob Gibson's 1968.
Anyway, that's the fun thing on a list like this. I don't think there a
right
answer, but it's fun defending your choices.
Follow David on Twitter @dschoenfield.
June, 30, 2011
6/30/11
11:00
AM ET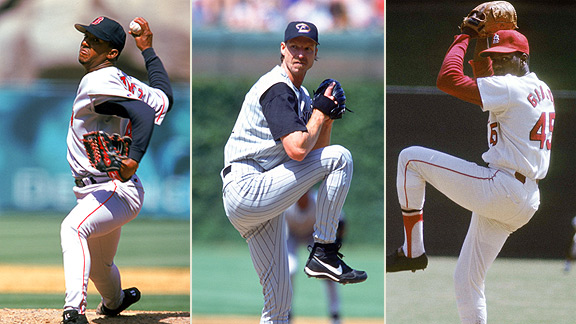 Getty ImagesWho had the best season since 1960? Pedro, Randy and Bob Gibson are in the running.
Last week on his blog, Curt Schilling wrote an interesting post on
what he called Pitcher Dominance Factor
-- a way to evaluate the best starting pitchers. His formula basically rates a pitcher by comparing his ERA to the league average ERA for starters, and comparing his baserunners allowed per nine innings to the league average.
In many ways the formula works perfectly -- it rewards pitchers with low ERAs and those who don't allow many baserunners. It has a couple primary flaws in assessing overall value: There are no park effects and it doesn't factor in innings pitched, so a 170-inning season can have the same "dominance factor" as a 250-inning season.
There's another flaw: All of Schilling's highest-rated seasons since 1960 came during the so-called steroid era. His top 13 seasons included five from
Pedro Martinez
; two apiece from
Randy Johnson
,
Greg Maddux
and
Kevin Brown
; and one each from
Roger Clemens
and
Johan Santana
. Now, maybe those
are
the best seasons since 1960, as those guys dominated in a high-scoring era.
Of course, there are other metrics out there as well to measure the best pitcher seasons.
Wins:
I think we all agree by now that wins aren't the best way to measure a pitcher. By this method, in 1990 Bob Welch had the second-best season since 1960 with 27 wins -- despite ranking just sixth in his own league in ERA and posting a mediocre 127/77 SO/BB ratio.
ERA:
Better than wins, but doesn't adjust for home ballpark, era (a 2.05 ERA in 1968, when the American League ERA was 2.98 is not as valuable as a 2.05 ERA in 1996, when the AL ERA was 5.00) or innings pitched.
ERA+:
The Baseball-Reference stat adjusts a pitcher's ERA for his park and era to a scale where 100 is average. Much better than regular ERA, although it still doesn't factor in innings pitched, unearned runs, or the quality of a pitcher's defense. It actually ends up generating a list similar to Schilling's as 15 of the top 25 ERA+ seasons since 1960 occurred between 1994 and 2005. ERA+ also doesn't factor in "dominance" in the sense of what Schilling was looking for, as it's possible to post a low ERA without dominating peripherals.
WAR (wins above replacement):
WAR establishes a value to a pitcher's season. FanGraphs and Baseball-Reference have different versions of WAR, and both arguably have a problem in generating a list of the best pitching seasons since 1960.
Under the Baseball-Reference formula, the more innings you pitch, the more value you accumulate. While completely logical (you're more valuable if you pitch more innings), its list ends up skewed towards the late '60s and early '70s, when starters routinely racked up 300-plus innings. Fourteen of its top 25 seasons reached 300 innings (and only four have fewer than 275), so modern pitchers struggle to make the top of the list since they don't pitch as many innings.
FanGraphs' version of WAR doesn't factor a pitcher's ERA or runs allowed. Instead, it extrapolates a pitcher's innings, strikeouts, walks allowed and home runs allowed (adjusted for park and era). It also only has pitcher WAR dating back to 1974. As it turns out, nine of its
top 10 seasons
occurred between 1995 and 2004, and you also end up with seasons like Schilling's 2002 in the top 10, when he had a great strikeout-to-walk ratio, but finished just 10th in the NL in ERA.
Both the B-R and FanGraphs lists are a terrific guide to greatness. I'm not knocking their lists. I'm just not sure either should be considered the definitive list of the "best" seasons. So here's my subjective 15 best since 1960, trying to account for the changing patterns of the game ... with apologies to the many great pitchers who finished 16th in my personal tally.
15. Steve Carlton, 1980 Phillies
24-9, 2.34 ERA, 304 IP, 243 H, 90 BB, 286 SO, 15 HR
The last pitcher to throw 300 innings, Carlton led the NL in wins, innings, strikeouts and SO/BB ratio. He held opponents to a .218 average -- and this despite Greg Luzinski usually behind him in left field.
14. Gaylord Perry, 1972 Indians
24-16, 1.92 ERA, 342.2 IP, 253 H, 82 BB, 234 SO, 17 HR
A great season that nobody remembers, although Perry did win the Cy Young Award. While 1972 didn't see much hitting -- there was a reason the AL instituted the DH rule for the 1973 -- Perry's workload was amazing as he had 29 complete games and averaged 8.5 innings per start. That's a lot of spit. From May 6 through Aug. 5, he started 22 games and averaged more than nine innings per start, all while compiling a 1.55 ERA.
13. Randy Johnson 2002 Diamondbacks
24-5, 2.32 ERA, 260 IP, 197 H, 71 BB, 334 SO, 26 HR
Johnson captured his fourth straight Cy Young Award with one of his many dominant seasons. He allowed two runs or fewer in 22 of his 35 starts and struck out 15 or more four times. He also tightened up when it most counted, holding batters to a .174 average in "high-leverage" situations, with just one home run allowed in 154 at-bats.
12. Zack Greinke, 2009 Royals
16-8, 2.16 ERA, 229.1 IP, 195 H, 51 BB, 242 SO, 11 HR
Greinke hasn't been able to replicate the consistency, focus or, yes, the little bit of magic he had in 2009. He allowed one run or less in more than half of his starts -- 18 of 33 -- but due to lack of run support won just 12 of those 18 games. (Thank you, Royals teammates.) His relative lack of stamina prevents him from ranking higher as he pitched fewer than seven innings in 13 of his starts.
11. Greg Maddux, 1995 Braves
19-2, 1.63 ERA, 209.2 IP, 147 H, 23 BB, 181 SO, 8 HR
The shortened season cost Maddux a few starts, otherwise he'd rank even higher with the additional innings pitched. He allowed 39 runs (38 earned) in 28 starts and had a remarkable 0.81 WHIP. His .224 OBP allowed is the second-best since 1960 and his ERA+ is third-best (he ranked even better in 1994, although he did allow nine unearned runs that year.) Maddux allowed more than two runs just four times and more than three runs just twice. He painted the corners, got grounders, didn't give up home runs and dominated without just blowing batters away. Some say he also had a few extra innings off the plate to work with thanks to the kindness of the umpires.
10. Tom Seaver, 1971 Mets
20-10, 1.76 ERA, 286.1 IP, 210 H, 61 BB, 289 SO, 18 HR
The only season on our list not to result in a Cy Young trophy, as Seaver lost out to Fergie Jenkins, who went 24-13 with a 2.77 ERA for the Cubs. The vote actually wasn't a travesty; once you adjust for Shea Stadium and Jenkins' 39 more innings pitched, the seasons are close in value. However, Seaver did outpitch Jenkins by quite a bit on the road: 1.63 ERA versus 2.70 ERA, so I rate Seaver's season as better. Seaver's 9.1 K's per nine led the league, at a time when the league average was 5.4, a ratio of +69 percent. In 2011, the NL average is 7.2 K's per nine; a rate of +69 percent would equate to 12.2 K's per nine.
9. Ron Guidry, 1978 Yankees
25-3, 1.74 ERA, 273.2 IP, 187 H, 72 BB, 248 SO, 13 HR
My buddy Bish is going to punish me for not ranking Louisiana Lightning her, but this is a tough field. Guidry, all 160 pounds of him, threw 16 complete games and tossed nine shutouts. Guidry didn't lose until July, and in September, with the Yankees battling the Red Sox for the AL East title, he went 6-1 with a 1.19 ERA. He went 3-0 in four starts against the Red Sox. Can we have a re-do on that AL MVP vote?
8. Pedro Martinez, 1999 Red Sox
23-4, 2.07 ERA, 213.1 IP, 160 H, 37 BB, 313 SO, 9 HR
Pedro's second of three Cy Young reasons resulted in an opponents' batting line of .205/.248/.288, as he allowed just nine home runs while fanning 13.2 per nine, the second-highest total ever for a starter. He fanned 15 batters four times, 16 once and 17 once. He allowed more than four runs just once, a nine-run disaster after his All-Star start that landed him on the DL. In fact, that's the only strike against this season: He made just 29 starts. Well, that and
these gloves he wore during the playoffs
.
7. Randy Johnson, 2001 Diamondbacks
21-6, 2.49 ERA, 249.2 IP, 181 H, 71 BB, 372 SO, 19 HR
And if you want to give him extra credit for winning three games in the World Series, please do so. Johnson struck out 10 or more in 23 starts, including a record-tying 20 on May 8 against the Reds. His 13.4 K's per nine is the best ever for a starter, left-handed batters hit one home run off him all season and you didn't dare dig him against him: he also hit 18 batters. Yes
6. Sandy Koufax, 1966 Dodgers
27-9, 1.73 ERA, 323 IP, 241 H, 77 BB, 317 SO, 19 HR
You could flip a coin between any of Koufax's three Cy Young seasons (1963, '64, '66). His strikeout and hit rates were better in 1965 than 1966, but he also allowed 14 more runs in the same number of starts. He threw 11 shutouts in 1963, but had a big home park advantage that year. In 1966, he had 1.52 ERA at home and 1.96 on the road, his most even split, so I give '66 the nod. This was his final season, as he pitched in so much pain doctors were injecting steroids directly into the elbow joint, according to Jane Leavy's "Sandy Koufax: A Lefty's Legacy." Down the stretch, with the Dodgers battling for the pennant, he started seven times over the final 26 days, posting a 1.20 ERA.
5. Steve Carlton, 1972 Phillies
27-10, 1.97 ERA, 346.1 IP, 257 H, 87 BB, 310 SO, 17 HR
If you want to argue that Carlton's season was the best ever, I won't mount much of a disagreement. Carlton famously won nearly half of his team's 59 wins as he completed 30 of his 41 starts and threw eight shutouts. He held batters to a .207/.257/.291 line while making 31 starts on three days' rest. He allowed one home run to a cleanup hitter all season. And did you check the innings pitched total? The National League OPS that year was .680, not far below the .704 so far this season. Carlton's 12.2 WAR ranks No. 1 on Baseball-Reference's list since 1960.
4. Roger Clemens, 1997 Blue Jays
21-7, 2.05 ERA, 264 IP, 204 H, 68 BB, 292 SO, 9 HR
While the AL was batting .271/.340/.428 in 1997, Clemens dominated with a .213/.273/.290 line. He won the pitching Triple Crown, leading the league in wins, ERA and strikeouts while allowing zero runs or one run in 20 of his 33 starts. Clemens had many great seasons -- seven Cy Young Awards, seven ERA titles -- but 1997 stands out as his best. Red Sox fans just punched the wall in disgust.
3. Dwight Gooden, 1985 Mets
24-4, 1.53 ERA, 276.2 IP, 198 H, 69 BB, 268 SO, 13 HR
He allowed just a .201 average and .270 slugging percentage. Left-handed batters had a lower OPS off him than right-handers. In September, with the Mets fighting the Cardinals for a division title, he went 4-0 in six starts with a 0.34 ERA. His strikeout rate of 8.7 per nine may not appear to stand out now, but that's 58 percent better than the NL average. He even hit .226. And he did all this at 20 years of age while partying with Darryl Strawberry.
2. Bob Gibson, 1968 Cardinals
22-9, 1.12 ERA, 304.2 IP, 198 H, 62 BB, 268 SO, 11 HR
Yes, 1968 was the Year of the Pitcher, but even in a league where the league ERA was 2.99, Gibson's 1.12 ERA ranks as fourth-best ERA+ since 1968. He threw 13 shutouts (meaning he was just 9-9 if he didn't throw up a zero). You can find areas to nitpick: He allowed nine unearned runs, he averaged just 7.9 K's per nine (although that was second-best mark in the NL). But this is what stands out most to me: He pitched seven innings his first two starts of the season ... and then at least eight every start after that. The man literally didn't have a bad game all season.
1. Pedro Martinez, 2000 Red Sox
18-6, 1.74 ERA, 217 IP, 128 H, 32 BB, 284 SO, 17 HR
Can a guy who pitched 87 fewer innings than Gibson have had a better season? (Vote in the poll!) Pedro's opponent batting line is just sick: .167/.213/.259. Absolutely incredible. He was throwing 95-mph Wiffle balls that year, unhittable heaters and changeups and curveballs with precise location. The AL ERA in 2000 was 4.92, giving Pedro the best adjusted ERA since 1960. I think I answer it this way: If I wanted one of these guys pitching at his peak in a game to save the future of mankind, I'd take 2000 Pedro Martinez.
(Statistics from Baseball-Reference.com and FanGraphs.com.)
Follow David on Twitter @dschoenfield and the SweetSpot blog on Facebook.
March, 23, 2011
3/23/11
11:35
AM ET
I don't actually remember the first baseball game I attended, but in the spring of 1973 my father assures me we went to see a local high school phenom named Floyd Bannister, who would go 15-0 with an 0.00 ERA and three years later become the first pick in the draft by the Astros.
The first major league game I saw in person was Mariners versus Red Sox, Kingdome, May 1977. Must have been backpack night or tote bag night because the attendance totaled more than 52,000, and back then the Mariners drew that many fans only on Opening Day or for promotional giveaways. Jim Rice and Carlton Fisk hit home runs and, of course, the Mariners lost.
[+] Enlarge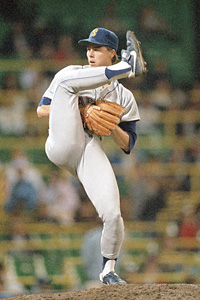 AP Photo/Fred JewellFormer Seattle ace Mark Langston's high leg kick was a staple at Mariners games for years, like during this 1987 shutout of the White Sox.
While I suffered through endless defeats, I witnessed plenty of exciting moments, like Ruppert Jones hitting an inside-the-park home run against the Yankees that first season that propelled everybody into a "Rupe! Rupe! Rupe!" chant at the top of our lungs. Or bat night in 1981, when Tom Paciorek beat the Yankees for the second night in a row with a ninth-inning home run and we started banging our bats against the metal bleachers in a deafening celebration. I was there with my father when Gaylord Perry won his 300th game and later that season when Perry was ejected for the only time in his career for throwing a spitball (Boston's Rick Miller swung and missed a pitch by about two feet and charged the mound, leading to an impressive melee).
I've seen Mark Langston two-hit the Tigers, compelling Sparky Anderson to call him the best young left-hander he'd seen since Sandy Koufax. I loved Langston and his high leg kick, but the Mariners couldn't afford him and he was later traded for a tall, gangly rookie named
Randy Johnson
, and I was there in the upper deck when Johnson beat the Angels (and Langston) in the 1995 tiebreaker to put the Mariners into the playoffs for the first time in franchise history.
I've sat in primo box seats at Fenway Park (thanks, Rob), watching
Pedro Martinez
strike out 17 Devil Rays … and lose 1-0 because
Steve Trachsel
pitched a three-hit shutout. I've seen Clemens throw a bat at Piazza, squinting from the upper deck at Yankee Stadium, not sure I saw what I thought I saw. I've seen
Tino Martinez
and
Scott Brosius
hit bottom-of-the-ninth homers to tie World Series games, and I definitely couldn't believe what I saw.
I'm just one fan, with my own chamber of baseball memories. You have your own, but we all keep going to the ballpark or watching on television or checking updates on our phones for the same reasons: We still love the games. We want to know who wins, who loses, hope for a game-winning home run or a young left-hander who throws 95 and makes us believe he's the next Koufax.
So with the 2011 season soon upon us, I can't wait for the games to begin, to see more memories formed.
To see what
Buster Posey
and the Giants will do for an encore.
To see whether
Jason Heyward
will explode in his sophomore campaign.
To see
Carl Crawford
going first to home on an
Adrian Gonzalez
double off the Monster.
To see if the Rays can again shock the baseball world and win the AL East for the third time in four seasons.
To see Cardinals fans give
Albert Pujols
a five-minute standing ovation the first time he steps to the plate.
To see
Joey Votto
deliver more big hits for Reds. (Note: I have a man crush on Joey Votto.)
To see
Troy Tulowitzki
range deep in the hole and rob a batter of a sure single. And then blast a 425-foot home run later in the inning.
To see
Joe Mauer
spray line drives all over the field.
To see
Justin Verlander
and
Josh Johnson
blow away hitters.
To see the artistry of
Roy Halladay
.
To see Yankees fans panic if
Derek Jeter
starts the season 1-for-14.
I can't wait to see the late game on Opening Day:
Tim Lincecum
versus
Clayton Kershaw
, the little righty with the funky motion and two Cy Young Awards versus the big lefty who could win one this season.
If our memories of games are a tangled web of neurons, well, that's kind of how baseball works, too. Langston was drafted in the second round with a pick acquired from the Rangers after they signed Bill Stein as a free agent. The Mariners picked Stein in the expansion draft from the White Sox, who had acquired him for Jerry DaVanon, who had been traded for Roger Repoz, who was acquired for Jack Sanford, who came up on the unlucky end of a 1-0 loss for the Giants in Game 7 of the 1962 World Series. The Giants didn't win a World Series in San Francisco until 2010, led by their ace Lincecum, who grew up in the suburbs of Seattle -- maybe the first game
he
ever saw featured Mark Langston -- using a pitching motion his father taught him, a motion modeled on the delivery of Sandy Koufax.
The SweetSpot blog will be here all season, writing about and discussing and analyzing the web that is a baseball season. Join myself and other contributors as we discuss the news, have some fun and give you a chance to interact. Mostly, we'll be watching a lot of games, as the moments of 2011 unveil themselves.
I can't wait. How many hours until the first pitch?
Follow David Schoenfield on Twitter at @dschoenfield. Follow the SweetSpot blog at @espn_sweet_spot.