October, 25, 2012
10/25/12
11:33
PM ET
SAN FRANCISCO -- This was the
Madison Bumgarner
Giants fans saw most of the season: the pitcher with impeccable control, the ability to get inside on right-handed batters, generate ground balls and change speeds. This was the pitcher who had become one of the best young left-handers in the game, not the guy who had struggled in recent weeks.
Bumgarner justified manager Bruce Bochy's faith in choosing him to start Game 2 over
Tim Lincecum
or
Ryan Vogelsong
, leading the Giants to a
2-0 victory
and sweep of the first two games. He threw seven shutout innings, an efficient 86 pitches with eight strikeouts and just two hits allowed, one of those being an infield single. It was a dominant effort.
Amazingly, the day before, Bumgarner himself didn't seem to know what to expect. Through his first 25 starts he had a 2.83 ERA and had allowed a .218 opponents' average. But he had struggled since an August start against the Dodgers when he threw 123 pitches. Since then he'd posted a 6.85 ERA. His fastball velocity had dipped and he appeared fatigued in his previous playoff start, against the Cardinals. Batters had feasted off his fastball, hitting .400 against it his past nine starts.
Before Game 1, he hesitantly suggested he and pitching coach Dave Righetti had resolved his issues. "I think we were going through some mechanical issues that -- just some small things that might have affected my arm and made it more difficult to throw, and I think that's really all it was," he said. "I think we've got it fixed. Like I said before, there's no way to tell 100 percent until you get out there and get going game speed."
I think we're 100 percent sure now.
* * * *
Doug Fister
-- despite taking a line drive off his head in the second inning -- matched Bumgarner zero for zero through six innings, albeit with one caveat: not with the same efficiency.
That set up the key decision of the game. With
Hunter Pence
leading off the bottom of the seventh, Fister had thrown 108 pitches. Pence hits right-handed, followed by three lefties. Jim Leyland had right-hander
Octavio Dotel
and rookie lefty
Drew Smyly
warming up. If Leyland brings in Dotel -- probably his best option against right-handed hitters -- it's probably for just one hitter with the string of lefties due up.
Leyland decided to leave in Fister for one more batter; he'd thrown more than 108 pitches seven times, so it wasn't uncharted territory. Pence had flied out twice against him and has looked feeble most of the postseason. There were certainly cries on Twitter suggesting Leyland should have pulled Fister. I see it both ways. I can certainly see Leyland's desire to hold back Dotel to possibly face
Marco Scutaro
and
Buster Posey
later in the game. It's easy to criticize Leyland since the decision didn't work out and in this day and age few managers want to lose game when a starter is over 100 pitches.
[+] Enlarge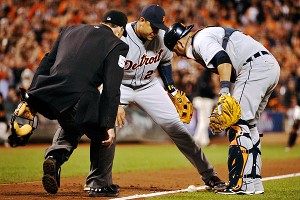 Robert Hanashiro/USA TODAYThis little thing -- Gregor Blanco's bunt staying fair -- led to the only run the Giants needed in Game 2.
On his 114th pitch, Fister left a 2-2 slider over the middle of the plate and Pence grounded a base hit past
Miguel Cabrera
.
That brought in Smyly, who walked
Brandon Belt
on a 3-2 slider up out of the zone.
Gregor Blanco
then placed a bunt down the third-base line, the ball rolling to a stop on the dirt between the grass and the baseline. Catcher
Gerald Laird
had no option but to let the ball go; it was just a perfect bunt by Blanco.
Brandon Crawford
grounded into a double play but that scored the game's first run.
Leyland did have another option there. Use
Phil Coke
instead of Smyly. Coke, of course, had defaulted into the closer's role after
Jose Valverde
's postseason implosion and pitched well in the American League Championship Series against the Yankees. Normally, the seventh inning -- especially against the left-handers -- would have been Coke's inning, followed by
Joaquin Benoit
and Valverde. Instead, Leyland trusted a rookie with little experience pitching in relief. Coke did finally get into the game -- in the eighth, with the Tigers now trailing 2-0.
"Probably if Valverde was ready, probably would have had Coke in that situation, but Smyly did fine," Leyland said. "He got a little bit wild there, but he got a couple big outs. He got the double-play ball and gave us our shot at it."
A 114th pitch. A slider meant to be a few inches outside left over the plate. A perfect bunt. The little things.
* * * *
One more little thing that can matter: sliding. In the top of the second with none out,
Prince Fielder
was hit by a pitch and
Delmon Young
doubled just inside the third-base bag. As the ball bounced away from left fielder Blanco, third-base coach Gene Lamont waved home Fielder. First, the wave. With nobody out, you had better be pretty sure Fielder is going to score. In fact, you had better be just about absolutely sure Fielder is going to score.
According to sabermetrician Tom Tango's run-scoring matrix, an average team would be expected to score about 2.05 runs with runners at second and third and no outs; with a runner on second and one out, the average run production is about 0.7 runs. That data is from 1993 through 2010, so the run-scoring environment is a little lower now, and of course you would have to adjust based on upcoming hitters and so forth. Still, Lamont's decision was about a 1.3-run decision. Fair or not, he made the wrong one.
Blanco's relay throw actually airmailed shortstop Crawford, but Scutaro -- him again! -- was backing up and threw home to catcher Posey, and replays showed he tagged Fielder on his shoe and/or rump just before he slid across the plate. If Fielder had slid to the back part of the plate, he probably would've been safe, as Posey would have had to stretch to make the tag. That's asking a lot from Fielder, however; he's not paid to slide expertly into home plate. Yes, the next two Tigers hitters popped out and struck out, so maybe Fielder wouldn't have scored, but it's kind of like time travel: That play changes everything that potentially comes after.
Then, in the top of the fourth,
Omar Infante
was picked off first and caught at second. With a better slide -- he dragged his foot behind him -- he might have been called safe.
Those two plays exemplified the first two games of the series: The Giants made plays and the Tigers didn't.
Pablo Sandoval
snagged a Cabrera line drive; Cabrera didn't have the range on Pence's base hit. Scutaro made the relay, Fielder didn't make the slide. Smyly couldn't execute the 3-2 slider that he walked Belt on, Fielder grounded into a 1-6-3 double play after Cabrera had led off the seventh with a walk.
Right now, like Bumgarner's pitches on a perfect San Francisco October evening, everything is working for the Giants.
June, 15, 2012
6/15/12
2:15
PM ET
By
Stephanie Liscio
| Special to ESPN.com
I grew up in the small town of Hermitage, Pa., which is situated on the Pennsylvania-Ohio border about midway between Cleveland and Pittsburgh. I watched people almost come to blows over the storied Steelers-Browns rivalry, yet saw people treat the Indians and Pirates with indifference. Obviously a big part of this is due to the fact that the baseball teams are not only in separate divisions, but separate leagues. Yet I still don't think that fully explains the lack of any developed rivalry between the Tribe and the Bucs. There is still plenty of animosity between crosstown interleague rivalries in New York and Chicago, and even cross-state in Missouri and Texas. I'm not necessarily complaining; I'm mostly indifferent about football, and can therefore enjoy both the Indians and Pirates in peace without harassment. At the same time, I can't help but think that Major League Basball is missing out on a great opportunity to encourage a rivalry between two teams just 133 miles apart.


The Indians' brass seems to prefer their cross-state rivalry with the
Cincinnati Reds
in the battle for the Ohio Cup, while the Pirates don't have a true interleague rival. I think one of the big reasons that an interleague rivalry never developed between the Indians and Pirates was because neither team has really been good at the same time. Since interleague play began in 1997, the Pirates haven't had a season when the team even played .500 baseball; you'd have to go back to 1992 to find the last time the Pirates finished a year above .500. The Indians have made the playoffs five times since interleague play began, but were still terrible in the early 1990s when the Pirates made their last trips to the playoffs.
For a portion of 2011 and thus far in 2012, the Indians and Pirates have both been in contention. Whether they can maintain their positions through the end of the season has yet to be determined. While both had high hopes in 2011 and were buyers at the trade deadline, the end result was anything but a close race for the Tribe or the Bucs. When the two teams square off at Progressive Field this weekend, both teams will hope to creep closer to first place in their respective divisions. Both teams have something on the line when they meet this year.
There are myriad connections between the Indians and Pirates on the field, in the front office, and even in their recent past. The Pirates are a team that has survived throughout the 2012 season based on the strength of their pitching. Even though their offense is much improved over the past couple of weeks, they still are last in baseball in runs scored. The Indians' offense has struggled at times as well, and the team has often gotten help from their strong bullpen in order to close out victories.
Both teams have a mix of exciting young stars and prospects --
Jason Kipnis
,
Michael Brantley
,
Carlos Santana
and
Francisco Lindor
in Cleveland;
Andrew McCutchen
,
James McDonald
,
Gerrit Cole
and
Jameson Taillon
for Pittsburgh. Pirates general manager Neal Huntington spent a number of years in Cleveland's front office, eventually serving as assistant general manager and special assistant to the general manager at the time, Mark Shapiro. The Pirates and the Indians also suffered crushing Game 7 walk-off losses: the Pirates in 1992 against the
Atlanta Braves
in the NLCS, and the Indians in 1997 against the Florida Marlins in the World Series. Both teams saw their title hopes crushed by the Atlanta Braves in that decade (the Indians in the 1995 World Series).
When baseball decided to whittle the National League Central down to five teams, the most logical solution was to move Houston to the American League West. This also amplifies the already cross-state rivalry between the Rangers and the Astros. But think about what would have happened if MLB found a way to move the Pirates to the AL Central. Not only would you establish a true rivalry with the Indians, but with the
Detroit Tigers
as well. Why would a rivalry with the Tigers be significant, apart from their geographical proximity to the Pirates? Several members of the Tigers coaching staff have connections to the great Pirates teams of the early 1990s. Jim Leyland, Gene Lamont and Lloyd McClendon all managed the Pirates; Leyland from 1986 to 1996, Lamont from 1997 to 2000, McClendon from 2001-2005. Former Pirates player Rafael Belliard is also on the Tigers' coaching staff.
There will undoubtedly be people who scoff at the Indians-Pirates series this weekend, who think there is nothing of interest between a team that hasn't had a winning season in 19 years and a team that hasn't won a World Series since Harry Truman was in the Oval Office. (Not to mention the fact that both crumbled in the second half of 2011.) Despite the fact that the Indians and Pirates both had bad weeks against the Reds and Orioles respectively, this still has a chance to be an exciting matchup. Optimistically, one hopes that the Indians and Pirates both have bright futures ahead of them. It would be the ultimate interleague battle for the pair to meet up in October a few years down the road.
Stephanie Liscio writes for the It's Pronounced "Lajaway" blog on the Indians.