September, 28, 2012
9/28/12
4:20
PM ET
In my earlier post, I wrote about players since 1969
who had terrific all-around seasons but didn't win the MVP Award
. As a companion to that piece, let's take a quick look at worst MVP winners. There are many ways to look at this, but the easiest is to simply create a cutoff using Wins Above Replacement.
Let's start by looking at MVP winners who had less than 5.0 WAR (via Baseball-Reference.com).
Division Era: 1969 to 2011
[+] Enlarge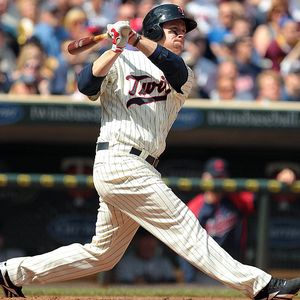 Jesse Johnson/US PresswireFinishing second in the AL in RBIs helped Justin Morneau earn league MVP honors in 2006.
2006 AL: Justin Morneau, Twins (4.0 WAR)
This actually wasn't as bad a selection as it may seem.
Grady Sizemore
led AL position players at 6.5 WAR and
Vernon Wells
was the only other 6-win player, but their teams didn't make the playoffs. Morneau wasn't a great choice -- he won because he finished second in the league in RBIs -- and edged out
Derek Jeter
(5.4 WAR) by 14 points in a year without an obvious top guy.
1998 AL: Juan Gonzalez, Rangers (4.6 WAR)
Gonzalez fit the classic mode of an MVP winner: An RBI leader who played for a playoff team. Nomar Garciaparra (6.8 WAR) and Jeter (7.3 WAR) finished second and third in the voting and also went to the postseason. They would have been better choices, along with WAR leader
Alex Rodriguez
(8.3).
1996 AL: Juan Gonzalez, Rangers (3.5 WAR)
Touched on this one in the other post. He was only ninth in the AL in OPS and his game was all offense. According to WAR, he ranked as the 30th-best position player in the AL. Probably my vote for the worst MVP selection ever.
1995 AL: Mo Vaughn, Red Sox (4.1 WAR)
Shortened 144-game season, but was unlikely to reach 5 WAR. Edged out Albert Belle (6.6 WAR) by eight points. Red Sox teammate John Valentin actually led the AL in WAR for position players at 8.1, with Edgar Martinez (6.7) second and Belle third. Voters during this period didn't really give much weight to position. Sure, up-the-middle guys like Robin Yount or Ryne Sandberg or Cal Ripken would win MVP Awards, but in years when they
were
the best offensive players in the league. Valentin had great numbers, especially for a shortstop, and was an underrated defender. Vaughn got extra credit for leadership and Valentin finished ninth in the voting.
1992 AL: Dennis Eckersley, A's (2.8 WAR)
Before
Justin Verlander
last year, the last pitcher to win MVP. An idiosyncratic selection that's impossible to defend (this even wasn't his 0.61 ERA season). Kirby Puckett had the highest WAR among hitters (6.8) and finished second in the vote.
1987 AL: George Bell, Blue Jays (4.6 WAR)
One of the more famous MVP disputes. Bell led the AL in RBIs and hit 47 home runs and edged out Alan Trammell (8.0 WAR) even though Trammell's Tigers won the AL East on the final day of the season.
1987 NL: Andre Dawson, Cubs (3.7 WAR)
Inexplicable back then and even more so now. Wait, it was explicable: Dawson led the league in home runs and RBIs and won despite a .328 OBP and the Cubs' last-place finish. Ozzie Smith (6.2 WAR) was second in the voting, while Tony Gwynn had the highest WAR at 8.3.
1984 AL: Willie Hernandez, Tigers (4.6 WAR)
The Tigers closer did have an amazing season (9-3, 1.92 ERA, 32 saves, 140 innings) but arguably the most anonymous MVP winner ever. Ripken had the highest WAR in the league and finished 28th in the vote. Ouch.
1979 AL: Don Baylor, Angels (3.5 WAR)
Baylor led the AL in runs scored and RBIs, was viewed as a team leader and the Angels made the playoffs for the first time in franchise history, so it's easy to see
why
he won, despite his limited defensive value (he split the season at DH and left field). George Brett (8.4) and Fred Lynn (8.6) had monster seasons, but finished third and fourth in the voting.
1979 NL: Willie Stargell, Pirates (2.3 WAR)
Shared the award with Keith Hernandez. The only time a guy won an MVP Award for putting gold stars on his teammates' caps.
1974 AL: Jeff Burroughs, Rangers (3.2 WAR)
Another RBI leader and the Rangers won 84 games after losing 105 games the year before. Six different players received first-place votes. The WAR leaders were Rod Carew (7.2) and Bobby Grich (7.0), who finished seventh and ninth in the voting. Grich's all-around game never was fully appreciated. Actually, Gaylord Perry had the best WAR; pitchers dominated the AL back then. Eight of the top-10 players in 1974 by WAR were pitchers.
1974 NL: Steve Garvey, Dodgers (4.3 WAR)
A very good player for a few years but not really a great one. Mediocre on-base percentages and only moderate power for a first baseman.
1970 AL: Boog Powell, Orioles (4.8 WAR)
Talked about this in the other post. Carl Yastrzemski had a huge season for the Red Sox.
Pre-1969 winners
I'm not saying the best players won every year -- heck, it would have been boring just to give it to Willie Mays every year -- but here the most egregious MVP winners in the pre-division period.
1962 NL: Maury Wills (5.8) over Mays (10.2)
Wills did have a good season but won primarily because he stole a then-record 104 bases, at a time when the stolen base was just regaining popularity after nearly going extinct in the 1950s. So there was a certain "wow" factor that impressed the writers back then. Still ... Mays was incredible (.304, 49 home runs, 141 RBIs, 130 runs, Willie Mays defense). Plus, the Giants beat the Dodgers in the three-game tiebreaker to win the pennant. Wills won the vote by seven points.
1961 AL: Roger Maris (6.7) over Mickey Mantle (10.2)
Like Mays, they couldn't give it to Mantle every year. Maris set the home run record but Mantle hit 54 of his own and had a 1.135 OPS versus .993 for Maris. The vote was close: 202 to 198.
1958 AL: Jackie Jensen (4.6 WAR)
Jensen led the league in RBIs and Mantle (8.4) didn't.
1955 AL: Yogi Berra (4.2 WAR)
Voters used to place a lot more emphasis on leadership attributes back in the '50s, a big reason Berra and fellow catcher Roy Campanella both won three MVP awards. Yogi had a good year, but Mantle or Al Kaline probably should have won.
1952 NL: Hank Sauer (5.2 WAR)
Often cited as a terrible MVP selection -- Sauer was a 35-year-old left fielder on a .500 club -- he did lead the NL in home runs and RBIs and ranks fifth in WAR among position. Still, an odd choice over more well-rounded players like Jackie Robinson (8.1) or Stan Musial (7.8), or 28-game winner Robin Roberts (who finished second in the vote).
1950 NL: Jim Konstanty (4.2 WAR)
An obscure 33-year-old relief pitcher for the pennant-winning Whiz Kids who went 16-7 with a 2.66 ERA in 152 innings. Had only one other season above 1.0 WAR. The Phillies didn't really have a star position player, so the Konstanty story line took hold and he got 18 of the 24 first-place votes.
1947 AL: Joe DiMaggio (4.5 WAR) over Ted Williams (9.6 WAR)
Maybe the most controversial results in MVP history. This was the year Williams won the Triple Crown but was left off a ballot and lost the vote by one point. Whether it was Boston writer Mel Webb who did so remains unclear.
This story
says Webb may not even have had a vote.
This may have been the most bizarre MVP vote ever and not just because Williams didn't win. Eddie Joost, a shortstop who hit .206 for the 78-76 Philadelpia A's received
two
first-place votes -- just one fewer than Williams. Some of the down-the-ballot votes were hilarious, including a shortstop named for the Senators named Mark Christman who hit .222/.287/.281 and earned four points.
1944 NL: Marty Marion (4.6) over Stan Musial (8.8)
Musial actually finished fourth in the voting as his Cardinals teammate won. Marion was a good defensive shortstop and probably led the league in intangibles. Eight different players received first-place votes but Musial was the best player in the league.
1934 AL: Mickey Cochrane (3.7)
Cochrane was the player-manager for the pennant-winning Tigers, so this one wasn't just about numbers. Lou Gehrig hit .363/.465/.706 and compiled 10.1 WAR -- good enough to finish fifth in the voting. Yankee fans are still ticked off.
September, 5, 2012
9/05/12
10:45
AM ET
From Tuesday's chat:

Andrew (Toronto): Caught two straight games in the recent Jays/Rays series. I'd never seen a game end with an out at the plate live before ... and then I saw it two games in a row. Gotta love baseball. Do you have a favourite "I can't believe I saw that with my own eyes" moment?

Me: OK, here goes. Greatest play I've even seen, bar none. Mariners-Blue Jays, 1985 I believe. Gorman Thomas up, Phil Bradley (former Missouri football player) on second. Thomas base hit, here comes Bradley, here comes the throw (forget who made the original throw). Bradley DESTROYS Buck Martinez at the plate, but Martinez holds on to the ball. I believe he broke his leg on the play. Or maybe his collarbone. (Note: He broke his leg and dislocated his ankle.) Meanwhile, Thomas keeps running. While laying on the ground, Martinez throws to third base, but it goes into left field. For some reason, George Bell is actually backing up the play. Here comes Gorman. Here comes the throw. Remember, Martinez is STILL ON THE GROUND. He can't get up. The one-hop throw goes right into his glove, Gorman tries to dance around the tag, but Buck makes the play. Greatest play I've even seen.

With apologies to Willie Mays, there's never been anything like it. Anyway, I'd never seen a replay of the play; didn't think it existed. And then last night Joey Taylor (@CustomTaylord) sent me a link via Twitter. Video! Somebody dug it up. And it's pretty much as I remember it. Jesse Barfield made the original throw, Bradley did destroy Martinez, and Gorman did dance around Martinez. A 9-2-7-2 double play.

Anyway, I'm not allowed to link directly to the video, but if you find Joey's Twitter feed or go to a certain web site that hosts videos and search for Buck Martinez, I'm sure you can find the video, although it doesn't quite show the entire play in all its glory.
July, 22, 2011
7/22/11
12:54
PM ET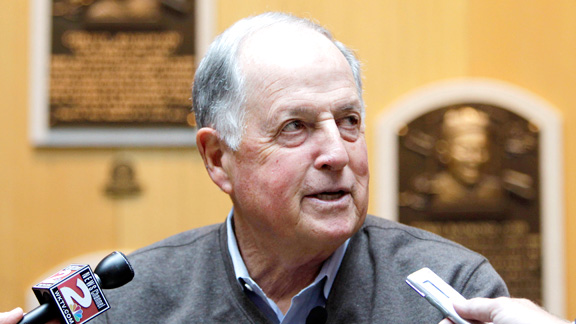 AP Photo/Mike GrollHall of Fame baseball executive Pat Gillick helped build playoff teams in several cities.
You can debate the merits of an executive getting elected to the Hall of Fame; personally, I find it a bit ridiculous that Pat Gillick got elected and will be enshrined this year while deserving players like
Barry Larkin
, Tim Raines, Alan Trammell and others were snubbed yet again by the voters (yes, Gillick was elected via a special expansion era committee).
Gillick was the general manager of the Blue Jays from 1978 through 1994, building them from an expansion franchise into a two-time World Series champion. He ran the Orioles from 1996 to 1998, making the playoffs his first two seasons. He took over the Mariners for the 2000 season, and his first big move was to trade a disgruntled Ken Griffey Jr. The Mariners made the playoffs anyway and then won a record 116 games the following season. He took over the Phillies in 2006 and retired after they won the World Series in 2008 (he remains an advisor).
His ability to build winners is undeniable, although Gillick also had good timing with his various retirements. After winning two World Series, the 1994 Blue Jays had become an aging, past-its-prime ballclub, finishing 55-60. Gillick wasn't around when the Jays stumbled to the worst record in the AL in 1995. He took over a solid Orioles club in 1996, added a few veterans to get them over the playoff hump, but left after the team fell under .500 in 1998. The Orioles haven't seen a winning record since. The Mariners won 93 games in 2003, but were an old club with a bad farm system, depleted in part because Gillick had forfeited draft picks to sign veteran free agents. He stepped down before the team lost 99 games in 2004. Only the Phillies have maintained success after Gillick left, either a testament to his genius or a testament to knowing when to quit.
Here are 10 moves that got him into the Hall of Fame, in chronological order.
1. Selecting George Bell in the Rule 5 draft.
Bell had missed most of the 1980 season while in the Phillies' system, but the Blue Jays were astute enough to select the outfielder. He didn't become a regular until 1984, but over seven full seasons with the Jays hit .288 while averaging 24 home runs and 102 RBIs, winning the 1987 AL MVP when he hit 47 home runs and led the league with 134 RBIs.
2. Acquired Fred McGriff for Dale Murray.
McGriff had hit .272 AVG/.413 OBP/.456 SLG as an 18-year-old in rookie ball with the Yankees when Gillick got him as a throw-in for a deal that brought Dave Collins and
Mike Morgan
to the Blue Jays. Collins had been a high-priced free-agent bust for the Yankees in 1982, and George Steinbrenner eagerly dumped him for Murray, a middling middle reliever who was nearly done. McGriff would hit 125 home runs for the Blue Jays, helping them win the '89 AL East crown.
3. Drafted Tom Henke from the Rangers.
Teams that lost a free agent used to be able to draft an unprotected player off another team. In 1985, Gillick selected Henke, a hard-throwing but wild right-hander who had posted a 6.35 ERA for the Rangers in 1984. Henke turned into one of the best closers in the league, had a 2.48 ERA and 217 saves over eight seasons in Toronto, and was the closer on the 1992 World Series champion.
4. Drafting John Olerud ... and then signing him as a free agent.
Olerud had been one of the best college players in the nation as a sophomore at Washington State, hitting .464 while going 15-0 as a pitcher. But he suffered a brain aneurysm before his junior season and played sparingly. Most teams were scared off, but the Jays drafted him in the third round in 1989 and he went straight to the majors. Later, in Seattle, Gillick signed Olerud as a free agent and he posted a .392 OBP from 2000 to 2003.
5. Acquired Devon White from the Angels for Junior Felix and Luis Sojo.
Felix had played well for the Blue Jays in 1990 as a 22-year-old while White had hit .217 for the Angels. But the Jays needed better defense in center (34-year-old Mookie Wilson had been the team's primary center fielder in '90) and White was one of the game's supreme fly chasers. White not only won three Gold Gloves as the Jays won three straight AL East titles from '91-93, but he hit well and averaged 108 runs per season over those three years.
6. Trading McGriff and Tony Fernandez to the Padres for Roberto Alomar and Joe Carter.
A few days later, Gillick made a good old-fashioned challenge trade, the likes of which you don't see much anymore. Fernandez had been a three-time All-Star with the Jays, but Alomar was younger and on the rise. McGriff was a better player than Carter, but the Jays had Olerud ready to play first base. In five seasons with the Jays, Alomar became one of the best all-around players in baseball, making the All-Star team all five seasons. He also hit .373 in five postseason series while with Toronto, driving in 18 runs and stealing 18 bases in 29 games. When Gillick went to the Orioles, one of his first moves was to sign Alomar as a free agent.
7. Signing Jack Morris, Dave Winfield and Paul Molitor as free agents.
By 1992, the Jays were drawing 4 million fans per season and had become one of baseball's richest franchises. Gillick had money to work with; the Jays had the third-highest payroll in 1992 and the highest in 1993. In '92, he signed veterans Morris and Winfield. Morris went 21-6 while Winfield hit .290 with 108 RBIs as the team's DH. The next season, Molitor replaced Winfield and was even better, hitting .332, driving in 111 runs, scoring 121 and finishing second in the AL MVP vote.
8. Signing Ichiro Suzuki.
Many American scouts and executives believed Ichiro was too thin and frail to succeed in the U.S. The Mariners won negotiating rights with a $13 million bid and soon signed Ichiro to a three-year, $14 million contract entering the 2001 season. All he did as a rookie was hit .350, score 127 runs, steal 56 bases, win AL MVP honors and lead the Mariners to 116 wins.
9. Signing Bret Boone as a free agent.
As good as Ichiro was in 2001, Boone might have been even better. He had one of the greatest seasons ever for a second baseman, hitting .331 with 37 home runs, leading the AL with 141 RBIs and winning a Gold Glove. All for $3.25 million.
10. Trading for Jamie Moyer.
Notice a trend? Gillick has a history of bringing back his former players. He had Moyer in Seattle and picked him up for nothing in 2006. In truth, all the key parts of the Phillies' 2008 World Series were already in place when Gillick arrived --
Ryan Howard
,
Chase Utley
,
Jimmy Rollins
and
Cole Hamels
had been drafted by the previous regime, and
Shane Victorino
had been acquired in the Rule 5 draft. Gillick's big moves were trading for Moyer, who would go 56-40 for the Phillies and was the team's No. 2 starter in 2008, and signing
Jayson Werth
before the 2008 season, after he had missed all of 2007 with a wrist injury.
Follow David Schoenfield on Twitter @dschoenfield.
March, 1, 2011
3/01/11
10:42
AM ET
Every year, the Baseball Writers Association of America (BBWAA) is given the incredibly difficult task of voting for the season-ending awards. While it has showed an occasional lapse in judgment over the years, for the most part, it has done a pretty good job.
The other day, while playing around on Baseball Reference, I stumbled upon the 1987 award voting page and was struck by the number of questionable choices made by the voting pool that year. Just for fun, I thought it'd be interesting to review the award winners from that season and determine if their election was warranted. Here are my results:
[+] Enlarge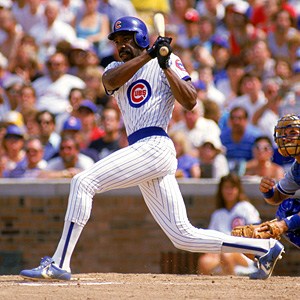 Jonathan Daniel/Getty ImagesAndre Dawson belted 49 homers en route to winning the 1987 NL MVP Award.
1987 NL MVP Award -- Andre Dawson: .378 wOBA, 49 HR, 137 RBI, 2.7 WAR
There were two primary factors in Dawson winning the 1987 NL MVP Award: (1) his impressive, but deceiving raw statistics; and (2) the story of him overcoming collusion to sign a blank contract with the Cubs in March of that year. What other reasons could there be? He played for a last-place team, created outs in 70 percent of his plate appearances, and despite winning a Gold Glove, advanced metrics showed that his defense was largely overrated. What's unfortunate about Dawson winning the award is not that he won, but that so many others didn't. By my count, there were no fewer than seven -- yes, seven -- players who were easily more deserving of the honor: Ozzie Smith (7.1 WAR), Jack Clark (6.5), Darryl Strawberry (6.7), Tim Raines (6.8), Tony Gwynn (8.1), Eric Davis (8.0) and Dale Murphy (7.5). While any of those seven players would've been tremendous choices, if I had a vote, I would've selected Tim Raines. Unlike Dawson, collusion forced Raines to miss the first month of the 1987 season. Had he been able to play prior to May 1, it's entirely possible, he could've matched or exceeded Eric Davis' season-high water mark of 8.1 WAR. For the record, Dawson wouldn't have made my top 10.
1987 AL MVP Award -- George Bell: .399 wOBA, 47 HR, 134 RBI, 5.0 WAR
Like with Dawson, AL MVP voters were blinded by the hypnotic allure of Bell's impressive home run and RBI totals. Unlike Dawson, Bell not only lacked a compelling back story that followed him all season, but actually played for a 96-win Blue Jays team that narrowly missed the playoffs. In essence, his award was won more on his body of work, rather than nonperformance-related fodder. Not to take anything away from Bell's accomplishments, but there were two other players who were far more deserving of this honor: Alan Trammell (8.4 WAR) and Wade Boggs (9.1). Boggs produced an offensive season for the ages leading the league in BA, OBP and wOBA, while hitting for power and playing Fielding Bible Award quality defense. Trammell, on the other hand, merely produced one of the best pre-steroid era offensive seasons by a shortstop in the history of the game, provided steady defense at a keystone position and led his team into the playoffs with a late-season surge. Oh, and the team his Tigers knocked out the playoffs? Bell's
Toronto Blue Jays
. Despite Boggs' tremendous season, my vote would have gone to Trammell without question.
1987 NL Cy Young Award -- Steve Bedrosian: 5-3, 40 saves, 2.83 ERA, 3.79 FIP, 2.6 WAR
From 1974 to 1992, it was kind of trendy in the BBWAA to elect a relief ace/closer as the Cy Young Award recipient. During that time, Mike Marshall, Sparky Lyle, Bruce Sutter, Rollie Fingers, Willie Hernandez, Mark Davis, Dennis Eckersley and Bedrosian all won the award. Typically, this occurred during seasons in which no starting pitcher asserted himself as the dominant force. This was the case in 1987 -- at least in terms of traditional pitching standards. As a result, Bedrosian won by default, despite there being other viable, more deserving candidates like Orel Hershiser (6.7 WAR), Bob Welch (6.6), Mike Scott (5.7), Rick Sutcliffe (5.6) and Nolan Ryan (5.5). The problem with these candidates was that each of them had perceived "warts." Hershiser, despite his pleasing ERA and high innings workload, posted a mediocre 16-16 record. Welch's 15 wins, while strong, weren't considered strong enough by most in the electorate for him to be considered a serious candidate. Scott, despite strong ERA and strikeout totals, had 13 losses. Sutcliffe had 18 wins, but posted a rather pedestrian 3.68 ERA. Ryan, despite leading the league in both ERA and strikeouts, posted an "ugly" 8-16 record. While you and I can see beyond these perceived flaws, voters in 1987 could not; hence, their selection. If I could retroactively vote today, I would select Ryan on the strength of his ERA, strikeout and FIP crowns.
1987 AL Cy Young Award -- Roger Clemens: 20-9, 2.97 ERA, 2.91 FIP, 8.18 K/9, 8.4 WAR
My beef with the AL Cy Young Award voting is not the selection of Roger Clemens, but the fact he was not selected unanimously. Clemens was far and away superior to his peers in nearly every statistical category, having led the league in wins, complete games, shutouts, K/BB and pitcher WAR. He placed second in innings pitched and strikeouts, and finished third in K/9 and ERA+. With all due respect to Jimmy Key, Dave Stewart and Doyle Alexander, I can't think of any rational or logical reasons why any of them received first-place votes. Clemens set the bar for American League pitchers that year, and no one came close to meeting it.
While it might seem unfair to be critical of 1987 BBWAA members for relying on W-L record and RBI as their standards for performance excellence, it's hard to give them a free pass when they seem to have made clear choices to select inferior rather than superior performances. Still, I'm not under any illusion that my selections, while objectively based, aren't at least somewhat subjective and open to interpretation. The BBWAA has done a pretty good job over the years in selecting the right award recipients, but 1987 just happens to be a year in which voters weren't quite as successful.
Chip Buck contributes to Fire Brand of the American League, a blog about the Boston Red Sox. You can follow him on Twitter.