August, 27, 2013
8/27/13
1:02
PM ET
Best seasons by third basemen since 1980, at least according to Baseball-Reference's Wins Above Replacement formula:
1. Adrian Beltre, 2004 Dodgers: 9.6
2. Alex Rodriguez, 2007 Yankees: 9.4
3. Rodriguez, 2005 Yankees: 9.4
4. George Brett, 1980 Royals: 9.4
5. Scott Rolen, 2004 Cardinals: 9.1
6. Wade Boggs, 1985 Red Sox: 9.0
7. Mike Schmidt, 1980 Phillies: 8.8
8. Miguel Cabrera, 2013 Tigers: 8.8 (projected)
9. Wade Boggs, 1989 Red Sox: 8.4
10. David Wright, 2007 Mets: 8.3
Cabrera is certainly having a historic season with the bat. If we look strictly just at hitting by third basemen, the list looks like this in terms of runs produced compared to an average hitter from that season:
1. Cabrera, 2013: 79 (projected)
2. Rodriguez, 2007: 65
3. Rodriguez, 2005: 64
4. Brett, 1980: 61 (in just 117 games!)
5. Jim Thome, 1996 Indians: 60
6. Chipper Jones, 1999 Braves: 59
7. Chipper Jones, 2007 Braves: 58
8. Boggs, 1988 Red Sox: 57
9. Ken Caminiti, 1996 Padres: 56
10. Boggs, 1987 Red Sox: 56
Eric Karabell argues that the first list gives too much credit to defense; he may be right -- Rolen is credited with 3.3 WAR on defense alone in 2004, for example, although he doesn't top 2.0 in any other season. And it's true that none of the players on the first list were bad defensive players in those seasons, except Cabrera, who is credited with minus-1.1 WAR on defense so far. Boggs didn't have a great defensive reputation early in his career, although he later won two Gold Gloves with the Yankees, and Baseball-Reference credits him as a plus defender for most of his career (although not in the class of Rolen or Beltre).
Does Cabrera's offensive output make up for his subpar range at third base? In the video, we discuss Schmidt's 1980 season, when he hit .286/.380/.624. Schmidt posted a 1.004 OPS that year; the only other National Leaguers to reach even .900 were Keith Hernandez at .902 and Jack Clark at .900. Bob Horner and Dale Murphy, both playing in the Launching Pad in Atlanta, were the only other National Leaguers to reach 30 home runs.

As impressive as Schmidt was compared to his peers, Baseball-Reference still credits him with "just" 47 runs produced above average, compared to Cabrera's projected total of 79. As Karabell says in the video, .286 is not the same as .359. But do Schmidt's defense and baserunning advantages make up for Cabrera's edge at the plate? I think it's close. Schmidt was still a very good third baseman in 1980 and B-R credits him with plus-11 runs, compared to Cabrera's minus-15 so far. B-R actually gives Cabrera the minor edge in baserunning, plus-1 to minus-1, although Schmidt did steal 12 bases that year.
Anyway, measuring defense remains imperfect. But in measuring the complete package of a player, it must be considered. Cabrera is having an all-time great offensive season, but it's a good debate whether it's the best all-around season by a third baseman of the past 35 years or so. (And to be fair, WAR isn't going to factor in that Cabrera is hitting an insane .422 with runners in scoring position.)
What do you think?
June, 6, 2013
6/06/13
4:00
PM ET
1965: Reds draft Johnny Bench
Back in the first draft, it was still possible to dig up a relatively unknown kid from rural Oklahoma. Bench wasn't selected until the second round -- the 36th player overall -- and seven other catchers went ahead of him. Jim McLaughlin, the Reds' farm director in 1965, in Kevin Kerrane's classic book on scouting, "Dollar Sign on the Muscle":
A friend of mine with another club said, "You better send someone down to Binger, Oklahoma, to look at this kid Bench. We're not gonna draft him because the general manager's seen another he likes up in New England." ... They took that New England catcher on the first round, and the kid never got above Double A. And we took Bench on the second round. It was kind of a poker game. Nobody else knew much about him; his team hadn't played many games, and our scout was usually the only one there, so we could wait. After the draft Bill DeWitt, my boss, said, "I've never heard of him." I said, "I know you haven't, but you will. And that's why you hired me -- to hear about kids like this one."
Does McLaughlin's story check out? Sort of. There was no catcher from New England drafted in the first round, but the Orioles did take a catcher from Dartmouth in the second round -- one pick ahead of Bench. As to the claim that nobody else knew about Bench, at least
one
other team saw him: the Dodgers drafted a high school teammate of Bench's in the seventh round, but passed twice on selecting Bench.
1966: Reggie Jackson falls into A's lap
In one of the more famous draft blunders, the Mets' had the No. 1 pick and passed on Arizona State outfielder Jackson to select a high school catcher named Steve Chilcott, who would battle injuries and never reach the majors. "It was a position pick," said Joe McDonald, a Mets executive at the time. "We did not feel we had an adequate catching prospect in the organization."
1966: Braves draft Tom Seaver
The Braves? Yep. Atlanta selected Seaver in the now non-existent January secondary phase of the draft (for players who had previously been drafted). Seaver, pitching at USC, had been drafted the previous June by the Dodgers, but didn't sign after the Dodgers turned down his $70,000 asking price. The Braves took him with the 20th pick of the January phase, setting off a weird chain of events. The Braves signed Seaver for $40,000, but commissioner Spike Eckert ruled Seaver was ineligible to sign because USC had already played two exhibition games (Seaver didn't pitch). But the NCAA then declared Seaver ineligible, because he had signed a pro contract. So Eckert ruled that any team willing to match the Braves' offer would enter a lottery. The Mets, Phillies and Indians matched, and the Mets won the lottery.
1971: George Brett and Mike Schmidt drafted back-to-back
Pretty cool that arguably the two greatest third basemen in history were drafted the same year with consecutive picks. The catch: They went in the second round, Brett and then Schmidt. The Royals' first-round pick was a pitcher named Roy Branch, who briefly reached the majors but never won a game; the Phillies' pick was Roy Thomas, who had a marginal eight-year career as a reliever, although never pitched in the majors for the Phillies.
1976: Trammell and Morris ... and Ozzie (sort of)
In 1976, the Tigers had one of the great drafts ever, selecting Steve Kemp in the January phase and then Alan Trammell (second round), Dan Petry (fourth round), and Jack Morris (fifth round). Trammell and Morris aren't in the Hall of Fame yet, but both could get there someday. No team has ever drafted (and signed) two future Hall of Famers in the same draft. The kicker: They also drafted Ozzie Smith in the seventh round, but he didn't sign, and the Padres selected him the following year.
1987: Mariners draft Ken Griffey Jr.
The Mariners owned the first overall pick, and penurious Mariners owner George Argyros wanted the club to draft college pitcher Mike Harkey, because he would be easier to sign and presumably quicker to reach the majors. Scouting director Roger Jongewaard won out in the end. (Harkey went fourth overall, to the Cubs.)
1988: Dodgers draft Mike Piazza ... in 62nd round
Maybe the most famous late-round pick, Piazza was the Dodgers' final pick that year -- the 1,390th pick overall out of 1,395.
1990: Braves land Chipper Jones
Hard-throwing high school right-hander Todd Van Poppel was the consensus top talent in the 1990 draft -- "the best pitching prospect ever" label had been slapped on him -- but his declaration that he didn't want to sign and instead attend the University of Texas scared teams off him. So the Braves took Jones, which worked out pretty well for them.
2000: Cardinals draft Yadier Molina
The 2000 draft as one of the worst ever -- after top pick
Adrian Gonzalez
(by the Marlins), the rest of the top 15 were Adam Johnson, Luis Montanez, Mike Stodolka, Justin Wayne, Rocco Baldelli, Matt Harrington, Matt Wheatland, Mark Phillips, Joe Torres, Dave Krynzel, Joe Borchard, Shaun Boyd, Beau Hale and
Chase Utley
(OK, finally one that panned out). Keep that list in mind when you get excited about your team's first-round pick this year. The only other first-round of note that year was
Adam Wainwright
(by the Braves). He would eventually get traded to St. Louis, where he would team with a young catcher from Puerto Rico also drafted in 2000.
2009: Nationals draft Stephen Strasburg
The story here is how the Mariners kicked away the No. 1 overall selection. The Nationals headed into the final weekend with a record of 59-99, having gone 3-11 over their previous 14 games. The Mariners were 58-101 and had lost 14 of 15. This was tanking at its best. All the Mariners had to do was lose one game to lock up the first pick. One loss. Easy, right? Instead the Mariners sweep the A's. The Nationals lose all three.
Josh Outman
's throwing error sets up
Yuniesky Betancourt
's two-run go-ahead in triple in the fifth inning of the season finale. In other words, if Outman doesn't throw the ball away, Strasburg might be in a Mariners uniform instead of a Nationals one. (With the second pick, the Mariners selected
Dustin Ackley
.)
May, 30, 2013
5/30/13
2:27
PM ET
The
Kansas City Royals
probably would be better off putting George Brett in the lineup than
making him their interim hitting coach
, but at least it will be good to see Brett back in a Royals uniform.
Because the real Royals sure haven't been good of late.
THIS WAS GOING TO BE THE YEAR, many prophesied before the season. Instead, after going 14-10 in April, the Royals have played like the Royals. In May they've gone 7-19, have lost eight in a row and 12 of 13, and have averaged 2.5 runs per game over those 13 games while hitting a grand total of two home runs.
And both of those home runs were hit by
Miguel Tejada
! A guy who wasn't even in the majors last year. Those may be the saddest two sentences I've written all year.
[+] Enlarge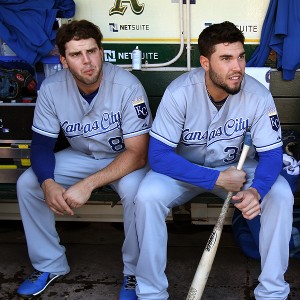 Brad Mangin/MLB Photos via Getty ImagesHighly regarded prospects Mike Moustakas and Eric Hosmer have been slow to take the next step in the majors.
So, no, it's not a surprise that hitting coaches Jack Maloof and Andre David have been reassigned. The real surprise is that manager Ned Yost wasn't given the ax as well.
As Joe Posnanski
wrote a few days ago
:
The last three games, the Royals have had Chris Getz and Alcides Escobar at the top of their lineup. You are not trying to win when you put Chris Getz and Alcides Escobar at the top of your lineup. You're just not. Chris Getz has a .311 career on-base percentage and a lifetime OPS+ of 70. Alcides Escobar has a .304 career on-base percentage and a lifetime OPS+ of 79. You hit those two guys 1-2 when you are trying to lose games for a better draft pick.
As Posnanski also pointed out, this power outage hasn't come at the expense of Maddux, Glavine and Smoltz. The 13 starters the Royals have faced:
Jarrod Parker
, Tom Milone,
A.J. Griffin
,
Dallas Keuchel
,
Bud Norris
,
Jordan Lyles
,
Joe Blanton
,
Jason Vargas
,
Billy Buckner
,
Jerome Williams
,
Adam Wainwright
,
Tyler Lyons
and
Lance Lynn
.
No, the ugly truth is everyone expected
Eric Hosmer
and
Mike Moustakas
to become stars because they were highly rated prospects, and highly rated prospects become stars. The ugly truth is this is a franchise trying to win with
Jeff Francoeur
and Getz eating up outs every day.
But Hosmer can't hit a fastball. In an excellent
subscription piece
on Baseball Prospectus, Sam Miller wrote about watching a week of Hosmer at-bats. His conclusion:
Hosmer is consistently late on fastballs. In seven days, I saw Hosmer foul off 18 pitches, and my recollection is that one of them—a slider that he dribbled toward the first-base dugout—was pulled. Nearly without fail, the rest were fastballs that he popped foul into the left-field stands or, occasionally, lined sharply toward the third-base dugout. Part of this is approach—as noted, he goes the other way—but the frequency of foul pop-ups on fastballs points to an inability to catch up and get on top of these pitches.
I've written before about Hosmer's inability to hit fastballs. It could be a mechanical thing. It could just be that he can't react to good fastballs. It could be his approach, and maybe that's why Maloof and David are no longer here. If they
were
telling their guys to go the opposite field, that's a problem. Yes, that's
part
of being a good major league hitter, but the majority of home runs are pulled. If you can't pull the ball, you're not going to hit many home runs. Not every hitter has the strength of
Ryan Howard
or
Miguel Cabrera
. And while the
San Francisco Giants
proved last year that home runs aren't the only way to score runs, the Royals are 14th in the AL in walks, so if you're not getting on base and not hitting home runs, your offense is going to stink.
And the Royals' offense stinks.
Also, that hot start in April?
Ervin Santana
and
Jeremy Guthrie
were great and allowed 10 home runs between them. In May they've allowed 18 and haven't been great.
In other words, the pitching that fueled that hot start may not really be as good as it was in April.
Somehow I got through this whole post without mentioning general manager Dayton Moore. He was hired May 31, 2006. Has it really been that long? His team has essentially made no progress in seven years.
It's time.
September, 6, 2012
9/06/12
1:00
PM ET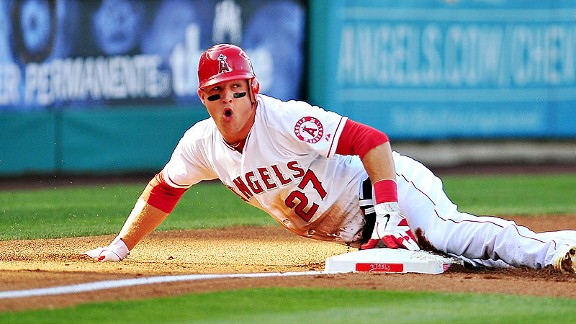 Gary A. Vasquez/US PresswireAngels outfielder Mike Trout has the tools to be baseball's most exciting player for years to come.
We all have our own favorites, of course, and maybe they change from season to season. Or month to month. That's a little of the beauty of baseball; we don't all have to enjoy and appreciate the same players. The stars aren't necessarily shoved down our throats like a certain sport played with an orange ball.
For me,
Mike Trout
has been the most exciting player in baseball in 2012. It's completely subjective opinion, of course, but if you think of some of the factors that would be considered for such a description, Trout fits (as do
Bryce Harper
,
Andrew McCutchen
,
Matt Kemp
and others):
1. Power. Check.
2. Speed. Check.
3. Spectacular plays on defense. Check.
4. Young. Check. This is kind of like how we get excited over a new restaurant or new girlfriend or new TV show.
5. Looks good in a baseball uniform. Check.
6. Has the It Factor. Hard to define, but you know what it is when you see it.
7. Cool name. Mickey Mantle wouldn't quite be Mickey Mantle if his name had been "Andy Stankiewicz."
8. He's good. Duh. Although I suppose there's a different kind of excitement for players who aren't good.
Pitchers have a slightly different list of criteria, much of which boils down to "He's one bad dude."
The first year I remember following baseball was 1976, the year before the Mariners arrived in my hometown. Leaving out the fact that most of us probably prefer a guy on our favorite team, here's my own list of Most Exciting Player in Baseball since that year.
1976: Mark Fidrych, P, Tigers
There hasn't been anybody like Fidrych since he became a national phenomenon as a 21-year-old rookie. For all the attention given to Trout or Harper this year, imagine if ESPN and 24-hour sports coverage had been around in 1976, when Fidrych was talking to baseballs and shaking hands with infielders after a good play -- in the middle of innings. I remember watching the famous June "Monday Night Baseball" game against the Yankees, that's how big it seemed at the time. Fidrych would start the All-Star Game, complete 24 of his 29 starts and boost attendance whenever he pitched (he accounted for nearly half of the Tigers' attendance that year while making just 18 starts at Tiger Stadium). In Dan Epstein's "Big Hair and Plastic Grass," a history of baseball in the '70s, he writes that other teams begged the Tigers to pitch Fidrych in their parks.
How exciting was he? Here's a
clip of that Yankees game
; fast-forward to the 2:30 mark and not just for the awesome '70s clothes and fans smoking in the stands. Detroit fans hung out
after
the game, chanting "We want The Bird! We want The Bird!" When he finally appears from the clubhouse, the place explodes. One of a kind.
1977: George Foster, LF, Reds
Maybe a bit of a one-dimensional slugger, but his 52 home runs that year seemed otherworldly. And maybe they were. It was the only 50-homer season between Willie Mays in 1965 and Cecil Fielder in 1990, Foster waved that menacing black bat and was awesome.
1978: Dave Parker, RF, Pirates
Built like a linebacker, for a few years there Parker was arguably the best all-around player in baseball. He was the MVP in 1978 as he led the majors in batting average and OPS and owned a howitzer for an arm. Plus, this was the year he fractured his jaw and cheekbone in a home-plate collision and returned two weeks later
wearing a hockey mask
at the plate (quickly replaced by a football-like face mask).
[+] Enlarge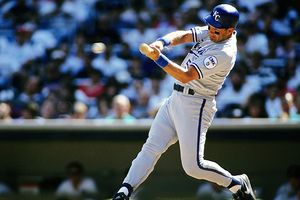 Ronald C. Modra/Sports Imagery/Getty ImagesGeorge Brett had 85 extra-base hits for the Royals in 1979.
1979-1980: George Brett, 3B, Royals
That sweet Charlie Lau swing. The dirty uniform even though he played his home games on turf. And then the chase for .400 in 1980. But how about this line in 1979: .329, 212 hits, 42 doubles, 20 triples, 23 home runs.
1981-1983: Rickey Henderson, LF, A's
Actually, you could probably give him the whole decade if you want.
1984-1985: Dwight Gooden, P, Mets
In 1984, he was Kid K, the 19-year-old phenom who finished second in the Cy Young vote, helping turn around a moribund Mets franchise. In 1985, he was Dr. K, the best pitcher on the planet -- 24-4, 1.53 ERA, 268 strikeouts. He pitched eight shutouts that year with his blistering high fastball and knee-buckling curveball, plus he had two more nine-inning scoreless outings where he got a no-decision. The four games he "lost" he allowed two, two, two and three runs. With a little luck, he could have gone unbeaten. You couldn't watch all the games back then, of course, unless you lived in the New York area, but I'd stay up late to watch the news to see how Gooden fared or devour the box score in the morning paper.
1986: Roger Clemens, P, Red Sox
Twenty strikeouts in a game. Twenty-four wins. Nothing then about needles in the butt.
1987: Eric Davis, CF, Reds
Skinny as a golf club, Davis somehow generated big power from his slight frame and combined that with blazing speed and acrobatic outfield play. In 1986, he hit 27 home runs and stole 80 bases; in 1987 he hit 37 home runs and stole 50 bases (in just 129 games). In a Sports Illustrated story, Reds manager Pete Rose said, "It's like having an atomic bomb sitting next to you in the dugout." Teammate Dave Parker said, "Eric is blessed with world-class speed, great leaping ability, the body to play until he's 42, tremendous bat speed and power, and a throwing arm you wouldn't believe. There's an aura to everything he does." In the long run, he couldn't stay healthy, although he did last until he was 39. If you missed seeing the young Davis, you missed something special.
1988: Jose Canseco, RF, A's
Don't laugh. When he went 40-40 it was a
very
big deal. But, no, I never called the
Jose Canseco hotline
.
1989-1994: Ken Griffey Jr., CF, Mariners
OK, Barry Bonds was better. He was faster. When you break it down, he was a little better hitter and that was even before Big Barry broke out. But Griffey had the It Factor from the time he reached the majors at age 19 and Bonds never really did.
[+] Enlarge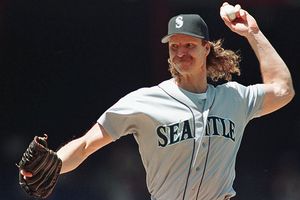 AP Photo/Duane BurlesonRandy Johnson's heroics in 1995 perhaps saved baseball in the city of Seattle.
1995: Randy Johnson, P, Mariners
Power and might, adrenaline at 100 miles per hour with his long hair flapping behind him, as intimidating a pitcher the game has ever seen. And if you were a Mariners fan in those days, a Johnson game was a treat to be savored. And when he trudged in from the bullpen in Game 5 of the 1995 Division Series, the Kingdome exploded in pandemonium. Without Johnson's spectacular '95 season (remember, Griffey was hurt part of that year), there may not be baseball in Seattle.
1996: Alex Rodriguez, SS, Mariners
The common theory is that A-Rod -- like Bonds -- never managed to connect with the fans on a national scale like Griffey, but that's a little rewriting of history, especially after he left Seattle for his first megabucks contract. In 1996, when he was 20 years old (turned 21 in July), he was, like Mike Trout, a young guy putting up bizzaro offensive numbers -- he'd hit .358 with 36 home runs and 54 doubles. It's too easy to forget now but there was a moment when Rodriguez was a player of our affection instead of a player of derision.
1997: Ken Griffey Jr., CF, Mariners
Griffey's MVP season when he led the AL with 56 home runs and 147 RBIs.
1998: Mark McGwire, 1B, Cardinals ... and Sammy Sosa, RF, Cubs
You have to put them together, no? And, no, you can't rewrite history: The home run chase was exhilarating, thrilling and astonishing.
1999-2000: Pedro Martinez, P, Red Sox
In the midst of the barrage of home runs, Pedro was putting up numbers we'd never seen before from a pitcher. In 1999, he struck out 313 batters in 213.1 innings, an average of 13.2 K's per nine innings ... and he walked just 37. He was Nolan Ryan with command and one unhittable changeup. In 2000, opponents hit .167 off him. This wasn't some reliever throwing one inning at a time. Attending a Pedro game at Fenway during this peak was like going to a religious revival, 35,000 fans believing fervently in the gifts of Pedro. He wasn't a god, but he sure pitched like one.
2001: Ichiro Suzuki, RF, Mariners
I think this list is just making Mariners fans sad.
2002-2004: Barry Bonds, LF, Giants
Are walks exciting? Bonds somehow made them so. Love him or hate him, a Bonds at-bat in this era was must-see TV.
2005: Albert Pujols, 1B, Cardinals
A weird season.
Bartolo Colon
won a Cy Young Award. Roger Clemens had a 1.87 ERA at age 42. Scott Eyre picked up 10th-place MVP vote. No, seriously, he did. We'll give the nod to Pujols, if only for that 9,000-foot home run off
Brad Lidge
in the NLCS.
2006-2008: Jose Reyes, SS, Mets
Over those three seasons he hit .292 while averaging 16 home runs, 16 triples and 66 stolen bases per season. Admit it: He was fun.
2009: Hanley Ramirez, SS, Marlins
Maybe should have mentioned him during the Reyes seasons. This was the year he hit .342 with power and speed.
2010: Josh Hamilton, CF, Rangers
He was so good he won the MVP Award despite missing the final month.
2011: Justin Verlander, P, Tigers
With apologies to Matt Kemp.
So that's my list, no slights intended to those I left off. What about your most exciting players? Discuss below ... and enjoy baseball.
March, 5, 2012
3/05/12
1:30
PM ET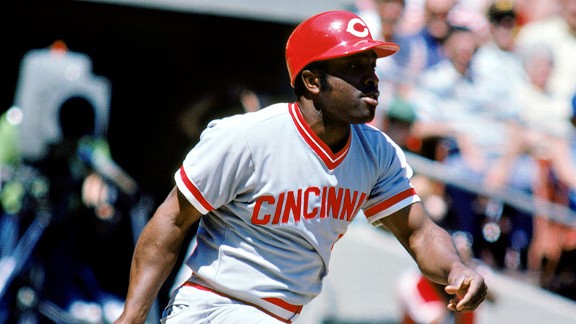 Rich Pilling/Getty ImagesIn the mid-1970s, Joe Morgan was the best all-around player in baseball -- by a large margin.
In 1975, Joe Morgan hit .327 with 17 home runs and 94 RBIs. Those traditional statistics may not seem impressive, but Morgan's season ranks as one of the best in the game's history.
As we begin voting Monday on the
greatest individual season of all time
, consider Morgan's value that season:
He drew 132 walks, giving him a league-leading .466 on-base percentage (the highest figure, by the way, in either league between Mickey Mantle in 1962 and Wade Boggs in 1988).

Because of his ability to get on base, he created a lot of runs --about 145, 17 more than the No. 2 hitter in the league, Greg Luzinski. But he created his runs in an efficient manner. He used up 354 outs; Luzinski, by comparison, used up 443 outs. So Morgan created more runs while using up 89 fewer outs.

He stole 67 bases in 77 attempts. Factor in his speed, and he was one of the best baserunners in the league.

He was an outstanding defensive second baseman, not only winning a Gold Glove but also ranking as the third-best overall defensive player in the National League in 1975, according to Baseball-Reference.com.

He did all this in an era when second basemen usually produced little at the plate. In 1975, National League second basemen hit a collective .267/.330/.353 (BA/OBP/SLG) -- with just 80 home runs. Morgan hit nearly one quarter of all home runs by National League second basemen. In 2011 terms, that would be akin to a second baseman hitting close to 50 home runs.

The Reds won 108 games, Morgan was the near-unanimous MVP winner, and he even drove in the winning run in the ninth inning of Game 7 of the World Series.
Add it up, and you end up with a player who was the best hitter in the league and one of the best defenders and baserunners in his league, and he did so while towering over other players at his position and playing on a championship team.
The wins above replacement statistic attempts to capture all this. In 1975, Morgan's Baseball-Reference WAR was 12.0, the best of his career and easily the best in the National League. During his 1972 to 1976 peak, Morgan rated as the best player in the NL four times, at least acording to Baseball-Reference.
In 1975, Morgan was a full five wins better than Mike Schmidt, an astonishing total. Only 12 times since 1901 has a player recorded a bWAR of at least 4.5 wins higher than the No. 2 position player in his league:
1921 AL: Babe Ruth (14.0) over Ty Cobb/Tris Speaker (6.6)
1924 AL: Babe Ruth (11.9) over Harry Heilmann (6.2)
1956 AL: Mickey Mantle (12.9) over Yogi Berra (7.3)
2002 NL: Barry Bonds (12.2) over Jim Edmonds (7.2)
1975 NL: Joe Morgan (12.0) over Mike Schmidt (7.0)
1924 NL: Rogers Hornsby (13.0) over Frankie Frisch (8.0)
1967 AL: Carl Yastrzemski (12.2) over Al Kaline (7.3)
1946 AL: Ted Williams (11.8) over Johnny Pesky (6.9)
1923 AL: Babe Ruth (14.7) over Harry Heilmann (9.8)
1926 AL: Babe Ruth (12.0) over Goose Goslin (7.2)
1922 NL: Rogers Hornsby (10.7) over Dave Bancroft (5.9)
1948 NL: Stan Musial (11.5) over Johnny Mize (6.9)
For what it's worth, only three of those 12 seasons ended in a World Series title -- Morgan, Mantle and Ruth in 1923.
So maybe Joe Morgan didn't hit 73 home runs or drive in 191 runs or bat .400. But his 1975 season ranks as sleeper candidate for greatest individual season of all time.
* * * *
It wasn't easy picking the 32 best seasons. I had two rules: Only one season per player, so we'd end up with a bracket of 32 different players; and I considered only seasons since 1901 (sorry, Ross Barnes fans).
It was important to get a diverse list of eras as well as positions. I did put a little more emphasis on more recent decades; basically, the quality of the game has improved over time, thus making it more difficult to post seasons with huge WAR totals like Ruth put up. Here is the breakdown by decade:
1900s -- 1
1910s -- 3
1920s -- 3
1930s -- 2
1940s -- 4
1950s -- 3
1960s -- 2
1970s -- 3
1980s -- 3
1990s -- 4
2000s -- 4
And by position:
C -- 2; Johnny Bench, Mike Piazza.
1B -- 3; Lou Gehrig, Jimmie Foxx, Rod Carew.
2B -- 4; Eddie Collins, Rogers Hornsby, Jackie Robinson, Joe Morgan.
3B -- 2; George Brett, Mike Schmidt.
SS -- 5; Honus Wagner, Ernie Banks, Robin Yount, Cal Ripken, Alex Rodriguez.
LF -- 6; Babe Ruth, Ted Williams, Carl Yastrzemski, Rickey Henderson, Barry Bonds, Albert Pujols. (Ruth played left field in 1921, and Pujols primarily played left in 2003.)
CF – 8; Ty Cobb, Tris Speaker, Hack Wilson, Joe DiMaggio, Stan Musial, Mickey Mantle, Willie Mays, Ken Griffey Jr. (Musial started at all three outfield positions in 1948 but played the most in center.)
RF -- 2; Hank Aaron, Sammy Sosa.
So there are our 32 players. I didn't necessarily pick each player's highest WAR season. In some cases, a player's iconic season -- like Ted Williams' .406 year or Hank Aaron's 1957 MVP campaign -- was selected. In some instances, maybe a player had other things in his favor that would help him to potentially fare better in the voting, like a big RBI total. Certainly, WAR is a good baseline to use because it helps us adjust for differences in eras, but it shouldn't be the only factor in determining the better season between two players. Was what Williams accomplished in 1941 more impressive than what Morgan accomplished in 1975? Is Yount being the best hitter in his league while playing shortstop more impressive than what Babe Ruth did in 1921 against an inferior brand of pitching? Maybe you prefer the all-around brilliance of Mays or DiMaggio over the pure hitting dominance of Rogers Hornsby or Lou Gehrig.
Which seasons just missed the cut? There were seven players who had a bWAR season of at least 10.0 who didn't make the bracket -- Lou Boudreau, Jason Giambi, Ron Santo, Adrian Beltre, Home Run Baker, Norm Cash and Matt Kemp. Sorry, guys. (Just noticed there are three third basemen there; too late now to change the final 32, unfortunately.)
So get to the bracket and start voting
. We'll do one round per day this week, culminating in the final matchup on Friday.
Let the debates begin.
Follow David Schoenfield on Twitter @dschoenfield.
February, 9, 2012
2/09/12
2:10
PM ET
After the Boston Red Sox lost the heartbreaking Game 6 of the 1986 World Series, Dennis "Oil Can" Boyd was scheduled to start Game 7.
The game got rained out, which gave Red Sox manager John McNamara an option: Boyd on five days' rest or Bruce Hurst on three days' rest. Boyd had started Game 3 and allowed four runs in the first inning but settled down after that and pitched seven innings (allowing two more runs in the seventh on a two-out single). Hurst had won Game 1 with eight shutout innings and Game 5 with a complete game, allowing two runs. Hurst had started only once all season on three days' rest, in the American League Championship Series, but all things considered, it was a pretty easy decision for McNamara.
He went with Hurst. Boyd was upset he didn't get the call. Hurst departed in the seventh inning with the game tied at 3-all. The Mets blistered the Boston bullpen and won 8-5. Boyd never got in the game. This past November,
McNamara said Boyd was too drunk to use in relief
.
Boyd wasn't exactly a stable personality to begin with. Earlier that season, upset about not being named to the All-Star Game despite an 11-6 record, he threw a tantrum, which eventually led to his being temporarily suspended from the club. Peter Gammons wrote a
Sports Illustrated cover story on Boyd that August
.
Now Boyd admits to
being a heavy cocaine user while in the big leagues
. The revelation isn't really a surprise, not considering Boyd's past issues and factoring in the widespread use of the drug during much of the decade.
Yes, Boyd had a problem, but he also was a symptom of his times. He wasn't the only major leaguer using cocaine in the 1980s. Players from Hall of Famer Paul Molitor to Keith Hernandez to Tim Raines to countless others admitted using the drug.
It was the thing to do.
Sound familiar? Sound like another epidemic that spread through the baseball world in the 1990s?
One group of players did something that arguably hurt their performance. Another group of players did something that arguably helped their performance. Yet one group is reviled. George Brett has said he doesn't think Roger Clemens will ever get into the Hall of Fame. "There are a lot of Hall of Famers, a lot of pitchers that are saying [Clemens] better not get in while I'm still alive, because I'll never come back,"
Brett told a Kansas City radio station in 2010
. "These guys are upset that their records are being broken and they did it the right way, and other people are doing it the wrong way."
Brett, of course, isn't the only person to echo those sentiments. But what's that quote about glass houses? Players in the '80s had their drug of choice; the next generation of players had theirs.
That's why I respect Mike Schmidt, another Hall of Fame third baseman from the '80s.
He has said he probably would have used steroids had they been popular in his era
. As he says, it was part of the culture. No, that doesn't make using steroids right, no more than it was OK that Oil Can Boyd started two-thirds of his games while on cocaine.
Part of the culture. Maybe Hall of Fame voters will someday begin to understand this.
October, 4, 2011
10/04/11
6:51
PM ET
Does
Adrian Beltre's three-homer game
rank as one of the top postseason hitting games of all time? After all, he belted three home runs in a slim 4-3 victory. One way to measure this is via something called WPA -- win probability added -- which takes into account the score and inning of the game to determine the change in win probability of the game based upon the outcome of each plate appearance. Under this method, the greatest WPA for one game is Kirk Gibson's two-out, two-run, bottom-of-the-ninth home run for the Dodgers in Game 1 of the 1988 World Series, which scored a WPA of .870.
Just for fun, here is the rest of the top 10 via that method, courtesy of
Baseball-Reference.com
:
2. Steve Garvey, Padres, 1984 NLCS Game 4 (.854 WPA): Went 4-for-5 with five RBIs in a 7-5 win over the Cubs, including a walk-off, two-run homer. The Padres retired Garvey's uniform number because of that game.
3. Charlie Keller, Yankees, 1941 World Series Game 4 (.826): This is the famous game in which Mickey Owen dropped the third strike, leading the Yankees to score four runs in the ninth to win 7-4. Keller hit a two-out, two-run go-ahead double in the ninth, and also had an RBI single in the first during a 4-for-5 game.
4. Cookie Lavagetto, Dodgers, 1947 World Series Game 4 (.822): Lavagetto's pinch-hit two-out, two-run double in the bottom of the ninth broke up Bill Bevens' no-hit bid and gave Brooklyn a 3-2 victory.
5. Michael Tucker, Braves, 1998 NLCS, Game 5 (.812): Don't remember this one? Me neither. Tucker went 3-for-5 with five RBIs, including a three-run homer in the eighth as Atlanta beat the Padres 7-5.
6. Brian Jordan, Braves, 1999 NLDS, Game 3 (.806): It's OK, all those Braves playoff games from the '90 runs together. The Braves won 5-3 with Jordan hitting a three-run homer in the sixth and a two-run, two-out double in the 12th.
7. Stan Hack, Cubs, 1945 World Series Game 6 (.806): The Cubs' leadoff hitter, Hack went 4-for-5 with two walks and three RBIs in a 12-inning 8-7 victory, including the winning double with two outs.
8. Jimmy Rollins, Phillies, 2009 NLCS Game 4 (.754): Rollins' line doesn't seem that impressive -- 2-for-5, double, two RBIs -- but that double came with two outs in the bottom of the ninth to score two runs and give the Phillies a 5-4 win.
9. Francisco Cabrera, Braves, 1992 NLCS Game 7 (.737): Reckon you might know about this one.
10. Gary Carter, Mets, 1988 NLCS Game 1 (.724): Orel Hershiser had finished the season with 59.1 scoreless innings. He took a 2-0 lead into the ninth, but Darryl Strawberry's RBI double knocked out Hershiser and Carter's two-out double off Jay Howell knocked in two runs for a 3-2 lead.
Now ... that's a great list, although probably not what you had in mind for best hitting performances. Those are all late-game clutch performances that snapped victory from the jaws of defeat. Here is another list of six performances that stand out to me for their all-around awesomeness, trying to avoid lines from blowout games
like this one
.
Reggie Jackson, Yankees, 1977 World Series Game 6: Three swings, three home runs. Reggie went 3-for-3 with a walk, four runs and five RBIs as the Yankees wrapped up the World Series with an 8-4 win.
George Brett, Royals, 1985 ALCS Game 3: With the Royals down 2-0 in the series, Brett hit a solo home run in the first; doubled and scored in the third; hit a two run-homer in the sixth to tie the game 5-5; singled to lead off the eighth and came around to score the winning run; 4-for-4, four runs, three RBIs in a 6-5 win. Wow.
Edgar Martinez, Mariners, 1995 ALDS Game 4: Trailing the Yankees 2 games to 1, Edgar hit a three-run homer in the third to cut a 5-0 deficit to 5-3, and then hit a grand slam off John Wetteland in the eighth when the game was tied. He finished 3-for-4 with a walk and postseason-record seven RBIs (also done by Mo Vaughn, Troy O'Leary and John Valentin).
Will Clark, Giants, 1989 NLCS, Game 1: The game turned into an 11-3 blowout over the Cubs, but Clark went 4-for-4 with a walk, two home runs, four runs and six RBIs.
Babe Ruth, Yankees, 1926 World Series 4: The Bambino goes 3-for-3 with three home runs, two walks, four runs and four RBIs in a 10-5 victory.
Kirby Puckett, Twins 1991 World Series 6: Down 3-2 in the series, Puckett hit an RBI triple and scored in the first; hit a sac fly in the fifth; singled in the eighth; hit a walk-off home run in the 11th. To top it off, he also robbed Ron Gant of a home run. (Puckett also went 4-for-4 with four runs in Game 6 of the 1987 World Series.)
Follow David Schoenfield on Twitter @dschoenfield.
August, 28, 2011
8/28/11
10:00
PM ET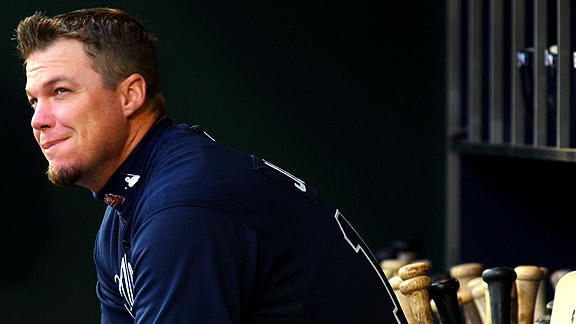 Mike Stobe/US PresswireWhere does future Hall of Famer Chipper Jones rank among the best third basemen of all time?
If you're an
Atlanta Braves
fan, maybe you remember the rookie Bobby Cox entrusted to hit third in the lineup in the 1995 World Series. Or maybe you remember September of 1999, when
Chipper Jones
hit 10 home runs, including two solo shots in a 2-1 victory over the Mets. He followed that performance with one more in each of the next two games as the Braves swept their NL East rivals to turn a one-game division lead to four. Or maybe you recall 2008, when Jones was hitting .400 as late as June 18. Or maybe you just remember that sweet, easy stroke from both sides of the plate that generated more power than you always expected.
Jones recently announced that he'll be returning for a 19th major league season in 2012. I'm sure he found the $13 million salary to his liking, but he's also returning because he's still a productive hitter. Despite undergoing arthroscopic knee surgery on July 9 and then suffering a hamstring strain, Jones is hitting a solid .279/.349/.468, including .386 in August. A line like that will lead a player to believe he has something left.
I would hope everyone recognizes by now that Jones is a first-ballot Hall of Famer. Last week, I exchanged Twitter messages with readers on where Jones ranks among the greatest third basemen of all time. Six names came up in that discussion, and with apologies to Home Run Baker and Ron Santo, here is my ranking of them.
(For the uninitiated, WAR stands for wins above replacement level, an all-encompassing stat that factors in a player's hitting, fielding and baserunning. All WAR numbers used in this story are from Baseball-Reference.com.)
6. BROOKS ROBINSON
"If his feet were slow, his reflexes were the fastest. If his arm was average, his accuracy and quick release were the best. Somehow he always seemed languid, especially as he threw overhand toward first; yet the fastest runners were out by larger margins when Robinson made his syrupy perfectos than when the most kinetic jack-in-the-box third basemen made similar plays as frantically as though they'd just sat on a cattle prod."
--Thomas Boswell
Career:
.267/.322/.401, 2896 G, 268 HR, 1357 RBI, 1232 R, 104 OPS+, 69.1 WAR
Best five seasons (1964, '68, '67, '62, '71):
33.5 WAR
Best 10 consecutive (1962-71):
51.9 WAR
Best 10 hitting seasons:
+142 runs above an average hitter
Robinson was so beloved in Baltimore that his final game with the Orioles drew the largest regular-season crowd up to that date in Memorial Stadium history. Robinson won 16 Gold Gloves and the defensive numbers back up his reputation -- Baseball-Reference rates him as the greatest defensive player ever, ahead of
Andruw Jones
, Roberto Clemente and Ozzie Smith. But I think he's pretty clearly the No. 6 guy on this list, despite his syrupy perfection at the hot corner. His bat is just too far behind the other guys. Not that he was an easy out -- he had enough power to hit 20 or more home runs six times and hit .317 in his 1964 MVP season. That was also the only year he slugged better than .500. He didn't walk much, leaving his on-base percentage nearly 100 points less than Wade Boggs', for example. But he was an amazingly durable player, a great teammate and a key member of some of the greatest teams of all time.
5. WADE BOGGS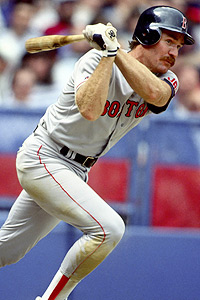 US PresswireWade Boggs may have been helped by the quirks at Fenway.
"There's no question that Boggs hits the ball farther and harder than Jim Rice or Dwight Evans or Don Baylor. He has titanic power that he hasn't shown yet. But he will. He regularly hits the ball onto the roof in Chicago and into the waterfalls in Kansas City. He'll hit 10 home runs in one round of batting practice. He'd win any home run contest he ever entered."
--Red Sox pitching coach Bill Fischer, 1987
Career:
.328/.415/.443, 2440 G, 118 HR, 1014 RBI, 1513 R, 130 OPS+, 89.0 WAR
Best five seasons (1987, '88, '86, '85, '89):
43.1 WAR
Best 10 consecutive (1982-91):
69.3 WAR
Best 10 hitting seasons:
+425 runs above average
Boggs never did hit for power, except for that one season in 1987 -- the rabbit ball season -- when he hit 24. Otherwise, his career high was 11, as he was content to slap doubles off the Green Monster, win batting titles (he won five) and collect his 200 hits per season (he did so seven straight seasons). That Boggs became a Hall of Famer and collected 3,000 hits was pretty remarkable considering his first full season didn't come until he was 25. His great eye at the plate and high batting averages produced some fantastic peak seasons. From 1983 to 1989 he hit .352 with a .446 on-base percentage, leading the AL in OBP in six of those seven years.
And yet I'm always left wondering if Boggs would have been as good anywhere else. During his Red Sox years from 1982 to1992, he hit .369 at Fenway, .307 on the road. On the one hand, Boggs deserves credit for mastering the unique dimensions of his home park; on the other hand, he never developed the power that so many said he possessed. His high on-base percentages made him an incredibly valuable offensive player and he was underrated with the glove, but would he have had a .328 career average if he'd come in a more conventional park? The best players would be stars in any era or any ballpark, and there is just enough of a question with Boggs that I put him fifth on this list.
4. GEORGE BRETT
"Sometimes I think the catcher can hear me, but I try not to let him. I'll say, 'I'm hot,' or 'I'm really swinging the bat good,' or 'I'm going to hit this pitcher.' But, hey, that's where it ends. It's not like I'm always having conversations with myself. I mean, I don't go back to my hotel room and say, 'What do you want to watch on TV, George? Oh, I don't know. Johnny Carson looks pretty good tonight.'"
--George Brett
Career:
.305/.369/.487, 2707 G, 317 HR, 1596 RBI, 1583 R, 135 OPS+, 85.0 WAR
Best five seasons (1980, '79, '76, '85, '77):
41.9 WAR
Best 10 consecutive: (1976-85):
62.2 WAR
Best 10 hitting seasons:
+392 runs above average
Baseball-Reference has a fun tool called the
MLB EloRater
, in which you're given two players and rate which one you think was better. It then converts those choices into a ranking of players. As I write this, Brett is rated 20th all time among position players, two spots ahead of Mike Schmidt, and the highest among third basemen. So the fans think Brett is the best ever. I just don't see it, and I say that as somebody who had a Brett poster on his wall as a kid. (OK, I had a Schmidt poster as well.)
It's easier to compare these two since they were contemporaries -- in fact, they were chosen with consecutive picks in the 1971 draft, the Royals drafting Brett 29th overall, the Phillies selecting Schmidt 30th. Offensively, Brett hit 38 points higher, despite which Schmidt still posted a better career on-base percentage. Schmidt placed in the top 10 in the NL 11 times in OBP, Brett seven times in the AL. Obviously, Schmidt had more power -- 231 more home runs, led his league eight times. Defensively, Brett turned himself into a good fielder after being a bit error-prone early in his career, but he was also shifted to first base at age 34 and played only 15 games at third over his final seven seasons. Schmidt, meanwhile, was a superb third baseman; he may not have deserved all 10 of his Gold Gloves, but he deserved many of them.
As pretty as Brett's swing was, as California cool as he was, as clutch as he was in the postseason (.337/.397/.627 in 43 games), I have to rank Schmidt higher.
3. EDDIE MATHEWS
[+] Enlarge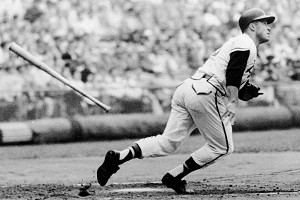 AP PhotoEddie Mathews has the second-best WAR among third baseman in the history of the game.
"He does everything well. He hits, he hits with power, he's a good fielder, he has a good arm, he's a fast runner. Maybe he won't lift a team the way a Mays or a Mantle will, but he's still one of the five or six best players in the game. You talk about Mays, Musial, Mantle, Aaron. He's in that group.
--New York Giants vice president Chub Feeney, 1958
Career:
.271/.376/.509, 2391 G, 512 HR, 1453 RBI, 1509 R, 143 OPS+, 98.3 WAR
Best five seasons (1953, '55, '63, '60, '54):
41.3 WAR
Best 10 consecutive (1953-62):
73.2 WAR
Best 10 hitting seasons:
+483 runs above average
Mathews was one of the best young players in baseball history, hitting .302 with 47 home runs and 135 RBIs at age 21. He never hit 47 again and hit .300 only two more times, and while active some viewed him as a disappointment ... not exactly fair given the numbers he put up. You can see this in the MVP voting: Mathews finished second in 1953 in that age-21 year and second in 1959, when he hit .306 with 46 home runs, but had only two other top-10 finishes (eighth and 10th). In 1954, he hit .290/.423/.603 with 40 home runs, but finished only 19th in the vote. The next season, he hit .289/.413/.601 and finished 18th. Man, those were some tough voters.
During my Twitter discussion, one reader pointed only to Mathews' WAR advantage as evidence that he was the second-greatest third baseman. My issue with using just WAR is that it was "easier" to accumulate WAR during Mathews' time. Here's what I mean: A 7.0 WAR season is an MVP-type season. Factoring in the number of teams per season, here's the ratio of "team seasons" for each 7.0-WAR season:
1950-1959: 1 for every 3.3 team seasons (49 7.0 WAR seasons in the decade, out of 160 team seasons)
1960-1969: 1 for every 2.9 team seasons
1970-1979: 1 for every 5.0 team seasons
1980-1989: 1 for every 5.1 team seasons
1990-1999: 1 for every 4.6 team seasons
2000-2009: 1 for every 4.5 team seasons
To me, this means it was more difficult to achieve a 7.0 season in the '70s and '80s than in the '50s or '60s. I would argue this is because the overall caliber of play improved. Fewer "bad" players means it's harder to excel beyond an average player or replacement player, which is what WAR measures. Now, the other interpretation could be simply that the '50s had more superstar seasons. Anyway, here is the number of 7.0 WAR seasons for the six guys on our list:
Robinson: 3
Boggs: 6
Brett: 5
Mathews: 8
Jones: 3
Schmidt: 9
2. CHIPPER JONES
"It helps that he has some ridiculous gifts. He was in a visiting clubhouse a while back, reading the crawl on a cable channel from about 30 feet away. A teammate said, 'You can read that?' Jones thought, You can't? He can remember hundreds, maybe thousands of at-bats, what he hit off whom. One night last week, after a game in which he saw two dozen pitches, he could remember in detail all but two or three of them: count, pitch, location, result. He watches game tape like a detective, and if a pitcher tends to slightly open his glove before throwing a curve, Jones knows it."
--Michael Bamberger, Sports Illustrated
Career:
.305/.403/.533, 2359 G, 449 HR, 1549 RBI, 1550 R, 142 OPS+, 82.0 WAR
Best five seasons (2007, 1998, '99, '08, '96):
34.9 WAR
Best 10 consecutive (1998-2007):
57.5 WAR
Best 10 hitting seasons:
+444 runs above average
Chipper's game was consistent excellence over a long time. His peak seasons may not quite match those of Brett or Mathews, but he's never had a bad season. He's had some injury issues later in his career, but through age 32 he averaged 153 games per season. Brett, meanwhile, battled injuries throughout his career (the turf in Kansas City didn't help); he played 140-plus games nine times, but four of those came after he moved to first base or DH. Considering Chipper's adjusted OPS is actually greater than Brett's and Brett moved to first base in his mid-30s, I give Chipper the slight edge.
The call over Mathews is a little tougher. Chipper had the weakest glove of the six, while Mathews was regarded a solid glove. (Baseball-Reference gives Mathews a five-win advantage over Chipper for defense over their careers.) Chipper's adjusted OPS is actually nearly identical to Mathews' and right now Baseball-Reference has Mathews as creating 550 runs above an average hitter of his era, Chipper at 549. Yes, Mathews has a good edge in career WAR. I think it's close, and maybe I'm succumbing to era bias here, but I'm going Chipper by the length of a Louisville Slugger.
1. MIKE SCHMIDT
"I don't think I can get into my deep inner thoughts about hitting. It's like talking about religion."
--Mike Schmidt
Career:
.267/.380/.527, 2404 G, 548 HR, 1595 RBI, 1506 R, 147 OPS+, 108.3 WAR
Best five seasons (1974, '77, '80, '76, '82):
45.6 WAR
Best 10 consecutive (1974-83):
81.5 WAR
Best 10 hitting seasons:
+449 runs above average
Schmidt was one of the first players to strike out
a lot
and not really care about it. He struck out 136 times in 132 games as a rookie (when he hit .196). He led the NL in home runs each of the next three seasons, but also led the league each year in strikeouts (138, 180, 149). At a time when batting average was still the primary way to evaluate a hitter, the fact that Schmidt struck out a lot and didn't hit .300 led, I believe, for him to be somewhat under appreciated early in his career. But if you trust the numbers at Baseball-Reference, he was a superstar from his second season: B-R ranks him as the No. 1 or No. 2 position player in the National League every year between 1974 and 1983, and first again in 1986. I believe Schmidt clearly remains the greatest third baseman of all time.
And what about
Alex Rodriguez
, you ask? We'll cross that bridge once he plays more games at third than shortstop.
Follow David Schoenfield on Twitter @dschoenfield.
March, 23, 2011
3/23/11
10:06
PM ET
Major League Baseball released its list of the
20 best-selling jerseys
from the past season.
Derek Jeter
ranked No. 1 ahead of
Joe Mauer
and
Roy Halladay
, mildly surprising since you'd think most Yankee fans would own a Jeter jersey by now.
Anyway, it got me curious. Which jerseys would have been the top-sellers of all time? You know, if replica uniforms had actually been sold back in the old days and merchandise sales tracked and the old ballparks with wooden grandstands had official team stores.
1. Babe Ruth: He wasn't just big in New York, but one of the most famous Americans of his time, along with Charles Lindbergh, Al Capone and
Jamie Moyer
.
2. Stan Musial: I think you'd be hard-pressed to find an athlete more beloved in his hometown than Musial. Played for the Cardinals for 22 classy seasons.
3. Roberto Clemente: Popular in Pittsburgh, but as one of the first Latino stars in the game, his reach would have extended across the nation.
4. Willie Mays: Maybe the greatest ballplayer of all time. When I was in second grade, my teacher gave me an old, wrinkled poster of Mays that I kept hanging in my bedroom for years. I would have loved a jersey.
5. Mickey Mantle: More popular than DiMaggio? I think so.
6. George Brett: He was Royals baseball for 21 seasons. Cool, clutch and every kid, teenager and adult in a 500-mile radius wanted to be him.
7. Jackie Robinson: My father-in-law grew up a Brooklyn Dodgers fan and he's told me there's nothing he's seen like Robinson dancing on the bases, trying to rattle the opposing pitcher.
8. Christy Mathewson: In a time when ballplayers were considered ruffians and hooligans, Mathewson was a college-educated star for the New York Giants and the most admired and respected player in the game.
9.
Cal Ripken
: More than Jeter, I think his appeal spread outside his home city.
10. Carl Yastrzemski: Yes, ahead of Ted Williams, who notoriously feuded with Red Sox fans during his playing days. Yaz carried the Sox to the 1967 pennant, one of the greatest individual seasons ever, and then played 16 more seasons in Fenway.
Disagree? Let's hear your thoughts below.
Follow David Schoenfield on Twitter at @dschoenfield. Follow the SweetSpot blog at @espn_sweet_spot.