SweetSpot:

George Springer
September, 9, 2014
Sep 9
10:34
AM ET
1. The A's can't get Sean Doolittle back soon enough.
For the second day in a row, the A's blew a ninth-inning lead, as
Tyler Flowers
of the White Sox homered off Eric O'Flaherty with two outs to tie the game and then homered again in the 12th off
Jesse Chavez
to win it. Doolittle threw a bullpen session on Monday and will face hitters on Wednesday, hoping for a return at the end of the week. The A's have now lost six games they've led heading into the ninth inning (the major league average is three) and their wild-card lead is down to one game over Seattle and 1.5 games over Detroit.
Brandon Moss
hasn't homered since July 24, a span of 113 at-bats during which he's hitting .159. Maybe it's not exactly desperate times in Oakland, but it's starting to feel like desperate times.
2. Even when he's mediocre, King Felix is pretty good.
Felix Hernandez
scuffled through six innings against the Astros, walking four for the second time this season and giving up five hits. But he kept the Astros off the board in getting a no-decision. The Mariners broke open a 1-1 tie in the eighth on
Brad Miller
's two-run triple to win for the sixth time in seven games. Still, Felix hasn't been quite as dominant over his past five starts, as he's allowed seven home runs and has a 23/9 strikeout/walk ratio in 31.2 innings. He'll face the A's this weekend and the Mariners will hope to see the Felix who had that memorable 17-start stretch where he went seven innings and allowed two runs or fewer each outing.
3. Big night for the Pirates.
With a 6-4 win over the Phillies, combined with losses by the Brewers and Braves, the Pirates increased their lead for the second wild card to 1.5 games over those two clubs. While
Jeff Locke
pitched seven solid innings -- three hits, one run, nine K's -- it's the Pittsburgh offense that remains underrated. They're third in the NL in runs (just two behind the Nationals for second-most) and second in wOBA. Last year's Pirates were all about pitching, defense and
Andrew McCutchen
, but this year's lineup runs much deeper.
Starling Marte
has been huge of late. Since returning from a concussion on Aug. 5, he's hit .342/.402/.575 in 32 games, with 15 extra-base hits, getting on base and adding power from the leadoff spot.
4. Javier Baez is going to have to some interesting projections for 2015.
Baez went 0-for-4 as the Cubs lost 8-0 to the Blue Jays ... although he did strike out just once after whiffing 10 times in his previous three games. His batting average in 34 games is down to .165 and he has 62 strikeouts in 140 at-bats. Yes, he's just 21. Yes, the raw power is off the charts. But 62 strikeouts -- with just eight walks -- in 140 at-bats? That's crazy terrible. That's not even
Mark Reynolds
territory. Not surprisingly, among players with at least 100 plate appearances, Baez has the highest swing-and-miss percentage at 42.9 percent. Astros rookie
George Springer
has the second-highest at 41.1 percent. Springer, however, has hit .231/.336/.468 compared to Baez's .165/.209/.350. The big difference? Baez has a chase rate on pitches outside the zone of 40.6 percent compared to Springer's 23.3 percent. Again, Baez is three years younger than Springer, so he has time to learn the strike zone; but if he doesn't, pitchers are going to continue exploiting his aggressiveness.
5. Victor Martinez is the best hitter in the game right now.
After going 3-for-5 as the Tigers pounded the Royals 9-4 in the first game of their big series, Martinez leads the majors in wOBA, just head of
Jose Abreu
, Andrew McCutchen and
Giancarlo Stanton
. In the park-adjusted wRC+, he's also first. He's hitting .337. He has power (already with a career-high 30 home runs). He rarely strikes out (just 39 K's in 570 plate appearances). Obviously, he doesn't have much defensive value as he's started just 30 games in the field, 28 of those at first base, but shouldn't he be a factor in the MVP voting? Not saying he should win, but he's a good top-five candidate. Oh ... doesn't Tuesday feel like a big game for the Royals?
Jason Vargas
versus
Max Scherzer
. Should be a fun one.
July, 14, 2014
Jul 14
11:57
AM ET
OK, we're actually well past 81 games, but we tend to divide the season at the All-Star break, even if that's not the true halfway point. Here's my list of the 10 biggest stories of the first half:
1. The rash of Tommy John surgeries.
On the heels of
Matt Harvey
going down late in 2013 and missing this season, this year's Tommy John surgeries have included
Jose Fernandez
,
Kris Medlen
,
Patrick Corbin
,
Matt Moore
,
Jarrod Parker
,
A.J. Griffin
,
Brandon Beachy
,
Ivan Nova
,
Bronson Arroyo
,
David Hernandez
,
Bobby Parnell
,
Josh Johnson
,
Luke Hochevar
and Pirates prospect Jameson Taillon. Plus there's the possibility that Yankees rookie
Masahiro Tanaka
will need the surgery if six weeks of rest doesn't help his elbow. That's a devastating loss of talent and has led to much discussion on how to better prevent all these injuries.
2. Best-in-baseball A's make huge trade.
Even with the season-ending injuries to Parker and Griffin and the offseason departure of
Bartolo Colon
, Oakland had soared to the best record in baseball with easily the best run differential. And
Scott Kazmir
and
Sonny Gray
had been terrific at the front end of the rotation. But, worried about depth and fatigue, Billy Beane stunned everyone by trading prospects Addison Russell and Billy McKinney (and pitcher
Dan Straily
) to the Cubs for
Jeff Samardzija
and
Jason Hammel
. Beane made the move to help hold off the hard-charging Angels; but at the break Oakland's lead was down to a slim 1.5 games.
[+] Enlarge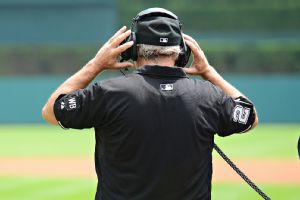 Mark Cunningham/Getty ImagesHas instant replay helped? The answer, at least from players, isn't all positive.
3. Confusion over new instant replay rules.
Catchers blocking home plate, the outfield "transfer" rule, the neighborhood play, managers challenging plays they're not supposed to be allowed to challenge -- expanded instant replay has hardly been a smooth transition. Longer-than-expected delays and inconsistent application has left everyone a little confused at times. Last week, after a play at home plate was not overturned despite evidence that a tag was missed,
Jose Bautista
said, "This whole replay thing has become a joke in my eyes. I think they should just ban it. They should just get rid of it. I don't really understand the purpose of it, but getting the right call on the field is not the purpose. That's pretty obvious and evident."
4. New stars emerge.
Besides Tanaka, we've seen White Sox rookie
Jose Abreu
crush 29 home runs in the most impressive power display by a rookie since
Mark McGwire
in 1987. Reds center fielder
Billy Hamilton
has hit far better than anyone expected while stealing 38 bases and impressing with his defense in center field.
George Springer
of the Astros didn't make his debut until mid-April and didn't hit his first home run until May 8, but has still clocked 19 home runs, several of light-tower prodigiousness.
Yordano Ventura
of the Royals has gone 7-7 with a 3.22 ERA while displaying his upper-90s fastball. Yankees reliever
Dellin Betances
failed as a starter in the minors but has been one of the game's most dominant relievers with 84 strikeouts in 55.1 innings while holding opponents to a .124 batting average.
Those guys aren't just good; they're exciting. Then we've had breakout non-rookies like Gray (who emerged late last season),
Garrett Richards
,
Corey Kluber
,
Anthony Rizzo
,
Devin Mesoraco
,
Dallas Keuchel
,
Anthony Rendon
,
Marcell Ozuna
and others. The young talent keeps on coming -- and that's before we get to minor league mashers Kris Bryant of the Cubs and Joey Gallo of the Rangers, two guys we can't wait to see reach the majors.
5. Pitchers continue to dominate.

Even with all the injuries, offense has still gone down -- if only slightly -- to 4.14 runs per game, which would be the lowest total since 4.12 in 1992. We enter the break with 21 qualified starters holding an ERA under 3.00, and that doesn't include
Clayton Kershaw
, who is two outs short of qualifying for the leaderboard.
Kershaw (11-2, 1.78 ERA),
Adam Wainwright
(12-4, 1.83) and
Felix Hernandez
(11-2, 2.12) highlight a season with many top pitching performers. Those three all have a shot at finishing with 20 wins and a sub-2.00 ERA, a feat accomplished just three times since 1980 --
Roger Clemens
in 1990 and Dwight Gooden and John Tudor in 1985. Hernandez enters the break with 11 consecutive starts in which he's pitched at least seven innings and allowed two runs or fewer, the longest such stretch since Mike Scott had 12 for the Astros in 1986. Kershaw had a 15-strikeout no-hitter with no walks, perfect other than a fielding error behind him. Wainwright hasn't allowed a run in nine of his 19 starts. Brilliance.
6. The Red Sox and Rays both struggle.
The defending champions and the team many expected to win the World Series both hit the break nine games under .500 and 9.5 games out of first place in the AL East. The Rays actually had the worst record in baseball on June 10 at 24-42. They've at least played better since then, going 20-11, but it may be too late to fend off the inevitable
David Price
trade. As for the Red Sox, one of baseball's richest and supposedly smartest franchises is headed for a second losing season sandwiched around its World Series title.
7. The NL Central race.
With four teams separated by 3.5 games, I have no idea who is going to win. But I know it's going to be fun.
[+] Enlarge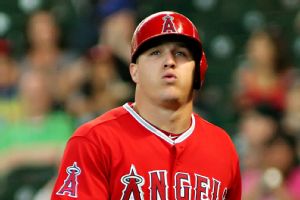 AP PhotoHaven't seen much of Mike Trout's strikeout face lately.
8. The Dodgers catch the Giants.
On June 8, the Giants were 42-21 and led the NL West by 9.5 games. Since then, they've gone 10-22 -- only the injury-depleted Rangers have been worse -- and the Dodgers lead by a game. Collapses in June get ignored, but blowing such a big lead in the span of a month is brutal. It sets the stage for what should turn into another classic Giants-Dodgers pennant race.
9. Remember when we were worried about Mike Trout's strikeouts?
On May 19, Trout's average dipped to .263 and he was striking out like Dave Kingman in a bad slump. In 46 games since then, he's hit .356/.440/.701 with 31 extra-base hits. He's on pace for 38 home runs, 126 RBIs and 17 steals while playing good defense in center. He leads the AL in OPS and total bases. He's the best player in the game, he's going to win the AL MVP Award and we should finally see him in the postseason -- and maybe for more than just the wild-card game.
10. The collapse of the Rangers and Phillies.
The Rangers were supposed to be in the midst of a dynasty. The Phillies had become one of the game's power players with their run of division titles. Instead, both teams have declined into oblivion, the Rangers due to an unnatural number of injuries (including season-ending neck surgery for offseason acquisition
Prince Fielder
) and the Phillies due to the predictable affliction of age. It may be a long time before either is competitive again.
May, 30, 2014
May 30
1:00
PM ET
Astros rookie George Springer homered again on Thursday and now has seven in his past seven games and 10 in May. ESPN Stats & Information sent out this list for most home runs by a rookie in May:
Mark McGwire, 1987 -- 15
Wally Berger, 1930 -- 11
George Springer, 2014 -- 10
Jose Canseco, 1986 -- 10
Wally Joyner, 1986 -- 10
Bob Speake, 1955 -- 10
Walt Dropo, 1950 -- 10
Some good players. Berger was a star in the 1930s, a potential Hall of Famer until he injured his shoulder in 1936. Dropo led the AL in RBIs and total bases as a rookie with the Red Sox and hung for another decade. But who is Bob Speake? I'd never heard of him.
Speake was a 24-year-old rookie outfielder and first baseman for the Cubs. He'd hit .264 with 20 home runs for Des Moines in the Class A in 1954, but according to the book "162-0: Imagine the Perfect Cubs Season," Speake's "power stroke, though, caught manager Stan Hack's attention during spring training, and Speake made the final camp cuts and came north with the Cubs."
Speake didn't start a game in April, pinch-hitting in seven of the Cubs' 15 games that month. He finally started in left field on May 2. Apparently, at least according to a note in Sports Illustrated, Hank Sauer ate tainted shrimp and came down with food poisoning. Sounds suspicious to me. (Sauer was 38 but had hit 41 home runs the year before.) Anyway, Speake got his chance. He went 0-for-3 but hit a three-run triple the next day in a 6-0 win over the Giants and, after going 1-for-5, homered in three straight games. A first baseman in the minors, left field was now his (Hack would remove for defense late in games).
The left-handed hitter would go on to hit .282/.380/.716 in May with 10 home runs and 29 RBIs. In a Memorial Day doubleheader sweep of the Cardinals his home run was the difference in a 1-0 win in the first game. On May 30, he homered in both games of a doubleheader as the Cubs again swept the Cardinals. His home run in the 11th inning of the second game gave the Cubs a 4-3 win. He was hitting third in the lineup, while a second-year shortstop named Ernie Banks was hitting sixth. The Cubs were 27-17 and in second place, a surprising start considering they had gone 64-90 the year before.
It soon came crashing down, for both Speake and the Cubs.
He homered on June 3 -- but would hit just one more the rest of the season. He hit .149 in June and by the middle of the month was back on the bench. He hit .194 in July and .163 in August and started just two games in September. The Cubs would finish 72-81.
The next year, Speak played with Los Angeles of the Pacific Coast League. He made it back to the majors with the Cubs in 1957 and actually played regularly, hitting 16 home runs but just .232. He served as a pinch-hitter with the Giants in 1958 and was done after a few games in '59.
So it goes down as one of the great fluke months in history. One report on a Cubs message board said Speake had a blind spot in his swing and once word got around the league, that was it. A report from spring training in 1956 said Speake "is trying to mend a batting flaw."
But, hey, he has a
baseball card
and played long enough to earn the nickname "Spook." After his playing days he was in the bowling business in his native Springfield, Missouri, and then became executive vice president of an insurance company in Topeka, Kansas. At 83, he's still alive.
May, 29, 2014
May 29
3:36
PM ET
May, 1, 2014
May 1
4:23
PM ET
Astros rookie
George Springer
has five errors, which is pretty remarkable considering he's a right fielder and he's played only 14 games. This is worth checking out ...
April 17 --
Norichika Aoki
doubles over the first-base bag and the ball bounds down into where the stands jut out along the right-field line in Houston. As Springer reaches down for the ball, it takes a bad hop over his glove, allowing Aoki to get to third base. Mostly bad luck here on the strange, high bounce.
April 24 --
Coco Crisp
bloops a single into right-center with runners at the corners. Springer lazily lobs the ball back into the infield over
Jose Altuve
's head, allowing Crisp to head to second. Luckily it didn't hurt the Astros;
Jed Lowrie
lined out to end the inning.
April 25 -- Ninth inning, bases loaded, game tied, no outs, infield in for the Astros. Oakland's
Daric Barton
singles off the glove of Altuve to score two runs. Springer overruns the ball, which was barely moving, and
Craig Gentry
comes all the way around from first base to score a third run.
(Quick aside: The Astros are a lousy defensive team, as they were last year. They're second worst in the majors with minus-21 Defensive Runs Saved, better only than Cleveland's minus-24. Just in watching these few videos, I've seen
Jonathan Villar
bobble a routine double-play ball that extended an inning;
Josh Fields
bobble a bunt in the inning above that loaded the bases; and Altuve fail to make a play you have to make.)
April 29 --
Adam LaRoche
singles to right field in front of Springer, who bobbles the ball to allow
Jayson Werth
to move from second to third.
April 30 --
Denard Span
triples into right-center. Springer twice drops the ball as he tries to pick it up, and Span circles the bases.
OK, four of the errors involved his hands, and one was a lazy throw. They look more like errors of effort and concentration than anything, a guy trying to move too fast. Springer had only three errors in his minor league career, so I don't think we're talking about a guy with bad hands or a Vlad Guerrero-like arm where the ball may land anywhere within a 100-foot radius.
Still, five errors in 14 games is unacceptable. Springer is obviously a talented athlete, maybe a little too eager to impress. He's hitting .182 with no home runs and 19 strikeouts (not necessarily a surprise, given his high strikeout rates in the minors), and is 3-for-22 with 10 K's against "soft" stuff. He clearly needs to relax and let the game come to him.
Easy to say, of course. Baseball is a hard game.
April, 17, 2014
Apr 17
10:11
AM ET
There were 15 games played Wednesday. One-third of those games featured a shutout. Teams hit a collective .220 and averaged 2.8 runs per game. The Cubs played a doubleheader and didn't score a run, the first time that has happened since 1962 (the Cubs lost 103 games that year).
Felix Hernandez
allowed one run and didn't win, the 17th time since 2010 he's pitched at least seven innings, allowed one run or fewer and didn't get the W.
Cliff Lee
allowed one run and fanned 13 and didn't win. The highest-scoring games featured just 10 runs and both went extra innings, and one was decided when a utility infielder had to pitch.
So, yes, just another day of baseball. Quick thoughts ...
February, 10, 2014
Feb 10
6:37
PM ET
As the headline says, random thoughts for Monday ...
If you read the blog last week you saw my preseason rankings of all 30 teams. The team I admit that I'm most likely to miss on is the Giants, whom I ranked 20th. If they get positive production from the fourth and fifth spots in the rotation, a big bounce back is certainly possible. Anyway, Connor Grossman of West Coast Bias responds to my Giants prediction.
Which team is most likely to go from under .500 to the playoffs, as the Indians and Pirates did last year? I'd mention the Giants and Blue Jays although neither would be considered a huge surprise if that happened. The Angels also finished under .500. If we're talking about a surprise team, I'd throw out the Padres (kind of like the A's, they're hoping 25-man depth will override their lack of star power). The Mariners have boom or bust potential depending on the growth of their young players.
Playoff team most likely to sink? I'd say the Pirates, who failed to add offense to a lineup that needed it, lost A.J. Burnett from the rotation and had a remarkable year from the bullpen.
The shortstop battle in Arizona between Didi Gregorius and Chris Owings will be intriguing. I'm probably in the minority in liking Gregorius better, as he has a chance to be a plus defender and showed more with that bat than expected as a rookie. Owings hit .330 at Triple-A Reno and while he did cut way down on his strikeouts from 2012, I'm skeptical of any numbers put up in Reno (or Las Vegas or any of the other high-altitude PCL cities). He doesn't walk much, so he needs to hit for a high average. ZiPS projects Owings at 2.2 WAR, Gregorius at 2.0, so it could be a case of best spring wins even if that's a lousy way to decide a job situation.
The Rangers have agreed to a minor league deal with Tommy Hanson pending a physical. It's a low-risk move for the Rangers but Hanson's fastball velocity has dropped from averaging 92.6 mph in 2010 to 89.6 with the Angels in 2013, with resulting decreases in effectiveness in recent seasons. Even if his shoulder is sound it's probably a long shot that he'll be able to contribute much.
Good piece on George Springer from Jeff Sullivan at FanGraphs. Springer, of course, went 30-30 (37 home runs and 45 steals to be exact) in the minors but also went 30-30-150, as in strikeouts. ZiPS is positive on Springer, projecting him to 3.3 WAR with Mike Cameron as his No. 1 comp. Even if Springer does turn into Cameron as a power-speed-strikeouts-defense combo, there may be some growing pains along the way.
Some Q&A about the Nationals from our Nationals Baseball blog, including thoughts on new manager Matt Williams. The interesting thing about new managers is that everyone will focus on the strategy, but for the most part everyone manages the in-game stuff pretty much the same way these days, give or take a few bunts or what you do with the No. 2 hitter. It's not like Williams is going let Stephen Strasburg throw 130 pitches a game. The important stuff is more likely to be the stuff we don't see or can't evaluate with numbers. Williams also inherits a pretty set roster, with the only major issue being when to work Nate McLouth into the lineup.
A look at Orioles prospects from Camden Depot. Dylan Bundy, we haven't forgotten about you.
Daniel Poarch looks at the projections for the Red Sox offensive core of hitters. The most interesting guy here is Daniel Nava, quietly a huge part of Boston's division title last year as he hit .303/.385/.445.
It's About the Money asks if we should be tempering expectations for Masahiro Tanaka. We probably should but it's a lot more fun if we don't.
Bill Baer on why the Phillies should platoon Ryan Howard. Good idea, of course, but I don't see Ryne Sandberg doing it.
Nelson Cruz to the Mariners rumors are still hot. Let's wait and see the terms of such a deal before us Mariners fans get upset thinking of Mike Morse Part II, Revenge of the Slow-Moving Outfielder Whose Power Won't Play Well at Safeco Field.
Nick Nelson asks if the Twins moved too aggressively in signing Ricky Nolasco and Phil Hughes. It's possible, considering Hughes was signed for three years and $24 million while the comparable -- if not better -- Paul Maholm just signed for $1.5 million with the Dodgers.
Two pieces from the great Tim Keown worth checking out: What's next for Yasiel Puig? That, of course, may be the most interesting question of the 2014 season. And how come baseball teams don't train the brain more?
June, 3, 2011
6/03/11
1:00
PM ET
NEW BRITAIN, Conn. -- Connecticut is known for college basketball, not college baseball.
Connecticut is known for producing Yankees and Red Sox fans, not producing baseball players.
Matt Barnes and George Springer are changing that perception.
Barnes is a 6-foot-4 right-hander who throws 97 mph heat. Springer is a five-tool center fielder who many scouts regard as the best college athlete in this year's draft. Both are expected to be first-round picks on Monday (in his
latest mock draft
, Keith Law had Barnes going No. 10 to the Padres and Springer going No. 18 to the A's). Both will soon have more money in their bank accounts: All 30 of last year's first-round picks received signing bonuses in excess of $1 million.
For now, they're still college kids, playing for their teammates and their school, the University of Connecticut. After a 41-17 regular season, the Huskies made their second straight NCAA tournament and begin
regional action
today against Coastal Carolina.
Barnes said he just tried focus on each game this season and not get caught up with draft rumors or what scouts may want to see. "I try not to. But it's hard," he said. "Anyone who says they don't worry about the scouts might be lying. ... I just try to give my team a good start every time out. If I can do that, the rest of it will take care of itself."
When I checked out UConn in a late April doubleheader against Georgetown, I missed seeing Barnes pitch. He had started the night before and rumor in the press box was his final pitch -- his 113th of the game -- was clocked at 97 mph. I asked a scout who had been there if that was true. He got a big grin on his face that he couldn't repress. "That is accurate," he said.
Barnes was undrafted out of Bethel (Conn.) High School, even though he had a good fastball. "He was a kid throwing 92-93 miles per hour his senior season but for whatever reason got missed," said UConn coach Jim Penders. "He didn't command it great and that may have been one of the reasons. His breaking ball was an average pitch at best but he's developed a very good curveball, a very good slider and now a very good changeup to go with the 96-97 fastball."
Barnes had also never seen the inside of a weight room. "I've gotten stronger, grown into my body. My confidence has grown a lot," he said. He's also worked on improving those offspeed pitches. His best pitch remains that four-seam fastball that makes scouts drool, but Barnes added a changeup to his arsenal this season, saying it's been an effective pitch against left-handers: "I worked on that a lot last summer and it's translated pretty well this season."
Springer has also matured since high school. From New Britain, he was a 48th-round pick out of Avon Old Farms High School by the Twins, but even that selection was mostly done as a favor to the New Britain Rock Cats, Minnesota's Double-A affiliate.
Springer says he's gotten bigger, stronger and faster. A scout I talked to said Springer had a big, loopy swing in high school that he's worked to correct. There is some worry about a backside collapse when he swings. But the scouts love the power/speed potential. "He has all the tools you look for," said the scout, who also raved about Springer's range in center field.
Springer says the key is focusing on the mental side of baseball. "The physical aspects about the game just come," he said. "Now it's all about you have to be able to accept failure. The mental side of the game has been something that the last three years my dad has preached to me, coach Penders has, my summer guys have."
At 6-3, 200 pounds, Springer has an ideal baseball build. After hitting 18 home runs last season for UConn, he's hit .361 with 12 home runs, 22 doubles and 31 stolen bases in 219 at-bats this spring. He also seems to have developed a skill at getting hit by pitches -- 18 times this season.
On the day I saw him, he came to the plate in the first inning and the six scouts or so in attendance moved down to the first-base line, to better analyze his swing. The right-handed Springer hits from an upright stance and I love that he goes old-school with the high socks. But, sure enough, he gets hit by a curveball.
In the third inning, the Georgetown pitcher gave him nothing but junk and Springer looked bad striking out on a slow curve, swinging from his heels and actually falling to his knee. Then in the fifth inning, the Georgetown pitcher threw Springer the only fastball he'd see all game. He didn't miss it, drilling a low liner to left-center that just seem to rise and rise until it rocketed over the fence.
That
was the power of a first-round pick.
It's "all about seeing the ball deep and hitting the ball on a line," Springer said after the game. "I've been working on getting a certain pitch to hit and if I do get that pitch, I can't miss, because odds are I won't get that pitch again."
Like Springer, Barnes produced good numbers as well: 11-3, 1.12 ERA, 105/28 strikeout/walk ratio in 112 innings, and a .162 batting average allowed. The scout I talked to raved about the makeup of both players. And while scouts grade the tools, they do pay attention to the whole package. Both players politely signed autographs for fans between games of the doubleheader. Maybe a little thing, but it's all part of the big picture.
"George is a dynamic kid with great baseball instincts and unbelievable passion to play the game," Penders said. "He loves playing, loves everything that goes along with playing, loves being around his teammates. One of those magnetic personalities that only come along once in a great while."
For UConn, Barnes and Springer are set to become the school's first first-round picks since Cleveland drafted pitcher Charles Nagy with the 17th pick in 1988 (third baseman Mike Olt was a supplemental first-rounder last year by the Rangers).
It's all part of a program on the rise. "There's a lot of talent in our home state," Penders says. "If we kept the best baseball players from Connecticut in Connecticut, playing at UConn for their flagship university, we wouldn't just win Big East championships, we could win a national championship."
Indeed, Vanderbilt third baseman Jason Espositio, from Bethany, is a possible early round selection on Monday and one of the Clemson pitchers the Huskies may face this weekend is Dominic Leone, from Norwich.
It is Clemson and Coastal Carolina on the minds of Matt Barnes and George Springer right now. But on Monday, they'll get drafted. Soon they'll sign a professional contract and head to the minor leagues, two more prospects with talent and major league dreams.
I'll be keeping tabs on them. I hope they keep their love of the game, even if that trek through minors becomes difficult. And I hope they have plenty more autographs to sign in their futures.