January, 28, 2014
Jan 28
12:10
PM ET
It's been a weak stretch of birthdays -- we should do a little study, but it wouldn't surprise me if January is the weakest month for birthdays. This could be related to the
birthday effect
that Malcolm Gladwell outlined in his book "Outliers" -- that being born at a certain time of year is an advantage. In hockey, for example, there is a disproportionate number of players born in the first half of the year. In Canada, the cutoff date for determining ages for youth hockey leagues is Jan. 1, so those kids born in January are "older" than kids born in December, creating an advantage that starts in youth leagues.
In baseball, the Little League cutoff dates was July 31 for a long time. Sure enough,
here's a study
that shows more major leaguers were born in August than any other month, with the months at the end of the year producing a higher percentage of major leaguers than months earlier in the year.
Anyway, the best players from some previous days:
Jan. 27 -- John Lowenstein has played the most games of anybody on this date. Julio Teheran could end up being the first Jan. 27 All-Star.
Jan. 26 -- Nobody born on Jan. 26 has made an All-Star Game.
Jan. 25 -- The only All-Star: Derrick Turnbow, who had a 4.30 career ERA.
Jan. 24 -- At least we get four All-Stars: Scott Kazmir, Rob Dibble, Dick Stigman and Atlee Hammaker. Stigman made both All-Star Games back in 1960 (there were two for a few years) even though he was a rookie with the Indians and finished 5-11 with a 4.51 ERA. He was 4-4, 3.80 in the first half, but had only started eight games (and saved six others). He didn't pitch in either game.
OK, Jan. 28. We get some more interesting guys today.
George Wright: Born 1847
Wright was one of the stars of early baseball, a shortstop who played in the National Association, the forerunner to the National League, and then in the first few seasons of the National League (he was the first batter in National League history in 1876). When his older brother Harry helped form the first professional team in 1869 for the Cincinnati Base Ball Club, he brought his younger brother over from New York. At $1400, George was the highest-paid player on the team. (The Red Stockings would tour the country in 1869 and go undefeated.)
George would go on to star for the Boston teams in the National Association and National League that won six pennants in eight years. Harry was the manager. After the initial group of Hall of Famers (Babe Ruth, Ty Cobb, Honus Wagner, Walter Johnson and Christy Mathewson) were elected in 1936, Wright was elected in 1937 by the Centennial Committee, the only player among earlier pioneers so selected. Brother Harry would get elected in 1953.
After leaving baseball in 1882, Wright returned to cricket, the sport the brothers had been raised on (their father owned a cricket club) and focused on his sporting goods business in Boston. That company -- Wright & Ditson -- became one of the leading purveyors of tennis, golf, hockey and baseball equipment and apparel and still exists today, selling vintage-style clothes.
Bill White: Born 1934
Remembered today perhaps more for his tenure as National League president from 1989 to 1994, White was a five-time All-Star first baseman and seven-time Gold Glover for the Cardinals in the late '50s and early '60s and with a little better luck could have been a Hall of Famer. He reached the majors with the New York Giants in 1956 at age 22 and hit 22 home runs. Good start. Except he got drafted into the Army and missed all of 1957 and nearly all of 1958. By 1959, the Giants had come up with Orlando Cepeda
and
Willie McCovey, so there wasn't room for three first basemen. The Cardinals acquired White right before the season and he hit .302 with 12 home runs, splitting time between left field and first base.
During his peak from 1962 to 1966, White hit .300/.364/.476 and averaged 23 home runs and 98 RBIs, good numbers for the '60s. He averaged 5.3 WAR over that span and finished third in the MVP voting in 1964 when the Cardinals won the pennant. The Cardinals traded White to the Phillies after the 1965 season, apparently believing a guy named George Kernek was ready for first base. He wasn't; in early, the team acquired Cepeda from the Giants. White had one good year in Philadelphia but then fell off in 1967 as he hit just eight home runs, apparently bothered by a foot injury. He hung one for one more season and made a cameo for the Cardinals in 1969. OK, maybe not a Hall of Famer, but give him those two years he missed and a couple more years at the end of his career and he would have had a good case.
After his playing days, White became a long-time broadcaster for the Yankees, becoming the first black play-by-play announcer (he's the one calling Bucky Dent's famous home run in 1978) and then the first black president of a major sports league. After retiring as NL president, White basically went off the grid,
refusing to watch baseball
on television or attend games. His 2011 autobiography "Uppity: My Untold Story About the Games People Play" tells the story of enduring life in the minor leagues in the Jim Crow South of the 1950s (where he once raised his middle finger to a crowd of hecklers in North Carolina and had to carry a bat when getting on the bus after the game) and presents a candid, honest view of the sport and the people who ran it.
White is 80 now. He's lived an amazing baseball life.
Magglio Ordonez: Born 1974
Ordonez shares a birthday with Jermaine Dye, two long-time right fielders. Both are 40 so conceivably could still be active, but Dye last played in 2009 and Ordonez in 2011. Who was the better player? It was Ordonez and not really all that close. Dye hit more home runs (325 to 294) but Ordonez was better in pretty much every other facet of the game. Ordonez hit .309/.369/.502 compared to Dye's .274/.338/.488. Ordonez was OK in the outfield, and while Dye had a strong arm, he was a slow, plodding fielder without much range. In terms of WAR, Ordonez is the easy winner, 38.5 to 20.2.
Ordonez had some monster seasons -- from 1999 to 2003 with the White Sox he hit .300-plus with at 29 or more home runs each season. But those numbers were par for the course back then. He ranked sixth in the American League in OPS in 2002 and ninth in 2003. His best season actually came in 2007. He had missed two-thirds of 2004 and half of 2005 with a knee injury suffered after colliding with Willie Harris. He had his best season in 2007 with the Tigers, when he hit .363 to lead the league and knocked in 139 runs to finish second in the MVP vote to Alex Rodriguez. He fractured his ankle in 2010 and then hurt it again in the 2011 postseason, ending his career.
What if Ordonez hadn't hurt his knee? Those two missing years in his prime loom large considering he was a lifetime .309 hitter with over 1,200 RBIs. Still, he probably wouldn't have been a Hall of Famer. Add 10 WAR to his lifetime total and he's up 48.5, still below the 60 WAR that usually makes a guy a borderline candidate. Ordonez also would have had the steroid cloud hanging over him, as Jose Canseco claimed he injected Ordonez when they were teammates in 2001.
January, 18, 2013
1/18/13
11:15
AM ET
It's time for more one-hit wonders, those players who will always live on in franchise lore for their one shining season. Here's the
AL East
and
AL Central
.

Houston Astros
It still seems strange to put the Astros in the AL West. Charley Kerfeld was a strange sight in 1986, with his glasses, punk rock haircut and uniform that was just a little too tight around the middle. As a hard-throwing 22-year-old rookie out of the bullpen, he went 11-2 with a 2.59 ERA and seven saves, helping the Astros to a division title. And that was it. He got off to a slow start the next year, was sent back to Triple-A, spent time on the DL with calcium deposits in his elbow and finished with a 6.67 ERA in 21 games with Houston. Two years later he was back in Class A, fighting weight and control issues.

Los Angeles Angels
Dave Frost went 17-7 in 1979 for the Angels' first playoff team but suffered elbow problems after that, so let's go way back to a guy named Billy Moran. The Angels acquired him in their 1961 expansion season from Toronto of the International League (Toronto was an unaffiliated Triple-A team). In 1962, he hit .282 with 17 home runs, making the All-Star team and finishing 13th in the MVP vote for an Angels team that won 86 games and finished a surprising third in the American League. Moran was 28 and had never hit much in the minors; he had just one more season as a regular and finished with 28 career home runs.

Oakland Athletics
In 1979, the A's were a terrible joke, going 54-108 and drawing just over 300,000 fans ... including 653 for one April game. In 1980, Charlie Finley hired Billy Martin as manager and the A's won 83 games. A second-year outfielder named
Rickey Henderson
helped but so did Mike Norris, a pitcher who had gone 12-25 with a 4.67 ERA in parts of five seasons. Martin had engineered many turnarounds as manager and part of his philosophy was to ride his starters as long as possible. Norris, 25 years old that year, went 22-9 with a 2.53 ERA, finishing second in the Cy Young vote. He threw 24 complete games in 33 starts, throwing 284 innings. He threw
more
than nine innings five times, including 14 innings in a
6-2 win over Baltimore on June 11
. Five days later he went the distance in an 11-8 victory.
Norris pitched well enough to make the All-Star team in 1981, but that was it. He tore up his shoulder in 1983. An addiction to cocaine didn't help matters. "I was supposed to be the greatest right-hander ever to throw the baseball, no question,"
Norris said in 2007
. "I chose not to be respectful of all the great abilities I was blessed with."

Seattle Mariners
Dave Fleming went 17-10 as a rookie in 1992 and looked like a guy who would win a lot of games in the majors. But he was a finesse lefty with a slow curveball that the league eventually figured out.
My choice, however, goes to Mike Parrott. In 1979, he went 14-12 with a 3.77 ERA, tossing 13 complete games and two shutouts, good for a 4.8 WAR -- ninth among AL pitchers. A nice season. Followed up by ... well, he won on Opening Day in 1980, beating the woeful Blue Jays. Then he lost his next six starts. He lasted just one inning in the start after that, although he ended up with a no-decision. After a relief appearance, he was back in the rotation and lost four more starts in a row. He then allowed two runs in one inning in relief but that apparently impressed manager Darrell Johnson enough to put him back in the rotation. He promptly gave up four runs in the top of the first inning.
We're not done. A couple more games in relief was followed by an August demotion to the Triple-A, where he posted an ERA under 1.00 in four starts. Maury Wills was managing the M's by now and Wills was probably the worst manager in major league history. Among other problems he was using cocaine. You probably guess what happened. In September he gave Parrott another chance in the rotation. He lost all three starts. He was 1-14 by this time with a 7.04 ERA (but down from 8.06 after his recall). He had started 16 games, lost 14 of them, got knocked out in the first inning in another and beat a team that would lose 95 games.
So Wills made him the closer. He actually saved three games. Then on Sept. 30, the Mariners scored a run in the top of the 14th to take a 5-4 lead against the Royals. George Brett hit a three-run homer off Parrott to win the game. Finally, the last game of the season in Texas, Mariners leading 2-1 in the sixth with two outs and a runner on, Wills brings in ... of course, Mike Parrott. Because his season hadn't been bad enough. Jim Anderson throws a ball away. Game tied. Parrott pitches into the ninth. The Rangers win. His final record: 1-16, 7.28 ERA.
Believe it or not, the Mariners gave him another shot in 1981. He went 3-6 with a 5.08 and that was it.
But he'll always have 1979.

Texas Rangers
Center fielder George Wright showed promise as a rookie in 1982 and then had an outstanding sophomore season, starting 160 games in center and appearing in all 162. He hit .276/.321/.424 with 18 home runs and 80 RBIs, was a switch-hitter and just 24 years old. The future looked bright.
It wasn't. He hit .243 with a .273 OBP in 1984. The Rangers gave him another shot in 1985 and he had a historically awful season -- .190/.241/.242 in 395 plate appearances -- an amazing 49 runs worse than what a league average hitter would have produced. Baseball-Reference rates it as third-worst season by a position player since 1901, at -3.9 WAR, worsted only by Jerry Royster of the 1977 Braves (-4.1) and Jim Levey of the 1933 Browns (-4.1).
Wright hadn't even hit rock bottom. That came the following season in his final game with the Rangers. With Charlie Hough throwing a no-hitter, Wright entered the game in left field as a defensive replacement. With one out, he dropped a fly ball for a three-base error.
Wally Joyner
then singled to tie the game. Joyner advanced to second on a passed ball and Hough struck out George Hendrick with two outs ... but there was another passed ball, Joyner scored and Hendrick reached and the Rangers lost. Two days later Wright was traded to the Expos.
May, 18, 2011
5/18/11
2:53
PM ET
Twenty-five years later, the 1986 season remains one of the most interesting in baseball history. It's not just the postseason that made the year so amazing, but all the rich and unusual moments and performances leading up to it. All season long, the SweetSpot blog will chronicle one of the craziest, wildest and wackiest seasons in major league history.
Tuesday, I got a chance to watch one of the most absurd baseball plays I have ever seen. And I want to share the excitement of watching that moment with you.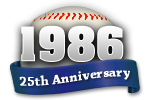 No, it had nothing to do with anything that happened in any game this season. My viewing of the antiquated videotape in the ESPN library was of the final play of a game that took place 25 years ago.
The May 18, 1986, contest between the Red Sox and Rangers had a few odd twists and turns entering the ninth inning, but nothing compared to the game's conclusion.
Bobby Valentine's Rangers blew a ninth-inning lead at Fenway Park but seemed poised to survive 13 walks from their pitchers to get a victory after scoring a run in the 10th inning on Tom Paciorek's base hit.
In the home 10th, Red Sox center fielder Steve Lyons singled with one out. With Marty Barrett at the plate, Rangers reliever Greg Harris threw away a pickoff attempt, allowing Lyons to go to second.
Barrett than reached for a curveball way off the outside part of the plate and lifted a fly ball down the right-field line. Rangers right fielder George Wright made an all-out sprint to try to catch the ball, and came within a hair of making what would have been a No. 1 Web Gem for sure.
"George Wright was billed by [former Rangers manager] Doug Rader as the top defensive player in the American League, and I believed it," said Valentine, when I asked him to reminisce with me earlier in this week.
Wright's diving attempt missed by a fraction of an inch. However, it was mid-afternoon at Fenway and it was hard for Lyons, who was headed to third base, to tell what happened. A sloped field made it an impossible to see right. So as Wright tried to locate the baseball, Lyons put his head down and raced to get back to second base.
As Lyons approached the bag, he slid, thinking that a throw was coming. Upon doing so, he had an unexpected guest arriving to meet him at the bag.
Barrett.
The two almost collided as they touched second at almost the same time.
"He was like 'What are you doing here?'" Lyons wrote in an e-mail on Monday. "And I was like 'What are
you
doing here?'"
Meanwhile, Wright quickly chased the ball down by the right-field stands. Except when he looked in to the field, he saw two baserunners at second base.
At this point, massive confusion set in for all involved.
Lyons took off for third base, with Barrett holding his ground at second. And then the best defensive player in baseball did something a little out of the ordinary.
Wright staggered forward, poised to make a throw, but not doing so until he'd taken 20 steps towards the infield (my colleague, John Totten, counted them with me). He then fired the ball to third base, where Steve Buechele was waiting and Lyons was racing to try to make something out of the situation.
Just before the ball (and Lyons) approached Buechele, it took a crazy bounce and skipped past him, and past anyone else who happened to be in the area. The ball ended up in the Rangers dugout.
What did that mean?
It meant that every baserunner was awarded two bases. An exhausted Lyons barely made it to home plate. After getting there, he had to be held on his feet by teammate Bob Stanley. "If we got doubled off ... I most likely never would have played again," Lyons said.
Meanwhile, Barrett trotted down the third-base line, arms raised in victory as if he'd just won the heavyweight championship of the world. The Red Sox had an absurd 5-4 victory.
And Valentine wandered around the field, dazed. Twenty-five years later, he still admitted to being totally stunned by what happened.
"Holy crow, what an ending!" exclaimed Red Sox announcer Ned Martin. (Yes, he said "crow.")
It wouldn't be the last of the unusual endings for either team that season. More on that in the coming weeks.
Mark Simon is the Baseball Research Specialist for ESPN Stats and Information. He thinks 1986 is the best baseball season ever. Follow Mark on Twitter @msimonespn and the Mets blog at ESPNNewYork.