March, 26, 2014
3/26/14
1:45
PM ET


Have there been more injuries than usual this spring? I don't know. We probably say that every year. Eric and myself discuss the five most critical injuries of spring training and how they could affect the pennant races. In one case, it's led Eric to picking a different division winner than he otherwise would have.
March, 25, 2014
3/25/14
11:16
AM ET
October, 6, 2012
10/06/12
12:14
AM ET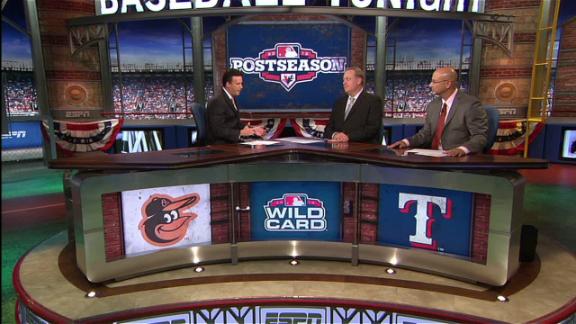 The
Atlanta Braves
playing a wild-card game where they committed three throwing errors, got burned on a controversial umpire's call, and saw their fans delay the game after littering the field with debris?
Sure, I can envision all that happening.
But
Joe Saunders
doing
this
? Delivering 77 pitches of one-run baseball in his own personal house of horrors against a lineup that should devour a pitcher like him?
No way did I see that coming.
Welcome to postseason baseball. You just never know.
Here's what the numbers said about Saunders: 0-6 in six career starts in Arlington with a 9.38 ERA. In 2012, right-handed batters hit .307/.349/.500 off him, meaning the typical righty becomes something akin to
Albert Pujols
or
Adam Jones
against Saunders. All 21 home runs he allowed were hit by right-handers.
The Rangers had eight right-handed batters in their lineup. Most with power.
So of course the Orioles
eliminated the Rangers 5-1
, on a night where
Yu Darvish
pitched well but received no support.
What I liked about Buck Showalter's approach in this game is he clearly he had a plan. Certainly, it becomes it easier to execute that plan when your players perform. But he knew that given a tight game, Saunders wouldn't pitch past
Josh Hamilton
(lefty on lefty, and Saunders crushed lefties this season) and
Adrian Beltre
(who hit much better against righties). So when
Nelson Cruz
came up with two out and nobody on with the Orioles leading 2-1 in the sixth, that was it for Saunders. No gambling by Showalter. No leaving in Saunders to give up a game-tying home run.
[+] Enlarge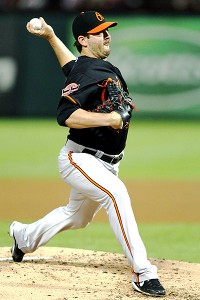 Tim Heitman/US PresswireJoe Saunders held the potent Rangers offense to a single run in its home park.
In the eighth, he knew he had another lefty waiting for Hamilton and
Brian Matusz
blew him away on three pitches. But he also left in
Darren O'Day
to start the inning -- instead of going to
Pedro Strop
-- because O'Day had cruised through four batters with just 14 pitches. O'Day ended up pitching two innings of one-hit relief.
Showalter had the bullpen stirring in the first inning when Saunders ran into trouble. He wasn't going to let the game get away early from the Orioles. And you know Showalter had a plan if he needed to remove Saunders in the third inning or the fifth inning. Compare that to Fredi Gonzalez, who couldn't figure out how to get
Craig Kimbrel
, who had the most dominant relief season in history, into the game until the Braves already trailed 6-3. Gonzalez had only one contingency plan for Kimbrel: Use him in a save situation.
Or compare to Ron Washington, who started
Geovany Soto
at catcher and
Mike Napoli
at designated hitter, but then lost his DH spot when he pinch-hit for Soto and inserted Napoli behind the plate. This potential problem could have been avoided by simply starting Napoli at first base and
Michael Young
at DH. The defensive advantage wasn't so great as to be concern; Young ended up making a crucial first-inning error that led to an unearned run anyway.
Let's not give too much credit to Showalter, however. Give it to Saunders, of course, for battling his way through 5 2/3 innings. After that, it wasn't a surprise the Baltimore bullpen closed it out. That's been the strength all season for a team that was 74-0 when leading after seven innings and 75-1 when leading after eight innings. Closer
Jim Johnson
's job got a little easier in ninth when the Orioles scored twice off
Joe Nathan
to pad their 3-1 lead. As is, the Rangers got the tying run to the plate with two out but Johnson got
David Murphy
to fly out to end it.
For the Rangers, it was the finale of a fairly epic collapse, leading the American League West by five games with nine to play, yet going 4-9 down the stretch and losing the division title on the final day of the season. The Rangers have shown us just how tough it is to win a World Series: They lost it in 2010, were one strike away in 2011 and now go home in bitter disappointment.
This anger was summed up when the fans booed Hamilton after he struck out in the eighth. Think about it:
Miguel Cabrera
hit 44 home runs and drove in 139 runs and Tigers fans think he had the greatest season of all time. Hamilton hit 43 home runs and drove in 128 and he gets booed. I know Hamilton had a strange season, but if that was his final game with Rangers, it seems a sad way to go out considering all the great memories he's given Rangers fans.
For the Orioles, the miracle run continues against the hated Yankees. The best part of all this: Orioles fans will get a home playoff game, their first since 1997. The Orioles actually clinched a playoff spot on a plane ride to Tampa, so this will be a chance to acknowledge their fans and for the fans to acknowledge this magical season.
Not to mention the chance to beat the Yankees.
April, 23, 2012
4/23/12
8:00
AM ET
By
Christina Kahrl
| ESPN.com
First:
You know first, it's the base you're supposed to go to initially, to get on base. Or to throw to when the opposition obligingly gives you an out on a sac bunt. It's also sometimes a bit of a tricky target, as the Cubs'
Geovany Soto
found out in the sixth inning against the Reds when, with
Ryan Hanigan
on first with nobody out and Cincinnati holding a 2-0 lead, pitcher
Johnny Cueto
stepped in. Automatic sac bunt, right? Sure, except Soto's throw was wild, so now it's two on, nobody out. So what does Dusty Baker order up from leadoff man
Zack Cozart
? A sac bunt … which Soto threw away to load the bases. For Soto's sake, here's hoping he doesn't get an even worse case of the yips.
Second:
Toronto's
Brett Lawrie
stole home against the Royals, his first-ever steal of home, on his second recorded attempt. But he's also tried to steal second just two times this season, and he's be no more (or less) successful, going for 1-for-2 there. Which is another way of saying it's early.
[+] Enlarge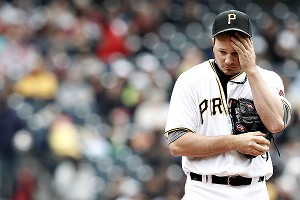 Jared Wickerham/Getty ImagesErik Bedard can't catch a break, but what did he expect, going to Pittsburgh?
Third:
Already 0-3 after three starts,
Erik Bedard
now has to live with four losses in four starts. Now sure, you can't feel too sorry for the guy; that was sure to be his lot in life after surprising some this winter with a decision to sign with the
Pittsburgh Pirates
. With two quality starts and a pair of five-inning, two-run outings, he's actually pitched well enough to go about 1-1 according to Baseball Prospectus's Support-Neutral Won-Loss stats, but when you're working with whatever run support the Bucs dredge up with the 16th-ranked offense in the league, it's hard to expect Bedard to catch many, any or even one break.
Keep in mind, Bedard has yet to allow more than two earned runs in any start, but because he's gotten just three runs
total
in run support from a Pirates offense averaging two scores per contest, he's the man getting the short straw from an already close-cropped selection.
After his 24-loss season with the original-edition Mets of 1962, it was Roger Craig who said, "I had to be pretty good for them to keep sending me out there enough to lose that many games." I doubt Bedard will take much solace in that. Happily -- for him -- his won-loss record isn't going to amount to much in July, when the Pirates start shopping him in earnest to contenders looking to shore up their rotations.
Home:
Tweet of the Day goes to Baseball America for passing along some Bryce Harper video:
Prospects Blog: Watch Bryce Harper Connect For His First Triple-A Home Run: Nationals uber-prospect Bryce Harper... bit.ly/Jof4Rp

— Baseball America (@BaseballAmerica) April 23, 2012
Christina Kahrl covers baseball for ESPN.com. You can follow her on Twitter.
November, 18, 2011
11/18/11
6:15
PM ET
By
Christina Kahrl
| ESPN.com
[+] Enlarge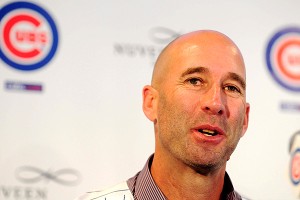 Reid Compton/US PRESSWIRENew Cubs manager Dale Sveum didn't hold back his thoughts Friday on star shortstop Starlin Castro's defense. "He needs a lot of polish. ... There's a lot of things with his feet, his positioning."
Friday's exercise at Wrigley Field was the latest bit of culture shock in the Windy City. Introducing Dale Sveum as the new manager of the
Chicago Cubs
managed to be simultaneously an exercise in curiosity indulged and making as tremendous a first impression as those of the men who hired him.
For starters, there was the now-standard bluff talk, about respecting the game, about creating a new organizational outlook, of instituting a culture change that stresses accountability. As Sveum noted, "There are some things you can hold players accountable for. You have control [as a player] over some things." Screw up on those fronts, and Sveum noted, "You're disrespecting me, and you're disrespecting the other 24 guys." He said, "That's my job, to make each and every one of these guys accountable." And the man who served as Milwaukee's hitting coach the past three seasons talked about the respect the Brewers had earned through their aggressiveness on the bases this past season. No doubt, something to emulate when the new "Cubs Way" becomes more than talk on a chilly November morning.
So far, so good, Sveum was on message, and staged events require certain time-honored traditional gestures to what sort of things a new manager is supposed to say during his first day. A big chunk of being a manager today is to be an effective communicator, because he's going to be the most frequent public face of his team.
As team president Theo Epstein noted, a manager today is challenged to address the media twice a day every day, all season long, something nobody else in the organization has to do. And during the inevitable losing streaks, that can be harder for some than others.
"When you have to deal with adversity, it gets back to who you are," Epstein said.
That's just as well, since adversity's expected to go with the territory in the early going for the Cubs on his watch.
However, what really made Sveum impressive was his easy move from the comfortable talking points and necessary tropes to the concrete details. What he said from there made it clear that he's an effective representative of both a new generation of managers and new brand of Cubsdom.
He was comfortable enough with performance analysis to observe, "All the numbers and stats, it's part of the game. You're using a lot of this stuff as options." Touching on the subject of sample size as a critical component of data, he noted, "A lot of it's good, and a lot of it you have to be careful of."
A full-blooded stathead couldn't have said it any better, but Sveum's brand of casual insight comes across as the sort of asset that should make him especially effective in illustrating his in-game and operational management of his team during the long months to come.
You could see why Epstein praised his newly-minted skipper as a man clearly "comfortable in his own skin." Sveum could simultaneously be very much an obvious baseball guy, speaking frankly about talking to players man-to-man -- "99.9 percent of all players want to be looked in the face and told to get their [act] together" -- while comfortable talking about statistical sample sizes. Derision for data can be happily consigned to the past, especially when what's reflected instead is the potential for action driven by an awareness of how far you can use information to guide it.
What the days and weeks to come will bring is picking his coaching staff. While acknowledging he'd talk to the three coaches under contract, he appears empowered to make his own choices. His choice for a bench coach is going to be someone who will be frank with him while also being, "a guy who can slow the game down, especially in the NL." He admitted to having a few names in mind for who he wanted to interview for his pitching coach, without sharing them.
Asked about a pitcher's pitch counts, Sveum didn't sound like a hitting coach when he quipped, "It's not how many, it's how he got there," noting that letting a guy go 110 or 120 pitches would depend a lot on a number of variables. (Rattling them off, he got down to the weather.)
Getting into managing a bullpen was also something he was equally comfortable with. Asked about the challenge of not simply gunning for matchups, but managing a pen over weeks and months, Epstein observed of his new skipper, "He wants to win every battle, but he knows he wants to win the war. You're not going to have your full arsenal [of relievers] every night."
Expanding on the subject of his key inherited relief asset, Sveum frankly addressed what he felt was wrong with closer
Carlos Marmol
last season: "He lost his slider a bit. … People were taking a lot more pitches. He needs to get back to fastball command, you need to throw fastballs for strikes, [and] use your breaking pitch as a weapon."
He compared the situation to Francisco Rodriguez's turnaround after coming to Milwaukee last summer while asserting that Marmol would be his closer, returning to a standby, "Not everybody's made to get those last three outs."
That kind of familiarity with Marmol was bred by seeing the Cubs regularly while coaching for a division rival in Milwaukee. It should be an asset in addressing what else needs fixing. Asked about shortstop Starlin Castro's defense, Sveum again didn't pull any punches.
"He needs a lot of polish," Sveum said. "Whoever I bring in as my infield coach, he's going to have to work with him. There's a lot of things with his feet, his positioning."
Asked about Geovany Soto's arm from behind the plate, he felt that his catcher's arm strength has improved since his rookie season to rate as average, before then enumerating the Cubs' pitchers and which ones could be run on most easily.
"Soto's an average thrower, but I'm sure we were running more on the pitcher," he said.
Situational awareness doesn't look like it'll be a problem for Sveum.
In short, this is a man who already knows this team, and that's going to be useful in deciding what's to be done with it at the Winter Meetings, through to the last guttering embers of the Hot Stove to the day that pitchers and catchers report.
Christina Kahrl covers baseball for ESPN.com. You can follow her on Twitter.
March, 24, 2011
3/24/11
2:47
PM ET
Nobody seems to respect the NL Central much.
Adam Wainwright
's injury won't fix the belief that this is baseball's weakest division. But your weakness is my parity. Your 2011 NL Central preseason All-Stars:
Catcher -- Geovany Soto, Cubs.
After a sophomore slump, Soto rebounded with an excellent .280/.393/497 line. Among catchers with at least 300 plate appearances, Soto ranked third in OBP (behind only
Joe Mauer
and
Carlos Ruiz
) and second in slugging (behind
Buster Posey
).
First base -- Albert Pujols, Cardinals.
Pujols and
Joey Votto
ruled the division in 2010, but will
Prince Fielder
have a monster season as he gets ready for free agency?
Second base -- Rickie Weeks, Brewers.
Remained completely healthy (160 games) for the first time and delivered the season everyone's been waiting for. Doesn't have the glove of
Brandon Phillips
, but gets on base more, and Phillips benefits from the cozy dimensions of Great American Ball Park.
Third base -- Pedro Alvarez, Pirates.
I expect big offensive numbers in his first full season, but will his fielding remain so terrible as to cancel out much of his hitting value?
Shortstop – Starlin Castro, Cubs.
Picking Castro over this motley crew is like picking Brooklyn Decker to win a beauty contest with Roseanne Barr and women Tiger Woods meets at Perkins. That said, Castro has a chance to become a huge star in this game. Enjoy him, Cubs fans.
Left field -- Ryan Braun, Brewers.
Tough call between Braun and
Matt Holliday
. Braun's defense, once a big strike against him, seemed to improve last season. His overall numbers weren't as good as in 2009, but I think he'll get back to 30-plus homers and once again top .300.
Center field -- Andrew McCutchen, Pirates.
I wrote an entry that suggested McCutchen will be the
majors' best all-around center fielder
in 2011, so I'd better stick with that here. This position is the strongest in the division, as you can argue cases for
Colby Rasmus
,
Drew Stubbs
,
Michael Bourn
and
Marlon Byrd
.
Right field -- Jay Bruce, Reds.
I'm not a huge
Hunter Pence
fan, so I'm giving the nod to Bruce, who had a big second half after being fully recovered from his broken wrist of 2009. Pence is a nice player and he's only missed 14 games over the past three seasons -- an underrated asset of any player that is often ignored -- but he's too much of a free-swinger for my taste.
Right-handed starter -- Zack Greinke, Brewers.
As you can see in the poll to the right, there are several strong candidates, plus others not listed (
Edinson Volquez
,
Matt Garza
,
Ryan Dempster
; we can only fit five options in a poll). Assuming Greinke only misses a couple of starts, his transition to the NL and proven 200-inning durability bodes well for some nice numbers.
Left-handed starter -- Wandy Rodriguez, Astros.
Buyer beware, as Rodriguez has battled some shoulder tendinitis this spring, but MLB.com reports that
Rodriguez felt good
after throwing four strong innings against the Nationals on Tuesday.
Jaime Garcia
had a terrific rookie season, but he struggled a bit in the second half, and we'll see how he responds to a tougher workload.
Closer -- Carlos Marmol, Cubs.
One of the most unique, fascinating pitchers I've seen. He walks everybody, strikes out nearly everybody he doesn't walk, doesn't give up home runs (three in the past two seasons), and must be simultaneously infuriating and intoxicating for Cubs fans.
Follow David Schoenfield on Twitter at @dschoenfield. Follow the SweetSpot blog at @espn_sweet_spot.
April, 7, 2009
4/07/09
5:34
PM ET
On Monday, inspired by a reader, I threw out a challenge: Who are some players whose minor league performances gave us no idea of how good they would be in the majors?
Commenters suggested Matt Holliday, Larry Walker, Hanley Ramirez, Chase Utley, Geovany Soto, Ron Gant and Magglio Ordonez. Lone Star Ball's Adam Morris suggests Rusty Greer and Michael Young, while FanGraphs' Dave Cameron writes:

I always remember this one because of a lecture I got from a scout a few years ago about not trusting minor league numbers, but Travis Fryman is the best candidate for your didn't-hit-at-all-in-minors guy.

1,487 minor league AB, .254/.303/.371

The Tigers kept promoting him, even though he never hit, and he started hitting well from pretty much day one in the majors.

He did, but it's worth noting that Fryman never really was an outstanding hitter; he retired with a 103 career OPS+ (100 is considered league-average) and never finished in the top 15 in MVP voting. It's also worth noting that Fryman was pretty impressive in the minors, considering his age. The Tigers promoted him out of Class A for no obvious reason, but at age 20, he held his own in Double-A, and he held his own the next season in Triple-A, too. Without checking, I'd be willing to bet that Fryman was one of the youngest everyday players in the International League; at 21, that's impressive.
Greer? Same sort of thing. Greer reached Double-A (and thrived) in his second pro season when he was 22. That's pretty good. His career stalled for a short while, but he batted .295 in the minors and was playing every day for the big club in his fifth pro season.
Young? He was impressive in the minors. He fell off just a bit for half a season in Double-A, but a shortstop with an .817 OPS in the minors? Most teams would be thrilled with a guy like that.
Before zipping through the other guys mentioned above, I'll just mention that I'm not all that surprised by Young, Greer and Fryman. We tend to remember the struggles, but when it comes to stars (or near stars), the struggles are the exception rather than the rule. But maybe we'll find someone who fits the bill.
Not Ordonez, though; not really. He struggled as a teenager, but of course, many teenagers struggle. He established himself as a prospect at 20, and played well in Double-A and Triple-A at 22 and 23.
Gant, as a teenager, struggled at exactly the same levels as Ordonez. At 21, he established himself as a prospect by hitting 27 homers with the Durham Bulls in the Class A Carolina League.
Soto does fit the bill. He was always young for his level, and for a catcher, the bar wasn't set real high. But aside from a pretty solid Double-A season at 21 -- and yes, that's impressive for a catcher -- he never did anything, statistically speaking, that would lead one to think he would become a star. Well, not until 2007. In 2006, the 23-year-old Soto posted a .739 OPS with Triple-A Iowa. Not all that good, but good enough to rate (according to Baseball America) as the Cubs' No. 17 prospect.
And in 2007? Soto exploded with a 1.076 OPS, then duplicated that performance after a September call-up. And you know what happened in 2008.
Utley doesn't qualify at all. Yes, it took him a few years to reach the majors, but that's not uncommon for players drafted out of college. Utley was real good in his first pro season, and two years later, he skipped Double-A completely.
I'm not buying Ramirez, either. He was considered a top prospect in the Red Sox chain, and the only blot on his record is a weak 2005, when he was 21 in Double-A. (The year before, he had played brilliantly in high A and Double-A.)
Walker? At 19, Walker slugged .602 in Class A. At 20, he slugged .534 in Double-A.
And finally, Holliday … I'm in for half on Holliday. He struggled in his first high-A season and his first Double-A season, then struggled more in his second Double-A season … and yet, oddly enough, the Rockies promoted him to the majors early in his next season, even though he'd posted a career .750 OPS in Double-A and had played only a few Triple-A games. And you know what he has done since then.
So, can it happen? Sure. Does it happen? Occasionally.
But just very occasionally. I solicited candidates, and you responded with a list of solid hitters. Really, though, only two of them came close to qualifying under the original parameters. Only Soto's and Holliday's major league numbers seem truly incongruous with their minor league performance. An overwhelming majority of the time, we can trust minor league numbers.