October, 25, 2012
10/25/12
11:33
PM ET
SAN FRANCISCO -- This was the
Madison Bumgarner
Giants fans saw most of the season: the pitcher with impeccable control, the ability to get inside on right-handed batters, generate ground balls and change speeds. This was the pitcher who had become one of the best young left-handers in the game, not the guy who had struggled in recent weeks.
Bumgarner justified manager Bruce Bochy's faith in choosing him to start Game 2 over
Tim Lincecum
or
Ryan Vogelsong
, leading the Giants to a
2-0 victory
and sweep of the first two games. He threw seven shutout innings, an efficient 86 pitches with eight strikeouts and just two hits allowed, one of those being an infield single. It was a dominant effort.
Amazingly, the day before, Bumgarner himself didn't seem to know what to expect. Through his first 25 starts he had a 2.83 ERA and had allowed a .218 opponents' average. But he had struggled since an August start against the Dodgers when he threw 123 pitches. Since then he'd posted a 6.85 ERA. His fastball velocity had dipped and he appeared fatigued in his previous playoff start, against the Cardinals. Batters had feasted off his fastball, hitting .400 against it his past nine starts.
Before Game 1, he hesitantly suggested he and pitching coach Dave Righetti had resolved his issues. "I think we were going through some mechanical issues that -- just some small things that might have affected my arm and made it more difficult to throw, and I think that's really all it was," he said. "I think we've got it fixed. Like I said before, there's no way to tell 100 percent until you get out there and get going game speed."
I think we're 100 percent sure now.
* * * *
Doug Fister
-- despite taking a line drive off his head in the second inning -- matched Bumgarner zero for zero through six innings, albeit with one caveat: not with the same efficiency.
That set up the key decision of the game. With
Hunter Pence
leading off the bottom of the seventh, Fister had thrown 108 pitches. Pence hits right-handed, followed by three lefties. Jim Leyland had right-hander
Octavio Dotel
and rookie lefty
Drew Smyly
warming up. If Leyland brings in Dotel -- probably his best option against right-handed hitters -- it's probably for just one hitter with the string of lefties due up.
Leyland decided to leave in Fister for one more batter; he'd thrown more than 108 pitches seven times, so it wasn't uncharted territory. Pence had flied out twice against him and has looked feeble most of the postseason. There were certainly cries on Twitter suggesting Leyland should have pulled Fister. I see it both ways. I can certainly see Leyland's desire to hold back Dotel to possibly face
Marco Scutaro
and
Buster Posey
later in the game. It's easy to criticize Leyland since the decision didn't work out and in this day and age few managers want to lose game when a starter is over 100 pitches.
[+] Enlarge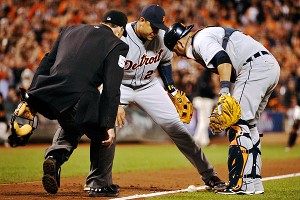 Robert Hanashiro/USA TODAYThis little thing -- Gregor Blanco's bunt staying fair -- led to the only run the Giants needed in Game 2.
On his 114th pitch, Fister left a 2-2 slider over the middle of the plate and Pence grounded a base hit past
Miguel Cabrera
.
That brought in Smyly, who walked
Brandon Belt
on a 3-2 slider up out of the zone.
Gregor Blanco
then placed a bunt down the third-base line, the ball rolling to a stop on the dirt between the grass and the baseline. Catcher
Gerald Laird
had no option but to let the ball go; it was just a perfect bunt by Blanco.
Brandon Crawford
grounded into a double play but that scored the game's first run.
Leyland did have another option there. Use
Phil Coke
instead of Smyly. Coke, of course, had defaulted into the closer's role after
Jose Valverde
's postseason implosion and pitched well in the American League Championship Series against the Yankees. Normally, the seventh inning -- especially against the left-handers -- would have been Coke's inning, followed by
Joaquin Benoit
and Valverde. Instead, Leyland trusted a rookie with little experience pitching in relief. Coke did finally get into the game -- in the eighth, with the Tigers now trailing 2-0.
"Probably if Valverde was ready, probably would have had Coke in that situation, but Smyly did fine," Leyland said. "He got a little bit wild there, but he got a couple big outs. He got the double-play ball and gave us our shot at it."
A 114th pitch. A slider meant to be a few inches outside left over the plate. A perfect bunt. The little things.
* * * *
One more little thing that can matter: sliding. In the top of the second with none out,
Prince Fielder
was hit by a pitch and
Delmon Young
doubled just inside the third-base bag. As the ball bounced away from left fielder Blanco, third-base coach Gene Lamont waved home Fielder. First, the wave. With nobody out, you had better be pretty sure Fielder is going to score. In fact, you had better be just about absolutely sure Fielder is going to score.
According to sabermetrician Tom Tango's run-scoring matrix, an average team would be expected to score about 2.05 runs with runners at second and third and no outs; with a runner on second and one out, the average run production is about 0.7 runs. That data is from 1993 through 2010, so the run-scoring environment is a little lower now, and of course you would have to adjust based on upcoming hitters and so forth. Still, Lamont's decision was about a 1.3-run decision. Fair or not, he made the wrong one.
Blanco's relay throw actually airmailed shortstop Crawford, but Scutaro -- him again! -- was backing up and threw home to catcher Posey, and replays showed he tagged Fielder on his shoe and/or rump just before he slid across the plate. If Fielder had slid to the back part of the plate, he probably would've been safe, as Posey would have had to stretch to make the tag. That's asking a lot from Fielder, however; he's not paid to slide expertly into home plate. Yes, the next two Tigers hitters popped out and struck out, so maybe Fielder wouldn't have scored, but it's kind of like time travel: That play changes everything that potentially comes after.
Then, in the top of the fourth,
Omar Infante
was picked off first and caught at second. With a better slide -- he dragged his foot behind him -- he might have been called safe.
Those two plays exemplified the first two games of the series: The Giants made plays and the Tigers didn't.
Pablo Sandoval
snagged a Cabrera line drive; Cabrera didn't have the range on Pence's base hit. Scutaro made the relay, Fielder didn't make the slide. Smyly couldn't execute the 3-2 slider that he walked Belt on, Fielder grounded into a 1-6-3 double play after Cabrera had led off the seventh with a walk.
Right now, like Bumgarner's pitches on a perfect San Francisco October evening, everything is working for the Giants.
October, 17, 2012
10/17/12
10:30
AM ET
By
Christina Kahrl
| ESPN.com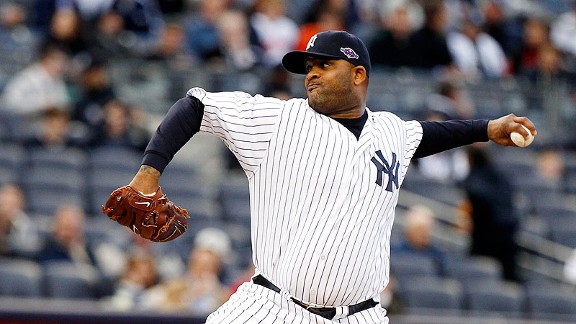 William Perlman/THE STAR-LEDGER/US PresswireCC Sabathia will be on the mound for the Yankees to try to extend the ALCS to Game 5.
DETROIT -- Down three games to none, facing a better rotation in its own park backed by a lineup built around Triple Crown winner
Miguel Cabrera
, how hopeless does the task confronting the Yankees seem?
As tough as it will be for them to get back to the Bronx, it seems as though they may be no more likely to return to New York with a live shot than they will with their dignity intact. Consider
Phil Coke
's postgame comment about his opponents: "These guys are a great ballclub. They're scrappy, and they're built to win, and we're just matching them."
The Yankees ...
scrappy
? When, in the history of the English language, or just American vernacular, has that ever been a word you associate with the Yankees? The next thing you know, we'll have to endure listening to Joe Girardi talk about how his team is just lucky to be here, and they're taking it one day at a time.
One pitcher's off-the-cuff remark aside, there's still at least one more game to play. If the Yankees are to take solace in anything going into Game 4 on Wednesday night, it might have to begin and end with the matchup on the mound, because they have
CC Sabathia
facing
Max Scherzer
in an elimination game.
In 2012, Sabathia was 3-0 against the Tigers, holding them to .238/.289/.405. So that's fairly promising, unless you want to start worrying about postseason-edition
Delmon Young
's Yankee-killing prowess showing up yet again. Given Sabathia's willingness to pitch around Miggy in the past -- walking him eight times, three times intentionally in 38 at-bats, having also surrendered a pair of homers and two doubles -- the prospect of a Young versus Sabathia matchup with men on could be the fulcrum upon which the game's outcome pivots.
Jim Leyland will no doubt try to expand the Tigers' scoring opportunities by mixing and matching with his lineup card.
Avisail Garcia
should be in right, for example, fulfilling his half of the late-developing platoon with
Quintin Berry
. Should the Tigers also start
Gerald Laird
instead of
Alex Avila
behind the plate? While Leyland generally tried spotting Laird for Avila against lefties, you might wonder why given Laird's feeble .204/.275/.347 line against southpaws this season. But Laird has a good career clip against Sabathia, hitting .417/.500/.625 in 28 plate appearances, while Avila is 0-for-11 with seven strikeouts. In a microcosm, these are choices that reflect Leyland's flexibility with his lineup. Lineup changes during the ALCS without any drama? Who does that? The team up three games to none.
In the other half of the game, at least on paper the Yankees' lineup would seem perfectly set up to exploit Scherzer's huge platoon split. This year, he has held right-handed batters to .201/.244/.343, while lefties hit him for .292/.366/.465, including a walk rate of more than 10 percent. It's worth noting that during his late-season run of seven quality starts before getting slowed down with shoulder trouble, Scherzer never had to see a lineup that leaned as heavily to the left as the Yankees' normal starting nine: six lefty bats, which goes up to seven if Girardi decides to have
Alex Rodriguez
keep him company in the dugout again and start
Eric Chavez
at third base.
Set against that, though, is the combination of the Yankees' absolute futility at bat in this series and this postseason. Girardi's
panic-stations Game 3 lineup
didn't achieve anything against
Justin Verlander
, and the Yankees' collective career line against Scherzer is a thoroughly woeful .177/.266/.282. So even if Girardi tries stacking the deck with seven bats from the left side against Scherzer by starting Chavez, he's got a lineup that's almost as punchless all of the time against him as it has been during the rest of the postseason.
However, there is the other issue Scherzer will have to overcome to become the latest Tigers' rotation stalwart turned October hero -- health. If the shoulder's OK, that's great, but how great, and how long before he tires? Add to that the ankle injury suffered during Detroit's dog pile to celebrate the division series win, and whether the Yankees struggle or not, this seems to cue up an opportunity for the Tigers' bullpen to make an extended appearance.
Certainly, that puts the spotlight back on Coke after he closed out each of the Tigers' past two victories. After Game 3, Coke hardly sounded like the fire-breathing closer, saying of his game-ending whiff of
Raul Ibanez
, "Alex called slider, 3-and-2, gotta make it count, and I threw it as a hard as I could, luckily he swung as hard as he could and didn't hit it."
Admittedly, that he got to do it against Ibanez, who had homered against him in the 2009 World Series for the Phillies when Coke was a Yankee, surely that was worth some strutting? Not so much. "He's killing everybody; my hat's off to him. He's done things that nobody's ever done in the game of baseball. He did take me deep in the World Series in '09, about 460 to the gap if I recall correctly, so I'm glad that I've been able to put all that behind me."
Coke doesn't exactly have a handle on his being the closer, even if he's closing, saying, "I didn't know I was going to finish it. I thought that I might have a couple of lefties, and then maybe [
Joaquin Benoit
] was coming in for [Mark] Teixeira, but as soon as I saw that there wasn't anybody was going to come out to talk to me, I was like, 'all right cool, let's roll.'"
So much for the necessity of a closer -- or any reliever -- needing to know his role, beyond a responsibility for getting people out. But the other thing you can take from that comment is that Coke wasn't looking for
Jose Valverde
to take his place, but Benoit. That says a bit about where Valverde is, whatever noncommittal
"let's see how he feels" comments

made for his benefit. Come the ninth, with a one-run lead, the Tigers weren't looking for Papa Grande to bail them out, not even out of a sense of polite inclusiveness.
There's something very Mitch Williams circa 1993 about seeing "established" closer Valverde surrender leads and his job in the middle of a postseason. That year, the Phillies managed to survive Williams' combustibility in the NLCS, only to see him surrender history to Joe Carter in the World Series. But even to get that far, the Phillies had gotten surprise relief help from journeyman Roger Mason, not unlike how Leyland has had to place his faith in Coke now.
For Tigers fans' sakes, you can hope for a happier ending for Coke and Valverde, but first there's a fourth game to win at the Yankees' expense. If the Tigers' bullpen can finish what Scherzer will start, that may not have to wait until Thursday, let alone a trip back to New York.
Christina Kahrl covers baseball for ESPN.com. You can follow her on Twitter.
July, 22, 2012
7/22/12
12:55
AM ET
By
Christina Kahrl
| ESPN.com
The Tigers came into this thing as favorites. Whether the division or the season, the losers of 2011's American League Championship Series weren't satisfied with a one-season run. They're supposed to win, with the AL Central representing the very least of their goals.
After laying out for
Prince Fielder
as the surprise late entry for baseball's other big free-agent first baseman of the winter, general manager Dave Dombrowski had literally doubled down on paying top dollar to top sluggers. Pairing Prince with
Miguel Cabrera
, on a team that has
Justin Verlander
going every fifth day? Heading into Opening Day, that sounded like just about the best set of headliners on any single team this side of fantasy baseball. Or maybe the Bronx.
Except then the regular season happened, and the Tigers didn't run away with anything. When they fell to 28-33 with a loss to the Cubs on June 12, six games behind the White Sox and 4.5 behind the Indians, you could wonder whether March's team of destiny was destined for third place in a division in which not even Bud Selig's latest expanded postseason formula could turn that into something meaningful.
The real-world season's long march showed that the problem with what you might glibly dismiss as a stars-and-scrubs approach to roster construction is that you can't really get away with scrubs, not even in the AL Central. The second-rank players have to step up as well, and the Tigers have a supporting cast that was expected to do more than it has so far. In the lineup and in the rotation, the players pegged to support the stars have come up short.
Which is part of what has to make Saturday's
7-1 victory over the White Sox
so satisfying for folks in Detroit, because it wasn't the famous guys who put the Tigers back on top; it was the supporting cast. It wasn't Verlander winning the big game; it was
Rick Porcello
.
Jose Valverde
didn't close things out,
Joaquin Benoit
did. It wasn't Cabrera air-mailing the decisive three-run blow into the cheap seats; it was
Brennan Boesch
. It wasn't Fielder plating four runs from the cleanup slot; it was
Austin Jackson
doing it from leadoff, cashing in because
Gerald Laird
and
Danny Worth
got on base six times between them.
Those are the things the Tigers will need to not just get back on top, but stay there. Getting good work out of Porcello is a particular key. Since his arrival as a hugely hyped rookie in 2009, his blue-chip status has faded about as well as a 4-year-old pair of jeans. With his talent and his stuff, he's supposed to get better, and as he adds polish to his slider and change, his ability to neutralize lefties has improved with age. Stats such as FIP say he has pitched better than his ERA by a half-run or more in each of the past three seasons, a prediction of future performance that can't come soon enough where the Tigers are concerned.
This year's separation between Porcello's performance and Porcello as you wish he was has been especially broad, with a 4.66 ERA and 3.81 FIP going into Saturday's start against the Sox. That happy expectation owes much to the notion that Porcello's batting average on balls in play is going to regress to something more reasonable than this year's appalling .358, and in broad strokes, it should ... if Porcello wasn't pitching in front of one of the worst defenses in baseball, with a .691 defensive efficiency that ranks next to last in the league. At the relatively tender age of 23, Porcello is having to pitch with the daily lesson that life isn't exactly fair, that the runs Fielder or Cabrera or
Delmon Young
might put on the board are ones they might readily give back as soon as they take the field.
Outscoring that defense and making life easier for Porcello or
Doug Fister
or all the other non-Verlanders on the mound is where the Tigers will need better second halves from Boesch and Young and
Alex Avila
at the plate. Boesch and Young are both nearly 100 points away from an average OPS for a corner outfielder or designated hitter. It won't take that much to make a big difference in filling out the Tigers' lineup. Avila doesn't have to slug .506 (as he did in 2011) to become the third wheel that helps propel this lineup back toward the top. And those analysts who were quick to try to write off Jackson's rookie-season BABIP (.396) in 2010 as an improbable fluke are seeing him do it again his third time 'round the circuit (.398), with better walk and strikeout numbers.
Put all of that together, and it isn't hard to see how Saturday's victory over Chicago could be the start of something special in the second half. The Tigers don't need their supporting cast to step into the limelight, but if those players start delivering more than they have, Jim Leyland's club might beat a "stars and scrubs" label on its way back to October.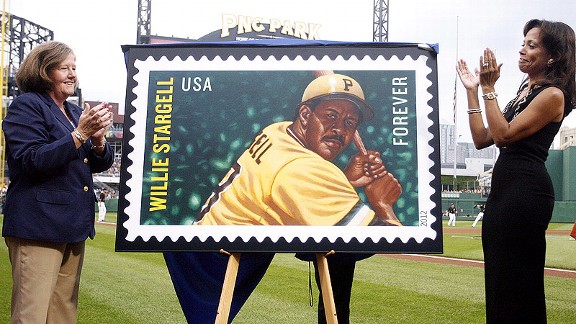 Charles LeClaire/US PresswirePittsburgh's Pops gets his due from the Post Office before Saturday's tilt with the Marlins.
June, 4, 2009
6/04/09
1:41
PM ET
When is a controversy not a controversy? How about
Wednesday night
when
Gerald Laird
tried to break up a no-hitter by laying down a bunt in the sixth inning? Laird's bunt went foul, Beckett finally gave up a hit in the seventh and then he plunked Laird in the eighth. Ian Browne and Jason Beck on
the "controversy
:"
The most memorable recent controversy along these lines occurred on May 27, 2001 when Curt Schilling -- then of the Arizona Diamondbacks -- had his perfect game snapped by Ben Davis with one out in the eighth on a bunt single. The score was 2-0.

At the time, Schilling said he was "stunned." The most vocal opinion came from then-Diamondbacks manager Bob Brenly.

"Like I said, that's the way I was raised in the game," said Brenly. "That doesn't mean that I'm right and they're wrong, that's just the way I was taught how to play the game."

However, Red Sox manager Terry Francona had no issue with Laird's attempt Wednesday in what would end up a 10-5 win for Boston.

"You know what, I'm not big on unwritten rules anyway," Francona said. "I think their job is to try to beat us and our job is to try to beat them. I think that somewhere along the way, the book and the unwritten rule has gotten rewritten by people that don't know how to write. What was the score, 4-0? They're trying to win. I just think -- just play the game."

Francona also thought it was a big leap of faith to think Beckett intentionally hit Laird.

"I did pick up the paper today and see where somebody wrote he hit him the next time up. Well, he hit him with a 2-2, two-seamer," said Francona, who is a huge fan of Tigers manager Jim Leyland. "I don't know. I think you need to go a little deeper than that. I don't think anybody said anything. I hope not. [The Tigers] play the game right. They're always going to play the game right. That's a given. And if they don't, [Leyland will] tell them."
I love Bob Brenly (as a broadcaster), but eight years ago -- it was actually
May 26
, not 27 -- I ripped him pretty good for his comments about Ben Davis' bunt single. The score was 2-0; Schilling's Diamondbacks and Davis' Padres were tied for first place. Davis wasn't supposed to do
anything
he could do, to win? Preposterous. As I wrote at the time.
But my intent today isn't to revisit Brenly's ill-considered comments from so long ago. My intent is to highlight Terry Francona's well-considered comments. Seems like every time the guy opens his mouth, I've got yet another reason to love him, too. Not as a manager, necessarily. Just as, you know, a guy.