February, 13, 2011
2/13/11
12:30
PM ET
By
Craig Brown
| ESPN.com
Tick, tick, tick …
The sound of another edition of "60 Minutes"? Hardly. How about the countdown on the deadline for the Cardinals to sign
Albert Pujols
to a contract extension. As you've undoubtedly heard by now, Pujols has set a deadline of the beginning of spring training for the sides to come to an agreement, or he will play out the 2011 season and hit the free-agent market at season's end.
[+] Enlarge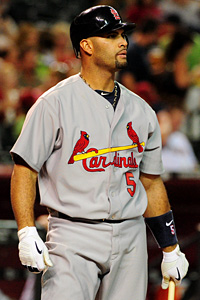 Matt Kartozian/US PresswireSt. Louis first baseman Albert Pujols can become a free agent after the coming season.
With the Cardinals pitchers and catchers reporting to Jupiter today, and Pujols due to report on Wednesday, the pressure is on both sides to reach an agreement. What's adding to the pressure is the fact
the Cardinals aren't exactly sure where the deadline falls
. Is it today? Is it Wednesday? Is it arbitrary and able to change at a moment's notice?
This is one of those negotiations where you want to grab a box of popcorn. The next couple of days should be some kind of fun.
Jason Rosenberg did an excellent job
detailing the potential suitors
should Pujols enter the market next winter, narrowing the list down to the usual suspects -- including the Red Sox, Yankees, Angels and Cubs. Of course, there could be a Mystery Team. You know the Mystery Team. They're always lurking, ready to strike when you least expect it. A team cloaked in secrecy, shrouded in inscrutability, and covered in question marks. Yet chock full of stealth, and with it's pockets lined with cold, hard cash.
According to Jeff Gordon from STLtoday,
that mystery team could be in the same state as the Cardinals
.
"But wouldn't the Royals offer the ultimate free-agency option for Pujols?

Kansas City is home for Albert and Dee Dee, to a significant degree. That is where they met. That is where Pujols played high school and college ball. It's where he worked with his hitting/training mentor to become the machine that he is.

The Royals are loaded with prospects that player development experts love. They have Tampa Bay Rays-like potential, with plenty of big arms and big bats on the way.

That team has significant money committed to just one player beyond 2011, Billy Butler. The Royals loaded up with veterans on one-year deals this season, including pitcher Jeff Francis and outfielder Jeff Francoeur.

They possess maximum payroll flexibility for 2012. More than most franchises, the Royals can afford to spend $30 million (or more) per season for one hitter."
Gordon pretty much speaks the truth. Yes, Pujols spent his formative years in the Kansas City area. Yes, the Royals system is loaded. Yes, the Royals have a number of players on one-year contracts. And yes, the Royals have payroll flexibility for 2012 and beyond.
But can the Royals afford to spend $30 million for one player?
As Jason pointed out in his post, committing more than a quarter of your payroll for one player isn't just bad business, it's potentially franchise crippling. As such, for a $30 million player to fit, the team must operate with a payroll north of $120 million.
The Royals Opening Day payroll in 2010 was a franchise record $74.9 million. Take the 25th man off the Royals roster -- say
Mitch Maier
and his $415,000 salary -- and replace him with Pujols and his $30 million, and you're looking at the first baseman gobbling up roughly 29 percent of the payroll. It's not the 25 percent that seems to be the accepted amount, but it's close. Maybe that's not a killer. Maybe that's doable.
However, that was last season. After a couple of years of escalating payroll, the Royals have sliced and diced costs in an effort to prepare for what some have termed Project 2012 -- when the majority of the team's pool of young talent is slated to reach the majors. After dealing
Zack Greinke
to the Brewers and getting the $12 million gift that was the
Gil Meche
retirement, the Royals are looking at an Opening Day payroll that will be in the neighborhood of $35 million.
To look at it another way, the Royals Opening Day payroll will be just $5 million more than Pujols is seeking for his next contract.
The Royals diminished payroll for the upcoming season is all part of The Process. With the Royals' system flush with talent in the minors, the Royals have a unique situation in which they will be able to either complement their young players with some major league free agents, or they have the flexibility to lock in those young players to club-friendly, long-term contracts. You can never say never, especially when it comes to the actions of Dayton Moore at the major-league level, but it's highly unlikely Moore will squander his flexibility with a single contract. After all, Moore has been fairly vocal about how he has gotten the Royals to this point regarding payroll, and how he plans to maintain the flexibility. Of course, he also once said he valued on-base percentage …
(Quick aside: Time for a perspective check from one Royals fan …
Pujols? Why do we need Pujols? We have Billy Butler, who can rake. Kila Ki'ahuie is a monster who is going to set the baseball universe on its axis and will undoubtedly start a streak of 10 consecutive All-Star Game appearances this summer. And then Eric Hosmer has the best looking swing in the history of whatever and will be ready for the majors in 2012.
Honestly, tell me where Pujols fits. I just don't see it.
Ummmm … Yeah. That was fun. Perspective check over.)
While the thought of Pujols driving west on I-70 might be enough to cause heartburn on the Hill in St. Louis, and while Pujols might feel the pull of his hometown should he hit the open market, Kansas City won't be a player in the Pujols Sweepstakes.
Craig Brown writes for the Royals blog, Royals Authority and about fantasy baseball for Baseball Prospectus. Follow him on Twitter.
January, 18, 2011
1/18/11
1:34
PM ET
Gil Meche
is retiring?
"After a lot of thinking and prioritizing of issues in my life, I have decided to retire from baseball. As a competitor my entire life this is the hardest decision that I've ever faced, but it's not fair to me, my family or the Kansas City Royals that I attempt to pitch anymore.

"I came into this game as a starting pitcher and unfortunately my health, more accurately, my shoulder, has deteriorated to the point where surgery would be the only option and at this stage of my life I would prefer to call it a career rather than to attempt to pitch in relief for the final year of my contract.

"I can't thank the Kansas City Royals and their fans enough for my four seasons there, and if I have any regret, it's that we weren't able to accomplish on the field what the goal was when I signed there."
Until today, Meche was the highest-paid Royal. By a LOT. He was slated to earn $12 million in 2011; next on the list is
Joakim Soria
, at $4 million.
Jason Kendall
($3.75 million) and
Jeff Francoeur
($2.5 million) are the only other Royals making more than $2 million in 2011.
To which I can only say, it's about damn time.
The Gil Meche contract was ridiculous the moment the Royals offered it, and only became more ridiculous the moment he signed it. There's just no sense in spending $55 million on any player if you're not going to contend, and when Meche signed that contract in December 2006 there was no reason to think the Royals were going to contend for anything but fourth place.
It's since been argued that Meche actually did OK. He pitched well in 2007 and 2008, gave the Royals some innings in 2009, and with a decent 2011 -- even just pitching out of the bullpen -- he could essentially give the Royals their $55 millions' worth.
Please.
The Royals threw $55 million into a giant sinkhole, $55 million that could have been better spent elsewhere. Exactly where, I don't know. But you'll have an awful hard time convincing me that 617 innings and a 4.27 ERA was the
best
way to spend $55 million. Or even a good way. And yes, hindsight it 20/20 but it's not like Meche had some brilliant history of success when the Royals signed him. It looked (to me) like a stupid move then, and it looks like a stupid move now.
Granted, theoretically the Royals don't owe him that $12 million this year, which would make the deal look quite a bit better. But I suspect that they'll pay him some chunk of that money, as a sort of settlement. It's just hard to see Meche leaving $12 million on the table, when to earn it all he'd have to do is throw 50 innings of relief or something this summer.
Either way, the Royals will have a tiny payroll this season, which should allow them to invest heavily in the draft, again. Which, considering their drafting success over the last three or four years, seems like a mighty good thing.
July, 27, 2010
7/27/10
7:15
PM ET
Bob Dutton and Tereza Paylor with
the utterly shocking news
:
Royals pitcher Gil Meche believes he made every effort to avoid shoulder surgery – and it just didn't work. So season-ending surgery now looms as a likely next step.

"I've done everything possible I could do to be on that mound," he said. "I know that, (the Royals) know that. It's not like I'm sitting here not wanting to pitch."

All that work failed to resolve the problem.

--snip--

Meche's shoulder problems, previously identified as bursitis, surfaced late in spring training and forced him to open the season on the disabled list. He returned April 11 but went 0-4 with a 6.66 ERA in nine starts before returning to the disabled list.

"He worked really hard to do everything he could to get back without having this happen," Yost said. "We'll get it taken care of now, get it done as soon as we can, and hopefully have him ready to go (by the start of) next year."

Surgery would cap a second straight injury-filled year for Meche, who made just 23 starts last season because of back and shoulder problems. He finished 6-10 with a 5.09 ERA.

Meche is in the fourth season of a five-year, $55 million deal signed Dec. 8, 2006, after spending the previous 11 seasons in the Seattle organization. He went 23-24 with a 3.82 ERA in 2007-08 with the Royals while making 68 straight scheduled starts.

"When I signed this contract here," he said, "it was to pitch. The first 2½ years, I did that. But since then, it's been crazy and disappointing."
Hmmm. This might be my last chance in a while to say I told you so, so ...
Man, I told you so.
When the Royals signed Meche, I said:
1) He probably isn't talented enough to earn $55 million;
2) Even if he's talented enough, he probably won't be healthy enough to earn $55 million;
and
3) Even if he's talented enough
and
healthy enough to earn $55 million, the Royals won't be good enough over the life of his contract to justify spending that sort of money.
I might have been wrong about the talent. Despite having just come off a string of impressive seasons, Meche posted a solid 3.82 and led the major leagues with 68 starts in his first two years with the Royals. Kudos to Dayton Moore and his scouts, who seemed (for a brief moment in geological time) to have hit the bullseye with their $55 million man.
Then he got hurt. Maybe those 68 starts (and 426 innings) took their toll; before joining the Royals, Meche had never managed to pitch 200 innings in a season. Maybe staying healthy just isn't his thing.
The critics -- Rany Jazayerli, Joe Posnanski, every half-rational observer, me -- will point to
a start last July
in which Meche was allowed/ordered to throw 121 pitches
after
complaining of a "dead arm."
That's a problem. As
Posnanski points out
, since that start Meche has a 7.18 ERA with more walks than strikeouts. Meche had been struggling earlier, though. I suspect his shoulder would have exploded eventually, regardless.
Good points all. My point is that the Royals wouldn't be contenders even if Trey Hillman hadn't played chicken with Meche's right arm. If he wasn't hurt last year, they would have finished 14 or 15 games out of first place rather than 22. If he wasn't hurt this year, they might be eight games out of first place rather than 13.
Big deal.
Management might have tried to justify spending $55 million on Meche in a couple of ways. One, claiming that they were almost ready to win, and he would put them over the top. Clearly not the case. Or two, claiming that spending $55 million on Meche would give the franchise
credibility
.
Well, you be the judge. When's the last time one of your half-rational friends mentioned the Royals without a smirk or (if he's a Royals fan) a scowl? You don't gain credibility by overspending on injury-prone starting pitchers (are you listening, Mr. Beane?). You gain credibility by drafting well, making smart trades, and finding
bargains
on the free-agent market.
You gain credibility by doing what Tampa Bay has done.
You gain credibility by winning.
Oh, and one more thing in case you skipped to the end ... You gain credibility by NOT FLUSHING FIFTY-FIVE MILLION DOLLARS DOWN THE TOILET.
May, 15, 2009
5/15/09
1:36
PM ET
Fascinating
:
Gil Meche entered Thursday night's game with a lower ERA than is shown in the official averages.

Just before his start against the Orioles, the Royals announced they had won their appeal of a scoring decision in last Friday night's 4-1 loss to the Angels in Anaheim.

Royals right fielder Jose Guillen was given an error and the Angels' Howard Kendrick lost a home run when official scorer Mel Franks' decision was reversed unanimously by a five-member panel appointed by Major League Baseball.

In the sixth inning, Kendrick was given an inside-the-park homer on a fly ball that glanced off Guillen's glove at the right-field line and bounced away. Two runs scored on the play.

The ruling was overturned on the basis of videotapes showing Kendrick pausing at first base and Guillen's quotes saying he should have caught the ball, which were submitted by Royals vice president Mike Swanson.

"We needed some good news," said Swanson, cognizant of the Royals' 0-5 record on the trip.

As a result, the two runs charged against Meche became unearned and his ERA dropped from 4.43 to 4.01. It also erased the only home run he had allowed this season.
It's funny how these things seem so important for a moment, but soon melt away to nothing.
I was watching that game last Friday night, and the scoring decision was truly preposterous. You can see the play yourself (there's video in the linked-to story), but I just don't understand how a conscientious scorer could rule as that one did. Guillen was there in plenty of time and he overran the ball, which obviously clipped the edge of the webbing of his glove. Kendrick was so sure the ball would be caught that he slowed down on the way to first base.
So, yeah: Swanson and Meche and the Royals got their good news, justice being served only six days late. But in the end, will anyone except perhaps Kendrick (who doesn't hit many home runs) remember? Meche got hammered pretty good last night, giving up a real home run (to Aubrey Huff) in the course of giving up five runs and failing to escape the fifth inning. It won't be long before those two earnies on May 8 seem less than a trifle.