April, 17, 2014
4/17/14
5:07
PM ET
One of the craziest games of recent years took place on Monday, when the Phillies scored five runs in the bottom of the eighth to take a 6-5 lead, only to blow it in the ninth when Dan Uggla hit a grand slam for the Braves off Jake Diekman.
One reason it turned into a crazy game was Phillies closer Jonathan Papelbon was unavailable, having pitched the three previous days, saving a 6-3 game, pitching an inning in a tie game and then saving a 4-3 lead on Sunday.
Ryne Sandberg certainly isn't unique in not using his closer for a fourth day in a row. Last season, only one relief pitchers pitched five days in a row -- Tanner Scheppers of the Rangers, on the final four days of the regular season and the tiebreaker game against the Rays. A reliever pitched four days in a row just 33 times and most of them weren't closers. The only closers to do it more than once were Edward Mujica and Joe Nathan.
Anyway, what I wonder: Is this something new, not using your closer four days in a row? Maybe not. The Captain's Blog tweeted this on Monday after I tweeted that Goose Gossage would have pitched four days in a row:
@dschoenfield According to http://t.co/L6sRuQeB0u, Gossage pitched 4 straight days on only 1 occasion: from 8/27-8/30 in 1978.

— The Captain's Blog (@williamnyy23) April 15, 2014
The Captain wasn't quite right. Gossage also pitched four days in a row, Sept. 5-8, 1980. Of course, as Gossage himself would be quick to point out, closers didn't just pitch the ninth inning back then. Gossage pitched two innings four times in those eight appearances (and in 1978 even had a seven-inning relief appearance).
Mike Marshall was another 1970s reliever. In 1974 he won the National League Cy Young Award for the Dodgers, pitching in 106 games and 208.1 innings. From May 17 through 24 that year he appeared eight days in a row, pitching a total of 14.2 innings. OK, Marshall was sort of a freak. So let's check a few other guys to see how often they pitched at least four days in a row:
Rollie Fingers: 7 (most: 6)
Bruce Sutter: 5 (most: 6)
Dan Quisenberry: 12 (most: 4)
Lee Smith: 12 (most: 6)
Dennis Ecksersley: 1 (most: 4)
Billy Wagner: 6 (most: 4)
Trevor Hoffman: 10 (most: 4)
Mariano Rivera: 4 (most: 4)
Jonathan Papelbon: 0
No real surprises here. Since total appearances for closers hasn't really changed much in 30 years it's not a big surprise that the '70s and '80s guys didn't pitch all that often four days in a row. Eckersley was clearly handled very carefully and as you can see, Papelbon has never done it (and, in fact, has appeared three days in a row just 19 times).
I think what has changed in recent seasons is managers announcing before a game that a reliever isn't available. I guess they want to stop the second-guessing before it can begin.
By the way, the record for most consecutive days (not games) pitched is Kent Tekulve, who pitched nine days in a row for the Phillies in 1987, giving up one run in 9.1 innings. He pitched in 90 games that year, totaling 105 innings. That wasn't even the biggest workload of his career. In 1978-79 with the Pirates, he pitched in 91 and 94 games and 135.1 and 134.1 innings.
September, 16, 2013
9/16/13
9:45
PM ET
Back in March, Goose Gossage said he thinks Mariano Rivera is pretty great, but also added, "I think that these guys are so dominant in that one-inning role that they've forgotten what we used to do. It takes three guys to do what we used to do."
He's right, of course. I wrote about
Gossage versus Rivera
at the time, so I'm not going to revisit that debate. But in writing earlier about Koji Uehara's terrific season, I pointed out that Gossage's 1975 season with the White Sox rates as the most valuable relief season ever, at least by Baseball-Reference WAR.
Gossage was 23 years old that year, turned 24 in July. It was his second full season in the majors and he went 9-8 with a 1.84 ERA and league-leading 26 saves. More impressively, he pitched 141.2 innings, held batters to a .201 average and allowed just three home runs.
I thought it would be fun to take a quick look at Gossage's season. Let's compare it to Craig Kimbrel's 2012 season, certainly one of the greatest seasons ever by a modern closer.
Appearances
Gossage: 62
Kimbrel: 63
One concept of the modern closer is that using him for one inning supposedly means he is available to pitch in more games, but that wasn't the case with Gossage's season.
Innings
Gossage: 141.2
Kimbrel: 62.2
Gossage threw more innings than Kimbrel has in two seasons.
Inning of entry
Gossage: 3rd (1 time), 5th (6), 6th (8), 7th (20), 8th (13), 9th (12), extra (2)
Kimbrel: 8th (1), 9th (60), extra (2)
Obviously, the modern closer is used only in the ninth to protect a lead, or in home games when the game is tied. Gossage was used any time the game was close, usually in the seventh inning on, but sometimes in the fifth or sixth.
Times pitched more than one inning
Gossage: 41
Kimbrel: 1
Here's an interesting nugget: Gossage pitched exactly one inning just three times. So even when he entered in the ninth, it was often after the starter or another reliever had run into trouble, not to start the inning.
Longest outing
Gossage: 7.2 innings
Kimbrel: 1.1 innings
Gossage pitched five-plus innings six times and three-plus 22 times. On this account, he's absolutely right about the modern closers. Imagine if managers stretched out the bullpens even a little bit, cut down on a reliever or two, and added another bat or pinch-runner to the bench. Would teams be better off? Gossage's 7.2-inning stint came on June 11 against Boston. He entered in the seventh inning and pitched through the 14th -- finally faltering in the 14th, giving up two runs on a Carl Yastrzemski home run and taking the loss. At least he was given three days of rest before his next appearance.
Inherited runners
Gossage: 99
Kimbrel: 4
Another huge difference between generations. Modern closers, even with their sky-high strikeout rates, are rarely brought in to actually put out fires. That's left to the middle relievers. Gossage had to escape jams
and
pitch the rest of the game.
So, yes, modern closers like Kimbrel and Uehara and Rivera are harder to hit and more dominant than ever. But, as Gossage said, don't forget what he used to do.
By the way, in 1976 the White Sox hired Paul Richards as manager. He was 67 and hadn't managed since 1961. That was a different and he thought it made sense to put your best arms in the rotation, so he mad Gossage a starter. He went 9-17 with a 3.94 ERA ... although did throw 15 complete games. Chuck Tanner, who managed him in 1975, got him in trade for the Pirates and returned him to the bullpen. From 1977 through 1985, Gossage posted a 2.10 ERA while averaging 93 innings per season.
May, 16, 2013
5/16/13
5:08
PM ET
Hernandez
Watching
Felix Hernandez
the other night prompted me to look up the pitchers with the highest career Wins Above Replacement who never started a postseason game. Hernandez's career WAR is 36.3 and I had no idea if he would top the list or even be near the top, but it seems like most good pitchers eventually find themselves in a playoff game.
So, since 1969 and the divisional era, here are the pitchers who accumulated the most WAR but never started a playoff game:
1. Ferguson Jenkins (67.7 WAR, 16th overall)
His career WAR is actually higher, but we're only counting WAR earned from 1969 and beyond. Anyway, Jenkins played for the Cubs, Rangers and Red Sox and had 284 career wins. Those late 1960s/early 1970s Cubs teams have four Hall of Famers -- Jenkins, Ernie Banks, Billy Williams and Ron Santo -- and had some other good players (Bill Hands, Ken Holtzman, Milt Pappas) but never reached the postseason.
2. Mariano Rivera (54.9 WAR, 30th overall)
Well, he hasn't
started
a postseason game ...
3. Mark Langston (50.2 WAR, 41st overall)
Very underrated pitcher in the '80s and '90s, spending most of his career with the bad Mariners and mediocre Angels. From 1986 to 1993 he averaged 247 innings per season. Did pitch in relief for the Padres in the 1998 postseason.
4. Wilbur Wood (45.9 WAR, 47th overall)
Had 11.7 and 10.7 WAR in in 1971 and 1972 when he pitched 334 and then 376 innings for the White Sox.
5. Goose Gossage (41.9 WAR, 57th overall)
See Rivera. Pitched in four postseasons, including three World Series.
6. Danny Darwin (40.6 WAR, 48th overall)
Won 171 games and an ERA title, but never pitched in the postseason although he played for eight different franchises. He was on the '86 Astros, who made the playoffs, and went 5-2, 2.32 ERA, after they acquired him from Milwaukee, but was injured and missed the playoffs. Also pitched for the '97 Giants, who made the playoffs, but didn't appear in the postseason.
7. Charlie Hough (39.3 WAR, 61st overall)
Pitched in relief for the Dodgers in three World Series, but spent the bulk of his rotation days with the playoff-less Rangers.
8. Felix Hernandez (36.3 WAR, 71st overall)
And now we get to Hernandez, the active leader among starting pitchers in this dubious category. Is he destined to become the Fergie Jenkins of his generation?
March, 12, 2013
3/12/13
11:40
AM ET
Goose Gossage is 61, which I guess is old enough to turn the Hall of Fame relief pitcher into a grumpy old man, or at least a grumpy middle-aged man. Over the weekend,
Gossage told Newsday
that
Mariano Rivera
is certainly great, BUT ...
"I think that these guys are so dominant in that one-inning role that they've forgotten what we used to do," the former Yankees closer said. "It takes three guys to do what we used to do."
[+] Enlarge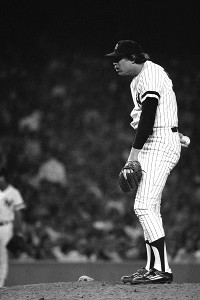 AP PhotoComparing relief pitchers, such as Goose Gossage and Mariano Rivera, across generations is a hard task to do.
Joe Posnanski followed up with
a blog post that
, well, ripped the Goose a pretty good one. I do agree with what Joe wrote here:
The obvious reason is that it diminishes Goose Gossage to talk this way. Goose Gossage was a great pitcher. A truly great pitcher. Gossage is in the Hall of Fame, he's widely remembered, he does not need to go around telling people how great he was or how he wasn't used the way pitchers today are used. I think it cheapens him to do so, especially when he uses the beloved Mariano Rivera for effect. Rivera has been gracious and classy and respectful. Gossage shouldn't use him as a prop.
Posnanski then goes into a lengthy discussion of the careers of the two relievers and why Rivera is the greatest relief pitcher ever:
OK, do you see? Rivera was better. A lot better. He was better in cold numbers, and he was a lot better when you take into consideration the eras when they pitched. For Rivera to match Gossage in the basic numbers, he would have had to pitch 278 more innings -- all those multiple innings that Gossage pitched -- and he would have to allow 201 more (a tidy 6.51 ERA). He would have had to walk 350 or so batters in those innings, while allowing 42 home runs. And he would have had to do all that in a much lower scoring run environment. I'm guessing here, of course, but I think he could have managed it.
What I'm wondering, however, is whether that's a fair approach. Tack on a lot of bad innings so you can see how much better Rivera was than Gossage. I don't think it's that simple, for several reasons.
First off, it
is
easier to pitch one inning at a time than the multiple innings Gossage did, especially early in his career when he had years of 141.2, 133 and 134.1 innings in relief. I don't think anybody really disputes that. One reason we see so many dominant relief seasons now is because it's easier to get three outs than five or six or nine. Rivera isn't the only reliever over the past two decades to post huge numbers; he's just done it longer than everybody else.
Now, as Posnanski points out, Gossage certainly remembers those three big seasons of his -- but Goose had just one other 100-inning season in his career. Posnanski also points out that Gossage's ERA in one-inning relief appearances in his career wasn't that great (3.75), although I'm guessing many of those came in the last several years of his career, when he wasn't the same dominant reliever he had been from 1975 to 1985. Let alone that some came after he may have pitched three innings the day before.
I think Joe is short-changing Gossage's workload just a bit, even if he did only have those three super seasons (with one mediocre season as a starter thrown in). If we rank the most relief innings each pitcher had in a season, it would go like this:
Gossage
Gossage
Gossage
Rivera
Gossage
Gossage
Gossage
Gossage
Gossage
Rivera
Gossage
Those are all their seasons with at least 80 innings (not counting Gossage's year as a starter). Rivera had two; Gossage had eight, including six of at least 90 innings, something Rivera did just once, as a setup guy in 1996.
What we don't know is
how
dominant Gossage would have been if he'd had Rivera's workload. He had a career 2.77 ERA as a reliever (Rivera's is 2.05 in, as Posnanski also points out, a higher-scoring era). But isn't it likely Gossage would have been
more
dominant pitching in one-inning stints? That maybe he would have remained great into his late 30s instead of declining in his mid-30s if he hadn't had such a heavy workload early in his career?
And likewise, we don't know what would have happened to Rivera if had come up in 1975 instead of 1995. Maybe he burns out after a few years, unable to handle those 130-inning seasons. Maybe he's great for a decade and then, like Gossage, slowly peters out. Ultimately, it's a question that can't be answered, just like we don't know what would have happened had Rivera been moved back as a starter at some point.
Look, is Rivera the greatest relief pitcher of all time? I do believe he is. He's been so good for so long -- not to mention his postseason record (0.70 ERA in 141 innings) -- that it's hard to make any other argument. But comparing relief pitchers across generations is even more difficult than other positions.
I don't think Gossage is entirely off base, however. Even if he is a cranky middle-aged guy who played in an era where one of the major issues was complaining about
beer being removed from the clubhouse after games
.
June, 15, 2012
6/15/12
11:25
AM ET
How did we get here?
No, I don't mean "What's on the other side of the universe?" kind of here.
How did we get
here
?
June 8: The Mariners lead the Dodgers 1-0 in the eighth inning. They're working on a combined no-hitter, but the Dodgers have runners at second and third with one out. With the game on the line, Mariners manager Eric Wedge brings in Brandon League, the team's former closer, who had recently been demoted for pitching poorly. League does escape the jam, and closer Tom Wilhelmsen completes the no-hitter. Still, League has to get the game's biggest outs, not Wilhelmsen.

June 10: The Phillies lose 5-4 to the Orioles in 10 innings. It is the Phillies' seventh walk-off loss of the season. Closer Jonathan Papelbon, signed to a $50 million contract in the offseason, does not appear in any of those defeats.

June 12: The Braves lead the Yankees 4-0 in the eighth inning with one out and one on. Left-handed reliever Jonny Venters, who has struggled all season, gives up a hit and a walk to load the bases for Alex Rodriguez, who lines a game-tying home run. Two batters later, Nick Swisher hits a two-run homer off Cory Gearrin. The Braves lose 6-4. Closer Craig Kimbrel never gets in the game.
So what happened? How did we reach this juncture where managers are willing to lose games without using their best and often highly paid relief pitchers? Where they will use inferior relievers in crucial situations late in the game or refuse to use a dominant closer like Kimbrel unless it's the ninth inning?
Let us skip over Firpo Marberry and Hoyt Wilhelm and Dick Radatz and others and begin in the 1970s. By 1970, the percentage of complete games had fallen dramatically. In 1950, 40 percent of all games were complete games; in 1970, 22 percent. As managers required more innings from relievers, most teams turned to a relief ace in the late innings. They were called firemen back then because they often came in with runners on base and were asked to put out fires. The term seems as antiquated now as wool uniforms.
The best ones -- Mike Marshall most famously -- pitched a lot of innings. He pitched 208 1/3 innings in 106 games for the Dodgers in 1974, winning 15 games and the Cy Young Award. He pitched 163 innings in 1973, 142 2/3 in 1979. Marshall is the extreme example, but there were others: Bill Campbell pitched 167 2/3 innings for the 1976 Twins and went 17-5. John Hiller pitched 150 innings for the Tigers in 1974. Jim Kern had a monster season for the Rangers in 1979, going 13-5 with a 1.57 ERA while throwing 143 innings in relief. And, of course, there were Goose Gossage, who topped 130 innings three times as a reliever in the decade, and Rollie Fingers, who averaged 123 innings per season from 1972 to 1978.
The workloads couldn't continue. A lot of the firemen were breaking down. They weren't pitching as well in subsequent seasons. Kern, in 1980, went 3-11 with a 4.83 ERA. Campbell signed a big free-agent contract with the Red Sox in 1977, pitched 140 innings and then spent much of the next four years on the disabled list. A pitcher named Ken Sanders saved 31 games for the Brewers in 1971 while pitching 136 1/3 innings. He was never as good again.
Here's a quick study. From 1970 to 1979, there were 74 seasons in which a pitcher saved 20-plus games, including 47 in which the reliever pitched at least 100 innings. Leaving out three seasons when Gossage, Wilbur Wood and Terry Forster worked as starters the following year, here's how those 44 relievers fared the next season:
Year 1: 5,507 1/3 IP, 4,527 H, 1,894 BB, 4,153 SO, 2.49 ERA
Year 2: 4,316 IP, 4,037 H, 1,562 BB, 2,982 SO, 3.20 ERA
Those aren't 44 different relievers. The study includes multiple seasons from the likes of Gossage, Fingers, Marshall, Sparky Lyle and others. Still, collectively they weren't pitching as well or as many innings; their arms couldn't handle the workload.
As managers began to understand this, something else happened.
"For once, it is absolutely clear who caused baseball history to turn," wrote Bill James in "The Bill James Guide to Baseball Managers." "It was Bruce Sutter."
[+] Enlarge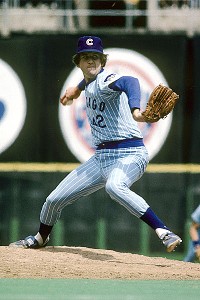 Focus on Sport/Getty ImagesBruce Sutter had 100 career saves of 2+ innings.
James points out how Sutter and his split-fingered fastball dominated the National League early in the season in both 1977 and 1978. By June 28, 1977, Sutter had appeared in 37 games, pitched 66 2/3 innings and owned a 0.68 ERA. In 1978, he had a 1.42 ERA on June 26. But in '77, he got hurt; in '78, he tired in the second half, losing five games in September. What to do?
As James writes, "Herman Franks was his manager, and Franks hit on a solution. In 1979, he announced, Sutter would be used
only
to protect a lead."
In 1979, Sutter saved 37 games, one short of the then-record, and won the NL Cy Young Award. Two important notes, however, related to this: 1) Although it's true that managers did start emphasizing save situations more, there wasn't necessarily an immediate flip in reliever workloads; 2) Sutter himself actually didn't pitch less. In 1978, he pitched 98 2/3 innings; in 1979, he pitched 101 2/3. Franks was fired, but in 1980 Sutter threw 102 1/3 innings. In 1984, then with the Cardinals, he pitched 122 1/3.
As for the workloads in general, here's one way to look at it:
1975-79, seasons with 20-plus saves, 120-plus innings: 15

1980-86 (1981 was the strike year), seasons with 20-plus saves, 120-plus innings: 15
Save totals
were
going up, however. From 1975 to 1979, there were eight seasons with 30-plus saves. From 1980 to 1986, there were 30. As James wrote in regard to using Sutter in save situations, "Within a very few years, this would become the standard definition of a closer's job."
However, we were still a long ways from 2012.
Aside from Sutter, there was something else going on here. I don't think other managers were just emulating Franks. Part of the tipping point is that relievers started winning Cy Young Awards and finishing high in the voting.
Sutter won in 1979. Fingers won the Cy Young and MVP in 1981. Detroit's Willie Hernandez won both awards in 1984. Dan Quisenberry never won but finished second twice and third two other years. Steve Bedrosian won the 1987 NL Cy Young after leading the league with 40 saves. I think it became natural for managers to believe that all these saves
were
increasingly valuable.
Hey, these guys are winning awards and getting all these accolades. We must be doing the right thing.
Back to James:
This is rather remarkable, isn't it? Nobody studies the issue, nobody explains or defends the strategy in any meaningful way, and there is no dramatic example of a team which adopts this strategy and comes out of nowhere to win a pennant. And yet, within a few years, every major league manager adopts the strategy. How can that happen?

Our language drives our thought.
The save rule. It had taken over.
We still had another tipping point, however. We needed Tony La Russa and Dennis Eckersley to get
here
.
* * * *
Eckersley came to the Oakland A's in 1987, acquired for nothing from the
Chicago Cubs
. He was a guy viewed as a washed-up veteran starter. In retrospect, he wasn't that old (32) and wasn't that washed up. He'd posted a 3.08 ERA in 1985, and while his ERA in 1986 was 4.57, he had the best control in the NL.
Still, La Russa and pitching coach Dave Duncan put him in the bullpen, using Eckersley as the long man with the possibility of starting down the road. He'd become the closer by the end of the year after Jay Howell got hurt and saved 16 games. The next season he transformed into the finger-pointing, long-haired, Hall of Fame Eck, the guy with the slingshot delivery and impeccable command.
Eck was phenomenal in 1988, saving 45 games with a 2.35 ERA. The only relievers who had saved at least 20 games with a lower WHIP had been Wilhelm in 1965 and Sutter in 1977. His 6.36 strikeouts for every walk was the fourth-best by a reliever with at least 50 innings, behind only Tom Morgan, Dick Hall and Eckersley's own 1987 season. The A's won 104 games.
But Eckersley didn't pitch 100 innings like Sutter or Gossage or Quisenberry. He pitched 72 2/3 innings. And had few decisions. He went 4-2. He was used even more discreetly than Sutter.
"La Russa and Duncan really understand how to use a bullpen," Eckersley told Sports Illustrated after that season. "I hardly ever warmed up without going in. I only pitched on back-to-back days a half-dozen times. I rarely worked more than two innings. I almost always started an inning."
Before Eckersley, most top closers were still being used on occasion during tie games and certainly before the ninth inning. For example, from 1980 through '88, 45 relievers saved 30 games. They averaged 13 decisions per season.
The pendulum had started to swing, but Eckersley put it in full motion. During his 1988-92 peak, he seemed unhittable. During those five years, he posted a 1.90 ERA and 0.79 WHIP. And he went 24-9 -- 6.6 decisions per year. He also maxed out at just 80 innings, in 1992, the year he won the Cy Young and MVP.
[+] Enlarge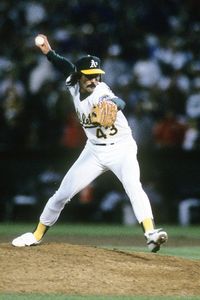 Focus on Sport/Getty ImagesFrom 1988 to 1992, Dennis Eckersley saved 220 games -- 77 were more than three outs and 28 were two innings.
Eckersley's numbers were so staggeringly efficient that every manager wanted his own Eck. And what better way to improve efficiency than to cut innings back even further?
The last closer with 120 innings? Roger McDowell of the 1986 Mets.
The last one with 100 innings? Danny Graves of the 1999 Reds.
The last one with 90 innings?
Ryan Dempster
of the 2004 Cubs.
Papelbon has never pitched 70 innings in a season.
Joe Nathan
has topped out at 72 as a closer. Wins and losses were now the work of the less expensive middle relievers. The save had become the manager's god. Innings were down, decisions were down ... but saves were up.
Relief pitcher seasons with at 15 saves and 15 decisions:
1970-79: 65
1980-89: 52
1990-99: 11
2000-06: 8
2007-11: 1 (Kevin Gregg with the 2008 Marlins)
So this is how we got to here. Where Phillies manager Charlie Manuel prefers pitchers other than his $50 million closer getting decisions. Where Papelbon will pitch with three-run leads but not in tie games.
Is this a more efficient use of relievers? Of course not. In "Baseball Between the Numbers," published in 2006, Keith Woolner studied the use of closers to determine more optimal usage strategies. Looking at the years 2000 to 2004, his models showed that three-quarters of teams could win more games, and that was without increasing the workload of the pitchers. "The average team would add about 1.6 wins," he wrote. "In the best case, a team could add more than 4.5 wins."
That study was done during the high-octane offensive era, but you get the idea: It's smarter to use a closer like Papelbon for four or five outs when necessary, or in tie games in the eighth or ninth inning, instead of just managing to the save statistic. If managers saved their closers for these more high-leverage situations --leaving the three-run leads to other relievers, for example -- teams would be better off.
The ironic part of all this? La Russa didn't save Eckersley just for the ninth inning. And he didn't use
just
Eckersley to close out games. When Eck saved 45 games in 1988, Rick Honeycutt also had seven saves, Eric Plunk had five, Gene Nelson and Greg Cadaret each had three. That was a pretty good bullpen, of course, but La Russa managed to maximize Eckersley's usage in the most crucial moments.
Most importantly, he wasn't just a one-inning closer. During that 1988-92 peak, Eckersley saved 220 games; 77 (35 percent) were more than three outs. He had eight two-inning saves in 1988 alone. Papelbon and Nathan each have one two-inning save in their careers. Of Papelbon's 236 career saves, 32 (14 percent) have been more than one inning. That's actually
high
for a modern closer, as Terry Francona frequently used him for four outs. Nathan has just 11 saves -- 4 percent of his career total -- of more than inning. Kimbrel already has 65 career saves -- none is more than one inning.
Part of what happened, besides managers reacting to the believed strict usage La Russa applied with Eckersley, is bullpens expanded to seven and eight relievers and managers had to figure out roles to actually keep all of them busy. It just became
easier
to essentially give specific innings to pitchers.
You're the seventh-inning guy. You're the eighth-inning guy. You're the closer.
It's easier, but not smarter. It ends up being about managing your team so one guy can rack up saves.
James wrote his essay in a book that came out in 1997. He expected things to change. "The plates will move again," he wrote. "The search for a static equilibrium in relief strategy will go on to its next phase, whatever that might be."
It's 15 years later. We're still waiting.
July, 7, 2011
7/07/11
6:15
PM ET
By
Christina Kahrl
| ESPN.com
The
news has broken
that Hall of Fame manager Dick Williams passed away today. He was 82 years old, and was one member of a generation of dugout greats, and with the loss of Sparky Anderson last November and Chuck Tanner in February, it's a generation whose ranks have taken a few too many hits in recent months.
[+] Enlarge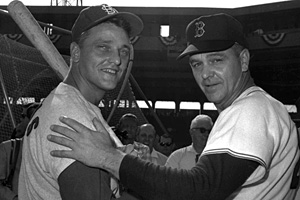 AP File PhotoFormer Red Sox manager Dick Williams, right, chats with St. Louis outfielder Roger Maris before Game 2 of the 1967 World Series. Williams made a career of rebuilding downtrodden teams.
Williams is perhaps best remembered as the manager of the "Impossible Dream" team in Boston in 1967, that Red Sox squad that took the Cardinals all the way to seven games in the World Series before coming up short. Williams set a precedent there for the kind of manager he would be, placing his faith in young talent; in Boston, he gave Reggie Smith and Sparky Lyle their first big breaks.
But the Red Sox would not be his last or best team, let alone mark his last visit to the World Series. Fired by Boston at the tail end of the '69 season -- in part for his authoritarian tendencies as a skipper -- Williams went to Oakland and took over as the firm hand perhaps perfectly suited to run the rowdies and rebels of the Big Green Machine dynasty of the early '70s. The A's won consecutive World Series on his watch in '72 and '73 before winning a third in a row under his replacement, Alvin Dark. After dealing with larger-than-life personalities like Reggie Jackson and Vida Blue on the field and team owner Charlie Finley off it, he finally resigned over team owner Finley's meddlesome, disgraceful attempt to humiliate and deactivate Mike Andrews for poor fielding during the course of the '73 Series.
Williams did not always have the magic touch -- there was nothing he could do in his next job to get the California Angels into contention in 1975 or '76 before he was fired in July, but he did break in long-term big-leaguers like Jerry Remy, Dave Collins, and Ed Figueroa. However, his setback in Anaheim freed him for the next signature gig in his career, his multi-year run managing the Montreal Expos from 1977 to 1981, helping drive them to second-place finishes in '79 and '80. He once again got fired in the middle of the '81 stretch run with his team in the race and 27 games left to play, an event as shocking then as Ned Yost's firing by the Brewers in the middle of the 2008 stretch run was in the recent past; Williams' hard hand running the club had worn thin again. But in Montreal, he was the manager with the good sense to get Gary Carter out of the outfield and back behind the plate as an everyday catcher, setting the Kid on his own Hall of Fame track. Moving Carter helped make space for future Hall of Famer Andre Dawson in the outfield, and in Williams' last season in Montreal he installed the eventually Hall-worthy Tim Raines alongside Dawson. Williams also oversaw the breakthroughs of an incredible batch of pitching talent: Scott Sanderson, Bill Gullickson, Charlie Lea and David Palmer, for starters.
A free agent again, Williams next landed in San Diego for the '82 season. In three years, he'd won another pennant, again by installing a crew of young pitchers (notably Eric Show, Dave Dravecky and Andy Hawkins), a speedy leadoff threat in Alan Wiggins, Kevin McReynolds in center and yet another Hall of Famer,
Tony Gwynn
, in right. Williams also got to supplement that squad with famous discards from more famous teams: Steve Garvey of the Dodgers, and Goose Gossage and Graig Nettles from the Yankees, but it only took one more season before Williams was forced out, reportedly by Jack McKeon and others in the front office.
Williams would finish his MLB career in the dugout unsuccessfully trying to turn around the Mariners -- but installing a future All-Star in Harold Reynolds at second base -- and then put in time in the Senior Professional Baseball Association, a league that operated in 1989-90 that was populated by former big-leaguers aged 35 and older. He "retired" to years spent as a special consultant to George Steinbrenner, one of many great baseball minds who the Boss has employed in that sort of gig over the years.
Williams' legacy for delivering winners, turning teams around, and breaking in young players is exceptional, and clearly places him among the front rank of baseball's best skippers. It came with the price of a man whose heavy-handed brand of leadership tended to make him unpopular within a few seasons, but it was a price teams were understandably willing to pay given Williams' ability to deliver.
At a time when some sabermetricians still favor the notion that managers don't matter, Williams serves as a great example of the reasons why and how they do, not simply via in-game tactics but more importantly in their ability to determine who plays and why. If you're interested in investing something more than just memory to Williams and his legacy as a manager, you could pick up a copy of Williams' biography,
No More Mister Nice Guy
(written with Bill Plaschke), which is well worth having on your shelf to understand where he was coming from, in Boston in '67 or in Seattle 20 years later, and at all points in between. For a fine take of his virtues as a skipper, you can also check out Chris Jaffe's
Evaluating Baseball Managers
.
Christina Kahrl covers baseball for ESPN.com. You can follow her on Twitter.
April, 18, 2011
4/18/11
5:48
PM ET
In the second part of our Padres uniform retrospective, we move on to the 1980s (in case you missed it, here's
the 1970s
). Ahh, the '80s ...
Tony Gwynn
appears on the scene, the team signs Dodger icon Steve Garvey and in 1984 the team reaches its first World Series. The uniforms? More brown.
Garry Templeton, 1984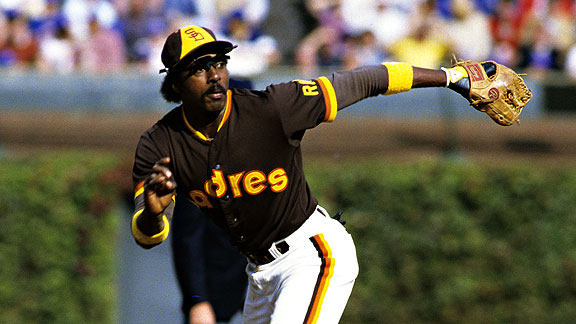 Ronald C. Modra/Getty ImagesAcquired for Ozzie Smith, Templeton was the Padres' shortstop for nine seasons.
After the breakthrough winning season in 1978, the Padres fell back to 93 losses in 1979 and last-place finishes in 1980 and '81. Dick Williams was hired as manager in 1982 and while the team traded away Ozzie Smith, it came up with a terrific crop of rookies: Tony Gwynn, Alan Wiggins, Dave Dravecky, Eric Show and Andy Hawkins (the team's best rookie that year was actually reliever Luis DeLeon, who had a 2.03 ERA in 102 innings). The team finished .500 that year and those five would be keys to the 1984 club that reached the playoffs for the first time, rallied to beat the Cubs in the NLCS and then lost the World Series in five games to the Tigers. Here, Garry Templeton dons the team's brown road jersey that it wore from 1980 through 1984 (note that the logo used the team nickname rather than then city name).
---
Goose Gossage, 1984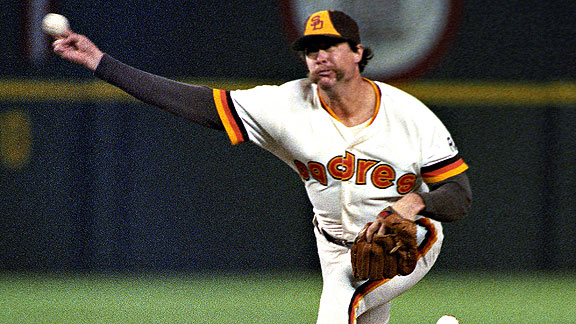 Ronald C. Modra/Getty ImagesSigned in 1984, Gossage went 10-6 with 25 saves as the Padres reached the World Series.
Gossage joined veterans Steve Garvey and Graig Nettles plus young outfielders Kevin McReynolds and Carmelo Martinez to deliver San Diego's first pennant. The team was remarkably healthy that year -- of the eight regulars, only Nettles didn't play at least 147 games, and he played 124. Gossage, wearing the home jersey, and Craig Lefferts headlined the pen, each pitching more than 100 innings.
---
Tony Gwynn, 1985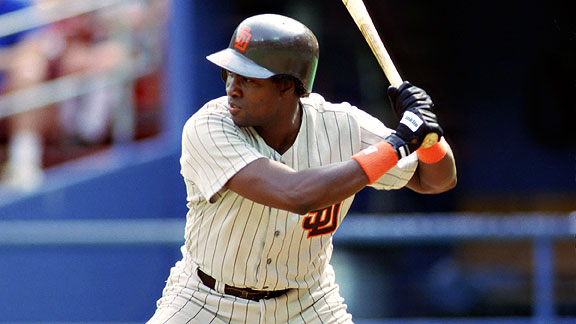 George Gojkovich/Getty ImagesGwynn won his first batting title with a .351 mark in 1984 and would win three more in the '80s.
The Padres switched to pinstripes for both home and road jerseys in 1985. Gwynn is in action here in the road uniform with the "SD" logo on his chest. The Padres couldn't maintain their success of '84 and by 1987 they were back to losing 97 games under new skipper Larry Bowa.
---
Roberto Alomar, 1989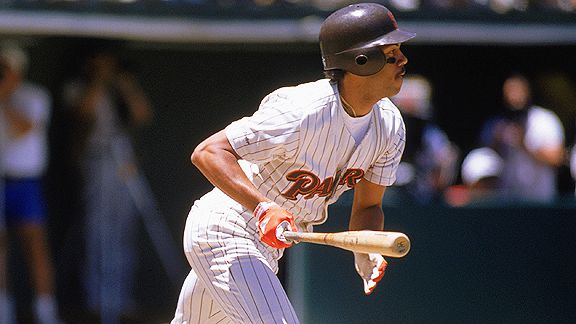 Stephen Dunn/Getty ImagesAlomar played three seasons for the Padres before getting traded to the Blue Jays.
The Padres were competitive again in 1989, winning 89 games and finishing three games behind the Giants -- although they were never really in the race, as they were still 10 games out in late August. The Padres made one of their worst trades early that season, sending John Kruk and Randy Ready to the Phillies for Chris James after Kruk got off to a .184 start. Alomar, wearing the home pinstripes, would be traded after the 1990 season in a four-player blockbuster with the Blue Jays, going to Toronto with Joe Carter for
Tony Fernandez
and
Fred McGriff
.
Follow David Schoenfield on Twitter at @dschoenfield. Follow the SweetSpot blog at @espn_sweet_spot.
April, 11, 2011
4/11/11
3:44
PM ET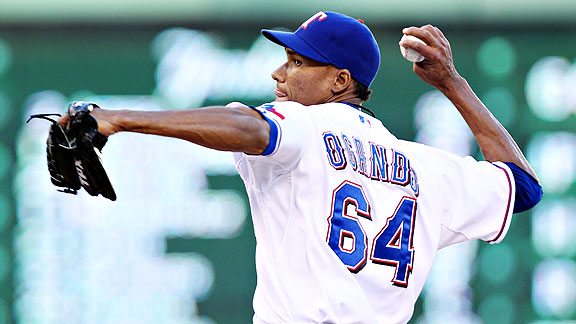 Matthew Emmons/US PresswireSo far, so good: Alexi Ogando hasn't allowed a run in his first two starts.
Alexi Ogando
made his second start for the Rangers on Monday afternoon. Ogando spent his rookie season pitching out of the bullpen (and most of his minor league career as well), but late in spring training the Rangers made the unusual move of trying Ogando into the rotation after deciding to keep
Neftali Feliz
as the team's closer.
It's not a move you see very often. Most relievers are in the bullpen for a reason, primarily because they don't have the stamina to last in the rotation, weren't able to develop the control or deep arsenal of pitches need to start, or lacked the big fastball managers like to see in a starter. Ogando certainly has the fastball needed, but we'll see how he develops on the other fronts.
I like the move and Ogando threw seven scoreless innings against the Tigers, allowing just two hits and walk. Why not take a power arm and see what happens? Kudos to the Rangers brass for taking a risk that really isn't much of a risk. If it doesn't work out, just move him back to the bullpen.
Here are a few reliever-to-starter transitions from major league history. (This isn't meant to be a comprehensive list, but these seem to be the most significant ones, not including many who may have pitched in relief as rookies, such as
Mark Buehrle
.) Many of these guys started in the minor leagues, although they all spent most of their early days in the majors in the bullpen.
David Wells
– Wells was a second-round pick by the Blue Jays but took six years to reach the majors and he spent his first three seasons in the bullpen, making just two starts. Part of that was there just wasn't room. The 1989 Blue Jays, who won the AL East, had a rotation of Dave Stieb, Jimmy Key, John Cerutti, Mike Flanagan and Todd Sottlemyre, all of whom posted ERAs less than 4.00. Wells excelled as a setup guy, with a 2.40 ERA over 86 innings. He got his shot the next year, but even then the Jays never fully entrusted a rotation slot to him as he spent three years alternating starting and relieving, helping the Jays win two World Series, before signing with Detroit as a free agent and becoming a starter the rest of his career.
Derek Lowe
– Lowe started nine games as a rookie with Seattle before getting traded to Boston. From 1998 through 2001, he appeared in 278 games (he did make 13 starts), proving himself as one of the AL's most durable relievers. Grady Little replaced Jimy Williams as manager in 2002 and made Lowe a starter and he won 21 games his first season in the rotation.
Charlie Hough
– It was a long road to the rotation for the knuckleballer. He started in the low minors but switched to relief in Triple-A with the Dodgers in the early '70s. He spent three years there before finally getting a regular job in the major league bullpen. He spent seven seasons there, once pitching 142 innings in relief, but other than 14 starts in 1979, remained stereotyped as a reliever. In 1980, he started out poorly and the Rangers purchased him. In Texas, he languished for two seasons in a mop-up role. Finally, at the end of the 1981 season, he was given a chance to start, won his final four games and became a starter in 1982. He was 34 years old, but would last until 1994, making 417 starts and winning 163 games in that span.
Wilbur Wood
– Before Hough, there was Wilbur Wood. Considering Wood's successful conversion, it's amazing it took so long before Hough got a rotation shot. Wood first reached the majors when he was 19, although he didn't exclusively use the knuckleball. He pitched periodically for the Red Sox and then Pirates for five years but never established himself. The White Sox acquired him and Hoyt Wilhelm advised Wood to stick with the knuckler. He spent four seasons as a workhorse reliever, leading the AL three years in a row in games pitched, before joining the rotation in 1971. Over the next five seasons, he started 42, 49, 48, 42 and 43 games, averaging 336 innings per season and winning 106 games.
Kenny Rogers
– A 39th-round pick out of high school by the Rangers, Rogers started 56 of 169 games in the minors but spent most of his first four years in the majors as a reliever. Like Lowe, it took a new manager to view him as a starter. Kevin Kennedy took over in 1993, put him in the rotation and he last 16 more seasons.
Jeff Fassero
– Like Rogers, Fassero was a low-round pick (22nd) and never a top prospect. Originally drafted by St. Louis, he didn't reach the majors with Montreal until he was 28. Exclusively a reliever his first two-and-a-half seasons, he joined the rotation in July 1993 and was a very good starter for five more seasons with the Expos and Mariners, later returning to the bullpen.
Omar Daal
– Daal had been a reliever for five seasons -- and not a very good one -- with the Dodgers, Expos and Blue Jays when Arizona selected him in the expansion draft and made him a starter. He posted a 2.88 ERA in 1998, won 16 games in 1999 and then was part of the booty that landed
Curt Schilling
from the Phillies.
Danny Darwin
– Darwin was undrafted by the Rangers but took just three seasons to the reach the majors. He spent two years primarily relieving, started in 1981, returned to the bullpen in 1982 and then was back in the rotation in 1983. He'd win 171 games in the majors.
Dave Stewart
– Stewart reached the majors with the Dodgers as a hard-throwing reliever in 1981, and while they did give him 14 starts in 1982, they eventually returned him to the bullpen. Traded to Texas, he bombed out of their rotation and was traded to Philadelphia, where he was released. The A's signed him and he won 20 games in four straight seasons.
Jimmy Key
– A third-round draft pick of the Blue Jays out of Clemson in 1982, Key reached the majors in 1984, appearing in 63 games in relief. Despite underwhelming numbers (44/32 SO/BB ratio, 1.65 WHIP), Bobby Cox put him in the rotation in 1985 and he'd finish his career with 186 wins and a 3.51 ERA.
Goose Gossage
– Here's a famous one that didn't stick. Gossage had led the AL with 26 saves with the White Sox in 1975, pitching 141 innings of dominating relief. Paul Richards replaced Chuck Tanner as manager in 1976 and Richards was an old-school guy from a different era and thought your best pitchers should start. Gossage went 9-17 as a starter, striking out just five more batters than the year before despite pitching 82 more innings. He was traded to Pittsburgh for the 1977 season and never started again.
Follow David Schoenfield on Twitter at @dschoenfield. Follow the SweetSpot blog at @espn_sweet_spot.