January, 12, 2015
Jan 12
1:31
PM ET
The recent Hall of Fame elections serve two important purposes. One, it's a chance to recognize the superstars of the recent past and how many memories
Randy Johnson
,
Pedro Martinez
,
John Smoltz
and
Craig Biggio
provided us. But the elections also serve as a reminder to remember those underappreciated players of the past, those who deserved better support in Hall of Fame voting.
So here's my all-time all-underrated team. It skews toward more recent decades, but these are the decades that players have failed to fairly represent in Cooperstown.
C: Ted Simmons (1968-1988)
Stats: .285/.348/.437, 248 HR, 1,389 RBI, 2,472 H
Career WAR: 50.1
Higher WAR than ... Ernie Lombardi, Roy Campanella, Ray Schalk
The Hall of Fame voters and Veterans Committee has drawn its line at Simmons. He ranks 10th in WAR among catchers; seven of the guys ahead of him are Hall of Famers and the other two are
Ivan Rodriguez
and
Mike Piazza
. Only Yogi Berra drove in more runs. Simmons
was
a big name when he played -- he was an eight-time All-Star -- but a couple of factors worked against his historical standing: Johnny Bench was his contemporary and Simmons loses that comparison; he wasn't regarded as a strong defensive catcher while active although his career caught stealing rate of 34 percent is actually league average.
Runner-up: Bill Freehan. Perennial All-Star for the Tigers in the '60s.
1B: John Olerud (1989-2005)
Stats: .295/.398/.465, 255 HR, 1,230 RBI, 2,239 H
Career WAR: 58.0
Higher WAR than ... Bill Terry, Tony Perez, Orlando Cepeda
For all the talk this past week about
Fred McGriff
and
Carlos Delgado
, Olerud was a better all-around player than either of those two, at least according to the advanced metrics. But first basemen are judged by power, and Olerud's 20 home runs per season and 255 career home runs didn't match up to the power numbers some of his contemporaries in the steroids era put up.
He made up for that with consistently high on-base percentages (six times over .400) and excellent defense (Baseball-Reference has him with the third-most fielding runs ever at first base, behind only
Albert Pujols
and Keith Hernandez). Olerud also had two monster MVP-caliber seasons with the Blue Jays in 1993 when he hit .363 and won the batting title and with the Mets in 1998 when he hit .354.
Runner-up: Will Clark. He could have hung around a few more years to build a stronger Hall of Fame case -- he hit .319/.418/.546 in his final season -- but instead retired. Of course, he was a pretty big star while active. But, like Olerud, he got booted off the Hall of Fame ballot after one year.
2B: Lou Whitaker (1977-1995)
Stats: .276/.363/.426, 244 HR, 1,084 RBI, 2,369 H
Career WAR: 74.9
Higher WAR than ... Ryne Sandberg,
Roberto Alomar
, Craig Biggio
Whitaker's one-and-done status on the Hall of Fame ballot was pretty surprising considering his career numbers are very similar to Sandberg's, his 1980s National League counterpart who was elected on his third try. Whitaker didn't hit quite as many home runs as Sandberg but had a higher on-base percentage and was no slouch on defense, winning three Gold Gloves.
Whitaker has the highest career WAR of any player not in the Hall of Fame who isn't still on the ballot, not yet eligible, didn't bet on baseball and didn't play in the 1800s. So why the lack of respect? Well, the things Whitaker did are those things that make most of these players underrated: He drew walks, he played good defense, he had medium-range power (although pretty good for a second baseman).
Sandberg, by comparison, was certainly flashier than Whitaker -- more home runs, more steals, a better defensive reputation. And to be fair, Sandberg at his peak
was
better than Whitaker at his peak. Whitaker then had some very strong seasons at the end of his career when he was used as a platoon player, but nobody realized how good he still was because (A) he was being platooned, which held down some of his counting numbers; (B) the Tigers were terrible by then; and (C) Alomar had arrived and was the widely acclaimed new best second baseman in baseball.
Whitaker has yet to appear on a Veterans Committee ballot. I suspect he'll remain a hard sell even then, since his consistent excellence is easy to overlook.
Runner-up: Bobby Grich. Put up excellent offensive numbers in the 1970s and early '80s -- walks, medium-range power -- when most middle infielders were inept at the plate. While not completely overlooked while active -- he made six All-Star teams and had two top-10 MVP finishes -- the fact that he didn't hit for a higher average in an era when that's what people paid attention to certainly made him underrated at the time.
3B: Graig Nettles (1967-1988)
Stats: .248/.329/.421, 390 HR, 1,314 RBI, 2,225 H
Career WAR: 68.0
Higher WAR than ... Home Run Baker, Pie Traynor, George Kell
As with Simmons, Nettles ranks 10th all time at his position in career WAR. Nettles was a superb defensive third baseman who played a long time and hit some home runs. Voters have always had trouble figuring out what to do with third basemen. Ron Santo had to get in the Hall of Fame through the back door. It will be interesting what happens with
Adrian Beltre
and
Scott Rolen
, both in the top 10 in career WAR among third basemen, when they become eligible.
Nettles never had a chance at the Hall of Fame. Brooks Robinson had already secured the legacy of best defensive third baseman of all time, so it didn't matter how good Nettles was. He was actually Robinson's equal as an offensive player, just with a different scope: more power but a lower average. I'm not sure I'd advocate Nettles as a Hall of Famer -- he'd have lined up behind Rolen, Beltre and maybe Ken Boyer -- but he certainly had some Hall of Fame-caliber seasons.
Runner-up: Boyer. He peaked at 25 percent on the BBWAA ballot. He was on the recent Veterans Committee ballot but received fewer than three of the 16 votes -- fewer than Jim Kaat or Maury Wills, even though Boyer was a better player than either one.
[+] Enlarge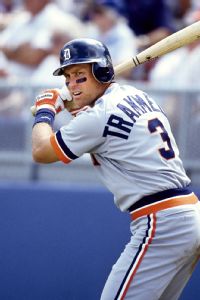 USA TODAY Sports Alan Trammell played 20 years in the majors and had a career .352 on base percentage.
SS: Alan Trammell (1977-1996)
Stats: .285/.352/.415, 185 HR, 1,003 RBI, 2,365 H
Career WAR: 70.4
Higher WAR than ...
Barry Larkin
, Joe Cronin, Luis Aparicio
Whitaker's long-time teammate is probably the stronger Hall of Fame candidate due to a higher peak level of play. I touched a bit on Trammell
here
. Trammell is eighth all time in WAR among shortstops, sandwiched between
Derek Jeter
and Larkin. The comparison to Larkin explains why Trammell is underrated: He had nearly exact career numbers but Larkin was elected to the Hall of Fame his third time on the ballot while Trammell has languished for 14 years. The weird thing is while
Cal Ripken
was certainly the star American League shortstop of the 1980s, it's not like Trammell wasn't recognized as one of the best players in the game at the time. But as soon as he retired, people forgot about him.
Runner-up: Arky Vaughan. He's actually in the Hall of Fame but this 1930s star remains one of the most unknown great players in the game's history.
LF: Jose Cruz Sr. (1970-1988)
Stats: .284/.354/.420, 165 HR, 1,077 RBI, 2,251 H
Career WAR: 54.2
Higher WAR than ... Ralph Kiner, Jim Rice, Lou Brock
Yes, Tim Raines could go here as well, but it wouldn't surprise me to see him finally get elected to Cooperstown in his final two years on the ballot. As for Cruz, it took a while for his career to get going -- he didn't have his breakout season until he was 28 -- but he was a tremendous player for a long time with the Astros. It was impossible to hit home runs in the Astrodome back then -- one year, Cruz hit 12 home runs on the road and none at home -- so Cruz didn't have big power numbers. But he hit .300 six times, drew walks and stole as many as 44 bases in a season (1977). He had three top-eight MVP votes, but if he'd come up in the 1990s instead of the '70s and played in a different park, he could have been a 3,000-hit guy.
Runner-up: Minnie Minoso. He should be in the Hall of Fame.
CF: Kenny Lofton (1991-2007)
Stats: .299/.372/.423, 622 SB, 1,528 R, 2,428 H
Career WAR: 68.2
Higher WAR than ... Duke Snider, Richie Ashburn, Kirby Puckett
Here's something that may shock you: Among players who played at least 50 percent of their career games in center field since 1901, Lofton ranks seventh in all-time WAR, behind only the legends -- Willie Mays, Ty Cobb, Tris Speaker, Mickey Mantle, Ken Griffey Jr. and Joe DiMaggio. But he was one-and-done on the Hall of Fame ballot. I'd say that makes him underrated.
Runner-up:
Bernie Williams
? Hard for a Yankee to be underrated, but the crowded ballot bumped him off on his second try in 2013. Borderline Hall of Famer at best, but usually players on great teams have a better shot at getting elected.
RF: Dwight Evans (1972-1991)
Stats: .272/.370/.470, 385 HR, 1,384 RBI, 2,446 H
Career WAR: 66.9
Higher WAR than ... Andre Dawson, Dave Winfield,
Vladimir Guerrero
And certainly higher than Rice, his Red Sox teammate. He was better in his 30s than in his 20s and, like others here, was good at some of the unrecognized things like getting on base and drawing walks. He hit more home runs than Rice and his OBP is 18 points higher even though Rice hit .298 versus Evans' .272. Would love to see him get on a Veterans Committee ballot one of these years.
Runner-up: Bobby Bonds. Not as good as his son, Barry, and not quite a Hall of Famer, but his career WAR is in the top 20 all time among right fielders.
P: Kevin Brown (1986-2005)
Stats: 211-144, 3.28 ERA, 3,256 IP, 3,079 H, 2,397 SO
Career WAR: 68.5
Higher WAR than ... Jim Palmer, Carl Hubbell, John Smoltz
But he didn't spend three years as a closer! From 1996 through 2001, in the midst of the steroid era, Brown posted a 2.53 ERA. And he had a 2.39 ERA in 2003. And a 21-win season in 1992. He certainly deserved to get more of a hearing from the voters than one ballot.
Runner-up: Rick Reuschel. Played for a lot of bad and mediocre Cubs teams in the '70s, otherwise would have won more than 214 games.
October, 25, 2013
10/25/13
1:00
AM ET
By
Christina Kahrl
| ESPN.com
There's something ironic about talking about some of the best plays in World Series history when the key feature of the first two games of this year's Fall Classic have been the defensive miscues that decided the outcome. But as quickly as we've judged Pete Kozma's Game 1 or Craig Breslow's Game 2, we've also seen Carlos Beltran's slam-saving wall-banger in the opener and Kozma's slick, bare-handed pickup in Game 2. At this level, it's in almost anybody's power to deliver an indelible moment to add to October's gem-spackled history.
Baseball's multicentury scope almost automatically defies you to shave any such list to a top 10. There are plays with their place in legend: Willie Mays' Game 1 snag for the Giants in 1954, or Bill Wambsganss' unassisted triple play in the Tribe's backbreaking Game 5 win over the Brooklyn Robins (or Dodgers) in 1920 to help untie a series they'd ultimately win. If you're going to peg an all-time best World Series, Mays would be the huge favorite to top any poll or list, because as grainy as the footage might be, it's more than we have on Wambsganss. How fair a choice is that, really?
So let's put those two incomparable moments in their corner of baseball Valhalla and talk about the best from the past 50 years. It's a good, round number that incorporates the full spread of divisional-era play. Running them down in chronological order:
(To cast your vote for the best World Series Web Gem of the last 50 years,
click here.
)
Game 4, 1969: Right fielder Ron Swoboda, Mets (Watch

)
You'd think Swoboda might be best remembered for driving in the winning run in Game 5. Not so, because that was made possible by his ninth-inning, full-extension leap the day before to rob Brooks Robinson of extra bases with two men on. That prevented the Orioles from taking the lead and potentially tying the series; instead, the Mets won in extras.
Game 1, 1970: Third baseman Brooks Robinson, Orioles (Watch

)
Robinson's snag of a hard grounder down the line by Lee May was perhaps just the best of several slick-fielding plays he made, in part because he picked up the ball in foul ground heading away from first but nevertheless managed to pivot and get off a one-hop throw that bounced true off Cincinnati's artificial turf to retire May.
Game 2, 1972: Left fielder Joe Rudi, Athletics (Watch

)
Denis Menke's smash looked like it would be at least a ninth-inning double off the wall for the Reds trailing 2-0 with a man on, but Rudi raced back, found the wall with his right hand and leaped to spear the ball with his left to help preserve Oakland's win in a series that proved the Big Green bragging rights over Big Red in the battle between the Machines.
Game 6, 1975: Right fielder Dwight Evans, Red Sox (Watch

)
Peter Gammons has said this was the best catch in World Series history -- Joe Morgan's smash to right field went over Evans' head, but Dewey made an over-the-head catch going up against the wall
and
fired to first base to complete the double play. Carlton Fisk's home run in extras never would've happened if not for this catch.
Game 3, 1978: Third baseman Graig Nettles, Yankees (Watch

)
Much like Robinson, you could pick from among several great plays in the Fall Classic. Nettles' D was decisive in helping the Yankees rally from a 2-0 deficit in the series.
Game 3, 1982: Center fielder Willie McGee, Cardinals (Watch

)
McGee's running leap at the wall in the ninth inning robbed Gorman Thomas of a two-run home run that would have brought the Brewers back to within two runs.
Game 6, 1991: Center fielder Kirby Puckett, Twins (Watch

)
Puckett's perfectly timed running leap against the fence in left-center robbed
Ron Gant
of extra bases with a man on. The run saved would prove huge when the Braves rallied to tie, only to lose in the bottom of the 11th -- on Puckett's walk-off homer, which set up …
Game 7, 1991: Second baseman Chuck Knoblauch, Twins (Watch

)
It's 0-0 in the eighth, Jack Morris' biggest game, dueling with
John Smoltz
. Lonnie Smith's leadoff single looked like trouble, and Terry Pendleton's double should have provided a lead ... except the rookie Knoblauch deked Smith into thinking he was fielding a double-play grounder, limiting him to reaching third base, where he'd be stranded. If most great plays on defense are a testament to physical gifts, Knoblauch's moment is a bit of incomparable situational awareness that made sure Morris' shutout held -- and that the Twins won the Series.
Game 3, 1992: Center fielder Devon White, Blue Jays (Watch

)
There are a couple of amazing things about this play, first that Devo nearly started a triple play on his catch in center against the wall, but also that he made it look easy. But there's nothing easy about making a catch heading into the wall yet coming off the wall firing the ball to first base for the DP, and perhaps winding up just a replay shy of starting a triple play.
Game 5, 2008: Second baseman Chase Utley, Phillies (Watch

)
Much like Knoblauch's play, this was just pure reactive genius, and that should be considered as important as a throwing arm or a great set of wheels. The Rays had already tied the score and had the lead run at second in
Jason Bartlett
. Aki Iwamura's sharp grounder up the middle looked like it would be an infield single as Utley threw to first -- except he didn't. Utley sold that pump fake to
everybody
, including Bartlett, who tried to score but was dead to rights when Utley threw home to preserve the tie in an eventual Phillies win.
There were some tough cuts that we had to kick around before the start of this year's Series. Swoboda wasn't the only Met making a major difference with leather in '69: Tommie Agee also made a pair of plays that merit mention.
Juan Uribe
going into the stands down the left-field line to run down a popup for the White Sox in 2005 was a pretty rangy feat. And removing Hall of Famer Roberto Alomar's diving stab to rob Lenny Dykstra of a hit in 1993? Perhaps the toughest cut of all.
So that's our 10 -- which one tops your list? And if not one of these, if there's a different play from the Fall Classic that you think was even better, pipe up and tell us: What was it?
Christina Kahrl covers baseball for ESPN.com. You can follow her on Twitter.
August, 28, 2012
8/28/12
12:40
AM ET
ESPN analyst Tim Kurkjian, with perfect timing, raised the question as
Adrian Beltre
dug in against
David Price
to lead off the bottom off the second inning: "It's time to start thinking of Beltre in a Hall of Fame terms ..." BOOM! Beltre turned on a 1-1 inside fastball, lining it over the left-field fence for his 25th home run.
In the third inning, Price threw a 1-2 cut fastball on the outside corner. Nothing wrong with the pitch, maybe a little up in the zone from where Price wanted. Beltre lined it into the right-center gap for a two-run double.
In the fifth, Beltre came up with runners on the corners. For the third straight time, Price got ahead in the count. He threw an 0-1 97-mph heater off the inside corner of the plate. Beltre fought it off and dumped a little flair down the left-field line for an RBI single, giving the Rangers a 6-5 lead and knocking Price from the game.
"I didn't feel like I was throwing the ball any different than I was during the stretch where I've been successful," Price said. "It's Texas, they're a good-hitting team, and they're feeling it right now."
In the seventh inning, the Rays just gave in. With two outs and the bases empty,
Kyle Farnsworth
threw four straight balls, the intentional unintentional walk.
But the damage had been done. Baseball's hottest hitter beat baseball's hottest pitcher. Price entered the game with an 8-0 record and 1.45 ERA over his past 12 starts, having thrown 12 consecutive games where he pitched at least seven innings and allowed three earned runs or fewer, the first lefty to do that since
Randy Johnson
in 1999. Since Aug. 16, Beltre is now hitting .447 with six home runs, five doubles and 16 RBIs in 12 games. The Rangers held on for
that 6-5 victory
as the Rays missed a chance to gain a game on the New York Yankees after the Bronx Bombers blew a ninth-inning lead to the Toronto Blue Jays.
Before the game, ESPN's Aaron Boone opined that Beltre, and not major league RBI leader
Josh Hamilton
, has been the Rangers' MVP, citing Beltre's excellent defense at third base as one reason. It's that defense that makes Kurkjian's statement more legitimate than you may think: Does Beltre have a chance at the Hall of Fame?
I agree with Kurkjian that Beltre's not there yet, but in a few more years the career totals will start to mount. Here, let's begin with the top third basemen since 1901, using
Baseball-Reference.com
's WAR leaders. The chart below lists each player's wins above replacement, his career value derived from his offense and defense plus his career adjusted OPS mark.
As you can see, Beltre has derived more of his career value than any of the best third basemen other than Brooks Robinson. You can also see that, other than Robinson, the great glovemen have been ignored in Hall of Fame voting, a reason third base is the most underrepresented position in Cooperstown. It's worth noting that Beltre's career OPS+ matches Graig Nettles and Buddy Bell. Neither fared well in Hall voting. Nettles peaked at 8.7 percent on the ballot and fell off after four years; Bell got 1.7 percent and dropped after one year.
Beltre has a big edge over those two, however, at least in the perception of his offensive contributions. Nettles hit just .248 in his career, as his offensive value came from power and walks; Bell hit .279 but lacked Beltre's power. Beltre has a .278 career average and has reached 20 home runs in 10 seasons.
More importantly, he's far from finished. He was just 19 when he reached the majors so has a chance to finish with some impressive career totals. He's just 33 now and is signed for four more years. If he averages 25 home runs, 80 RBIs and 140 hits per season through 2016, we're looking at 445 home runs, more than 1,500 RBIs and more than 2,700 hits. If he proves exceptionally durable and plays until he's 40, he has a shot at 500 home runs and 3,000 hits.
Beltre's career totals will also be helped by playing his home games in Arlington. As basically a dead-pull power hitter, Safeco Field was about the worst park for Beltre to play in. He still managed to reach 25 home runs in three of his five seasons in Seattle. But he has played the past three seasons in Boston and Texas -- probably the two
best
parks for him. Not surprisingly, he has posted the best numbers of his career besides his monster 2004 season with the Dodgers. (Since joining the Rangers, 38 of his 57 home runs have come at home.)
Of course, even if he remains productive, he's hardly a Hall of Fame lock. While his defensive metrics rate as outstanding, he has won only three Gold Gloves.
Scott Rolen
, his similar contemporary, has won eight Gold Gloves, so if you're thinking of reputation (which will likely influence voters more than defensive WAR), Beltre may lack the needed caché. He has also made just three All-Star appearances and finished in the top-10 of the MVP twice. Other than that .334, 48-homer season with the Dodgers (one of the best ever from a third baseman), he has never really been considered one of the game's elite players.
His reputation has certainly improved the past couple of years and his career numbers could eventually make his case a hot debate. At the very least, we can at least start appreciating the excellence of one of the game's most underrated players of the past decade.
PHOTO OF THE DAY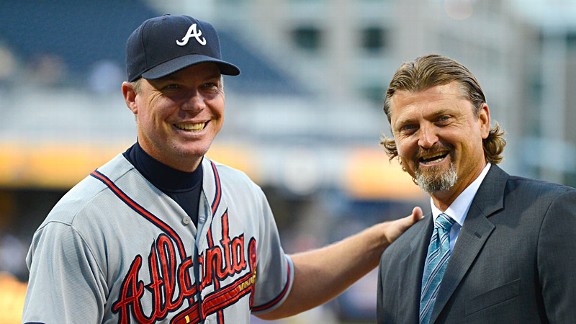 Christopher Hanewinckel/US PresswireSpeaking of all-time greats, Braves 3B Chipper Jones was hanging around with Cooperstown-bound Trevor Hoffman.
October, 5, 2011
10/05/11
3:33
PM ET
ESPN Insider Matt Meyers has a piece on
Adrian Beltre
, arguing that the labels placed on Beltre throughout his career
are unfounded and inaccurate
. I agree with Matt's general assessment that Beltre has been a tremendously underrated and underappreciated player during his career. Matt points out that Beltre is 19th on Baseball-Reference.com's all-time WAR (wins abovement replacement) for third basemen (or 21st, depending on how you do your search).
Considering Beltre is 32 and coming off an excellent season, he should have more good years left and climb up that list, maybe close to the top 10. That would certainly seem to put him in the Hall of Fame discussion ... except: Except there is probably too little perception of Beltre as a Hall of Famer. Much of Beltre's value derives from his excellent defense. B-R rates him ninth all-time in runs saved among third basemen (behind, in case you want to know: Brooks Robinson, Buddy Bell,
Robin Ventura
, Clete Boyer,
Scott Rolen
, Graig Nettles, Mike Schmidt and Gary Gaetti). But Beltre also has 310 home runs and 1,113 RBIs. It's not too much of a stretch to see him topping 400 home runs and 1,500 RBIs ... and the only third basemen to do that are Schmidt and
Chipper Jones
. George Brett is the only other third baseman with 1,500 RBIs.
Still, Beltre will be facing an uphill battle, no matter where his career totals end up. But he's been a terrific player, even if he's flown under the radar much of his career.
July, 7, 2011
7/07/11
6:15
PM ET
By
Christina Kahrl
| ESPN.com
The
news has broken
that Hall of Fame manager Dick Williams passed away today. He was 82 years old, and was one member of a generation of dugout greats, and with the loss of Sparky Anderson last November and Chuck Tanner in February, it's a generation whose ranks have taken a few too many hits in recent months.
[+] Enlarge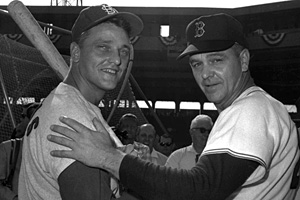 AP File PhotoFormer Red Sox manager Dick Williams, right, chats with St. Louis outfielder Roger Maris before Game 2 of the 1967 World Series. Williams made a career of rebuilding downtrodden teams.
Williams is perhaps best remembered as the manager of the "Impossible Dream" team in Boston in 1967, that Red Sox squad that took the Cardinals all the way to seven games in the World Series before coming up short. Williams set a precedent there for the kind of manager he would be, placing his faith in young talent; in Boston, he gave Reggie Smith and Sparky Lyle their first big breaks.
But the Red Sox would not be his last or best team, let alone mark his last visit to the World Series. Fired by Boston at the tail end of the '69 season -- in part for his authoritarian tendencies as a skipper -- Williams went to Oakland and took over as the firm hand perhaps perfectly suited to run the rowdies and rebels of the Big Green Machine dynasty of the early '70s. The A's won consecutive World Series on his watch in '72 and '73 before winning a third in a row under his replacement, Alvin Dark. After dealing with larger-than-life personalities like Reggie Jackson and Vida Blue on the field and team owner Charlie Finley off it, he finally resigned over team owner Finley's meddlesome, disgraceful attempt to humiliate and deactivate Mike Andrews for poor fielding during the course of the '73 Series.
Williams did not always have the magic touch -- there was nothing he could do in his next job to get the California Angels into contention in 1975 or '76 before he was fired in July, but he did break in long-term big-leaguers like Jerry Remy, Dave Collins, and Ed Figueroa. However, his setback in Anaheim freed him for the next signature gig in his career, his multi-year run managing the Montreal Expos from 1977 to 1981, helping drive them to second-place finishes in '79 and '80. He once again got fired in the middle of the '81 stretch run with his team in the race and 27 games left to play, an event as shocking then as Ned Yost's firing by the Brewers in the middle of the 2008 stretch run was in the recent past; Williams' hard hand running the club had worn thin again. But in Montreal, he was the manager with the good sense to get Gary Carter out of the outfield and back behind the plate as an everyday catcher, setting the Kid on his own Hall of Fame track. Moving Carter helped make space for future Hall of Famer Andre Dawson in the outfield, and in Williams' last season in Montreal he installed the eventually Hall-worthy Tim Raines alongside Dawson. Williams also oversaw the breakthroughs of an incredible batch of pitching talent: Scott Sanderson, Bill Gullickson, Charlie Lea and David Palmer, for starters.
A free agent again, Williams next landed in San Diego for the '82 season. In three years, he'd won another pennant, again by installing a crew of young pitchers (notably Eric Show, Dave Dravecky and Andy Hawkins), a speedy leadoff threat in Alan Wiggins, Kevin McReynolds in center and yet another Hall of Famer,
Tony Gwynn
, in right. Williams also got to supplement that squad with famous discards from more famous teams: Steve Garvey of the Dodgers, and Goose Gossage and Graig Nettles from the Yankees, but it only took one more season before Williams was forced out, reportedly by Jack McKeon and others in the front office.
Williams would finish his MLB career in the dugout unsuccessfully trying to turn around the Mariners -- but installing a future All-Star in Harold Reynolds at second base -- and then put in time in the Senior Professional Baseball Association, a league that operated in 1989-90 that was populated by former big-leaguers aged 35 and older. He "retired" to years spent as a special consultant to George Steinbrenner, one of many great baseball minds who the Boss has employed in that sort of gig over the years.
Williams' legacy for delivering winners, turning teams around, and breaking in young players is exceptional, and clearly places him among the front rank of baseball's best skippers. It came with the price of a man whose heavy-handed brand of leadership tended to make him unpopular within a few seasons, but it was a price teams were understandably willing to pay given Williams' ability to deliver.
At a time when some sabermetricians still favor the notion that managers don't matter, Williams serves as a great example of the reasons why and how they do, not simply via in-game tactics but more importantly in their ability to determine who plays and why. If you're interested in investing something more than just memory to Williams and his legacy as a manager, you could pick up a copy of Williams' biography,
No More Mister Nice Guy
(written with Bill Plaschke), which is well worth having on your shelf to understand where he was coming from, in Boston in '67 or in Seattle 20 years later, and at all points in between. For a fine take of his virtues as a skipper, you can also check out Chris Jaffe's
Evaluating Baseball Managers
.
Christina Kahrl covers baseball for ESPN.com. You can follow her on Twitter.
June, 20, 2011
6/20/11
6:30
PM ET
In honor of 80-year-old Jack McKeon taking over the reins of the Marlins, we present the all old-team. If you weren't at least 40 years old, you're too young for this club.

C -- Carlton Fisk, 1990 White Sox (42). Only two catchers have caught at least 100 games at 40 or older, with Fisk and Bob Boone each doing it twice. In 1990, Fisk caught 116 games (and played in 137 overall) and hit .285/.378/.451 with 18 home runs and 65 RBIs. His OPS+ was eighth-best in the American League among all hitters. He even stole seven bases -- more than Joe DiMaggio ever stole in a single season.

1B -- Darrell Evans, 1985 Tigers (40). You'd think first base would be the refuge of old hitters who could still rake, but such is not the case. Evans hit .257/.359/.501 with 34 home runs and 99 RBIs, making him the only 40-year-old first baseman (minimum 50 percent of games played at first base) to hit more than 20 home runs or drive in 70. Pete Rose did hit .325 at age 40, although with a homer, and 45-year-old Julio Franco hit .309 in part-time duty for the Braves in 2004.

2B -- Joe Morgan, 1984 A's (40). Only five players have played 100 games at second base at age 40: Morgan, Craig Biggio, Jeff Kent, Rabbit Maranville and Nap Lajoie. Morgan, Maranville and Lajoie are all Hall of Famers and Biggio and Kent may get there. None of them really hit all that, but in his final season in the majors at least Morgan drew a lot of walks to post a good on-base percentage. His final line: .244/.356/.351 with six home runs and 43 RBIs.

3B -- Graig Nettles, 1985 Padres (40). Nettles hit .261/.363/.420 with 15 home runs and 61 RBIs, edging out Hall of Famer Luke Appling, who hit .314 but with no home runs for the 1948 White Sox.

SS -- Luke Appling, 1949 White Sox (42). Appling was back at shortstop in 1949 and hit .301/.439/.394, ranking second in the AL in on-base percentage. He drew 121 walks ... and struck out just 24 times.

LF -- Ted Williams, 1960 Red Sox (41). In his final season, Williams hit .316/.451/.645 with 29 home runs and 72 RBIs in 113 games. There was stiff competition for this slot: Barry Bonds had a .480 OBP at age 42, Stan Musial hit .330 at age 41 and 40-year-old Rickey Henderson hit .315 with 89 runs scored for the '99 Mets.

CF -- Willie Mays, 1971 Giants (40). Mays had lost a step in the field, but thanks to 112 walks led the NL with a .425 on-base percentage. He added 18 home runs and scored 82 runs. two other 40-year-olds have been regular center fielders in recent years: Kenny Lofton in 2007 and Steve Finley in 2006.

RF -- Ty Cobb, 1927 A's (40). Not a bad outfield, eh? Cobb hit .357 with 93 RBIs and 104 runs, edging out Sam Rice's 1930 season with the Senators (.349, 121 runs). Rice was one of the great 40-and-over performers, racking up 551 hits from his age-40 season onward (second only to Pete Rose).

P -- Randy Johnson, 2004 Diamondbacks (40). Johnson went 16-14 with a 2.60 and led the NL with 290 strikeouts while pitching 245 2/3 innings. And here's the thing: He finished second in the NL Cy Young vote to 41-year-old Roger Clemens, who went 18-4 with a 2.98 ERA and 218 strikeouts in 214 innings. Johnson had the better season. The list of 40-and-over great pitchers is a long one, from Cy Young to Warren Spahn (23-7 age 42) to Phil Niekro to Nolan Ryan to Jamie Moyer. Since 1901, Niekro has the most wins from his age-40 season on with 121, followed by Moyer's 103.
April, 7, 2011
4/07/11
5:10
PM ET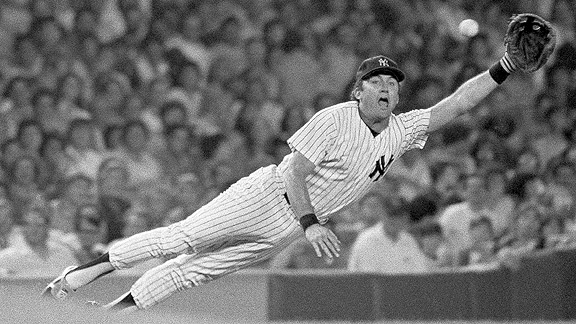 AP Photo/Ron FrehmFew third basemen could play the hot corner like Graig Nettles.
Last week, ESPNNewYork.com ran its list of the
50 greatest Yankees of all time
. I was part of the voting committee and ran
Nos. 50 through 31
on Wednesday. Here are Nos. 30 through 16. The overall panel ranking is in parenthesis.
30. Vic Raschi, P (39)
The ace of the Yankees staff along with Allie Reynolds when they won five straight World Series from 1949-53, Raschi was 120-50 with New York, annually placing among the league leaders in ERA, wins, innings, strikeouts and WHIP. He relied primarily on a high fastball, mixing in an occasional curve or change. He was at best in the World Series, posting a 2.24 ERA in 60 innings, including a two-hit shutout in Game 1 in 1950 and a three-hitter in Game 2 in 1952.
29. Roger Maris, OF (22)
His greatest play was one nobody talks about: In the bottom of the ninth of Game 7 of the World Series, Felipe Alou doubled into the right-field corner with two outs and Willie Mays on first. Maris somehow cut the ball off (Alou was a right-handed batter) before it reached the wall, holding Mays at third base. When Willie McCovey then lined out, the Yankees won 1-0.
28. Lefty Gomez, P (14)
It's really a shame we don't give guys nicknames like "Goofy" anymore. Gomez was spectacular in 1934 and 1937, years he led the AL in wins, ERA and strikeouts, and went 6-0, 2.86 in seven career World Series starts. He mixed in less impressive years but won 189 games in pinstripes.
27. Gil McDougald, IF (47)
A gifted infielder who played third, second and short -- basically, wherever Casey Stengel needed him -- and hit 10-15 home runs a season, got on base and played in eight World Series in his 10 seasons with the Yankees. Largely forgotten now, but he was a five-time All-Star, finished in the top 10 in the AL MVP voting three times, and if players were described as "glue" guys in the '50s, McDougald would have been described as the "ultimate glue guy."
26. Tony Lazzeri, 2B (18)
The Hall of Famer drove in 100 runs seven times -- only
Jeff Kent
with eight has more as a second baseman. Lazzeri had one of the great days in baseball history on May 24, 1936, when he hit three home runs, a triple and drove in 11 runs.
25. Mel Stottlemyre, P (31)
More famous now for being Joe Torre's pitching coach for many years, Stottlemyre went 164-139 in pinstripes and pitched 250-plus innings nine seasons in a row -- with a high of 303 in 1969 -- before his arm finally gave out. His rookie season was 1964, the last year of the dynasty, and thus his only World Series appearance.
24. Roy White, OF (44)
Spent his entire career with the Yankees. Vastly underrated while still active -- he had a broad-based range of skills that didn't stand out, plus most people at that time had no idea that drawing a lot of walks was a good thing -- Bill James has written how he was a better player than Jim Rice. (
Baseball-Reference agrees
, giving White a career WAR of 44.5 compared to Rice's 41.5.) His best seasons came during offensive doldrums of the late '60s and early '70s and B-R rates him as the best position player in the AL in 1971, when he hit .292/.388/.469, big numbers for the era. The MVP voters didn't agree: He didn't receive a single vote.
23. Charlie Keller, OF (36)
Had Hall of Fame numbers through age 29, combining power and 100-plus walks a year, but a ruptured disc in his back ruined the second half of his career.
22. Allie Reynolds, P (26)
"Superchief" (he was one-quarter Creek Indian) was Casey Stengel's secret weapon during the Yankees' five straight titles from 1949-53, starting and relieving as needed. He went 7-2 in his World Series career with a 2.79 ERA, posting five complete games and four saves. In 1952 against the Dodgers, he pitched a four-hit shutout in Game 4, saved Game 6, and pitched three innings of relief to win Game 7. He delivered 131 of his 182 career victories with the Yankees, after coming in a trade with Cleveland for Joe Gordon.
21. Graig Nettles, 3B (29)
One of the great heists in Yankee history was stealing Nettles from the Indians after the 1972 season for John Ellis, Jerry Kenney, Charlie Spikes and Rusty Torres; there's a reason you've never heard of any of those guys. A gifted fielder who remained a productive hitter with the Yankees into his late 30s, during the 1977-78 World Series years Nettles finished fifth and sixth in the AL MVP voting -- ahead of Reggie Jackson both seasons.
20. Phil Rizzuto, SS (20)
Would rate higher if you want to give extra credit for his announcing career.
[+] Enlarge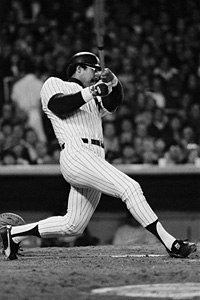 AP File PhotoReggie Jackson made an impact in his five seasons with the Yankees.
19. Reggie Jackson, OF (15)
Reggie was a Yankee for only five seasons, so it's difficult to place him much higher. While still a great hitter in the Bronx, his fielding became an issue and he was no longer one of the very best players in the league as he had been with the A's (Baseball-Reference has him as the AL's best player three seasons with Oakland). But he obviously was dynamic, memorable and his three-homer World Series game in 1977 gave the Yankees their first World Series title since 1962 and cemented his legend status.
18. Alex Rodriguez, 3B (13)
A-Rod has averaged 38 home runs, 120 RBIs, 107 runs and a .952 OPS with the Yankees. He's won two MVP awards. He won a World Series. His place as an all-time great Yankee is deserved and should be unquestioned by now. In fact, he even finally qualifies as a True Yankee.
17. Ron Guidry, P (17)
I can still remember sitting in the family station wagon and hearing the report on the radio that Rice had edged out Guidry for the 1978 AL MVP Award. Rice received 20 first-place votes, Guidry the other eight. I wasn't a Yankees fan, but I was angry that Guidry didn't win the award. I mean,
25-3
just sounded surreal. He never came close to that season again, of course, but he won 20 twice more and finished with 170 career wins.
16. Willie Randolph, 2B (33)
A tremendously underrated player (check his ranking from our panel) who did everything well except hit for power. Even then, he was one of the best offensive second baseman in baseball. Here are his annual rankings among all second basemen via Baseball Prospectus' VORP statistic (runs produced above a replacement-level second baseman): 5th, 7th, 3rd, 4th, 1st (1980), 12th, 8th, 13th, 6th, 9th, 5th, 2nd (1987), 27th, 12th (no longer with Yankees), 27th, 6th, 21st. Factor in that he was a very good glove man and a good baserunner who had more than 2,200 career hits, and you can make a Hall of Fame case for him.
Follow David Schoenfield on Twitter at @dschoenfield. Follow the SweetSpot blog at @espn_sweet_spot.