January, 10, 2011
1/10/11
1:40
PM ET
When it comes to the Hall of Fame, most of my ESPN.com colleagues are capable of logical, consistent thinking. Sure, we've all got our blind spots (mine is Amos Otis). But for whatever reason, on this site there's a relative shortage of fuzzy thinking and self-righteous moralizing. Which is a good thing, I think.
And we're not alone.
Bernie Miklasz gets it.
So do some others.
That said, most baseball fans born after 1970 can't figure out why the Hall of Fame voters are doing what they're doing, and some of them wonder if maybe the job of choosing Hall of Famers shouldn't just be handed to the players themselves. After all, who's better qualified to judge greatness?
Then you read
something like this
, from Mike Schmidt:
Here's the telling numbers: Jim Rice, a Hall of Famer over 16 seasons, averaged 30 home runs and 109 RBIs in his prime and had a lifetime .298 average. Jeff Bagwell, over 15 seasons, averaged 36 home runs and 115 RBIs in his prime and had a .297 lifetime average. These career numbers are nearly identical.

Here's another morsel to chew upon: Bagwell and Rice each drove in 100 runs eight times.

Again, 41.7 percent of the vote. Are these writers/voters serious?

Now, compare my stats to both Bagwell and Rice — not much different, except my lifetime batting average was .267. Yes, a few more RBIs and a couple Gold Gloves, but not enough for me to go first ballot with more than 96 percent while Rice, and it looks like Bagwell, had to sweat.

By the way, Rice and Bagwell each played for one team. And one more, Bagwell played in the Astrodome for a few years, which had to cost a few home runs.
Well, it's nice that Schmidt threw in that little bit about park effects there at the end. But is this really someone you want deciding who belongs in the Hall of Fame? Does Schmidt really not understand the difference between Bagwell's defense and Rice's? Does Schmidt really believe that Bagwell and Rice were really as good as Schmidt himself was? Mike Schmidt is the greatest third baseman who's ever walked this planet. Bagwell's maybe the fifth or sixth greatest first baseman, and Rice is ... well, let's just say he's one of the five or six greatest Red Sox outfielders.
All you need to know about the players is that they weren't smart enough to elect Ron Santo when they had the chance. Of course, the writers weren't, either. And they had more chances. Which sort of leaves us where we started ...
Even leaving steroids (and amphetamines) aside, there's an awful lot of fuzzy thinking when it comes to Hall of Fame voting ...
I know, I know, stop the presses.
Stick with me, though. There's a payoff at the end, honest (but no skipping ahead!).
Recently in response to a question about Omar Vizquel's Hall of Fame prospects, Paul Hoynes wrote
this
:
I have said this many times, Vizquel is the best shortstop I've seen and I believe he is a Hall of Famer. I think it will be tough for Vizquel to be a first-ballot selection, but I do think he'll get enough votes to eventually make it.

First, however, he has to retire. Vizquel, 43, is of the opinion that he can play forever. In case you're curious, he needs one hit to reach 2,800.
Hoynes' opinion is popular. Exactly how popular, I really don't know. I thought Bagwell would make a strong showing in this year's Hall of Fame balloting, so what do I know. But when Vizquel becomes eligible for the Hall, presumably in 2017 or '18, you're going to read a lot of passionate arguments for him, mostly along the lines of
He's the best shortstop I ever saw
or
He was just as good as Ozzie Smith, look at all the Gold Gloves!
Which are intertwined, obviously. First of all, it's hard for me to believe that Hoynes really thinks Vizquel is the best he's seen, because I saw Ozzie Smith and I'm pretty sure Hoynsie's got a few years on me. But most of the voters who remember Ozzie Smith won't actually argue that Vizquel was Ozzie's equal. Rather, they'll argue that Vizquel, who won 11 Gold Gloves to Ozzie's 13, was
almost as good
.
Except he wasn't. Even if we assume that both players deserved all those Gold Gloves, it's silly to assume that all Gold Gloves are created equal. Ozzie Smith is probably the greatest defensive shortstop who's ever walked the planet. Among shortstops with real careers, anyway. Vizquel was good, maybe very good, maybe even excellent. But as good as Ozzie Smith? The Gold Gloves and the salaries and the statistics all suggest that Ozzie was the better defensive player.
Still, the argument will be that both of them won a lot of Gold Gloves, both of them were a lot of fun to watch, and both of them were subpar hitters. All of which is true. Again, though, that doesn't make them the same. Ozzie's career OPS+ was 87; Omar's was (is) 83. It's not a large difference, but it's a difference. Ozzie stole 580 bases and was caught 148 times; Omar has stolen 400 bases and been caught 163 times. Again, not a huge difference in terms of actual scoring, but it's a difference. And one might reasonably assume that Ozzie was the better baserunner otherwise, too.
My point being that Ozzie was the better fielder, the better hitter, and the better baserunner. And that when you add everything up, Ozzie belongs in the Hall of Fame and Omar ... well, he wouldn't be the worst shortstop in the Hall of Fame, but he wouldn't be among the top 15 or 20, either. Essentially, it's intellectually indefensible to trumpet Vizquel's candidacy while Alan Trammell's still on the outside, getting his piddly 20-some percent from the voters every year.
What I find particularly strange is how many writers are now arguing that Omar Vizquel was a great player, considering how few of them thought he was great when he was actually playing shortstop every day.
I mean, seriously. Vizquel's been around forever. Would you care to guess how many times he showed up on someone's MVP ballot? Remember, MVP voters are asked to list 10 players on their ballot. Same as the Hall of Fame ballot.
So, how many times in 22 seasons?
One.
In 1999, Vizquel finished 16th. He batted .333 and won a Gold Glove, and the 28 MVP voters -- many of whom will have Hall of Fame ballots in five or six years -- believed that Vizquel was just the 16th best player in the American League. But that's really not so instructive. Vizquel got three points, which means he might have appeared on just one ballot; probably just one, or perhaps two.
I think they were wrong. I think Vizquel was actually one of the six or eight best players in the league that season. But 1999 was Vizquel's best season, by far. There was never another season in which he showed up in the MVP voting at all, or deserved to.
So the
vast
majority of MVP voters never thought Vizquel was great enough to rank among the top 10 players in his league, but now a number of them -- again, many of the MVP voters from Vizquel's career are now Hall of Fame voters -- are willing to rank him among the 10 best players on the Hall of Fame ballot in a few years? Remember, many voters are now complaining that 10 slots isn't enough, and the ballot will only get more crowded with qualified candidates in the next few years.
So, the Obvious Question: Why are so many baseball writers so excited about Omar Vizquel?
It's simple, I think. The writers desperately want to do
something
for Vizquel, and they just can't think of anything except the Hall of Fame. Roger Maris had two great seasons, a few good ones, and in 1988 43 percent of the Hall of Fame voters voted for him. Essentially, Maris got the same support in his last year on the ballot that Jeff Bagwell just got in his first year. Don Larsen had zero great seasons, a few decent ones, and one year 53 Hall of Fame voters voted for him. Today, roughly half the Hall of Fame voters fervently believe that Jack Morris belongs in the Hall of Fame ... even though Morris, with the exception of one brief moment in 1991, was never considered a great pitcher by many of these same voters.
What the writers need is something for Vizquel, and I think I've got just the thing (sorry, but I haven't come up with anything for Morris yet) ...
*******
I'll let you in on a Dirty Little Secret, that I wasn't actually supposed to mention for a long time but recent developments have conspired to give me a little wiggle room.
The dirty little secret is that there's no such thing as "the writers'
wing
" or "the broadcasters'
wing
" of the Hall of Fame. Those places don't exist. If you've been to Cooperstown and weren't paying attention, you would have seen absolutely no proof that the winners of the J.G. Taylor Spink Award (writers) or the Ford C. Frick Award (broadcasters) ever existed, because their names simply don't appear in the Hall of Fame, which is a big room covered with the plaques depicting all the men (and one woman) who are actually, you know,
in the Hall of Fame
.
There's no wing. There are a couple of plaques, one for each award, hanging on a wall just outside the Hall's research library. The Spink and Frick Award winners are not "enshinees" (i.e. Hall of Famers) but rather "honorees," which is a completely different thing.
The confusion is partly the Hall of Fame's fault, because for some years the Hall of Fame has allowed the honorees to give an acceptance speech the same afternoon as the enshrinees give theirs.
But the confusion is mostly our fault, and by "our" I mean my colleagues in the business and our employers. Obviously, it makes everyone happy to add "Hall of Fame" in front of "writer" or "broadcaster." It's gratifying to the ego, and it's gratifying to whoever's signing the checks.
It's just not true.
The "wings" are largely imaginary places, invented for everyone's convenience.
So why not imagine one more wing, for our convenience?
What I am proposing is a
Wing of the Amazing
, for players who really don't belong in the Hall of Fame because they weren't good enough, but did some things that do deserve to be celebrated. A few criteria:
No one-game wonders. This leaves out Don Larsen.
No freak shows. This leaves out Eddie Gaedel and Minnie Minoso (though one can make a pretty decent case for Minoso as an actual Hall of Famer.
We're not talking about really good (or great) players who belong in the Hall of Fame, but have been overlooked. Lou Whitaker and Bobby Grich were both fantastic players and they belong in the Hall, but when you look at their careers do you think, Amazing? Probably not.
These standards are inviolable until someone convinces me they're not.
Now, it seems to me that while Omar Vizquel might not be the
best
candidate for the Wing of the Amazing, he is a fine candidate.
Why? Because what he's done over the past five or six seasons really has been amazing. I don't think there would be any Hall of Fame talk without the past five or six seasons. Which might seem strange, considering Vizquel has a .266/.330/.340 line in the past six seasons, and hasn't been an every-day shortstop in the past three of them. But before those past six seasons, Vizquel was sitting on slightly more than 2,000 hits and nobody was really talking about him. What really got writers jazzed about him was the two Gold Gloves he won at the ages of 38 and 39, and the ability to play respectably well in a utility role at 42 and 43. And he's coming back for another season at 44, and the writers will get even more jazzed if he manages to hang on to his roster spot.
We
should
be jazzed. As
Chris Jaffe writes
-- at the conclusion of a long piece in which he concludes that Vizquel
will
wind up in the Hall of Fame -- Vizquel's career has been "bizarrely unique" ... which is another way of saying it's been amazing. He deserves a place, and it's a real place if we believe that it's real.
My message to all the writers who so desperately want to reward Omar Vizquel for his amazing career?
You're welcome.
December, 6, 2010
12/06/10
11:48
AM ET
Over the years, I've come to believe that it's best to focus on who
does
gain entrance to the Hall of Fame, rather than who does not.
It's just a happier way to get through life, because over the years more deserving candidates will be elected than won't.
Take
today's announcement
, for example. By the historical standards of the Hall of Fame, Pat Gillick was a highly deserving candidate. He probably wasn't an
easy
choice. There aren't many non-owner baseball executives in the Hall of Fame -- by my count, Gillick is just the fifth -- so it wasn't easy for the voters, who generally rely on precedent when making their decisions.
Why is Gillick only the fifth? Executives have been neglected over the years, but it's not just that. There just haven't been many baseball executives who have been credited with building a number of champions
and
had a great deal of staying power as general managers.
Bob Howsam lived to be almost 90 years old. I have argued that
he belongs in the Hall of Fame
. But Howsam, though he built the Big Red Machine in Cincinnati that won two World Series, was a general manager for only 13 seasons (two in St. Louis, 11 in Cincinnati). To this point, 13 seasons just hasn't been enough to earn Howsam more than token support from Hall of Fame voters.
Gillick, on the other hand, served as a general manager (or its equivalent) for 27 seasons, during which his teams reached the playoffs 11 times and won three World Series. Among other baseball executives of the last 50 or 60 years, only John Schuerholz has comparable qualifications, and Schuerholz will probably be elected to the Hall of Fame shortly after appearing on the ballot.
Unfortunately, the big story isn't going to be Gillick's election; it's going to be Marvin Miller's non-election. Miller, still going strong, turns 94 next spring. Miller's supporters point to his impact on the sport as the Major League Baseball Players Association's first strong leader. As union head in the late 1960s and through the 1970s, Miller fought the owners at every turn, and consistently beat them. The players would eventually have fought for more rights (and money) without Miller. But they did it earlier and more effectively because Miller was on their side.
That said, there's obviously no precedent for electing a labor executive. And the composition of the committee probably didn't help Miller's cause. The 16-man voting committee included seven Hall of Fame players, all of whom benefited from Miller's efforts, all of whom probably voted for him. The committee included Hall of Fame manager Whitey Herzog; it's hard to guess if he voted for Miller. The other eight voters were four executives (or former executives) and four writers. I would guess that three or four of the writers did vote for Miller, and that three or four of the executives did not.
That's how you get to 11 votes. Miller needed 12.
This makes Miller's fourth failure to be elected. His first two tries, he was voted on (mostly) by living Hall of Famers, and fell just short both times. His third try, he was voted on (mostly) by baseball executives, and fell
well
short. And now, this fourth try: more players on the committee -- all of them from Miller's era -- fewer executives, and consequently Miller's support skyrocketed from 25 percent to 69 percent.
One more vote. This time, that's all Miller needed.
Miller will be in the Hall of Fame someday. He'll remain on one ballot or another forever, and eventually he'll get that one vote. But as long as there are three or four men on the committee who hated Miller's guts -- and it should be said that he wasn't real fond of them, either -- he's going to fall short. And it's hard to escape the impression that those men, all of them much younger than Miller, figure they can outlast the irascible old union man.
Meanwhile, Dave Concepcion garnered eight votes. As good as Concepcion was, I don't believe he was one of the 20 greatest shortstops in major league history. George Steinbrenner -- along with the other nine candidates, received fewer than eight votes. The Boss might belong in the Hall, but there's no harm in waiting a few years to let his accomplishments sink in a bit more. You could make a real good case for at least five of the other candidates, none fared well on the BBWAA's ballots over the years, and it's obviously difficult for the voters on this committee to distinguish among them.
Yes, maybe Ted Simmons belongs in the Hall of Fame. Maybe Billy Martin does, and maybe Tommy John. Miller, probably. But for many years, the Hall of Fame's veterans committees routinely elected candidates who
lowered
the standards of the institution. Today, the election of Gillick has maintained the Hall of Fame's standards, and perhaps raised them.
If you care about the Hall of Fame, this is a good day.
November, 11, 2010
11/11/10
4:33
PM ET
Earlier today, I
quoted George Vecsey on George Steinbrenner
. Among the things I left out was Vecsey's big finish:
Everybody makes more money because of Marvin Miller. But voters have tended to ignore Miller because baseball people have a bad case of Stockholm syndrome. That is, they identify with their captors and become fearful of truly smart people with vision, like Marvin Miller. In recent years, even some baseball people seem to have come to understand that a truly great innovator and leader has been shortchanged.

At least one member of the panel feels that way. Jim Palmer, the Hall of Fame pitcher, said in an e-mail: "My vote has been and will always be for Marvin. He gave the modern day player a voice, completely changed the landscape." He spoke positively about Steinbrenner, but added, "There are enough marks against him to warrant a later entrance."

Marvin Miller is 93. He deserves to be present at his induction into the Hall of Fame. Then, when the first wave of emotion has passed and we are all thinking a bit more clearly, let's get back to the discussion about George Steinbrenner.
I believe there should be a process that fairly considers Miller, but otherwise I'm somewhat ambivalent about his candidacy, mostly because the Hall of Fame is built on precedent, and there's no precedent for electing a labor leader. Maybe that precedent should be established -- opening the door in future years for Donald Fehr and Scott Boras, perhaps -- but until it
has
been established, I have a hard time getting worked up about Marvin Miller.
Miller, on the other hand, even at 93 doesn't have a hard time getting worked up. This fact came into stark relief today, when I read Jim Palmer's comment, above: "My vote has been and will always be for Marvin." Which makes a great deal of sense, considering that without Miller, Palmer and his contemporary colleagues wouldn't have been nearly as wealthy as they were. It's a truism of politics that people "vote their pocketbooks," and I suspect this applies to Marvin Miller's electoral prospects, too.
Why did Palmer's comment strike a nerve? Because just yesterday, I read Miller's
comment about Palmer
: "Jim Palmer was a great pitcher, but he was an anti-union sonuvabitch."
Are those the words of a man who
wants
to be in the Hall of Fame?
The National Baseball Hall of Fame and Museum is a shiny beacon in the firmament of what used to be called Organized Baseball, and what might also be described as The (Baseball) Establishment. Frankly, I wonder if Marvin Miller actually prefers things the way they've been, because it's all he knows. We might prefer that he found some sort of peace with Baseball, and with the world. But maybe that's just not who he is, or wants to be.
Maybe he would rather go to his grave, still shaking his fist at his enemies.
February, 15, 2010
2/15/10
2:15
PM ET
At the end of nearly 2,100 words, Joe Posnanski
makes a great point
about
Frank Thomas
and the Hall of Fame. Joe's Big Finish:
We all understand that the Hall of Fame voters, as a group, have little sympathy or respect for steroid users. McGwire's historic home run pace registers less than 25% approval rating among voters. Rafael Palmeiro put up obscene career numbers — 3,000 hits, 550 homers, more than 1,800 RBIs — but his Hall of Fame case seems dead on arrival. There will be many people who will not vote for Barry Bonds, despite his 762 career home runs and five-year span as the greatest hitter the game ever saw. We all know that.

So what about Frank Thomas? If you assume he was clean -- and it seems a pretty good assumption -- then how can you possibly NOT vote for him? Here is somebody who represented the highest level of integrity at a time when there was no drug testing, no stigma attached to steroid use and almost no chance of getting caught. Here is somebody who not only did not use steroids but spoke out against them … AND he still hit like crazy.

There are so many inconsistencies in how we as the general public seem to feel about PEDs in baseball. But one thing that should be consistent -- it seems to me that if we are going to savage the players who did use, we should certainly seek out and celebrate the players who did not.

One of the things I love in journalism are headlines with questions in them … especially questions that can easily be answered. So when I see the headline: "Is Frank Thomas a Hall of Famer?" I hope that the story does not have 2,096 words like this one. It only needs one word: Yes.
The other day I asked my Twitter followers who they would vote for, if they could vote for only one:
Tom Glavine
or Frank Thomas. The result was a landslide: Thomas 70, Glavine 28. Nevertheless, I suspect that when the actual Hall of Fame balloting comes out in four years, Glavine will outpoint Thomas and I'm not even sure that Thomas will be elected on his first try. After all, that ballot will also include first-timers
Greg Maddux
,
Mike Mussina
, and
Jeff Kent
, and the list of holdovers might include Barry Bonds,
Roger Clemens
,
Curt Schilling
,
Sammy Sosa
and
Mike Piazza
. Will the voters separate Thomas from all the other guys who piled up big numbers during the Steroid Era? I don't know. I do believe that Thomas will eventually be elected. I just don't know if it will happen as quickly as those 70 Twitterers -- plus Joe Posnanski and Rob Neyer -- think it should.
January, 7, 2010
1/07/10
4:08
PM ET
As if his election wasn't controversial enough,
now this
:

The Hall of Fame has not decided which team's logo will go on Andre Dawson's bronze plaque.

Hall president Jeff Idelson says that while the museum has final say, the Hall makes its decision with the player. Dawson arrived in New York too late after his election on Wednesday to begin discussions.

Dawson played 10-plus seasons for the Expos, where he was NL Rookie of the Year in 1977. He also was selected 1987 NL MVP in the first of six years with the Chicago Cubs.

As an Expo, Dawson played in 1,443 games, hit 225 home runs, stole 253 bases, and posted a 122 OPS+.
As a Cub, Dawson played in 867 games, hit 174 home runs, stole 57 bases, and posted a 125 OPS+.
Qualitatively, Dawson played just as well with the Cubs as with the Expos, if you ignore speed and defense.
Quantitatively, Dawson played significantly more with the Expos than with the Cubs.
The only argument for going with a Cubs logo is that Dawson's most famous season came with that franchise.
To me, that's not enough. Not nearly enough, and an insult to all those Expos fans who have already suffered the loss of their beloved team. Now, it's easy for you and I to wonder why anyone should care about which logo's on his cap. Who even thinks about that?"
But we didn't lose our team. And let us imagine for a moment the uproar if, say, Andy Pettitte were to someday wear an Astros cap on his Hall of Fame plaque.
The Hall of Fame does not exist for the benefit of Dawson or Wade Boggs or Roger Clemens. The Hall of Fame exists for the benefit of itself, and just secondarily for the benefit of baseball fans, let alone fans of defunct teams. But there is a principle involved here. There was a rumor that Boggs "sold" his Hall of Fame cap to the Tampa Bay Devil Rays. If true, the Hall of Fame put the kibosh on that. A few years, Clemens said if the Hall of Fame put him in a Red Sox cap, he wouldn't show up for his induction. If Clemens is someday elected -- right now, it's not a sure thing -- the Hall of Fame simply must call his bluff.
The Hall of Fame has reasonable options in these cases.
Letting the player choose his logo is not one of them.
The first, best option is to talk to the player and use his preference as a tie-breaker, in the rare event of a tie.
The second option is to talk to the player, then give him a choice between the
logical
choice -- Expos for Dawson, Red Sox for Boggs and Clemens, etc. -- and no choice at all.
If Clemens won't show up if you give him a Red Sox logo, then you could just give him no logo at all.
That's not what I would do, though. I would call his bluff. Clemens needs the Hall of Fame more than the Hall of Fame needs him.
January, 6, 2010
1/06/10
2:27
PM ET
After all these years, I shouldn't be surprised anymore by Hall of Fame voters.
Today I was.
I didn't know how many players would be elected. I figured at least one, but probably two and possibly three.
Well, it was one. And not the one I would have guessed.
[+] Enlarge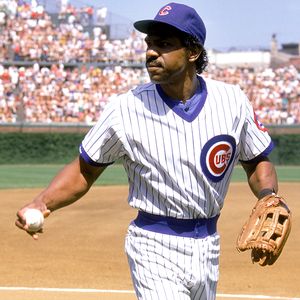 Jonathan Daniel/Getty ImagesAndre Dawson won eight Gold Gloves and four Silver Slugger awards during his 21-year career.
Andre Dawson. In his first four appearances on the ballot, he was considered a Hall of Famer by roughly half the electorate. That number rose to two-thirds of the electorate in the past two elections. And this time around, he jumped from 67 percent to 78 percent. Because, you know, he hit all those home runs in 2009.
Kidding. But Dawson did finish his career with a .323 on-base percentage, which means he's wrested the title
Hall of Fame Outfielder With the Worst OBP
away from Lou Brock ... and it wasn't much of a battle, as Brock's OBP is 20 points higher than Dawson's.
This bothers pointy-headed nerds like me. It did not bother most Hall of Fame voters, who chose instead to focus on his eight Gold Gloves, his MVP award in 1987 and the dynamic power/speed blend that typified Dawson's five best seasons. I wouldn't have voted for Dawson, but his career does (roughly speaking)
fall in line
with the Hall's historical standards. I mean, he wasn't anything like as good as Tim Raines, but that's
an argument
for another day. Raines got only 30 percent and deserved better (but at least he's moving up). Alan Trammell got just 22 percent, and deserved
much
better (he moved up, too, but just slightly).
Roberto Alomar
should have been the easiest choice on the ballot. He finished his career with more than 2,700 hits, he stole 474 bases, and he won 10 Gold Gloves at second base. The only knocks against Alomar are that he once spit on an umpire and that his last good season came when he was still just 33. But only 74 percent of the voters saw well past those things, and it takes 75 percent. Although the BBWAA's collective decision is indefensible, it will be forgotten a year from now when Alomar clears the bar with ease.
Also falling just short -- just
five votes short
-- was Bert Blyleven, in his 13th try. Consider the progress that he's made, though. In his first three tries, he couldn't clear 20 percent. Five years ago, he cleared 50 percent for the first time. And now he's at 74.2 percent, and will almost certainly join Alomar on the podium next year. And when he's up there, I suspect that Blyleven will have a word of thanks for
Rich Lederer
.
There were three first-time candidates other than Alomar who deserved particularly serious consideration.
Barry Larkin
played more than 150 games in only four seasons, which is about the only bad thing you can say about him, but it
is
a bad thing. Larkin played in just 2,180 games; Dave Concepcion, another lifetime Red who played shortstop and has supporters of his own, played nearly 2,500 games. But Larkin won a dozen Silver Sluggers and was an All-Star a dozen times, plus he stole nearly 400 bases and picked up a few Gold Gloves. He'll make it, eventually.
One never got the sense that
Edgar Martinez
really had a chance. Not this time, anyway. For the non-obvious candidates, the only path to election includes starting out well short of the goal, then building support over the years as voters take a closer look and perhaps are dragged aboard the bandwagon.
2009 inductee Jim Rice got just 30 percent his first time on the ballot; Andre Dawson, just 45 percent. There aren't any guarantees, but at least Edgar's still in the game. The problem, for him and any other candidate who's not elected in the next two years, is that the ballot will be flooded with highly qualified first-time candidates in both 2013 and '14. Some of those candidates will be pushed to 2015 and beyond, when they'll be joined by the likes of
Randy Johnson
,
John Smoltz
,
Trevor Hoffman
,
Mariano Rivera
,
Ivan Rodriguez
and ... well, those ballots are going to be mighty crowded.
Fred McGriff
got just 22 percent, which shouldn't be much of a surprise. Maybe he would have fared better if he'd hit 500 home runs (rather than 493). But 500 isn't a magic number these days. More than anything, McGriff simply suffers by comparison to his contemporaries at first base:
Frank Thomas
,
Jeff Bagwell
,
Mo Vaughn
and
Jason Giambi
all won MVPs during McGriff's career;
Mark McGwire
and
Rafael Palmeiro
did some impressive things, too. With the exception of the last two months of the 1993 season, McGriff was overshadowed by all of them.
If I may indulge in a bit of speculation ... Alomar is obviously one of history's greatest second basemen. A huge majority of ballots already made public included Alomar's name. I can only guess that a significant number of voters were simply too apathetic about baseball during Alomar's career to pay any real attention. I don't say that to explain why he didn't get elected this year. I say that to explain why he'll get elected
next
year, as a few dozen voters say to themselves, "Hey, this Alomar fellow was almost elected last year. I guess I should probably vote for him!"
At least they do usually get it right, eventually. The process works, sort of.
January, 5, 2010
1/05/10
6:16
PM ET
Tyler Kepner's on Bert Blyleven's side. He's on
Jack Morris
', too. And for that, we can probably blame a phone call to Pat Gillick, who was general manager of the Blue Jays when Morris pitched for that club.
Kepner
:

A lot of statistically minded voters dismiss the reasons many people vote for him. But it's worth listening to Gillick, as sharp a talent evaluator as baseball has seen, on Morris's reputation:

"Jack was one of those guys that just found some way to win. If he had to pitch a 1-0 game, or 2-1 or 3-2, he'd do it. On the other hand, Jack would go out there and win 8-7 or 7-6 or 6-5. He always found a way to win."

Now, did Morris really always find a way to win? Of course not. He was 254-186. He lost twice for Gillick in the 1992 World Series. But for 14 seasons, 1979 to 1992, he had 233 victories. Bob Welch was next with 192.

--snip--

But I just don't accept it when so many people knock Morris as a candidate because of his 3.90 earned run average. When a person as savvy as Gillick believes so strongly that a pitcher like Morris was a winner, and that winning trumps everything else, it means a lot.

Morris pitched for Gillick's Blue Jays for two seasons.
In 1992, when Morris posted a 4.04 ERA and was blessed with massive run support, he
really
knew how to win: 21-6.
In 1993, when Morris posted a 6.19 ERA and got just average run support, he apparently forgot how to win: 7-12.
I know. Just two seasons.
But if Morris
really
knew how to win, wouldn't that have left some footprints in the sand?
Knowing how to win
suggests any number of things, like pitching particularly well when the game is close but easing off a bit when you've got a big lead. Did Morris do those things, throughout his career?
I would be awfully surprised if Pat Gillick has any idea.
I wouldn't be nearly as surprised if Tyler Kepner does, but to this point he's not offered any evidence either way.
Meanwhile, seven years ago Joe Sheehan did
a great deal of work
on this subject. Many hours and thousands of words worth of work. I suppose that Gillick might dismiss Sheehan's work. I hope that Kepner would not.
Sheehan's big finish:

As I said, I don't know what the performance record of someone who had successfully pitched to the score would look like. I am certain, though, that for a pitcher to build his Hall of Fame case on the notion that he did such a thing, he couldn't have put his team behind in nearly two-thirds of his career starts, and he couldn't have blown leads once a month throughout his career.

Jack Morris was a very good pitcher whose primary skill was durability. He benefited from coming up with a number of good players, players who would form the core of a good offense that scored lots of runs for him. He happened to have a career in a down period for starting pitchers, so he stands out among his peers more than someone with his performance record would in the 1970s or 1990s.

Pat Gillick has been a brilliant baseball man for a long time. If I haven't already, someday I will throw my weight squarely behind
his
Hall of Fame candidacy. But he's just wrong about Jack Morris. Or at the least, he pretty obviously isn't objective about Jack Morris. That's fine. Being objective about old ballplayers isn't Pat Gillick's job.
That's Joe Sheehan's, Rob Neyer's, and Tyler Kepner's job.
January, 5, 2010
1/05/10
4:42
PM ET
With just moments to spare, we've got
Dan Shaughnessy's Hall of Fame ballot
. It's not the worst ballot I've seen. It's short: just three names. And I heartily endorse two of them:
Roberto Alomar
and Bert Blyleven (the other, Jack Morris, not so much). And since I'm on the fence about
Edgar Martinez
, I can't reasonably complain about his omission. Shaughnessy's reasoning, on the other hand:
The Mariners have campaigned madly for Edgar and it pains me to withhold my vote, but I just can't bring myself to put him in Cooperstown alongside Ted Williams, Babe Ruth and Lou Gehrig.

--snip--

Each Hall voter applies his own standards, and mine often references the famous line that Supreme Court Justice Potter Stewart applied to pornography. Stewart argued that he might not be able to define what was pornographic, "but I know it when I see it."

For me, it's the same with Hall of Famers. Some guys just strike you as Cooperstown-worthy and others do not. Edgar Martinez was a very fine hitter, but I never said to myself, "The Mariners are coming to Fenway this weekend. I wonder how the Sox are going to pitch to Edgar Martinez?"

It was different with players like Eddie Murray and Jim Rice. They were feared. Murray got into Cooperstown in his first year of eligibility (thanks to 500 homers, no doubt), while it took Rice 15 years to finally get the required 75 percent of votes. Both were feared sluggers who spent a lot of time in the field before becoming DHs as elder statesmen.

--snip--

The toughest omissions this year were Dawson, Barry Larkin, Fred McGriff ... and Edgar.

A lifetime .312 average is impressive and Edgar's OPS puts him in an elite class. But he wasn't a home run hitter (309), he couldn't carry a team, he didn't scare you, and (sorry) he rarely played defense. Edgar spent a couple of years at third for the M's in the early 1990s before taking over as full-time DH.

The stat geeks, those get-a-lifers who are sucking all the joy out of our national pastime, no doubt will be able to demonstrate that Edgar was better than Lou Gehrig and Rogers Hornsby. I'm not buying. Stats don't tell the whole story. A man can drown in three feet of water.

Edgar Martinez was a fine hitter and got on base a lot. But he was a corner infielder who didn't hit a lot of homers and then he became a guy who spent the majority of every game watching from the bench.

No Hall for Edgar.
Just to be clear about something: When Shaughnessy writes about "the stats geeks ... sucking all the joy out of our national pastime?" He means me. Well, me and some of my best friends. That's OK. I've been called worse.
Anyway, that's just Shaughnessy's opinion. He's entitled to it. But the rest of this is just opinion, too.
Eddie Murray finished his career with a .476 slugging percentage. Edgar Martinez finished his career with a .515 slugging percentage. Maybe Shaughnessy never wondered how the Red Sox would pitch to Edgar Martinez, but I'll bet you all the tea in the Boston Harbor that the
Red Sox
wondered how they should pitch to Edgar Martinez.
Jim Rice, a scary right-handed hitter, drew 77 intentional walks in his career. Edgar Martinez, a scary right-handed hitter, drew 113 intentional walks in his career. Which of them was scarier? Intentional walks aren't everything. They are something.
It's funny ... When you don't like a candidate, you say he doesn't measure up to Babe Ruth and Lou Gehrig and Rogers Hornsby. When you do like a candidate, you say he was better than Tony Perez and Luis Aparicio and Orlando Cepeda.
It's an odd way of thinking. But I guess you can't beat the hours.
January, 4, 2010
1/04/10
3:50
PM ET
Well, here's a brand-new argument, courtesy of Jon Heyman, for keeping Bert Blyleven out of the Hall of Fame:
he's the same as Harold Baines
:
My contention regarding Blyleven is that almost no one viewed him as a Hall of Famer during his playing career, and that is borne out by the 17 percent of the vote he received in his first year of eligibility in 1998, followed by 14 percent the next year. Blyleven obviously had an excellent and extremely lengthy career that looks a lot better to many with a decade to review it. And it doesn't hurt that he's the favorite of the Internet lobby.

--snip--

While I leave some room for statistical re-evaluation (and am on the verge of being convinced regarding Raines), I still see Blyleven as just short. I look at numbers, too, and while my numbers may be slightly more simplistic than WHIP, WAR or VORP, I think they tell a story of a pitcher who was extremely good, consistent and durable but not quite Cooperstown-worthy. Blyleven was dominant in a lot of at-bats (thus, the 3,701 strikeouts) and even a lot of games (60 shutouts). But he was never dominant for a decade, a half decade or even a full season.

Only four times in 22 seasons did he receive Cy Young votes (he was third twice, fourth and seventh once), only twice did he make the All-Star team and only twice did he win more than 17 games. I tend not to vote for players who I see as great compilers rather than great players, which is why I don't see Lee Smith or Baines as Hall of Famers, either. Baines and Blyleven compiled similarly in some key areas, with Blyleven finishing with four percent short of 300 victories at 287, and Baines four percent short of 3,000 hits with 2,866. And actually, a case could be made that Baines had more greatness, as he made six All-Star teams, three times the number of Blyleven.

Some will say that Blyleven's career was equal to Hall of Famer Don Sutton's but I say it is just short of Sutton's. They both had big totals in other categories but Sutton wound up with 37 more victories, going over the magic 300 mark by 24.
It's actually sort of interesting, watching voters twist themselves into knots trying to rationalize odd decisions. Last week, Murray Chass suggested that
he couldn't vote for Blyleven
because the curveballing righthander "had some of his worst years when his team had good years."
Maybe you can figure that one out.
While you're chewing on that one, let's return to Blyleven's and Harold Baines' relative greatness.
It's true that Baines was a six-time All-Star, compared to only three for Blyleven.
Baines' only MVP finishes were 9th, 10th, 13th and 20th (all in a four-season span early in his career).
Blyleven's only Cy Young finishes were 3rd, 3rd, 4th and 7th.
One solid measure of a hitter's greatness is on-base percentage. Baines finished in the top 10 in his league in on-base percentage exactly zero times. Another solid measure is slugging percentage. Baines finished in the top 10 in his league in slugging percentage exactly once. And one more solid (if shorthand) measure is on-base percentage plus slugging percentage. Baines finished in the top 10 in his league in on-base percentage plus slugging percentage three times: 6th, 7th, and 10th.
One solid measure of a pitcher's greatness is baserunners per nine innings. Blyleven finished in the top 10 in his league in baserunners allowed 11 times. Another solid measure of a pitcher's greatness is earned-run average (often shortened to "ERA"). Blyleven finished in the top 10 in his league in ERA 10 times.
Baines and Blyleven both played for a long time. That's about all they have in common. Baines was a good hitter for a long time. Blyleven was a great pitcher for a long time. Conflating the two simply isn't defensible. I do appreciate Heyman taking the trouble to justify not voting for Blyleven. But he'll need to work just a little harder on his justification next time around.
December, 31, 2009
12/31/09
5:26
PM ET
Viva El Birdos on the notion that
Mark McGwire
doesn't belong in the Hall of Fame because he was
a one-dimentional slugger
.
A real one-dimensional slugger, like our erstwhile Juan Gone -- he is truly a sight to behold. Mark McGwire walked as much as any three one-dimensional sluggers put together. (For instance: Steve Balboni (273), Richie Sexson (588), and Gonzalez (457), who collectively walked exactly one time more than McGwire.)

He walked 728 times more than Andre Dawson ... in 3109 fewer plate appearances, which is extraordinary. If you add 3000 plate appearances in which he did not get on base to Mark McGwire's career total, one big oh-fer-3000, you get an on-base percentage of .276, which is 24 points closer to Andre Dawson's OBP (.323) than Mark McGwire's real on-base percentage is.

--snip--

Mark McGwire did not do anything as well as he hit home runs. That's okay; he was the best home run hitter, by volume, of all time. Lou Brock and Nolan Ryan didn't do anything very well, except for run the bases and strike batters out. That's why they're not inner-circle Hall of Famers, not why they're not Hall of Famers. Mark McGwire had one skill, but he utilized it in two ways. I think that makes him a two-dimensional player. I think those two dimensions were extraordinarily useful to his teams. If you need more than that to have a good time, it must have been a long wait for Avatar.
I have expressed my support for McGwire, but it's far from unqualified. Given his limitations as a fielder and baserunner, I'm more than willing to listen to counter-arguments.
But if you tell me that McGwire was one-dimensional, you'll lose me.
As David Pinto cannily notes, there are only
three dimensions of offense
:
1. Getting on base
2. Hitting for power
3. Running the bases
Mark McGwire excelled at two of those. And the most important two, at that.
November, 30, 2009
11/30/09
5:10
PM ET
There are some tough ones on the BBWAA's
Hall of Fame ballot
this year.
Sure, there are some not-so-tough ones, too. First-timers
Roberto Alomar
and
Barry Larkin
both are among the top dozen or so players at their positions, ever. That seems to me an automatic qualifier. Holdovers Bert Blyleven and Tim Raines seem to me obvious choices, too (in case you've missed them, here's
a case for Blyleven
and
the case for Raines
). I've also advocated for Alan Trammell in the past, and I'll continue to; if he's not one of the 12 greatest shortstops, he's close enough (and if you think Trammell didn't play enough, there are eight Hall of Fame shortstops who played less than he did).
So that's five candidates who I've essentially finished thinking about. I mean, not
finished
. I'm willing to think about anyone. But I've thought about those guys a lot already, and if I had to vote today I would place checks next to their names and move along to the more difficult decisions.
There are four other candidates who give me pause:
Edgar Martinez
,
Fred McGriff
,
Mark McGwire
, and Dale Murphy.
The first three of those were excellent, immensely strong hitters who offered little else of value. Which certainly does not disqualify them -- Lou Gehrig probably wasn't much of a fielder, and I would happily vote for
Frank Thomas
-- but I do think it's worth noting.
We still tend to overrate players who drive in runs. While
Joe Mauer
's
nearly unanimous MVP
finish might be seen as a blow for substance over context-driven statistics (read: RBI), a quick look at the complete results might suggest otherwise. Here are the top seven finishers, position only: catcher, first base, shortstop, first base, first base, first base, left field.
The catcher is Mauer; the shortstop,
Derek Jeter
(who deserved his spot). With the possible exception of
Kevin Youkilis
(who finished sixth), the other five candidates are all regarded as "run producers," which essentially describes corner players who bat in the middle of the order and drive in a lot of runs.
Not that there's anything wrong with that. But until there's room near the top of the ballot for players like
Ben Zobrist
(eighth) or
Chone Figgins
(10th), it would be naive to think that the voters are properly weighing speed and defense (let alone on-base percentage) when determining value.
I grew up with this stuff, and there's still a small part of me, usually but not always buried, that tends to overrate runs batted in. Which is why I have to be careful when it comes to Martinez and McGriff and McGwire. I think you can make a good case for all of them, none of them, or some number in between.
Dale Murphy is a different sort of case. His time as an elite player lasted for only eight seasons, and he is generally considered to have too few great seasons for a Hall of Famer. But he did win two MVP Awards, he was one of baseball's five best players for about six years running, and he was a fine defensive player in center field. And about the playing time -- it
feels
like Murphy's career was short -- there are only six center fielders in the Hall of Fame who played
more
than Murphy (and many who did not).
No, Dale Murphy was not Mickey Mantle or Willie Mays. But that's never been the standard, and it's not fair to hold him to that standard now.
And finally, there are two popular candidates who I don't have to think real hard about. Jack Morris was a good pitcher who pitched for a long time, mostly for good teams. And Andre Dawson was a fine player who didn't deserve
his MVP Award
and finished his career with a .323 on-base percentage
and
a sub-.500 slugging percentage. Sorry, but no.
September, 2, 2009
9/02/09
11:58
AM ET
Jim Thome
's now a Dodger. But is he also a future Hall of Famer? Let's turn to the experts at
The Hall of Very Good
:
To this day, Google is still directing people (mostly those who look for information on "Jim Thome and steroids" or "Jim Thome and the Hall of Fame") to a little post where I suggested that Jim Thome might not make it into the Hall of Fame on his first ballot.

Since then, he's hit 66 more home runs and is sitting at 564 for his career. That's right, the guy is now 12th all-time, but I still stand by my claim ... Thome will NOT be a first ballot Hall of Famer.

Why? My reasoning is the same as it was two years ago.

His home run total, while incredible, will not be as eye popping five years after Thome's retirement.

Basically, we've got a guy who smacked the Hell out of the ball, but was never the most dominant, much less feared, player of his era. And because of that, he'll get lost in the mix.

Sorry to cue up that broken record, but when the news of Thome heading to Los Angeles to join former Indian teammate and fellow bomber Manny Ramirez leads SportsCenter ... I'm compelled to chime in.
Thome was never the most feared player, nor was he ever the most dominant. In one of his better seasons, he finished 15th in the MVP balloting; in another he finished 12th. In his two
best
seasons, 2001 and 2002, he finished seventh both years. His best showing came in 2003, his first year with the Phillies, when he finished fourth. He's not done better than 12th since.
I am not using Thome's relatively poor showings in the MVP balloting to make the case against him. I'm just saying that the same guys who vote for the MVP's have Hall of Fame ballots, and to this point they've not showed Thome a great deal of love. Of course, those same guys seem to have a great deal of enthusiasm for Omar Vizquel's Hall of Fame case, and Vizquel fared a LOT worse in the MVP balloting than Thome.
So, who knows? There's never been a player with Thome's numbers who hasn't either been elected to the Hall of Fame or been considered a solid candidate. For a lot of reasons, I agree that Thome won't make it on the first ballot. Most Hall of Famers don't make it on their first try. But for just as many reasons, I believe that he'll make it someday. Particularly if he can hit another 36 home runs. And keep his name off any unfortunate lists.
May, 14, 2009
5/14/09
2:18
PM ET
What should be done with the Hall of Fame candidates who used (or might have used) banned substances to get ahead? Robothal is
working on it
...
If the plaques simply said, "Played in the Steroid Era," how would the Hall decide when that era began? How would it justify tarnishing seemingly innocent players? How would it distinguish between suspected users such as say, Sammy Sosa, and confirmed users such as say, A-Rod?

The Hall is not yet ready to entertain such a discussion; nor should it be. We live in an age of instant news and analysis, but players become eligible for the Hall only five years after they are last active in the majors.

The electoral process vote is sort of like a nine-inning game, unfolding slowly, allowing time for reflection. People ask me all the time, "If you had to vote today, would you vote for Bonds? For Clemens? A-Rod?" I invariably answer, "I don't have to vote today."

--snip--

At this moment, I would have a difficult time voting for any confirmed or suspected user without an assurance from the Hall that the player's transgressions would be acknowledged.

If the players objected to such mentions, too bad. What would they do, boycott the Hall? Their mere inductions would reflect that they were the best of their tainted era. Many would argue that they do not deserve to be in Cooperstown at all.

I'm caught somewhere in between. And the clock is ticking on my time -- and every voter's time -- to figure out what is right.
Sometimes I wonder if the antipathy held by many of the baseball writers -- not necessarily Rosenthal -- toward the cheaters is simply a matter of inconvenience. It's bad enough that voters are supposed to look at all those pesky statistics and whatnot, but now they're supposed to consider morals and ethics, too? Why, it's enough to make a BBWAA member's head explode! ... or write a column wondering
what are we going to tell the youngsters?
Look, I get it. This stuff's not easy. Well, you know what? Life's not easy. And all the baseball writers who believed -- or rather, reported, because I don't think many of them really believed it -- that baseball is some sort of haven from the real world were themselves living in Make Believe Land. Baseball's never been immune from the problems and the concerns of the real world, and I have a hard time believing that Hal McCoy and Tracy Ringolsby and Murray Chass didn't know in the 1970s that players were gobbling amphetamines like so many M&M's.
As usual, Rosenthal's take on this is sensible, and it's the same take as mine. If I keep my nose clean and my fingers in the game, in around nine years a Hall of Fame ballot will arrive in my mailbox. By then, maybe I'll have figured out what's right.